Get connected with our daily update
Austinites will soon be able to train like some of Hollywood's biggest stars as F45, a fitness franchise backed by major celebs, like Mark Wahlberg and David Beckham, is on its way to Austin.
F45 listed Austin as the location of its corporate headquarters in a June 21 federal filing—a big shift for the California company. The fitness franchise is preparing for its initial public offering, which will be as an Austin-based company.
F45 will be one of many California companies—Tesla, Oracle and Samsung—that have recently expanded in the Capital City. The company has several famous investors on its side—famed basketball player Earvin "Magic" Johnson and golfer Greg Norman in addition to Wahlberg and Beckham.
The fitness company is opening a 44,000-square-foot headquarters, located at Penn Field on 801 Barton Springs Road, with a lease running through 2029. F45 was one of the early adopters of Austin-based real estate-technology platform AnthemIQ, helping tenants find commercial real estate.
F45 focuses on one-on-one 45-minute workouts, which patrons watch on in-studio displays. With 2,247 franchise agreements spanning across 63 countries, F45 also has offices in Australia and England.
"We believe this flexibility will enable us to capitalize on our estimated long-term global opportunity of over 23,000 studios," the company said in its filing.
The greater Austin area already has 11 F45 locations, which take up 1,600 square feet of space each.
From Your Site Articles
Related Articles Around the Web
Eileen Artigas, who lives in the Clarksville neighborhood, has a master's degree in public health with a focus on physical activity, and she's also a fitness instructor.
Still, she found herself gaining weight when the world shut down due to the coronavirus pandemic.
"At the very beginning, for somebody who's very active all the time, it was really shocking to not be able to go to the gym or be able to do that kind of regular activity," Artigas said. "So I definitely gained a lot of weight during the pandemic."
Artigas is not alone: in a survey by the American Psychology Association, 61% of participants reported undesired weight changes since the onset of the pandemic.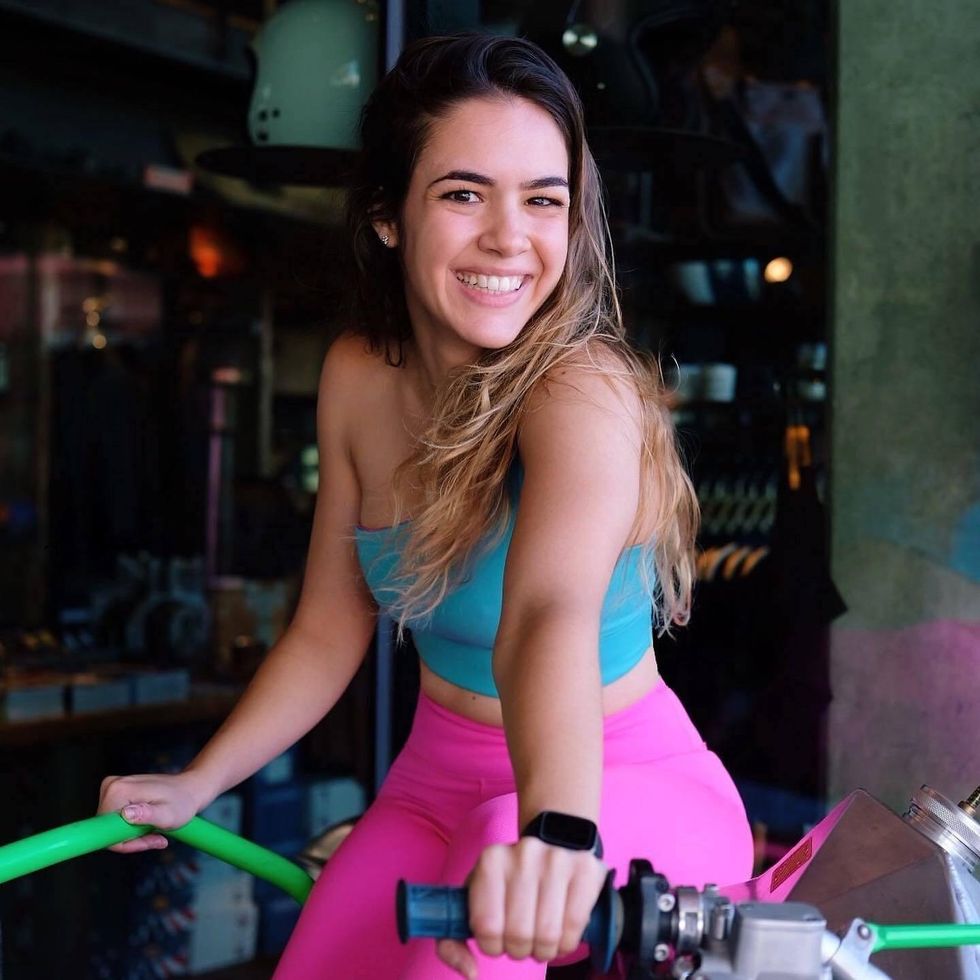 Eileen Artigas is a fitness instructor at pop-up studio Fitcidence in Austin. (Eileen Artigas)
Gayle Timmerman, Ph.D., a professor at the University of Texas at Austin who specializes in eating patterns and weight, said that added stress and loss of routine can lead to drastic physical health changes.
"A lot of us are more stressed than we were, whether it's from anxiety from a pandemic or sitting in front of the Zoom meeting all day long," Timmerman said. "And so for many people eating is one way of coping with some of that anxiety."
With more stress, more time to stress-eat and the reality of being stuck at home, many people also developed less healthy habits. According to APA, 67% of those surveyed said they are sleeping more or less than they wanted to since the pandemic started, while nearly 1 in 4 adults (23%) reported drinking more alcohol to cope with the added stress.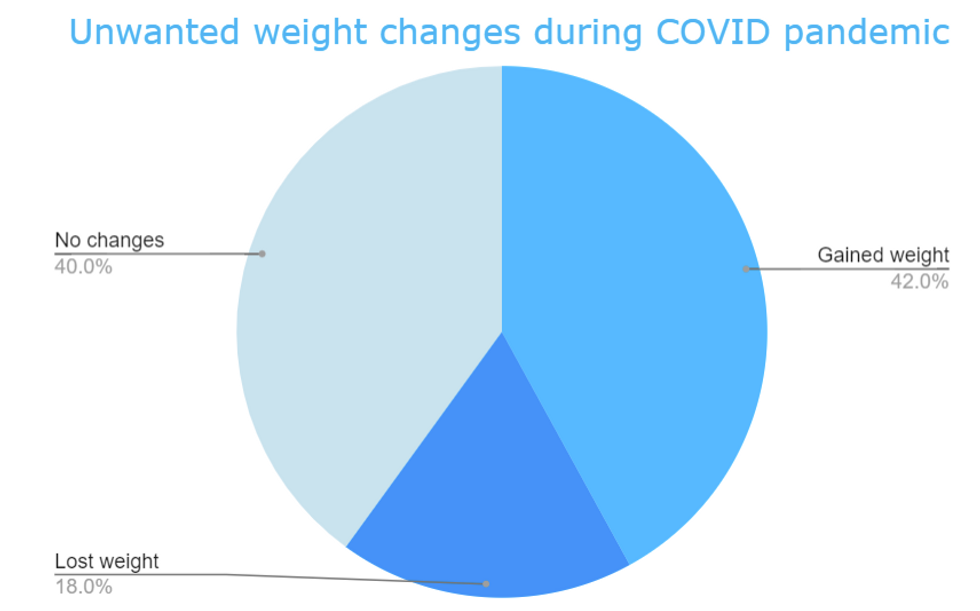 (Source: American Psychology Association)
For those whose fitness schedule was upended last March, it can be hard to get back into the swing of things. Artigas, who instructs fitness classes for her pop-up studio Fitcidence, said interest was slow at first; there was a lot of trepidation about COVID protocol and many had lost the level of fitness they had reached prior to March 2020.
"For a lot of people, our class was the first class that they took after stopping because of the pandemic... so it's not just weight gain, it's also the loss of fitness," she said.
This crop of New Year's Resolutions might be over, but it's made way for a wave of post-COVID resolutions. Now that over one-third of American adults are fully vaccinated, Rebecca Hutnak, a personal trainer at a local Gold's Gym, said that droves of new signees are coming in to join the gym.

"I think we are going to see a big rise in clients because we already are seeing a big rise of people just signing up for the gym in general," Hutnak said. "We have maybe thousands of people joining every month."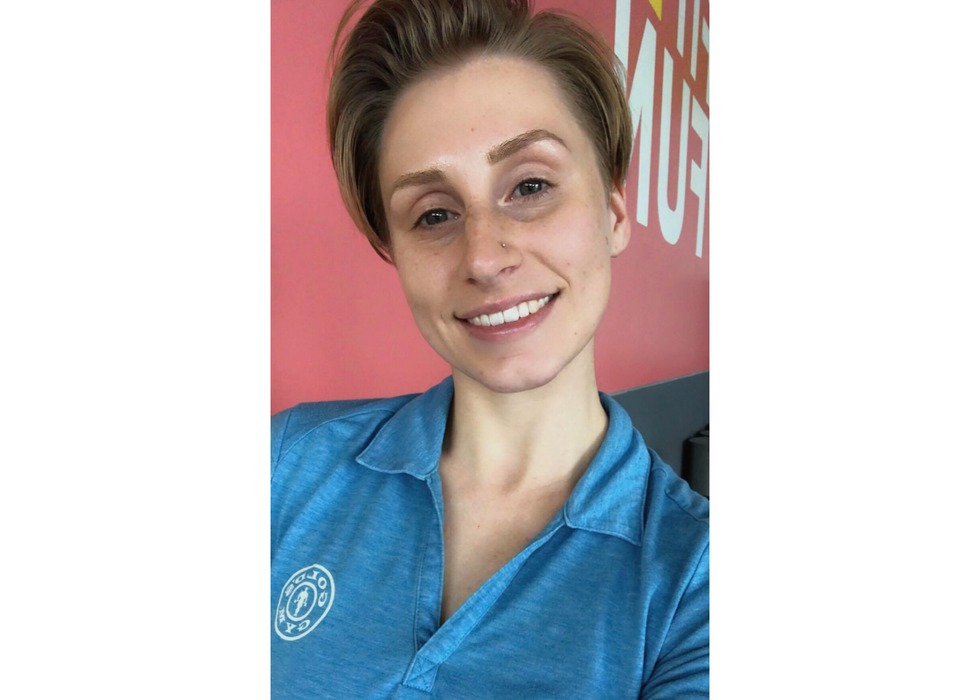 Rebecca Hutnak is a personal trainer at a local Gold's Gym. (Rebecca Hutnak)
COVID fear is certainly waning, aided by Texas' full reopening, but Timmerman said it's going to be hard to know when the pandemic is actually over. In-person life could pose new challenges. Some became fitter during the pandemic due to extra time, but it could soon become scarce as the hustle and bustle of daily life returns.
"If you ask people, 'What is your biggest barrier to making a healthy change?,' nine times out of 10, it's time," Timmerman said. "If we go back to sitting in traffic for an hour, that's the hour that people were using to walk or to be outside."
COVID may be a nightmarishly long vacation for many, but things could be different this time around. Artigas hopes for more offices to adopt a hybrid schedule, and Timmerman recommends working on time management and cooking skills to keep up once "normal" life returns.
(Pexels)
Despite the pandemic, Austinites still make time to pump iron, according to a new WalletHub study. While Austin may not be the fittest of the fit, the city came in at No. 7 for the healthiest cities in the country.
The study measured the 182 cities—150 of the most populated, plus at least two of the most populated cities in each state—across access to health care, healthy food, fitness and green space. Out of 100, a top score of 69.11 was awarded to San Francisco, California, and the lowest score of 23.39 went to Brownsville, Texas.
Sandwiched in between Washington D.C. and Irvine, California, Austin received a score of 59.12, with the top factors being access to healthy food and green space.
Austin's food scene is well-known for being rich and diverse but the cherry on top is the abundance of healthy options. Austin ranked third for the amount of healthy restaurants in town; from popular options like Juiceland, CAVA and Flower Child to more hidden gems like The Steeping Room and Blue Dahlia Bistro, Austin has food to suit all types of special diets.

(WalletHub)
Austin is also famous for its abundant greenbelts, hiding in plain sight in neighborhoods all across the city. Austin received the fifth placemark for the most running trails in the city and the reason is clear, as Austinites can frequently be seen going for a jog in nature.

Austin's fitness is no coincidence—the city was also named seventh for having the most active lifestyle in a WalletHub study earlier this year.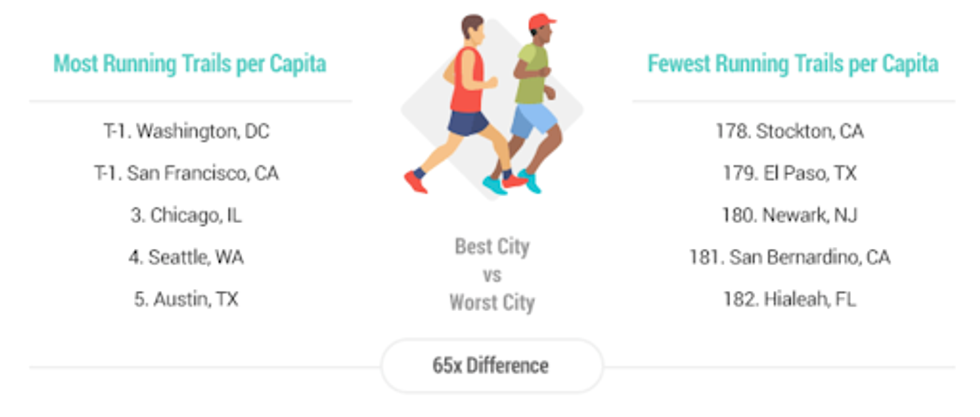 (WalletHub)
Even amid a pandemic, Austin has been making fitness a priority, securing a four-way tie for the most fitness centers with virtual classes per capita.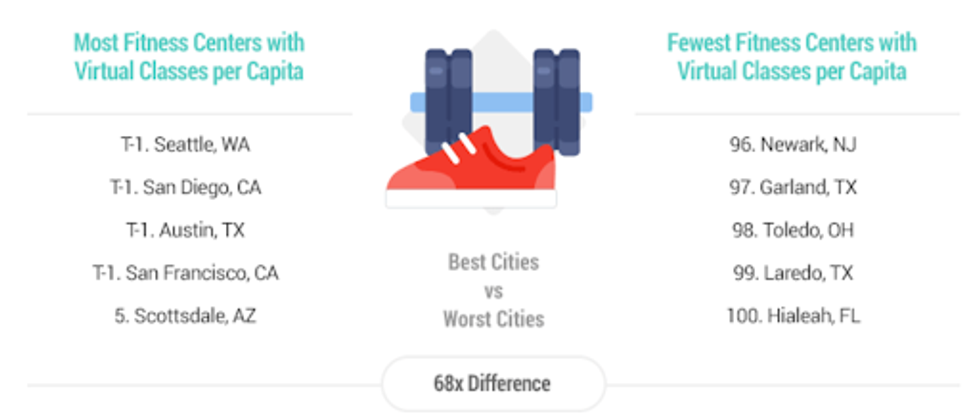 (WalletHub)
Though Austin fared well in the study, other Texas cities didn't have the same luck. Lubbock, Laredo and Brownsville were all name-dropped for having the least healthy atmosphere.

More on rankings: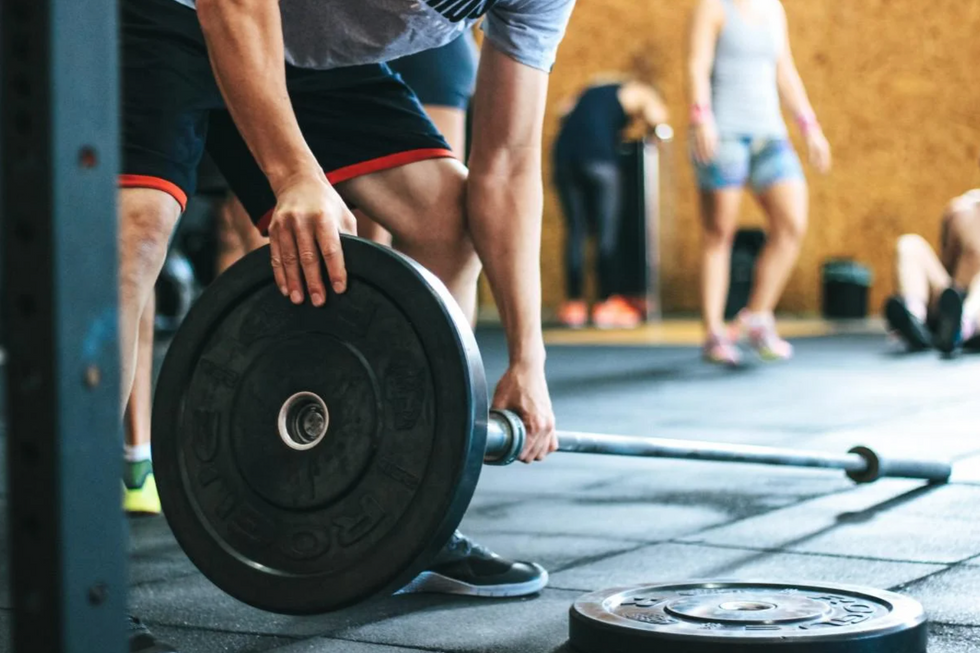 Texas ranks number one in more than just state pride—Texans now rank as the physically strongest men and women in the country, according to
LiftVault
, an online website on bodybuilding, strength training and other workout programs.
LiftVault's study used five years of research from the Open Powerlifting database to determine where the nation's strongest live. Competitors were measured by performance in three traditional powerlifting exercises: squat, deadlift and bench press. Each state's top ten lifters were then compared to find state averages.
With an average squat of 687 lbs., average deadlift of 742 lbs. and an average bench press of 438 lbs., Texas topped all 50 states.
Texas also hosts two of the nation's top five lifters. Ashton Rouska ranked fourth overall with a 794 lb. squat, 457 lb. bench and 844 lb. deadlift; while Jesus Olivares had the nation's highest deadlift (882 lbs.) to reach number five on the list.