Get connected with our daily update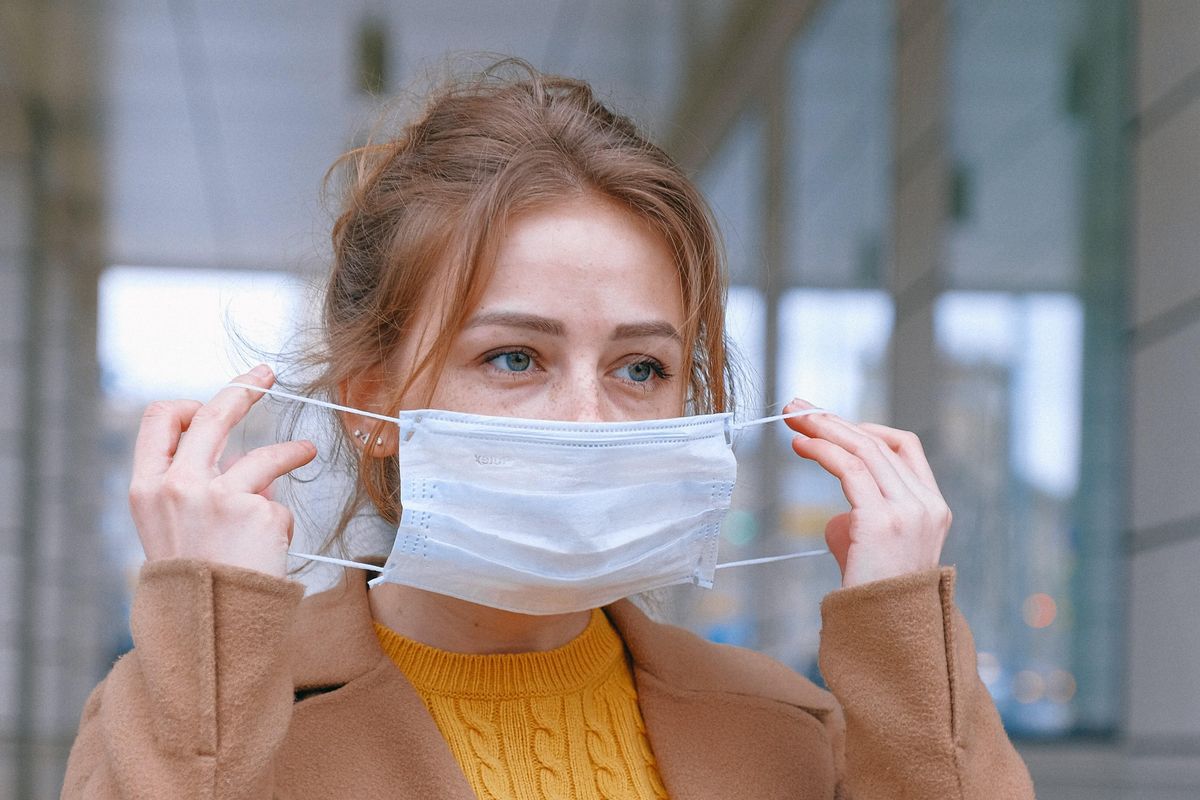 (Pexels)
With COVID-19 still the biggest issue facing the country, doctors and health experts warned about an impending "twindemic," where the coronavirus and flu season clash simultaneously. However, in rare 2020 good news, flu numbers are down compared to past years.
Austin-Travis County Interim Health Authority Dr. Mark Escott called flu numbers "remarkably lower" compared to past seasons, likely due to COVID-19 precautions, in a press conference on Tuesday.
So far, Austin has only seen 33 reported cases of the flu, a 1.45% positivity rate over the past week and an overall positivity rate of 1.04%, the lowest of the past three years.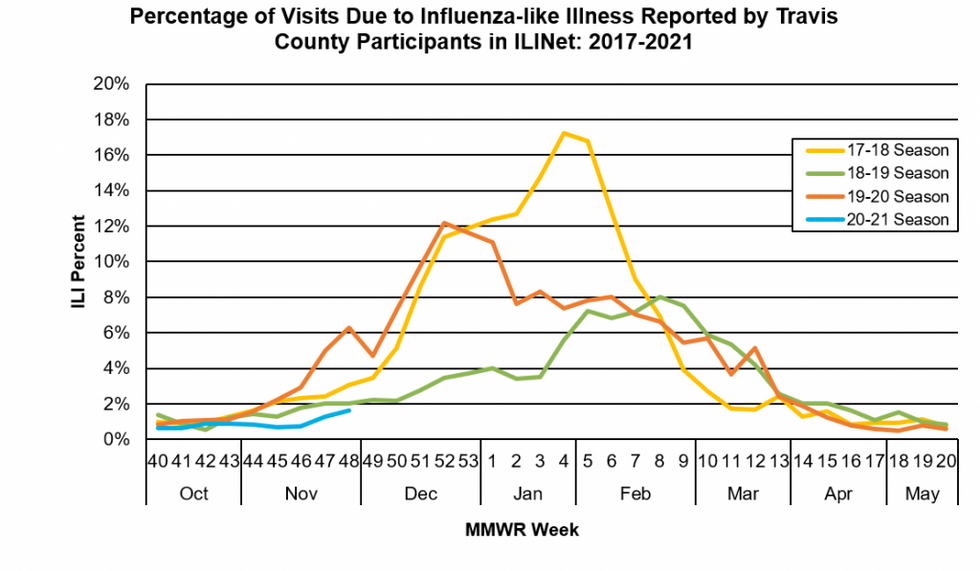 austintexas.gov
Escott cited protective COVID-19 actions for the low numbers.

"Those protective actions that we utilize for COVID-19 will also help to keep this curve flat for the duration of flu season," Escott said Tuesday.
However, Escott said that he expects to see flu season reach a peak in December, January and February.
With National Influenza Vaccination Week in full swing, between Dec. 6-12, Escott recommends those that have yet to be vaccinated do so.
The City of Austin clarified on its website that the city does not capture every case of the flu, as reporting it is voluntary.
Austin Public Health recommends getting a flu vaccine yearly, especially those at high-risk of contracting the illness. You can locate places to get vaccinated through VaccineFinder.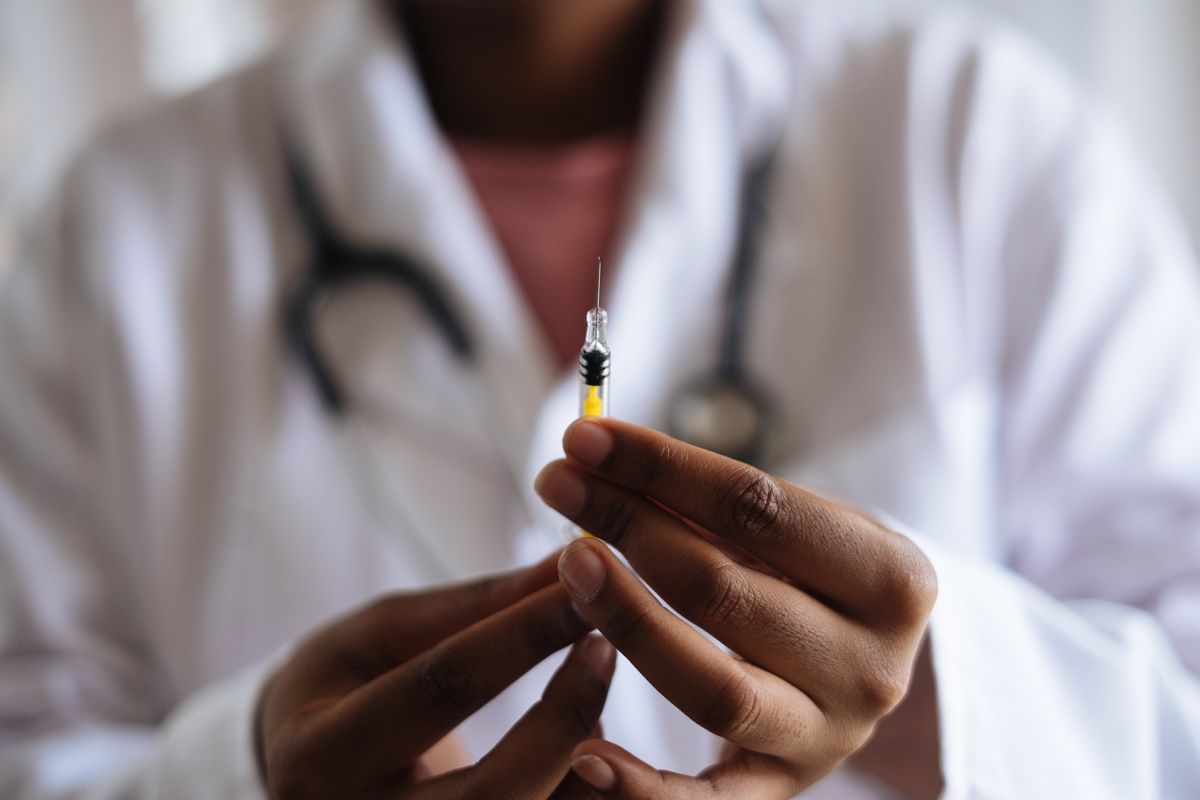 (Pexels)
While health officials monitor COVID trends and probable cases of West Nile virus, they are also anticipating another scourge: flu season, which typically begins in October.
Austin-Travis County Interim Health Authority Dr. Mark Escott is concerned that, in conjunction with COVID, flu season could force schools, which are scheduled to begin in-person classes in early September, into a cycle of closures. Last year, Travis County schools reported an increased number of absences among students and teachers related to flu outbreaks.
It could also spell trouble for area hospitals, which have only very recently moved out of a surge stance. "If we combine an increase of flu cases and COVID-19, we are definitely going to overwhelm all of our systems," APH Director Stephanie Hayden said earlier this month.
There is precedent for this. In 2009, during the H1N1 flu outbreak, a summer wave was followed by a downturn this time of year, Austin Public Health Chief Epidemiologist Janet Pichette said. "Then when school restarted, we saw an increased spike in cases and a second wave that exceeded the [first] wave," she added.
But in the face of these two terrors there is hope: the flu vaccine, which is now available. The Centers for Disease Control and Prevention recommend that people get vaccinated in September and October, ahead of peak season, which is typically between December and February.
"The fall comes very quickly, and we do need to think about influenza vaccination at this time," said Dr. Pedro Piedra, a professor at Baylor College of Medicine.
A common goal
Like COVID-19, the flu is a contagious respiratory disease that can cause symptoms such as fever, cough, shortness of breath and headache; strikes nursing homes; and is especially dangerous for older patients and those with other health issues.
COVID-era precautions appear to be helping contain the spread of the flu—at least for now. The World Health Organization reported Aug. 3 that globally influenza activity is lower than expected for this time of year. But Piedra still recommends that people get vaccinated. "A second respiratory virus in a person who has already been sick from one doesn't recuperate well," Piedra said. "The influenza vaccination provides security, a safety net."
Typically, around 50% of Americans get vaccinated against the flu each year, with higher rates of participation among children under five and older adults. Common barriers are affordability, not having a regular doctor and unfounded myths about vaccines, Piedra explained.
The goal, however, is universal immunization—in the range of 80% to 90%. "So we can do a much better job," he said.
Innovation at home
The upcoming flu season also raises questions about how to determine between the disease and COVID.
Researchers at the University of Texas at Austin's Cockrell School of Engineering are working to develop a dual-sensor antibody test that can detect whether a patient is sick with the flu or the coronavirus based on a saliva sample. Professor Deji Akinwande and his team recently received a grant from the National Science Foundation for their work.
"This is something you might purchase in advance, have it at home and once you develop symptoms you quickly test, and it tells you within minutes," postdoctoral fellow Dmitry Kireev told Austonia.
Such a test could help people determine whether they even need to see a doctor and how careful they should be around others, ideally reducing the burden on the healthcare system and reducing disease transmission in the community.
The team has developed a prototype and is now working to determine the accuracy of such a test. If their experiments are successful, they will seek to produce the test at scale later this year.
"The winter comes, maybe not to Texas, but there's still a winter, and people get sick," Kireev said.
Want to read more stories like this one? Start every day with a quick look at what's happening in Austin. Sign up for Austonia.com's free daily morning email.