Get connected with our daily update
The long-awaited Prep ATX opened Thursday in North Austin, housing over 50 vendors from local favorites like Easy Tiger to newcomers like Potadoughs.
Prep ATX, located at 1300 East Anderson Lane, spans over 55,000 feet, making it the largest commercial kitchen in Texas. It provides a large space for different food and beverage businesses to operate, including traditional restaurants, consumer packaged goods (CPG) brands, prepared meal service companies, ghost kitchens, caterers and food trucks.
While some businesses will use the space solely to prep and cook, the public is welcome to purchase food from certain vendors on-site. Those vendors include Brooklyn Breakfast Shop, Taste of Home Dumpling, Austin's first potato donuts shop Potadough's and KIN ZEN.
CPG businesses operating at the location will include Chop Chop, Fresh Fronks, Comal Fajita House, Thanks Danks Jerky and Kimbala Chai.
View the full list of businesses with Prep ATX here.
This is the second Prep location to open in the U.S. after the original Atlanta location opened in 2014. Prep in Atlanta is the largest multi-purpose kitchen campus in the Southeast U.S. Prep also offers its vendors services like co-working and mentorship programs.
"We love being able to provide kitchen space and resources for every kind of food business under the sun," said Mitchel Jaffe, PREP's CEO and co-founder. "PREP ATX's main mission is to support the Austin culinary community, giving businesses a home base to grow and flourish."
Enjoying Austonia? Signup for our newsletter to get daily Austin news, straight to your morning inbox!
Austin will never feel more like itself come the end of November, as lines will be able to once again form around the block of Franklin Barbecue.
The acclaimed barbecue restaurant, recently named in Texas Monthly's top BBQ joints list, is opening its dining room for the first time since the onset of the pandemic on Nov. 23. So grab your folding chairs and arrive before you're even hungry because you can expect there to be an hours-long wait, just like pre-pandemic times.
Franklin's opened in 2009, becoming a world-renowned destination for good Texas barbecue. Long lines around the block on East 11th Street were the norm until the pandemic hit and the pitmasters decided to close their dining room, opting for curbside only.
It had originally planned to reopen its doors in August but postponed after a summer surge of COVID cases and hospitalizations.
In preparation of its reopening day, Franklin will be closed on Nov. 21.
Enjoying Austonia? Signup for our newsletter to get daily Austin news, straight to your morning inbox!
While Fort Worth's Goldee's Barbecue topped the list, coming in second was Austin's Interstellar BBQ; in fifth, LeRoy & Lewis; and in seventh, Franklin Barbecue. Four more Austin joints made the unranked list.
The list, which is the sixth of its kind to come out since 1997, was formulated after 411 barbeque locations across the state were visited by Texas Monthly and narrowed down by barbecue editor Daniel Vaughn and food writer Patricia Sharpe. The writers made note of a new generation of pitmasters that are challenging tradition and giving tried and true places a run for their money.
Interstellar BBQ, 12233 Ranch Road 620 N. 
Much can be said about Interstellar BBQ, which beat out Franklin Barbecue in their list debut.
Interstellar opened in 2019 from John Bates, 46; Carlos Cruz, 43; and Warren McDonald, 53; serving up all the usuals with some traditional methods while also experimenting where they can.
Their secrets behind the goodness? Texas Monthly writes: "(Bates') brisket is simple: salt, pepper, garlic, and obsessive heat management. For his pork ribs, he eschews the usual glaze but, knowing diners expect a little sweetness, adds brown sugar to the rub. He also smokes what he calls the Tipsy Turkey Breast, which marinates overnight in hefeweizen."
LeRoy and Lewis Barbecue, 121 Pickle Road (food truck parked at Cosmic Coffee) 
Another newer kid on the block is LeRoy and Lewis Barbecue.
Serving up "new school barbecue, old school service," LeRoy and Lewis opened in 2017 from pitmaster Evan LeRoy, 35.
What does new school barbecue mean? Texas Monthly writes: "At LeRoy and Lewis, the new-school approach means Evan LeRoy eschews pork ribs (though on Saturdays he does offer "bacon ribs"—massive pork ribs with the belly still attached) and turkey (except around Thanksgiving) and serves brisket only on Saturdays and Sundays."
Franklin Barbecue, 900 E. 11th, Austin
It's not a barbecue list without the iconic Franklin Barbecue.
Since 2009, Jordan Jackson, 39; Megan Nesland, 38; Matthew Van Orden, 46, have been serving up masterful barbeque that saw lines stretch around the block pre-pandemic. In 2013 and 2017, it captured the number one and number two spots, respectively, on the Texas Monthly list.
Should it still be in the top? Texas Monthly writes: "Franklin's drop into the bottom half of our top ten isn't a sign that the beloved establishment has diminished—no one does the traditional barbecue lineup better. But it is a sign that the new wave is reshaping the scene in ways we couldn't have imagined a few short years ago."
Honorable Austin mentions from the list (unranked)
Distant Relatives
La Barbecue
Micklethwait Craft Meats
Valentina's Tex Mex BBQ
Chupie the Lykoi cat isn't as feral as he may look—unless, of course, it comes to getting his paws on some precious baguettes.
The unusual kitty has recently gone viral on social media, garnering over 30 million views on TikTok and cheering up cat fans globally during the difficulties of the pandemic.
But according to owner and Austin resident Michelle, who asked not to disclose her full name for privacy reasons, this wasn't what she expected at all when she first made Chupie's Instagram and TikTok in January.
Chupie's claim to fame—aside from his overwhelming cuteness and love for all foods (except salsa and carrots)—is his unique genetics. Lykoi cats, named after the Greek word for "wolves" and often aptly dubbed "wolf cats," are the result of a mutation originally found in feral cat populations that have since become a pedigree cat breed.
He's gotten plenty of love—and plenty of bullying—for his wolf-like appearance. Michelle has been told he looks like anything from the weasel of "Suicide Squad" to Clint Eastwood as a cat.
"I think that a lot of people think that he looks like an ugly cat because he looks mangy," Michelle said. "But that's kind of what makes him special."
But Chupie doesn't have the disposition of a werewolf. In fact, the friendly cat can be seen kayaking, hiking and lounging around locales around Austin, from historic bar Nickel City to his favorite spot at South Austin's Little Darlin'.
He's almost always well-behaved, too—that is, until food enters the picture.
Just a few days after making his Internet debut, Chupie first went viral for viciously gripping onto a bag of H-E-B buns. The post gained 1.3 million views.
Since then, similar videos of Chupie gripping baguettes, treats and other goodies have gained up to 11 million views apiece.
Michelle and her husband have beencreating content nearly every weekend and are now busier than ever. Still, it's been a rewarding, if unexpected, life change, especially as she hears from fans worldwide who view Chupie as a bright spot in their life.
Michelle said that she's received countless positive messages from fans, many of whom struggled during the pandemic.
"I joke that he's a 'meowtivational speaker' because I really think that we sometimes live in really dark places, especially during COVID," Michelle said. "So if we can give them even a little part of their day, even if it's 10 seconds where they feel joy, then it's worth it."
That popularity has translated into real life. Chupie is celebrated by fans and newcomers alike nearly everywhere he goes. In an interview with Austonia, Chupie was almost immediately greeted by a fascinated stranger who was quick to scratch his head and take pictures, something Michelle said is a normal occurrence.
"Everybody knows him when I go places now," Michelle said. "People are like, 'Oh my God, is that Chupie? Can I feed him the crust of my pizza?'"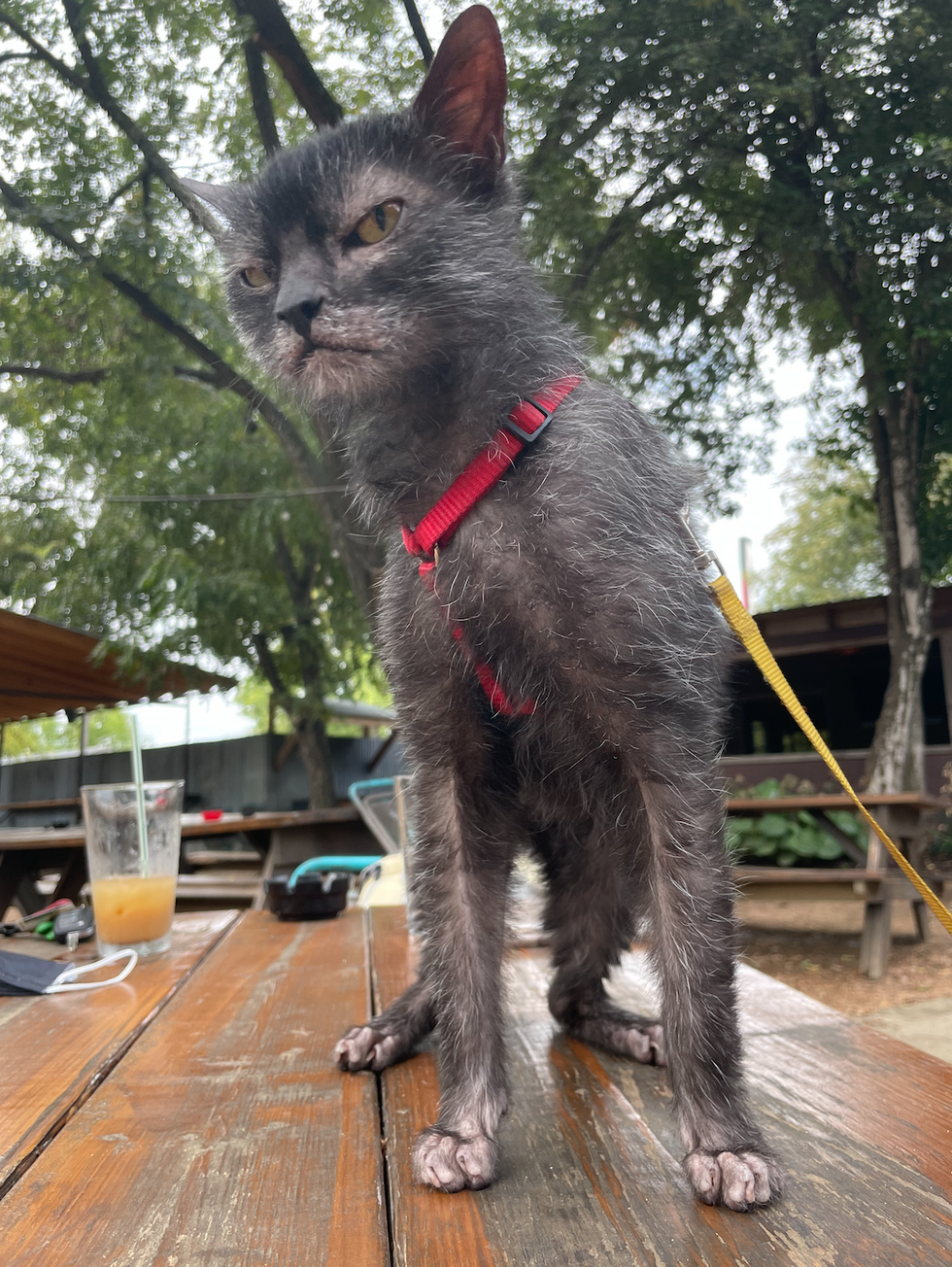 Chupie before getting a treat. (Claire Partain/Austonia)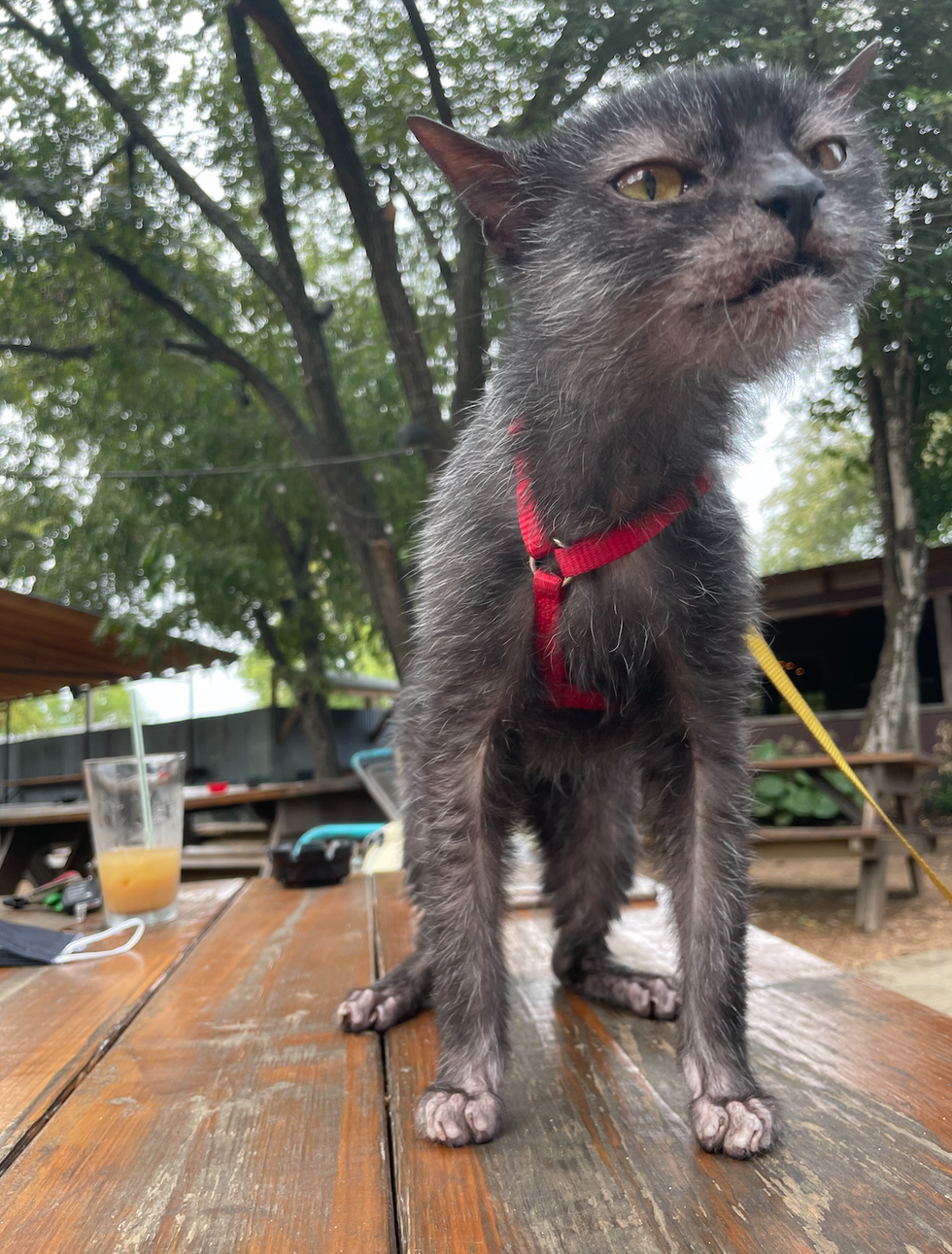 Chupie after he gets a treat. (Claire Partain/Austonia)
"He's living better than me probably," Michelle joked. "We live our lives well together. But I've never done so many things in one weekend until I started making these videos."
So what's next for Chupie? Michelle hopes one day she can take her kitty on global adventures where he can meet fans. For now, she's busy making Chupie merch, sending out care packages and is looking forward to taking her pet to animal events like the POP Cats festival on Saturday.
"This has gone way further than I ever imagined, and it's about Chupie, but it's also about the 'I don't give a meow' attitude," Michelle said. "I think people need to take life less seriously, so it's nice to be an outlet for that."