Get connected with our daily update
Matthew Bolick used to hold the craziest parties when he lived on Larry Lane in East Austin, slinging burgers and good vibes, beers and joints, which were lovingly called "Bad Larrys" by friends.
They called the parties the "Bad Larry Burger Club," where Bolick, a restaurateur and self-admitted "really bad cook," would gather up his "homies" and take turns creating their take on the classic cheeseburger on a backyard Weber grill, in hopes of landing the perfect burger.
"We always just kept coming back to a really simple burger," Bolick said.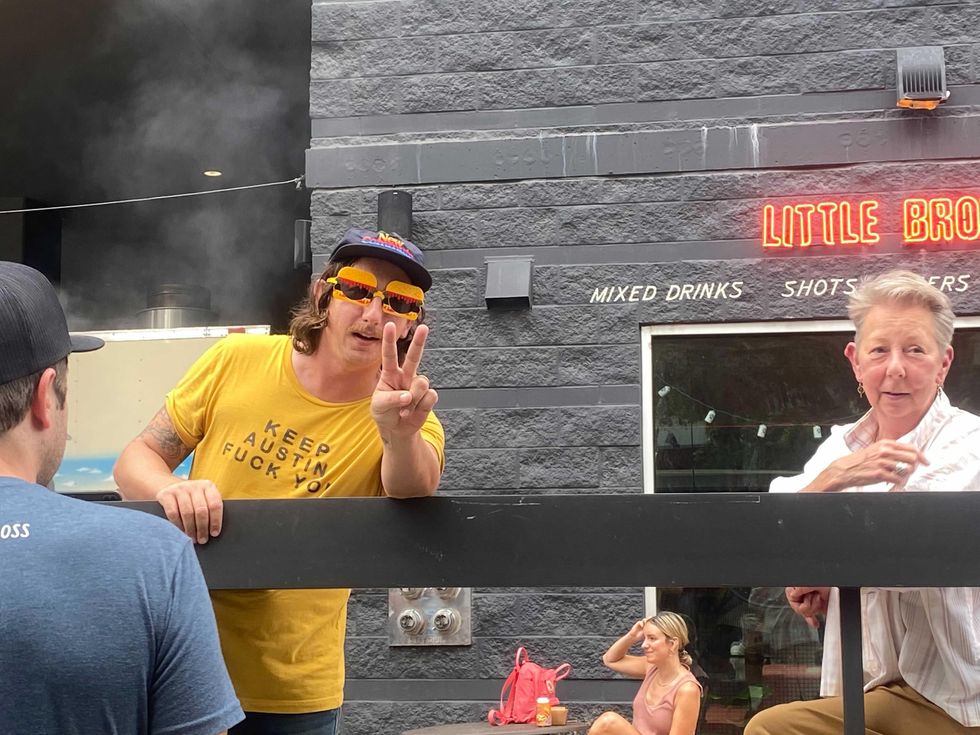 Matthew Bolick can be found donning his burger glasses and taking orders outside Little Brother bar. (Laura Figi/Austonia)
Once he found it, Bolick, a partner at Austin restaurants like Better Half, Hold Out Brewing, Brew & Brew, Little Brother and Flat Track Coffee, ran with his perfect smash burger recipe by running pop-ups at Little Brother under the name Bad Larry Burger Club in 2019.
Bolick didn't stop when the pandemic hit but he did find ways to make it weirder, running a fully-fledged ghost kitchen out of his driveway and delivering to customers via an RC dump truck. When he moved to a larger scale, the burger chute was born.
"(We) had this piece of gutter that was in the trash can and the staff cleaned it up, taped, 'We give a chute' on one side and 'Bad Larry Burger Club' on the other. It was kind of a no-brainer for that event," Bolick said.
(Laura Figi)
With the chute attached to his dirt bike, representing his love of motorsports, and cooks clad in burger sunglasses, the pop-up took off. Though he would only sell around 50 burgers at the beginning of his venture, the number climbed into the hundreds. Now, you might be hard-pressed to get a Bad Larry Burger unless you order in advance.

Bolick has been in the food industry basically his whole life; his mother was a cook and caterer who even named her cafe, Cafe Matthew, after him in Weatherford, Texas. "I've always really enjoyed showing people a really good time, throwing a party, you know, providing someone with something they just can't make themselves at home," Bolick said. "You're providing the entire experience and I think there's something very special about that."
A jack-of-all-trades and punk rock bandmate, Bolick said his pop-up has allowed him to reconnect with his inner child and create something fun out of a time where happiness was hard to come by.
"We've got a bunch of really polished businesses… We've individually opened all these projects ourselves, Matt Wright, Grady Wright and myself," Bolick said. "Having a thing that is just mine has been really fun. I've been able to stretch my legs a little bit and kind of take it back to what I love. It's become just kind of an extension of me as a kid."
And it's been working out for him—Bad Larry Burger Club has events booked halfway through 2021.
As the pandemic dies down, Bolick is going to start working on new projects for the Bad Larry brand, like Beef Boat, a hamburger party on a boat. While he plans to keep the burger chute around, he says he has weirder ideas for the future of "The Bad Larry Experience."
"I'm really pushing forward on these parties and throwing shows and being a part of the community coming back to life—I think that's really important," Bolick said. "I live in Austin for those magic situations where you're like, 'I can't believe I'm on a fucking boat, eating a burger.'"

You can grab a burger most often during pop-up nights at Little Brother or book Bad Larry Burger for an event via Instagram direct messages.
(De Nada Cantina)
Summer is finally here and Austin's food scene is following suit with fresh and vibrant specials, pop-ups and announcements. Uniquely-flavored ice creams, classic burgers fresh off the grill and new takes on classic dishes are the anthem for the new bites of 2021.
Whether you're spending the season by the grill, indulging in all kinds of frozen treats or trying out new things this summer, these new Austin restaurants have you covered.
Z'Tejas Southwest Grill announces Woo Woo Burgers ghost kitchen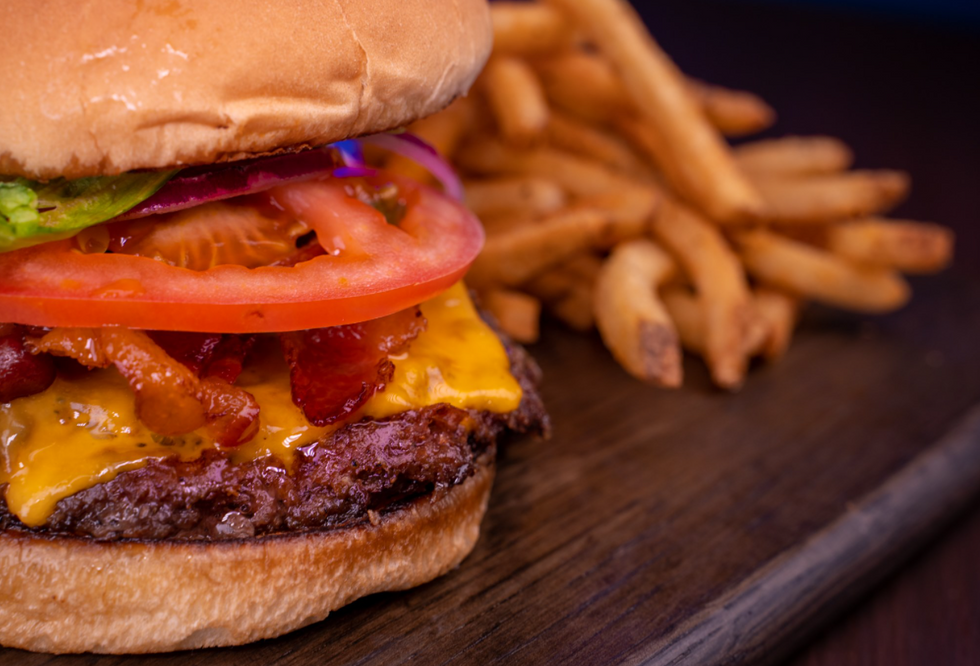 (Woo Woo Burgers)
Operating out of a 6th Street ghost kitchen, Woo Woo Burgers is a new restaurant concept by Z'Tejas Southwest Grill to serve simple burgers made with simple ingredients—1/3 lb patties with lettuce, tomatoes, red onions and cheese. The kitchen, which opened on May 28, serves a menu celebrating American culture: burgers, chicken sandwiches, sides and all the fixin's. The brand new burger joint is celebrating the launch by donating 10% of proceeds to the Special Olympics until June 7.
Ramen Tatsu-Ya summer spicy chilled ramen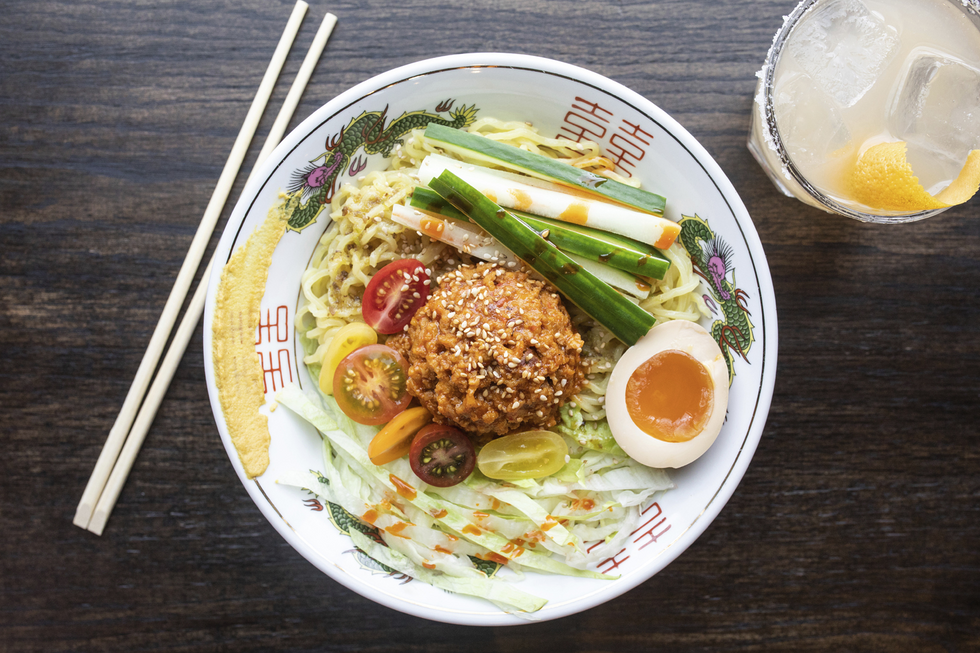 (Julia Keim)
After gracing Austin with Japanese soul food for almost 10 years, Ramen Tatsu-Ya, with a location in South, East and North Austin, is bringing back the favorite summer special—spicy chilled ramen. Famous for some unique menu items like the Tsukemen dip ramen, the Spicy Chilled ramen is a similarly brothless noodle with citrus soy dressing, ajitama, pork, cucumber, tomatoes and chili oil for a simultaneously spicy and cooling bowl. The ramen will be available all summer but after that, it's gone!
De Nada Cantina opening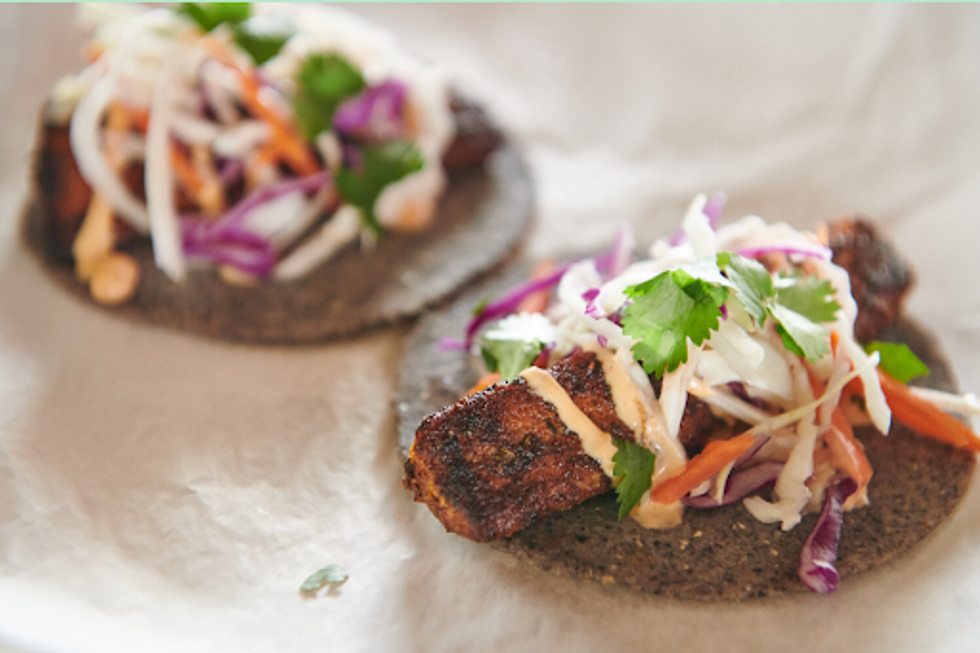 (De Nada Cantina)
Coming from some of Austin's prevalent foodies like former ATX Cocina Chef Allie McMillan, Sawyer & Co. Head Chef Alex Amar, 2 Dine 4 Head Chef Nick Barrera and Half Step Bar owner Chris Bostick, De Nada Cantina is a modern take on traditional tacos and margaritas. Featuring blue corn tacos with interior Mexican flavors like Pollo Escabeche and Camarones, Nada Cantina will also have an extensive cocktail menu with drinks like "the Cadillac" of margaritas "El Chingon," and fresh palomas. The restaurant, 4715 East Cesar Chavez, opens on June 2.
DipDipDip Ice Cream brings back specials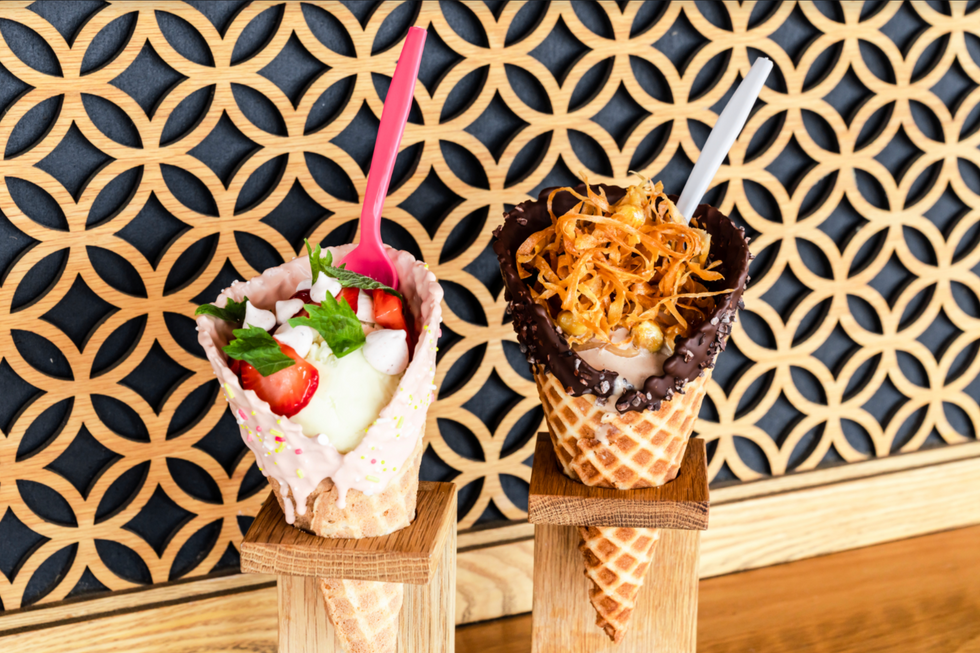 (Jane Yun)
Just in time for summer, DipDipDip Ice Cream, 7301 Burnet Road, is bringing back two original sundae creations: Sum Yum Yuzu and Shroom of Doom. Black pepper-yuzu-mascarpone ice cream, meringue kisses, berry preserve and shiso leaf are served in a pink lemon dipped cone to create the Sum Yum Yuzu sundae and the umami-filled Shroom of Doom is made with caramel-chocolate-shiitake ice cream, sherry sauce, hazelnuts and fried parsnips. There are plenty of other sweet treats available from the pop-up: boozy milkshakes, ice cream tacos and pints of cookies and matcha ice cream.
Bobo's Snack Bar opening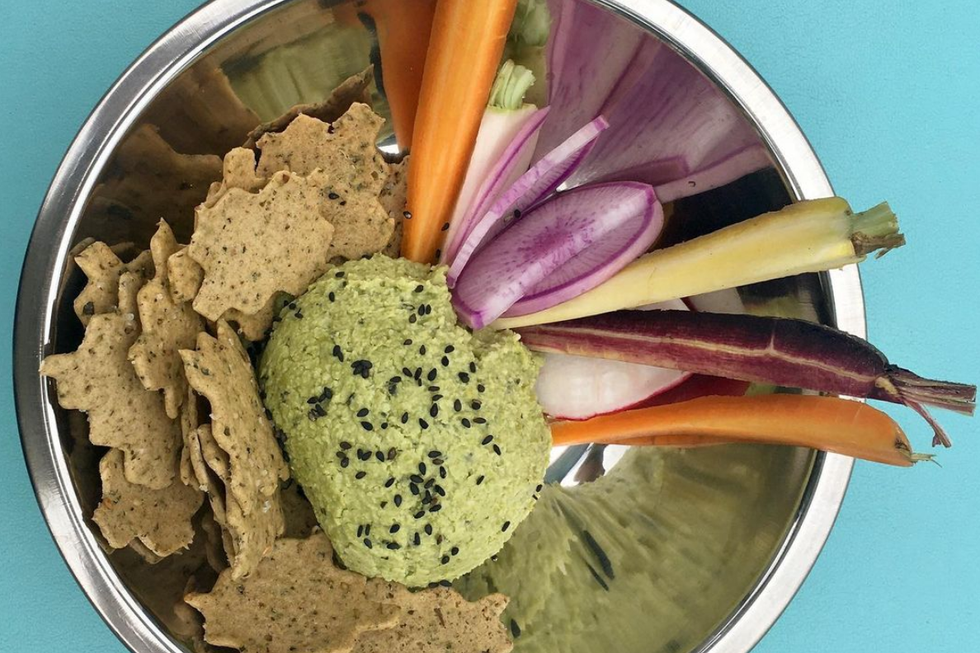 (Bobo's Snack Bar)
After South Congress' Snack Bar was shuttered in 2016, owners Bethany Andrée and Karl Gilkey are trying again on 3850 Airport Blvd. Owners consider the new space to be a community tasting room, as all the food they serve is sourced within a 100-mile radius from Austin: produce from VRDNT Farms and edamame hummus from Fat Belly Pretzels are just a few of the unique flavors from Lone Star artisans you can try while you visit.
(OMG Squee/Instagram)
May is Asian-American and Pacific Islander heritage month, so if you love boba tea, ramen noodles, bento boxes and kawaii culture, it's time to show the businesses that offer these treats a little extra love.
With the spread of COVID-19, acts of racism and xenophobia have been on the rise all over the world sparking a movement, #StopAsianHate, to combat the violence. In honor of Asian-American and Pacific Islander heritage month, stop by one (or all) of these locally-owned businesses, which make the city more delicious, artistic and diverse.