Get connected with our daily update
In 2013, as the city of San Marcos was recognized as the nation's fastest-growing city by the U.S. Census Bureau for the first time, journalist and entrepreneur Melissa Jewett knew a change was coming.
Central Texas earned a reputation as one of the fastest-growing hubs in the country throughout the mid-2010s as newcomers from near and far flocked and real estate prices soared. As the area began experiencing growing pains, Jewett saw an opportunity. She formed online news site San Marcos Corridor News to serve not just San Marcos, but nearly the entire I-35 corridor between Austin and San Antonio.
"I have been in San Marcos for 16 years and I have just watched tremendous growth... and so I just decided that we needed to tap into that audience," Jewett said. "I wanted something that could try to cover a regional area and not just a local area, even though that's what I started out thinking about. And during those eight months, it finally hit me upside the head that it's growing like crazy."
While San Marcos' Hays County exploded by over 50% to become the fastest-growing county in Texas from 2010-2020, Austin was heralded as a "boomtown" by new transplant Elon Musk and the thousands of techies that soon followed. The Texas capital city-turned Californian haven was the fastest-growing large metro in the country in 2020, according to the Census Bureau.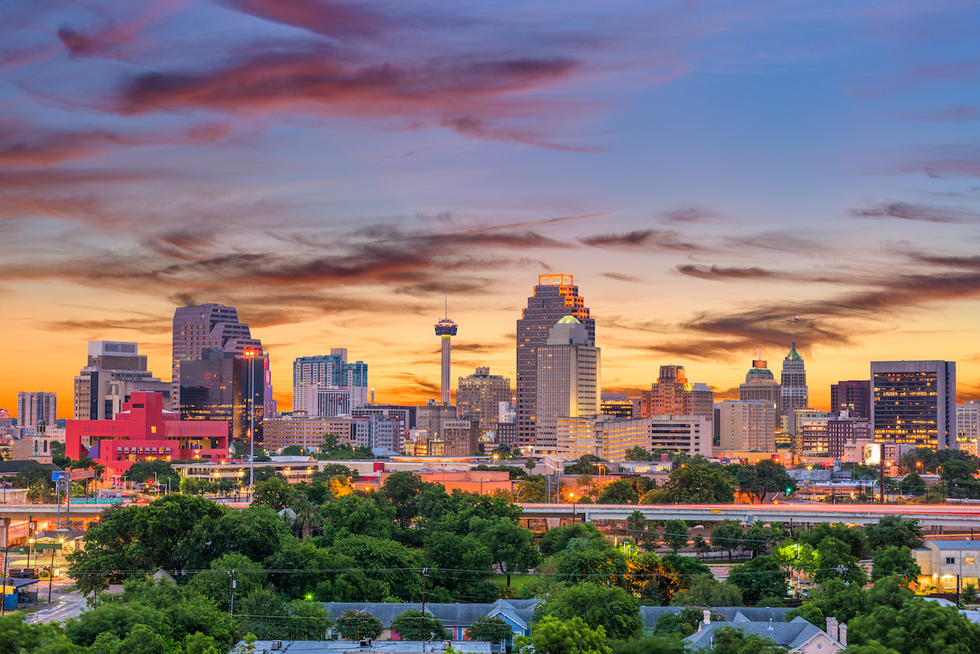 San Antonio is on the south end of the I-35 metro that could be. (Shutterstock)
Just an hour and a half south down a short, traffic-heavy I-35 strip lies San Antonio, a city whose growth isn't far behind its more hipster counterpart. San Antonio and nearby New Braunfels were once set apart by swaths of countryside; now, the two are nearly connected and are both earning spots on fast-growing lists.
With all of the past decade's expansion, some believe that Austin and San Antonio will one day merge into a metroplex that rivals Dallas-Fort Worth. Some, including Jewett and state demographer Lloyd Potter, say it's already happening.
Matthew McCafferty, a real estate developer with Brookfield Properties, said he remembers when Blanco Vista, their master-planned community in San Marcos, was one of the first in the area. Now, small subdivisions dot nearly the entire corridor. McCafferty said Austin bedroom town Buda has been nearly completely bought out by new developments, while New Braunfels currently has a massive 6,000-unit master-planned community in the works.
There are still some obstacles before the area becomes a metro with a catchy nickname—ASA (or Austintonio?). In their latest study published last month, Austin's Urban Land Institute discussed several needs, including better public transportation and high-density walkable neighborhoods, if Austin is to have sustainable growth and increase affordability.
ULI's Paulette Gibbins said that extends to I-35 corridor growth—the area's cities will need to emphasize "transit-oriented development" and vastly improve travel time between the two hubs before it can experience healthy growth.
McCafferty said a public rail system and money funneled from the U.S. infrastructure bill could help the two cities grow together.
"That's a heck of a drive in the morning (and) I think that that's the biggest constraint between the two cities," McCafferty said, referring to the hour and half drive between the city centers (without traffic).
But even with lightning-speed rail to connect the two cities, the region wouldn't be cohesive without "live, work and play" cities in between, Gibbins said.
"Having job opportunities so people can work near where they live, is also going to have a great effect on the (metro) overall because otherwise, you end up where it's really just a split between the two cities," Gibbins said. "The whole area needs to be utilized."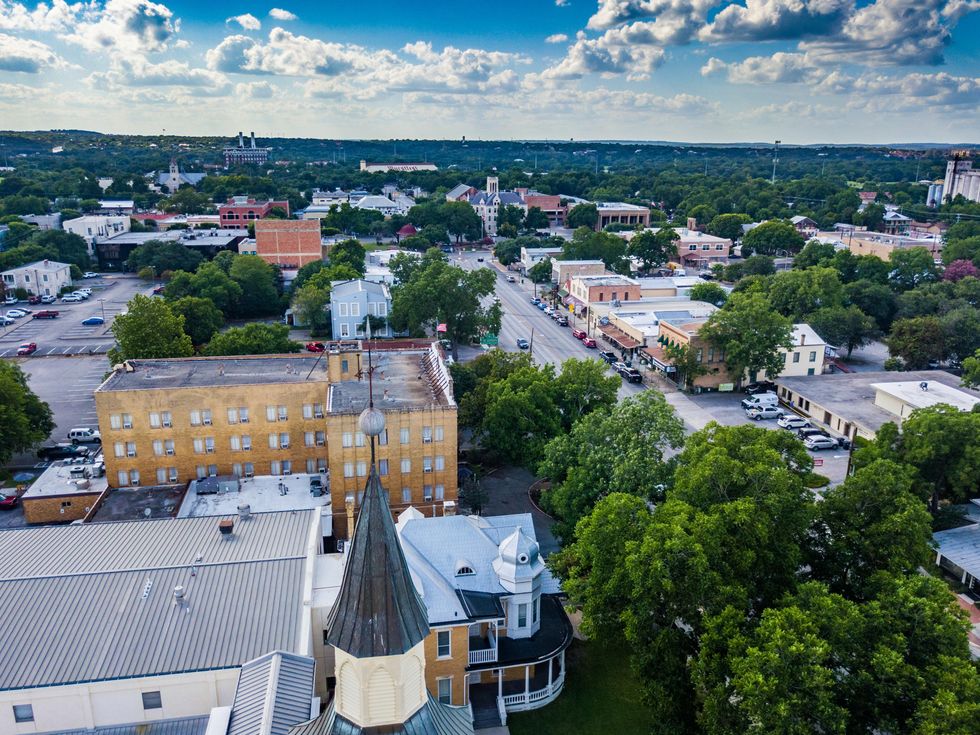 New Braunfels is bleeding into San Antonio as the area grows together. (Shutterstock)
That's where organizations like the Greater San Marcos Partnership come in. San Marcos residents tend to grit their teeth when their city is referred to as a commuter city for Austin or San Antonio, and Jewett said some officials are in denial about the area's imminent growth.
But San Marcos has become an economic powerhouse of its own—the partnership helped usher in a 1 million-square-foot Amazon warehouse in 2020, and the GSMP's Jason Giulietti said the area's job growth and labor force each grew by around 45% from 2008 to 2018. The city's resident 36,000-strong university, Texas State University, is also quickly developing into a tier-one research institution.
Some families already brave the commute between the two Central Texas hubs each morning—but as residents and companies get priced out of Austin and San Antonio city centers, they're turning to the in-betweener cities. According to ApartmentData.com's November Market Line Report, the San Marcos/Kyle/Buda area has been the hottest of Greater Austin's 11 submarkets over the last three months.
"If you think about as a large employer, choosing a site in San Marcos, Kyle or New Braunfels gives you the ability to pull from the Austin market as far as jobs and... the San Antonio market as well," McCafferty said. "I think that's going to become a lot more appealing."
Just days after rumors swirled about the tech company's relocation, Tesla CEO Elon Musk announced Thursday that the company would follow its billionaire leader and move its headquarters to Austin.
Musk, who has had a long history of run-ins and complaints about the company's former home state of California, said in Tesla's third quarterly meeting that the company would switch HQ's from Palo Alto to Austin. The annual shareholders meeting was held at Austin's Giga Texas plant rather than its usual Bay Area location, leading some to believe that the move was imminent.
According to Musk, the company will still continue to ramp up operations by as much as 50% in its Fremont, California location—but Texas allows the company more space to grow.
"You go to our Fremont factory, it is jammed," Musk said. "We're like spam in a can."
Musk has previously called new tech hub Austin a "Little California" and joins Oracle, Hewlett-Packard and dozens of smaller tech startups in making the shift to the "Silicon Hills."
Musk moved to Austin in December 2020 and has flip-flopped between Austin and his 375-square-foot primary residence in South Texas as he monitors the production of Tesla's Giga Texas factory and SpaceX's rocket prototypes.
Austin's Giga Texas plant will begin producing Cybertruck models at the end of 2022 and will begin "volume production" by 2023, Musk said in the meeting. Musk said supply chain shortages are the culprit for the Cybertruck's multiple delays.
(Pexels)
Curiosity into cryptocurrency has grown nationwide with 63% reportedly "crypto curious," or those wanting to learn more about it but have not started investing, according to Gemini, a digital currency exchange and custodian platform. The platform reports 14%, or 21.2 million, Americans currently own cryptocurrency with 68% of owners buying within the last two years.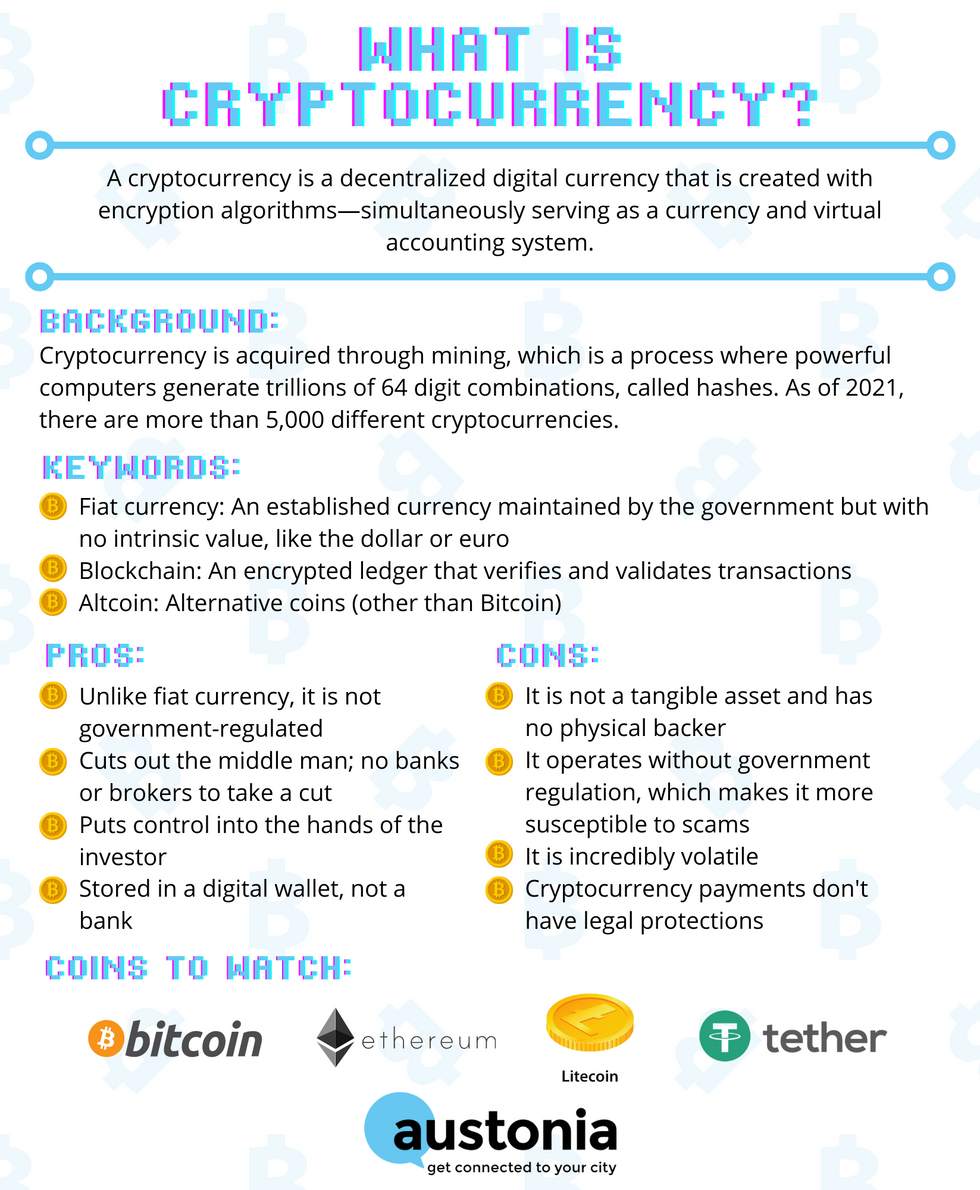 (Laura Figi/Austonia)
Who is buying in?

Sam Nassar, a Texas State University accounting graduate student, started investing in cryptocurrency in July 2020, although he kept up with crypto trends before that. At 23 years old, Nassar said the decision to take the plunge and invest was born from quarantine boredom.
"I've always been intrigued in technology, and I've always been an early adopter, so I just decided to start to invest in it and understand kind of a little bit of behind it," Nassar said. "I do believe in the technology and I know it's so useful and truly is the future"
Since then he has invested over $700 in Bitcoin, Ethereum, Litecoin, Tether, Cardano, Chainlink and Internet Computer.
Cryptocurrency interest is heavily skewed toward younger men with the biggest percentage primarily between the ages of 25 and 44.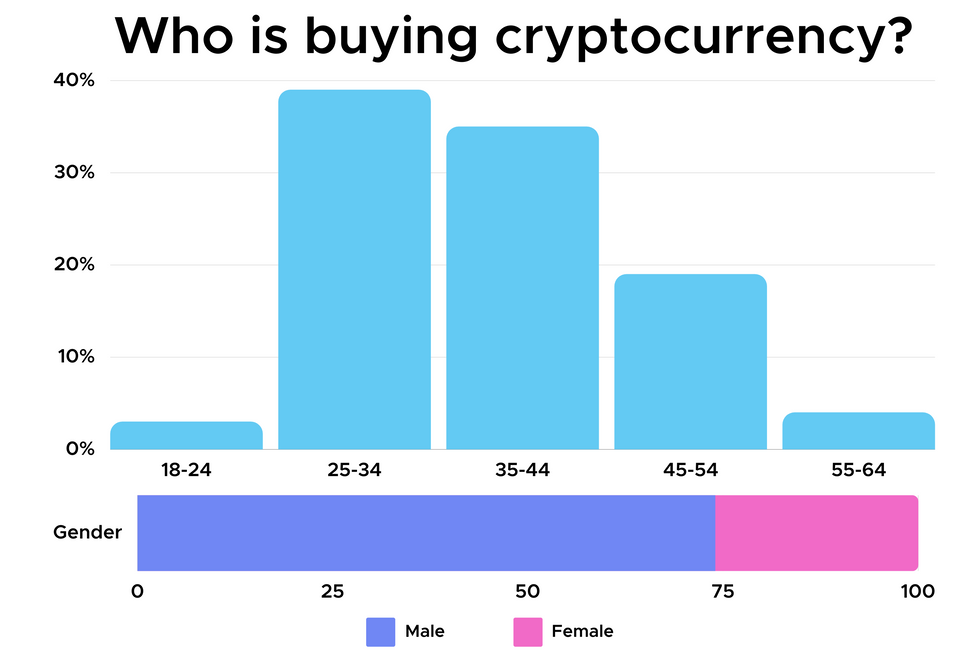 (Laura Figi/Austonia)
Likewise, 26-year-old, Liam Duddy, a South Austin salesman, started to involve himself in cryptocurrency after hearing the buzz about Bitcoin and how much money people were making off of it.

"I was like wow, so you're telling me it only takes me one of these little coins if I can get a hold of them and I have 30 grand," Duddy said. "That opened up a whole different world of all these different kinds of coins you can buy into."
Why are they investing?
For Nassar, cryptocurrency is about being part of the technology of the future. Nassar is studying to be a Certified Public Accountant and believes cryptocurrency, blockchain technology and innovations like smart contracts, or self-executing contracts programs, have the capacity to completely change the industry he wants to work in.
"You're going to have to have specialized auditors that understand blockchain technology in order to truly audit it, otherwise fraud can occur," Nassar said. "I think it really is the future. I really do think that that's another reason I'm investing into it, because I do believe that technology."
Cryptocurrency is about the gains for Duddy, who originally invested $400 and saw a $2,000 return when he invested in Bitcoin and Chainlink. Although he does see value in the future of blockchain technology, Duddy also has fun with it.

"Right now there's not a whole lot (of real-world application), it's not as easy to pay with, but if I have it and it's going up, you have one of them it's worth $50,000 U.S. dollars you can buy a car," Duddy said. "I guess you look at it as something fun to start off with."
What's their advice for new investors?
Do your research before investing
Use a platform meant for cryptocurrency
Don't just listen to Elon Musk's predictions
Look before you leap
Both Nassar and Duddy recommend using an app like Coinbase or Gemini to track your cryptocurrency.
Finally, don't let the volatility scare you but do make sure you do your research before you sink your life savings into an unregulated currency.
"At the end of the day it's like gambling," Duddy said.