Get connected with our daily update
Want to become an influencer, a business-savvy marketer and content creator while doing what you love?
For Austinite AvaGG and thousands of others, that dream unexpectedly became reality as they dove into the ever-evolving world of Twitch, a video game streaming platform. Ava now only goes by her gaming name after facing safety issues.
Ava's original goal was simple: Make money and connections while playing her favorite games, including Apex Legends, Magic the Gathering and Animal Crossing, on Twitch.
Now a 10-year streaming veteran with over 450,000 Twitch subscribers and well over 200,000 followers across Instagram and Twitter, Ava said the industry has changed exponentially in ways she never expected. As a longtime Texan who joined Twitch when it was around a year old, Ava's watched the industry transform—for better or for worse—from a hobby to a more than full-time job.
"You are a content creator, you're an influencer," Ava said. "It's hard because you still just think of yourself as a person who's just playing video games, and you also have to come to the realization that you have a platform that people do follow."
Through subscriptions and tips, sponsorships with national brands and a grueling streaming schedule that can well surpass the typical 40-hour workweek, Ava has been able to skip the office lifestyle, become friends with notable people and travel the world.
But it wasn't always this easy—for years, Ava said the job was just enough to pay the bills.
Through years of growth and a boost in the COVID-19 pandemic, Ava and over 8 million other Twitch streamers have gained the ability to diversify their business ventures and profit from large sponsorships. By 2020, 26.5 million viewers were logging into the streaming site daily, and over 8 million streamers were on the site in July 2021. Twitch gods like Ninja, who broke all-time streaming records in 2019 as he played Fortnite with rapper Drake, have made big-money sponsorships with brands like Adidas and Ubereats.
That growth has been especially evident in Austin. Streamers Lululuvely (1.1 million Twitch followers), TeaWrex (265,000 followers) and Nokokopuffs (265,000 followers) are just a few Austinites who have cashed in on the site.
The city's web of influencers has only grown more tight-knit—Ava, for instance, has friends that range from fellow streamers to prominent local food blogger Jane Ko, otherwise known as Koko—and many streamers decided to make the move to Austin to hang out with their virtual friends.
"I think it just started because, like, one or two people moved here, and then once a couple of them moved here, then everyone else followed," Ava said. "I convinced so many friends from like the (Grand Theft Auto game) World to move here... You game together with them for years so you want to hang out."
Ava said it's nice to have friends that understand her unique employment status. But it's also hard to strike a work-life balance in a world where your every move could be monetized.
"It's the entertainment business, right?" Ava said. "If you're not doing something, then someone else is going to. It's a harsh world."
Some cracks are beginning to show in the fledgling gaming world. Gaming addictions are now making headlines, with Austin online gambling streamer TrainwrecksTV (195,00 subscribers) recently coming forward about his own addiction. Ava's dealt with stalking, misogyny and racism, though she's managed to turn incidents into teaching moments for her followers. At 30, she's even seen premature effects on her health—from back pain to mental health issues from staying inside.

But the nature of gaming still stands true. Due to its inclusivity and widespread interest, she believes Twitch streaming and E-sports industries will soon become more popular than sports.
"I feel like it's going to explode," Ava said. "Because that's what's cool about gaming is, you know, for as noninclusive as people try to make it, it can be very inclusive, right? It's women, and men, young and old. I'm going to be 80 years old, probably still paying attention to Twitch."
"It's 5 o'clock somewhere," but not quite at Austin's Cidercade, where gamers, couples and friends have already gathered in the middle of a weekday to drink cider and play arcade games, new and old, for $10 a pop.
The cider company-turned-arcade is just one of many successful arcade businesses to have found their audience in Austin, where tech gurus and niche game hobbyists take a breather with their favorite old video games.
According to David Kaelin, owner of retro gaming store Game Over Videogames, Austin is a prime location for those in his industry.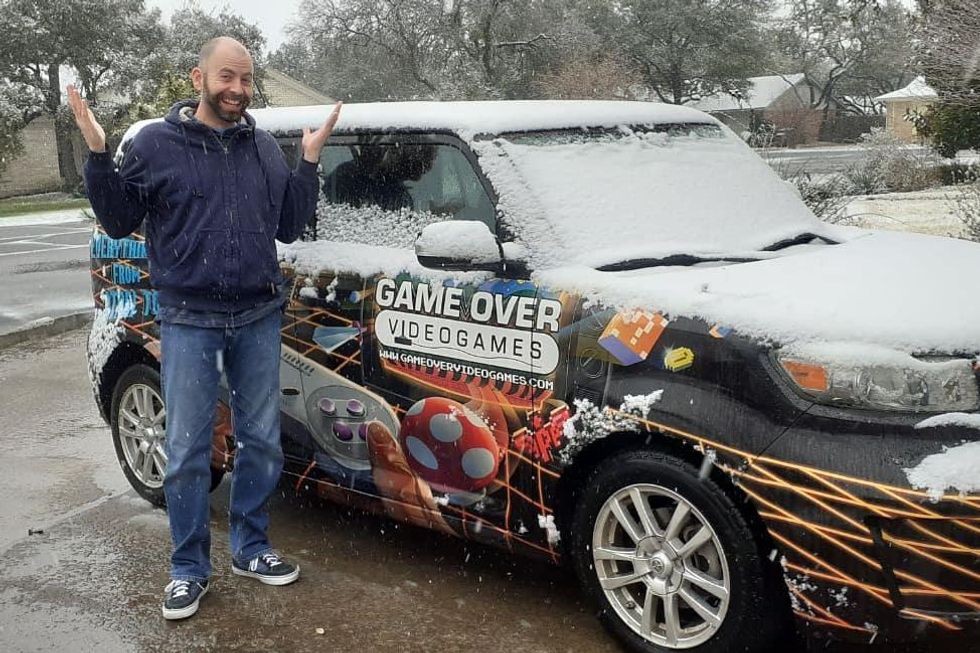 David Kaelin is a longtime owner of Austin-based retro gaming store Game Over Videogames, (David Kaelin/Facebook)
"It's definitely a very good market for gaming in general," Kaelin told Austonia. "There's a lot of young, high-tech-minded people here... and every year thousands of people are coming in and out of UT with high tech degrees, so it just adds more and more geek fuel to the fire."
But it wasn't long ago that just one or two arcades were in town, Kaelin said.
"I can think of five arcades that I could drive to just around the Austin area, and you couldn't say that five years ago," Kaelin said.
Kaelin has been a part of the industry since 2005 when he opened his video game resale shop in the Texas capital. His mission was to keep on the dying tradition of the "classic video game store"—think GameStop, but cooler. The store sells a little bit of everything, from the now-ancient Atari to XBOX gear in stock, and they're in higher demand than ever.
The company has expanded to 12 locations and won the "Best Video Game Store" category in Austin so many times the city expanded its criteria. According to Kaelin, its success is all about nostalgia.
Kaelin has found that there's a sweet spot for old games: once they reach 20 to 30 years old, they're ready to be dusted off the shelves and give new adults more feel-good memories.
For Leander native Danny Ugarte, that game is Dance Dance Revolution, an on-your-feet arcade game first made in 1999. Ugarte remembers playing the game as a kid—now, years later, he's using it as a way to keep occupied during the pandemic.
"It definitely helped, especially since gyms were closed and things like that," Ugarte said. "That helped me keep up with exercise."
Ugarte's been going to Cidercade for around six months now, usually with a friend or two in tow, as they hang with other "DDR" enthusiasts every few weeks. Occasionally he'll dabble with an old Mario Bros. game as well, and he's more into retro games than the cutting edge ones.
"I just think it's important to kind of keep these old games because they were what inspired the new games," Ugarte said. "With the new games it kind of loses its charm... this is what I grew up on, and coming back to this makes me really happy."
While some are motivated by childhood memories, Kaelin said his customers are a mixed bag. The user-friendly nature of older games gives it more widespread appeal than many modern games, and Kaelin has seen anyone from kids to older customers enjoy a good game of Galaga or Street Fighter.
"It's fun for me to see all the different ages and different reasons for getting into retro gaming in stores," Kaelin said. "It brings all those people together."
Unlike most businesses that struggled during the pandemic, Kaelin said that staying a home got people gaming more than ever. Now that some semblance of normalcy has returned, they're also more eager to go somewhere outside of the home, making for a perfect storm for gaming businesses nationwide.
"Unlike anything else, it's gotten a lot more popular in the past several years before COVID, and then especially during the past two years with the shutdown," Kaelin said. "We're definitely in a kind of Renaissance period where I think people are, you know, in much larger numbers going out to local stores to shop because they've been unable to do that in the past. It's a great time to be into retro gaming."
(Pexels)
In the $159 billion global video game industry, Austin got a high score as the number one city of opportunities for gamers and developers and one of the best cities for gaming.

According to a WalletHub study comparing the 100 largest cities in the U.S., Austin attracts gamers like no other with the most job openings in the video game industry and ranked the second best city for gamers overall.
The list was dominated by California cities—with six in the top 10 alone—and Austin was the only Texas city up until Plano, which was ranked 14th.
Falling shy of No. 1 Irvine, California, which took a total score of 73.6, Austin scored 65.9 across 22 indicators of gamer-friendliness, including the number of gaming stores per capita, average internet speed and number of video-game-centric events.
Austin attracts those in the tech sphere, so it is no surprise that the city holds more opportunities for those who are trying to break into a video game-related career. The city is home to a multitude of companies that focus on video games; Rooster Teeth, Unity and Zynga all have jobs available.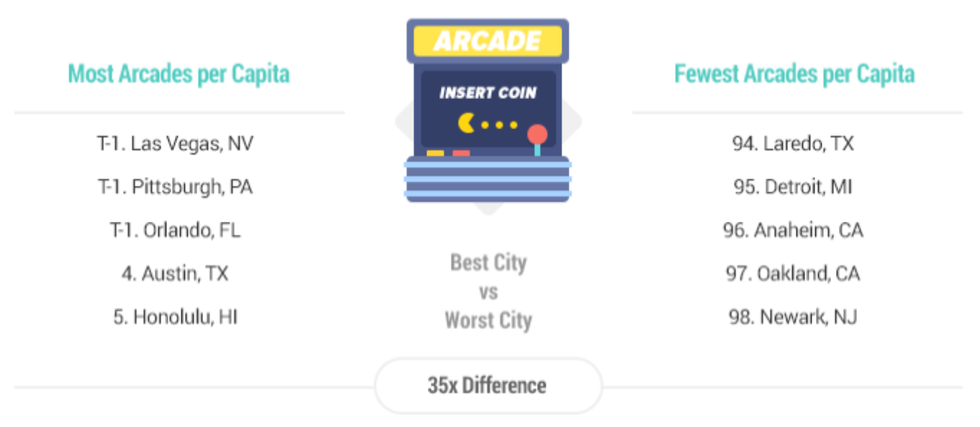 (WalletHub)
While you might find more arcades in Orlando, Florida; Pittsburgh, Pennsylvania, or Las Vegas, Nevada, which all tied for the first slot, Austin was next on the list. With plenty of classic arcades like Pinballz, Main Event and GattiTown, Austin has also made several recent additions to the retro gaming scene with Cidercade and Texas Gamers Lounge.
According to the Pew Research Center, 72% of American men aged 18-29 play video games and 49% of American women in the same age range do as well. Austin has the fourth-highest percentage of residents between the ages of 18-49 that game, falling between Seattle, Washington, in third place and Minneapolis, Minnesota, in fifth place.
(JoopDorresteijn/CC)
The force is strong in Austin, bringing with it plans for a new Star Wars mobile game to be headquartered in the city.
Mobile game developer Zynga, famously known for titles like "Farmville" and "Words with Friends," announced it would develop a new "Star Wars" game in their existing Austin office on Monday.
Zynga will pair with subsidiary NaturalMotion and UK-based NaturalMotion company Boss Alien to develop the game, led by NaturalMotion Senior Vice President of Games Jeff Hickman and BossAlien General Manager Matthew Hemby.
Hickman said he believes in the talent in Austin to create the game. There will be a lot of Star Wars knowledge on the team—Hickman previously helped create BioWare's online game "Star Wars: The Old Republic."
"As a longtime Austinite, I know firsthand the immense level of talent and creativity that resides in this beautiful city," Hickman said in a statement. "We believe that the Austin talent market is highly compatible with our mission of bringing AAA console visuals and deep, compelling gameplay to mobile platforms."
The new team is looking to hire 25 new employees, including engineers, level designers and internships. View the full list of openings here.
From Your Site Articles
Related Articles Around the Web