Get connected with our daily update
Almost a year after the shooting death of Garrett Foster, a Black Lives Matter protester, U.S. Army Sgt. Daniel Perry will be charged with murder, deadly conduct and aggravated assault in connection with the killing.
Tony Plohetski with KVUE and the Austin American-Statesman reports a Travis County grand jury made the decision to charge Perry on Thursday. He turned himself into the Travis County Jail but has since posted bond in the amount of $300,000 and was released from custody.
Travis County District Attorney José Garza said over 150 pieces of evidence and testimony from 22 witnesses led the Court to the decision in a three-week hearing.
The incident took place on July 25, 2020, as protesters took to the streets of Austin in continuous protests stemming from the killing of George Floyd at the hands of Minneapolis police. Foster actively participated in protests with his wife, a quadruple-amputee. He was carrying an AK-47 at the time.
Perry was completing a ride nearby as an Uber driver when he says he shot at Foster in self-defense after Foster approached his car, according to his lawyer. Perry, who was stationed in Killeen, took a lie detector test in October to defend his statement. While, the polygraph examiner found "no deception indicated," per his lawyer, the Austin Police Department at the time said witnesses have described several different versions of the incident.
This weekend marks one year since Austinites marched en masse in support of the Black Lives Matter movement, joining protesters in cities across the country—and world.
Spurred by the April 24 police killing of Mike Ramos in Southeast Austin and the May 25 murder of George Floyd in Minneapolis, hundreds of protesters gathered outside of the Austin Police Department headquarters on May 30, 2020. Some later shut down I-35. APD officers used so-called "less-lethal" rubber bullets, leaving some protesters with permanent brain damage.
More protests followed, including one organized by the Austin Justice Coalition that saw thousands march from Huston-Tillotson University to the Texas Capitol. In response to the demonstrations and outrage over APD's actions, Austin City Council criticized then-APD Chief Brian Manley and voted unanimously to cut the department's budget.
Protests against police violence and racial injustice in Austin and other cities sparked reform but they also prompted pushback from the state's Republican leadership and coincided with a national increase in violent crime. Although unexplained, this trend has led some to question the utility of "reimagining public safety," as local elected officials have pledged to do.
In the year since, Austin has seen the shooting death of protester Garrett Foster, the resignation of Manley and the historic indictment of APD Officer Christopher Taylor, who was charged with first-degree murder in Ramos' death in March. More recently, City Council approved a pilot class of the APD training academy, which was put on hiatus last July due to curriculum concerns, and state lawmakers sent a law to Gov. Greg Abbott's desk that will, if passed, prohibit police funding cuts in Austin and other large Texas cities.
Criminal justice reform advocates say there is still work to be done. Meanwhile, public safety interest groups argue that the reforms already enacted go too far. As Austin heads into its second year since these protests, one thing is certain: their legacy continues to influence the city's direction.
Austinites protested on May 30, 2020, following the police killings of Mike Ramos in Southeast Austin and George Floyd in Minneapolis.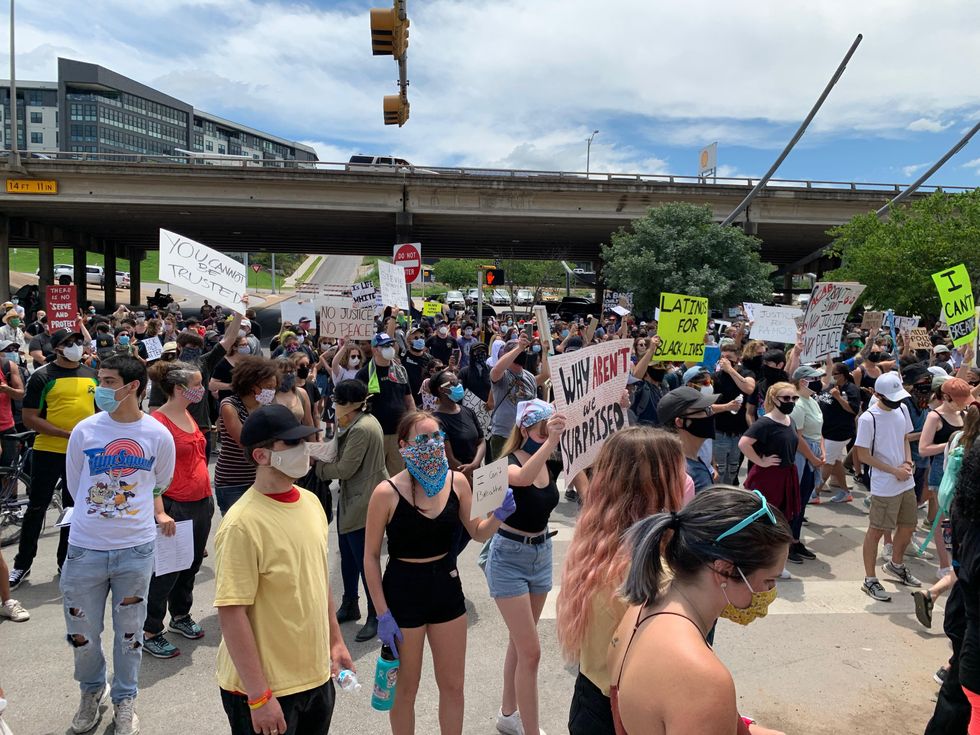 (Austonia)
Protesters first gathered outside of the APD headquarters in downtown Austin.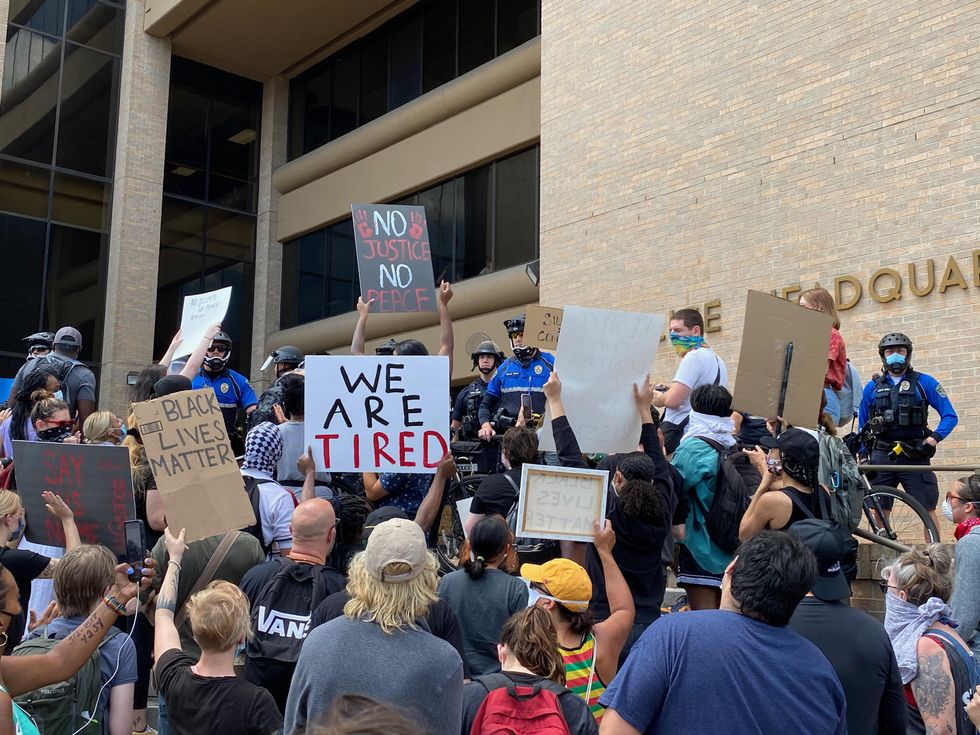 (Austonia)
They later spread out, eventually shutting down I-35.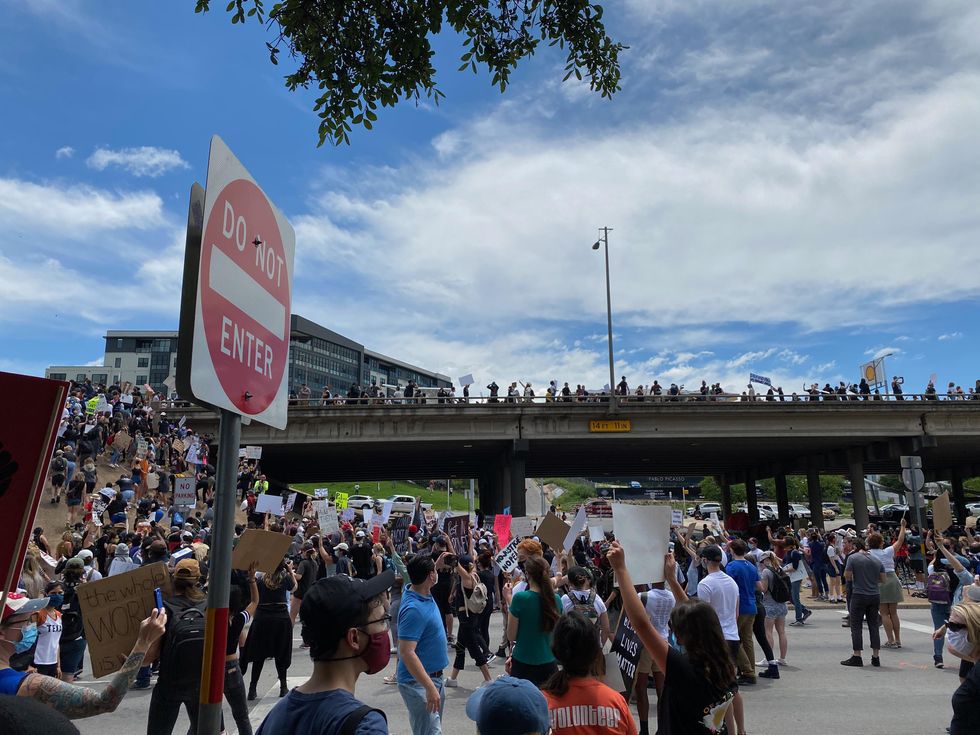 (Austonia)
APD officers used rubber bullets, bean bags and tear gas to disperse protesters.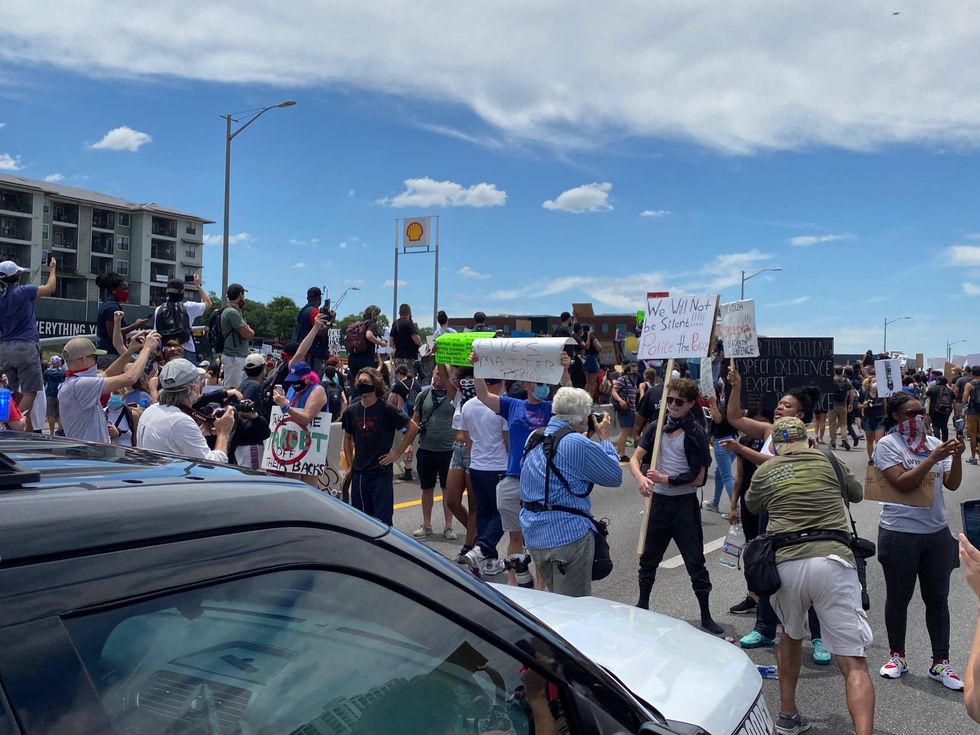 (Austonia)
The police response left many protesters injured, including a pregnant woman, and left a 16-year-old and 20-year-old with permanent brain damage.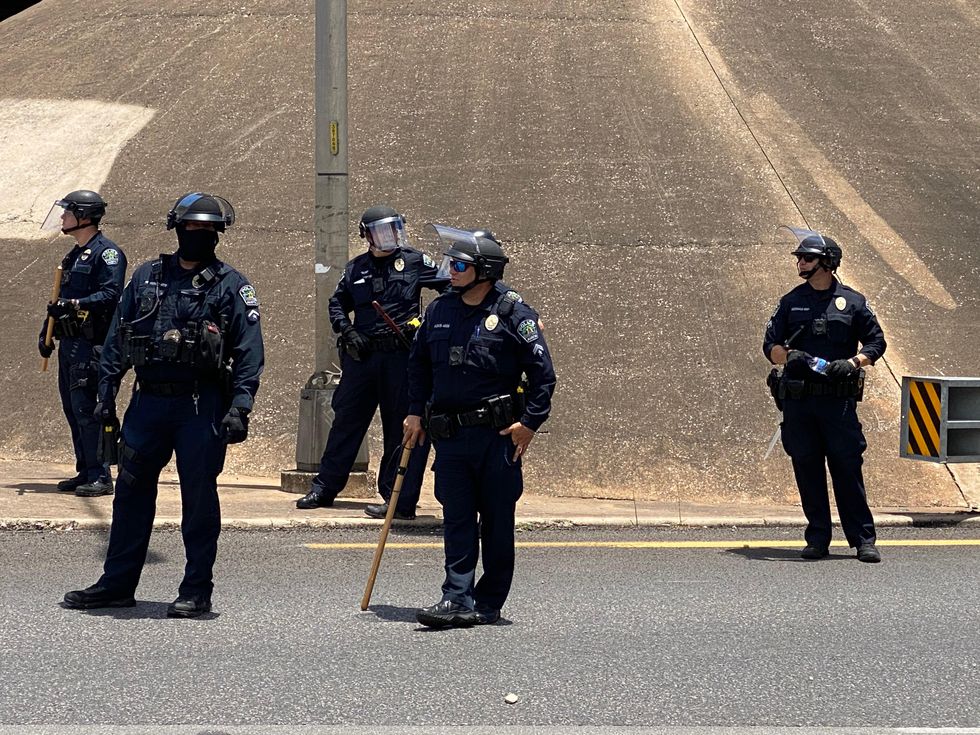 (Austonia)
The protest spurred others, including one the following weekend that saw thousands march from Huston-Tillotson University to the Texas Capitol.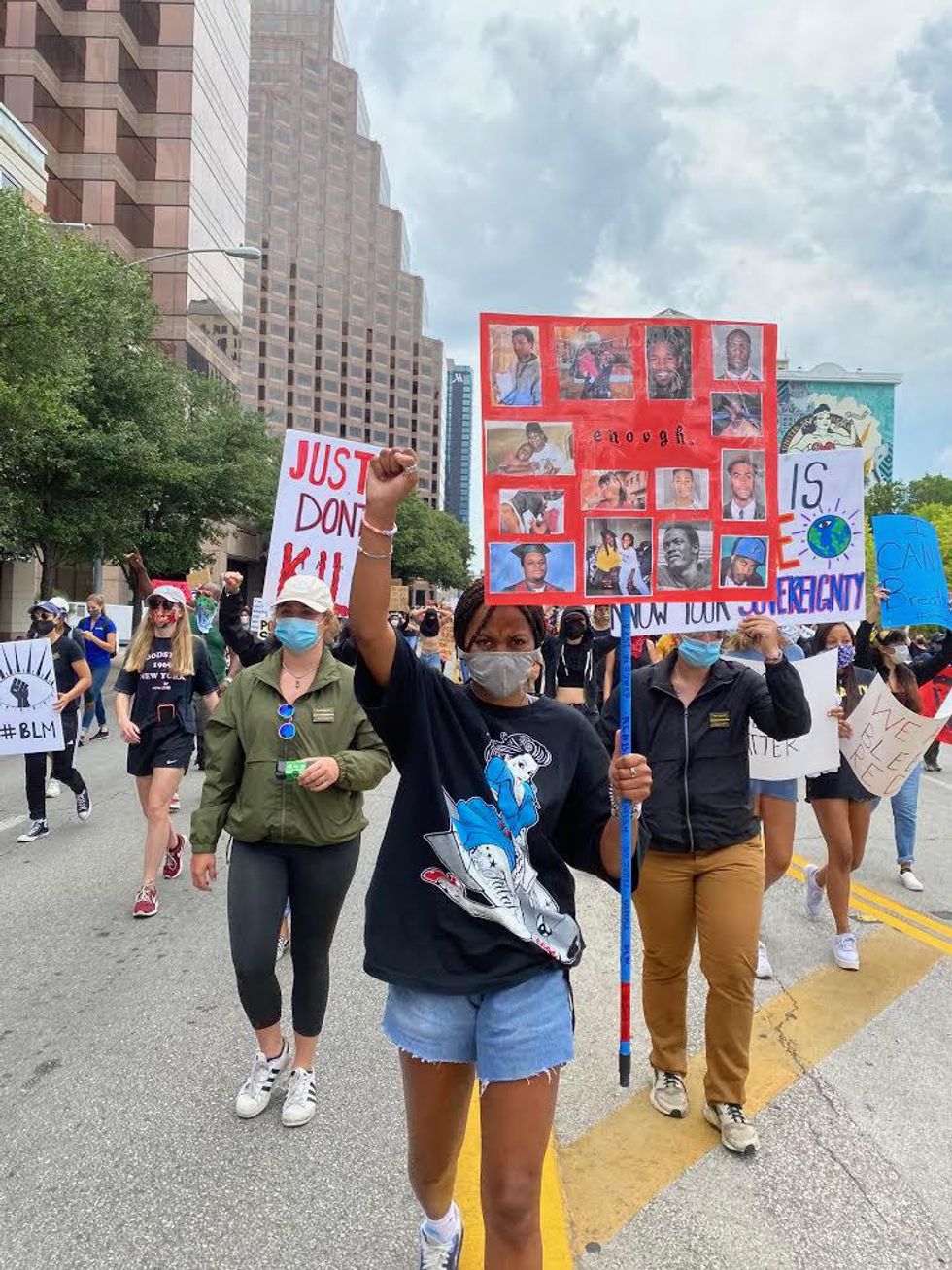 (Austonia)
The series of protests ultimately led to reforms at the local and state levels, some of which are still taking shape.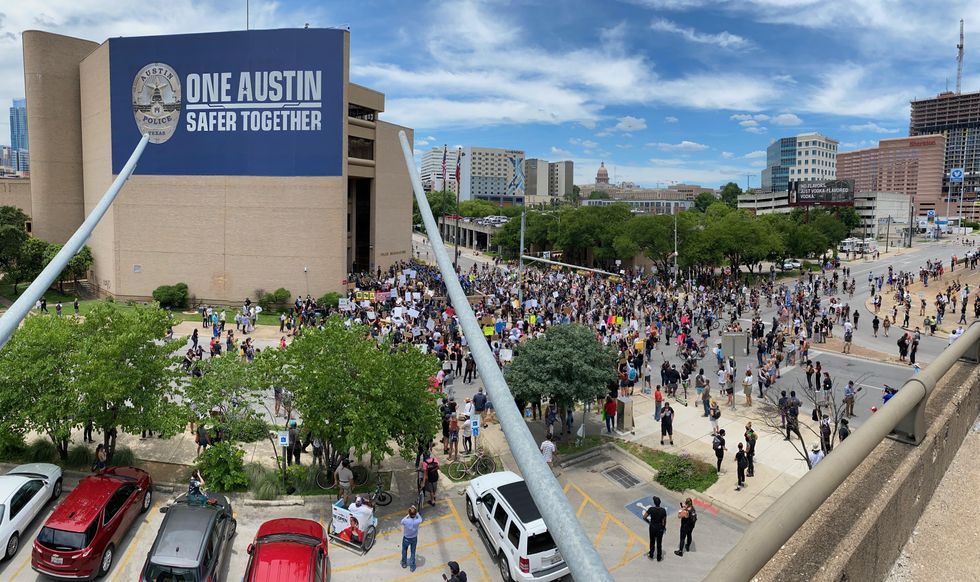 (Austonia)
(F. Clinton Broden/Broden & Mickelsen)
Daniel Perry, the active-duty Army sergeant who says he shot armed Black Lives Matter protester Garrett Foster in self-defense while driving for Uber, took a lie detector test for the incident that happened in July .
Perry claimed Foster, who was carrying an AK-47 rifle, raised the assault weapon "in direct threat to (his) life" in a July 31 statement. However, the Austin Police Department said witnesses have described several different versions of the incident.
"In order to put this issue to rest, Sgt. Foster recently took a polygraph test," Foster's lawyer, Clint Broden, said in a press release issued on Thursday.
The test posed two questions, both of which asked whether Perry lied about seeing the AK raised before shooting Foster.
Perry answered "no" to both and the polygraph examiner found "no deception indicated," per the release.
Although lie detector tests are commonly used by law enforcement, many dispute their value.

"Most psychologists and other scientists agree that there is little basis for the validity of polygraph tests," according to the American Psychological Association.
In a nearly 400-page report, published in 2003, the National Research Council concurred, writing: "Almost a century of research into scientific psychology and physiology provides little basis for the expectation that a polygraph test could have extremely high accuracy."
APD said the investigation is ongoing in an email to Austonia on Thursday. The department last provided an update regarding Foster's death on Aug. 26, when it asked for witnesses to come forward with any information about the incident.
Perry is stationed in Killeen and only allowed to travel 100 miles from base. Broden said he was in Austin the night of Foster's death because it "was the closest location that had significant ridesharing customers."
After shooting Foster, Perry said he drove away and then called the police, who later released him with no charges.
Foster regularly attended Black Lives Matter protests in Austin with his fiancée Whitney Mitchell, a quadruple-amputee.
On the night of his death, Foster attended one organized by the Mike Ramos Brigade, which has referred to Foster as a "comrade" and "one of our own" in social media posts.
Tonight a racist vigilante murdered a comrade that has consistently shown up for Black lives for the last two month… https://t.co/Mmraf4m7xA

— Mike Ramos Brigade (@Mike Ramos Brigade)1595739431.0
The group's members have not identified themselves, but APD confirmed in June that there is crossover between the brigade and a local antifa group called Defend Our Hoodz, which organized a rent strike and May Day protests earlier this year. The mother of MIke Ramos has denounced the group's use of her son's name. Her son was shot and killed by APD officers in April.
Like Perry, Foster served in the military, but he left to care for Mitchell when she became sick with an unknown illness, which led to her amputations, according to the Dallas Morning News.
On the night he was shot, Foster spoke about why he was carrying an AK-47 with Hiram Gilberto Garcia, who has been broadcasting live footage from the Austin protests.
"They don't let us march in the streets anymore, so I got to practice some of our rights," Foster said.
(Jordan Vonderhaar/ Texas Tribune)
Austin police and city leaders say they are preparing for November protests as the city steels itself for an election that has wrought tension at the highest levels of national government.
The election, which President Donald Trump has warned will be "rigged" and said the outcome may not be clear for "months," comes after a summer marked by near-daily demonstrations, both in downtown Austin and across the nation, over civil rights and police brutality.
Nearly two dozen people were hospitalized in late May after clashes with Austin police, whose use of bean bag rounds during protests resulted in sweeping changes ordered by the Austin City Council and a ban on the use of less-lethal weapons against demonstrators.
In July, demonstrator Garrett Foster was shot by a man who said he was unconnected to protests but driving for Uber in the area when his car was attacked by protesters. Daniel Perry, an active duty sergeant with the U.S. Army in Killeen, said he shot Foster in self defense. Charges have not been filed.
A tense memorial for him brought clashes between those who thought Perry was there to cause trouble, and those who believed Foster threatened him—with both sides heavily armed, including armed members of the Proud Boys militia, an extremist right-wing group that has made national headlines recently.
Police said this week that they are getting ready for the protests but declined to specify what their plans will include. An emailed statement suggested that officials are planning for potential unrest beyond the peaceful atmosphere seen in the majority of protests through the last several months.
"The Austin Police Department will plan and prepare for any large protest or civil unrest events related to the upcoming elections," said police spokesperson Tara Long, in a statement emailed to Austonia. "The goal of such preparations is to ensure the safety of the community, while protecting the rights of people to peacefully exercise their First Amendment Rights."
Demonstrations a way of life in Austin
In 2016, on the day after the November election between Trump and Democratic opponent Hillary Clinton, demonstrators marched in Austin to protest the fact that Trump had won the election in spite of the fact that Clinton had won the popular vote.
On the day after Trump's January 2017 inauguration, tens of thousands descended on downtown Austin to show solidarity during the Women's March on Washington.
"Austin has a storied history of large-scale peaceful protests when election results have offended our community's sensibilities," said City Council Member Jimmy Flannigan, chairman of the Council's Committee on Public Safety.
Home to the state Capitol, Austin has played host to countless demonstrations throughout the years.
Local and statewide groups have demonstrated on myriad issues including immigration laws, gun control, or demanded higher pay for teachers or the legalization of marijuana or the protection of a woman's right to choose abortion.
"As a state capital city, we are always prepared and continuously improving our process for peaceful protest," Flannigan said.
Flannigan said he doesn't anticipate any voting issues on Election Day that might cause clashes at the polls, saying that elections in Williamson and Travis counties, parts of both of which fall within his district, have worked hard to accommodate voters with little incident.
Even with the recent national tensions over masks and potentially thousands of partisan poll watchers at voting sites, he and others said they don't anticipate clashes on a local level over those issues.
"Austin has a long history of safe and fair elections, and I have no doubt that Austinites of all political perspectives are eager to vote and will do so responsibly and safely, wearing their masks and taking the necessary precautions," Flannigan said.
He and others noted, however, that the potential for unrest after the election is fairly high—given the likelihood that the presidential election may not be over on Election Night.
The appetite for protest in Austin certainly hasn't abated in recent weeks, with groups from all parts of the political spectrum planning protests over voting sites, masks and other issues.
PROTESTS MUST HAPPEN NOW. Gov Abbott reduces drop boxes to one per county. Harris County has 4.2 million people. VO… https://t.co/LKm3iOgYjc

— Helen Armstrong (@Helen Armstrong)1602040887.0
Austin City Council Member Greg Casar, one of the council's loudest voices for police reform in the wake of the protests, called on Austinites to "continue to raise our voices, exercise our rights, and keep holding officials accountable" after votes are cast.

"APD, by their own admission, needlessly harmed peaceful protesters this summer, including hurting medics and nearly killing two teenagers, and the entire City Council has made it clear that this is not acceptable," Casar said in a statement to Austonia. "We remain committed to protecting all people's First Amendment rights, and we remain committed to safety for our city employees as well as everyday residents. I will continue to fight for policies that protect Austinites' health, safety, and right to protest, no matter the election results."
Asked whether downtown businesses were taking any actions in anticipation of rowdy protests, the Downtown Austin Alliance released a statement that did not detail any plans but supported the notion of civic engagement—noting that demonstrations on the Capitol steps and along Congress Avenue are a way of life in Austin and "a foundation of our democracy."
"For the past several months, there have been peaceful protests and demonstrations almost every day downtown," the statement said. "As stewards of downtown, we remain focused on ensuring that downtown is a vibrant and welcoming place for all who want to engage civically."
Want to read more stories like this one? Start every day with a quick look at what's happening in Austin. Sign up for Austonia.com's free daily morning email.