Get connected with our daily update
Texas voters are split on whether Gov. Greg Abbott should run for a third term and whether Matthew McConaughey should run at all. But Democrats are clear: they want to see Beto O'Rourke on the ballot.
These are the findings of a Quinnipiac University poll of registered voters released this week.
Abbott and McConaughey received the highest favorability ratings of the elected officials, candidates and potential candidates, according to the Quinnipiac poll.
Abbott: 49%
McConaughey: 42%
O'Rourke: 34%
Former Texas GOP Chair Allen West: 25%
Former Texas senator and Republican challenger Don Huffines: 8%
Overall, 48% say Abbott does not deserve to be reelected to a third term compared to 46% who say he does. "A Trump favorite in a state that is turning less red in recent election cycles, Abbott has a decent but in no way overwhelming grasp on reelection," Quinnipiac University Polling Analyst Tim Malloy said in a press release.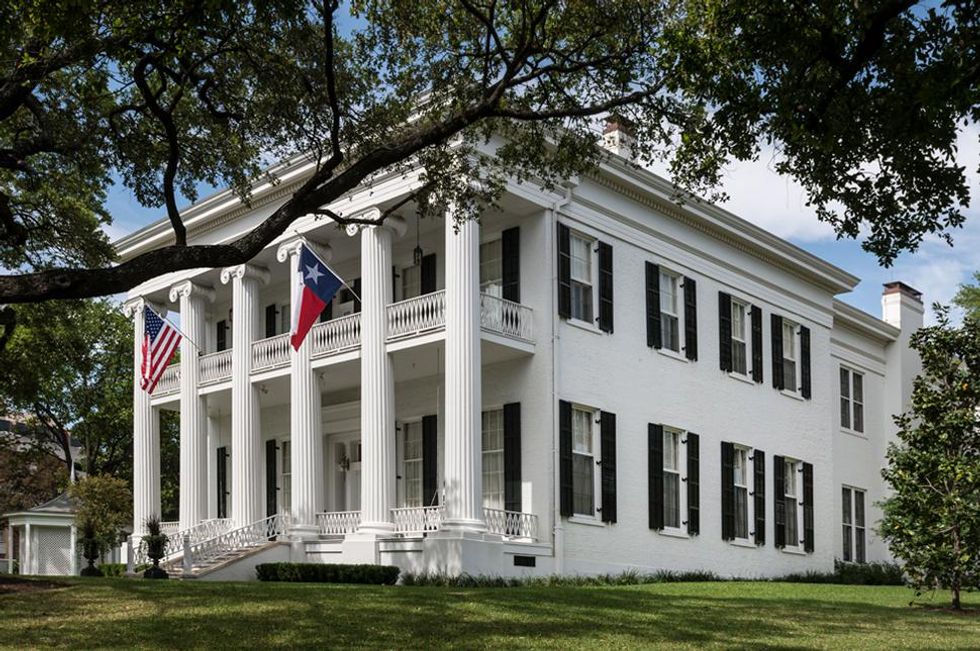 Abbott, McConaughey and Beto O'Rourke could vie for governor in 2022. (Office of the Texas Governor)
Voters are also divided on Matthew McConaughey, who is reportedly considering a gubernatorial run. Forty-one percent of voters say they would like to see him run, compared to 47% who say they wouldn't.

The poll found that Democrats and Independents favor the Oscar-winning Austinite, whose party affiliation is unclear. Forty-seven percent of Democrats would like to see him run, compared to 43% who wouldn't. Forty-four percent of Independents would, compared to 43% who wouldn't. Republicans, on the other hand, say 60%-29% they would not like to see him run.
Another possible candidate is former U.S. Representative and presidential hopeful Beto O'Rourke, who is also reportedly mulling a bid. Overall voters say 52%-41% they would not like to see him run for governor. But 77% of Democrats and 50% of Independents would, according to the poll.
"McConaughey and O'Rourke may still be on the fence, but their numbers suggest they have the attention of voters," Malloy said in the same release.
Minister of Culture Matthew McConaughey said that face masks are a "short-term inconvenience for long-term freedom" in an interview on an upcoming episode of "The Carlos Watson Show."
"I'm not believing you're really scared of this little cotton thing," McConaughey said. "Let's all take one for the team here."
McConaughey's rare take on the political divide during the pandemic comes as the actor continues to tease the possibility of running for Texas governor.
During a Friday appearance on The Ellen DeGeneres ShowThe Ellen DeGeneres Show, McConaughey said he's doing some "under the hood, 360 work inside of me and measuring what my next step should be."

"I think I've got some gifts as a leader, I've got some gifts as a learner, and a listener, and a teacher," McConaughey said. "What's my category, though? Where am I most useful?"
McConaughey expounded on the topic more during his Carlos Watson Show interview, when he said long-term results are more important than "putting a bunch of Band-Aids on that are gonna be ripped off as soon as I'm out (of office)."
McConaughey remained coy about whether politics is the right arena for him. "We try to teach our kids delayed gratification, but we don't like to think about further than tomorrow — we need immediate results," McConaughey said. "I'm interested in building something that can last, and I'm measuring what category that is. I don't know if that's politics."
McConaughey has addressed running for governor before—several times, actually—but the jack-of-all-trades has never committed to his latest public venture. His dabbles in sports (see Austin FC ownership), movies and philanthropy have made him a Texas icon through the years, and a recent poll conducted by the Dallas Morning News and the University of Texas at Tyler found that McConaughey would beat Abbott 45% to 33%.
Still, many argue that McConaughey would not be "alright, alright, alright" in the governor's office, citing his lack of experience and unclear political leanings.
His latest comments on masking are among the most political he's made in recent months, however, and could put him on track to win more votes come November 2022.
First Hollywood, now politics: it seems Austinite Matthew McConaughey can find support in just about anything he does, including running for governor of Texas.
While he hasn't confirmed that leading Texas is his next move, he seems to have the backing for it. In a poll by The Dallas Morning News and the University of Texas at Tyler, McConaughey is leading over current Gov. Greg Abbott in the double digits.
Of the 1,126 voters polled on April 6-13, McConaughey holds a 12-point lead with 45% saying they would put him in office. Abbott got 33% of voters, while 22% said they would vote for someone else.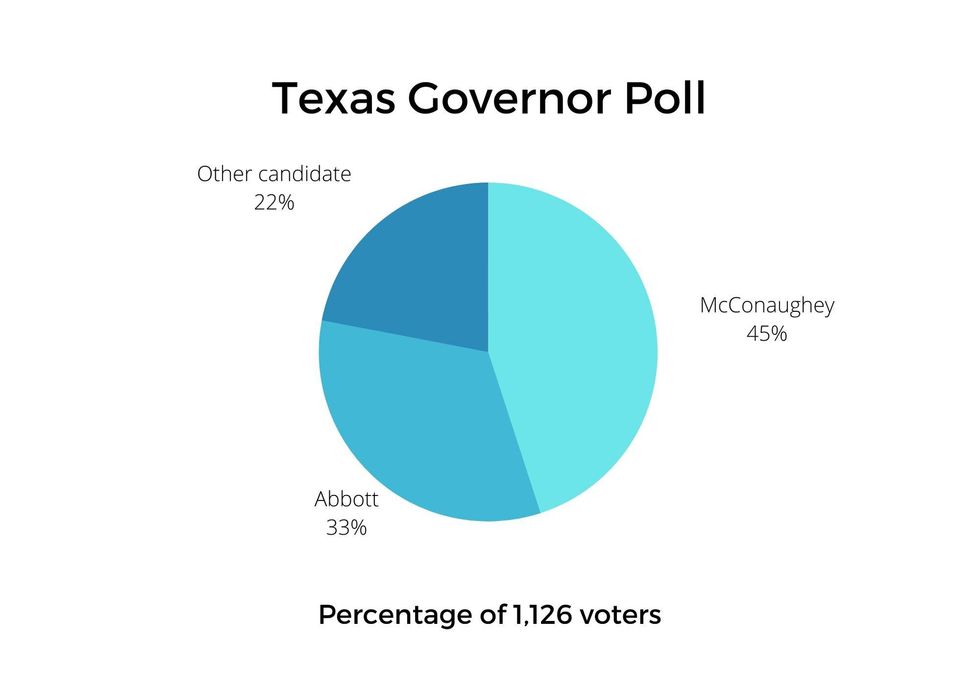 McConaughey has solid support on both sides, but Democrats, in particular, would like to see Austin's Minister of Culture as governor. While 66% of Democrats said they would vote for McConaughey, 8% would vote for Abbott and 22% said they would vote for someone else. Republicans are still intrigued by the possibility, with 30% saying they would vote for McConaughey, 56% saying they would reelect Abbott and 14% saying they would support someone else. Of the independent voters polled, 44% said they'd vote for McConaughey, a 14-point lead over Abbott.

Similarly, in an Austonia poll ran last month, where 255 voted, these were the results:
McConaughey 48%
Abbott 34%
Unsure 18%
While McConaughey hasn't officially decided to put his name on the ballot, he's publicly mulled it over several times.
In an interview on The Balanced Voice podcast in November, McConaughey said running for governor was "a true consideration."
"What is my leadership role?" McConaughey said." Because I do think I have some things to teach and share, and what is my role? What's my category in my next chapter of life that I'm going into?"
On "The Hugh Hewitt Show" in November, McConaughey said he could see himself looking into politics once the dust settles and conflicts are no longer at an all-time high.
"That wouldn't be up to me. It would be up to the people more than it would me," McConaughey said. "Look, politics seems to be a broken business to me right now and when politics redefines its purpose, I could be a hell of a lot more interested."
Meanwhile, Abbott has faced significant challenges including the COVID-19 pandemic and Texas' historic winter storm during his time in office. The same poll revealed he still has the support of his party with 77% of Republicans saying they approve of how Abbott has handled being in office. By contrast, 40% of Democrats strongly disapprove of his time in office.
While McConaughey is in the lead, according to the study, he still has some obstacles before he gets his name on the ballot box. Aside from his general apathy with the current political climate, McConaughey hasn't clearly shown which political party he would run for.
His lack of association with a political party might hurt him, since 32% of Republicans wanted a more conservative or Trump-esque governor and 66% of Democrats want a progressive leader. He appears to be a dream for centrists, however, and he's one of the few recent Texan candidates that a significant portion of both parties seem to agree on.
With his star power and signature Texan charm, McConaughey might just have one more job position to add to his jack-of-all-trades resume come Election Day.
Austin's favorite award-winning actor and Minister of Culture Matthew McConaughey is fueling the fire of an idea that he may run for Texas governor.
For years rumors have come and gone of a potential shift to politics for the actor, but he most recently—for the second time in just a few months—commented it could really happen. On a Houston podcast The Balanced Voice, McConaughey told host Rania Mankarious that a run for governor is "a true consideration" for him.
We want to hear from you: