Get connected with our daily update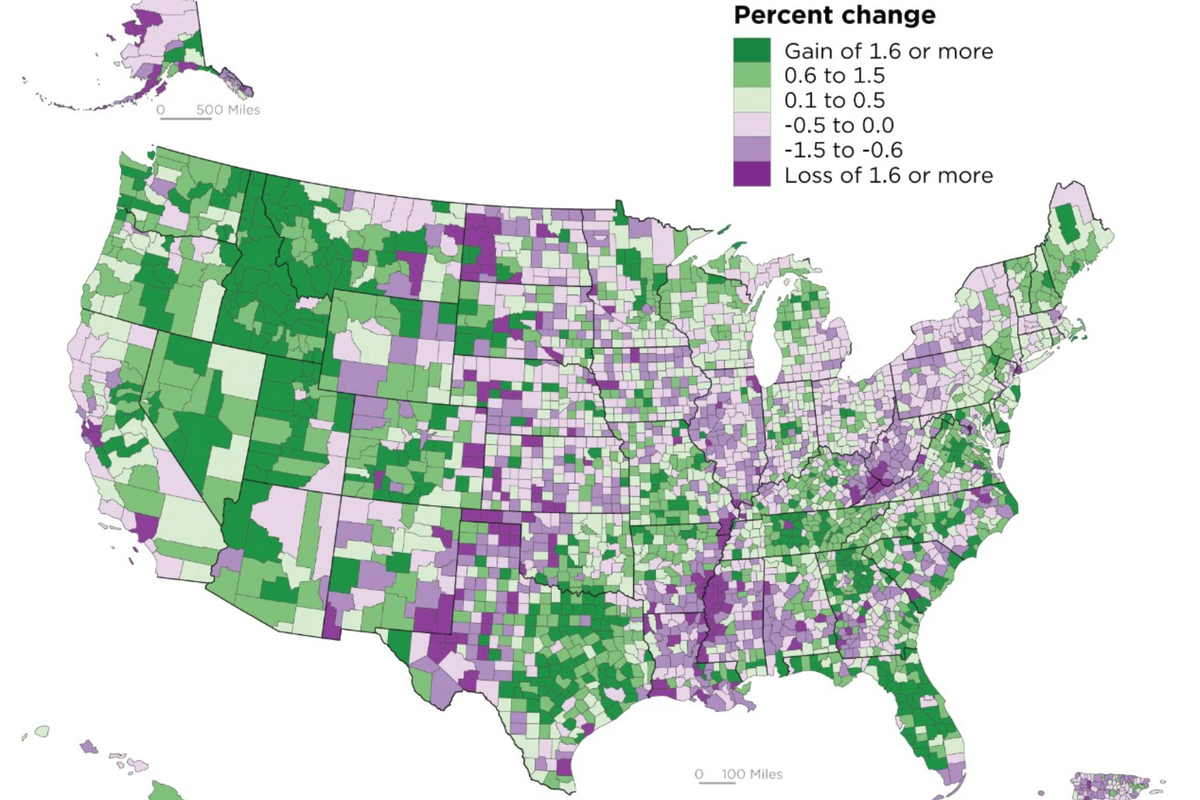 While 73% of counties in America experienced a "natural decrease" in 2021, which was caused by a lowered birth rate and increased mortality, not a single one of them was in the Austin area.
Texas had an enormous year for growth, containing half of the counties that saw the largest net population from 2020-2021, according to the Census Bureau.
Austin saw the fourth-most growth in the country, trailing behind the Dallas-Fort Worth metro area at No. 1, the Phoenix area at No. 2 and the Houston metroplex at No. 3. The Austin metro grew by 53,301 people.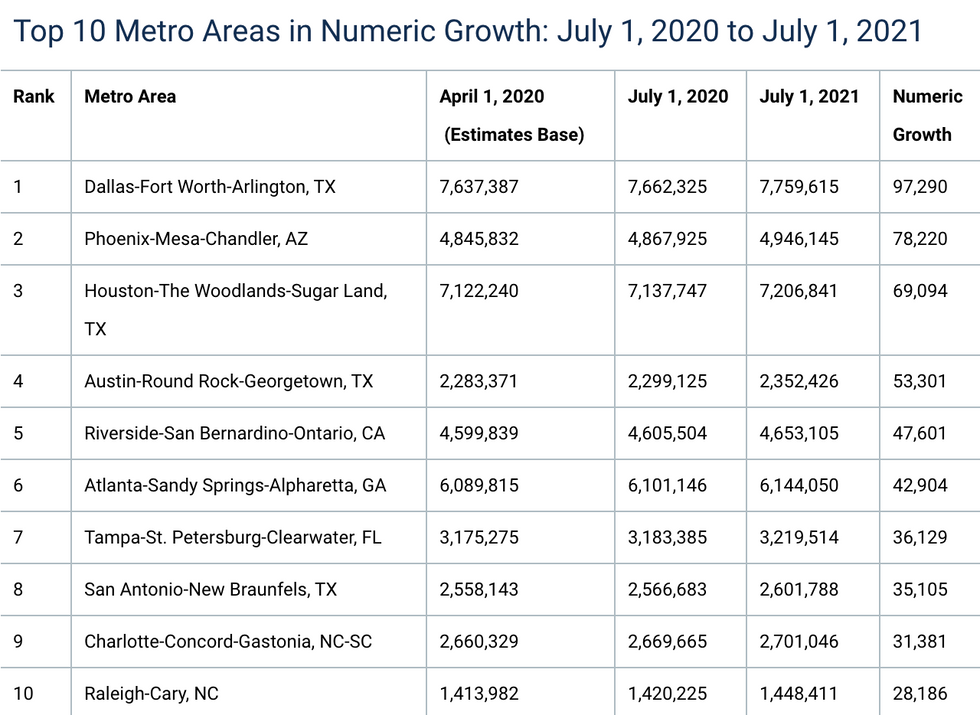 The highlights:
Williamson County took fifth place for numeric growth, gaining 27,760 and reaching a population of 609,017.
Bastrop County surpassed 100,000 residents.
Americans are moving from cities to smaller suburbs—65% of counties saw population increase from 2020-2021.
Meanwhile, across the country, every county in Delaware, Maine, New Hampshire and Rhode Island experienced a natural decrease. Alaska, Louisiana and Illinois all saw the highest net domestic migration loss.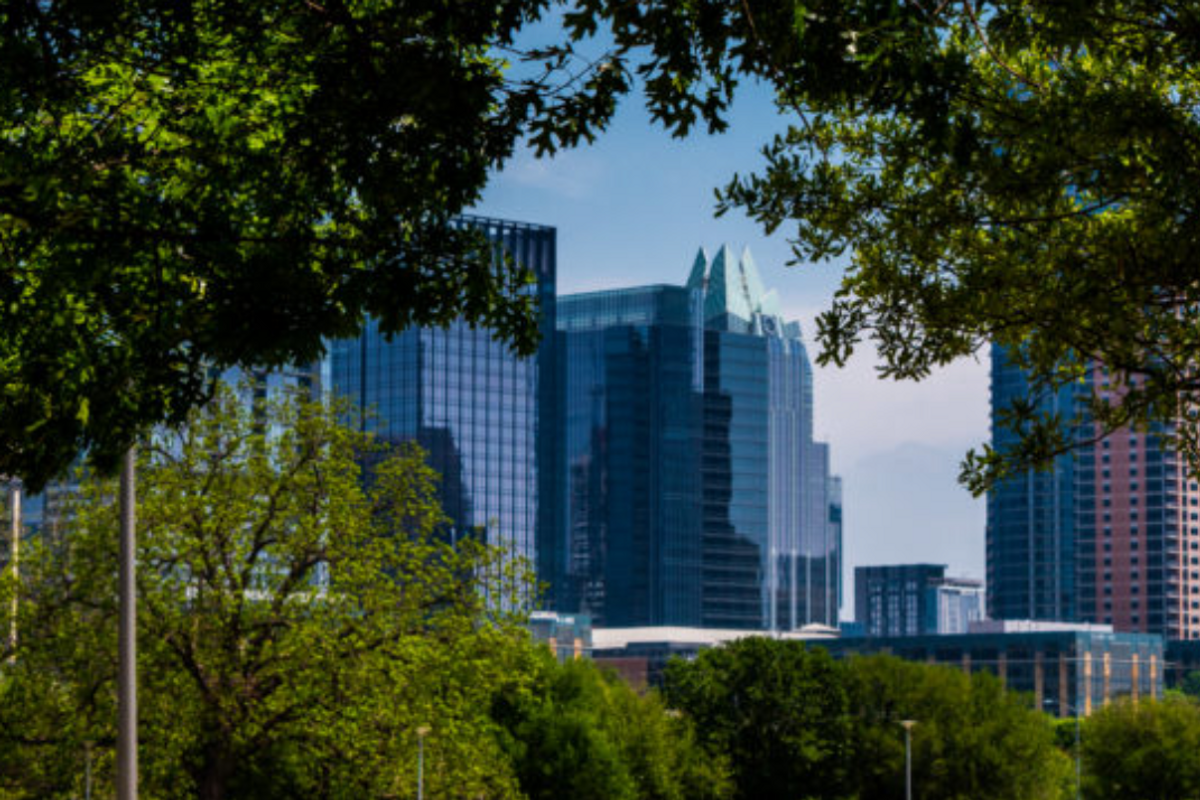 The Austin business community, particularly the technology companies flocking to the area, will likely be asked this year to increase their support for a creative sector that is being squeezed by the rising cost of living across the city.
Members of the Arts and Music commissions have formed a working group focused on increasing awareness of the effects large employers moving into the area have on home prices and development patterns, with a long-term goal of developing a strategy to raise more private sector money for creative spaces and work opportunities.
The work is in the very early stages, but Arts Commission meetings for much of the past year have included discussions of how to identify new sources of funding for cultural arts uses beyond the city's share of revenue from the Hotel Occupancy Tax paid by tourists. That pool of money has been severely reduced in recent years because of the Covid-19 pandemic, though there is support growing for the city to reach an agreement with short-term rental platforms that would collect and remit an estimated additional $20 million annually in hotel taxes.
Lauryn Gould, a Music Commission member participating in the working group, said public-private partnerships between the city's new economic development corporation or existing arts nonprofits could help to enable large donations from the tech and business community. The EDC is primarily focused on preserving and opening new creative spaces using municipal funds, though its structure allows it to work with private money as well.ec
Finding partners that could facilitate donations is one of the group's first major tasks, along with agreeing on its initial long-term goals around fundraising for the creative sector.
"If we were to go out and try to create some of these public-private partnerships that we've talked about, we don't yet have a great structure set up for where that money would go and how it would be distributed. We don't know how deep and complex that discussion will get, or will it come up that there is an existing nonprofit that could do this kind of work with the guidance of a mix of stakeholders in partnership with the city," she said. "We're thinking about how can we set this up in a way that is sustainable and is going to continue long after any of us move beyond our time on the commissions."
In the short term, the group is looking at launching an awareness campaign targeting locals and visitors – currently known as "How To Austin" – that provides information about how to support and take part in the music, arts and other creative happenings that have made Austin an attractive destination for newcomers and businesses.
Gould said the campaign could actually be launched with hotel tax dollars in cooperation with Visit Austin since state law allows that money to be used for marketing in support of tourism efforts.
Carl Settles, the Arts Commission's appointee to the EDC's board of directors, said the business community needs to be more engaged in talks with creatives about the cumulative impacts causing gentrification and removing historic businesses around the city.
"There's a viable case to be made for these tech companies who are benefiting from the prosperity of Austin but also causing some harm in the creative community," he said. "Part of the reason Austin is such an attractive place for these folks is because it is cool. The fabric of Austin is changing and you all are the ones who are benefiting the most while making the most negative impact, so here's some concrete things you can do to mitigate that."
Amber Gunst, CEO of the Austin Technology Council, said leaders of technology companies will want to hear how increasing their participation in the creative sector can make an overall positive impact, as well as how local musicians and artists can lend their talents to emerging businesses involving non-fungible tokens (NFTs), interactive videos and more.
"The thing they're going to want to hear and understand is how this would elevate what is going on in the artistic community as well as how it elevates what tech has the ability to do to enable growth in an industry that's outside of its traditional purview," she said. "People in tech have many of these same concerns because not everyone who works in a tech company makes a massive six-figure salary and many make below $100,000 per year. So affordability and the lack of housing and mixed-use environments is something that is very concerning to the tech community."
Photo made available through a Creative Commons license.The Austin Monitor is a nonprofit, nonpartisan media organization with a mission to strengthen our shared information space and democracy.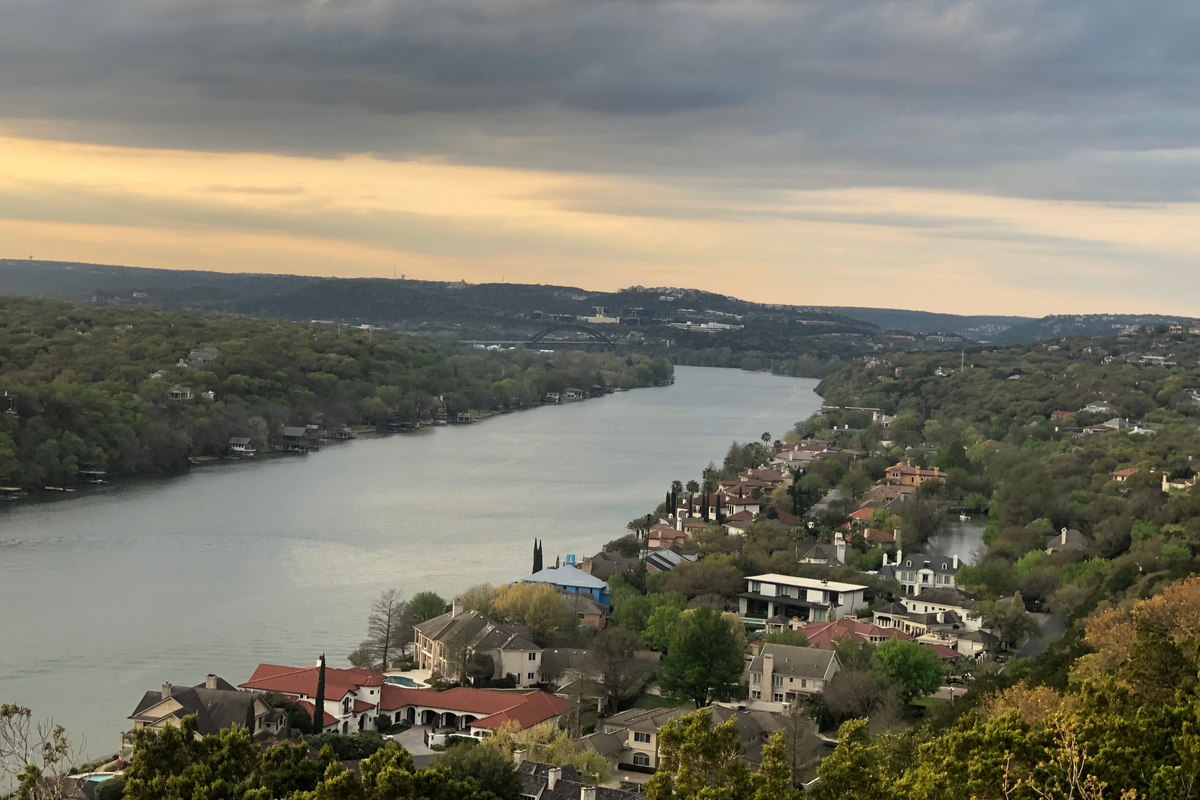 Shocker—Austin's luxury real estate market is booming but after an especially fruitful year, the capital city is joining the big leagues for high-priced homes.
According to a study comparing industry-wide sales activity done by real estate agency Compass, Austin saw a 450% increase in $10 million-plus real estate transactions from 2020-2021, placing it among the 30 highest-value markets in the U.S.
With 11 total transactions totaling $189 million, the sales volume in Austin jumped 562% since 2020, putting the city markedly higher than major cities like Philadelphia, Pennsylvania; Jersey Shore, New Jersey; Long Island, New York, and Washington D.C.
Dallas was the only other Texas city to be included on the list and nearly mirrored Austin's luxury real estate activity but ultimately came in lower in terms of total sales volume. With 10 total transactions above $10 million from 2020-2021, Dallas sold $115 million worth of houses and saw growth of about 66-68%.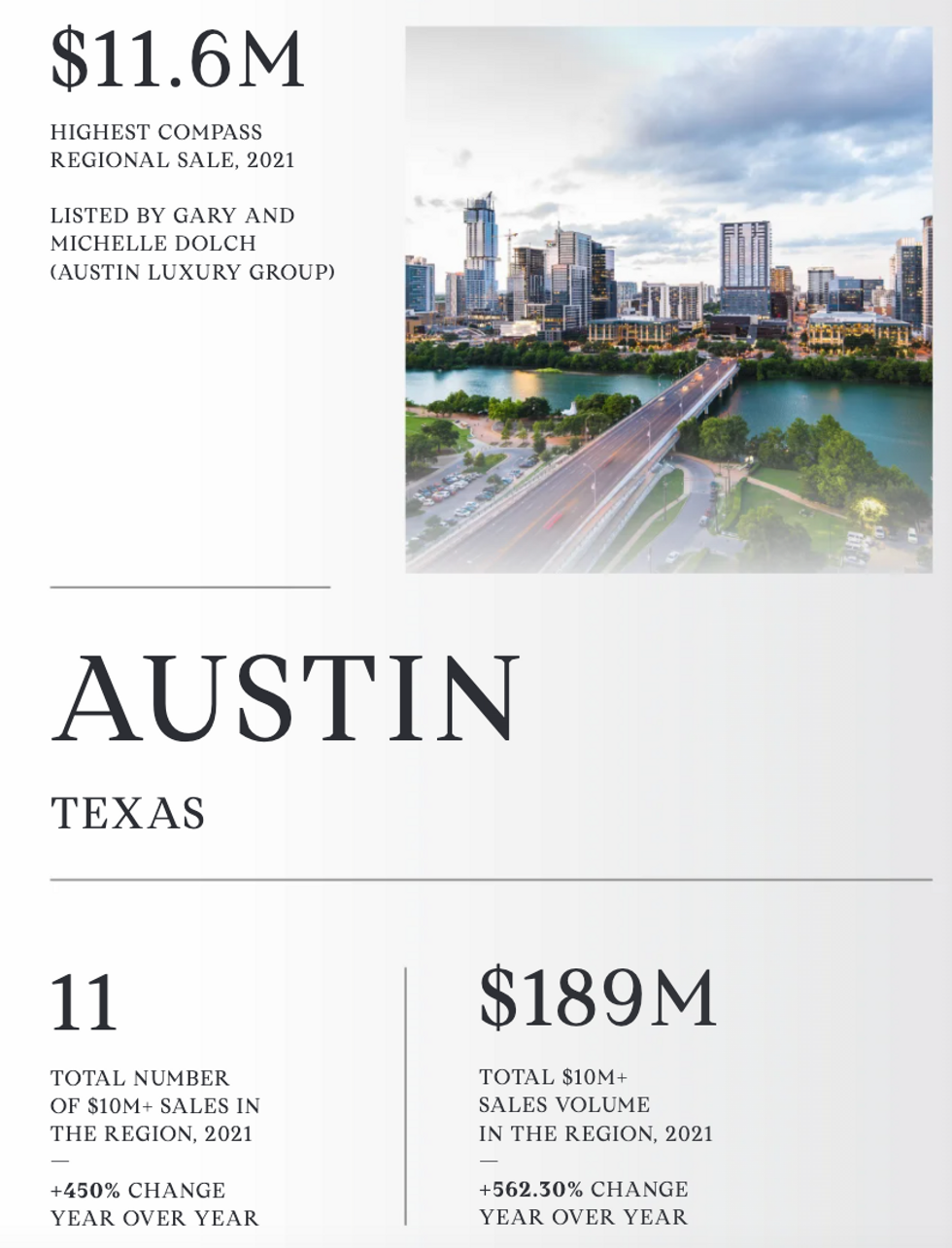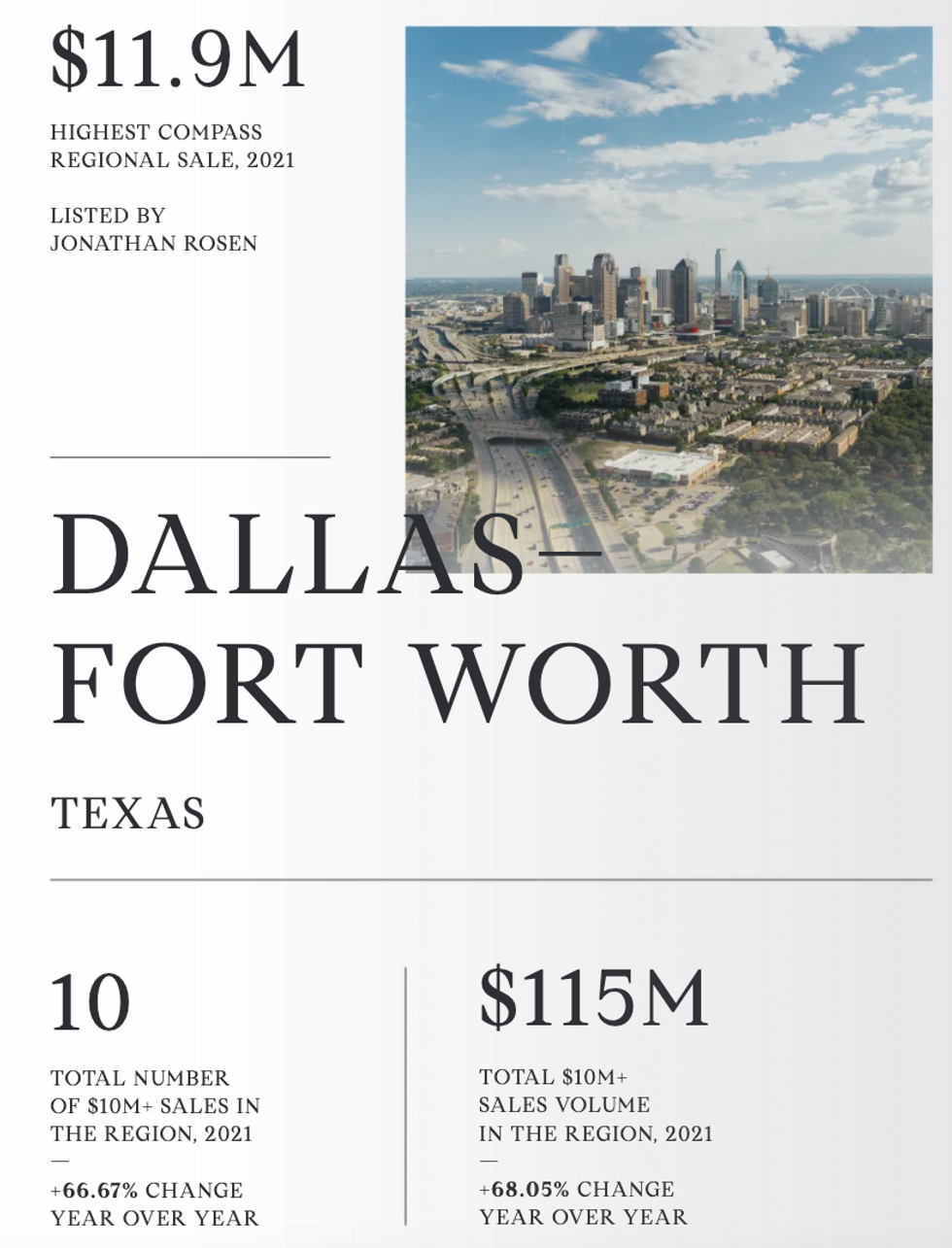 However, Dallas prevailed out of the most expensive sold Compass listing at $11.9 million, whereas Austin's most expensive listing capped at $11.6 million.
According to local agents Dara Allen and Gary Dolch, local luxury real estate has historically been concentrated along Lake Austin but is starting to spread out into areas like downtown and the suburbs. More luxury properties in diverse areas are expected to be listed on the Multiple Listing Service than ever before, which Allen said can be attributed to work-from-home.
"The prioritization of more square footage, larger lots, luxury amenities, and privacy is sending buyers as far out as Spanish Oaks and Dripping Springs," Allen said. "People are spending more time at home and need space for sometimes even multiple home offices. Moreover, sellers are still holding tight despite their homes being worth more than they ever have been, and buyers are coming from surprising places."
Dolch said Austin will continue to see growth from its feeder markets: California, New York, Chicago and Florida on account of the low-interest rates and ever-growing local tech and cryptocurrency markets.
"We are forecasting that our luxury market in Austin takes another leg up with 20%+ appreciation year over year," Dolch said. "As good as it has been here, we think we're still in the early days with at least a five-year runway ahead of us. Especially in executive estates, waterfront, and ranch properties which make up the majority of our current $200 million-plus listing portfolio."