Get connected with our daily update
(Joe Rogan Experience Podcast)
In the hot seat, Austin's very own Mayor Steve Adler was the latest guest on The Joe Rogan Experience podcast, where new Austinite Joe Rogan grilled him on problems facing his new home.
Adler listed a wide array of problems he has faced in his tenure as mayor: historic storms, COVID-19, pushback to Austin's speedy growth and a hyper-politicized homelessness crisis.
With no holds barred, the pair laid out some of the most difficult moments of Adler's time as mayor but dedicated most of their time—40 minutes out of the hour-and-a-half-long episode—to discussing Austin's homeless situation.
Tackling homelessness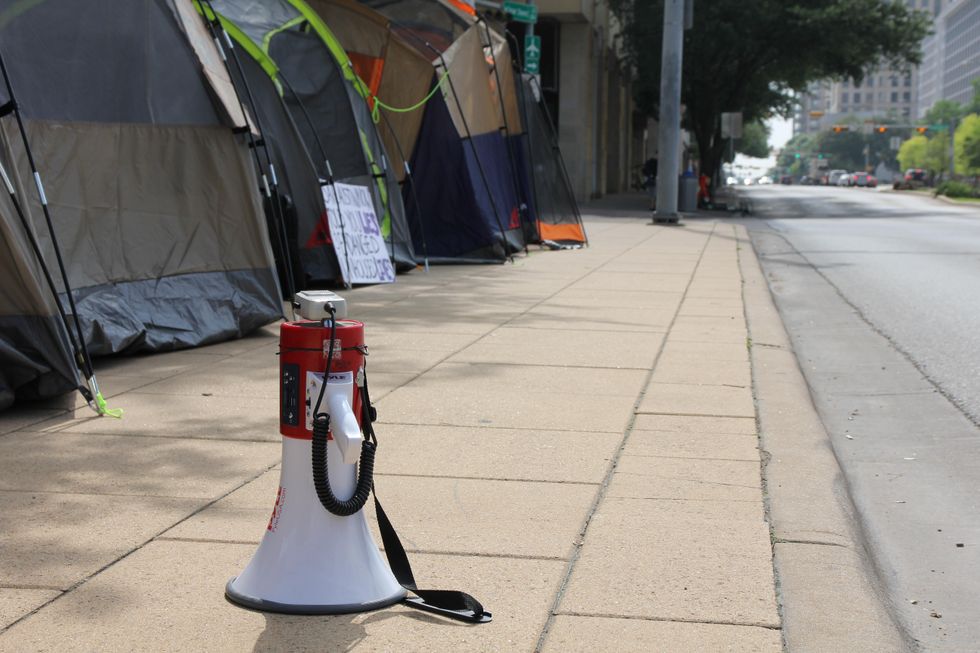 A homeless camp has surrounded Austin city hall since Prop B was passed, reinstating the camping ban. (Laura Figi/Austonia)
Recalling walking past "a village" of homeless people on 8th Street, Rogan said Austin's homeless crisis was "the biggest issue by far" over the last year.
"You've got places like San Francisco that have such tolerant policies toward homeless people that people gravitate to San Francisco to be homeless, which is really kinda crazy but true," Rogan said. "There's a fine line between helping and encouraging people to continue the lifestyle.
While Adler admitted he has wondered the same, he countered that California Gov. Gavin Newsroom lied to his constituents that Austin officials gave homeless people tickets to California. Plus, Adler said there's a 90-95% chance that someone who is given a home and wraparound services will reintegrate into society.
Rogan said he believes the freedom of being able to camp in the city appeals to a certain group of people, asking if there was a line where services encourage chronic homelessness. Adler said he taps information from experts but when he first took office in 2015, he said the camping ban caused a lot of anger, much like today.
"A guy came up to me after (a meeting) was over and he said, 'you're mayor, fix this, and if you don't I have a gun and I will fix this myself,'" Adler said. "That was the fervor and the feel."
Adler, whose final term ends in 2023, said his number one goal is to abate the issue to the best of his ability. He hopes to expand a nationwide program used in Austin to the general homeless population; the program reaches out to apartment complexes to house homeless veterans, offering to cover damage expenses with a private risk fund if the arrangement goes sour.
"If you can get (people) off the street, into a home with a job training program or even just stabilize them, get them what they need, real good chance they can get back into life," Adler said. "The longer you leave them on the street, the harder it is going to be for them to pull back."
"Utopia" Austin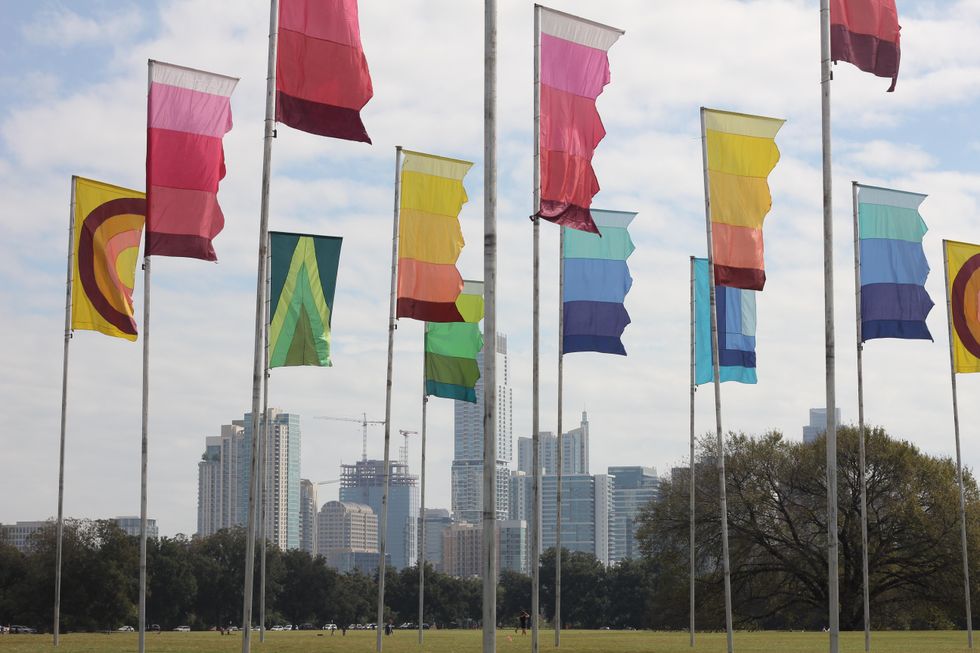 Austin is the fastest growing large metropolitan area in the country. (Laura Figi/Austonia)
Despite the city's ongoing struggle with homelessness, Rogan showered Austin with compliments.
"It's too good here, it's such a good city," Rogan said. "It's a utopian size city with great values, and really friendly people, and amazing restaurants, and a great art scene and music scene and now a great comedy scene."
Adler said with all the things going on right for Austin—"we have ... an economy that's on fire, we're the fastest-growing large metropolitan area"—one of the things going wrong is the increasing cost of living when everyone wants to move here.
Adler said for new transplants—like Rogan—the prices may not seem like a big issue.
"Housing prices are off the charts," Adler said. "For somebody who is just coming from California or New York, it looks like deals."
Adler said when he ran for reelection, one of the biggest favors he was asked was to stop the city from growing.
"There's only one way to really stop the city from growing: bring in crime," Adler said. "A desirable place is going to grow."
Austin has been on the fast-track to growth for 10 years, according to Census data. (Stuart Seeger/CC)
Austin is on a rollercoaster that only goes up, according to the new U.S. Census Bureau data that says the city has been the fastest-growing large metropolitan area in the U.S. for a full 10 years.
The data, which was released on Tuesday, said the population between the five counties in the Austin metro area—Travis, Williamson, Hays, Bastrop and Caldwell—increased by 3% since 2019 and 34% since 2010.
Austin still isn't the largest metro area but it does have the fastest population growth compared to other U.S. metro areas with over a million people. In the past decade, the metro population has gone from around 1.7 million to 2.3 million people.

The huge increase in Travis County alone is enough to bring the city closer to the leagues of other big cities, jumping above San Francisco and San Jose, California and Jacksonville, Florida in the ranks of most populous.
An increase of more than half a million people in the metro area puts it as the 29th largest, an increase of one spot from last year.
However, in terms of just population growth compared to last July, Austin was beaten by a few other Texas cities: Dallas ranked first in the U.S. with an increase of 119,748 and Houston took third, gaining 91,078. Austin ranked fourth with a growth spurt of 67,197, averaging out to 184 new people per day including natural increase, or the difference caused by births and deaths.

Overall, Texas gained the most residents out of all other U.S. states.
With companies like Tesla, which has promised to hire 10,000 people at the new Gigafactory, Oracle, Samsung and Google putting down roots in Austin and Texas tax breaks and lack of personal income tax, it's no surprise companies and people are flocking to the Lone Star State.
The University of Texas' new Moody Center is shaping up and starting to appear like the 530,000 square-foot arena it promises to become.
The new, $338 million privately-funded project will replace the 42-year-old Frank C. Erwin Jr. Center that has been standing for the last 42 years. The Moody Center, a 15,000 seat multipurpose arena, will make its official debut in April 2022.
In partnership with Oak View Group, Live Nation Entertainment, C3 Presents, Gensler Austin, UT Austin, Dell Technologies and Austin's most multi-titled resident Matthew McConaughey, the arena will be the most expensive to ever be built on an NCAA campus.
The Moody Center is predestined to be an elite venue—the venue Austin "deserves," according to its website—for sporting events, like UT men's and women's basketball; big-name concerts and shows. The new arena will also have exclusive amenities for Concert Members, or club seat holders.
You can start marking dates on your calendar because the Moody Center, despite the fact that it is still incomplete, already has 60 nights of music confirmed. Though the rest remain undisclosed, The Weeknd confirmed he is taking his "After Hours" tour live to the Moody Center in April 2022.
On top of its expensive design, the Moody Center is being built with sustainability in mind. It will use a system that directs airflow through the facility, not from the top down—minimizing energy usage. Since the venue is being built on UT land and therefore connected to its utilities, the Moody Center won't be able to start carbon-neutral off the bat. However, developers said they are committed to sustainable practices, eventually hoping to go carbon-neutral.
(Laura Figi/Austonia)
You've heard it from all over the web, from celebrities and the news—Austin is booming. From 2010-2019, Austin saw the largest percent growth out of all metro areas in the U.S., sharing the list with cities much bigger than The City of the Violet Crown.
Austin's growth has shown no sign of slowing, either. With major companies like Tesla and Google and influencers like devil's advocate podcaster Joe Rogan and Elon Musk, Austin is on the forefront of cities leading the boom.
There are mixed feelings about Austin's explosive growth across the city—between those who find the growth exciting and the famous "don't California my Texas" argument— but those who leave the city are not typically part of the conversation.
Chris Ramser, director of research and economic development for the Austin Chamber, said the flow into the city fluctuates on the long term but even when the U.S. faces its hardest times—COVID-19 and the Great Recession for example—Austin still continues to grow. Ramser is waiting for 2020 data, which will be available in May, to look at the full extent of the migration.
"During the first recession, there was a lot of migration around that time and a lot of people are starting to speculate that the same thing is happening right now with some of the stuff that's been going on with the coronavirus," Ramser said. "What those numbers will ultimately look like, we won't know for a little bit."
Sophia Alaniz, a lifelong Austinite, said she left the only home she had ever known in search of something a little less monotonous, a little more chaotic. The first place that came to mind: the Big Apple.
"I definitely got the chaos—I was just looking for more diversity in my life," Alaniz said. "I like the idea that every day that I leave my apartment, it's something completely, completely, completely different."
Alaniz followed a trend that many have, whether on purpose or inadvertently, in their exodus: a move to a more progressive state. Ramser said the cities people leave Austin for also tend to be emerging tech hubs.
"There is flow. I think those markets are ones that some of our tech workers could be going to (find) opportunities there as they go through their career phases," Ramser said. "They may be looking towards living in a progressive city since they've lived in Austin and they've kind of experienced the Texas side of progressivism."
Austin grows by around 168 people per day, with roughly 128 from net migration and 40 from natural increase. From 2014 to 2018, Austin lost an average of 51 people per day and only 14 states saw possible deficit flows. Of the areas that steal away more Austinites than come here, most only saw small differences. The biggest negative migration rates come from Colorado, Oregon and Connecticut.
Denver, Colorado, has a migration deficit of 589 people, and Portland, Oregon, has a deficit of 407. There are even a few Texas cities that ex-Austinites tend to favor: Killeen and College Station.
Cody Shelton, who lived in Austin until he went to study aerospace engineering at Texas A&M University, liked the small town charm Austin had. After returning to Austin during the summers in-between semesters, Shelton stopped feeling like he fit in after the city's immense growth.
"It's a little concerning, because Austin had this feel that it was a big city because of the Capitol but it felt so small and sort of tight knit," Shelton said. "It was weird going back each time for summer winter break. I felt like I didn't fit anymore because the feeling had changed; it was sort of like a little brother that grew up."
That doesn't mean Shelton thinks the growth is a bad thing—he said the expansion of space companies in Austin reminds him of bigger cities and now, he might even want to move back. Even with its growth, he's not worried about Austin losing its "weird" anytime soon.
"In terms of the overall growth of companies, I actually enjoy that because those are the type of companies, if I was to live in Austin, I would want to be around," Shelton said. "The weird is something you adopt. It doesn't matter where you came from, it's something you get to adopt once you get here."