Get connected with our daily update
A month after a shooting on Sixth Street left 14 people injured and one dead, many of the details about the incident have yet to be revealed.
With twists and turns from the arrests of two teens with middle school drama to finally finding the right suspect, questions have been raised from the public about the investigation.
The last public update was given on June 25, when the Austin Police Department announced they had arrested the suspect that fired the fatal shot. Police said it was an ongoing investigation at the time and have still kept many of the details under wraps. Austonia has since acquired the latest arrest affidavit that showed a few more details not released by police.
What we know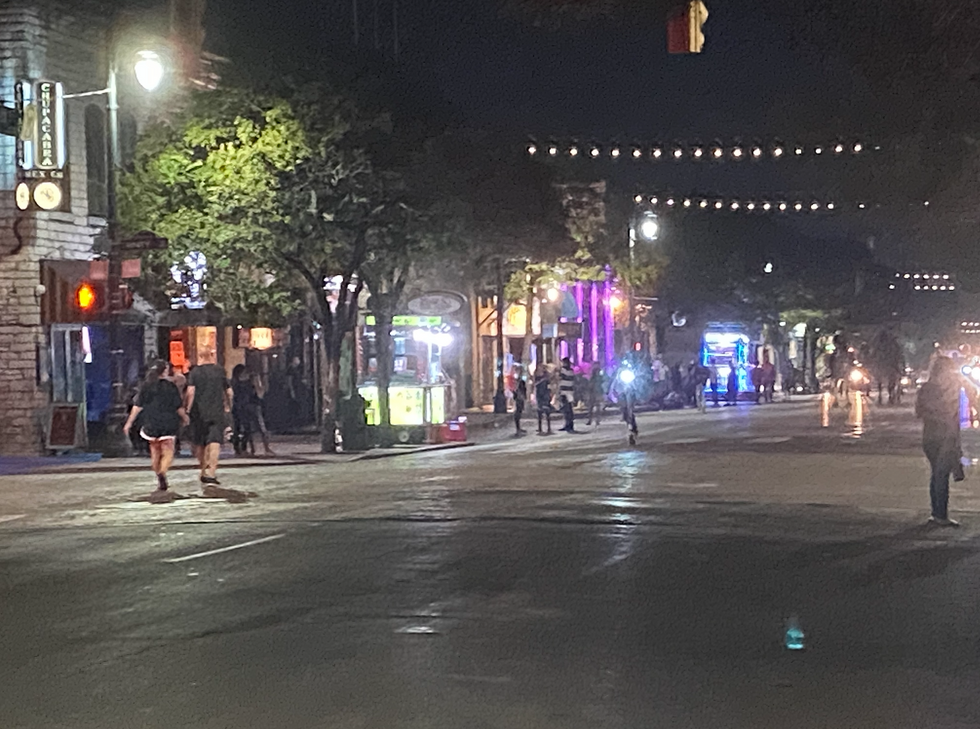 Sixth Street on an early Friday night in Austin. (Laura Figi/Austonia file photo)
As one of the most popular nightlife districts in the city, Dirty 6th was crowded with hundreds of party-goers clumped outside bars into the early hours of June 12—especially with the Republic of Texas Motorcycle Rally in town for the weekend. Around 1:24 a.m., 911 calls started coming in, reporting multiple gunshots had been fired near the 400 block of East 6th Street, according to APD.
Police on the scene began lifesaving measures immediately and 15 people were sent to the hospital shortly thereafter—some with injuries mild enough to drive themselves, some with injuries that would change their lives forever.
Investigators found eight shell casings from bullets, all from the same gun, in front of a bar that night.
By Monday, police had arrested two teenagers, a 17-year-old and 15-year-old male, who were both allegedly carrying weapons. The 17-year-old was charged as an adult with aggravated assault causing serious bodily injury, while the 15-year-old was charged with deadly conduct.
An initial arrest affidavit stated the shooting was the result of a disagreement between two groups of high schoolers from Killeen who had carried over a grudge since middle school. The two groups, both composed of multiple people, crossed paths and confronted each other.
After it seemed like a closed case, police announced more than a week later that they were dropping charges against the teens.

In a press conference with the interim Austin police chief and Travis County district attorney, they announced they were looking for 19-year-old De'Ondre "Dre" Jemirris White on June 22, saying that video evidence, witness testimonies and ballistic evidence connected his weapon to the murder and serious injuries.
The dropped charges for the teens came after the 17-year-old suspect's photo had been blasted out across media outlets.

White was arrested by police in the Killeen area on June 24 after he changed his appearance. He was put in the Bell County Jail on a murder charge before he was moved to the Travis County Jail on July 1. If convicted, White could face up to life in prison.
The arrest affidavit for White shows on June 15, an investigator received a call on his city-issued cell phone from a blocked number identifying White as the shooter. The unidentified caller also provided a description, address and Instagram handle. After contacting White's aunt, investigators were able to bring him in for a voluntary interview on June 20.
White and the 17-year-old were in the same group on Sixth Street; according to the 17-year-old, White was the first to draw his gun, a black Glock 9mm, and fired multiple rounds at the other group. White said he fired in self-defense. White and the 17-year-old fled to an apartment together, where Tabb said he told White 'you saved my life,' and they discussed the shooting.
Ballistic evidence linked White's gun to at least the fatal shot that killed one. The suspects' weapons have been seized by police. Both White and the 17-year-old's guns have been connected to other violent crimes, APD says.
The shooting resulted in:
The death of 25-year-old Douglas John Kantor, a tourist visiting from New York
Hospitalization of 19-year-old Adrianna Salazar, who will have to relearn how to walk after she was shot in both legs
Hospitalization of 34-year-old mother of five Jessica Ramirez, who will be permanently paralyzed from the waist down
12 other people were admitted to the hospital with injuries
What we still don't know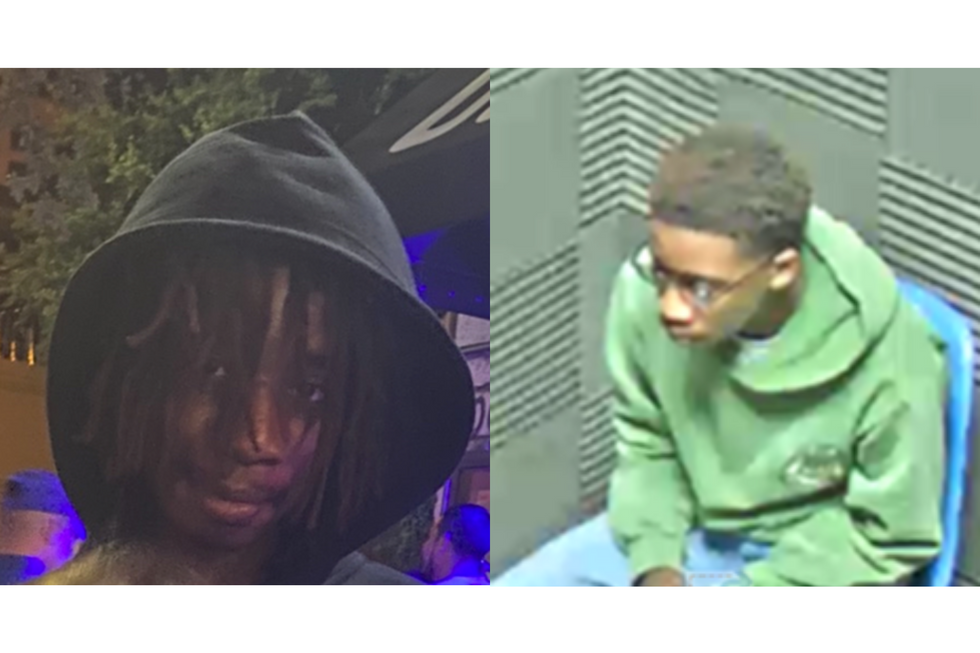 De'Ondre White changed his appearance after the Sixth Street Shooting. (Austin Police Department)
It is still unknown whether or not White was the only shooter or exactly how many shots were fired.
And the big question lies in why police arrested and charged the 15- and 17-year-old. Dropping all charges against the other two suspects and releasing them was controversial—they were both carrying weapons but police haven't said if they have evidence that they fired.
The Travis County District Attorney's office said there is not enough evidence to seek an indictment at this time but the office has yet to make final charging decisions.
De'Ondre White, the 19-year-old suspect involved in the Sixth Street mass shooting that injured 14 and killed one, was booked into the Travis County jail on Thursday.
White was moved from the Bell County jail, nearest to where he lived in Killeen, to Travis County, where the shooting happened. His bond is set at $1 million.
The Killeen Police Department said White was arrested without incident on June 24. If he is convicted, White could face up to life in prison.
Austin Police had previously arrested two other suspects, an unnamed 15-year-old and 17-year-old Jeremiah Tabb, who were released after ballistic evidence connected White's gun to the fatal crime.
The Austin Police Department said White's handgun has been connected to several crimes. New York tourist and 25-year-old Douglas John Kantor was killed during the shooting on June 12.
As violent crime ticks up in Austin and the city experienced the latest mass shooting on Sixth Street Saturday morning, Austinites voiced their thoughts on social media.
The shooting sent 14 bystanders to the hospital—two in critical condition. One suspect has been caught, while another remains at large.
The incident has gained national attention, including a statement from the White House:
"This morning, Austin has become just the latest American community to wake up ravaged by an act of senseless gun violence," White House spokesperson Ike Hajinazarian said. "While we pray for the shooting's victims and their families — and thank first responders for their quick, heroic work — we must not lose sight of what this tragedy again makes clear: it's long past time for the Senate to pass meaningful gun reform and allow Texans—and all Americans—to enjoy a night out without the fear of another night of gun violence."
Gov. Greg Abbott shared a statement on Twitter thanking police and inviting Austinites to join wife Cecelia and "I in prayer for those who were injured," prompting backlash from hundreds of followers, largely surrounding the upcoming bill that will allow unlicensed open carry.
Though the bill has yet to be signed into law, Abbott has said he will sign the bill despite objections from law enforcement groups.
Prominent Austin City Council Member Gregorio Casar also commented on the incident, calling to "double down" on efforts to reduce violence. Several people responded, placing blame on Casar for writing the plan to defund the police.
While investigators are confident that they will catch the other suspect, Interim Police Chief Joseph Chacon said that with low staff levels, responding to violent calls is getting increasingly difficult. Police said they believe Austin is still a "safe city," though residents should remain alert and exercise caution while visiting downtown.

As Sixth Street is usually one of the busiest entertainment districts, it is usually highly policed. Still, some Austinites said they were afraid themselves, having been to the street themselves.
The We Are Blood community blood center is asking for donations to replenish its supply after using blood and platelet donations to treat patients involved in the shooting. Austin police are also asking for anyone with information to call 911 or 512-472-TIPS.

First-time gun owners, women and Californians are driving high gun sales in Austin and Texas, according to local gun shop owners.

Gun sales are almost as high as last year, when they spiked, driven by lockdowns, mass protests, police reform and the presidential election.
FBI background checks, which serve as a proxy for gun sales, increased 56% between 2019 and 2020 in Texas. There were 915,296 background checks in Texas between January and May, which is about on par with the number during the same period in 2020 and about one-third more than during the same period in 2019.
"We've been busy," General Manager of McBride's Guns on North Lamar Joe McBride said before jumping off the phone to attend to his store. A Girl and A Gun, a women's shooting league based in Cedar Park, has also seen steady demand for memberships, Executive Director Robyn Sandoval wrote in an email to Austonia. The league welcomed 701 new members, a record-high, in March and 429 last month.

Behind the sales
Michael Cargill, owner of Central Texas Gun Works in South Austin, said demand started to level off in March and April after a crazy 2020. "Lines out the door," he said. "We had about 10,000 students cross our doors to take a class."
Although demand isn't quite as high as it was at its peak last year, it remains strong and is accompanied by better supply now that certain pandemic-related supply chains have been resolved, Cargill said. He declined to share more specific numbers.

First-time gun owners are driving this demand in Austin and around the country. A survey by the National Shooting Sports Foundation, a firearm trade association and lobbying group, found that first-time gun buyers made up around 40% of customers between January and April 2020.
Cargill has noticed this at Central Texas Gun Works. Another new customer base? California transplants. "New residents are coming in with paper licenses, fresh in from California," he said.
Women are also a driving force, buying guns at unprecedented rates. The same NSSF survey found that women made up around 40% of first-time gun buyers between January and April 2020. A Girl and A Gun surveyed more than 6,000 members last summer and found that personal protection was the primary reason women were not only purchasing guns but also seeking out training for how to use them.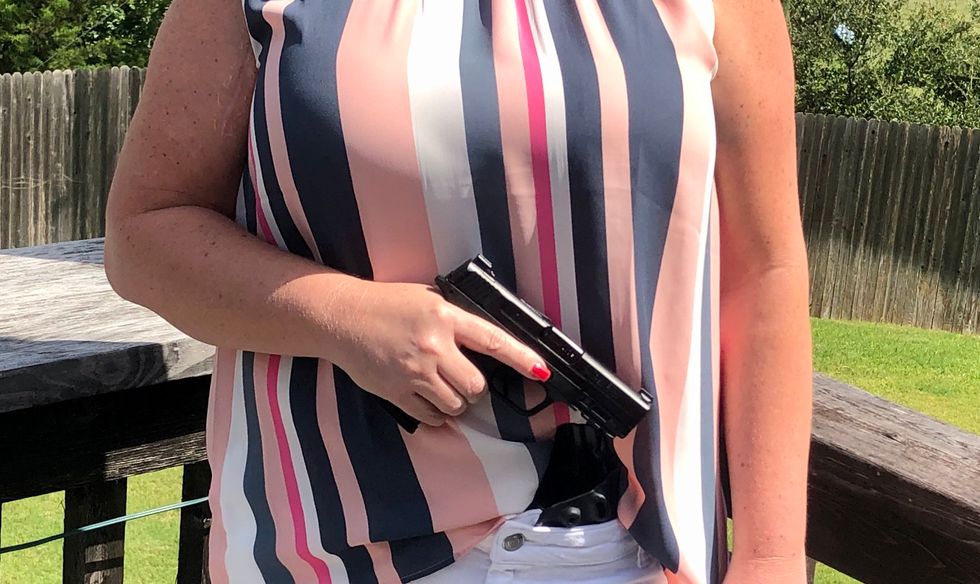 The pandemic inspired Austin-area resident Dawn Holmes to get a license to carry a concealed weapon last July. (Dawn Holmes)
Ongoing concerns

Cargill listed a series of events that could send gun sales shooting up even further. When a 20-hour manhunt ensued for a former Travis County sheriff's deputy that shot and killed three people in mid-April, it may have sent Austinites to gun stores. "Whenever they see something like that on the news, people tend to go to stores and say, 'Hey, I need to think about protecting my family,'" Cargill said.
Rising violent crime may have a similar effect. There have been 33 homicides in Austin so far this year, nearly double the number that had occurred by this time last year and closer to triple the number in 2019.
There's also legislation. Texas Gov. Greg Abbott will likely sign a bill allowing permitless carry, although Cargill doesn't anticipate this will impact gun sales. But federal gun control measures would, he said. After a mass shooting in San Jose, California, last month—the 244th in the U.S. this year—President Joe Biden called on Congress to pass a ban on assault weapons and high-capacity magazines.
"When you get gun rights, that doesn't drive sales," Cargill said. "When you lose gun rights, that drives sales."