Get connected with our daily update
(City of Austin)
After weeks of an apparent flattening, Austin Public Health reported 1,034 active cases of COVID-19 on Wednesday—the highest caseload since mid-August.
"It is a gradual but significant increase in the number of cases," the department said in a press release issued on Thursday.
On Tuesday and Wednesday, Austin-Travis County reported 148 and 154 new cases, respectively, about a 50% increase from the seven-day moving average of 96.6 reported previously.

(Austin Public Health)
More than half of those who tested positive at APH testing sites were between the ages of 20 and 39 years old, according to APH.

The numbers suggest that those who recently participated in a gathering, such as a Halloween party, have had a higher risk of encountering someone infected with the virus. As a result, APH recommends that everyone who gathered outside their household last weekend get tested and self-isolate at home.
"APH cannot prevent a spike in cases ahead of the winter holidays without the support and cooperation of our entire community," the department said. "An increase in case numbers will lead to needless hospitalizations and deaths."
This spike follows a few weeks of local health officials cautiously reporting a relatively flat COVID curve, which bucked the trend of rising caseloads across Texas—and the world.
On Wednesday, the U.S. reported a record-breaking number of new COVID cases—at least 107,000—marking the first time since the pandemic that the country has broken six figures in a single day and prompting fears of a coming surge that will be worse than the one seen this past summer.
El Paso also set a new record on Wednesday, with 3,100 new COVID cases reported, and remains under a countywide shutdown order. Hospitals are at or near capacity, the Texas Tribune reported, and four temporary morgues have been set up.
Across Europe, the U.K. and France have recently reentered lockdown due to similarly swelling caseloads.
"It is important that we … learn what has happened in other cities across our state and in other countries," Austin-Travis County Interim Health Authority Dr. Mark Escott said on Monday. "And the lesson learned is that when things start to look better, then we want to celebrate, and we want to change and open things up aggressively."
Most businesses and area schools have reopened, at varying capacity levels, but bars remain closed for at least the next week and a half, per a county order.
"We don't want the reopenings to be short-lived," Escott added.
(Joe Shlabotnik/CC)
Families are being challenged to think outside the box this year with Halloween and recreate the holiday to be fun and safe.
Since the CDC advises adapted celebrations this year—as most past Halloween celebrations are considered high risk—families have taken it upon themselves to make Halloween a safe holiday without compromising on the fun.

From candy chutes to hazmat suits, nothing is off the table this year.
Annie Linebarger's kids are too young to trick or treat but that hasn't stopped her family from participating in Halloween this year. Linebarger said her neighborhood, Old Enfield in West Austin, is a popular one for trick-or-treaters and her family usually expects hundreds of children.
"I would love to just pass out candy and wear masks and gloves, but I think that you just get too close to too many people," Linebarger said. "I actually don't think very many people will come (this year)."
Linebarger said her husband originally bought a hazmat suit to pass out candy, however, instead she and her husband plan to set up a decorated table on their porch with pre-packaged bags of candy so contact is kept to a minimum.
"I think that this is a good way I can provide something, and whether or not people will come, there'll be candy there," Linebarger said. "It is what it is, so we will just make the best of it."
Many families are following in the Linebarger's footsteps, setting up tables with packaged goods. For even less contact, some families are gluing popsicle sticks to candy and sticking it in their front yard.
Better yet, some families have made their candy part of the decorations.
Laura Nattinger's family intends to wear masks, socially distance and only trick-or-treat at houses that are doing the same in their Brushy Creek neighborhood. In fact, her son even has a mask to match his King George costume from Hamilton.
Additionally, themed masks seem to be a popular choice this year.
Nattinger's family is taking trick-or-treating to the next level with a candy chute placed in one of their upstairs windows. While they are still working out the kinks and plan to decorate the chute, Nattinger said her kids are excited about the new take on Halloween.
"The kids are jazzed about it being something new and different this year," Nattinger said. "All the creativity is fun."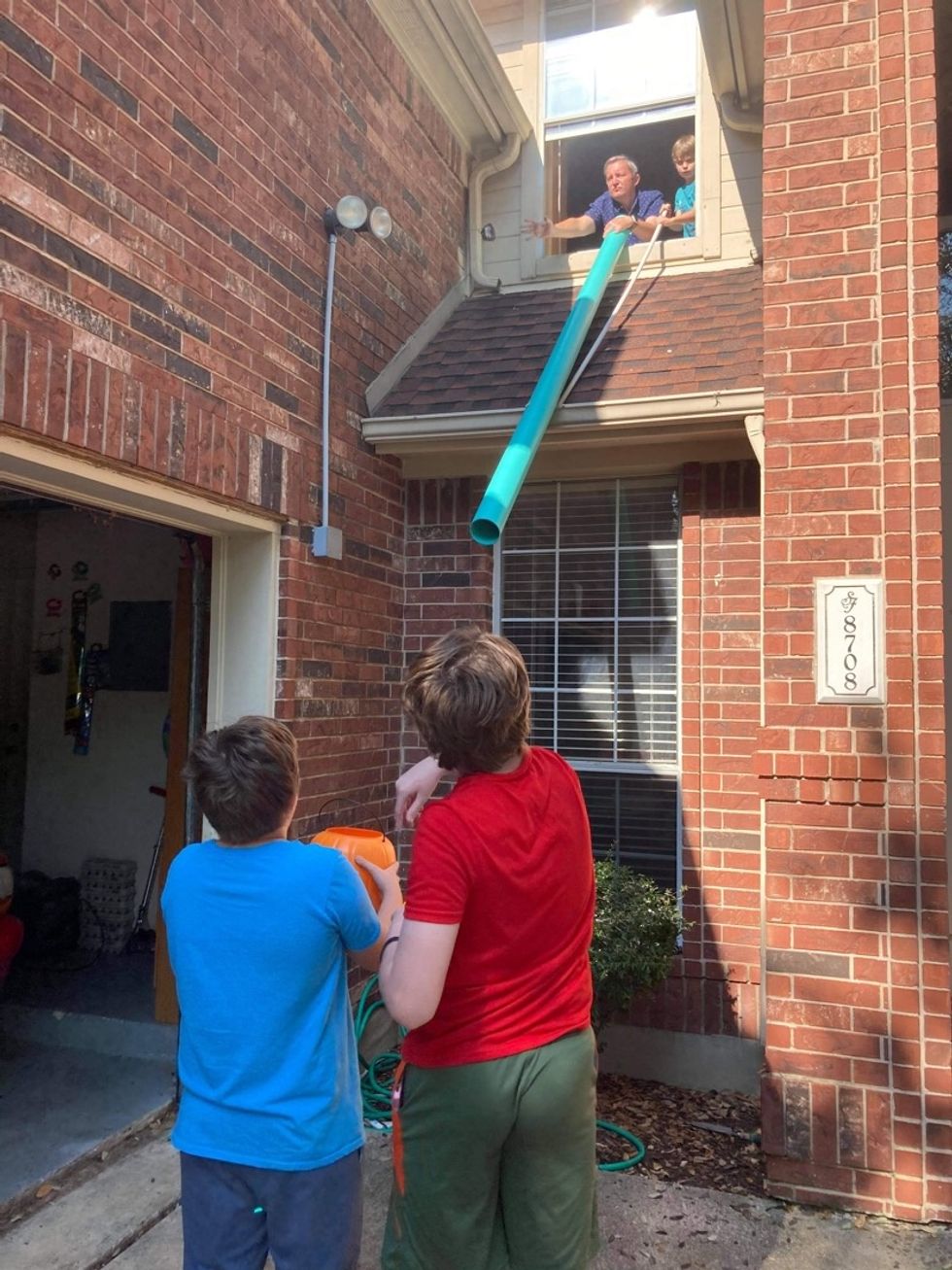 The Nattinger family doing a test run of their candy chute, which they plan to decorate with lights.(Laura Nattinger)
Even if your family decides not to pass out candy, there are still plenty of ways to celebrate from home. Activities like carving pumpkins, watching Halloween movies, decorating the house and scavenger hunts are considered low-risk activities by the CDC.

Linebarger said she doesn't think this Halloween needs to be a disappointment for children and with a little bit of positivity, they might enjoy it just the same.
"I'm disappointed in a lot of things: not being able to go on vacation and travel and spend time with my friends and family, and this is just one of those things," Linebarger said. "The best thing about kids is with their mental capacity, I mean they're happy any way that you can provide that sort of positive attitude and activities for them. I think kids kind of have it easy in some ways—it's the parents that are struggling."
More on reinventing holidays:
Long live Dia de los Muertos: Austinites stick to tradition and put up altars despite COVID(Chris Caselli)
From Your Site Articles
Related Articles Around the Web
(Capital City Bakery/Instagram)
Halloween season is rapidly coming to a close but there is still time to celebrate. Austin is making the most out of the holiday with themed cookies, cakes, coffee, cocktails and more. If you're not too scared, you might still have time to try them all.
Here are nine places to get your Halloween treat fix.
Big Top Candy Shop
Where else would you get your Halloween candy other than South Congress' staple Big Top Candy Shop? Pick up all the candy your heart desires or stop by the soda fountain and milkshake bar for a fall-flavored concoction.
Capital City Bakery
Capital City Bakery, on East Cesar Chavez Street, has your spooky cupcake needs covered. With cupcake flavors like "cookies 'n scream," candy corn, "boonilla," "strawberry brains" and the classic pumpkin spice latte cupcake, the bakery has something for everybody. That's not all though—for those who aren't feeling cake, Capital City Bakery is serving up pumpkin pie kolaches and mini pumpkin and pecan pies.
Kerbey Lane Cafe
Kerbey Lane is famous for its seasonal menus and comfort food, and this year is no different. Stop in and try a harvest mimosa, pumpkin pancakes, chili queso fries or sweet potato hash. If you visit the university location, located on 2606 Guadalupe St., you might even get lucky enough to get a caricature.
Milky Way Shakes
Milky Way Shakes, also on East Cesar Chavez, serves a host of space-themed vegan milk shakes year-round but their Halloween shake, the "International Spice Station," takes the cake. The shake, made with a vanilla or chocolate base, blended with pumpkin purée, pecan caramel and topped with gluten-free pie crust, will have you wishing it was fall all year long.
Sugar Mama's Bakeshop
Featuring a range of October specials, Sugar Mama's Bakeshop has a menu that rotates daily and provides only the freshest of treats. This fall, pick up a brownie at its S. 1st Street location topped with candy pieces or its classic pumpkin chocolate chip cupcake, which is back again this year.
Sweet Ritual
Vegan ice cream shop Sweet Ritual, located on Airport Boulevard, is famous for its ever-changing seasonal scoops. This fall, catch flavors like pistachio rose, peach brown betty or sprinkle galaxy. Whatever you choose, there is a flavor for everyone.
Tellus Joe
If you're craving a more horror-inspired treat, Tellus Joe located on Windsor Road, is featuring a freaky "silence of the yams" ube (sweet potato) latte, complete with chocolate charcoal whipped cream. This drink ends on Halloween, so don't wait. Oh and don't worry, it's plant-based.
The Tigress
Miss Halloween night at the bar but don't want to go out? The Tigress, located at 100 W North Loop Blvd., is serving a list of Halloween themed cocktails to-go through Nov. 1. The pub is even selling cocktails for six in scorpion bowls for your at-home Halloween party.
Zucchini Kill
From pumpkin bread to donuts to swirl cake, Zucchini Kill has all things Halloween in one place. If you like pumpkin everything, they sell their signature "punk'n spice" that you can add to coffee, pancakes or anything you set your mind to. These creative treats are only available in October, find them at 701 E. 53rd St.
Get the most out of spooky season while you still can!
More on fall: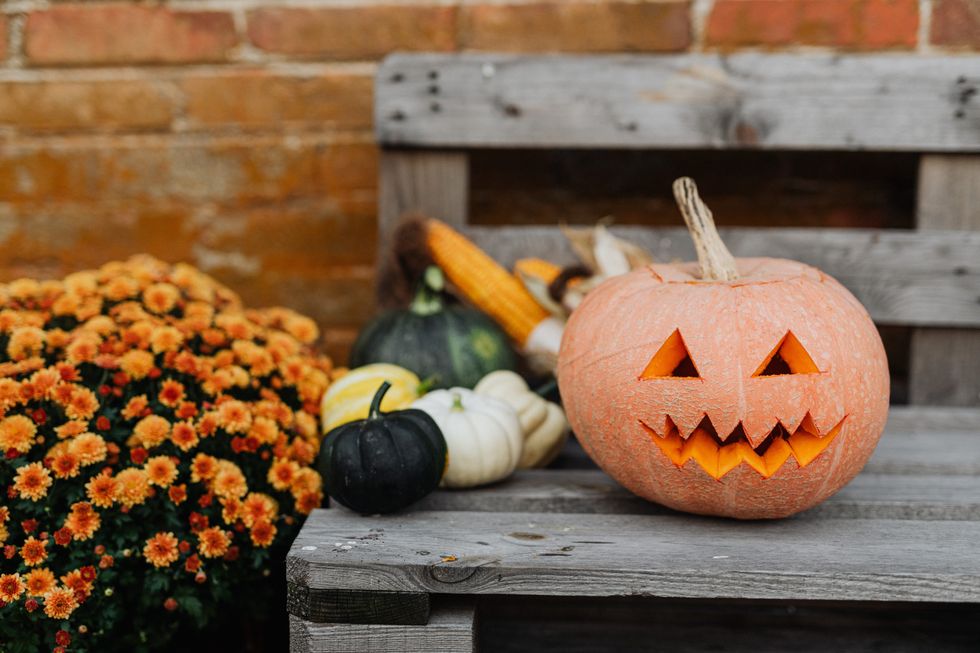 6 activities that'll remind you it's fall in Austin all month long
ATXN.tv
Instead of door-to-door trick-or-treating this Halloween, local health leaders are recommending that Austin residents start new traditions. For example, coronavirus-themed piñatas are proving very popular in 2020.
"What new traditions can you create this weekend?" Austin Public Health Director Stephanie Hayden asked Wednesday morning while showing off her new piñata.
Interim Austin-Travis County Health Authority Dr. Mark Escott said he also intends to substitute trick-or-treating this year with a Halloween-themed piñata.
"I'm a little jealous of your COVID-19 piñata," Escott told Hayden.
But many Austin residents are experiencing pandemic fatigue, APH Chief Epidemiologist Janet Pichette acknowledged. For those people determined to party this Halloween, Pichette recommended social distancing—and, indirectly, a mask-themed costume.
"While I don't have a piñata, I do have a mask, so do wear your mask while you're out and about," Pichette said.
Despite COVID-19 cases and hospitalizations remaining relatively steady at the local level, Austin Public Health officials worry that exposure during Halloween celebrations could put the city on a dangerous trajectory. Statewide spread has already prompted health experts to predict that COVID-19 cases are likely to grow in Austin.
"This is a call to action for Austin and Travis County," Hayden said. "This can be avoided. We can come together as a community."
Health officials reiterated their same concerns as last week that case spread from Halloween activity could make for a bleak holiday season the rest of the year. Fortunately, local hospitals aren't overwhelmed right now, and there is backup support, if needed.
"We are lucky that our hospital systems have affiliated hospitals throughout Texas and, in some cases across the country, so they do have the ability to surge personnel from other jurisdictions," Escott said. "But we can't all surge at the same time across our major metropolitan cities in Texas."
More on COVID and the holidays: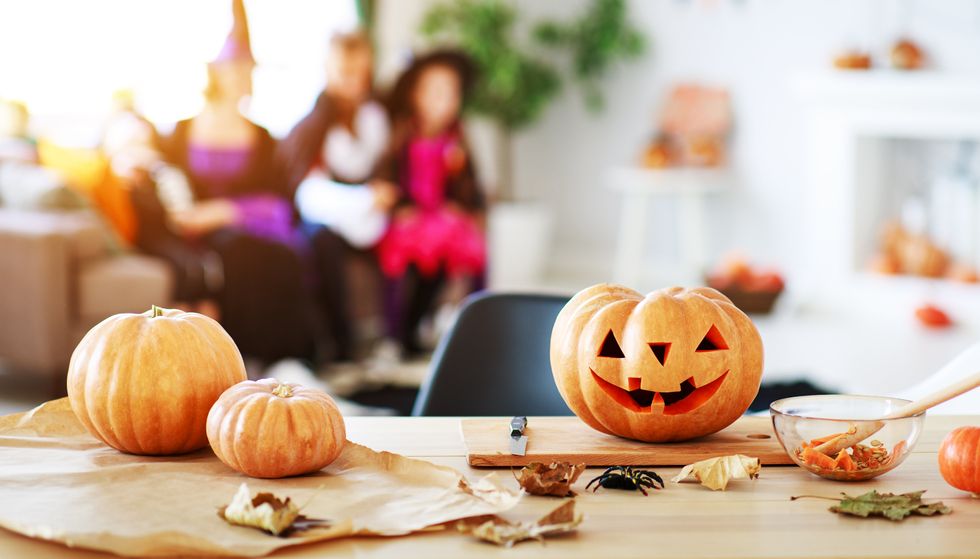 Halloween and other holidays take on a new look in 2020(Evgeny Atamanenko)