Austonia AM
100% Austin news, info, and entertainment, straight to your inbox at 6 a.m. every morning.
In five minutes, you're fully informed and ready to start another great day in our city.
Get connected with our daily update
(Christa McWhirter)
The Austin community is still reeling from a hostage incident at a local pediatric practice late last month, in which Dr. Katherine Lindley Dodson was killed in a murder-suicide. The crime remains under investigation, and it is unclear what role the pandemic may have played in the suspect's motives. However, recent studies have found a dramatic increase in suicidal ideation over the course of the pandemic, as many people contend with social isolation and financial stress.
Local mental health providers say that demand for services—whether in the form of client referrals or hotline calls—are up. State and federal emergency orders have improved access to telemedicine, which enables some people with insurance to access therapy virtually, but in-person outreach and other suicide prevention efforts may be affected by the pandemic.
Increasing need
The University of Texas Police Department received 368 calls with a mental health element between Jan. 1 and Nov. 17, 2020, compared to 493 calls in the entirety of 2019. Although this represents a slight decrease year-over-year, about half of UT students had a fully online course load, suggesting that for students on campus such calls were more common. "From what we have seen, even in the pandemic, our call volume is high," Lt. Samantha Stanford told Austonia.
UTPD recently created a specialized team of officers—the University Crisis Intervention Team, or UCIT—to respond to 911 calls with a potential mental health element.
Colors of Austin Counseling, a local therapy practice, held 6,606 therapy sessions in 2020—a 60% year-over-year increase—and more than doubled in size, from seven clinicians to 15. "The evolution of our practice has been amazing on the business side of things, and it's devastating to see the need that people have," owner and licensed therapist Vanessa Flores told Austonia.
Despite the clear increase in the number of people seeking out mental health care, Flores and other local therapists said it has not necessarily been accompanied by an increase in the severity of cases.
Integral Care's 24/7 helpline has received more calls since the pandemic began, according to practice administrator and Central Texas Suicide Prevention Coalition co-chair Melody Palmer-Arizola. But most are from people looking for someone to talk to. "A lot of the calls are people who are just like, 'When is this going to be over?'" she said.
A universal concern
The Centers for Disease Control and Prevention found that 11% of U.S. adults reported seriously considering suicide and 40% reported struggling with mental health or substance use during a weeklong period in late June. Alarmed by the mental health repercussions, some people questioned public health officials about the safety of social distancing and other pandemic precautions.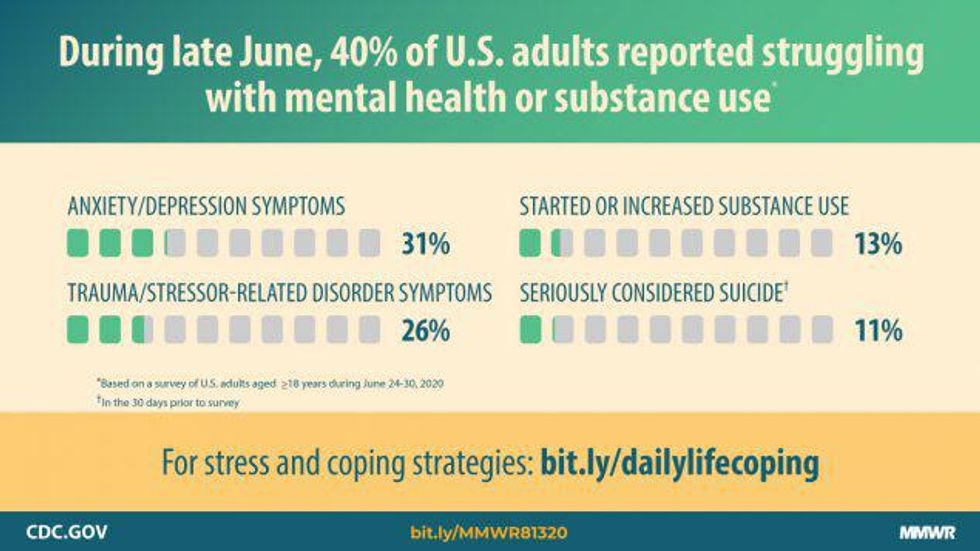 (Centers for Disease Control and Prevention)
Last August, Austin-Travis County Interim Health Authority Dr. Mark Escott addressed this concern in one of his regular COVID-19 briefings. "There's no evidence to support that suicides during COVID-19 … are higher than they were in 2019," he said.

Since then, however, new studies have emerged that suggest suicide may be increasing. "Evidence from previous pandemics suggests a short-term decrease in suicide can occur initially—possibly linked to a 'honeymoon period' or 'pulling together' phenomenon," according to a November editorial in the British Medical Journal. Last month, Nature published a study that found an increase in suicide following an initial decline during the pandemic in Japan.
Real-time American statistics are not yet available and Austonia is awaiting a response from the Austin Police Department regarding the number of calls it has received regarding a mental health crisis. Last week, APD's 911 call operators began using an updated script when greeting callers: "Austin, 9-1-1, do you need police, fire, EMS or mental health services?"
Criminal justice reform advocates have lobbied for this change for years, hoping to limit interactions between police officers, who may not be trained to respond to mental health crises, and people experiencing them. Although it is too early to know the impact of this change, local therapists report that the demand for mental health support and services has increased significantly since the pandemic began.
Access problems
Many mental health care providers have successfully transitioned to teletherapy, offering appointments over video or the phone, but those seeking out mental health treatment may face other challenges posed by the pandemic.
"Affordability is a barrier to entry," said Dr. David Hill, an Austin-based licensed psychologist and member of the Texas Psychological Association, which recently launched a resource guide that includes a psychologist search tool. Many people are facing increased financial stress due to pandemic-related layoffs—and may also have lost their health care coverage. "It's a bit of a catch-22," he added.
Nonprofits that help to fill these gaps are also affected by the pandemic.
Pick With Austin, a local organization that donates guitars and other musical instruments to children and teenagers with depression, saw its outreach curbed by the pandemic because many of its partner organizations—children's hospitals, community therapy groups, juvenile detention centers—were closed to visitors.
"What's happened with the pandemic is we've suddenly been cut off from all of those places," PYA Founder Jeff Curley told Austonia. His son, teenage guitarist Alan Carter Villaruz-Curley, died by suicide in 2010 when he was 18.
In 2019, the nonprofit distributed around 200 guitars. Last year, it was only able to give out around a quarter of that, despite having a surplus amount of donations.
"The pandemic has kept (young people) from going to school, from socializing with friends … so they've actually increased their depression," Curley said.

'Silver lining'
Despite the very serious mental health concerns surfaced by the pandemic, therapists and other experts expressed hope that the current crisis might lead to better health care coverage, wider use of teletherapy and decreased stigma around seeking out support.
Dr. Elizabeth Portman Minne owns Vida Clinic, which provides mental health services to individual clients as well as to school districts, including Austin ISD. Over the course of the pandemic, she has seen children and teenage clients embrace teletherapy. "It's versatile," she told Austonia. "Regardless of whether people are in school or wherever they are, they're still able to stay connected with their therapist."
Texas Gov. Greg Abbott recently identified mental health care funding, statewide broadband access and making permanent some temporary telemedicine regulatory waivers as top priorities this legislative session.
Minne is optimistic that the pandemic, in laying bare so many of the mental health challenges people are facing, will normalize seeking out care.
"It's an odd silver lining of the pandemic," she said. "It kind of made us connect with our own fragility and become more open to reaching out for help."
You can reach the Texas COVID-19 Mental Health Support Line at 833-986-1919 an the National Suicide Prevention Lifeline at 800-273-8255.
(Oles kanebckuu/Pexels)
Several Reddit users identifying themselves as Austin-area health care workers took to the popular social media platform Thursday and Friday to post observations about dire situations at some facilities treating COVID-19 patients.
They described full ICUs, multiple ventilator patients sharing rooms, deceased patients waiting for space at the hospital morgue, running home at night to study old textbooks to prepare for work every day, conserving PPE, and vital medicines that could go on backorder.
All of the users were anonymous, and their identities could not be immediately verified. But they spoke in specific terms about the facilities they are working in—and the situations they are seeing at work on the front lines of a pandemic.
Their stories appeared on a post from late Thursday that drew more than 260 comments, many from people identifying themselves as other health care workers, before it was deleted Friday morning. The comments are still there. The post was first made in response to user RationalAnarchy's daily COVID-19 updates, the user wrote.
"For the first time in my career I was scared," wrote the original commenter, who said they are a registered nurse at a local hospital. "Not to be alarmist, just to tell you how serious it is. I'm a pretty chill/laid back person and this translates to my nursing care. I've been in plenty of codes and in many emergency situations, but this is different. I've never seen SO many people so so severely sick and there not being much we can do for them."
Hospital space has become an issue in Austin, especially in ICUs. Officials are planning to open a field hospital at the Austin Convention Center on July 21, but it will serve low-acuity patients—those who don't need to be in the ICU.
The three main Austin hospital systems—Ascension Seton, Baylor Scott & White Health and St. David's—said on Thursday that, collectively, ICU occupancy was at 89%, but it varies by hospital.
"COVID numbers at our hospital, much like the rest of Central Texas, are higher than what we've seen previously in this year. This certainly is a COVID surge," said Dr. DeVry Anderson, chief medical officer at St. David's South Austin Medical Center." And it's tight. We're managing ICU space day-to-day to make sure we have the space that's needed. When we do not, we're making sure that we transfer within our hospital system or even to other hospital systems when it's appropriate or needed to make sure that the patients get the level of care that is needed."
All three hospital systems are private organizations that do not release occupancy rates on any schedule. Officials have, in the recent past, expressed frustration with the lack of information.

Health care staff members at hospitals are generally not allowed to speak publicly about the facilities, but some use social media to communicate concerns anonymously.

Reddit, Facebook, Twitter and other discussion-based platforms are a popular option for getting details and insights from people on the front lines of the pandemic who cannot speak on the record to the press out of fear of losing their jobs.
Additional reporting by Chase Karacostas.
Want to read more stories like this one? Start every day with a quick look at what's happening in Austin. Sign up for Austonia.com's free daily morning email.
(Charlie L. Harper III)
There are two suspected cases of multisystem inflammatory syndrome in children—a rare but serious condition believed to be associated with COVID-19—in Travis County, Austin Public Health Chief Epidemiologist Janet Pichette said during a virtual press conference earlier today.
Dell Children's Medical Center reported the county's first case earlier this week.
Initial research by the CDC indicates that the syndrome appears four to six weeks after exposure to COVID-19 and that the majority of cases in New York City occurred in children younger than 5 years old.
Symptoms include swelling of the hands and feet, redness in both eyes, rash and peeling of skin and swollen lymph nodes, according to Dell Children's. Dr. Sarmistha Hauger, chief of pediatric infectious diseases, said in a news release that early diagnosis can prevent serious complications, such as organ damage.
In addition to monitoring emerging cases of this disease, APH continues its pandemic response.
At the same press conference, Austin-Travis County Interim Health Authority Dr. Mark Escott worried that COVID clusters may emerge following this weekend's protests. "We are concerned that we are going to see an uptick in cases related to that," he said, adding that the state's continued reopening may also contribute.
(MangoNic/Shutterstock)
Beansprout Pediatrics was prepared for the pandemic. Its team—five pediatricians, four pediatric nurse practitioners and 25 ancillary staff—was following the coronavirus news out of China and had stocked up on personal protective equipment.
"An interesting thing happened," co-owner and partner Dr. Brian Temple said. "No one got sick. Everyone stayed home."
Patient visits dropped 50% to 60%. Dr. Temple and his co-owner—who have locations in Bee Cave, Dripping Springs and Spicewood—aimed to avoid furloughs and layoffs but had to cut salaries by 30% and reduce hourly employees' shifts. "As it is, pediatrics runs on a very thin margin every month," he said.
Compared to some other practices, however, Beansprout has been spared the worst.
Three in four Travis County physicians—a full 75%—have taken a pay cut, according to a survey by the Texas Medical Association published yesterday. Doctor and dentist offices are responsible for the third most jobless claims in the area, after restaurants and hotels, according to Texas Workforce Commission data. And by the end of next month, web-based mapping tool HealthLandscape—a division of the American Academy of Family Physicians—predicts Travis County will have a shortage of family doctors.
These are the results of the state's shutdown, which led to sharp declines in patient visits and emergency room admissions and, for a time, banned elective procedures, threatening cash flow. In addition to lost revenue, health care providers are facing increased costs, such as for specialty medical equipment, protective gear and hazard pay for frontline workers.
Hospital systems—some of Austin's largest employers—are also feeling the pinch.
Baylor Scott & White committed to protecting the pay of all staff through the end of this month but, in an emailed statement, declined to say what lies ahead. "As has been widely reported, COVID-19 has had significant impacts on the operations of healthcare systems across the nation, including Baylor Scott & White," it read.
Austin Regional Clinic cut physician pay, and some staff members have accepted voluntary furloughs, according to KXAN.
St. David's HealthCare is providing 70% base pay for employees whose hours have been cut through its pandemic pay continuation program. More than 6,0000 employees across the company have received pandemic pay since March 29, which CEO David Huffstutler said has enabled the company to avoid layoffs and furloughs in an emailed statement.
Dr. Joseph Valenti, an OB-Gyn in Denton and a board member of the Physicians Foundation, said the pandemic has exacerbated existing problems—such as overhead costs increasing at a much faster rate than reimbursement from insurance companies, Medicare and Medicaid. "Physician practices had been underwater for a huge amount of time," he said.
The pandemic may drive physicians out of private practice and into retirement or jobs at hospitals, large medical practices or venture capital-owned firms, which cost patients more. Dr. Valenti's business, however, is bouncing back. After a "horrible" April when patient volume was down 90%, the practice is now at about 70% capacity, which he attributes in part to the field of obstetrics. "Babies never stop being born," he said. "Pandemic or not."
Dr. Temple is seeing a similar shift, but he worries that a second surge of cases this fall or winter could lead to a more complete shutdown. He and his fellow pediatricians could find new jobs at hospitals or large medical groups, he said, even if they would rather stay in private practice. But he worries about their hourly staff. "We're dedicated to trying to keep them," he said.
This story has been updated to include a statement from St. David's HealthCare.