Austonia AM
100% Austin news, info, and entertainment, straight to your inbox at 6 a.m. every morning.
In five minutes, you're fully informed and ready to start another great day in our city.
Get connected with our daily update
There are many urban legends of how Austins' moonlight towers came to be: some say they were put up to scare off an Austin serial killer—the Servant Girl Annihilator, who terrorized the town—other rumors suggest they were put up to keep crops growing and chickens laying eggs 24 hours a day.
However, the murders occurred about 10 years before the towers were erected and they had no such impact on crops or poultry. Austin followed a national trend to install the moontowers but more than 100 years later, Austin is the only city in the world with any moon towers remaining.
Austin purchased 31 moonlight towers, also called moontowers, from the Indiana-based Fort Wayne Electric Company in 1895, using electricity from Austin's first power plant on the Colorado River. Detroit, Michigan; New Orleans, Louisiana; San Jose, California and Wabash, Indiana, all had moonlight towers around the same time.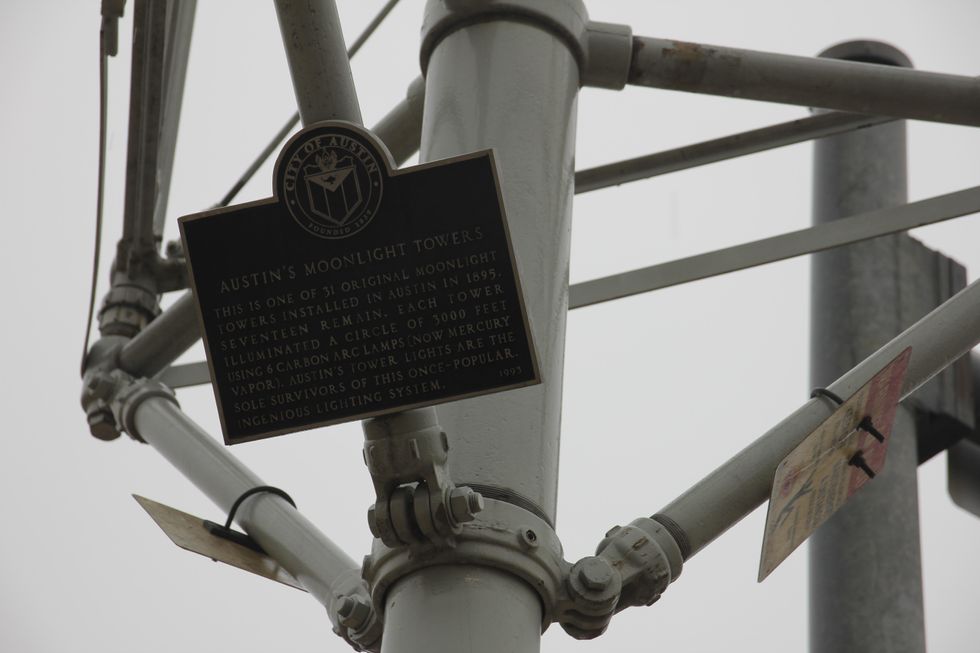 Each tower has a placard describing the history attached. (Laura Figi/Austonia)
They were predecessors to street lights and although the lightbulb was invented in 1879, not even 50% of people had electricity in their homes until around 50 years later. For the first time, residents had the freedom to roam outside their homes after sunset. Moontowers were once an "ingenious lighting system" and emitted a 3,000-foot diameter of light.
The towers' original carbon-arc lamp fittings were exceptionally bright but maintenance-heavy, requiring someone to take an elevator up 165 feet to turn them on every night. The fittings were quickly phased out, replaced by incandescent lamps in the 1920s and then mercury vapor lamps in the 1930s, with switches fitted at the base of the tower.

Only 17 of the original towers remain to this day—15 still sitting in front of their placards and 2 undergoing restoration. They were inducted into the National Register of Historic Places in 1976 and are in the process of a $3.9 million restoration project managed by Austin Energy and Preservation Austin. The towers are also protected by local ordinances in the city.
You can find the towers that are still standing here:
Adding to the list of things that make Austin the unique city it is today, residents have been fascinated by the towers even in obsolescence.

Possibly the most well-known moontower sits in Zilker Park and it is enjoyed every year by crowds at the Trail of Lights when it is decorated with 3,159 lights, becoming the Zilker Holiday Tree.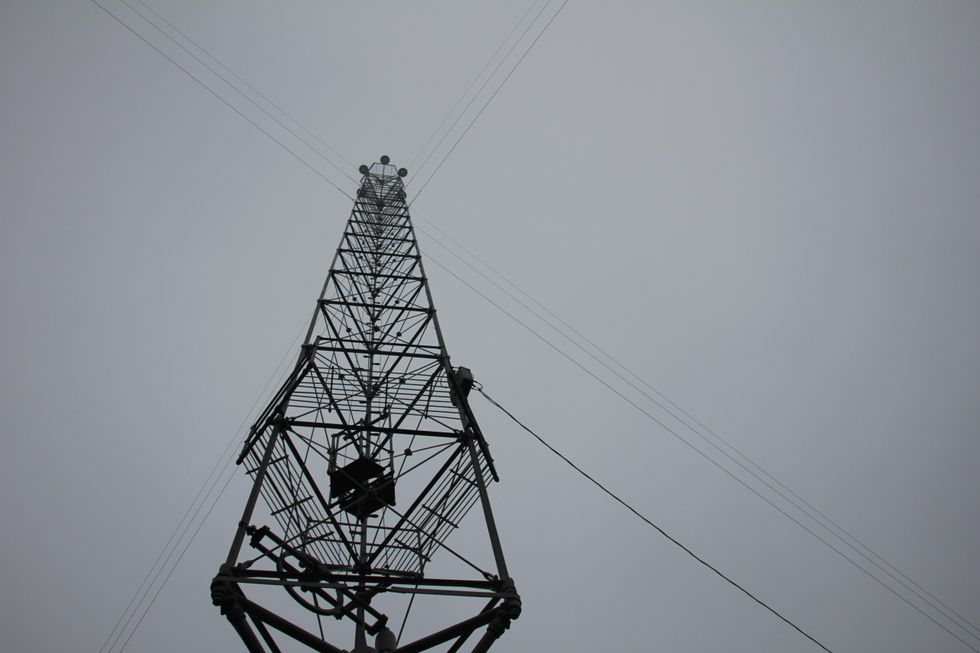 Moon tower at Blanco and W. 12th Street. (Laura Figi/Austonia)
Lovers of 1993 Austin classic "Dazed and Confused" are sure to recognize the "party at the moontower," though the scene was filmed on a set. The tower mentioned in the movie no longer exists. The moontowers even have their own documentary, made by locals Ray Spivey and Jeffrey Kerr, discussing the man who claims to have climbed all the towers (which is not advised) and their history.

Moontower Saloon combines several elements that make Austin what it is: Live music, Hill Country scenery, food trucks and a shared name with an exclusive relic. A few apartments, shopping centers and even ciders also share similar names.
Austin's Moontower Comedy Festival at the Paramount Theatre was launched in 2012 and has since become one of the biggest comedy festivals in the country.
Though not all of the towers remain, seeing them transports visitors back to a different time.
Here are the locations of the towers that are gone forever for being too costly to operate at the time and unuseful once street lamps were put up:
E. 1st Street and Waller Street
E. 6th St. and Medina Street
E. 14th Street and Sabine Street
E. 14th Street and Sabine Street (SW corner)
Hawthorne (became either E. 20th or E. 21st) and Longfellow
Martin Luther King Jr. Boulevard (formerly called 19th Street) and Lavaca Street
E. 16th Street and Brazos Street
E. 2nd Street and Neches Street (Austin Convention Center)
W. 6th Street and Westlynn Street
Dean Keeton Street (formerly called 26th Street) and Whitis Avenue
E. 5th St. and Brazos Street (moved to Leland Street and East Side Drive)
29th Street and Lamar Boulevard
W. 6th Street and Lamar Boulevard
City Park, renamed Emma Long Metropolitan Park (moved to Zilker Park)
North end of Granite Dam (near power station and Ben Hur dock)
Cesar Chavez and Trinity Street (SW corner)
West 4th and Nueces (SW corner)
(Emma Freer)
Between 2000 and 2019, when the last available population estimates were tallied, the population of Texas increased 39% and that of the city of Austin increased 49%, fueling countless headlines referencing boomtown status.
"We have been growing substantially," State Demographer Lloyd Potter told Austonia. "This past decade Texas added more people than any other state."
This growth, however, is not new. Texas and by extension Austin have grown rapidly since their foundings. To better understand their magnetism, Austonia has looked into the drivers of migration starting in the 19th and 20th century. Today's installment focuses on the 21st century, when the state and its capital city continued to expand, even as the nature of the American boomtown fundamentally changed. Read the past installments here.

Growth factors
The state's population growth is due to two factors: natural increase, which just means more births than deaths, and migration, both from other parts of the U.S. and other countries.
After the Great Recession, Texas bounced back more quickly than other states, providing job opportunities to hopeful transplants from other states. "Domestic migration is largely a function of what happens economically, not just in Texas but also across the country," Potter said, citing California, Florida and Illinois among the biggest net senders. Although Texas also loses residents to other states—notably Colorado and Tennessee—domestic migration has fueled around one-third of Texas' population growth in recent years.
International migration is more steady—"there's only so many visas given out every year," Potter said—but the demographics have changed in the last decade or so. Mexican migration has largely been supplanted by migration from other Central and South American countries in the post-recession period, said Paul Hart, a professor of history at Texas State University whose research focuses on modern Mexico. There's also been an uptick in immigration from Asian countries, China and India in particular. Locally, this impact can be seen in North Austin and Williamson County, where the tech industry has served as a powerful draw.

In addition to domestic and international migration, there's also been a movement among Texans. Although the state's population grew by more than 4 million people between 2010 and 2020, 104 of Texas' 254 counties were losing population at last count. "A lot of the growth we're seeing in the urbanized areas is from people moving in from more rural parts of the state," Potter said, adding that this growth is even more acute in the suburbs and counties neighboring big cities such as Austin.

All this growth, however, has led to some growing pains. Despite Austin's continued boom, its Black population has been in steady decline since the turn of the 21st century—a statistic that makes it an outlier among other growing big cities. "Concentrated segregation followed by concentrated gentrification resulted in the massive displacement of African Americans from their historic communities," according to a 2016 report from the Institute for Urban Policy Research & Analysis at the University of Texas Austin.
Rapid population growth has also stressed the city's (and the state's) infrastructure, leading to award-winning traffic congestion; multi-billion dollar efforts to right-size the city's transit system, such as Project Connect; unending sprawl; and the recent winter storm super crisis, which left millions without power and water for days amid subfreezing temperatures. "So many people, they just didn't anticipate the infrastructure or build the infrastructure," Potter said.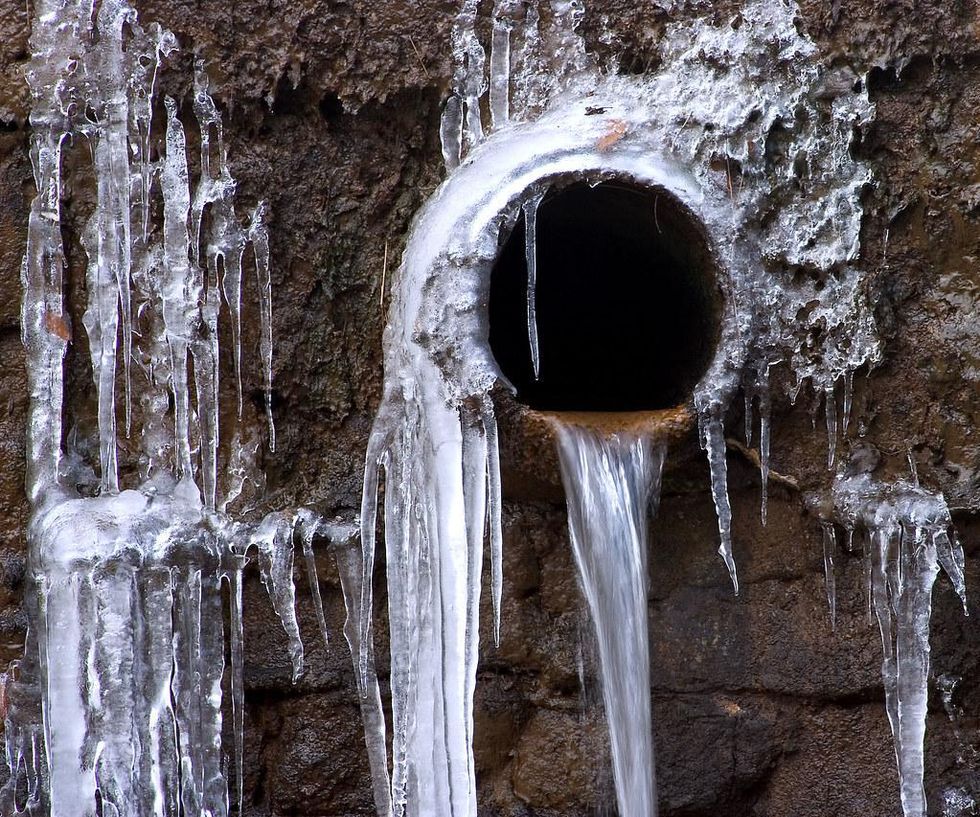 This is not to say that the boom is in any danger of going bust, however. "As long as Texas' economy stays strong, as most indicators suggest, I think we can anticipate to continue to have population growth," he added.

The changing nature of booms
Austin's growth has been steady since its founding in 1839, but the nature of American boomtowns has changed dramatically.
David Schleicher, a professor at Yale Law School whose specialties include land use and urban development, said cities fit technology. In the early 20th century, boomtowns emerged along ports and near railroad hubs, with local economic booms going hand-in-hand with population booms. "This was a product of there was demand to live there, and there was easy supply," he said.
But this is no longer the case, generally speaking. "What has changed in modern America is that many of our booms … those cities don't accommodate booms," Schleicher said, pointing to Silicon Valley, which has the economic driver of big tech but has also grown prohibitively expensive due to restrictive land-use policies that deter migration.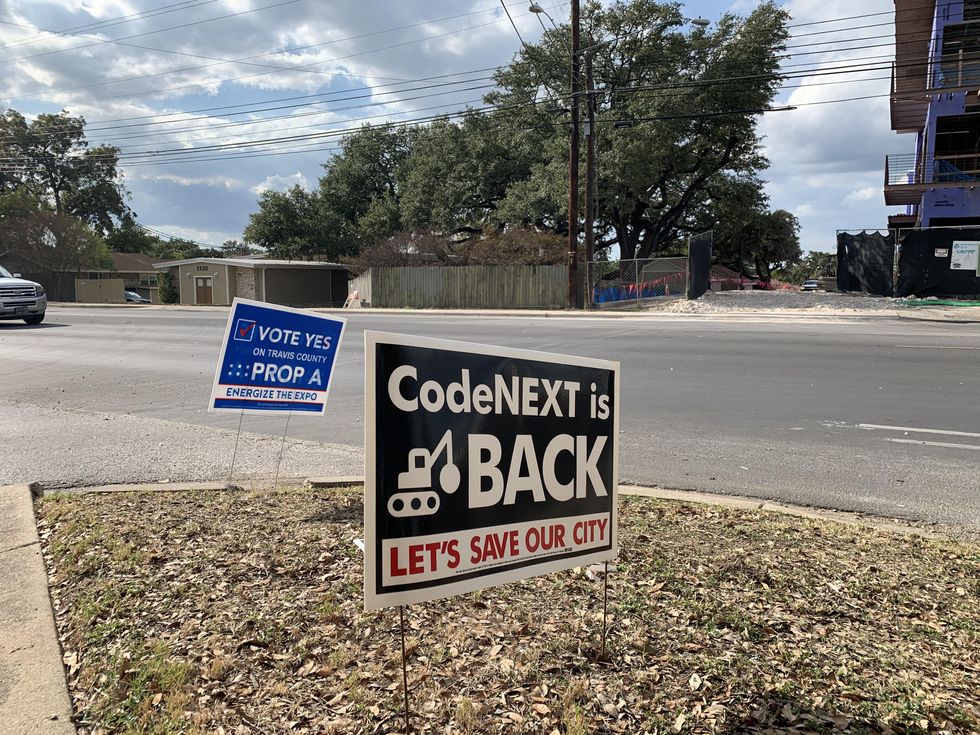 (Emma Freer)
It's too soon to tell whether this will be Austin's fate. "Austin is growing quickly in part because it's seen as a cheaper, but still cool, alternative for tech firms," he said. "This will inevitably put pressure on its land use system as people who are used to one form of suburban type of town … have incentive to restrict entry because it will make them richer."

The increasingly polarized politics of land use reform aside, Schleicher argues that Austin's relative affordability is what is driving its current population growth. Without a housing supply that is keeping pace, the city could see its main draw compromised. "There is a possibility that you could kill the goose that lays the golden egg," he said.
Read the first two installments of this series here.
Austin is often called a boomtown, but the city's population has been growing at a rapid clip since its founding in 1839, nearly doubling its population every 20 years except for two periods. During the 20th century, major historical events such as World War II gave way to new migration patterns that fueled this growth and set the stage for the birth of Austin's big tech industry.
Austonia has looked at the drivers of migration—into Texas and Austin—starting with the 19th century (view here). Stay tuned for the last installment of this series that explores the growth of the city at the turn of the 21st century.
A migrating border
Texas, and to a certain extent Austin, experienced three distinct waves of Mexican migration over the course of the 20th century, bookended by the advent of liberal policies at the end of the 19th century and neoliberal policies at the end of the 20th.
After the Mexican-American War, which stemmed from the annexation of the Republic of Texas in 1845, many Mexicans were left on the wrong side of the border. "A lot of people say they didn't move," said Paul Hart, a professor of history at Texas State University whose research focuses on modern Mexico. "The border was moved on them."
Starting in the late 19th century, U.S. corporations ventured into Mexico, disrupting the traditional agricultural economy many Mexicans found relief on. The concurrent expansion of the railroad in the U.S. required labor, which drew many Mexican migrants looking for work. The violence and destruction of the Mexican Revolution, which lasted from 1910 to 1920, exacerbated this trend, and Mexican neighborhoods began to emerge in East Austin and South Austin, Hart said. The Great Depression ended this initial wave of migration, as repatriation efforts and deportation drives forced many Mexicans out of the country.
The second wave of migration from Mexico into the U.S. was connected to World War II. As wartime industries claimed U.S. workers, farmers needed a new labor force. In 1942, the U.S. and Mexico created the bracero, or laborer, program. "It was supposed to ensure that U.S. agriculture had the labor necessary to get crops in the from the fields, and the Mexican government agreed to the bracero program because they thought that it provided greater assurance for Mexican laborers—that people wouldn't just be wantonly exploited by individual growers," Hart said.

The bracero program ended in 1964, around which time the economic policy was shifting in Mexico. Throughout much of the 20th century, the Mexican government presided over a land redistribution program, which served rural residents and "kept people at home in Mexico," Hart said. But in the late '80s the program started to fail due to a combination of factors. In conjunction with the North American Free Trade Agreement, which took effect in 1994 and "just devastated Mexican producers," these policies—and the economic devastation they caused—prompted a third wave of migration, Hart said, that lasted until the great recession.
Job opportunities in the booming service and construction industries "brought people to Austin," he added.
The post-war population boom
In addition to spurring international migration, WWII also led to a shift in the state's demographic and economic makeup as industrialization took root.
Wartime demands led to mass domestic migration into Texas as well the migration of state residents to urban areas, where industrial jobs were more plentiful, according to the Texas State Historical Association's handbook. Urbanization became "the dominant migration pattern in postwar Texas," as the state's population drifted from rural areas to major metros, including Austin, per the handbook.
The war also spurred federal investment in defense spending and research universities—including the University of Texas at Austin—followed by the emergence of microchip and then hard- and software companies.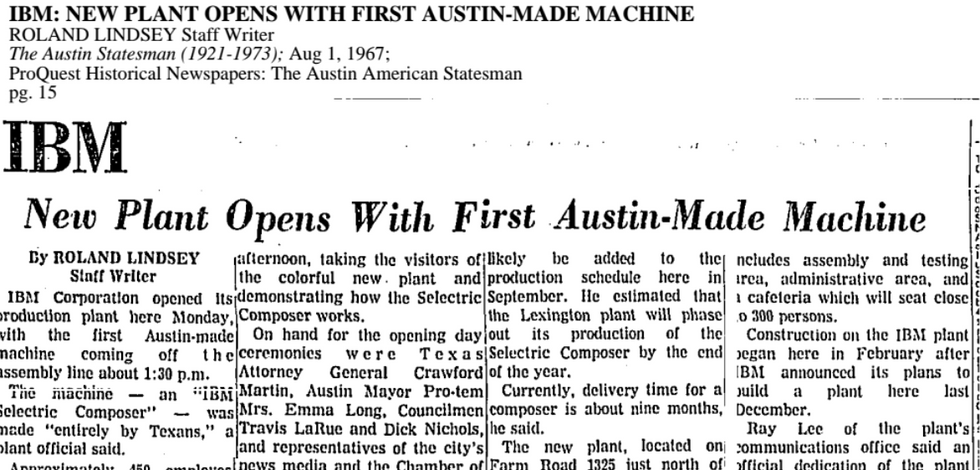 Margaret O'Mara, a history professor at the University of Washington and author of "The Code," a history of Silicon Valley, told Austonia last month that this mirrored what was happening in the Bay Area and at Stanford around the same time. But what drew tech companies to California starting in the 1960s and '70s has now been compromised by the success of those companies. "The Valley used to be attractive because it was relatively affordable," she said. "Now that no longer holds."

Austin, on the other hand, remains relatively affordable for people and companies moving from more expensive cities and states. In the second half of the 20th century, this drew big tech originators such as IBM to the city because it offered lower labor costs. Combined with homegrown companies, such as Dell, and other attractions, such as UT and the Capitol, the city established itself as a destination for domestic migrants looking for job opportunities and lower costs of living.
This trend set the stage for growth into the 21st century, as Texas has maintained a business-friendly climate and relatively low cost of living compared to major cities such as New York, San Francisco and Los Angeles. But it has also led to growing pains, particularly when it comes to the infrastructure—from public transportation to basic utilities—needed to support this growing population.
"When rapid growth, multiple people (in Austin) used to say, 'If we don't build it, they won't come,'" State Demographer Lloyd Potter said. "It turns out they were wrong."
Read Part 1 of this series: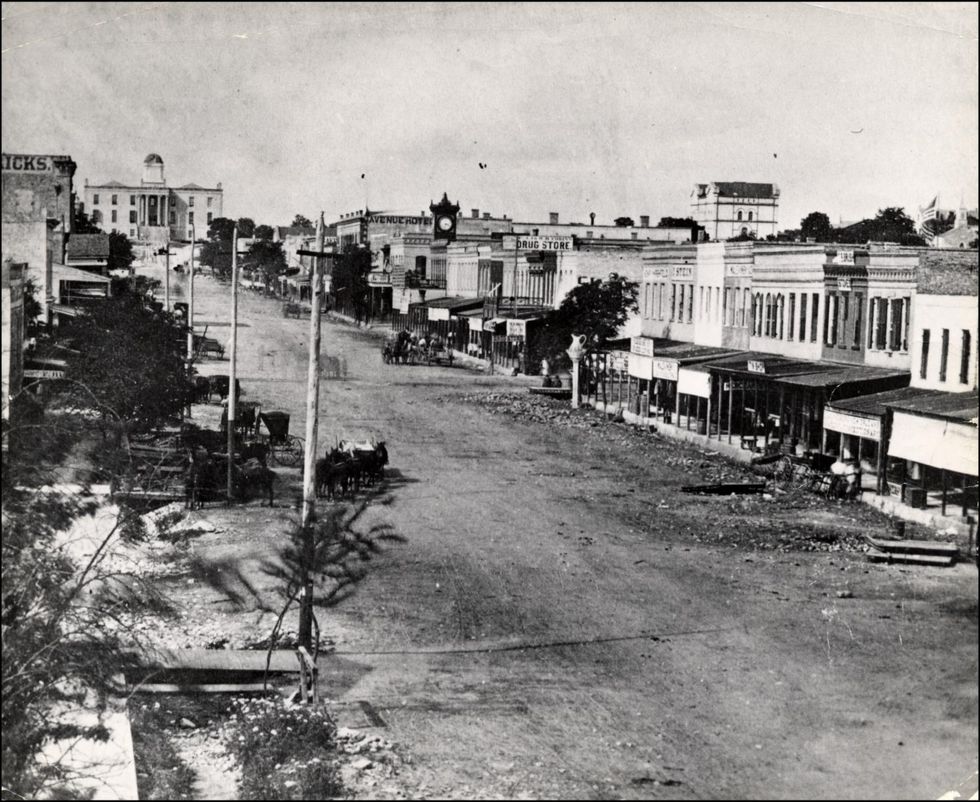 Gone to Texas: The 19th century origins of Austin's boomtown status
New Austinites Joe Rogan and Elon Musk recently discussed their new home on an episode of "The Joe Rogan Experience": "I think Austin's going to be the biggest boomtown that America has seen in a half a century," Musk told the podcast host.
We've all heard the statistics. The Texas Demographic Center expects the five-county Austin metro to double in size by 2040, a projection that has spurred concerns about whether the city's infrastructure will be up to the task. But the city of Austin has been growing at a rapid clip since its founding in 1839, nearly doubling its population every 20 years, according to the U.S. Census Bureau.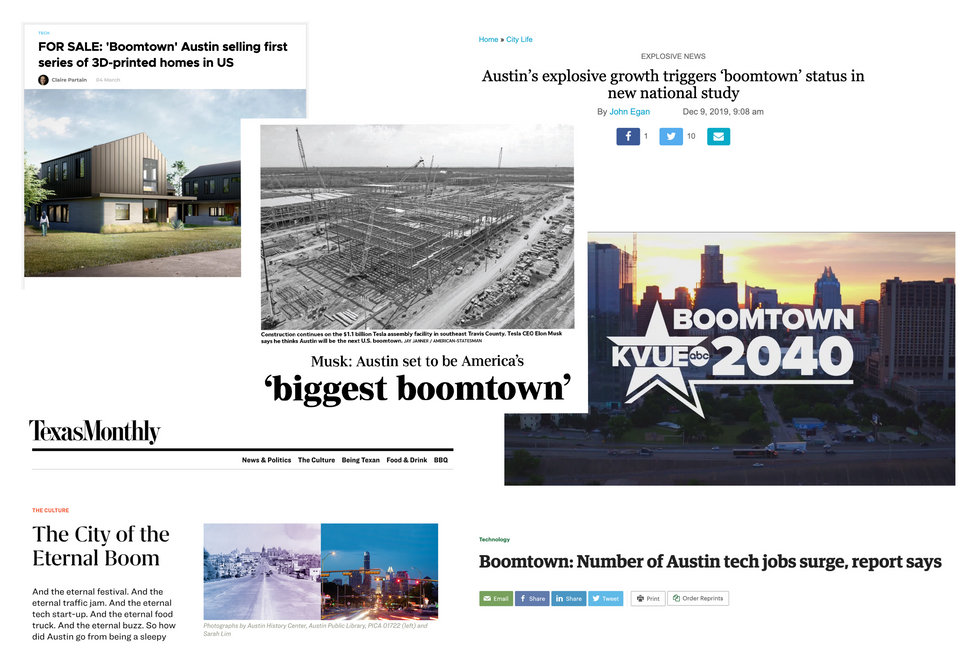 (Austonia)
Seen in this context, the Austin metro's current growth is nothing new. To better understand the city's magnetism, Austonia has looked at the drivers of migration—into Texas and Austin—starting with the 19th century. Stay tuned for more stories on what growth looked like in the 20th century, when World War II and other major historical events were reflected in new patterns, and since the turn of the 21st century.

Growing from the start

Texas' population growth predates its entry into the U.S. in 1845 and makes it an outlier among southern states, according to James Gregory, a professor of history at the University of Washington, where he directs the America's Great Migrations Project.
Migration from Tennessee, Alabama and Mississippi helped field the rebellion that led to Texas gaining its independence from Mexico in 1836, Gregory writes. In the wake of that event, southerners, many of them enslaved, continued to move west to expand the cotton belt, a region of the southern U.S. where cotton was the main cash crop from the late 18th through the 20th centuries.
This migration applied not only to Texas but also to Austin, which was purchased to serve as the capital of the Republic of Texas—independent from both Mexico and the United States—in 1839 and later became the capital of the state of Texas in 1846.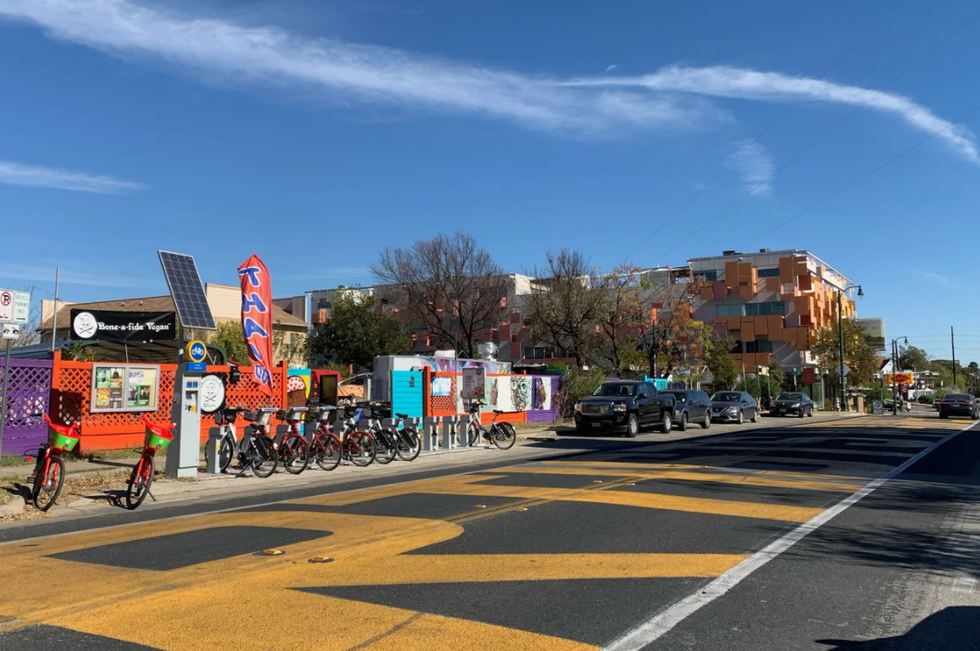 East 11th Street in Austin in November 2020. (Isabella Lopes/Austonia)
Austin City Council acknowledged this history earlier this month when its members approved a resolution directing staff to devise a plan to create a "Black Embassy" in East Austin. The resolution also formally apologized for the city's participation in the enslavement of Black people, segregation and other intentionally racist practices and expressed support for a national program of financial reparations for descendants of slaves.
"The first census in 1825 showed Austin with 450 slaves, which was 35% of the population count," Austin Mayor Steve Adler said at the March 4 meeting. "By 1860, the number of slaves were increasing faster than the population as a whole."
Colonization laws that provided settlers with additional land for each slave gave way to other forms of institutionalized and codified racism, from denying Black residents the right to vote in the early 20th century to the city's adoption of the 1928 master plan, which limited public services for Black residents to a "negro district" east of I-35.

After the Civil War, population growth in Texas was spurred by the arrival of residents from nearby southern states. These migrants faced economic problems related to the war and "saw Texas, with its extensive public lands, as a place of opportunity," according to the Texas State Historical Association's Handbook of Texas. Although Southerners "posed no threat to the dominant culture of the state," the Black population continued to face racist policies through the Reconstruction period, free but not accepted as such.
International migration
In addition to the influx of domestic migrants, Texas also grew in population due to the immigration of European immigrants, the bulk of whom hailed from Germany.
Starting in the 1830s, German settled in ethnic enclaves stretching from Galveston to the Hill Country following in the footsteps of Johann Friedrich Ernst, who settled in Austin County, west of Houston, in 1831 and wrote letters to his friends back home that inspired a chain of migrants. "He described a land with a winterless climate like that of Sicily," according to the TSHA handbook, with low taxes and fertile soil.
In addition to Ernst's role, the German Revolution in 1848—and the years of discontent leading up to it—also prompted a wave of migrants to seek opportunity in Texas, far from the unconsolidated states that would eventually unite to form Germany. This wave of migrants founded the towns of New Braunfels and Fredericksburg. "I like to consider them entrepreneurs," said Janis Gonser, president of the Austin-based German-Texans Heritage Society.
During this period, German immigrants encountered Texan conflicts. Before its independence, Mexico was looking for settlers to create a kind of buffer zone between its heartland and the Comanche Nation. "This was an area of contested land between multiple groups," GTHS Executive Director Christopher Markley said. When Texas gained its independence and joined the U.S., German immigrants found themselves caught in the middle again. "When the Civil War broke out, that was a big conflict for the Germans," Gonser said. "They had just left a country in conflict."
This migration tapered off toward the end of the 19th century and stopped when the Great Depression hit. Another wave of German immigrants arrived in Texas in the post-WWII period—many of them war brides—but by then their influence had already taken root.
In addition to their brewing skills (the founder of Shiner Bock was born in Bavaria), contributions to Tejano music (a blend of Eastern European folk music, including polka, and traditional Mexican styles), role as barbecue pioneers and beloved events (such as Wurstfest and assorted Christmas markets), German immigrants were key advocates for free public education in Texas.
Missing the free schools they were used to in their homeland, German-Texans built schools open to all children, including the German Free School in downtown Austin, which is the city's third oldest building. "There are records that show full integration," Gonser said, citing co-educational enrollment as well as a mix of religions and ethnic backgrounds. "In the 1860s and '70s that was revolutionary."
More than 160 years later, the school remains in use and is now home to GTHS and its ongoing German language classes. In addition to serving long-time Texans with German heritage, the society also attracts people like Gonser, who have moved to the Austin area from Germany in recent years, drawn by the growing tech industry and other opportunities. "Now today I see another wave of Germans coming in the last 10 years," Markley said. "I call them the New Germans."
Check back tomorrow when Austonia will look at migration and population growth in the Austin area during the 20th century.