Get connected with our daily update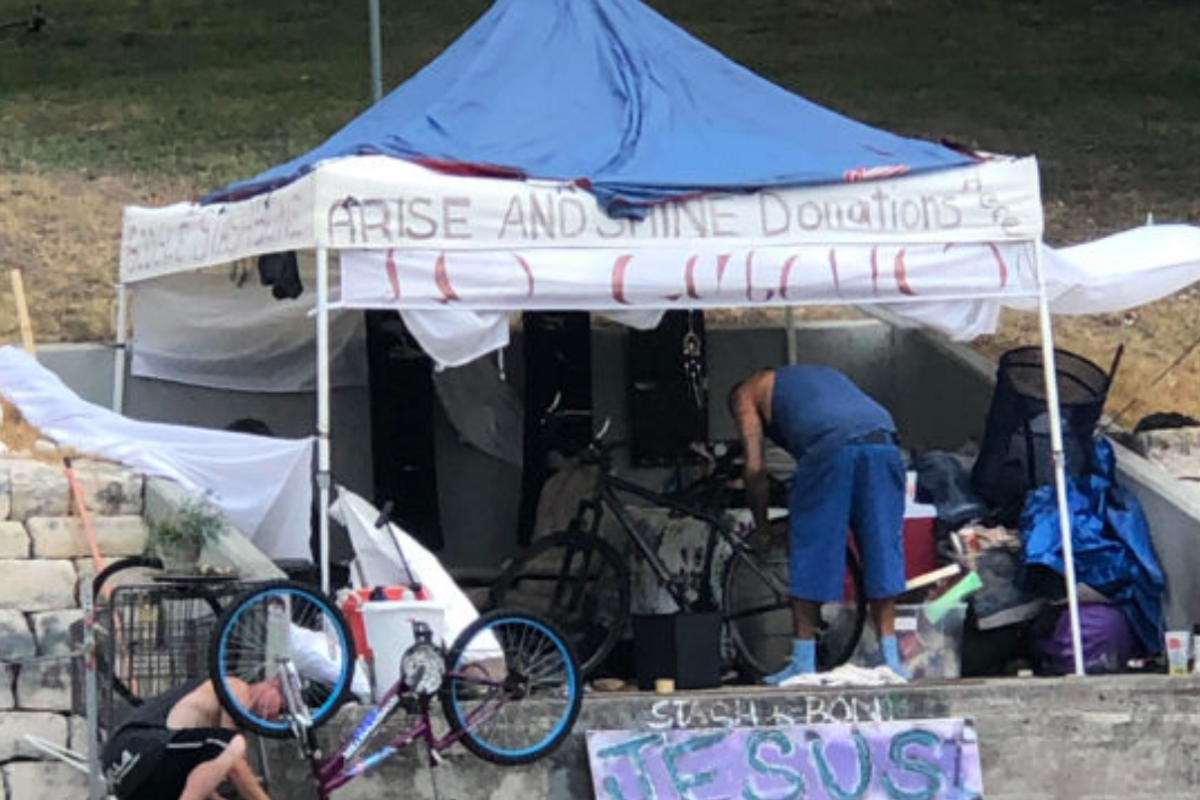 By Chad Swiatecki
City staffers are making a series of changes to the management of homeless encampments, with a centralized response and assessment system in the works that is expected to become operational later this summer.
City Council's Public Health Committee received a presentation Wednesday detailing the current state of work to break up and manage the homeless communities that have continued to sprout up around the city since the public vote last year to reinstate a ban on sitting and camping in public.
Eighteen city departments, including Austin Fire, Transportation and Public Works, are involved in the clearing and care of encampment sites, with requests for services far exceeding the capacities of those groups. On average, Austin Resource Recovery, Public Works and the Watershed Protection Department tend to 68 sites per month, with the encampments collectively generating 138 tons of trash per month.
To improve coordination, produce better results with cleanups and address the needs of homeless individuals, staffers are working to create a central response structure that uses some of the components of the Housing-Focused Encampment Assistance Link, or HEAL. The improvement plan would also establish a framework for prioritizing what resources are used and when, create protocols around biohazard cleanup and leftover property, and implement a system for tracking the various camps to prioritize responses.
The basic guidelines of the central response structure have been established, with full activation expected after the prioritization tool is complete. That tool will begin testing this month, with full activation in July.
Council members were receptive to the update, which looks to find a way to keep encampments from repopulating when their inhabitants can't be placed in temporary bridge shelter units quickly as was envisioned when the HEAL initiative was launched.
Committee Chair Kathie Tovo asked Dianna Grey, the city's homeless strategy officer, if current contracts related to the cleanup of encampment sites will need to be updated with more funds. Tovo referenced the fire that occurred following the recent clearing of an encampment along Bouldin Creek because the contractor charged with cleaning the site took several weeks to perform the work.
"We will see a need for some additional resources in some of those contracts, but departments are looking at their resource array to see what they can draw from other places to support the work," Grey said. "The other piece that has been challenging is Public Works, Watershed and Austin Resource Recovery, depending on the funding source, can use those contracts or staff only in particular places. That resource coordination is something we're hoping to improve, looking at the crews we can use in a particular location and seeing if we can alleviate situations like (Bouldin Creek)."
Council Member Ann Kitchen, who spearheaded the HEAL initiative, expressed frustration with the lack of cleanup and "placemaking" at cleared sites.
"I need to know who to work with to make sure that happens. What I'm not hearing is a systematic approach and my idea is that HEAL would be available for all of these locations," she said.
Mayor Steve Adler said he appreciated the work improving the process, but pushed Grey and other staff to come forward soon with a timeline for when additional permanent supportive housing units would be completed.
"For the community we need to recognize that there will be no answer to this, no disappearing of encampments, no thorough and exhaustive placement of people in homes until we have places for people to be. We could have been doing this work years and years ago to build out the infrastructure so that we had it in place, but we don't and now we're trying to catch up. We need a presentation on the arc and time frame for having units available," he said.
"There is a dramatic increase in the number of units that are going to be coming online in the next three years relative to anything we've done before and the community needs to both see that it's going to happen but also see it doesn't happen overnight."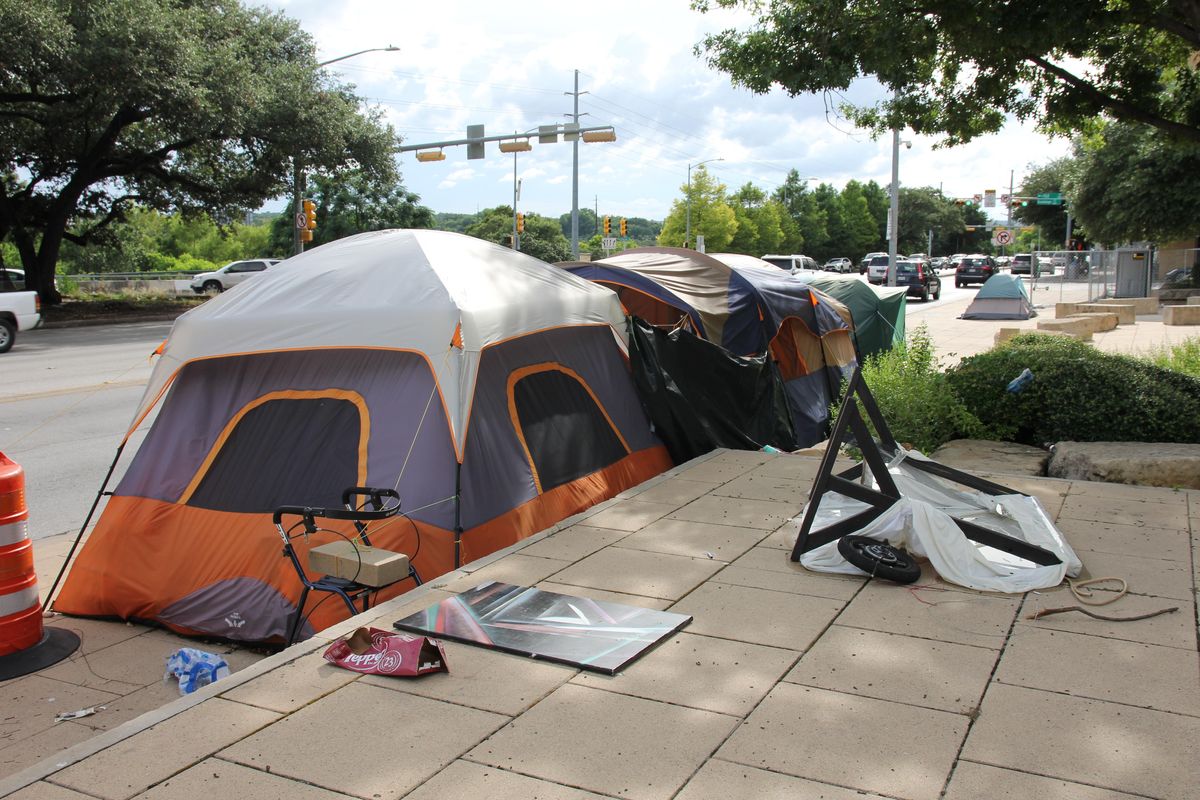 The city of Austin's phased implementation of Proposition B entered its third stage on Sunday, with police now able to issue citations and arrest individuals who refuse to vacate certain homeless camps. But city officials have yet to identify places where they can go.
Police feel caught in the middle, tasked with enforcing the ordinances but lacking any clear guidance to offer those impacted. "The elephant in the room … is providing a viable location for folks to be able to go," Community Engagement Lieutenant Lawrence Davis told the public safety commission on Tuesday.
Nearly 58% of Austin voters supported Prop B—a city code amendment to reinstate bans on public sitting, lying, camping and panhandling in certain parts of downtown, near East Austin and West Campus—during the May 1 election.
Austin City Council directed staff to identify possible locations for temporary sanctioned camps in each council district in May. But council members pushed back against the options presented to them and failed to issue clear guidance before their annual six-week summer recess, which ends later this month.
Phase 3 of the City's response plan to the camping ordinance (Prop B) starts today.

It moves from written warnings to citations. Arrests will be utilized only in situations where individuals refuse to vacate areas deemed dangerous.

More info: https://t.co/ZGmrklo55h pic.twitter.com/lfO6ArNo2o
— Vanessa Fuentes 💃🏽 (@VanessaForATX) July 11, 2021
For now, Austin police will issue citations to homeless individuals who have already received written warnings for violating the ordinances. Homeless individuals who refuse to vacate camps that have been deemed dangerous, such as those in flood-prone areas or near highways, may be arrested.

As of July 1, police have recorded a 21% reduction in tents and identified 290 homeless residents who are willing to comply with the ordinances voluntarily so long as there is a place for them to go.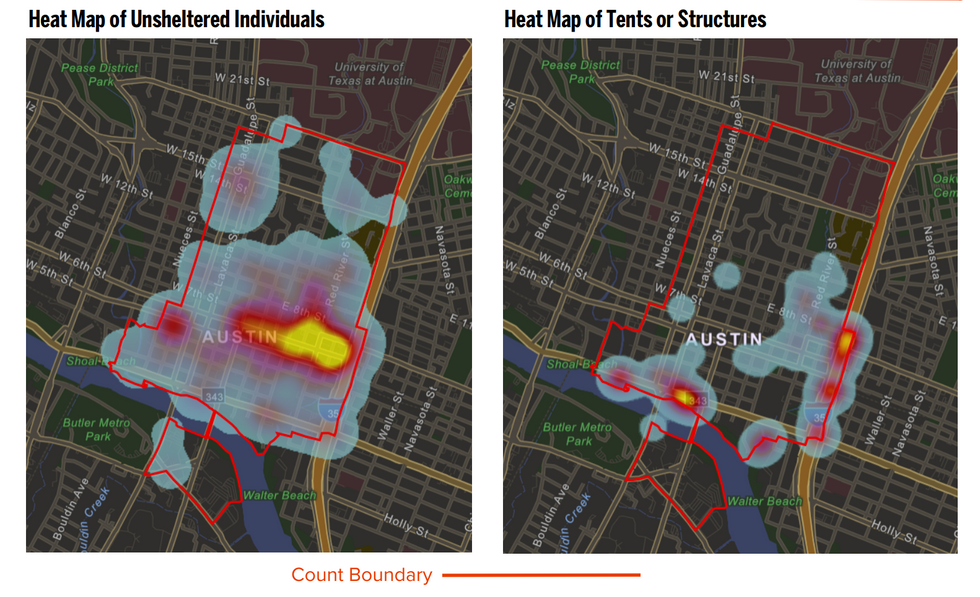 (Downtown Austin Alliance)
Meanwhile, city staff are working to expand existing shelter capacity, which has been constrained by pandemic protocols, which could see more than 300 beds open by mid-August, according to a July 1 memo.

In addition, the city opened the Southbridge Shelter on June 15, a former ProLodge that is now reserved for homeless individuals who lived in camps and are waiting for permanent housing. Approximately 20 individuals from the Terrazas Library camp are living at the shelter, which has 75 rooms. The city has also renewed the lease of a second ProLodge shelter using American Rescue Plan Act funds and expects it to open in early August, after repairs are completed.
Staff will next update the council on July 22, including identifying potential temporary campsites. Members mostly pushed back when staff proposed 45 potential sites, citing concerns ranging from transparency, costs and wildfire risks.
This attitude has prompted pushback. Bill Brice, vice president of investor relations for the Downtown Austin Alliance, chastised Austinites who supported Prop B but now refuse sanctioned camps, shelters or homeless housing in their neighborhoods. "Community members cannot have it both ways," he said at the same public safety commission meeting.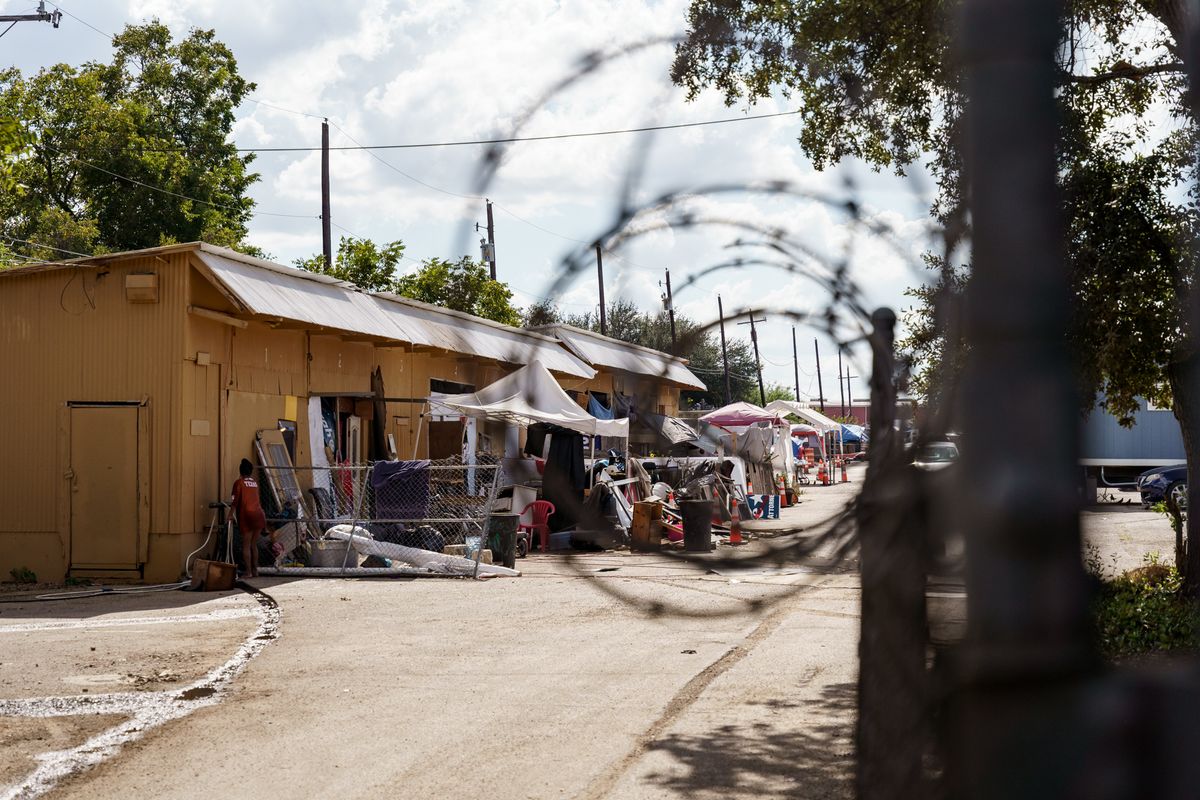 Austin city officials are set to discuss a proposal to partially reinstate the homeless camping ban in four areas around the city.
The Housing-focused Homeless Encampment Assistance Link, or HEAL for short, was brought forward last week by City Council Member Ann Kitchen and is co-sponsored by four other council members. The proposal will target areas deemed "dangerous and unhealthy" and provide housing for those camped in those designated areas.
The four locations HEAL lays out as "priority locations" are:
In Northwest Austin, at an intersection adjacent to significant vehicular and pedestrian traffic
East Austin, on a sidewalk or public easement adjacent to or leading to a public library
South Central Austin, at a major intersection under a state highway overpass
Along a major arterial through the Central Business District
After the council's work session early in the week, the vote is expected to take place on Thursday.
If the vote passes, City Manager Stephen Cronk will return to the council by Feb. 18 with an implementation plan and will have until August to put the first phase of the $3 million plan in place.
Included in this first phase will be finding longer-term solutions and permanent supportive housing and getting the people who camp in the heavily-trafficked areas laid out in the proposal off the streets. The second phase will include fully banning camping in these areas.
Discussion about the HEAL initiative comes just one week after the council approved the purchase of a hotel in North Austin to provide housing for those experiencing homelessness early last week.
Council also delayed voting on the purchase of a second hotel in Northwest Austin after Council Member Mackenzie Kelly asked for an extension to share the news with the public. That vote is scheduled to take place this week.