Get connected with our daily update
After another historic year for better or for worse in Austin, Mayor Steve Adler said "it's been a while" since he last had a conversation with Texas Gov. Greg Abbott.
Adler sat down for an interview with Axios Austin, in which he broke down issues the city faced throughout 2021. Among the continued COVID response, plummeting affordability, winter freeze and homelessness crisis, Adler said he doesn't have open communication with the governor.
The pair frequently sparred over mask mandates, the response to Winter Storm Uri and the homelessness crisis over the last year, with little to no interfacing.
"It's been a while since I've talked directly with the governor. I have talked to his staff, certainly over the course of the pandemic," Adler said. "But I wish that there was better and freer, less political, partisan communication between the governor and the mayor."
Regardless of the disagreements the two had, Adler said he stands by the city's COVID-19 response, citing the low mortality rate compared to the state. While he said he's proud of the summit plan to move the homeless off the streets, Adler owned his faults, saying he wished they had "done a better job" managing public spaces.
"I don't think we should have had people camping in parks and on the running trail and gazebos," Adler said. "Recognizing that if someone is not presenting a public safety risk or a public health hazard that they shouldn't be in jail, that doesn't also mean that any one person has the right to commandeer a public space just for themselves. There's a balance that I don't think we did well."
Meanwhile, Adler holds strong on his criticism of Abbott's winter storm response, saying he isn't confident that the city is out of the woods even though the city has been practicing its storm preparedness.
"I'm still concerned about the grid because I don't think the state has taken the steps that it needs to take at that level to help put us in the best place to be hardened and protected against a grid failure," Adler said. "We're in a better place than we were last time because we've been able to learn."
As Adler goes into his last year as mayor, he has few goals for 2022, like raising the last $100 million of the summit plan for homelessness. From his view, the biggest challenges in Austin revolve around partisanship and rapid spread of misinformation.
"(The) things that prevent a community from being able to constructively deal with the challenges that it faces," Adler said.
It's the most (philanthropic) time of the year, and the Michael & Susan Dell Foundation added to Central Texas' $100 million Giving Tuesday donations by promising a $38 million commitment towards combatting homelessness in Austin.
The Round Rock-based foundation, headed by tech giant Dell CEO Michael Dell, will donate the lump sum to three local nonprofits: Multiplying Goodness, Foundation Communities and LifeWorks.
Almost all of the funds—$36.6 million—are headed to Multiplying Goodness, which is a capital campaign to grow the Community First! Village in Austin, a neighborhood that offers permanent housing for the homeless. The 51-acre housing development has already rented out tiny homes to 220 formerly homeless residents and has plans to add 1,400 more units with the Multiplying Goodness program headed by Mobile Loaves and Fishes.
Dubbed a "hand up, not hand out" program by Mobile Loaves CEO and Founder Alan Graham, the neighborhood also helps residents with services and resources as they leave homelessness behind.
The Dell foundation is asking the public to match their donation as the "most talked about neighborhood in Austin" looks to reach its $150 million goal. Expansion of the Community First! Village is expected to break ground in 2022.
"As Austin grows, it's more important than ever that we care for those most vulnerable in our communities," Dell Foundation's co-founder Susan Dell said in a press release. "By coming together as a community, we can provide those experiencing homelessness in Central Texas with the dignity they deserve through stable housing and the opportunity to experience community again. We are honored to partner with Mobile Loaves & Fishes, Foundation Communities and LifeWorks—along with the broader Central Texas community through our community match—to accelerate the difference these organizations are already making on the ground each day."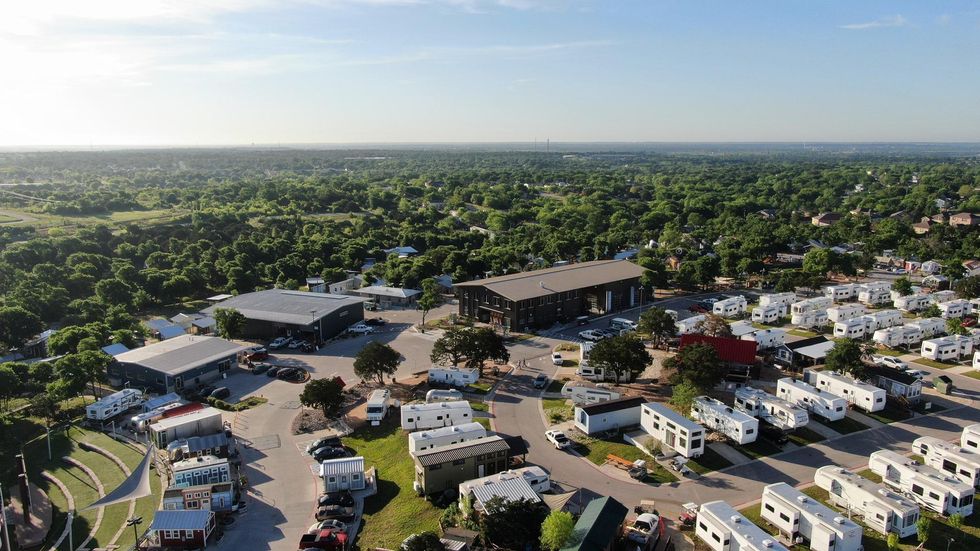 Community First! Village, a 51-acre housing development, currently houses over 200 formerly homeless people. (Community First! Village/Facebook)
The Michael & Susan Dell Foundation also announced a $1 million donation to Foundation Communities as they construct 100 units on the Burleson property at Community First! Village. LifeWorks Austin, a nonprofit aiming to end youth homelessness, will also receive $400,000 as it looks to provide permanent housing for local youth experiencing homelessness.
All three donations will funnel to the greater cause of ending homelessness in Austin, a hot topic in local politics in recent years. Around 3,000 Austinites are currently experiencing homelessness, with nearly 50% described as "chronically homeless." That's 25% above the national average.
Giving Tuesday has seen more than just the Dells digging into their pockets: known as a "global generosity movement unleashing the power of people and organizations to transform their communities and the world," the Tuesday after Thanksgiving has ushered in donations from corporations and private individuals around the world, including $100 million coming to Central Texas nonprofit I Live Here I Give Here.
The nonprofit has become the front for Central Texas' Giving Tuesday campaign. In 2020, Austin businesses, individuals and nonprofits contributed over 20 million acts of generosity during the holiday.
This year, Home Depot surprised small Austin nonprofit Green Doors with a $30,000 donation as they work to combat homelessness.
AppSumo, a leading digital marketplace for entrepreneurs, announced that it will match donations to Future Front Texas, PeopleFund and Swan Impact Network—all Central Texas nonprofits looking to benefit the area's small business owners—from Giving Tuesday through Friday at 5 p.m.
Local philanthropy group Impact Austin awarded $226,200 in grants to four Austin nonprofit organizations on Tuesday as part of their fall giving cycle, while Austin influencer Laura Lux agreed to match any donation under $1,000 given to Austin Pets Alive! on Giving Tuesday.
When City Council Member Greg Casar announced a run for Congress in early November, few were more outraged than Travis GOP chair and Save Austin Now co-founder Matt Mackowiak.
Fresh off a Save Austin Now defeat at the polls, Mackowiak and co-founder Cleo Petricek had some choice words to say for their perpetual political enemy.
"He's destroyed our city with his radical agenda, especially as he led the effort to pass the homeless camping ordinance and then defund the police," Mackowiak and Petricek told Austonia. "He has made life in Austin measurably worse for families and all District 4 residents. He should resign in disgrace, not seek a higher office."
The dueling figureheads, both beloved and hated by different sects of the Austin community, are now 1-1 in the ring—Save Austin Now won the reinstatement of the homeless camping ban in May then lost the police department reforms initiative this month—as Mackowiak and Save Austin Now look to thwart Casar's congressional efforts.
Petricek, a Democrat, most recently endorsed Democrat Eddie Rodriguez, the only other prominent political figure up against Casar so far for Congress' District 35 seat. Casar immediately countered the move by saying he wouldn't accept donations from any organization that receives donations from SAN or corporate PACs, requesting that his soon-to-be opponent do the same.
"We're calling on Eddie Rodriguez and every other Democratic candidate in this race to take this same pledge–to reject contributions from major donors of the Republican-front group Save Austin Now and reject contributions from corporate PACs," Casar's office said. "This should be a Democratic primary, not one influenced by divisive Republican groups."
The fire-and-ice opponents have had beef since long before Congress. Back in 2015, a then-25 year old Casar made waves in Austin's city politics as the youngest to ever be elected to a City Council position. A left-leaning activist, Casar championed paid sick day policies, helped clear the backlog of sexual assault evidence kits within the Austin Police Department, fought for affordable housing and immigration policies and worked to decriminalize certain nonviolent crimes.
But the Casar vs. Mackowiak saga truly began in 2019, when both Mackowiak and Petricek formed an unlikely alliance and created Save Austin Now after both passionately spoke out against the city's repeal of the homeless camping ban in a City Council meeting.
Casar, who championed the vote, said he knew changing the ordinances would be unpopular with some but said the city could "take on those challenges in a better way."
"We can house people. We can serve people. We can address the core issues. We can improve all of our safety, rather than perpetuating instability and insecurity," Casar said.
Once on the fringes of Austin's politics, Mackowiak captured the growing fears of certain Austinites as the city's homeless population became increasingly visible, leading some to believe that public safety was at risk.
And by May, Mackowiak and Save Austin Now celebrated its first underdog victory after raising a near-record $1.9 million to reinstate the ban.
1-0 Save Austin Now.
An ever-more-confident Mackowiak continued his initiative to solve Austin's issues with a policing bill set for the upcoming November election. Once again, Casar—who became a figurehead for police reform in the wake of 2020's police brutality protests—found himself on the opposite end of the fight.
Casar crafted a three-tiered plan to cut and reallocate $150 million of the police budget, move certain branches out of the policing umbrella and halt cadet classes last summer.
But as homicide numbers broke records in 2021 and APD lost employees and struggled with quick responses, Mackowiak argued that the fight was far from over. SAN instituted a new ballot measure—Prop A—to increase police staffing to just over two officers for 1,000 residents, a measure that some said would take millions from other city departments.
And to Mackowiak's chagrin, Casar, APD police chief Joseph Chacon, and Austin voters were resoundingly against the measure as Prop A lost by 37 percentage points in November.
1-1 Casar.
So what's next for Austin's biggest political enemies?
Casar's campaign announced that it secured more than $100,000 from over 700 individuals in its first 72 hours, gained over 1,000 volunteers and celebrated three kickoff parties over the weekend.
But even with a recent loss, Mackowiak said SAN's "resolve has deepened"—including possibly bringing a Casar opponent into the congressional race.