Get connected with our daily update
After Austin voters passed Proposition B, reinstating a ban on public camping, City Council directed staff to look into possible sanctioned campsites where homeless residents could live legally. Now two members are asking to shelve discussion on the controversial topic.
Staff presented dozens of possible sanctioned campsites across each fo the 10 council districts in late May, following the election. But members mostly pushed back on the proposed locations, citing cost, wildfire risk and lack of transparency as concerns.
With updated criteria, staff recommended two sites—one in District 1 and the other in District 8—for further review last week. After being briefed on the options during Tuesday's work session, Mayor Pro Tem Natasha Harper-Madison, who represents District 1, and Council Member Paige Ellis, who represents District 8, issued a joint statement proposing "a pause" on further discussion of temporary sanctioned encampments.
"We are not convinced that these sites would be a cost-effective solution, but rather a band-aid tactic when we need to be supporting the long-term strategy to get folks off the street permanent," they said. "It is our responsibility to look at the situation holistically and objectively, and to spend out city's limited resources on solutions we know can work."
Homeless Strategy Officer Dianna Grey noted that the two locations were imperfect and would require a lot of time and money to outfit as sanctioned campsites during the briefing.
City staff and homeless experts have previously raised concerns about sanctioned encampments, saying they are expensive to maintain, challenging to manage and hard to close, even when intended to to be temporary.
In 2019, staff declined to make recommendations for such sites despite being directed by council to do so, citing 2018 guidance from the U.S. Interagency Council on Homelessness. "Neither authorized encampments nor parking areas provide housing for people experiencing homelessness," staff wrote in a memo. "Rather, each option detracts from the staff resources assigned to addressing this moral imperative."

But with Prop B being enforced and too few shelter beds and affordable units for the estimate unsheltered homeless population in Austin, the city is facing the same predicament that prompted District 9 Council Member Kathie Tovo to pursue possible sanctioned campsites in the first place: "When individuals in encampments ask where they should go, we need to have places to suggest," she said at a May 6 council meeting.
Whittling down from 70-plus possible options for sanctioned homeless camps, city of Austin staff recommended two sites for further review late Monday.
The two sites are city-owned, public transit accessible and meet most of the criteria put forward by council members, according to a recent memo. One site is located near the Mueller development in Northeast Austin, while the other is in Southwest Austin off of MoPac. They will require rezoning to allow for the installation of micro shelters that can house people on site.
Northeast Austin site
The recommended site at 3511 Manor Road in District 1 on the East side is close to the Mueller development, which offers retail amenities, as well as bus lines and the public trails. It also offers a front entrance that could provide effective site control and up to 20 covered parking spaces, which could serve homeless people living in their cars. There are some challenges associated with the site, however, including wildfire risk and an existing structure that is unusable due to a material asbestos used.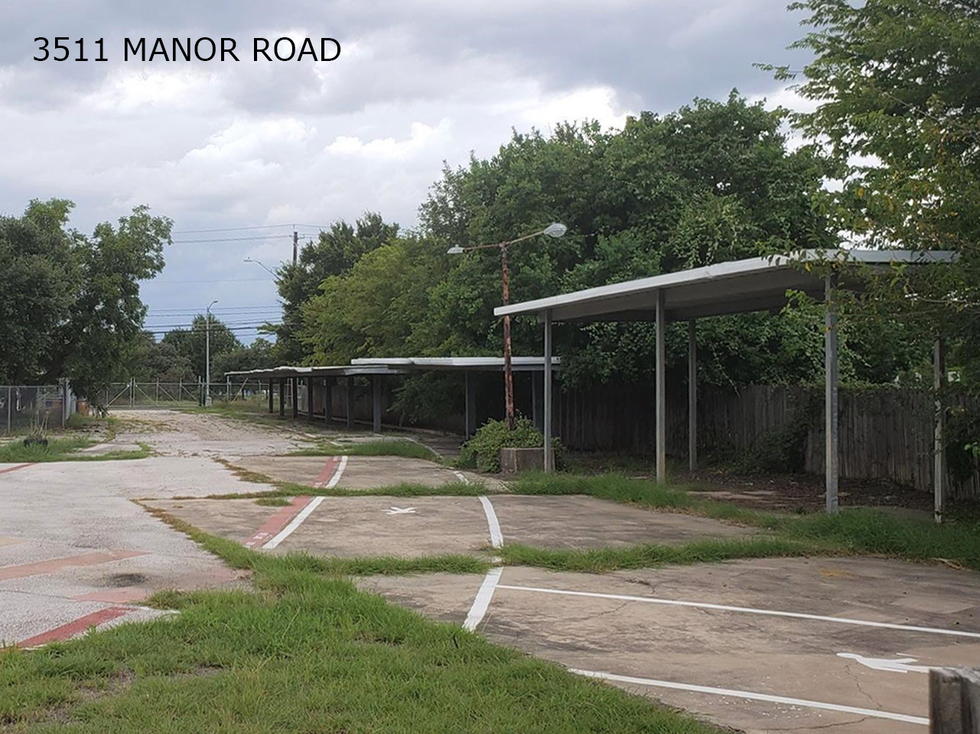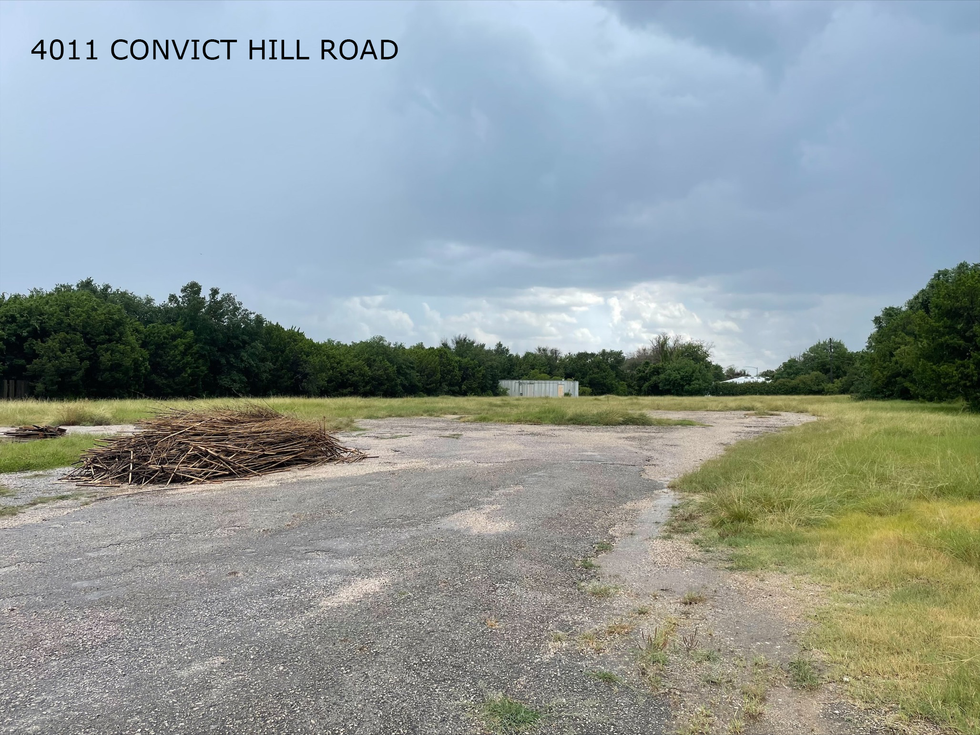 Southwest Austin site
The other recommended site at 4011 Convict Hill Road in District 8 in Southwest Austin also offers access to amenities and bus lines within a 15-minute walk as well as space for portable restrooms and showers. Its challenges include fire mitigation requirements and its distance from the city center.
Reimplenting the camping ban
Council revisited the idea of sanctioned camps in May after city voters approved Proposition B, which reinstated a local ban on public camping, among other activities. But when staff presented 45 potential site options later that month, members pushed back, citing concerns about cost, lack of transparency and wildfire risk.
The city moved ahead with a multi-phase Prop B reimplementation plan, prompting concerns that homeless residents were being forced out of camps with nowhere else to go legally or safely.
Phase 3 of the plan began on July 11, with Austin police able to make arrests in situations where homeless people refuse to vacate camps deemed dangerous, such as those in flood-prone areas or near busy roads.
Although police officials have stressed that their goal is voluntary compliance rather than arrest, there isn't enough shelter capacity or transitional housing supply to meet current demand.
"(W)e want to be clear with the community that while we are investing in additional crisis beds, like so many other cities working to actively end chronic homelessness, there will not be enough immediate shelter for all unsheltered Austinites," Homeless Strategy Officer Dianna Grey said in a July 14 press release.
Staff will brief council about the two recommended sanctioned campsites at a work session next week and could begin to gather stakeholder feedback related to the properties next month, including community meetings.
Save Austin Now, the local advocacy group that successfully won a reinstatement of the homeless camping ban in the May election, continues to make headlines.
The new petition effort, which is focused on public safety, would mandate at least two police officers per 1,000 residents, along with other changes.
Shortly after co-founder and Travis County GOP Chair Matt Mackowiak announced that SAN had submitted more than 25,000 signed petitions in support of a ballot proposal that would mandate police staffing minimums, 25 local organizations—including labor unions, activist groups and the ACLU of Texas—announced their opposition.
Citizen-led petitions allow registered city voters to pass laws without City Council approval. If 20,000 eligible residents sign the petition and it is validated by the city clerk, council can either adopt the petition into law as written or put it up to voters during the next election, as was the case with reinstating a controversial ban on homeless camping in May.
With an estimated population of 995,484, the city of Austin would require at least 1,991 police officers to meet this proposed minimum staffing level. The Austin Police Department had 1,661 officers as of July 6, which means APD would be required to hire at least 300 new officers, plus more as the population continues to grow, amid budget constraints and a years-long staffing shortage.
SAN leadership cited Austin's growing population and rising violent crime rates as motivations for the petition effort. There have been 47 homicides in Austin so far this year, just one shy of the total number that occurred in all of 2020.

But opponents said the petition stands in the way of police reforms, which thousands of Austinites marched in support of last summer. It also equates the increase in the murder count to local police budget cuts when it is a trend seen nationwide, including in cities that have increased their police budgets.
"Austin has begun to make reforms to policing and police budgets, inspired by the protests against the murder of George Floyd," Austin Justice Coalition Executive Director Chas Moore said in a Monday press release. "This ballot item, if successful, will end all of that."
Coalition representatives said the petition would not only force an arbitrary increase in the police force and reverse the strides made by council to reform APD In recent years but also cut into the budgets of other city departments.

"Right now we are struggling to find funds to pay for a dozen more firefighters and a dozen more EMS staff," District 4 Council Member Greg Casar said in the same release. "If we had to hire 500 police officers right now, we would be getting pushed to lay off other employees, to cut library and pool hours, and to shut down essential programs."
The coalition pointed to SAN's Republican supporters as a concern. Although the nonprofit stresses its bipartisan orientation—cofounder Cleo Petricek is a Democratic activist—its petition efforts have mostly attracted endorsements from GOP officials, including U.S. Rep. Chip Roy and Gov. Greg Abbott. (None of the 10 Democratic council members expressed support for Prop B ahead of the May 1 election, when nearly 58% of voters approved it.)

"This Republican-led proposition for more police would continue negative interactions for the city's Black and Hispanic communities, which already face disproportionate stops, searches, arrests and uses of force," Travis County Democratic Party Chair Katie Naranjo said in the same release.
SAN expects to hear from the clerk in the next 10 to 12 days. The election is on Nov. 2.
The city of Austin's phased implementation of Proposition B entered its third stage on Sunday, with police now able to issue citations and arrest individuals who refuse to vacate certain homeless camps. But city officials have yet to identify places where they can go.
Police feel caught in the middle, tasked with enforcing the ordinances but lacking any clear guidance to offer those impacted. "The elephant in the room … is providing a viable location for folks to be able to go," Community Engagement Lieutenant Lawrence Davis told the public safety commission on Tuesday.
Nearly 58% of Austin voters supported Prop B—a city code amendment to reinstate bans on public sitting, lying, camping and panhandling in certain parts of downtown, near East Austin and West Campus—during the May 1 election.
Austin City Council directed staff to identify possible locations for temporary sanctioned camps in each council district in May. But council members pushed back against the options presented to them and failed to issue clear guidance before their annual six-week summer recess, which ends later this month.
Phase 3 of the City's response plan to the camping ordinance (Prop B) starts today.

It moves from written warnings to citations. Arrests will be utilized only in situations where individuals refuse to vacate areas deemed dangerous.

More info: https://t.co/ZGmrklo55h pic.twitter.com/lfO6ArNo2o
— Vanessa Fuentes 💃🏽 (@VanessaForATX) July 11, 2021
For now, Austin police will issue citations to homeless individuals who have already received written warnings for violating the ordinances. Homeless individuals who refuse to vacate camps that have been deemed dangerous, such as those in flood-prone areas or near highways, may be arrested.

As of July 1, police have recorded a 21% reduction in tents and identified 290 homeless residents who are willing to comply with the ordinances voluntarily so long as there is a place for them to go.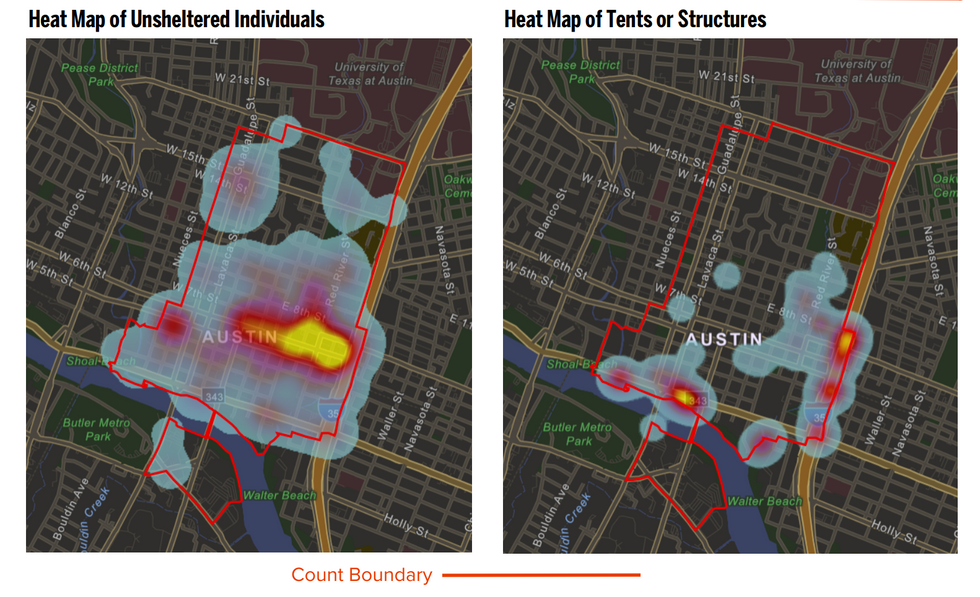 (Downtown Austin Alliance)
Meanwhile, city staff are working to expand existing shelter capacity, which has been constrained by pandemic protocols, which could see more than 300 beds open by mid-August, according to a July 1 memo.

In addition, the city opened the Southbridge Shelter on June 15, a former ProLodge that is now reserved for homeless individuals who lived in camps and are waiting for permanent housing. Approximately 20 individuals from the Terrazas Library camp are living at the shelter, which has 75 rooms. The city has also renewed the lease of a second ProLodge shelter using American Rescue Plan Act funds and expects it to open in early August, after repairs are completed.
Staff will next update the council on July 22, including identifying potential temporary campsites. Members mostly pushed back when staff proposed 45 potential sites, citing concerns ranging from transparency, costs and wildfire risks.
This attitude has prompted pushback. Bill Brice, vice president of investor relations for the Downtown Austin Alliance, chastised Austinites who supported Prop B but now refuse sanctioned camps, shelters or homeless housing in their neighborhoods. "Community members cannot have it both ways," he said at the same public safety commission meeting.