Get connected with our daily update
Home sales in the Austin-Round Rock metro dipped 4.6% in August 2021 compared to August 2020 as the housing market slowly trends downward in time for a cooler fall.
According to the Austin Board of Realtors' monthly report, August home prices rose 34.7% year-over-year to an average of $470,000 across the metro, setting a record for the month. But it appears that the pandemic's rapid price increases, which saw average home prices rise exponentially for months, are finally cooling as seasonality slows down rapid month-over-month growth.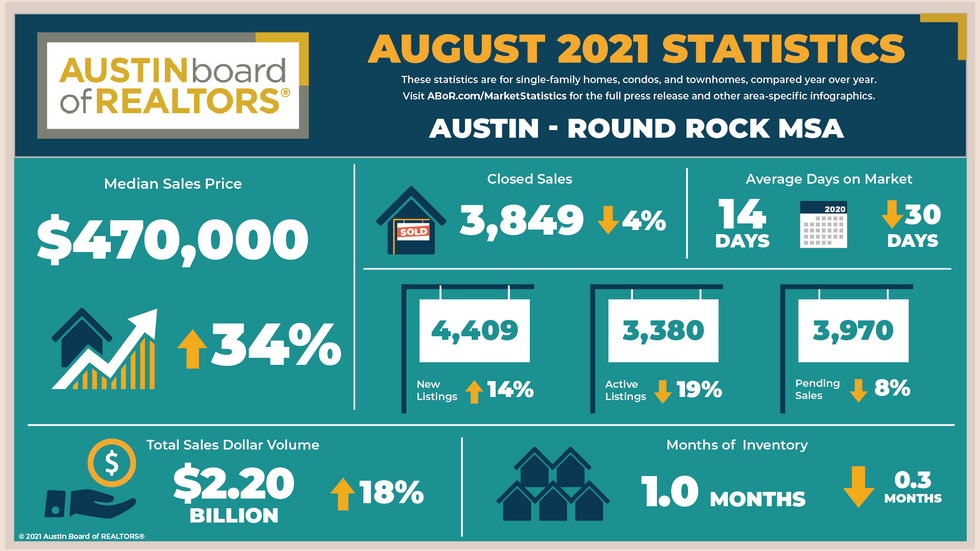 While prices are cooling with the weather, Austin Board of Realtors President Susan Horton said that people are once again settling into their yearly routines as the pandemic shows less of an effect of market trends. But despite a less red-hot market, it's still prime time to buy in Austin.
"While we continue to experience record-high housing demand across the region, REALTORS® are seeing a return to seasonal market trends, something that we didn't experience in 2020," Horton said. "For the fall, that means fewer homes hitting the market and slowing price growth each month, as people have settled in after the summer and before the holidays. There is still no better time to buy in this market as, overall, prices will never be lower than they are today."
The numbers come after July saw home sales dip for the first time since May 2020. August saw a $10,000 dip in average home sale prices from $480,000 in July after an all-time record of $482,364 set in June.
A slowing market could make for a sweet spot for Austin homebuyers looking to dip their toe into the region's consistently low inventory: the ABOR report found that while monthly housing inventory dipped by 0.3 months to 1 month of inventory when compared to last year, inventory levels are higher than they've been since last October. July saw 0.9 months of available inventory.
According to a study from Realtors.com, that prime time could be sooner than expected. The week of Sept. 19 is predicted to be the best time for Austin homebuyers to find more options for less.
While seasonality has once again taken a hold on the "boomtown" Austin market, economist Mark Sprague said in the ABOR report that a booming job market and continued migration will keep the market far from normal levels.
"There have been reports of Austin's housing market being overvalued, but from an economist's perspective, my question is, 'overvalued compared to what?'" Sprague said. "The Austin market is robust, and sales activity and pricing have been driven by true demand. A combination of events, including increased job creation in the market, low interest rates, shifting priorities for perspective buyers, and in many cases, increased personal savings following stay at home orders during COVID, are why the Austin MSA is a top market in the country. When there is this much demand, it is difficult for an entire market to be considered overvalued."
The Travis County Commissioners Court voted unanimously Tuesday afternoon to invest $110 million in COVID-19 recovery funds in homelessness prevention and affordable housing.
The funds, approved contingently pending a forthcoming fiscal analysis, come from the federal government's American Rescue Plan, relief dollars meant to help localities recover from the economic fallout of the pandemic.
This is how the funds will be used:
Six to eight affordable housing communities that would serve some 1,000 residents. Half of those communities would be located west of I-35.
A 200-tiny home expansion of Camp Esperanza in Southeast Austin, along with other services.
A new housing community called Burleson Village on Burleson Road just minutes from Austin-Bergstrom International Airport, which would serve around 700 residents.
Similarly, Austin City Council in June set aside $106.7 million through the American Rescue Plan for the homelessness crisis.
"If you're poor and you're in Austin, you're at the gates of hell," Commissioner Jeff Travillion said Tuesday. "We have to make sure that these dollars are an investment for poor people."
Calling all Austin millennials—your fight with Austin's dog-eat-dog real estate market could be coming to a close as San Francisco-based tiny home manufacturer Villa, also known as Natomas Labs Inc., is expanding in Austin.
Drawn in by the city's growing need for affordable housing, Villa began its Austin expansion in July, as the first city the company is building in outside of California. The expansion is already underway—a vendor manager has been hired and the company said it is hiring for sales and other roles.
The company develops accessory dwelling units, which are small but independent residential dwellings on the same lot as a stand-alone home; they are small enough to fit in a backyard. The homes are made in local factories and installed onsite, which officials said help reduce cost.
Villa homes come in one, two and three-bedroom options from 440 to 1,200 square feet. Starting at $159,000 for one-bedroom, $239,000 for two and $289,000 for three, each figure factors in permits, foundation, utility setup and other costs.
Austin was chosen out of 100 total markets, with emphasis on population growth, home appreciation, income, zoning restrictions and housing demand. The company has seen a "profound" need in California—the units have a variety of uses: a home for relatives, a replacement for a retirement home or dorms, or a home office.
The company was searching for markets that need more lodging options—a strong need in a city like Austin, where the median rent is around $1,539.
Austin City Council relaxed regulations for ADUs back in 2015, reducing minimum lot sizes, removing parking requirements and capping unit size. Still, ADU's are not permitted in SF-2 zoned areas, which characterize single-family units.
The company expects the first units to be completed in Austin by next summer.
Boomtown Austin is now the seventh least affordable city in the U.S. and is expected to become the least affordable metro area outside of California by the end of the year, according to a new Zillow report.
Sandwiched between Riverside, California and Miami-Fort Lauderdale, Florida, Austin fell six spots on the affordability rankings. By the end of the year, the capital city is expected to pass historically expensive cities like Seattle and New York.
In a healthy budget, rent should eat up no more than 30% of one's monthly income and anything above is considered "housing burdened." According to Zillow, monthly rent consumed 28.6% of renter budgets in Austin in June 2021 and that portion is set to rise to 29.6% by December.
As for homeowners, mortgage payments took up 25.3% of homeowners' monthly income in June and are expected to rise to 30.1%, effectively becoming a burden, in December. By then, the only more expensive markets will be in sunny California.
If mortgage rates stay the same, the average Austin metro-area homeowners will pay $3,021 per month. If the rates rise by 3.5% or more, mortgage payments will increase to $3,125.
What's hurting:
An influx of California migrants, which Zillow calls the "Great Reshuffling," have historically come in with larger salaries in search of cheaper property. People who are used to paying higher prices for lodging may be able to stomach the housing increase but many Austin residents will not.
Fortunately, Zillow says "rapid deterioration in affordability is likely to contribute to a slowdown in appreciation going forward" because "as these conditions persist, affordability will suffer and home value appreciation and rent growth are likely to slow over the mid- to longer-term."
What may help:
In order to get housing costs back on track to an affordable level, Zillow said relaxing zoning restrictions may help as it creates easier paths to building more inventory. By increasing the supply of affordable housing units, including high-density units like condos and apartments, it could help bridge the gap for those who can't afford current prices.
As of June, 18 of the 50 largest metro areas are paying more than 30% for housing each month. By the end of December, that number is expected to jump up to 21, and Austin isn't far behind.