Get connected with our daily update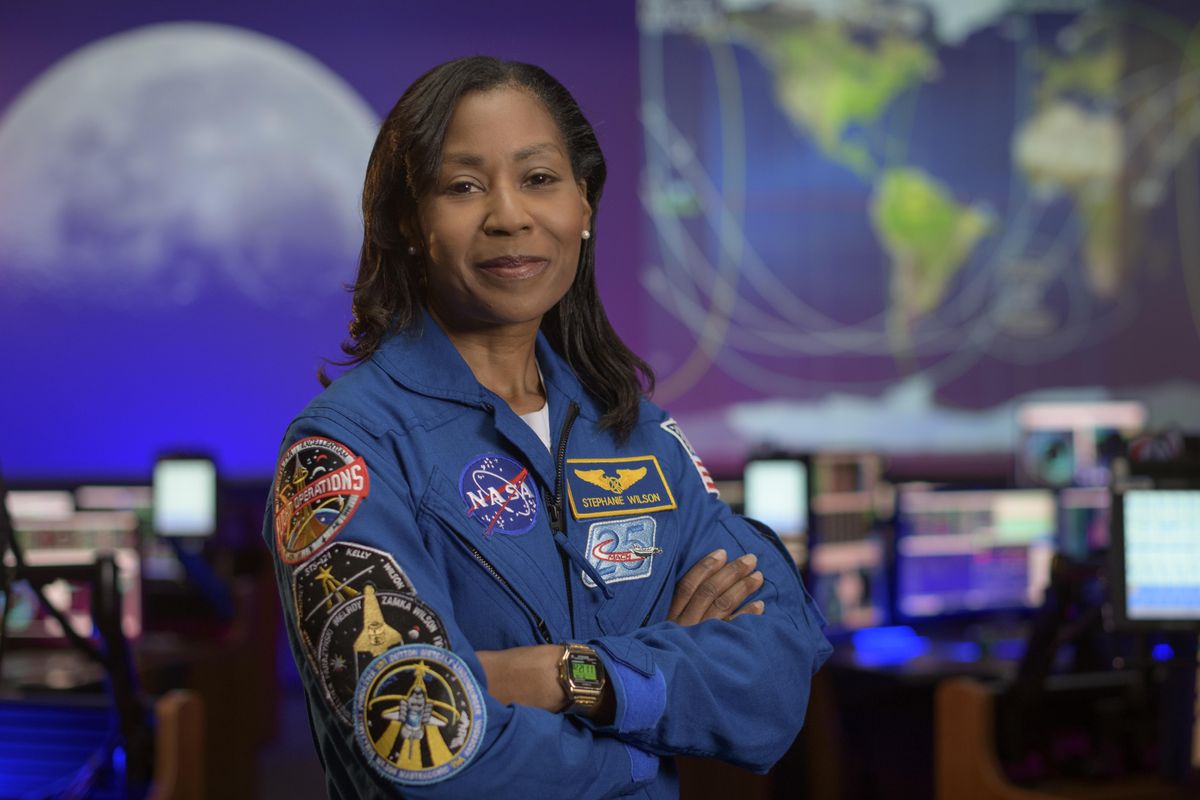 (NASA)
NASA is getting ready to send astronauts to the moon again for the first time in 50 years, and this time the space agency promises to put the first woman on the moon, possibly including a University of Texas graduate.
In a group that NASA is calling "The Artemis Team," 18 of its 47 active astronauts from around the U.S. have been selected for training for the mission, including UT graduate Stephanie Wilson.
Excited to be part of the Artemis Team! https://t.co/ty1gjBbh5f

— Stephanie Wilson (@Stephanie Wilson) 1607554532.0
The mission hopes to get humans on the moon, "to stay," for the first time in the 21st century by 2024, with plans to make a trip to Mars next.

Wilson will undergo years of training alongside eight other women and nine men for the treacherous trip.
It is part of the human spirit to explore. Today, we'd like to introduce you to our @NASAArtemis team — the initi… https://t.co/Y0Sr46KGih

— NASA (@NASA) 1607544765.0
Hailing from Boston, Massachusetts, Wilson first studied at Harvard, where she earned a Bachelor of Science in engineering science in 1988. Her stint at UT started in 1990, where she earned a Master of Science in aerospace engineering.

While studying at UT, Wilson's research on structural dynamics methodologies and controller designs was sponsored by NASA's Langley Research Center through a NASA graduate researchers fellowship. She was selected as an astronaut by NASA in 1996.
Since, Wilson has served on three different space missions: STS-121 in 2006, STS-120 in 2007 and STS-131 in 2010. She currently works as the Mission Support Chew Branch Chief.
None of the chosen astronauts have been assigned to a particular Artemis mission yet, but this trip would be the longest Wilson has faced so far.
"I do my best to pass along the experience and the knowledge that I have gained from others in the office and with the next generation, so that we can have a better future for all of humanity," Wilson said in a video for NASA.
While she may not be a native Austinite, once a Longhorn, always a Longhorn, even in space.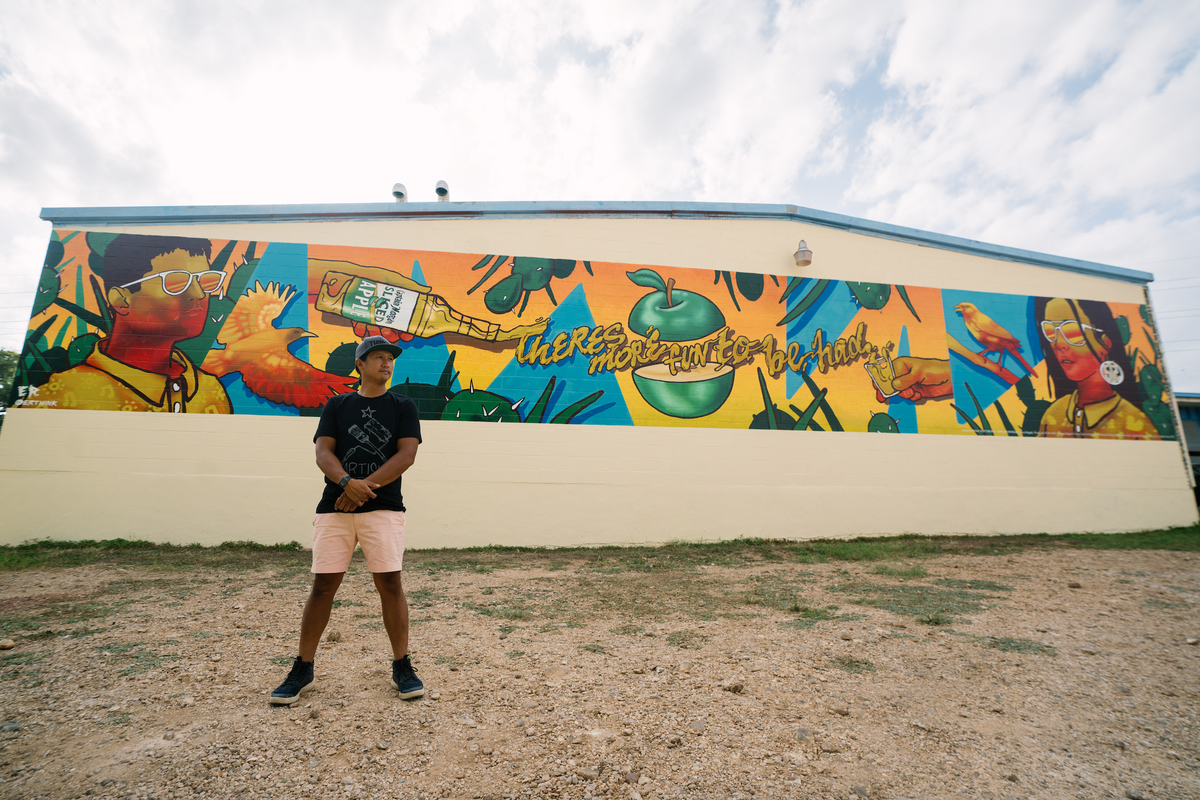 (Captain Morgan)
The intersection of Manor and Chestnut recently introduced some seasonal apple flavor to its walls.
Efren Rebugio, an Austin-based artist, leaned on influences from the city to paint a mural in collaboration with Captain Morgan for its new sliced apple spiced rum.
The mural, located at 2301 Manor Road, pictures a stream of rum flowing from a bottle to a shot glass that slices through a green apple and reads, "There's more fun to be had."
Rebugio said he "wanted to portray the wonderful people of Austin" with this mural. Beyond the people, he featured cacti and grackles, both found in abundance throughout Austin.

In late August, Captain Morgan chose five artists from five different cities to celebrate their communities.
They used a simple internet search to single out Rebugio as one of the most talented artists in Austin, and subsequently contacted him to see if he would serve as the art director for its planned mural.
"(Rebugio's) murals rarely feature a single straightforward subject, something that's especially evident in the mural he created for Captain Morgan. Something new catches your eye every time you look at it," said Sam Salameh, a Captain Morgan representative.
Rebugio accepted the opportunity and took a little over a month to complete the planning and painting.
"I was super excited to work with Captain Morgan. They really wanted to showcase a spirit of community," Rebugio said.
Rebugio's work has appeared across the country in places like California, Tennessee and Florida, as well as internationally in Toronto and Costa Rica.
Like many across the world, the pandemic has severely impacted the artist's work.
Rebugio likes to incorporate a live component into his art by painting in front of an audience. He has done six live painting shows during SXSW and five during Austin City Limits Music Festival. He had plans to produce more art during SXSW 2020 prior to its cancellation.
"It has definitely been a challenge this year," Rebugio said.
He has stayed busy by focusing on his studio, doing freelance graphic design work and learning how to make electronic dance music.
He has also managed to recreate the environment of a live show in his backyard, partnering with DJs to host backyard jam sessions. During the sessions, a DJ plays music while he paints.
"I'm just rolling with the punches, being positive and staying safe," Rebugio said.
The mural joins a recent wave of fresh paint on East Austin's walls, including the new mural honoring the late
Supreme Court Justice Ruth Bader Ginsburg
.
More on murals: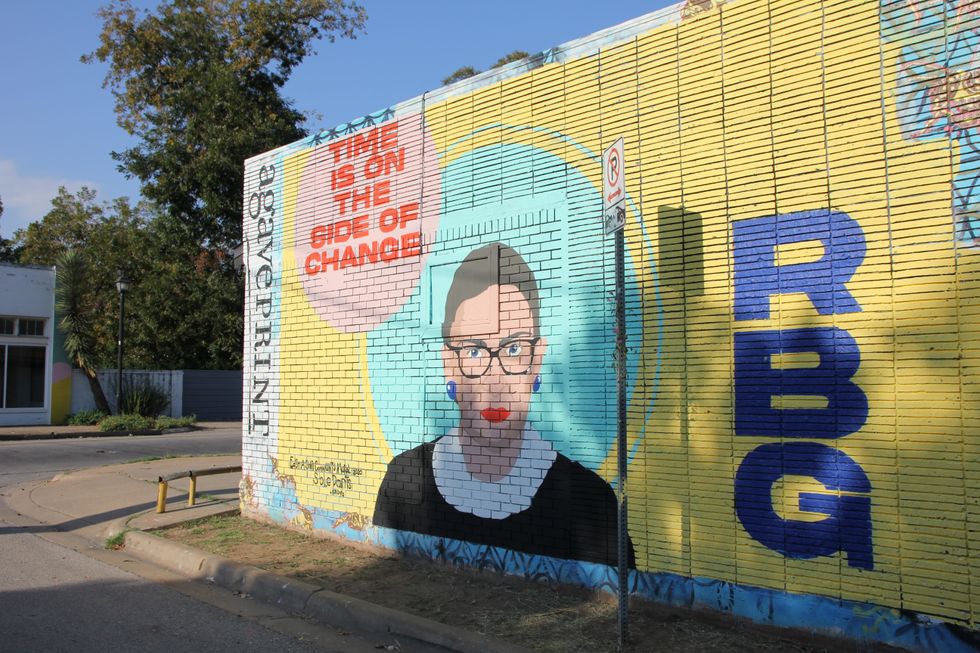 East Austin gains new Ruth Bader Ginsburg mural with community help