Austonia AM
100% Austin news, info, and entertainment, straight to your inbox at 6 a.m. every morning.
In five minutes, you're fully informed and ready to start another great day in our city.
Get connected with our daily update
Elon Musk, Tesla founder and new Austinite, paid a true tax rate of 3.27% between 2014 and 2018, according to a bombshell report published by ProPublica this week. The investigative newsroom tallied up how much he paid in taxes relative to how much his wealth grew over the four-year period to come up with what it is calling a "true tax rate."
Austinites, regardless of their income bracket, paid a higher federal income tax rate than this. The only question is: How much higher?
The median family income in the five-county Austin metro is $98,900, according to the city of Austin's housing and planning department. A married couple filing jointly who earned this amount would pay $9,325 plus 22% of the amount over $80,250 in federal income tax, according to NerdWallet. This equals $13,428, or 13.6% overall—four times the true tax rate paid by Musk.

The lowest federal income tax rate is 10%, for single filers earning up to $9,875 or joint filers earning up to $19,750 annually—otherwise known as "extremely low-income." This is more than triple Musk's true tax rate.
The highest federal income tax rate is 37%, which kicks in for single filers earning $518,401 or more in income and joint filers earning $622,051 or more—roughly speaking, the 1%.
Using "a vast cache" of never-before-seen IRS data sent in from an anonymous source, ProPublica showed how the 25 richest Americans pay little—and sometimes none at all—in income tax relative to their massive wealth. "Taken together, it demolishes the cornerstone myth of the American tax system: that everyone pays their fair share and the richest Americans pay the most," the reporters wrote.
How do some of America's ultra-rich live luxurious lives while claiming little to no taxable income? A little tax… https://t.co/hygW4MaHBH

— ProPublica (@ProPublica)1623150001.0
It's worth noting that the U.S. tax system taxes income but not wealth.

Musk is the second richest person in the world with an estimated net worth of $151 billion, according to Forbes. Between 2014 and 2018, his wealth grew by $13.9 billion. Over the same period, he reported $1.52 billion in income and paid $455 million in taxes, producing what ProPublica called a true tax rate of 3.27%.
Although a fraction of the rate the median Austin household pays, Musk's true tax rate was still higher than that of other billionaires spotlighted by the story: 0.10% for Warren Buffett, 0.98% for Jeff Bezos and 1.30% for Michael Bloomberg, according to the report.
How did Musk and the other featured plutocrats swing this?
Mega-billionaires often eschew salaries, which are taxed at a high rate; take advantage of rules regarding deductions and debt; hold onto their company stock, allowing wealth to accrue without transforming into taxable income; and form "opaque and complicated trusts" that allow them to leave inheritances free from pesky estate taxes, according to ProPublica's report. All of these tactics are legal.
Without a wage or dividends, they often take out huge loans—which the IRS does not consider to be income—to cover their expenses. Musk pledged some 92 million Tesla shares, worth about $57.7 billion, as collateral for such loans last year, according to a securities filing cited by ProPublica. The interest paid on such loans can often be deducted.
As the New York Times pointed out Wednesday, "comparing the billionaires' tax bills with estimates of their wealth isn't how the U.S. tax system works." ProPublica published ts reasoning for the publication of private information stating that the report "will help readers understand the magnitude of the tax advantages the ultrarich enjoy," adding it hopes people will "participate in the public debate about the future of our tax system."
When asked to comment by ProPublica, Musk responded enigmatically, as is his wont, with a single character—"?"—and did not respond to follow-up questions.
From a one-woman show to a billion-dollar brand, jewelry entrepreneur Kendra Scott always has something up her sleeve. This time, she's breaking into gender-neutral jewelry and teasing a new partnership.
At the Q2 Stadium on Wednesday, Scott presented her men's and gender-neutral collection, ahead of a major partnership with Austin FC. "It's already in the works," Scott said, giving no other details.
In the meantime, you can shop Scott Bros. by Kendra Scott, designed in conjunction with her three sons, Cade, Beck and Grey. Scott said this collection has been a long time coming since her sons and male colleagues had been asking for jewelry to fit their style. The news comes on the heels of Scott stepping down as CEO, handing the baton to former company president Tom Nolan (Scott is still the executive chairwoman).
"My boys have been part of the family business since day one. I didn't have the resources early on to be away from them, I couldn't afford a nanny, I couldn't do a lot of those things," Scott told Austonia. "So them being engaged and involved was just part of how this business was going to go."

Three of the different styles are named after her boys, with another named after her father, Kenneth, who Scott described as her "North Star." Scott said she named the collection after the important men in her life and dedicated her launch party to celebrating inclusivity.
"We need to celebrate not just the women in our lives, we need to celebrate the men," Scott said. "Scott brothers is about celebrating diversity, inclusion, men. We are not just Kendra Scott, we are now Scott brothers by Kendra Scott."
The collection of bracelets is made with natural stones, each representing something: Banded Agate for stability, calm and balance; Blue Lapis for intuition, self-discovery and honesty; Brown Tiger's Eye for courage, confidence and motivation; and Turquoise Jasper for balance, healing and protection.
Scott's new collection is donating 20% of launch proceeds to the Peyton Manning Children's Hospital Art Therapy Program and going forward, 20% of proceeds from the Cade suite will benefit Shop for Good Giveback to support family and youth organizations.

From Your Site Articles
Related Articles Around the Web
From its garden-studded outdoor space and rooftop pool to its cozy-yet-luxury indoor bar and club, Soho House Austin has arrived.

The London-based, members-only club opened its 27th global location, sandwiched in between music venues, iconic Austin eateries and more on South Congress' new Music Lane last month.
While the House's 46 bedrooms and screening room are still in the works, Austonia's Claire Partain and Laura Figi took an exclusive tour around the club's bar, terrace and rooftop pool, all of which opened May 19. Here's an insider's view of the new space, with photos provided by the Austin Soho House itself:
Greens, golds and beiges at the third-floor bar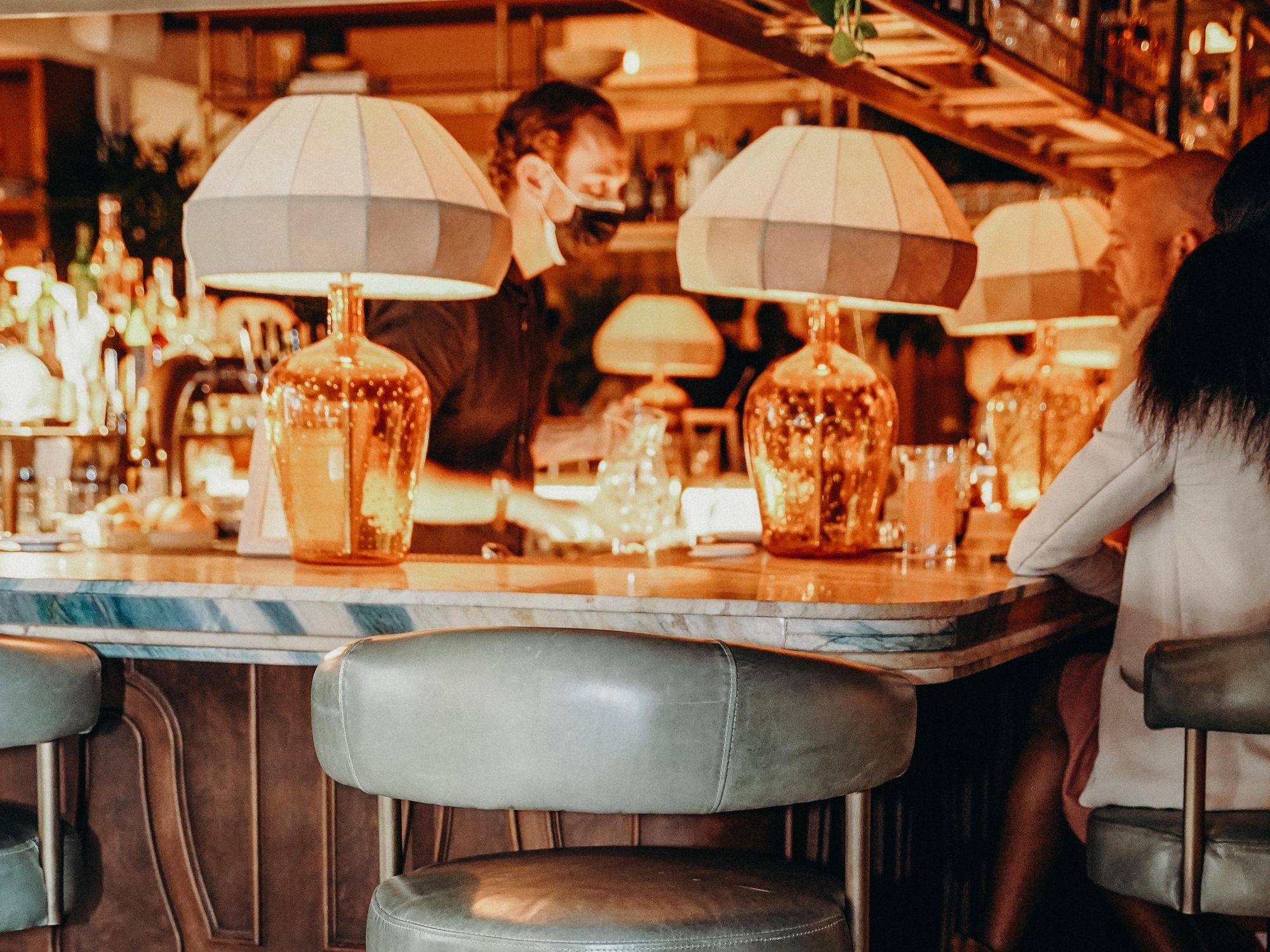 (Christina Fisher)
Inside the bar, which serves as the hub for social hangouts, DJ features and events, club members will feel right at home among the dusty sage green and beige color scheme. The bar is lined with cushioned green stools, a marble countertop and warm lighting.
Cushy seating for both work and play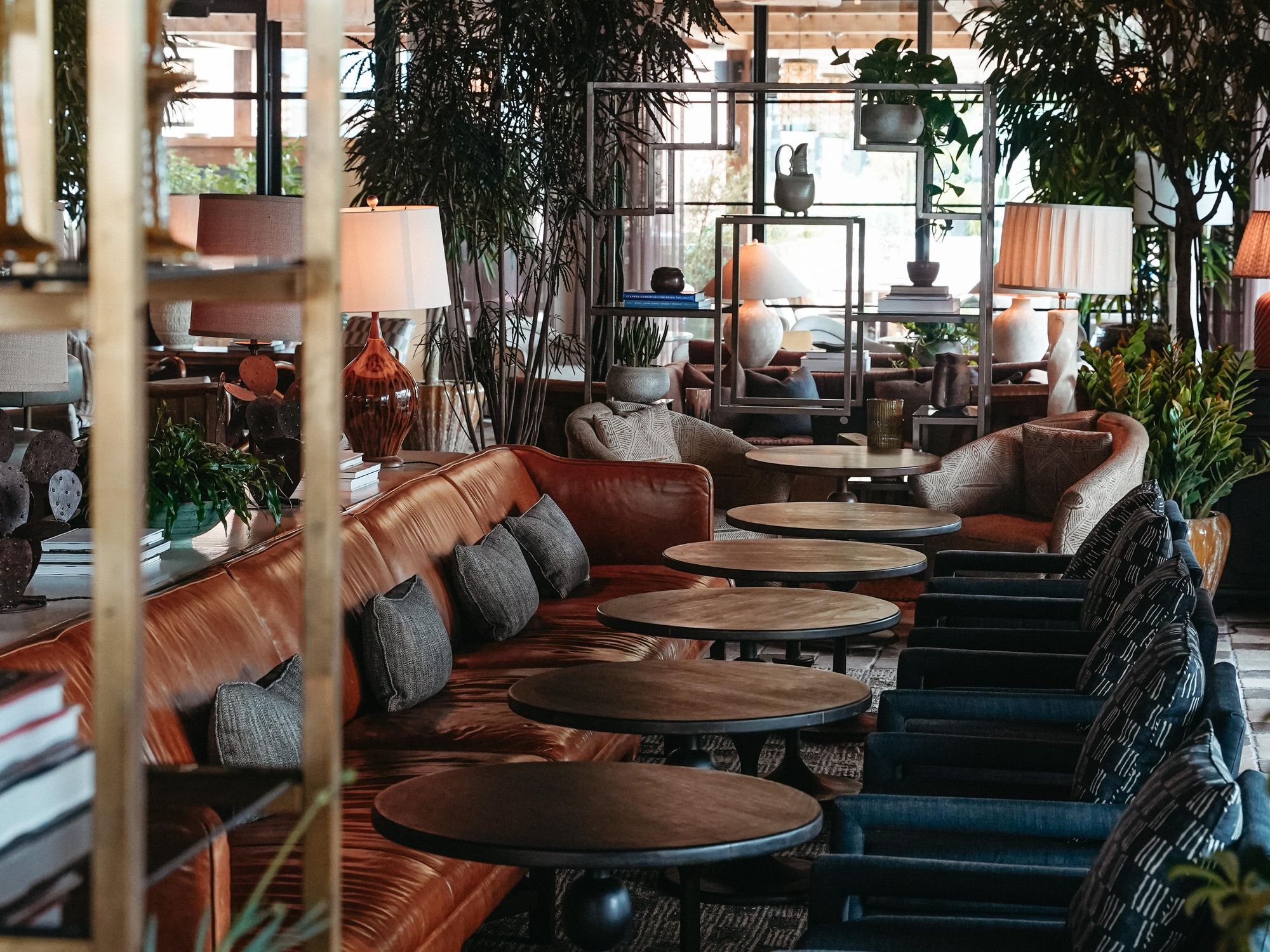 (Christina Fisher)
The airy indoor seating area is lined with professionals during the day, but as the sun begins to set, a strict no-laptop policy is employed. Cushy seats, open to groups both big and small, are designed for both times of day, with plenty of space for members of the community to mingle. Windows line the space to merge both indoor and outdoor seating areas.
Vintage furniture, work from local artists and craftsmen and reclaimed lighting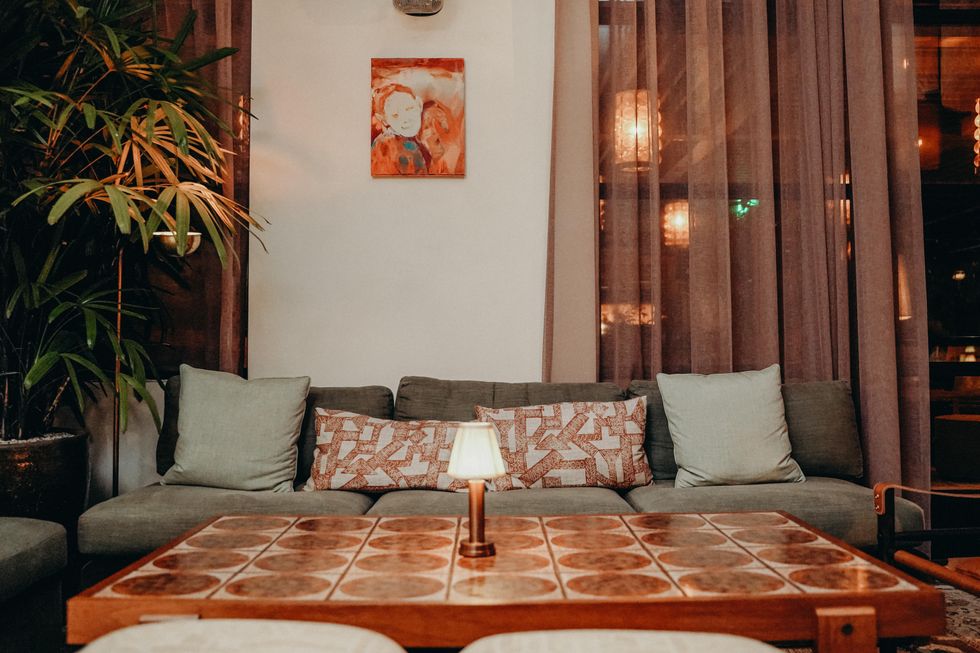 (Christina Fisher)
Brown and beige vintage furniture and lush green vegetation give the room an earthy, Southwestern feel that is somehow authentically Texan. Aged reclaimed floor lamps and glass pendant lights give the space a warm glow.
A full bar menu, from appetizers to gourmet meals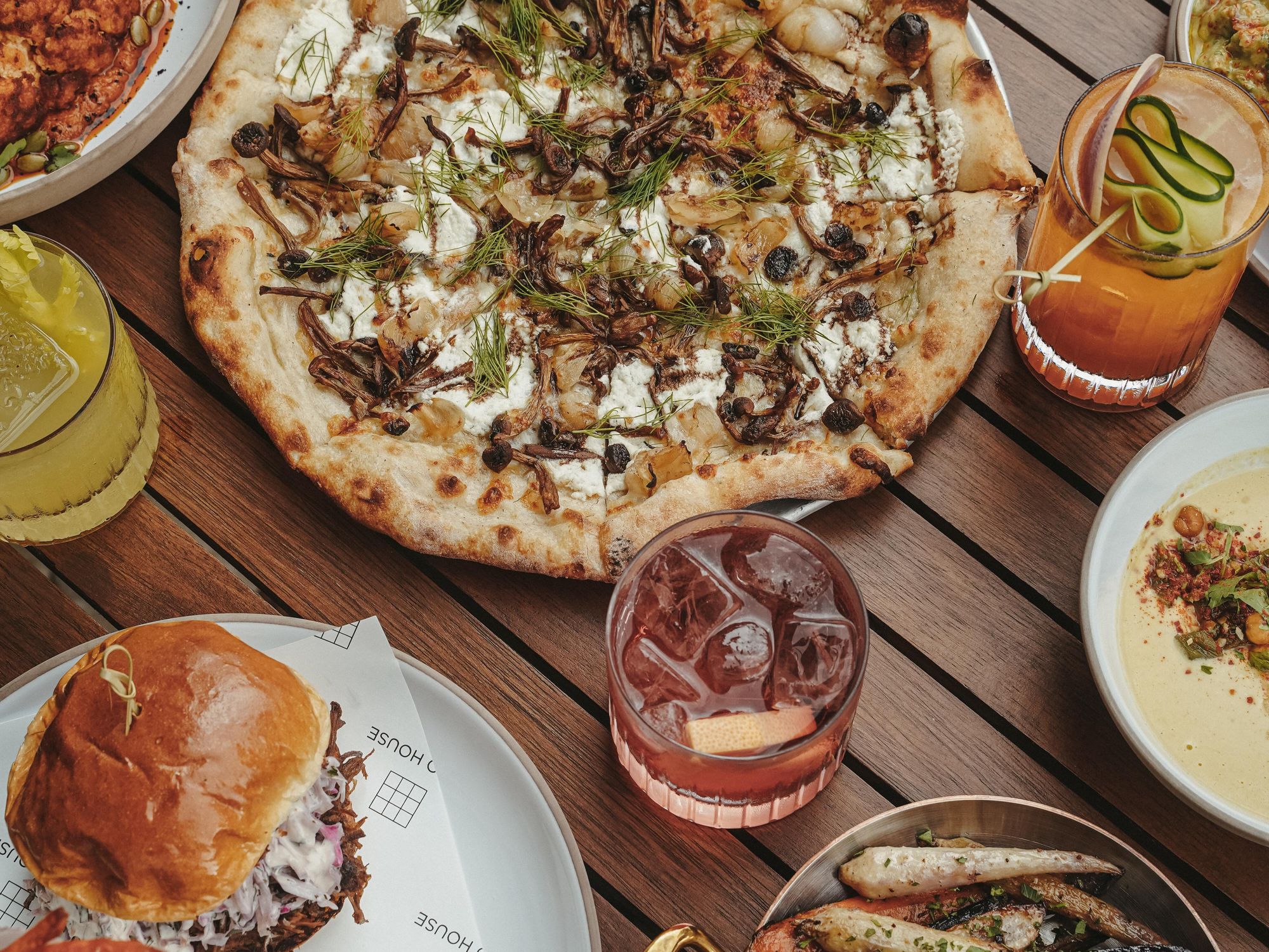 (Christina Fisher)
Soho House's bar serves gourmet kitchen items as well, from homemade Tex-Mex items like guacamole to deluxe pizzas. The Texas-inspired kitchen is led by Chef Dustin Musgrave, a former executive chef at Soho House Chicago.
A lush terrace complete with views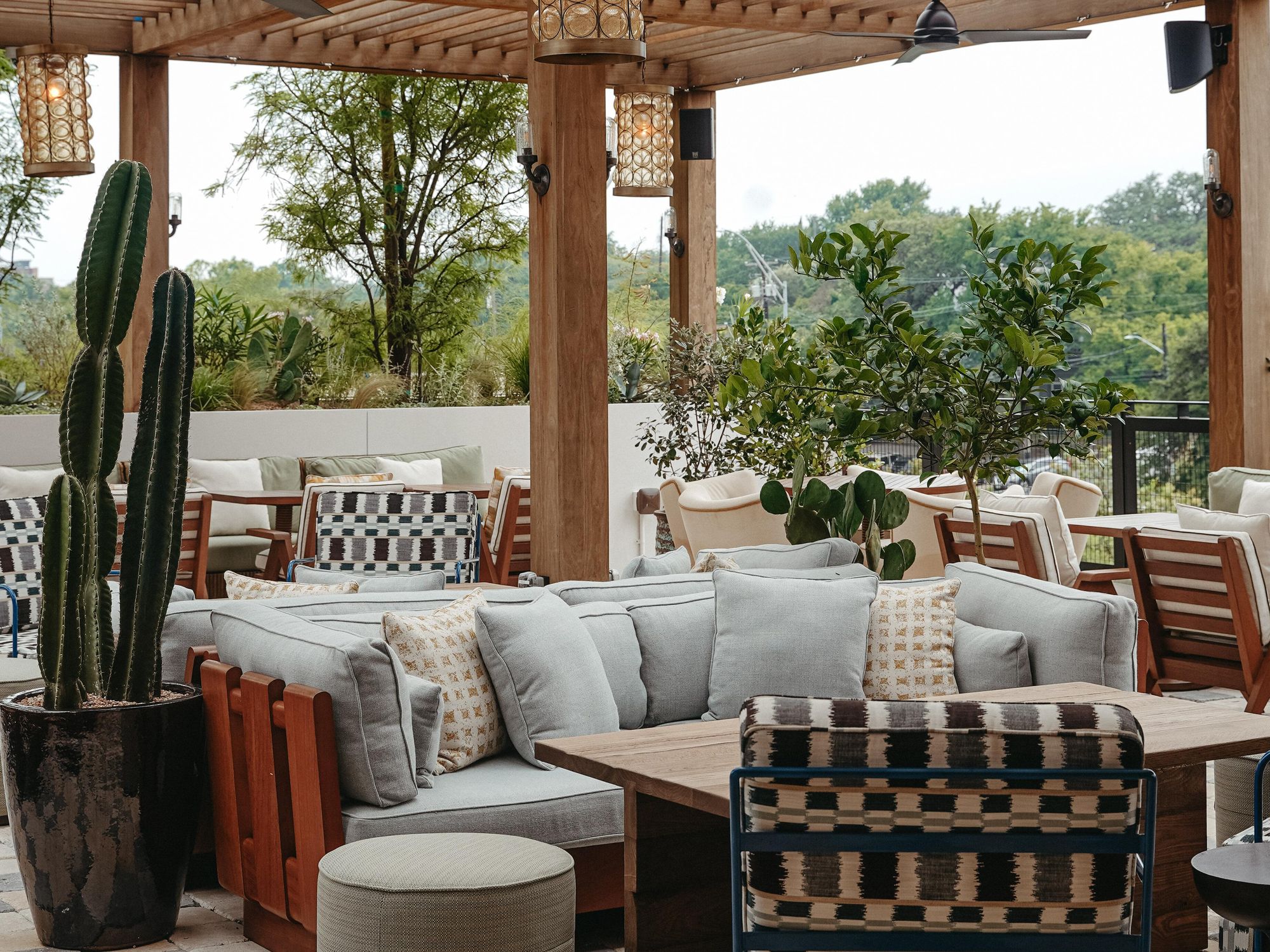 (Christina Fisher)
Soho House worked with local artists and craftspeople to merge both Texas Modernism and Spanish contemporary styles, and it's best seen on the terrace. A wooden pergola hangs overhead, and more seating is nestled in every corner between native Texas plants, with chairs centered around a large tree. The outdoor club space overlooks Austin's Music Lane, with views of the city and more greenery amid the terrace gardens.
The rooftop pool overlooking downtown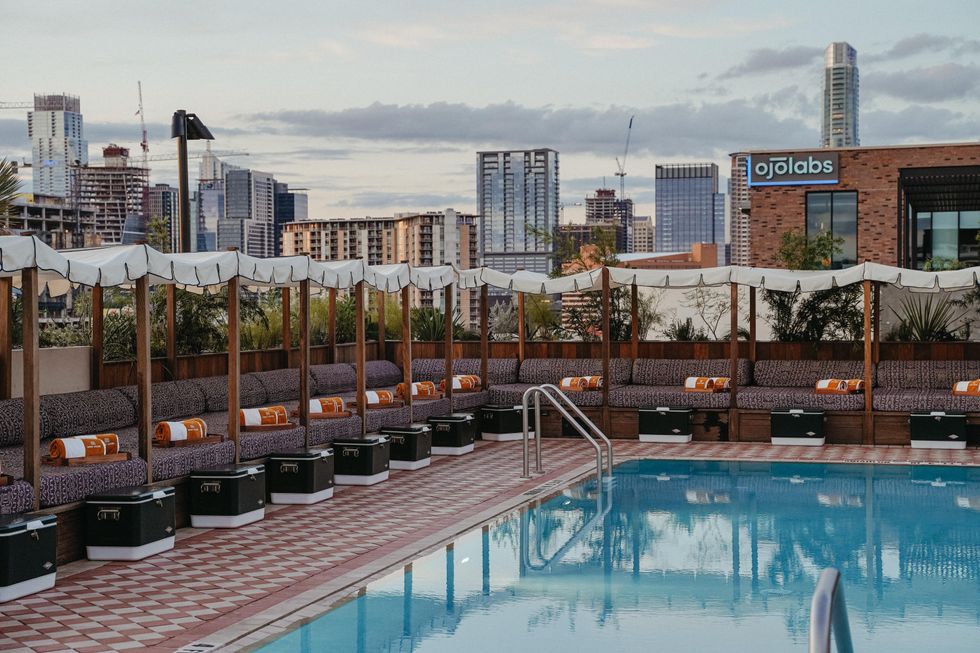 (Christina Fisher)
The Soho House rooftop pool hasn't gotten much use in the weeks of rain, but Austonia still got a peek at the house's crown jewel. The House's Spanish feel is embodied by red-and-white tile, while shaded seating equipped with coolers line the entire pool. While taking a dip, club members get a birds-eye view of the city on the third floor.
From spicy to sweet, the bar's drinks have plenty to offer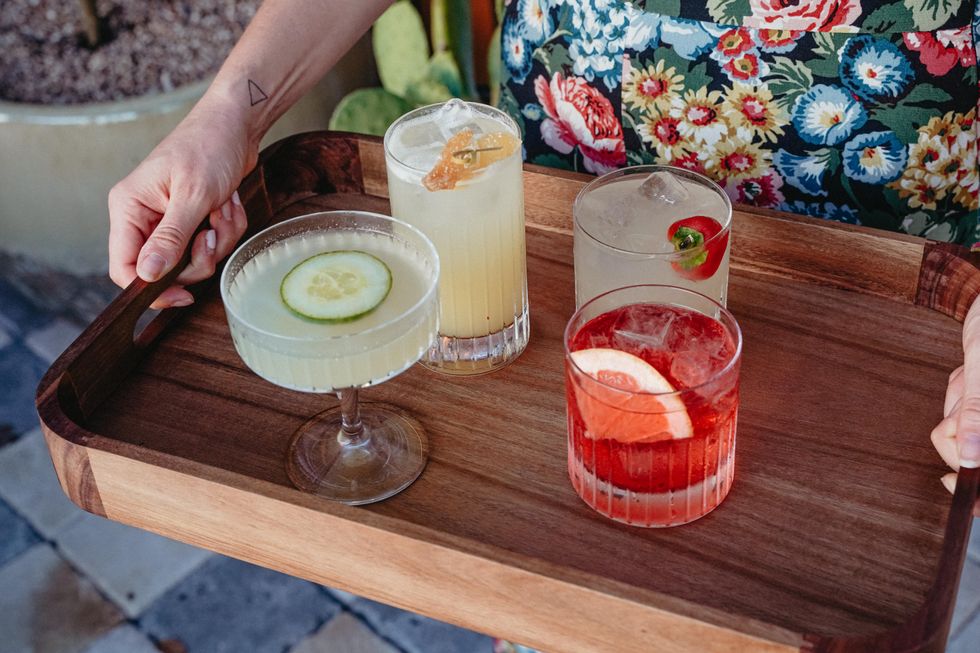 (Christina Fisher)
Just like the rest of the space, Soho House's bar menu can make club members feel both surprised and at home. For a Texas feel, try the spicy Picante, or stick to a classic Soho House Mule.
After looking at all it has to offer, you might be wondering how you can join. Admission to the club is on the steeper end—membership is $3,500 annually for access to every location and $2,290 for Austin-only entry, and the bar still comes with $14 drinks. Still, the club offers huge discounts to those under 27 ($1,750 and $1,140, respectively), and the space also provides something many consider priceless: for many Austin creatives, it's a one-of-a-kind club perfect for building a community.
Fortune 500's 2021 list is officially out, and the Austin metro saw two companies crack the list this year, with two others making the top 1,000.
While the Texas capital doesn't boast as many Fortune 500 headquarters as some other cities, its reputation as a tech hub and a Californian's paradise is still well-represented.
Oracle, which uprooted its headquarters from California to Austin last year, made the top 100 in the 80th slot this year, while Round Rock's own Dell was No. 28. Companies with large ties, including Tesla, Amazon, Apple, Facebook, and Google all cracked the top 100. And despite a tumultuous economic year, each of the Fortune 1,000 companies HQ'ed in Austin saw growth in 2020.
Here's a look at Austin companies that made the Fortune list: