Get connected with our daily update
It's the most (philanthropic) time of the year, and the Michael & Susan Dell Foundation added to Central Texas' $100 million Giving Tuesday donations by promising a $38 million commitment towards combatting homelessness in Austin.
The Round Rock-based foundation, headed by tech giant Dell CEO Michael Dell, will donate the lump sum to three local nonprofits: Multiplying Goodness, Foundation Communities and LifeWorks.
Almost all of the funds—$36.6 million—are headed to Multiplying Goodness, which is a capital campaign to grow the Community First! Village in Austin, a neighborhood that offers permanent housing for the homeless. The 51-acre housing development has already rented out tiny homes to 220 formerly homeless residents and has plans to add 1,400 more units with the Multiplying Goodness program headed by Mobile Loaves and Fishes.
Dubbed a "hand up, not hand out" program by Mobile Loaves CEO and Founder Alan Graham, the neighborhood also helps residents with services and resources as they leave homelessness behind.
The Dell foundation is asking the public to match their donation as the "most talked about neighborhood in Austin" looks to reach its $150 million goal. Expansion of the Community First! Village is expected to break ground in 2022.
"As Austin grows, it's more important than ever that we care for those most vulnerable in our communities," Dell Foundation's co-founder Susan Dell said in a press release. "By coming together as a community, we can provide those experiencing homelessness in Central Texas with the dignity they deserve through stable housing and the opportunity to experience community again. We are honored to partner with Mobile Loaves & Fishes, Foundation Communities and LifeWorks—along with the broader Central Texas community through our community match—to accelerate the difference these organizations are already making on the ground each day."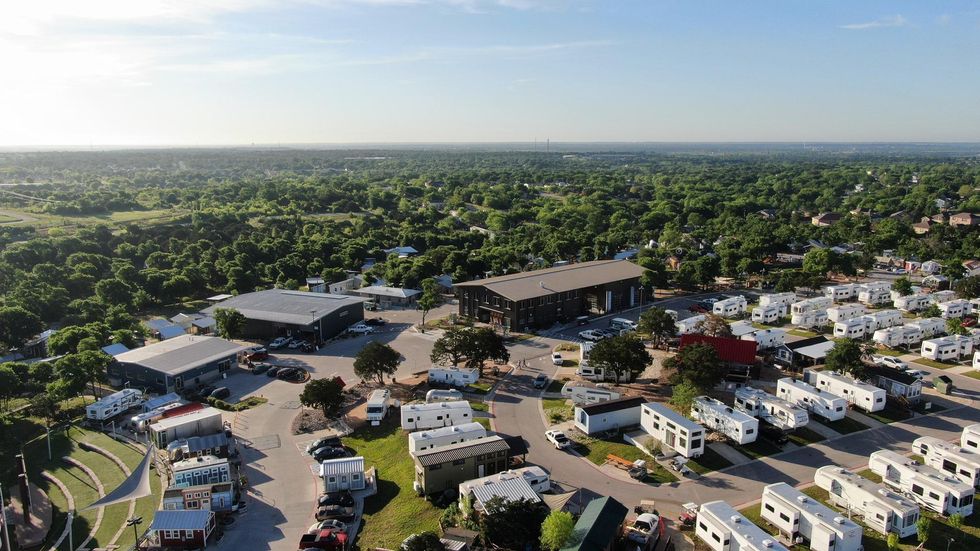 Community First! Village, a 51-acre housing development, currently houses over 200 formerly homeless people. (Community First! Village/Facebook)
The Michael & Susan Dell Foundation also announced a $1 million donation to Foundation Communities as they construct 100 units on the Burleson property at Community First! Village. LifeWorks Austin, a nonprofit aiming to end youth homelessness, will also receive $400,000 as it looks to provide permanent housing for local youth experiencing homelessness.
All three donations will funnel to the greater cause of ending homelessness in Austin, a hot topic in local politics in recent years. Around 3,000 Austinites are currently experiencing homelessness, with nearly 50% described as "chronically homeless." That's 25% above the national average.
Giving Tuesday has seen more than just the Dells digging into their pockets: known as a "global generosity movement unleashing the power of people and organizations to transform their communities and the world," the Tuesday after Thanksgiving has ushered in donations from corporations and private individuals around the world, including $100 million coming to Central Texas nonprofit I Live Here I Give Here.
The nonprofit has become the front for Central Texas' Giving Tuesday campaign. In 2020, Austin businesses, individuals and nonprofits contributed over 20 million acts of generosity during the holiday.
This year, Home Depot surprised small Austin nonprofit Green Doors with a $30,000 donation as they work to combat homelessness.
AppSumo, a leading digital marketplace for entrepreneurs, announced that it will match donations to Future Front Texas, PeopleFund and Swan Impact Network—all Central Texas nonprofits looking to benefit the area's small business owners—from Giving Tuesday through Friday at 5 p.m.
Local philanthropy group Impact Austin awarded $226,200 in grants to four Austin nonprofit organizations on Tuesday as part of their fall giving cycle, while Austin influencer Laura Lux agreed to match any donation under $1,000 given to Austin Pets Alive! on Giving Tuesday.
Six artists with Austin ties, including Willie Nelson and Black Pumas, were nominated for this year's Grammy Awards, which will be released in the 64th rendition of the show on Jan. 31.
Country music legend and Austin native Nelson is up for his 10th Grammy with his 50th nomination, which was announced via webcast on Tuesday. The nomination for his tribute to Frank Sinatra's "That's Life" is his second nod in the traditional pop goal album category; Nelson's first Sinatra tribute, "My Way" received a Grammy in the same category in 2019.
Soulful Austin set Black Pumas, which has been seen performing at local events like Austin FC games and national ones like the Biden inauguration, are looking for their first Grammy after six nominations since its first self-titled album was released in 2019. Despite not releasing another album, the duo composed of Eric Burton and Adrian Quesada is up for best rock album with "Capitol Cuts: Live From Studio A," which is composed of eight live recordings and is up for best rock album, and "Know You Better," which is up for best rock performance.
Austin country artist Jack Ingram received his second nomination with "The Marfa Tapes," an album he shares with artists Miranda Lambert and Jon Randall that's up for best country album. Four-time Grammy winner and former Wimberley resident Sarah Jarosz is up for best folk album with "Blue Heron Suite."
Austin choral ensemble Conspirare has been nominated in the best choral performance category for their album "The Singing Guitar," which features string instruments, conducting from Craig Hella Johnson and contributions from the Austin Guitar Quartet, the Texas Guitar Quartet, The Los Angeles Guitar Quartet, Estelí Gomez and Douglas Harvey. Conspirare and Hella Johnson are seeking their second Grammy with the nomination.
Up for their third Grammy award is sister duo Sarah and Shauna Dodds, who were nominated for their design work on Reckless Kelly's albums "American Jackpot/American Girls." This is the duo's sixth nomination in the recording packaging category.
Another nominee with Austin ties is singer Kim Wilson, who performed in Austin as part of blues-rock band the Fabulous Thunderbirds in the 1970s-80s and is nominated in the traditional blues album category with his album "Take Me Back."
Aside from Nelson, Black Pumas and other current candidates, Austinites Gary Clark Jr., Stevie Ray Vaughan, Janis Joplin, St. Vincent and dozens of other musicians with Austin ties have earned Grammy nods in the past.
The Austin tech scene continues to explode— the city is a leader in crypto, Oracle and Tesla are relocating from California, and accelerators like Capital Factory continue to foster growth.
Before transplant Elon Musk dubbed the city a "boomtown," a nickname had already emerged: "Silicon Hills". But the name, a mesh of the Bay Area's "Silicon Valley" moniker and a reference to West Austin's Hill Country landscape—hasn't sat well with some.
I'd be ok if I never saw the nickname "Silicon Hills" used ever again.

— Matt Largey (@Matt Largey) 1636763951
Love or hate that Austin has been commonly coined "Silicon Hills," the phrase is likely here to stay. Half of the name, silicon, refers to the base material of semiconductors used in computer circuits, and it's key to Austin's reputation as a tech hub.
According to the Austin Regional Manufacturers Association, 20,820 people in Central Texas are employed by semiconductors, computer and related manufacturers. A new Texas task force is aimed at attracting semiconductor investment into the state. And Samsung has been eying nearby Williamson County for a $17 billion semiconductor factory.
It's also worth looking at how the phrase Silicon Valley started to be used. Like Austin's, it's hard to pinpoint. But it's speculated that East Coast defense contractors first used the phrase when traveling to the Bay Area for business. Another clue on its origins is in the 1970s when technology reporter Dan Hoefler published pieces with the header "Silicon Valley USA" after hearing a marketer use the term.
Laura Lorek, founder of Silicon Hills News— a publication that reports on tech in Austin and San Antonio—is an obvious fan of the phrase. She says she knew she wanted to name the publication that as soon as she saw that the domain name was available.
"Silicon Hills means much more than a comparison to Silicon Valley," Lorek wrote in an email to Austonia. "Central Texas is about silicon. Austin has decades of expertise as a chip manufacturer."
She pointed to engineers at the University of Texas at Austin creating the world's smallest memory storage device and to how roughly 70% of the world's cars contain Infineon chips made in Austin.
"The phrase 'Silicon Hills' communicates sophistication to anyone who knows about the roots of the technology industry," Lorek said. "The influence of the semiconductor industry laid the foundation for all the tech that has followed."
The phrase may be a welcome sign for the influx of tech workers flooding in from Silicon Valley and elsewhere.
But protest of the term is perhaps just the scratching the surface on larger feelings of "techlash": rising housing costs, displacement, new tools that sometimes seem more troubling than they do innovative, and a serious lack of workforce diversity. And for decades of residents who want Austin to keep its "weird" instead of emulating the Bay Area, a term so similar to "Silicon Valley" may not be welcome.
"Some people here love the tech industry and some people don't," Lorek said. "Silicon Hills represents change, and a lot of people are uncomfortable with change."
Enjoying Austonia? Signup for our newsletter to get daily Austin news, straight to your morning inbox!
Time's ticking for Austinite and Oscar winner Matthew McConaughey to announce his bid for Texas governor, but if he wanted it, he could still have a shot, according to a November poll by the University of Texas and Dallas Morning News.
If the race became a three-way showdown between Abbott, McConaughey and Beto O'Rourke, who announced his bid on Nov. 15, incumbent Abbott would stay in office with a 10-point lead, according to the poll's 1,106 voters.
But the poll indicates McConaughey, who has considered a campaign for months, would beat current Gov. Greg Abbott by eight percentage points in a head-to-head matchup. And Austin's Minister of Culture would fare even better alone against O'Rourke, with nearly 50% of respondents choosing McConaughey over the former Texas representative. O'Rourke received 27% of the vote, while 19% said they would vote for someone else.

McConaughey has teased a bid for governor since he said the move was "a true consideration" in March. In a spring poll by UT and the Dallas Morning News, voters said they'd choose McConaughey over Abbott by a 43%-35% margin—the same percentage points released this November.
But McConaughey seemed to have faltered on his rumored plans by October, with sources telling The Hollywood Reporter that the actor still "hasn't been fundraising or gathering a potential staff, aside from a few exploratory phone calls."
In an October interview on the New York Times' Sway podcast, McConaughey called politics a "bag of rats."
"One side I'm arguing is 'McConaughey exactly, that's why you need to go get in there. The other side is, 'that's a bag of rats man,'" McConaughey said. "Don't touch that with a 10-foot pole... you have another category to have influence... help how you think you can help and even heal divides.'"
One factor that could boost or hinder McConaughey is his assertion to be "aggressively centrist"—so much so that many aren't sure if he would run with a party or as an independent.
"People want a third party and we've got one and it doesn't have a name right now and it is the majority," McConaughey said. "I'm hesitant to throw labels... but there is a sleeping giant right now."
If McConaughey chose the Democratic ticket, the UT/DMN poll appears to point towards McConaughey, who would appear to beat both Abbott and O'Rourke in one-on-one showdowns.
But if the "poet-statesman" McConaughey chose independent, the poll points to another term with Abbott in office.
Forty percent of those polled said they wanted McConaughey to announce a run, but the notion grows slimmer with each passing day—the deadline for all candidates to file their bids is Dec. 13.
If the race is just Abbott vs. O'Rourke, O'Rourke would lose by six percentage points, according to the poll, which found that just 18% of voters have a "very favorable" view of the former representative. Just 23% of those polled "strongly approve" of how Abbott has handled his role as governor, with 29% strongly disapproving of his.time in office.