Get connected with our daily update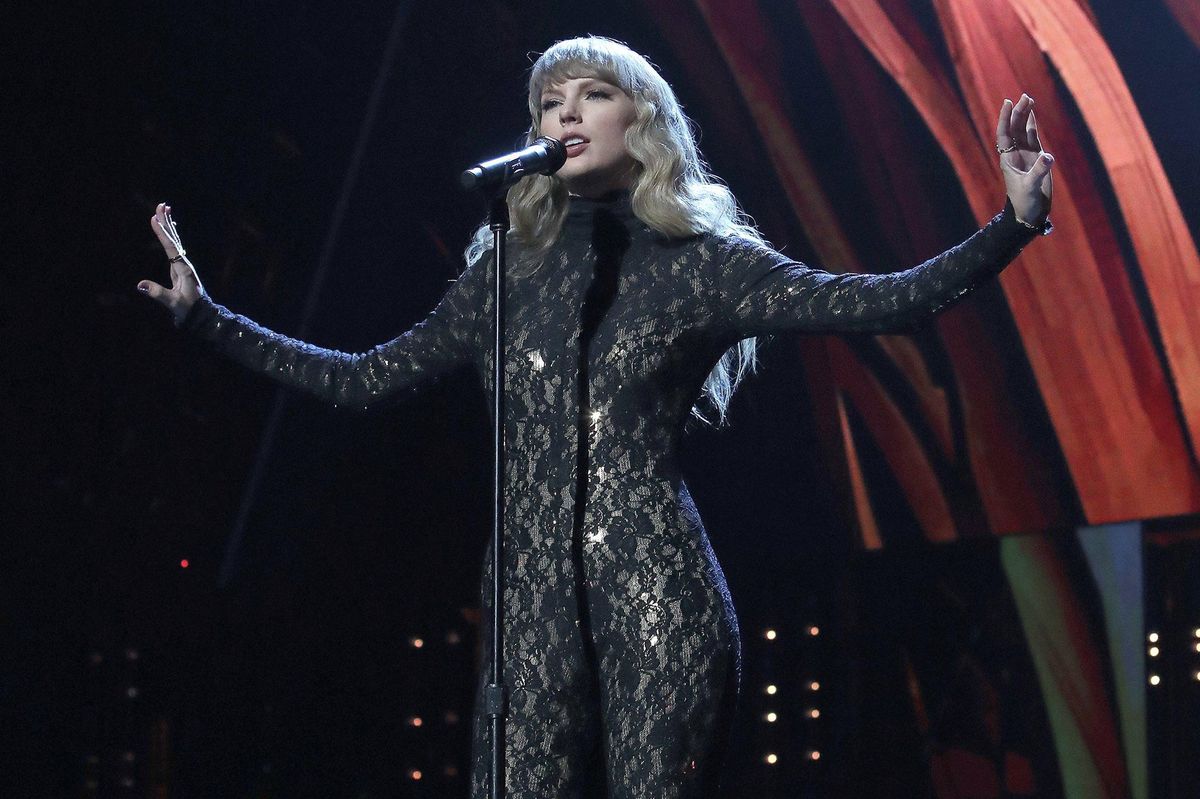 Can't shake off the symbolism in Taylor Swift's latest short film? Those who know the country-turned-pop artist "All Too Well" can test their expertise in a Taylor Swift-centric class at the University of Texas.
The Songbook of Taylor Swift will be available as an English credit for undergraduates in the Liberal Arts Honors program for the fall semester, which begins Monday. The course will provide "an introduction to literary studies and research methods that uses the songwriting of (Swift) as the basis for teaching a wide range of skills," according to the UT English Department's Facebook post.
Those familiar with Swift's fan culture will know that "Swifties" go to great lengths to uncover Easter eggs throughout the singer-songwriter's decades-long discography. English professor Elizabeth Scala hopes to put that skillset to greater use.
"I want to take what Swift fans can already do at a sophisticated level, tease it out for them a bit with a different vocabulary, and then show them how, in fact, Swift draws on richer literary traditions in her songwriting, both topically but also formally in terms of how she uses references, metaphors, and clever manipulations of words," Scala told KXAN.
Scala, who normally teaches medieval literature, will be scrapping her Chaucer for Swift lyrics in hopes of preparing students for "advanced work in the humanities." In the Facebook post, the department also said that the course could help first-year students apply to the school's English Honors Program.
Though this Swift course is the first of its kind, there won't be a "Blank Space" for other pop star's studies for long: neighboring school Texas State University is introducing a Harry Styles course beginning in spring 2023.
From Your Site Articles
Related Articles Around the Web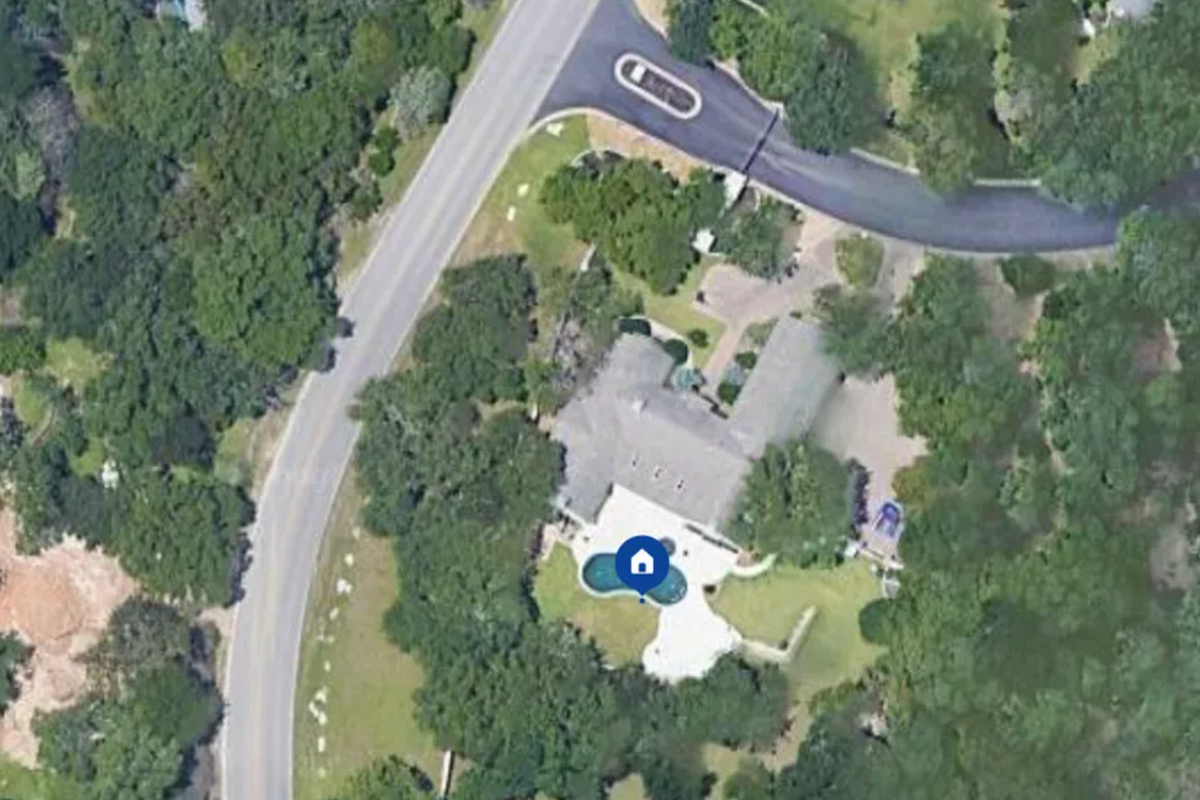 Elon Musk lives in a Westlake mansion at least part-time with his baby mama and new twins, a new report suggests.
Documents acquired by Insider show Musk and Shivon Alice Zilis, the mother of his twins and one of his top Neuralink executives, listing the same Austin residence for their address when petitioning to add Musk's last name to his kids' legal names.
Austonia finds one local home listed under the mother's name, Shivon Alice Zilis, matching the price tag Insider said the house was worth: $4.5 million. According to the Travis County Appraisal District, Zilis got the deed for the home in August 2021, 4 months before giving birth to Musk's twins.

The home, located in Westlake, was built in 1999 and sits on a little over an acre of land in a gated community. The 4,579 square foot home has six bedrooms, five baths and a pool.
Where Musk lives has been highly contested in the past. In July 2021, Musk claimed his primary residence was a 20-feet-by-20-feet box in Boca Chica, Texas, that he rents from SpaceX. Then in December 2021, the month Musk's then-girlfriend, Grimes, had a child with Musk via surrogacy, the Wall Street Journal reported he lived in a $17.9 million Lake Austin home owned by PayPal co-founder Ken Howery. Musk denied he lived in that home, but said he had stayed there previously.
Musk has not commented on his residency since, but the Twitter account that tracks his jet movement shows he's in Austin days at a time on a near-weekly basis.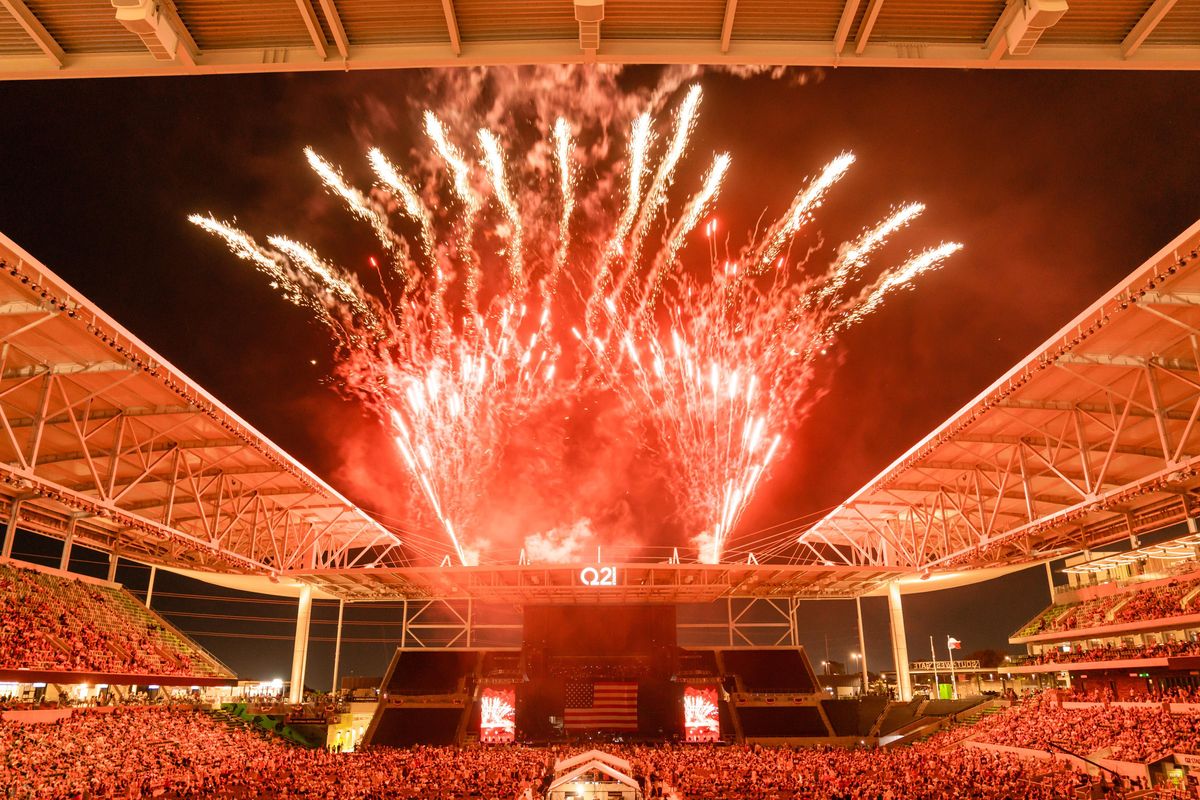 Q2 Stadium swapped its Verde for red, white and blue as country music legend Willie Nelson returned for his first in-person Fourth of July Picnic since 2019 on Monday.
The music fest included fireworks, fun merch and acts from country greats including Charley Crockett, Midland, Brothers Osborne, Allison Russell, Tyler Childers, Jason Isbell and Austin's own Asleep at the Wheel. And while Q2 will have some kinks to straighten before it becomes a concert-hosting regular, Nelson's unifying spirit kept things cool during the 12-hour outdoor event.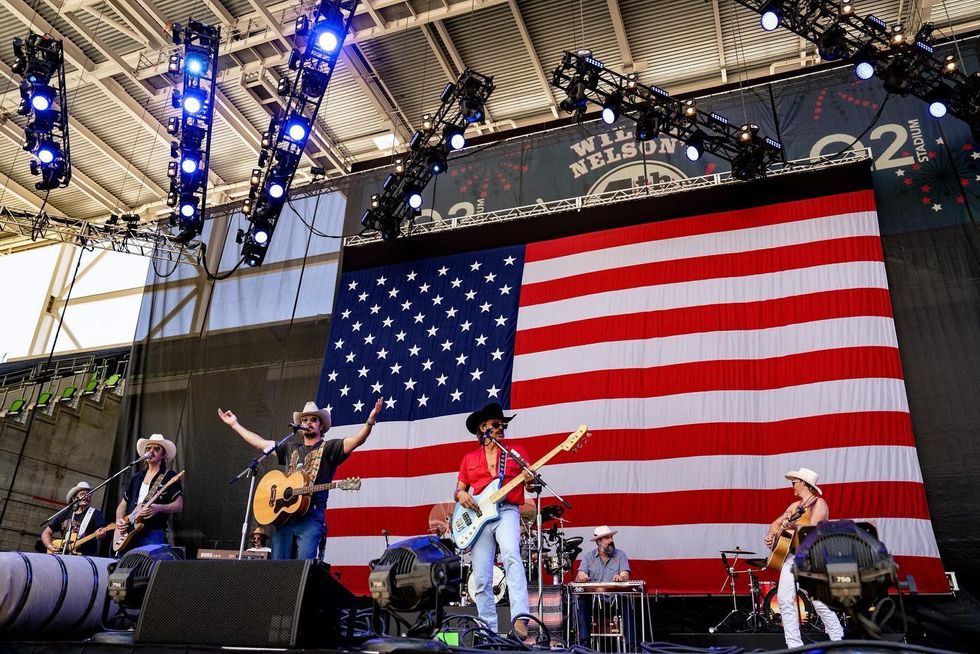 Midland performed at Willie Nelson's Fourth of July Picnic. (Q2 Stadium/Twitter)
Doors opened at 11 a.m., and Asleep at the Wheel was on the stage by 12 p.m.—though as one Reddit post pointed out, there weren't many people there to see them play.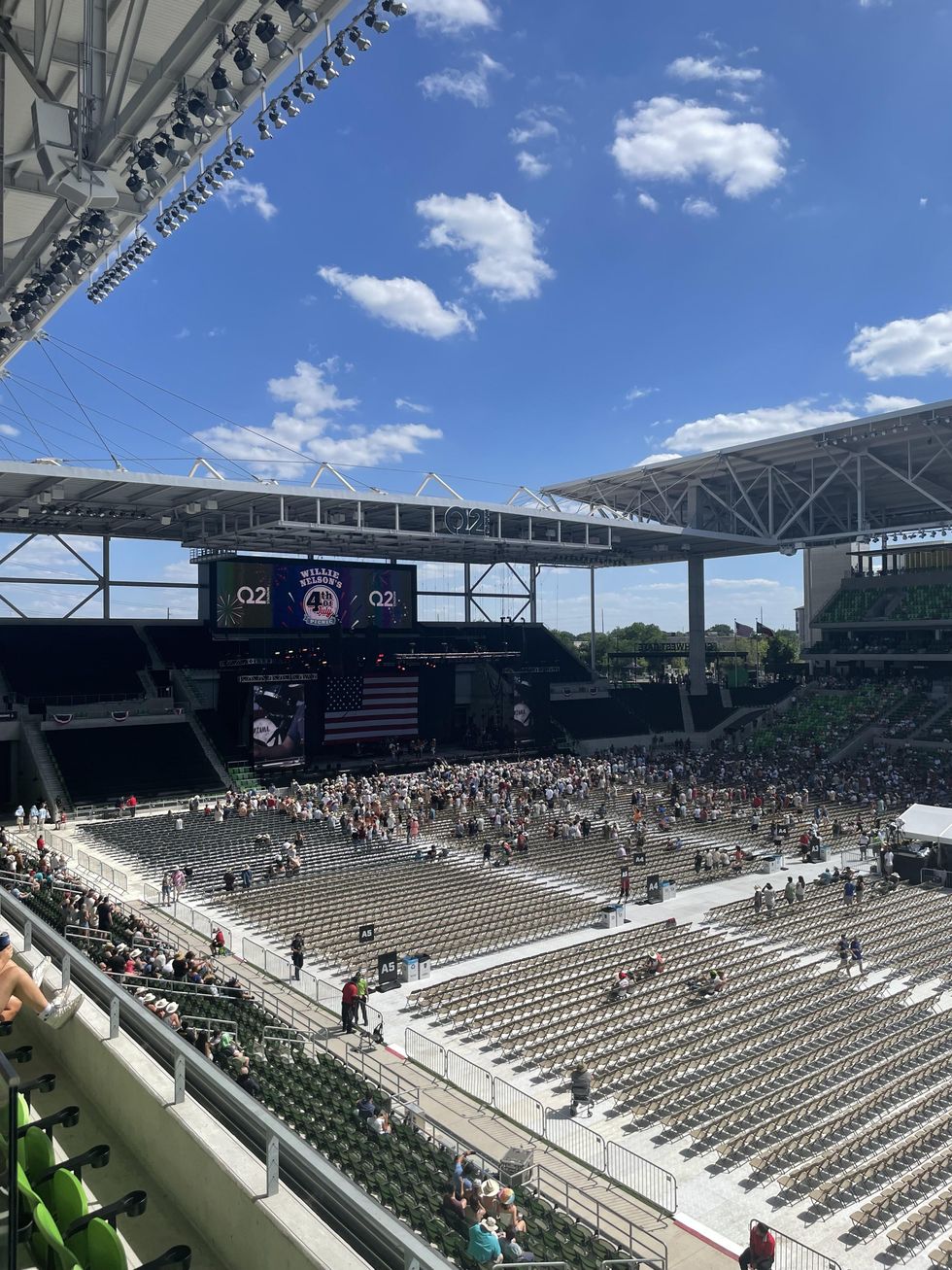 Q2 Stadium stayed sparsely populated for the first half of the day. (Claire Partain/Austonia)
Per Q2 Stadium policy, attendees weren't allowed to re-enter the venue after leaving, so anyone who wanted to watch both an afternoon and Nelson's big performance were stuck at the venue for hours straight. That opened up the perfect opportunity for customers to snatch up snacks, water and beers, which emptied wallets even faster than at Austin FC games. Nothing says "the end is nigh" like $15 beers.
An open-air, 20,500 seat venue, Q2 Stadium sometimes struggled to carry sound clearly, and between-song banter was often limited to an incomprehensible garble. Still, Tyler Childers' commanding growls came through, Alison Russells' multi-instrument ensemble shone and Nelson's strums on his trusty guitar, Trigger, were front and center by the end of the night.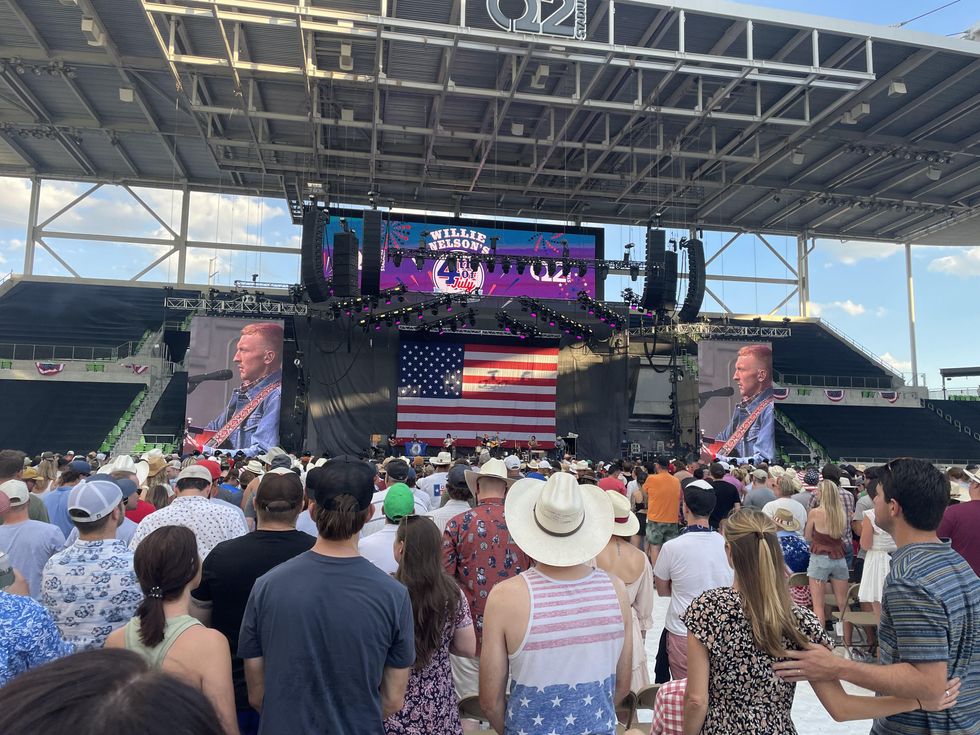 Fans found it hard to look away from Tyler Childers' enrapturing performance. (Jakob Rodriguez)
The July 4th picnic, which was most recently held at Circuit of the Americas from 2015-2019, benefitted from Q2's more central location, and the large venue offered plenty of room for attendees to mull about.
As the sun mercifully dipped below the horizon, the music paused for a 15-minute fireworks show.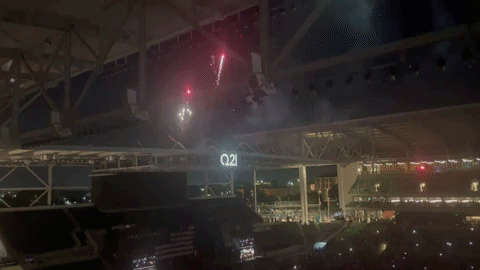 But the July 4th staples weren't the main event. At 89, Nelson didn't disappoint, sitting calmly as he performed alongside his family members and even gubernatorial candidate Beto O'Rourke, who made a surprise appearance midway through the show.
At times wistful, joyful or both, Nelson took the crowd through hits from "On the Road Again" to "Always on My Mind."
And as each favorite was played, all of the heat and stress of the day were encompassed by Nelson's voice, his storytelling and more as Austinites new and old gathered for the decades-old tradition.