Get connected with our daily update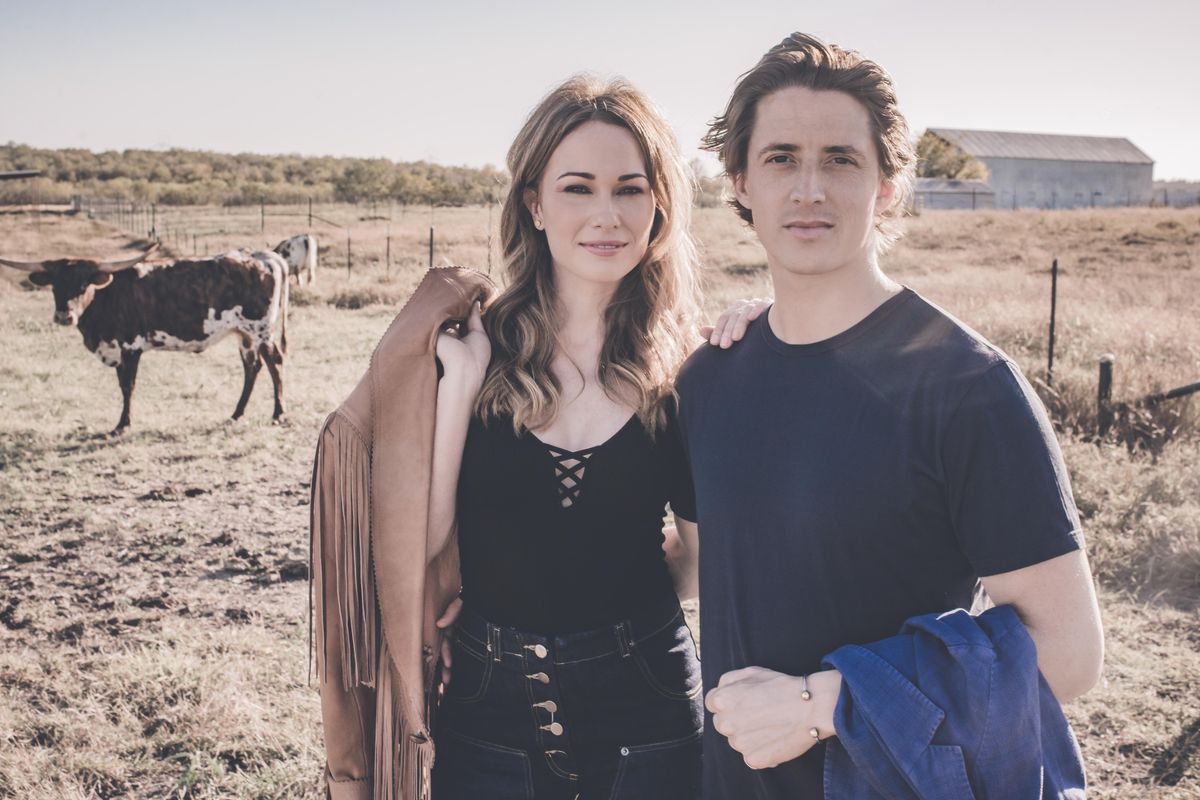 Though soon-to-be-wed couple Kelly Frye and Nick Campbell are the definition of jet-setters—traveling all around the globe, from filming in New Orleans, living it up in Hollywood or hopping across the pond to Campbell's English hometown—the pair has put down roots in Austin.
The "Secrets of Sulphur Springs" actress and international fine art consultant Campbell will tie the knot this week in Houston, Frye's hometown, officially starting their new life together in the Lone Star State. Though the couple is looking to buy their own land in Austin, they are currently renting a home in the Travis Heights neighborhood while they navigate the red-hot real estate sphere.
Between Frye's mystery character in "Hypnotic," which was filmed in Austin with Ben Affleck, and Campbell's Austin-based art advisory company making a case for buying local art, the new residents have already made a splash in the city.
So what made this international power couple want to make Austin a home base?
 Frye: It's the Hill Country drives and artistic freedom
Frye has been living in Austin on and off since 2018, the same year she met Campbell, but ever since the pandemic began and auditions went virtual, she's been able to spend more time in her home state.
While she's here, Frye's inner Texan comes out as she explores the many food options on South Congress and greater Hill Country towns like Lockhart for some Black's Barbecue or Fredericksburg for antiquing and wineries. Having spent lots of time in Austin, Los Angeles and New Orleans, Frye likes to pride herself on her tour guide abilities.
"I like getting in there and finding my favorite spots, discovering a city, discovering the neat things that it has to offer, no lenses," Frye said.
Frye said she is fortunate to have been able to keep up her travels despite the pandemic but since relocating to Austin, the local opportunities have come to her: Frye will star alongside Affleck and Alicia Braga in Robert Rodriguez's upcoming feature, "Hypnotic."
Frye said landing a Rodriguez film was one of her top five career goals—so important, in fact, that she left a vacation in Greece less than 24 hours in for the chance to be booked and dyed her signature red hair blonde.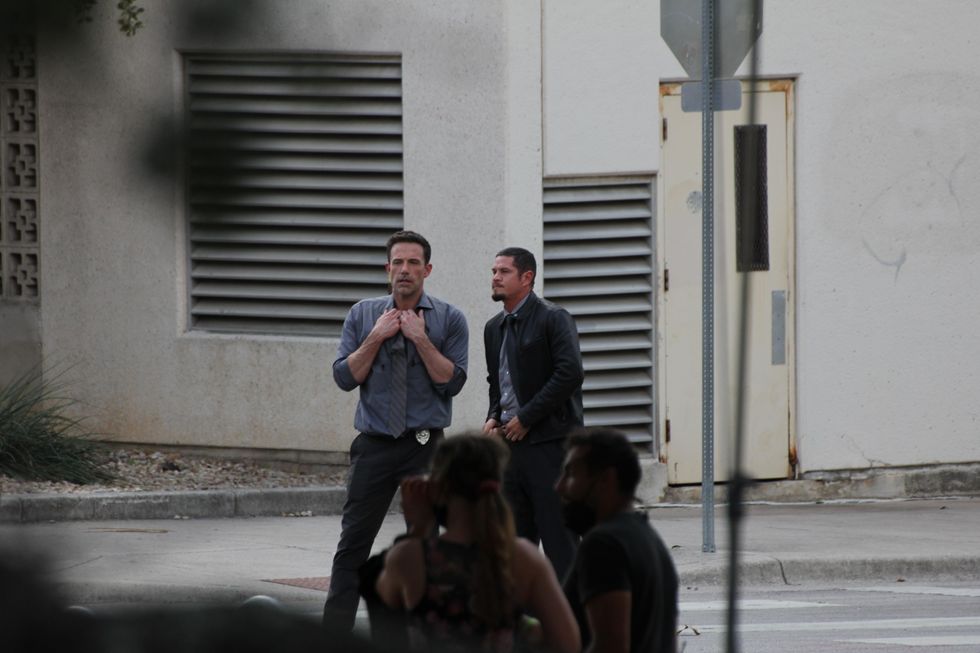 Frye starred alongside Affleck in the new movie, which famously filmed in downtown Austin September-November. (Laura Figi/Austonia)
"('Hypnotic' was) a total dream come true—I was pinching myself," Frye said. "So traveling 37 hours and dyeing my hair blonde was a big moment, but so worth it. (Rodriguez) is a true creative. The people he works with are like extensions of himself as a creative, which is an amazing thing to watch."
Frye wouldn't release many details about her character other than she's "a reveal" and a "boss 'b,'" but the film could be in theaters as early as this summer.

Campbell: Austin is "on the brink of something exciting."
Much newer to town than his fiancée, English-born Campbell said he is still learning the local ropes having only been in Austin for a few weeks but is excited to be part of the city's growth spurt.
"This established, but small, very vibrant, very exciting city is going through this sort of unprecedented state of flux in a very positive way," Campbell said. "It just seems like it's a city that's on the brink of something very exciting, so we wanted to be a part of that."
Campbell comes bearing a new perspective in the art collection industry—he launched Narcissus Arts, an art consulting firm specializing in art under $14,000, or £10,000, in 2010 with the intent of bringing fine art to the masses. Campbell then launched Campbell Art Advisory, based in Austin and Los Angeles, catering to all price brackets in 2018.
"It seemed to me that there was this growing number of friends that had, as it were, smaller resources to put into art," Campbell said. "There was obviously an incredible amount of supply out there but one just needed to know where to look."
Campbell is leveraging his new home base by connecting Texan artists Adrian Armstrong, Shaun O'Dell and Kyle Steed to buyers who can support their endeavors.
"I think that the talent is here, that's very obvious, and they need to be supported," Campbell said. "There are people here who are telling interesting stories that are very talented at telling those stories, and they need to have a light shone on them and should be celebrated."
Reflecting both Frye's love of Houston and Campbell's art profession, the pair plan to get married in the Rothko Chapel this week. They plan on continuing to split their time between here and L.A., so don't be surprised if you spot the pair on South Congress.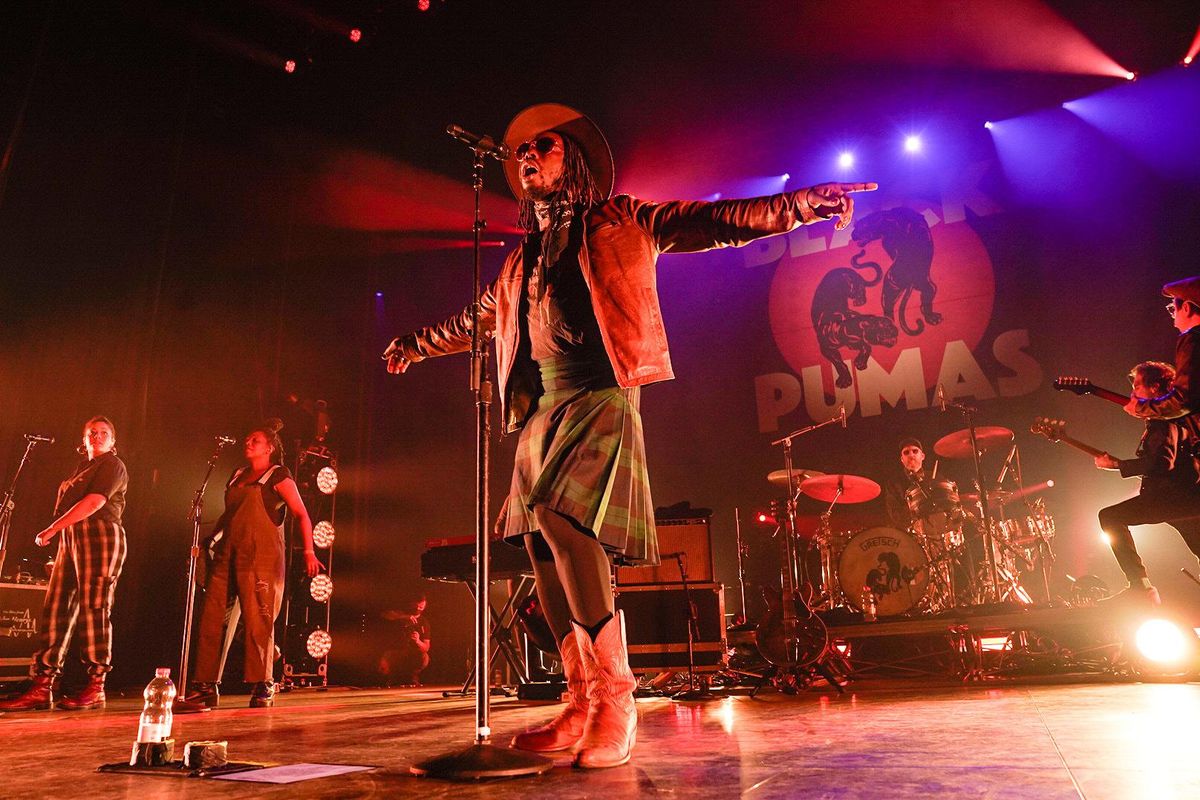 Six artists with Austin ties, including Willie Nelson and Black Pumas, were nominated for this year's Grammy Awards, which will be released in the 64th rendition of the show on Jan. 31.
Country music legend and Austin native Nelson is up for his 10th Grammy with his 50th nomination, which was announced via webcast on Tuesday. The nomination for his tribute to Frank Sinatra's "That's Life" is his second nod in the traditional pop goal album category; Nelson's first Sinatra tribute, "My Way" received a Grammy in the same category in 2019.
Soulful Austin set Black Pumas, which has been seen performing at local events like Austin FC games and national ones like the Biden inauguration, are looking for their first Grammy after six nominations since its first self-titled album was released in 2019. Despite not releasing another album, the duo composed of Eric Burton and Adrian Quesada is up for best rock album with "Capitol Cuts: Live From Studio A," which is composed of eight live recordings and is up for best rock album, and "Know You Better," which is up for best rock performance.
Austin country artist Jack Ingram received his second nomination with "The Marfa Tapes," an album he shares with artists Miranda Lambert and Jon Randall that's up for best country album. Four-time Grammy winner and former Wimberley resident Sarah Jarosz is up for best folk album with "Blue Heron Suite."
Austin choral ensemble Conspirare has been nominated in the best choral performance category for their album "The Singing Guitar," which features string instruments, conducting from Craig Hella Johnson and contributions from the Austin Guitar Quartet, the Texas Guitar Quartet, The Los Angeles Guitar Quartet, Estelí Gomez and Douglas Harvey. Conspirare and Hella Johnson are seeking their second Grammy with the nomination.
Up for their third Grammy award is sister duo Sarah and Shauna Dodds, who were nominated for their design work on Reckless Kelly's albums "American Jackpot/American Girls." This is the duo's sixth nomination in the recording packaging category.
Another nominee with Austin ties is singer Kim Wilson, who performed in Austin as part of blues-rock band the Fabulous Thunderbirds in the 1970s-80s and is nominated in the traditional blues album category with his album "Take Me Back."
Aside from Nelson, Black Pumas and other current candidates, Austinites Gary Clark Jr., Stevie Ray Vaughan, Janis Joplin, St. Vincent and dozens of other musicians with Austin ties have earned Grammy nods in the past.