Get connected with our daily update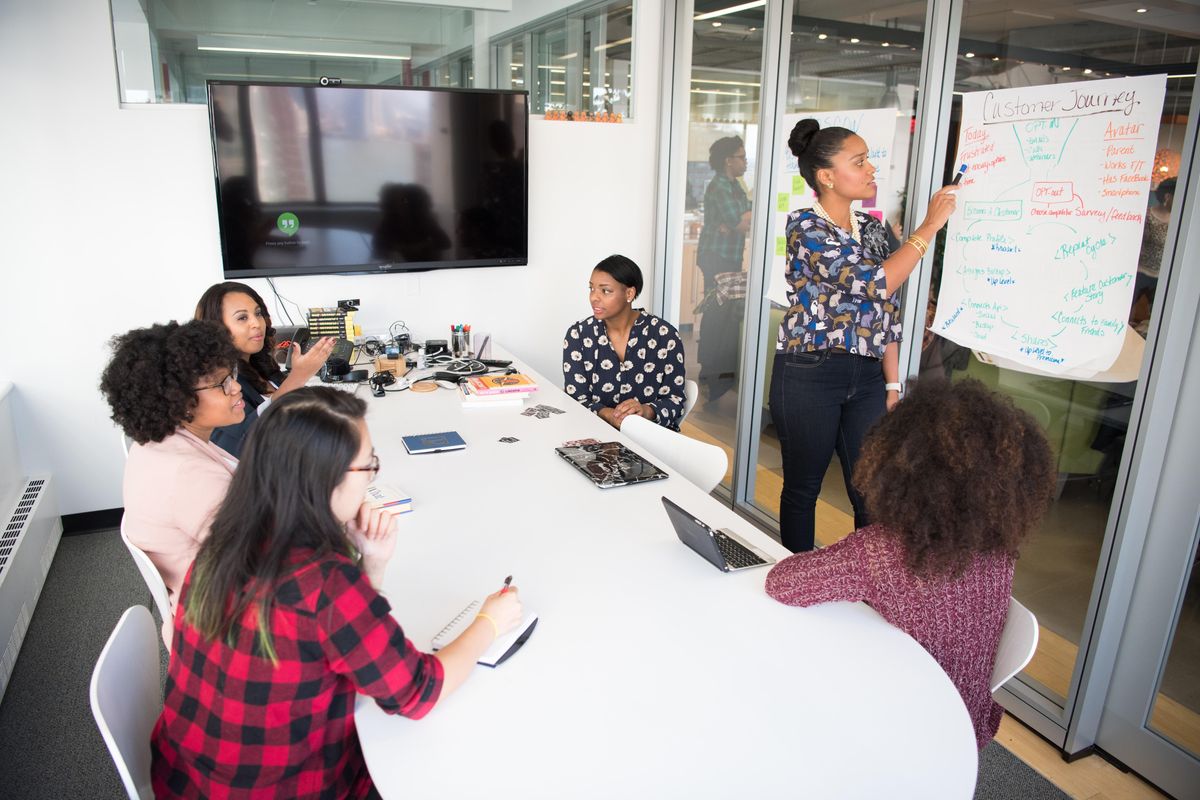 The 40-hour workweek has reigned since around the time of the Great Depression. But a new schedule gaining steam could lead some companies to throw out the practice of having employees clock in five days a week.
Promising results are coming out halfway into a six-month trial of four-day workweeks in the U.K. with 35 out of 41 companies responding to a recent survey saying they were "likely" or "very likely" to continue the reduced week after the pilot ends.
The trial, which began in June, is run by nonprofit 4 Day Week Global, think tank Autonomy, the 4 Day Week UK campaign and researchers at Cambridge University, Boston College and Oxford University. It involves 3,300 workers across 72 companies who are trying out one paid day off per week between Monday and Friday.
During the four-day week, 34% of companies reported that productivity "improved slightly" and 15% say it "improved significantly."
With the survey indicating that a four-day workweek could have some perks for companies and employees alike, will Austin join in on the trend?
On job searching tools like LinkedIn and Indeed, some jobs based in Central Texas are boasting a four-day work week. And Coltech Global, a recruiting firm based in London with a growing presence in Austin, began the four-day work week about a year ago.
Jessica Sutcliffe, a staffing consultant at Coltech, joined the company to help grow the U.S. market. She says due to the time difference between the U.S. team and the UK one, the company implemented a four-day week.
"I've found it very beneficial as it allows time to rest and complete life admin, whilst also enjoying life, travel and be able to come back to work rested/fulfilled outside of work, which ultimately helps focus inside of those core work hours," Sutcliffe said via email.
In an Instagram post, Coltech said that not only are employees feeling the benefits of being more refreshed in the mornings, having reduced illness and a less stressed atmosphere, but it's also improving their carbon footprint since there's less time spent traveling to the office and using energy.
Niki Jorgensen, director of service operations at human resources service provider Insperity, noted similar factors driving companies to make the change to a reduced work week.
"The most significant benefit for a company to adopt the four-day workweek is the improvement of employee morale," Jorgensen told Austonia via email. "Over the past two years, numerous studies have shown employees think a four-day workweek reduces stress and burnout. With reduced stress and burnout comes improved employee engagement."
And while Austin is already drawing in plenty of workers who are in their early careers, a four-day week may help companies stand out to that bracket's top talent even more.
"Companies can leverage this to make their company more appealing, especially to younger generations who strongly consider factors outside of compensation when choosing employment," Jorgensen said.
She went on to offer a few tips for making a smooth transition to a four-day week like setting expectations and staggering coverage so that it's still possible to see clients five days a week. Also, employers should be flexible. She says some employees may not be able to get 40 hours of work done in a shorter week due to responsibilities like childcare, so employers should consider how they can still accomplish their duties.
Before ditching the 40-hour workweek though, it can help to take a temperature check to see if an extra day off is the right fit for the workplace.
"Do not implement a flexible schedule such as the four-day workweek if business owners and managers cannot commit to the level of trust and flexibility needed to ensure the schedule's success," Jorgensen said.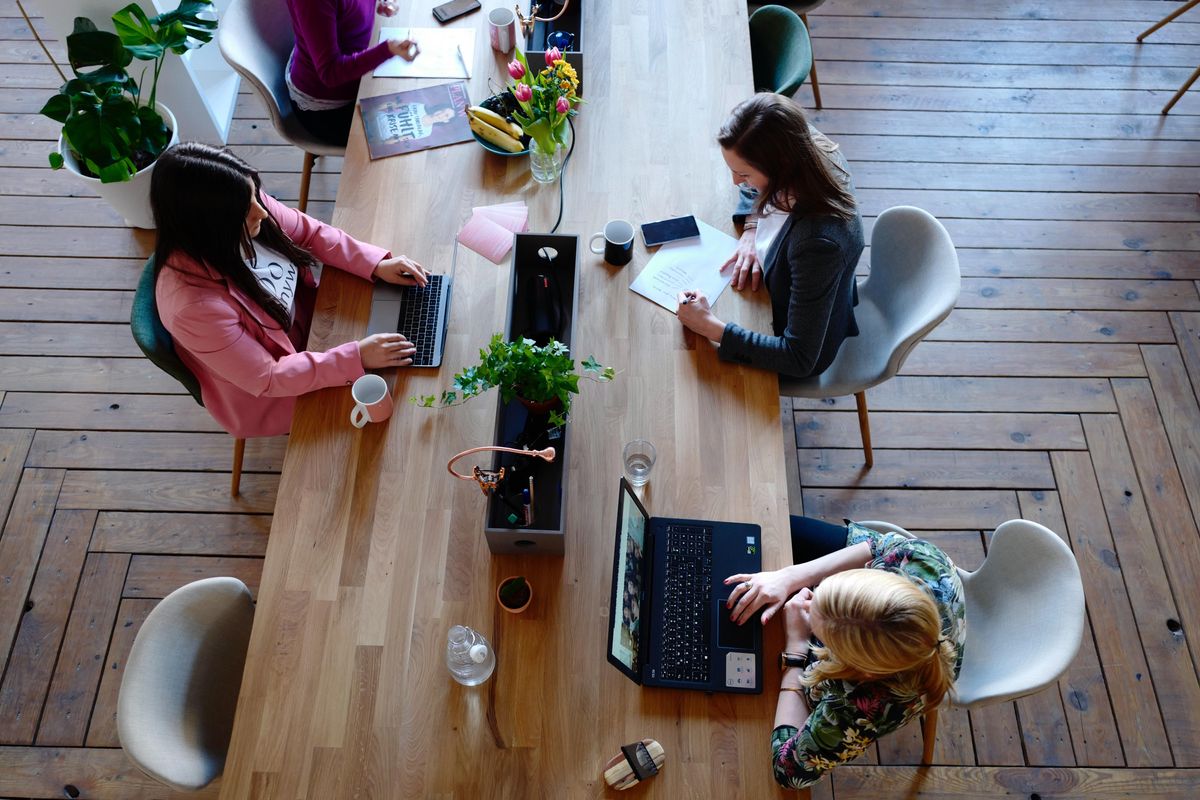 Downtown views might not cut it anymore for getting workers back into the office.
According to real estate agency CBRE, the U.S. downtown office vacancy rate topped office vacancies in the suburbs in the second quarter.
It's the first time it's happened in more than 20 years and reveals that companies might be making a shift out of city centers whether it's to get a better deal on office space or to save workers on commute time and make a return to the office more attractive.
But even with this flip nationwide, it hasn't appeared to reach Austin just yet. In the first quarter of this year, office vacancy rates in downtown and the suburbs were even at nearly 20%. Then in the next quarter, CBRE reported the suburban vacancy rate just above 20% while downtown's was 15.5%.
It could just signal that the trend is slower to catch on in Austin as nationwide momentum for suburban office space carries on.
This week, commercial real estate agency Workspace Property Trust announced it had acquired approximately eight million square feet across 53 suburban office buildings in a deal valued at $1.1 billion. It includes Texas metros like Houston and Dallas, as well as Austin's tech competitors like Silicon Valley and Seattle.
Workspace described the deal as creating convenient and attractive locations for the workforce.
"Driven by the redefinition of work as a result of the pandemic and the continued and unabated demographic shift to the suburbs, more and more Fortune 1000 corporations are rethinking their presence in downtown markets and relocating many of their office needs to suburban locations across the U.S." Roger W. Thomas, a Workspace founder said. "Workspace is poised to lead this transformation."
Thomas went on to note a few major corporations who have announced moves to suburban markets like Intel, Oracle, Tesla, Honeywell and more.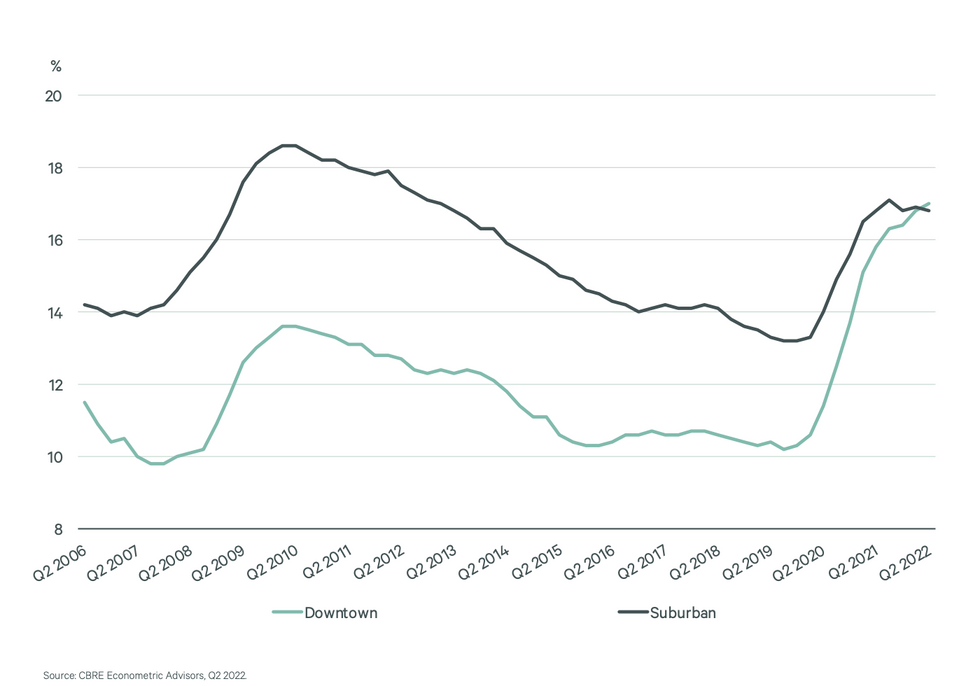 Vacancy rates in U.S. offices (CBRE)
Austin's suburbs have become an ideal spot for some, including Leander which has reigned as one of the fastest growing cities in the U.S. for two years in a row as people are drawn to its more affordable cost of living.
More and more companies are looking at the suburbs too, even if it's not strictly for office space. This spring, Meta announced an $800 million data center in Temple. And recently, Skybox Datacenters and Prologis partnered to purchase 200 acres in Hutto for a data center and are planning for another $548 million data center in Pflugerville.
Downtown and city limits can still flex its growth, however. CBRE notes that Austin joins Nashville, Charlotte and Boston as having the most space under construction as a share of their existing inventory. At least part of that excitement is set in downtown with several projects expected to break ground by the end of the year. Among those, CBRE reports, is the skyscraper poised to be the tallest tower in the state that would add another 700,000 square feet of office space to the construction pipeline.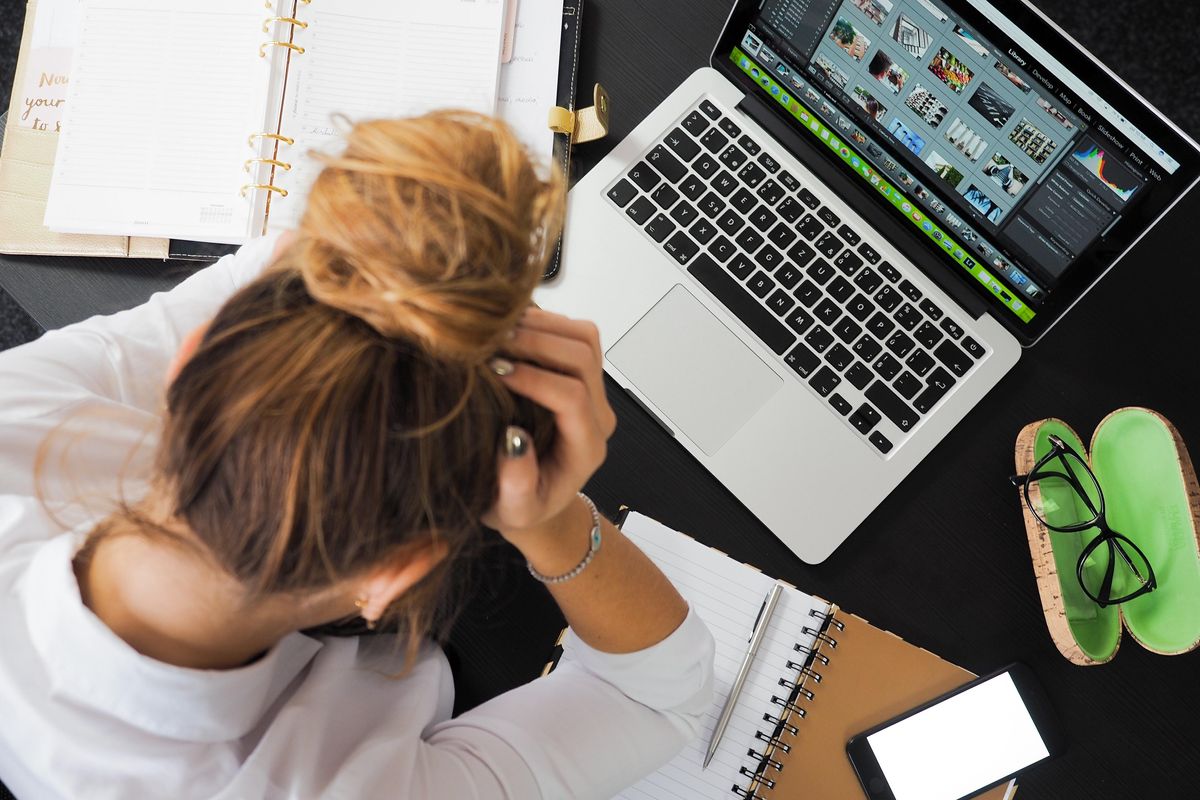 Some workers are done being overachievers.
Whether they're consultants or software engineers, they've noticed they can get a full day's work done and even if they have time to do more, they're not going to. It's a practice that has lately come to be known as "quiet quitting," or not going above and beyond the required tasks at work.
Jill Chapman, a local expert with HR solutions company Insperity, talked about how different definitions of the phrase might come down to the employee's attitude. Whereas one worker might be disengaged, another could be practicing some work-life balance.
"From an employer's point of view, if you're paying somebody you're paying them to deliver the results that you agreed upon, right?" Chapman said. "As long as people are meeting their deliverables, if they close down their computer at five o'clock, that's kind of the expectation."
In Austin, a major tech hub and city that has flooded with knowledge workers in recent years, conversations around quiet quitting might be heightened.
"The tech workers would very often be the ones that were kind of leading the charge, with new ideas and new ways of working—we'd see them kind of permeate their niche before it went out to the rank and file," Chapman said. "So I think that there is a significant number of people who are talking about this in that community."
Still, this approach to work isn't all that new even if the phrase is. Essentially, people are doing what they're being paid to do, explains Andrew Brodsky, a professor at the McCombs School of Business at the University of Texas at Austin.
"When you come from a society… where you get as much work from your workers as you possibly can for as little compensation as possible, it shouldn't be surprising when you have workers take the same perspective and try to do as little work as possible," Brodsky said.
He's studied idle time in the office and remote work and says that for many jobs, eight hours isn't needed some days.
"On the days you have less to do, should you just sit there moving your mouse every so often so that Microsoft Teams shows that you're active to your boss or should you try to find a way to view that time productively?" Brodsky said. "Maybe further your career training, or just taking a break and recovering from work so that you can come back fresh or on a day that you are busier."
With Gen Z's recent entrance into the workforce, young workers have been tied to the "quiet quitting" trend. The hashtag for the term has racked up 12.9 million views on TikTok and The Wall Street Journal said professionals of that generation "are saying no to hustle culture."
But Brodsky says it's likely more to do with how our employment psychological contract has changed. Boomers enjoyed rewards for being long-term employees with promotions and continual raises. Now, there's less reward for staying loyal and giving 110%. For companies looking to reduce quiet quitting, however, Brodsky has some ideas.
"Many of these people feel like, whether they're Gen Z or otherwise, that they're doing what the company is doing. Organizations are using us, so we're going to use them," Brodsky said. "In cases where you actually find ways to reward employees as opposed to paying external hires more… I imagine it would potentially make you stronger."