Austonia AM
100% Austin news, info, and entertainment, straight to your inbox at 6 a.m. every morning.
In five minutes, you're fully informed and ready to start another great day in our city.
Get connected with our daily update
(Joe Rogan Experience Podcast)
In the hot seat, Austin's very own Mayor Steve Adler was the latest guest on The Joe Rogan Experience podcast, where new Austinite Joe Rogan grilled him on problems facing his new home.
Adler listed a wide array of problems he has faced in his tenure as mayor: historic storms, COVID-19, pushback to Austin's speedy growth and a hyper-politicized homelessness crisis.
With no holds barred, the pair laid out some of the most difficult moments of Adler's time as mayor but dedicated most of their time—40 minutes out of the hour-and-a-half-long episode—to discussing Austin's homeless situation.
Tackling homelessness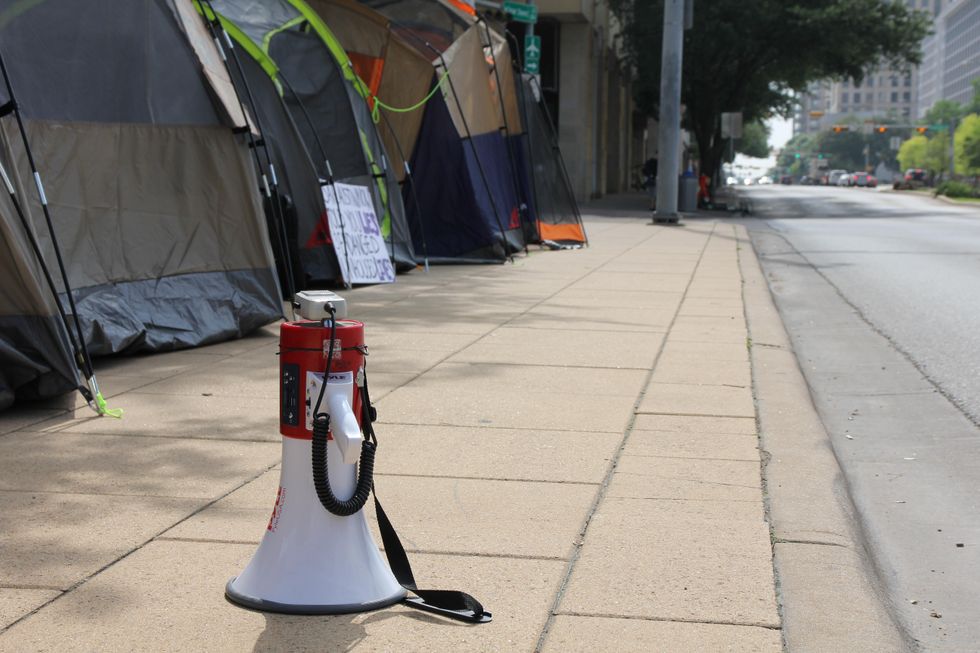 A homeless camp has surrounded Austin city hall since Prop B was passed, reinstating the camping ban. (Laura Figi/Austonia)
Recalling walking past "a village" of homeless people on 8th Street, Rogan said Austin's homeless crisis was "the biggest issue by far" over the last year.
"You've got places like San Francisco that have such tolerant policies toward homeless people that people gravitate to San Francisco to be homeless, which is really kinda crazy but true," Rogan said. "There's a fine line between helping and encouraging people to continue the lifestyle.
While Adler admitted he has wondered the same, he countered that California Gov. Gavin Newsroom lied to his constituents that Austin officials gave homeless people tickets to California. Plus, Adler said there's a 90-95% chance that someone who is given a home and wraparound services will reintegrate into society.
Rogan said he believes the freedom of being able to camp in the city appeals to a certain group of people, asking if there was a line where services encourage chronic homelessness. Adler said he taps information from experts but when he first took office in 2015, he said the camping ban caused a lot of anger, much like today.
"A guy came up to me after (a meeting) was over and he said, 'you're mayor, fix this, and if you don't I have a gun and I will fix this myself,'" Adler said. "That was the fervor and the feel."
Adler, whose final term ends in 2023, said his number one goal is to abate the issue to the best of his ability. He hopes to expand a nationwide program used in Austin to the general homeless population; the program reaches out to apartment complexes to house homeless veterans, offering to cover damage expenses with a private risk fund if the arrangement goes sour.
"If you can get (people) off the street, into a home with a job training program or even just stabilize them, get them what they need, real good chance they can get back into life," Adler said. "The longer you leave them on the street, the harder it is going to be for them to pull back."
"Utopia" Austin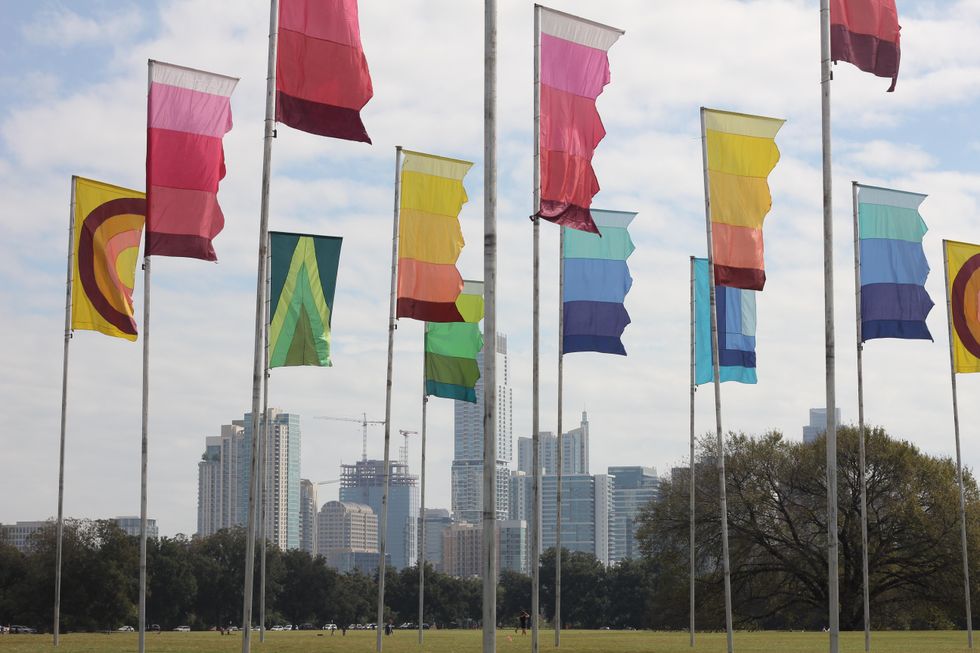 Austin is the fastest growing large metropolitan area in the country. (Laura Figi/Austonia)
Despite the city's ongoing struggle with homelessness, Rogan showered Austin with compliments.
"It's too good here, it's such a good city," Rogan said. "It's a utopian size city with great values, and really friendly people, and amazing restaurants, and a great art scene and music scene and now a great comedy scene."
Adler said with all the things going on right for Austin—"we have ... an economy that's on fire, we're the fastest-growing large metropolitan area"—one of the things going wrong is the increasing cost of living when everyone wants to move here.
Adler said for new transplants—like Rogan—the prices may not seem like a big issue.
"Housing prices are off the charts," Adler said. "For somebody who is just coming from California or New York, it looks like deals."
Adler said when he ran for reelection, one of the biggest favors he was asked was to stop the city from growing.
"There's only one way to really stop the city from growing: bring in crime," Adler said. "A desirable place is going to grow."
Are you cheugy? The term, which has been covered by the New York Times, The Cut and even Parade, refers to someone who is out of date or trying too hard to be cool. (Think of it as the new basic.)
Coined by Gaby Rasson, 23, in 2013, while she was attending Beverly Hills High School, and popularized by Hallie Cain, 24, in a viral TikTok posted March 30, the term has faced backlash, including from millennials who feel skewered by the Gen Z barb. "The Word Cheugy Is Already Cheugy," read a recent headline.
Gripes aside, cheugy (pronounced "chew-gee") may be here to stay—and has already been associated with some popular Austin activities.
1. Mural photos 
Austin, you so cheugy, says the @nytimes https://t.co/rlxHoIMHv2

— Austinist (@austinist) April 29, 2021
The Times explainer included a grid of examples, culled from the @CheugLife Instagram account, that included The Office-themed apparel, Pinterest and slogan mugs. Austin's "I Love You So Much" mural, located at Jo's Coffee on South Congress, was also featured.
Mural photos, according to cheugy experts, are out.
2. Certain Instagram captions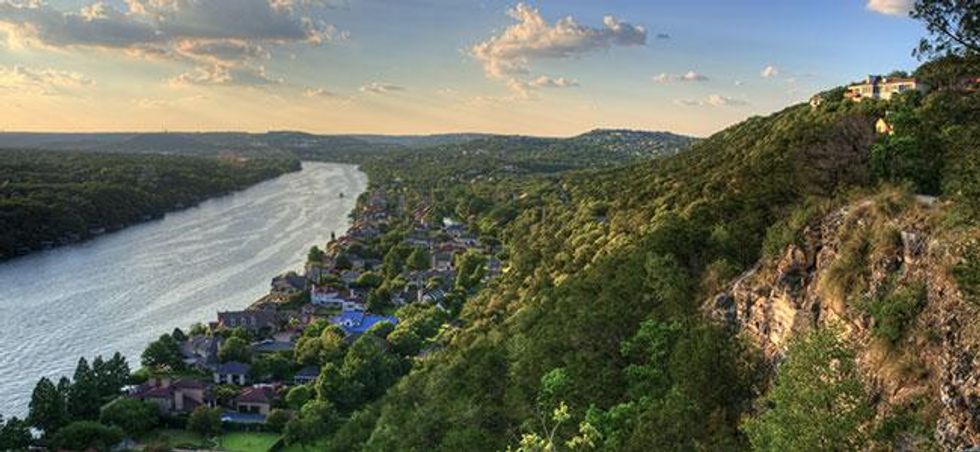 Even Instagram captions can be cheugy. (Randall Chancellor/Flickr Creative Commons)
Planning a visit to Mount Bonnell or the 360 Bridge? Taking a photo of such vistas and captioning it "views" is cheugy.
3. The millennial girlboss aesthetic 
The term girlboss emerged around 2014; seven years later, it's cheugy, according to Refinery29. What was once branded as the future of female empowerment has since been associated with failures of corporate feminism.
Austin has a number of celebrated women entrepreneurs, including Kendra Scott and Whitney Wolfe Herd, who transcend the girlboss era. Scott founded her company in 2002, long before the term entered the vernacular. Wolfe Herd left Tinder in 2014 after experiencing sexual harassment and later founded Bumble, which successfully went public earlier this year and has ambitious, post-pandemic plans.
4. Subscribing to Joe Rogan's podcast
The Austinite and extremely successful podcast host is also implicated, according to a recent Vice article explaining the various tiers of cheuginess.
The term has received pushback from some, who argue that it is misogynistic, attacking things women enjoy. But plenty of stereotypically guy things—including wall flags, tank tops and promposals—have also received the label. As Rolling Stone put it: "Misogyny is insidious and takes many forms in our culture, but making fun of someone for posting Minion memes is not one of them."
5. Golden Goose sneakers, Gucci belts and New Yorker tote bags 
Although not comprehensive, this list touches on some of the once-trendy, now-cheugy accessories one might see around town, from $500 sneakers at West Austin lunch spots, flashy designer logos on Rainey Street and the ubiquitous literary status symbol at East Austin coffee shops.
Tell us: what does cheugy mean to you? 
New Austinite and billionaire Elon Musk went "Live from New York" as the first non-entertainer or athlete to host Saturday Night Live in over five years on Saturday.
The show itself was awkward and literally affected the economy— Dogecoin's value fell as much as 30% during the show— but Musk helped SNL ratings skyrocket and saw some laughs from the audience in his surprisingly decent monologue.
Here are some highlights from the Tesla CEO's first-ever SNL episode:
1. It wasn't as controversial as you might think
Musk drummed up plenty of heat when he was named an upcoming host, including some pointed, since-deleted posts from SNL cast members Aidy Bryant and Bowen Yang. The billionaire has gotten backlash in several instances over the years, including dismissing the gravity of the COVID pandemic in 2020, but he promised to "behave" in his first appearance on the late-night comedy show.
And, for the most part, he did. Musk brought up Dogecoin, the cryptocurrency that originated from the "doge" meme and has since been adopted by his cult following, several times throughout the show. He also addressed smoking weed on a podcast with fellow Austinite Joe Rogan.
"It's like reducing OJ Simpson to murderer. That was one time," Musk said,. He then addressed Simpson's two appearances on SNL in 1979 and 1996. "Killed both times," he said.
And, as many non-performers are when hosting SNL, he was awkward, missing key comedic timing and making several of his already not-so-well-written jokes misfire. Still, he drew up a few laughs in his opening monologue, where he addressed his controversial tweeting, said he drives a Prius, and finally addressed the pronunciation for his child X Æ A-12's unconventional name.
"It's pronounced 'cat running across the keyboard'," Musk said.
2. He said he was the first-ever host with Asperger's
"I am actually making history tonight as the first person with Asperger's to host SNL.... Or atleast the first to admit it."
Such courage 👏 More power to you 🙏#ElonMusk #ElonSNL#ElonMuskSNL #aspergers pic.twitter.com/zPSEI8Ffre

— Divyajoyt (@TheWokeJedi) May 9, 2021
In his opening monologue, Musk joked about the monotone in his voice. "I've heard it's great for comedy," he said.
A minute later, Musk announced he had Asperger's to the public for the first time and said he was the first-ever SNL host with Asperger's. "Or at least the first person to admit it," Musk joked.
He's actually not the first— former cast member Dan Aykroyd is public about his Asperger's diagnosis, and he hosted in 2003. Still, it's a surprising announcement for Musk and helps reveal the man behind the millions.
3. Musk's mother made an appearance
Elon Musk Hosts a Mother's Day Episode of 'Saturday Night Live' https://t.co/qskJuKGCMw pic.twitter.com/iA6DM4PboX

— Streaming Universe (@UniversoStream1) May 9, 2021
Musk joked that he might not be a "chill normal dude," but the audience got another glimpse of his humanity when his mother graced the stage during his monologue directly after all the SNL cast members brought their mothers in to do one-liners on stage. It was a little jolty, but his mom pulled through as she brought up his humble beginnings, including a $500 bank account that he didn't even have access to as a child.
Musk's mother said she was excited for her Mother's Day gift, but quipped "I hope it's not Dogecoin." Musk merely smirked.
It wasn't the last time Musk would mention his favorite cryptocurrency. Later, he played a financial expert on the "Weekend Update" and smiled harder than he had all episode.
4. Musk plays himself, a Dogecoin advocate, and- Wario?
Wario was my fav haha 👀 https://t.co/TNjn3meLVJ

— Elon Musk (@elonmusk) May 9, 2021
The world's second-richest man drew some genuine laughs when he donned purple and yellow overalls and a zig-zaggy mustache to portray video game villain Wario. Wario goes under fire for murder, but his lawyer accuses the prosecution of defamation. Mario, Luigi, Waluigi, and a surprise appearance with Grimes as Princess Peach make this the highlight sketch of the episode.
5. Musk and cast go in on Gen Z
Musk's first sketch doesn't quite hit when the cast tried to keep it hip for a Gen Z Hospital Episode. Musk was forced by a cringey writing team to deliver lines such as "your bestie took a major L." This wasn't on Musk— SNL just failed pretty badly at seeming younger and cooler than it actually is. Coming from a Gen Z cusp, it's not that they were making fun of our generation, which has given plenty of opportunity to be laughed at. Somehow, they just made Gen Z look better with their failed attempt at young people's lingo.
After coming under fire for telling young people they didn't need to get the COVID-19 vaccine if they are healthy, Joe Rogan backpedaled on the statement, saying, "I'm not an anti-vaxx person."
The multi-million dollar podcaster with over 200 million monthly listeners caught the attention of the White House this week for his statement, "If you're like 21 years old, and you say to me, 'Should I get vaccinated?' I'll go no."
White House Chief Medical Adviser Anthony Fauci discredited Rogan's statement, "That's incorrect." He added, "So, if you want to only worry about yourself and not society, then that's OK. But if you're saying to yourself, even if I get infected, I could do damage to somebody else even if I have no symptoms at all, and that's the reason why you've got to be careful and get vaccinated."
On Thursday's episode of The Joe Rogan Experience, the Austin-based comedian addressed the comments. While he said he is not an anti-vaxxer and "there's some legitimate science behind this," Rogan also said that the argument made by Fauci and others is a "different conversation."
Joe Rogan clarifies his vaccine comments on his podcast.
Rogan blamed the media for exacerbating his vaccine comments with clickbait. Rogan, who had scheduled a vaccine before the Johnson and Johnson vaccine was put on hold, said he speaks his mind freely on and off air, and is not a respected source of information. "I'm not a doctor, I'm a fucking moron," he said.
This isn't the first time he's come under fire for controversial issues on his show. Most recently, many took issue when he brought right-wing conspiracy theorist Alex Jones on his show.