Get connected with our daily update
Joe Rogan is COVID positive, he said on his Instagram on Wednesday, postponing his weekend standup shows in Nashville and New Orleans.
The podcast giant, who has come under fire from national health officials for COVID remarks, says he experienced a fever and cold sweats on Saturday night after returning to his Austin home from Florida, where he performed a series of shows. He was tested positive the following morning. "I felt just run down," Rogan said.
To combat the virus, Rogan took various treatments—some of which are not recommended by health officials. A few days later on Wednesday, Rogan said, "I feel great."
Here's what he says he took:
monoclonal antibody infusion
ivermectin
prednisone, a steroid
a vitamin drip
Ivermectin is a deworming drug for horses. The FDA and Austin Public Health have both warned against using it, encouraging the public to get vaccinated instead.
The multi-million dollar podcaster has been a skeptic when it comes to the COVID vaccine. In an April episode, Rogan said he did not believe that people who were young and healthy needed to get a vaccine, later retracting the statement. And last month, on a podcast he said he believes COVID transmission would slow if individuals put in the effort to become "healthier."
He's also pushed back against the need for vaccine passports, refunding tickets to a New York show after vaccine requirements were put in place.
Packing his home up around this time last year and heading to the Hill Country, Joe Rogan was riding a high: the podcast king had just secured a deal with Spotify worth at least $100 million. But one year later, that same deal seems to be weighing down his growth.
That's not to say Rogan's success has evaporated. The MMA enthusiast's podcast, The Joe Rogan Experience, still sits at No. 1 on Spotify's top podcast charts and reaches 200 million people monthly.
But his Spotify success may be the very reason for stagnant audience growth, The Verge reports. An investigation by the tech and entertainment site reveals "The Joe Rogan Experience" has declined in how it boosts guests and Rogan's overall presence as compared to before the big deal made his show exclusively available on Spotify.
The Verge looked at two main data sets to come to that conclusion:
How many Twitter followers his guests gained after going on the podcast
Rogan's relevance on Google Trends
Since Spotify hasn't provided numbers on Rogan's listenership, analytics tool Social Blade was used to track the Twitter following of every guest with under 500,000 followers who went on the podcast between December 2019 and July 2021. The data showed that after the Spotify deal, guests would gain 2,000 followers after their appearance, half as many as before.
While the timing lines up with the Spotify deal that constrains Rogan's content to only Spotify (as opposed to stretching across multiple platforms like YouTube), The Verge acknowledges it could be associated with a drop in listeners to podcasts overall after the thick of the pandemic.
But his overall relevance has fallen as well. Rogan's name was regularly searched in 2020, the Google Trends data shows. But those searches dipped after going exclusive on Spotify, with fewer spikes in searches for his name. Still, some can remember two times this year he made headlines for speaking out against healthy people getting vaccines and the efficiency of vaccines.
His Spotify deal is likely the reason for a decline in his relevance, The Verge reports, as some of his listeners didn't switch over to the platform when he made the switch. But fewer listeners may just be worth the chunk of money and Austin lifestyle that came after his contract.
An influx of talent is both creating an Austin comedy renaissance and dividing the local stand-up community.
The California migration to Texas is influencing politics, culture and the makeup of the state capitol. With big names like Joe Rogan coming to town, it's also shaking up the entertainment industry, 11-year Austin comedy vet Chris Tellez said. Tellez is co-host of Shit's Golden, Austin's longest-running monthly stand-up show.
"There's no denying it, seems like over 100 comics moved here from New York, L.A., and everywhere in between. It's like a funny science experiment," Tellez said.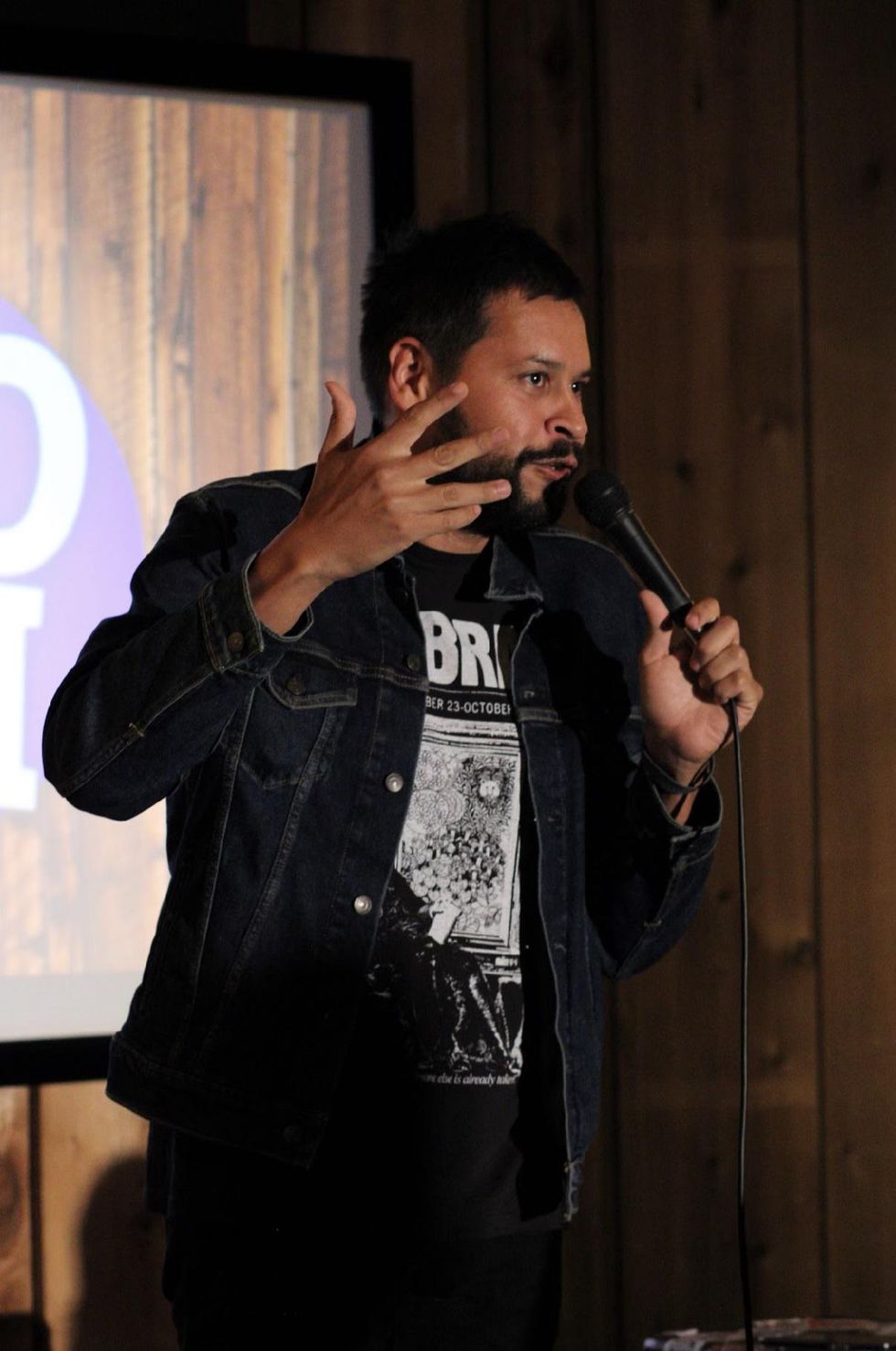 Chis Telles is a co-host of comedy monthly Shit's Golden in Austin. (Chis Tellez)
The new class is enthusiastic. "It's like we're all freshmen in college coming from different cities; making friends and having fun," Adam Hartle, booking manager for Sunset Strip in downtown's Sunset Room, said. Hartle splits time between Florida and Austin and leaned on Los Angeles connections for initial Sunset Strip bookings, he said.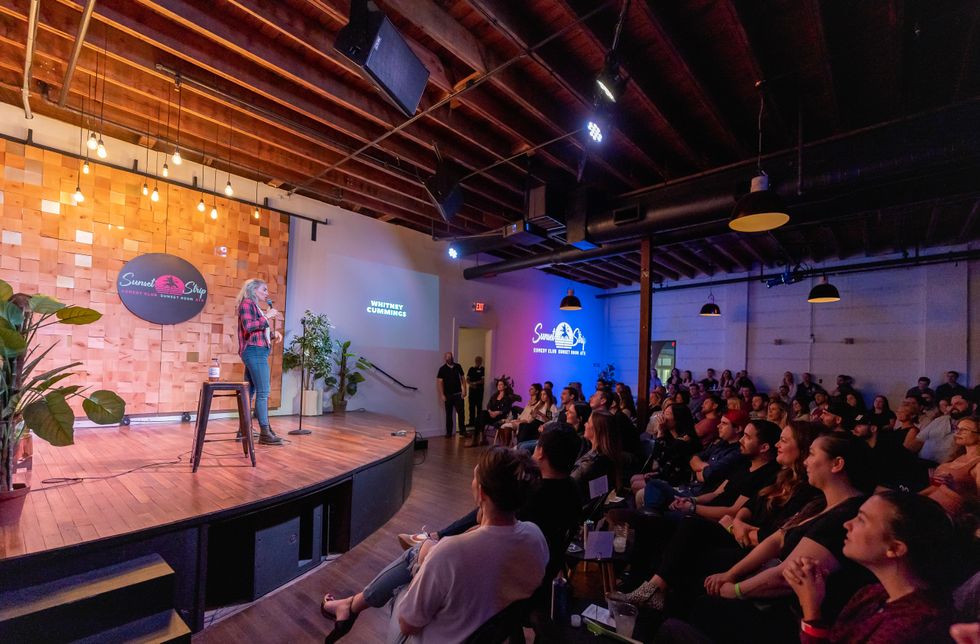 The Sunset Room is host (The Sunset Room)
New-to-Austin comic and Detroit native Genivive Clinton said Austin affords opportunities harder to get in saturated markets. After failing to get on the Kill Tony podcast in L.A. she succeeded on the first attempt in Austin, which led to her being booked for more work with Hinchcliffe and the Death Squad Secret Show. Secret Show was created by Brian Redban, the man also who helped create Kill Tony and The Joe Rogan Experience. "Local shows kept asking me to do sets too," Clinton said.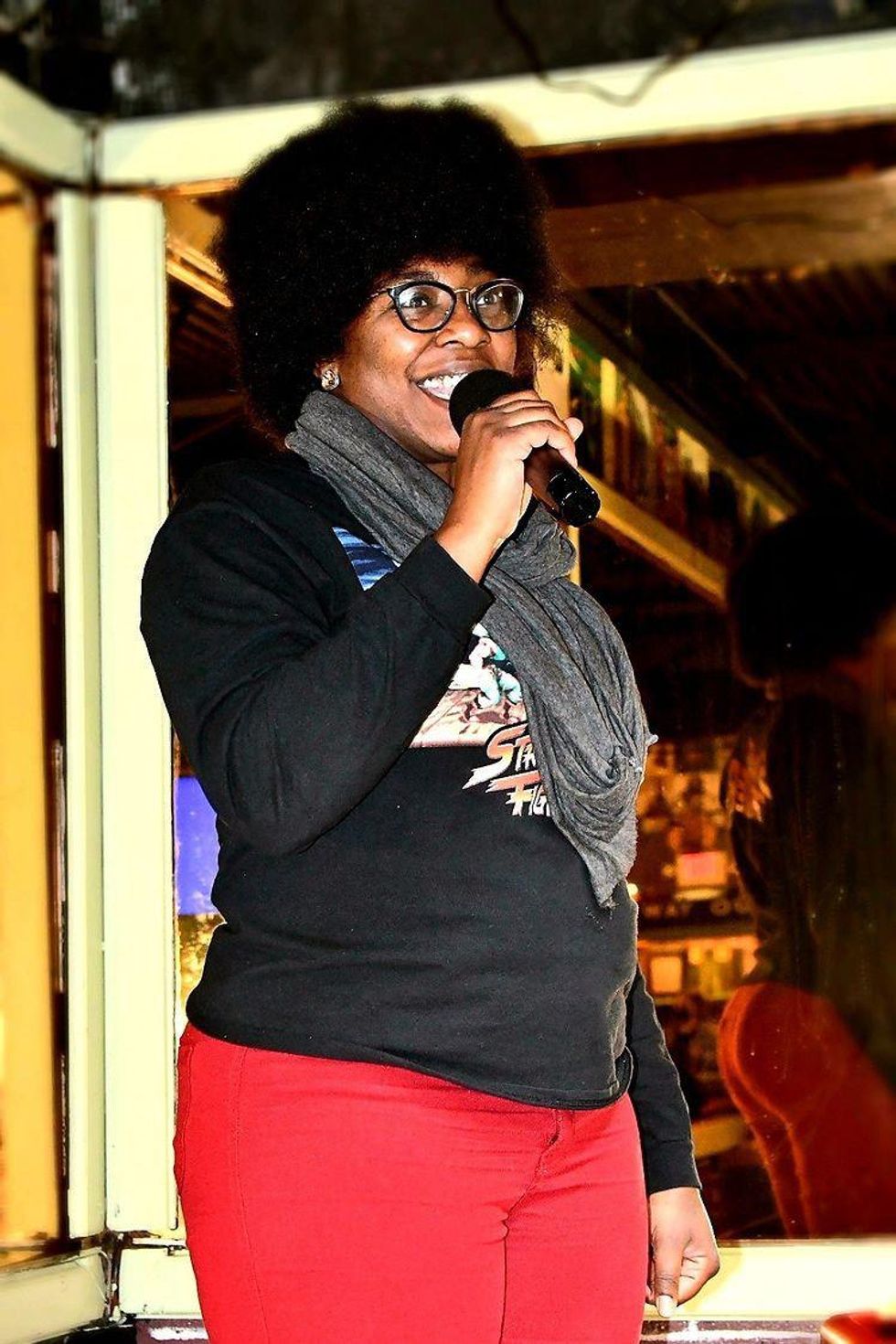 Comic Genivieve Clinton was awarded new opportunities when she moved to Austin. (Genevieve Clinton)
Some Austinites applaud the fresh blood. Round Rock native and three-year comedy vet Allison Wojtowecz says watching experienced new performers is a master class on the art of comedy. The richer landscape also means she can aspire to make sustainable career. "I loved the Austin scene," she said, "but there wasn't an opportunity to make living money here. Now there's four new places and Rogan is opening a room. There's ample stage time that actually can pay you now."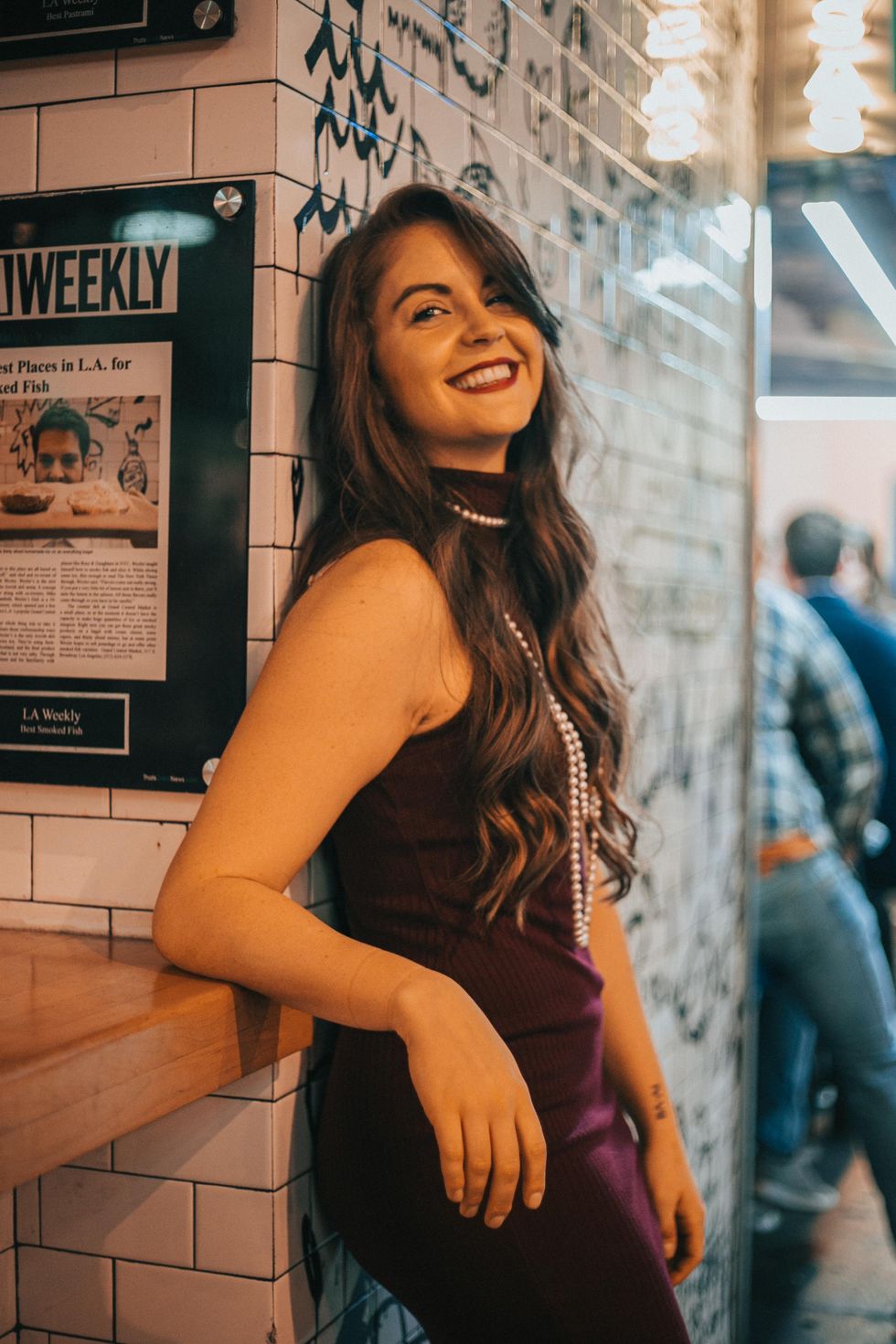 Comic Allison Wojtowecz said she can work towards a sustainable career in Austin after the new comedy boom. (Allison Wojtowecz)
Four venues have been opened or dedicated to comedy in the post-pandemic Austin comedy frenzy: The Creek and the Cave, Vulcan Gas Company, Sunset Strip at the Sunset Room, and The Romo Room in the Domain.
Joe Rogan, whose move to Texas and talk of opening a club has injected new attention to the scene, has also come at a cost. In May, Rogan and his associate Tony Hinchcliffe experienced a culture clash with locals with what critics denounced as anti-trans and racist jokes.
Brandon Lewin, Big Laugh CEO and booking manager at Vulcan, said he doesn't condone the jokes and knows Hinchcliffe learned a lesson. "What he learned from it is if you tell a joke it has to be good," Lewin said.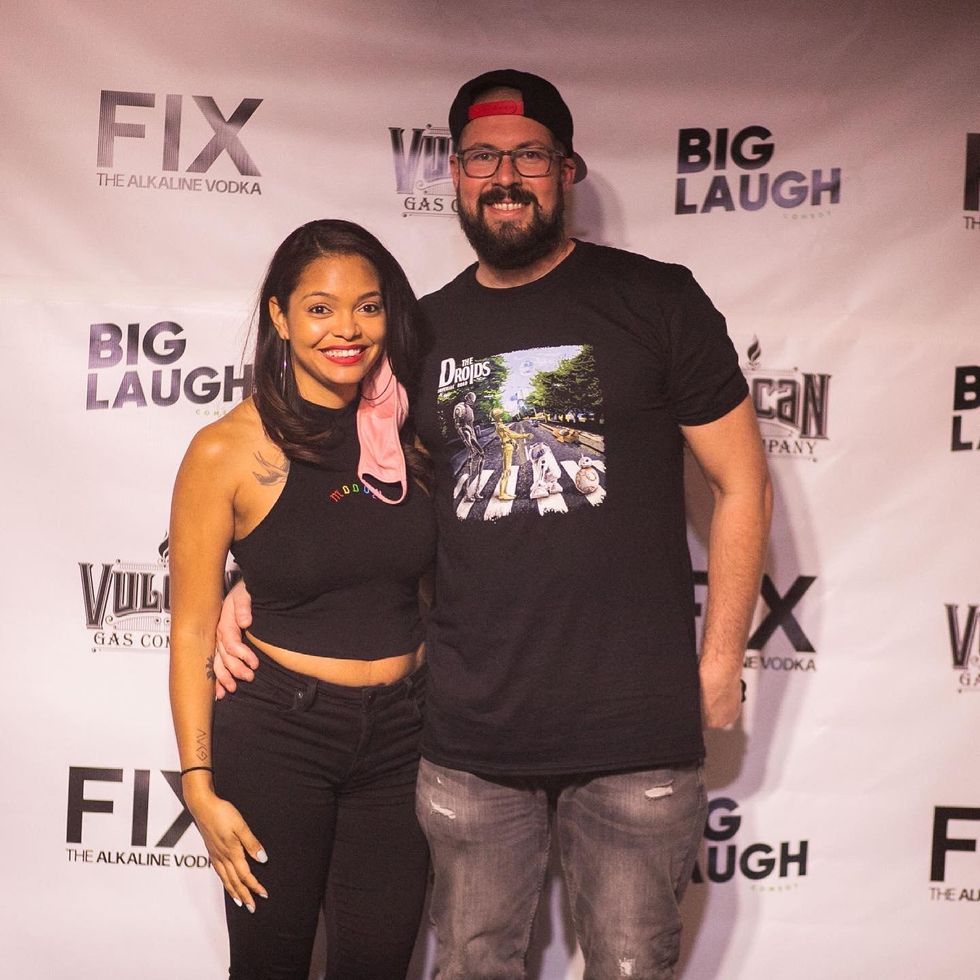 Brandon Lewin is a longtime comedian and CEO of Big Laughs in Austin. (Brandon Lewin)
Some local comedians are not so sure it's all water under the bridge. Pushing political buttons is no substitute for a real act, said Brendan K. O'Grady, co-host of Sure Thing, a weekly comedy showcase running for nine years and counting. Shock jokes are also lazy, said Andrew Murphy, ten-year Austin comedy performer and winner of 2019's Funniest Person in Austin award from Cap City Comedy. "With the comics that I grew up with, no one ever wanted to do normal or generic comedy. If you're not trying new things to be exciting or different, you're not gonna make it here," Murphy said.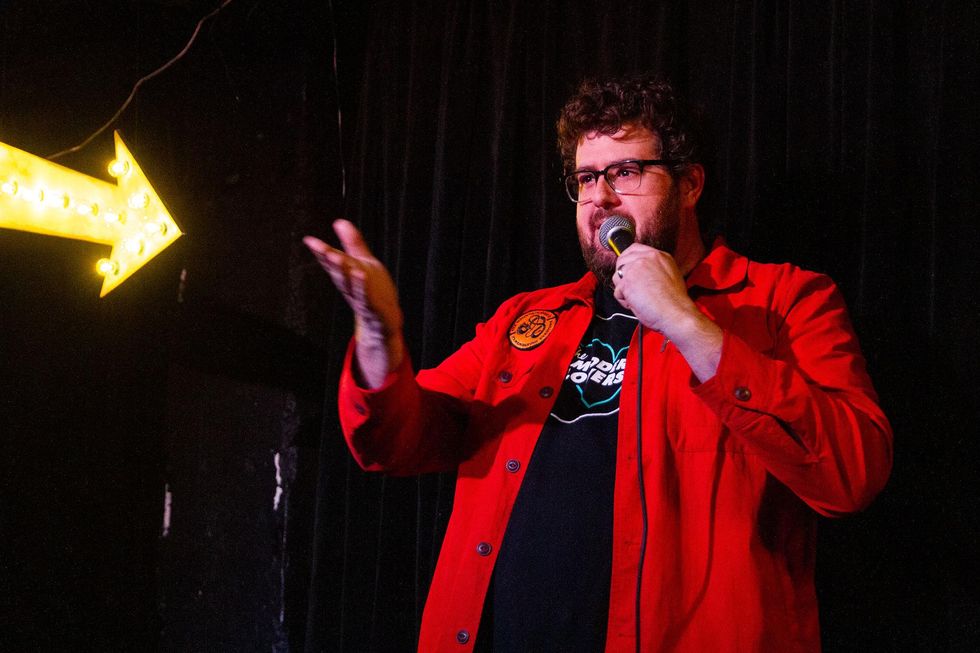 Comic Brendon K O'Grady said shock jokes are lazy and repetitive. (Brendan K O'Grady)
Out-of-town comedians who worked in the early pandemic also raised eyebrows with some locals who felt safety was sacrificed for self-promotion. "We need to have standards for what is acceptable behavior for physical safety in the pandemic and how men treat women," O'Grady said. Fallout Theater, where he co-hosts Sure Thing, plans to cap attendance at half capacity and require proof of vaccination from audiences and performers.
But some locals performed in the early pandemic too, and rule books don't exist for conducting safe pandemic events. "Especially when places were closed, people were opportunistic about doing comedy in bars," Tellez said, including himself among those who worked.
Despite their differences, many believe the two worlds can coexist and find success in the newly-energized scene—so long as they take notes.
Arielle Norman has performed stand-up in Austin since 2015 and co-hosts a monthly heckling-welcome show called Off-Script. Norman is proud to be a woman on too-often male dominated lineups and said her presence means misogynist jokes from unseasoned strangers don't go unchallenged.
She's energized too. "I was so bored here before the pandemic and now with Joe and everyone moving here and all the clubs opening, I don't have to move to L.A. or New York. I can't wait to see what Joe does with the new comedy club."
Devil's advocate and Austin-transplant podcast host Joe Rogan is under fire for spreading misinformation about COVID-19, asserting that vaccinated individuals contributed to the creation of the Delta variant.
On a Friday episode of the Joe Rogan Experience podcast, Rogan took an excerpt from a 2015 study out of context, reading "vaccines that keep hosts alive but still allow transmission could thus allow very virulent strains to circulate in a population," with guest Evan Hafer.
The study was not written about the spread of COVID-19 or even human sickness—it was written about vaccinating chickens against Marek's disease. The statement led the author of the paper, Pennsylvania State professor of biology and entomology Andrew Read, to speak out against the take by calling it "completely wrong" in a Sunday interview with Forbes.
"He's taking very careful work about evolutionary scenarios of the future, and from that, erroneously concluding that people should not be vaccinated now," Read told Forbes. "We're talking about a very different virus and very different vaccines. The details in biology really matter a lot."

Rogan reiterated, as he has said in past podcast episodes, that he believes transmission would slow if individuals put in the effort to become "healthier."
Though Rogan asserted that vaccinated individuals increase the chances of new deadly strains, Read said it is actually the opposite—the vaccine slows transmission and the "vast majority" of replication is coming from unvaccinated individuals.
"You can tell that because the majority of cases in the hospital are unvaccinated individuals," Read said. "That is where the evolutionary action is happening at the moment."
That wasn't the only hot COVID-19 take that Rogan brought to the table; the skeptic host said he believes that cities implementing vaccine passports, like New York City, is "moving one step closer" to a dictatorship and only "dumb" people would accept such restrictions.
This is not the first time Rogan has publicly pushed against what health authorities are telling the public—
in an April episode
, Rogan said he did not believe that people who were young and healthy needed to get a vaccine. He later
retracted his statement
, saying, "I'm not a doctor, I'm a fucking moron."