Get connected with our daily update
It's almost America's birthday and you know what that means—time to celebrate like it's 2019.
With fireworks, corn dog eating contests, cookouts and crawfish boils galore, Austin businesses and restaurants are pulling out all the stops to make up for lost time and get people excited to exercise the freedom to party. Happening all on Sunday, no matter who you spend the holiday with, you're guaranteed to find an event for anyone but here are a few options to get you started.
H-E-B Austin Symphony 4th of July Concert, 8 p.m.
The Austin Symphony Orchestra and the City of Austin are banding together for the return of its Fourth of July concert, putting on a symphonic and patriotic free concert under the stars. Enjoy vendors with food, crafts and gifts, as well as guest speakers who will kick off the event at Auditorium Shores and the Long Center, 701 W. Riverside Drive, ending the evening with a brilliant fireworks display over the expanding skyline.
Hill Country Galleria's Independence Day Festival, 4-10 p.m.
After a year of hiatus, the Hill Country Galleria, 12700 Hill Country Blvd, is resurrecting the annual Independence Day Festival with fun for the whole family. The free event will take place in the shopping center's expansive outdoor space with live local music, more than 75 vendors and kids entertainment in addition to the permanent restaurants and shops on the property. The celebration will conclude with a fireworks show on the lawn at the end of the night.
Fireworks at Dreamland, 10 p.m. 
There is no better place in Central Texas to watch fireworks than Dripping Springs, where the dark sky community provides the perfect blank canvas for Dreamland, 2770 US-290, to put on a vibrant display. The outdoor arts and entertainment center will have all the normal activities, like mini-golf and pickleball, plus locally sourced food and drink specials available from its on-site food trucks and taproom. Fireworks will begin on the main stage at 10 p.m.
Lobster & Friends at Launderette, 12-8 p.m.
If you're looking to break tradition and skip the traditional backyard cookout this year, Launderette, 2115 Holly Street, is holding its third annual Lobster & Friends seafood boil in celebration of Independence Day. For $50 per guest, the menu includes plenty of lobster, shrimp, crab, clams, mussels, sausage, corn, potatoes, sides and festive desserts to nosh on. Tickets must be reserved beforehand either for dine-in or to-go orders.
4th Of July Corn Dog Eating Contest, 4 p.m.
If a little competition is what you're after for America's birthday, Black Sheep Lodge, 2108 S. Lamar Blvd., is exercising the freedom "to eat as damn much as we can, as fast as we can" by hosting its 11th annual corn dog eating contest in addition to food and drink specials for the holiday. Contestants must pay a $20 entrance fee that will earn you a chance for the gold and a commemorative T-shirt, while the "Grand Champeen" will score $250 in cash. Reserve a spot by emailing events@blacksheeplodge.com.
Read more about Fourth of July: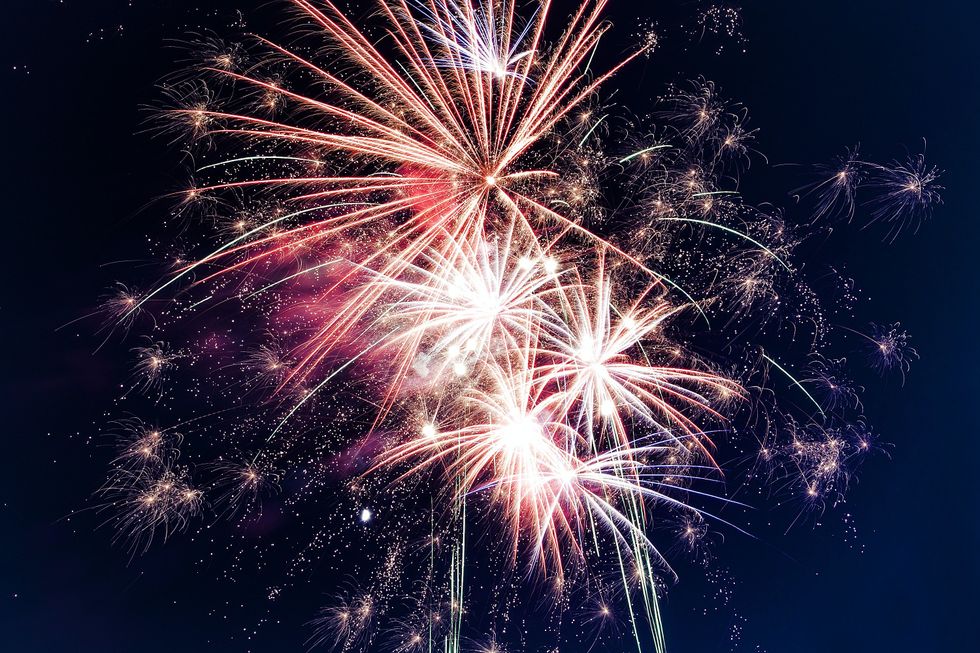 Austin Symphony Orchestra cancels Fourth of July concert and fireworks due to coronavirus concerns
Update 12:25
The concert has been canceled, Fox 7 reports.
Original post:
There is at least one holiday weekend event that hasn't yet been canceled: the Emerald Point Bar & Grill on Lake Travis still plans to have the 90s rapper Vanilla Ice perform on Friday night.
(Tricia Daniel/Shutterstock)
The number of new cases in Texas for Tuesday, 5,489, broke the previous record set over the weekend by more than 1,000 cases, leading Gov. Greg Abbott to renew calls for Texans to stay home and allow local officials to restrict large outdoor gatherings.
"These are just some of the steps Texas will take to contain the rise in COVID-19 cases and hospitalizations," Abbott said in a statement. "As we face this challenge, there is no substitute for personal responsibility. I urge all Texans to do everything in their power to reduce the transmission of the coronavirus by wearing a face mask, washing their hands often, and staying six-feet apart from others."
The order allows mayors and county judges to ban or restrict public gatherings with more than 100 people. Previously, officials could only restrict gatherings of more than 500. Abbott also directed the Texas Health and Human Services Commission to issue stricter emergency rules for health and safety at child care centers, some of which have become hotspots for the viruses spread in the state.
Prior to Tuesday's order, Abbott refrained from giving local officials greater authority to restrict the movement and actions of residents, ignoring calls from the leaders of most large cities in the state.
"We want to make sure everyone reinforces the best safe practices of wearing a mask, hand sanitation, maintaining safe distance, but importantly, because the spread is so rampant right now, there's never a reason for you to have to leave your home unless you need to go out," Abbott said during an interview with KBTX in College Station via satellite. "The safest place for you is at your home."

Abbott hinted at the coming expansion of local authority ahead of the July 4 weekend. He also warned Monday that he might have to reissue restrictions to mitigate the spread of the coronavirus if case counts keep rising. But he did not say what that would entail, nor did he say what the restrictions would look like for the upcoming holiday.
"We did see an increase after Memorial Day," Abbott said. "We saw an increase in the early part of June. We need to make sure that we do have the flexibility to reduce crowds in ways that will reduce the spread of COVID-19."
In the meantime, Abbott mentioned an increasing crackdown on bars violating social distancing and other restrictions intended to fight the viruses spread.
"There are measures that are being taken to make sure that we are immediately responding to this, as well as additional announcements that may be coming later today and later tomorrow, as well as during the course of the week," he told KBTX.
Abbott's comments come as a new set of mask-requirement orders are coming down from the city of Austin and Travis County. The new orders mandate face coverings at businesses for all employees and visitors—the city's order goes a step further in additionally requiring businesses that do not interact with the public to follow the guidelines, too.
(ACL Radio via city of Austin)
Welcome to Austonia, a new, locally owned news company reporting on news, business, and politics in Austin. Like what you see? Sign up for our daily newsletter to get our latest stories in your inbox.
From bikers to bats to blues music, nearly 100 festivals in Austin have either been canceled, rescheduled or are up in the air as pandemic-era social distancing forbids Austinites to do what they do best: party together.
They include myriad events anticipated for later this year, such as:
Blues on the Green summer concerts
25th Annual Republic of Texas Biker Rally
July 4th events
Pecan Street festivals
Batfest
Austin City Limits
March, April and May alone saw the cancelation or postponement of some 30 iconic large events, including:
The Urban Music Festival
Moontower Comedy & Oddity Festival
Austin Reggae Fest
Food + Wine Festival
Weird Homes Tour,
East Austin Studio Tour
Eeyore's Annual Birthday Party
Several are rescheduled for the fall, but even those months are uncertain for large gatherings right now.
"It's just a sad time," said Julie Chase, chief marketing officer for Visit Austin, the city's tourism convention and visitors department. "We are a festival city."
The cancelation the SXSW festival (and its roughly 180 ancillary events) was a bellwether for an event industry decimated by the pandemic restrictions.
Local crews, performers and hospitality workers were hit early and hard and will likely feel the effects the longest, said Sara Henry of the Austin Center for Events, which oversees event permits.
"We're all very conscious of that and wanting to get people back to normal as quickly as possible," Henry said. "But with the understanding that those large events will probably be the last to recover."
Large crowds will be scarce in Austin for a while, agreed Jorge Garcia, founder of Curra's Grill and a member of the board for the Austin Chronicle Hot Sauce Festival, which has not yet confirmed its August dates.
"I don't foresee any of that happening any time soon," Garcia said.
Some organizers are staying optimistic. The ROT Biker Rally is still on for mid-June. Organizers of the city's 30th Annual Gay PRIDE Festival in August said in an April tweet they are "still committed to putting on a safe and joyous" celebration, which drew some 400,000 people last year.

The permit office works daily with organizers, even those whose events are still scheduled, on whether the events can go on, Henry said. The office also consults with health officials, events experts and community leaders about what the "the new normal" might look like for mass gatherings this year and next, she said.
But with ever-shifting information on the virus and the response to it, major decisions are on hold.
"Everybody is waiting to see how things evolve through the public health crisis," Henry said.
As a habitual and enthusiastic festival attendee, Austin resident Anna Kong recognizes the impact on local workers but did find a silver lining: It's easier to stay home when there's nothing to miss out on.
"I usually go to fests to hang out with my friends," Kong said. "We've had camp meetings over Zoom, so it placates it for the time being."