Get connected with our daily update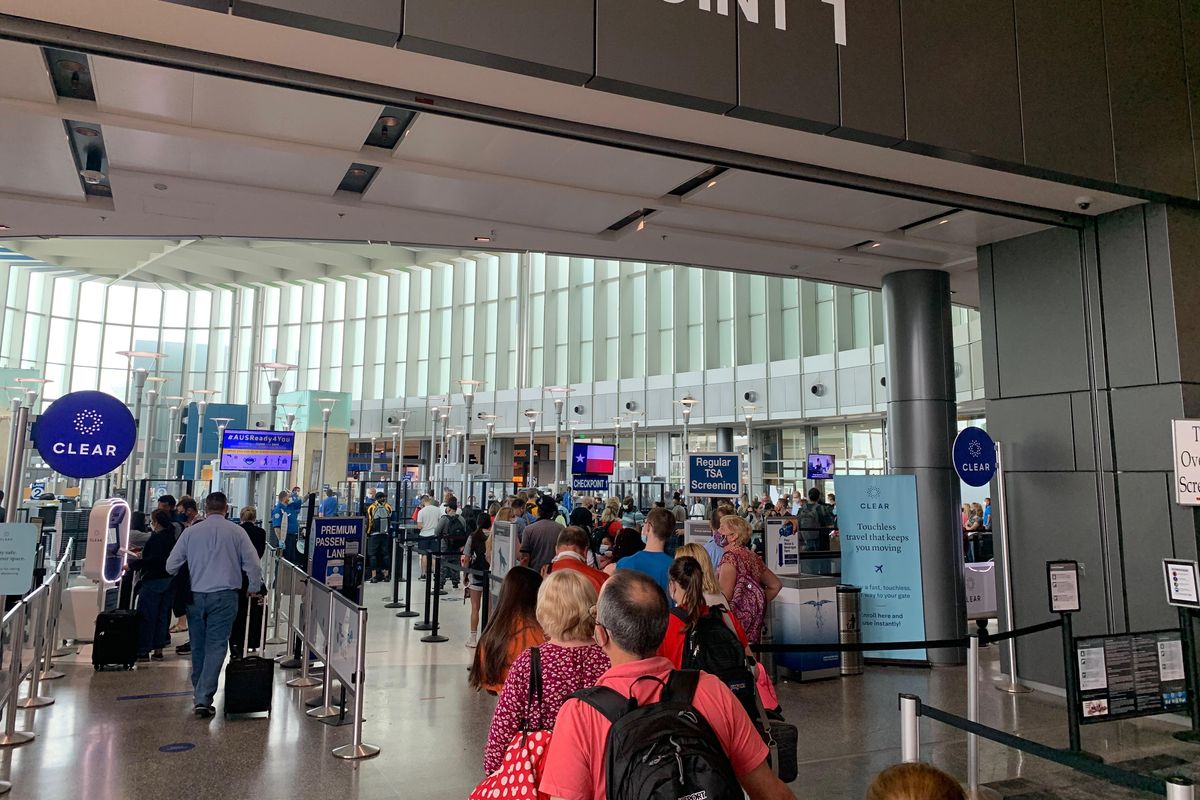 Austin-Bergstrom International Airport saw a steady stream of travelers over Labor Day weekend as leisure travel to and from the city continued at a strong rate despite the now months-long rise in COVID-19 cases, hospitalizations and deaths.
Bryce Dubee, a public information officer at the airport, said that while travel has not reached the record level set in 2019, it has stabilized at 2018 levels—fueled by leisure travelers' desire to see family and friends and vacation. Across the country, airlines have rehired staff while travelers have dealt with airport security and flight delays and steep increases in ticket prices.
"The trend this summer has been a very strong recovery," he said.
That was apparent over Labor Day weekend. From Thursday through Monday, the airport hosted some 110,000 outbound travelers. On Friday, traditionally the busiest day of Labor Day weekend-related travel, more travelers flew out of Austin than did on the same day in 2019.
Though airport officials do not yet have access to complete traveler summer numbers, Dubee said that there is no evidence to indicate an appreciable drop in traveler numbers since the onset of the Delta variant-fueled resurgence of COVID-19 cases that began at the beginning of the summer.
Part of that, Dubee said, is that barriers to international travel are seeing more people travel domestically—with cities like Austin seeing a relative uptick in traffic.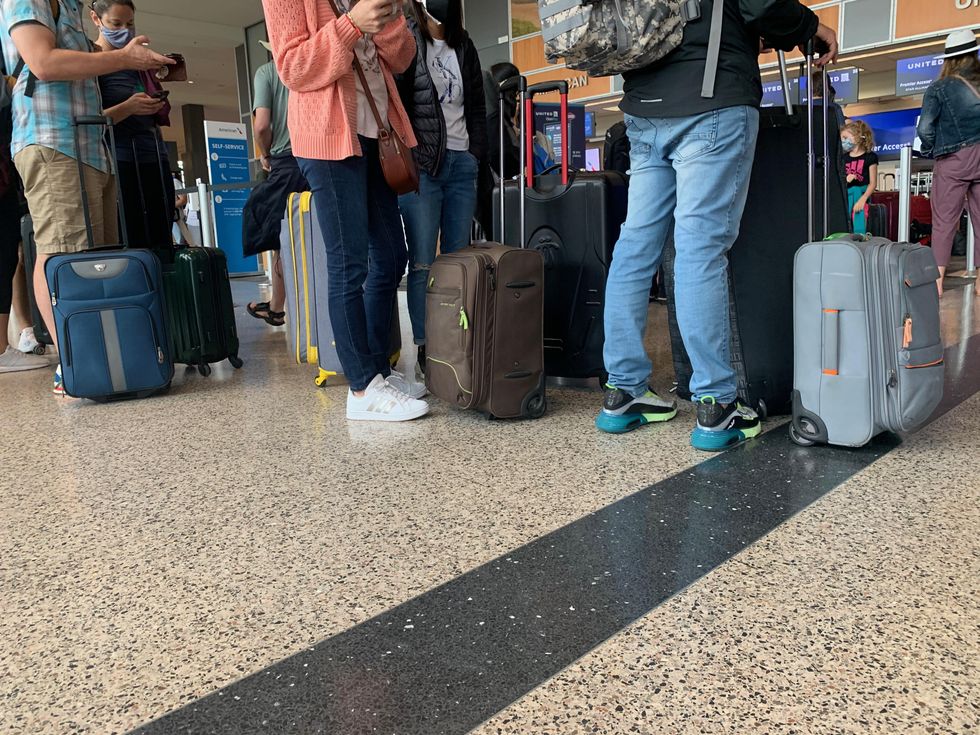 (Claire Partain/Austonia)
But fall could be a harder season for the air travel industry than the summer was.
The rate of leisure travel in the U.S. has recovered at a much faster rate than that of business travel, with many office workers still working from home and business conferences and related events taking place online.
"We're anticipating that there will be a slowdown that happens every calendar year—summer is over, kids go back to school—and with that continued slower recovery on the business traveler front, we do anticipate that the September slowdown might be a bit more significant than it would be if it was a non-COVID year," he said.
The federal mask mandate for U.S. airports will be in place at least through the conclusion of this calendar year, with President Biden set to announce a new multi-pronged plan to combat the spread of COVID-19 as much of the country braces for the potential danger of the winter months.
Dubee said that while airlines do not yet know what the winter holiday season will hold, travelers should do their best to plan ahead as the travel industry continues to grapple with the fallouts of the pandemic.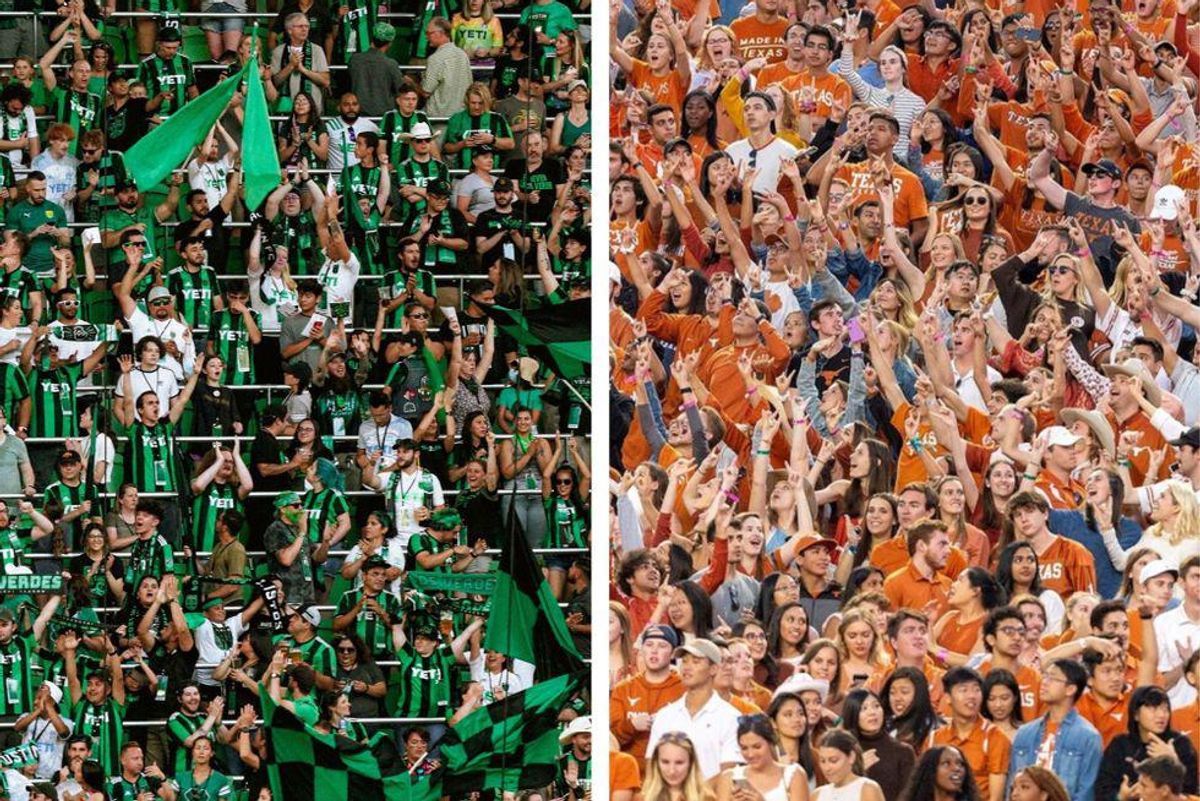 For the first time, Austin FC and Texas football will play on the same day as the Longhorns kick off their season at 3:30 p.m. on Saturday. Luckily, the teams play hours—and countries—apart this Saturday as Austin FC heads to Vancouver, but plenty of fans will stick to tailgates and watch parties right here in the city.
Here's where to watch both games this weekend:
Official Austin FC watch party- 6406 N I-35 Frontage Rd
Hey Austin, y'all ready to show out for the #VERDE & Black?

Come join us for the Official #AustinFC Watch Party this Saturday at @Pluckers, pres. by @Heineken_US. pic.twitter.com/hEN9sVXh5t

— Austin FC (@AustinFC) August 30, 2021
Austin FC fans not looking to book a flight can catch all the action at Austin FC's official watch party. Starting at 4 p.m., Pluckers Wing Bar will host an all-day festivity with wings, beer and the team's Verde Van stocked with all the latest merch.
Austin Anthem watch party- 979 Springdale Rd
Austin FC is heading to Vancouver and we're going to @Eastciders. Join us Saturday at Austin Eastciders Collaboratory for our Watch Party. pic.twitter.com/dR8OKWhWBc

— Austin Anthem (@AustinAnthem) August 31, 2021
Austin FC's original fan club Austin Anthem will head to Vancouver this Saturday, but many more will be here in Austin at the Austin Eastciders Collaboratory. Enjoy some iconic Austin-made cider while watching your favorite team play starting at 6 p.m. Saturday.
30+ Pub Clubs
For a more relaxed viewing experience, check out Austin FC's 30+ Pub Partners to see if your neighborhood bar is on the list.
Texas Tailgating: Bevo Blvd, Smokey's Midway and Longhorn City Limits
#HookEm #Longhorns https://t.co/GIoKQQUHpj Hook 'Em Hangout joins action-packed Bevo Blvd, Smokey's Midway, and Longhorn City Limits pregame experiences

— Texas Longhorns! (@UTLONGHORNSNO1) August 23, 2021
Even if you're not making your way into Texas Memorial Stadium, there's plenty of action in and around the field to keep you entertained. Eat from 10 of Austin's best food trucks at Hook 'Em Hangout on the stadium's northeast side, enjoy carnival-esque activities on Bevo Blvd and Smokey's Midway, and listen to live music including a headline by Shakey Graves all day at Longhorn City Limits.
For maps, details and more, click here.
Texas Tailgarten at Scholz- 1607 San Jacinto
Starting at 10 a.m., UT's biggest and longest-running tailgate will be back in action at Scholz Biergarten. Live music performances will include DEPARTURE ATX, JD Clark & Stuck In the Mud Band with DJ Island Time performing before the game.
KLBJ and 101.X Texas Tailgates-207 W 18th St
We want to tailgate with YOU for every Texas Home Game! 21+up CAN JOIN THE CELEBRATION in the parking lot of the Austin Scottish Rite Theater. @CoorsLight will be hanging with us all season long with Texas-related football fun, beverages, and more! https://t.co/bGH7pa1F0j pic.twitter.com/oMsNXNtlWC

— 93.7 KLBJ FM (@KLBJ937) August 31, 2021
Promo events for two Austin radio stations, KLBJ and 101.X, will take place in the parking lot of the Austin Scottish Rite Theater. Follow @KLBJ937 on Facebook, Twitter, or Instagram to enter and enjoy beverages from Tito's Handmade Vodka, Mike's Hard Lemonade and more starting at 12:30 p.m.
Other tailgate tents
In addition to the high-profile attractions like Bevo Blvd and Longhorn City Limits, plenty of organizations are offering some public admittance into their tailgate tents. Here's a few:
Longhorn Tailgaters will be located at the corner of San Jacinto and 17th Street and are open to the public if you join online.
Horn-Ball Tailgaters, also located at the corner of San Jacinto and 17th Street, offer general admission and season passes on their website.
The Texas Exes tent offers all-you-can-eat-and-drink passes to Texas Exes members and their friends/family for $75 per person. Live music and cocktails are included. Click here for more information.