Get connected with our daily update
As an entry-level job seeker, Aravind Rajadurai hoped to have a developer job lined up once he graduated from Texas State University in December 2020. But he was met with a harsh reality as he found himself still searching for full-time positions in Austin almost 10 months later.
With an abundance of job openings in the tech field, the demand for workers has increased in Austin. According to a report released by the Austin Chamber of Commerce, of the 88,000 job postings during this past August, the largest category was computer and mathematical occupations, evidence of the tech boom.
Even in the peak of the pandemic, the tech industry wasn't hit as hard; Austin tech jobs grew by 3.5% year-over-year in August 2020 while total jobs within the metro fell by 2.9%, according to the Austin Chamber. This comes with the explosion of California-based tech companies like Tesla and TikTok moving to Austin over the past year.
With so many openings, the issue for job seekers in this sector is competition. As tech companies search for quality talent, entry-level and more experienced workers are competing with each other for the same jobs.
"I thought it'd be easy as soon as I graduated because I had my knowledge," said Rajadurai, who has lived in Austin for about 10 years. "But that was not really the case at all."
Starting out can be tough
The need for developers has grown tremendously—software development jobs have increased 73.2% compared to last February, Indeed tells Austonia. But breaking into the tech industry is no easy task for the less experienced.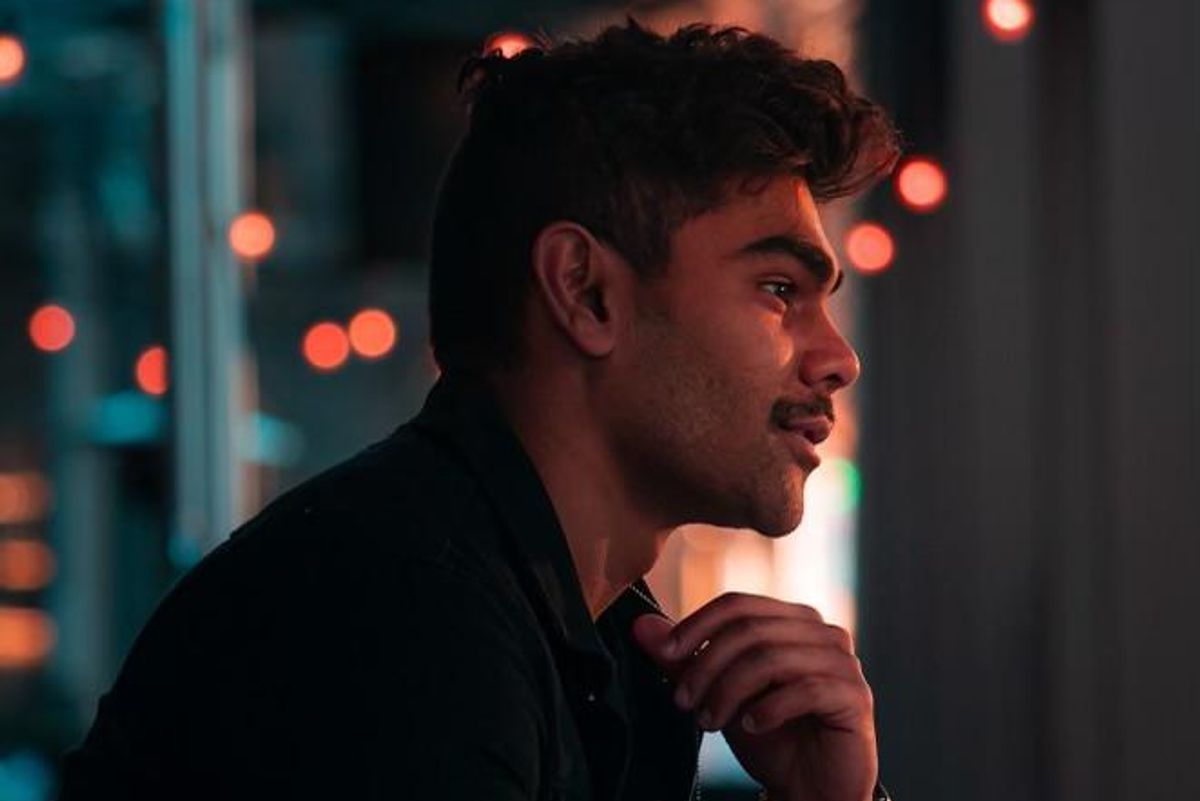 (Aravind Rajadurai)
When he graduated college, Rajadurai was working part-time at Looking Up To You LLC as an office assistant but eventually transitioned to become an office manager.
As he learned of the prerequisite skills for many of the positions he was applying for, he left his full-time position to focus on his job search and fine-tune those necessary skills.
"The problem was that even for an entry-level person, they ask you something that's mid-level," Rajadurai said. "You have to be excellent with what you're doing and show you have more than an entry-level skill set to get in."
With no experience, Rajadurai says it's been tough landing an entry-level position.
The winners of this race
The current tech hiring climate is best for mid-level employees who have the upper hand when it comes to switching to another company.
According to the Chamber report, the average salary for tech workers in Austin increased from approximately $79,591 in August 2020 to $91,600 a year later. It could be a sign companies are willing to pay more for the sake of tech skills and experience.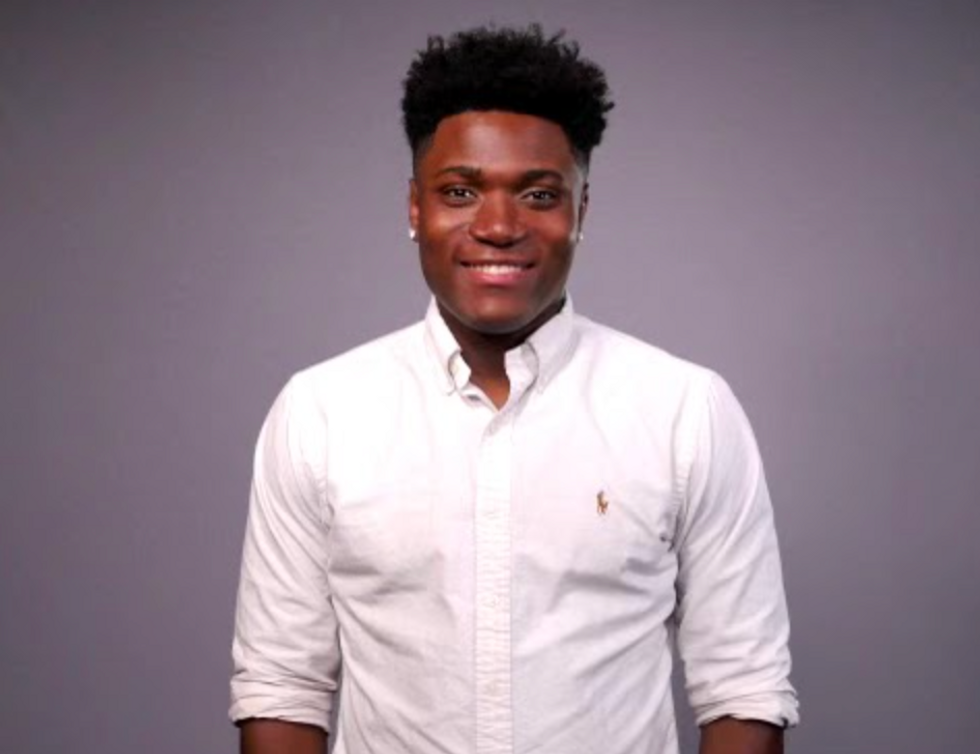 (Leon Johnson)
Leon Johnson, an Austin resident who lives near the Domain, recently left his position as a software engineer at Visa after a little over a year to accept a job offer at Bright Health, a health-tech insurance company in Austin. After working in the tech industry for a year and a half, he wanted to work in a startup tech environment and was able to successfully pursue that goal in terms of both mission and salary preferences.
"I knew what I was looking for. You start to know your worth and realize how much you can be getting paid so you become a little bit pickier," Johnson said. "With the tech industry, especially in Austin, a lot of companies are willing to pay you the money if you ask for it."
The tech labor market also affects employees who are not looking for a new job but instead seeking better benefits or internal policy changes from their current employer.
Over 8,300 Austin employers are in the tech industry with more sure to gravitate to the Hill Country. The tech companies that had the most job listings this summer included IBM, Dell, Apple and Facebook—and experience is the name of the game.
"It's a numbers game, and there are so many engineers who have either more experience than you or a better resume," Johnson said. "It can become discouraging sometimes (but) eventually, you'll get a 'yes.'"
Welcome to the Great Resignation.
Amid a flurry of job openings across the U.S., workers are quitting their jobs en masse.

A record 4 million people quit their jobs in April, according to the U.S. Bureau of Labor Statistics. And many others are considering joining them. In a recent poll of 649 employed workers, Monster found that 95% were considering quitting their jobs and 92% were willing to switch industries for a new role.
just quit my job, best feeling in the world, can i get an amen

— alli perez (@LilAFrxmThePack) July 1, 2021
Going back to the office makes we want to quit my job

— ✚✖ (0%) (@mariatellaa) July 2, 2021
Jacqueline Moreno, 22, quit her sales job in the Austin office of a publicly traded financial advisory firm on June 8, despite not having a new job lined up. She had accepted the position after graduating from Texas State University with a degree in public relations in the early months of the pandemic. But she found the role wasn't a good fit. Her starting position as a contractor routinely had her working 55 to 60 hours a week, and she struggled to make ends meet, applying for food stamps. "I want to be happy and not dread going to work," she said.
Moreno's not alone. Workers are looking for better pay, remote options and work-life balance. Some have built up a financial safety net with stimulus payments that allows them to spend time between jobs. Others are worried about workplace safety given the lingering pandemic, and many are burnt out or acting on pent-up frustrations.
"Combined, higher employee burnout and enhanced financial security is a recipe for increased resignations," Anthony Klotz, an associate professor of management at Texas A&M University, wrote in a May 30 opinion piece for NBC News.
The labor market is also hot, which means workers feel confident they will be able to find a new and better job. "Whenever openings are higher, quits are higher," according to the Peterson Institute for International Economics.

Before quitting, Moreno spent about a month clandestinely applying for jobs in the public relations and communications sector. She has received two offers but turned them down. "There's a lot of job openings," she said. "I just want to make sure I'm finding a really good fit, long term."
Employers in Austin and around the country are offering higher wages and improved benefits in an effort to recruit and retain workers.
Still companies are contending with a worsening labor shortage, which spans industries and predates the pandemic, leaving job seekers with the upper hand. The average lowest wage a worker without a college degree would be willing to accept for a new job is now $61,482, an all-time high, according to the New York Fed's latest labor market survey. For college graduates, the average lowest wage is $86,460.
If unemployed workers flood into the labor market in search of new jobs, it could turn the tide. Texas opted out of all federal unemployment assistance programs on June 26, months earlier than the expected cutoff in early September. Gov. Greg Abbott cited the current number of job openings and potentially fraudulent unemployment claims as reasons for the decision.
But other factors could prolong the Great Resignation, including COVID fears and care responsibilities. A recent study by the Austin-based jobs site Indeed found that only 10% of people between 18 and 64 were urgently searching for work. And job searches remain muted in around half of the states that opted out of federal unemployment benefits.
Moreno is optimistic about the Austin jobs market. "I have no regrets at all," she said of quitting. "I think I made the right decision completely."
Austin's tech labor market, which was already tight heading into the pandemic, has grown even more so as California companies flock to the capital city. It's made for a situation where employers are listening more to worker demands to fill job openings.
For tech workers—like their counterparts in the restaurant, construction and myriad other industries facing labor shortages—that means setting their own terms, such as remote work options and higher wages.
"We are living in times when the employees are the king or the queen," said Angelos Angelou, founder and CEO of local consulting firm AngelouEconomics.
A talent center
Lured by the state's business-friendly climate and Austin's growing tech scene, California-based companies such as Tesla, Oracle and TikTok built factories, relocated headquarters and opened offices. Austin posted the highest tech migration rate of any city in the country between May 2020 and April 2021, according to a recent LinkedIn analysis.
With so many new resident businesses, job growth kept pace. The Austin metro ranked fourth nationally for tech job postings growth in March, according to Silicon Valley Bank's latest State of the Markets report.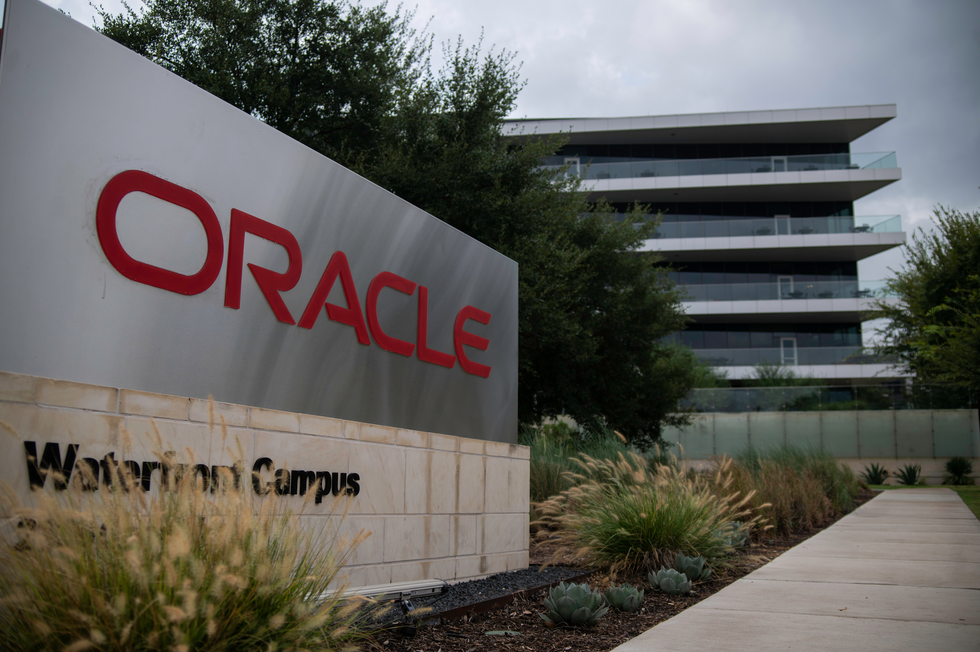 Oracle relocated its headquarters to the Riverside location in Austin. (Shutterstock)
To fill these roles, local tech companies have to look beyond the city limits. Employers poach from their competitors, recruit recent graduates from area colleges and universities or look to the national labor market for talent, Angelou said.

Summer Salazar, director of employer engagement for Texas Career Engagement at the University of Texas at Austin, has seen a huge influx in tech sector job postings on the university's job board in recent months. "We feel that demand," she said.
An employee's market
Jaime Cabrera, 28, recently graduated from the LBJ School of Public Affairs at the University of Texas at Austin and is looking for a policy job at a social media company. He didn't go into his job search with plans to stay in Austin but has seen various intriguing openings, citing Bumble, Lyft and TikTok. "I didn't realize how many companies are here," he said.
The tech labor market also affects employees who are not looking for a new job but instead seeking better benefits or internal policy changes from their current employer.
Lawrence Humphrey, 27, lives in North Austin and works for IBM. Shortly after the murder of George Floyd, he co-founded Tech Can Do Better, which advocates for a more equitable industry. Since then, there has been little quantitative progress in terms of more diverse hiring and other metrics. But there has been a qualitative shift. "Issues around racial equity are just far more of a priority from the perspective of the employees, so therefore it's far more of a priority for the employers," he said.
OG vs. newcomers

Although the pandemic has accelerated the growth of Austin's tech industry, the industry was already established. In the latter half of the 20th century, the city attracted big tech originators like IBM because of its enticingly low labor cost and spawned homegrown giants like Dell—trends that continue today.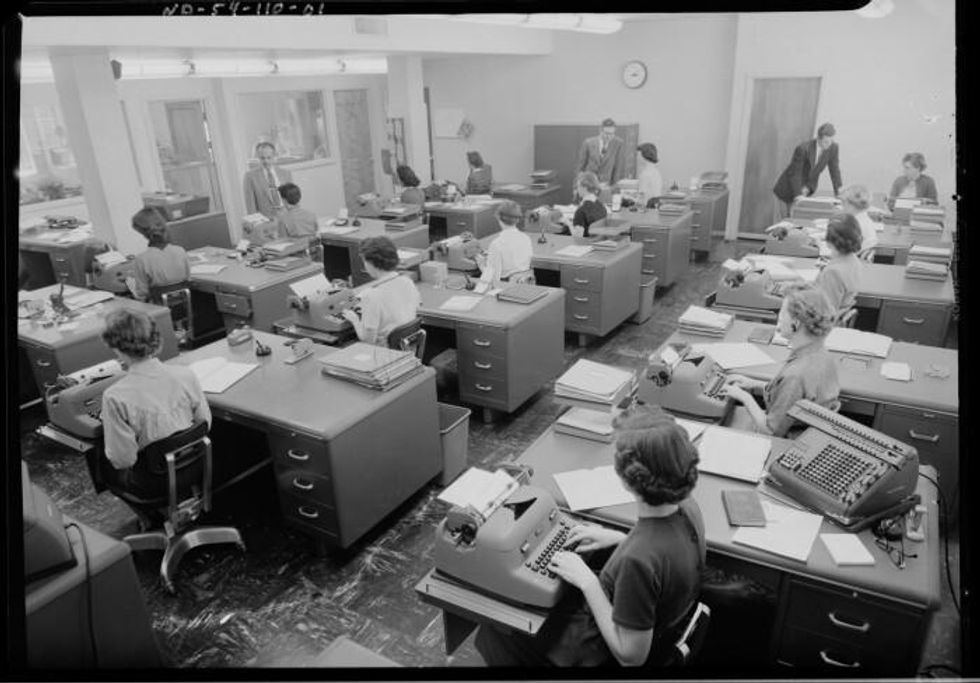 A 1954 image of IBM's Austin office. (Austin History Center)
The arrival of Silicon Valley tech transplants in other growing tech cities, such as Miami, has led to tension with the so-called old guard. In Austin, such competition has forced companies to compete for workers, leading to more mobility.

"When I was in the job market, my god if you changed jobs often—and often meant once every three years—you were considered a traitor," said Angelou, who headed the Austin Chamber's economic development department from 1984 through 1995, helping to recruit companies such as IBM, Apple and Samsung to town. "Now people change jobs every nine months, it appears, and that is considered a plus."
(Buc-ee's/Twitter)
It seems almost every business has a "Now Hiring" sign plastered on the front door, but not Texas' beloved Buc-ee's, the world record holder for largest convenience store, which has become a sensation on social media for retaining its workforce.
The jobs report from the Biden administration, which was released last week, showed that job growth for April was lower than expected, only rising by 266,000 people, leading economists to declare a workforce shortage across multiple sectors. Austinites can see businesses with "Now Hiring" signs just by going to their local coffee shop, gas station and retail store.
General counsel for Buc-ee's Jeff Nadalo said contrary to other businesses in the area, the beaver-themed convenience store has a huge amount of people who want to work at the company.
"With our very robust benefits plan and pay structure, we're still able to encourage and get applicants to apply," Nadalo told Austonia.
I've been to 4 different Buc-ees locations across the last 6 months. Not a single one had a sign lamenting that "nobody wants to work anymore" or apologizing for short staffing. https://t.co/6hBhtbbb5I
— Officially outlived Jesus (@theramblerouser) May 11, 2021
The benefits?

Buc-ee's proudly starts employees at just less than double the minimum wage at $14, advertises 40+ hour work weeks, offers three weeks of paid time off and has 401k and complete healthcare options for employees. Buc-ee's advertises the competitive compensation openly, displayed on signs at store locations.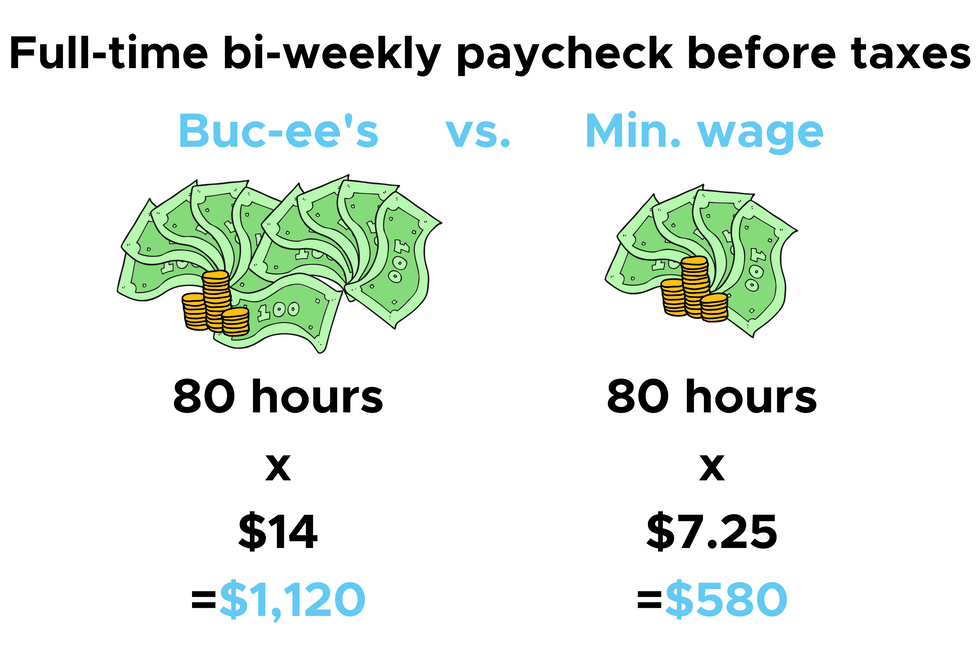 Nadalo said Buc-ee's strives to create a positive work environment and promote from within, meaning applicants can join at an entry-level position and eventually be promoted to a management or corporate role.

"Our motto is 'Clean, friendly and in-stock,' and in order for us to satisfy each of those, we have to look at a business plan that serves the customer but also provides an environment where employees are going to want to stay and will encourage career development," Nadalo said.
Between the rising cost of living in Austin, income resulting from pandemic unemployment, changes in life plans and raising awareness over the treatment of employees in the workplace, people are looking for jobs that suit their needs.

Nadalo said there is one more reason people might be applying to Buc-ee's.
"We have really good barbecue."