Get connected with our daily update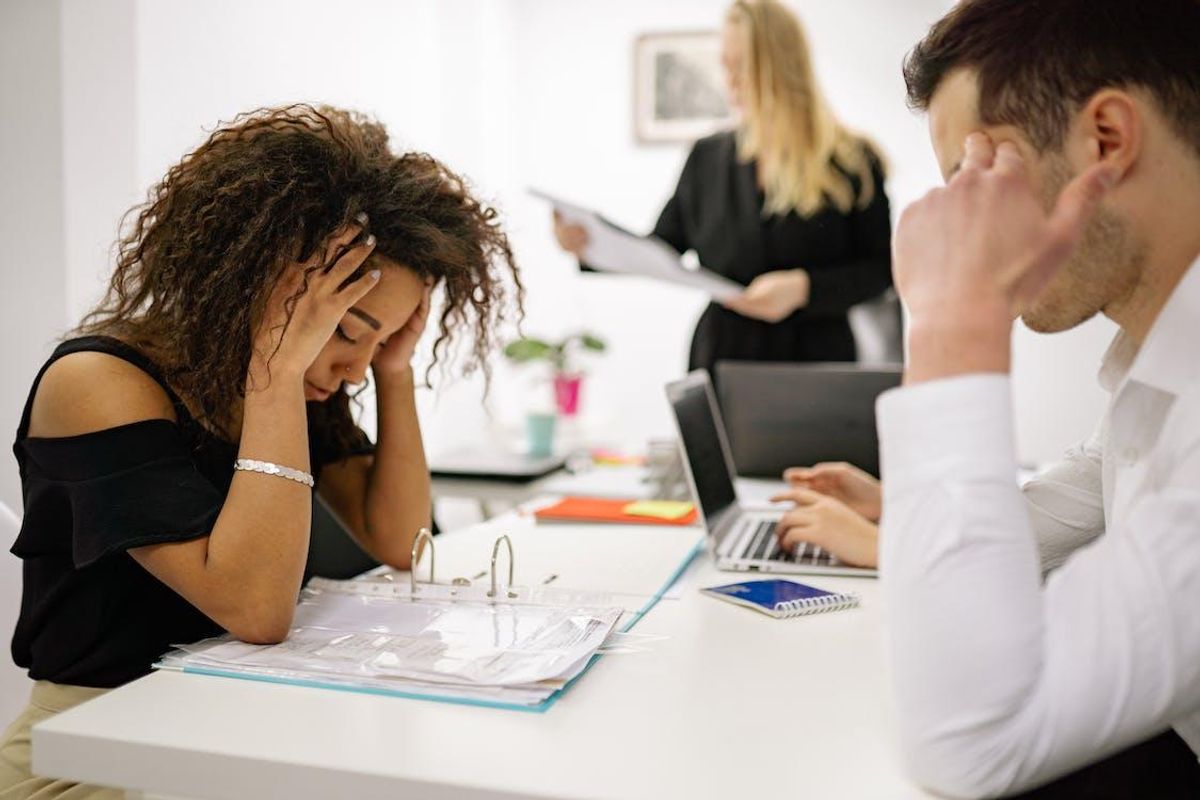 "Quiet quitting" first emerged on Tiktok in July to describe workers who choose not to go above and beyond at work. Some say the term demonizes employees who simply strive for a good work-life balance, while others have slammed down on the "slackers," often Gen Zers, who promote the trend.
Enter "quiet firing." At its surface, it seems to be employers' counterpart to the trend. Both are very old ideas with new names, but "quiet firing" can often have more dire consequences.

Per The Washington Post, "quiet firing" can look like being "nudged out by a manager who can't fire you but is making your job increasingly unpleasant and unrewarding." It may mean years without a promotion or a raise, fewer hours, or a lack of praise even when you feel like your performance hasn't dipped.
For some employers, the "quiet quitting" recipe is simple: reward your most productive employees while gently nudging others in a different direction.
For others, it's an unwelcome punishment for employees who don't make work their sole priority in life.
Unsurprisingly, these two trends seem to be intertwined. In the remote era, lines were increasingly blurred between work and home life. Employee burnout, "quiet quitting's" predecessor, earned the spotlight as many found that going above and beyond didn't result in increased job satisfaction or rewards.
To put it simply, many workers aren't happy. A Gallup poll showed that up to 50% of employees are engaging in a form of "quiet quitting," and job dissatisfaction has shown itself in Austin through the unionization and worker strikes of several local businesses.
While both terms are nothing new, they do seem to point to a larger toxicity within modern workplace culture.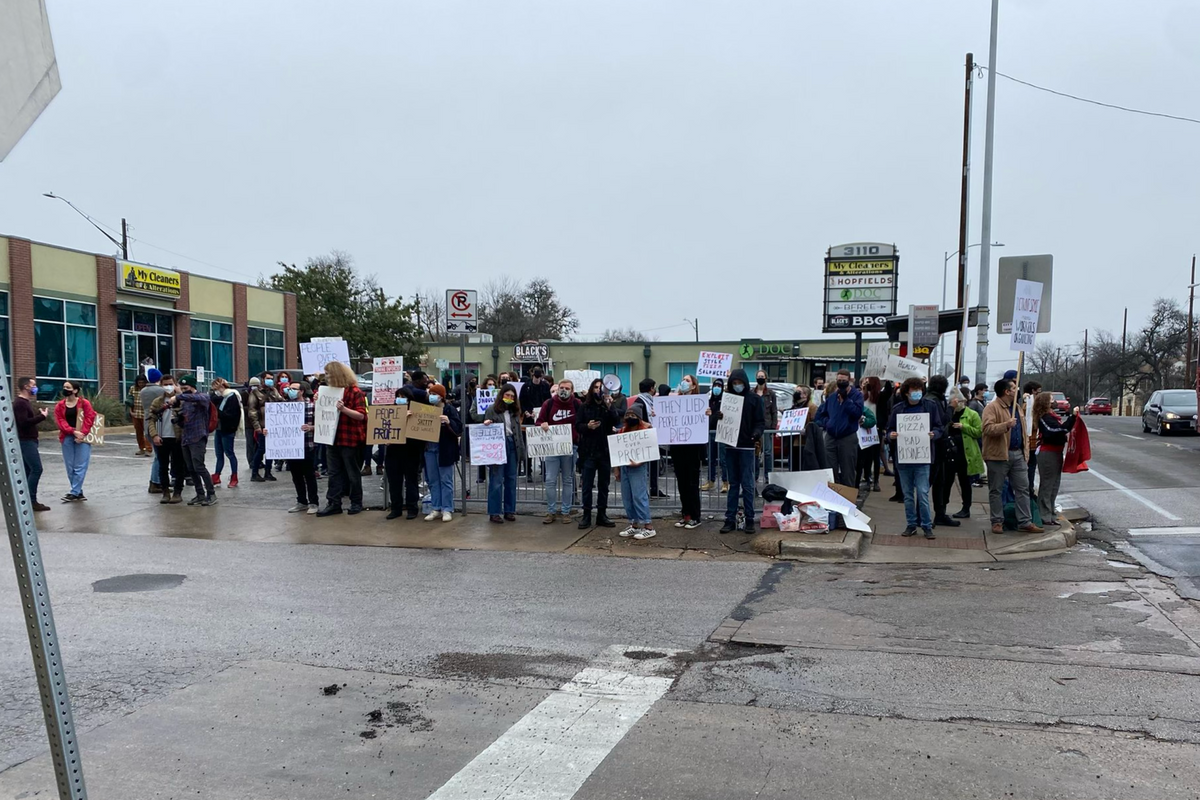 Workers at Detroit-style Austin pizza chain Via 313 are protesting for sick pay and better working conditions at the restaurant's North Campus location at noon on Saturday after upper management suspended four employees indefinitely earlier this week.
The protest comes after 46 Via 313 employees from multiple Austin locations signed a petition asking for paid sick days and more COVID-safe procedures as many workers contracted the virus at the onset of the omicron surge, employee Joshua Gamboa told Austonia.
Gamboa said nine workers at his location alone got COVID in the last two weeks, leaving the restaurant understaffed and the remaining employees exhausted. Eventually, the company was forced to limit the store's hours, which Gamboa says was not for promoting safety, but because they didn't have enough workers to stay open.
Gamboa said no other safety precautions were made, including social distancing, even as Austin Public Health's risk recommendations reached their highest level. Management never contacted employees when their coworkers got sick, and even full-time workers were not given sick pay when they got infected.
"Most of all, they didn't give us any sick pay, not even to the people who have been working full-time for years plus," Gamboa said. "So we got the idea that if we sign a petition and get a lot people together then they would listen to us."
But that wasn't quite the case. Gamboa said seven employees showed company higher-ups the petition and were asked to speak in a smaller group, but employees refused and would only sit down with all seven present. Via 313 vice president of operations Michelle Dahse, who the group spoke with,, read over the petition.
To increase visibility, employees emailed the petition, which included the company name, to the Via 313 president of operations, Dahse and multiple store managers. Gamboa said the corporation sent a cease-and-desist order and said they would launch an investigation on the grounds of copyright infringement.
By Thursday, Gamboa said upper-level management confronted four of the seven employees who originally presented the petition mid-shift and said they were suspended without pay until the investigation ends.
"From what I know, the legal team there used it as a way to say we were damaging the company's reputation by sending this email out," Gamboa said. "I really think they're just using the email as an excuse. They don't actually care about it, they're just using it to fire whoever sent the petition in person to send a message to us."
In a statement sent to Austonia, Via 313 said the four employees were suspended "pending an internal investigation."
"We are aware of certain employee allegations and take their concerns seriously," Via 313 said. "No employees have been suspended or terminated for signing a petition that was submitted to the company. The employees who were suspended allegedly created a hostile work environment that made others feel unsafe."
Employees were shocked with the suspensions, in part because their last petition, which asked to not use facial-recognition software to clock into work a few months back, proved successful. But Gamboa said Via 313, which has recently expanded from its five locations in Austin to a Utah location and is planning several more, has been progressively ramping up into a more corporate environment.
"If you're working service at this point, you're basically guaranteed to get COVID. It's ridiculous," Gamboa said. "People across the service industry are just going to have to expect that, (but) we simply want sick pay. Some people can't afford to miss work."
Outraged employees first thought to stage a sick-out, but instead opted for planning a protest instead. News of the upcoming protest got quick attention on social media, with journalists and council candidate Zohaib Qadri posting the event information.
I stand in solidarity with Via 313 workers protesting for better labor practices.

We must support their demands for paid sick leave, COVID protocols, and hazard pay. Every workplace in District 9 and beyond must be a safe and empowering place for all! https://t.co/BNXJei0Dyg
— Zohaib Qadri (@ZoForAustin) January 7, 2022
At the protest, employees said they will ask for "sick pay, hazard pay and basic COVID safety measures."
"Instead of agreeing to implement basic safety measures, management has retaliated by suspending workers. We need your support!" The protest flyer reads.
Via313 workers asked for sick pay and basic safety measures on the job - in retaliation, management suspended them.

Join us tomorrow to stand in solidarity with the workers as they fight for the conditions they deserve. 3016 Guadalupe @ 12pm! pic.twitter.com/FTWyk5xml8
— Austin DSA (@austin_DSA) January 7, 2022
Gamboa and other Via 313 employees said they're surprised at the support and will be grateful for anyone who shows up to the protest. They ask that nobody boycott any of the Via 313 locations because it could harm the restaurant's lower level workers.
"We're just hoping people hear our story and just how messed up and illegally they treated us," Gamboa said.
Meanwhile, Via 313 said they were reviewing the company's paid sick leave policies.
"Like everyone, this is our first time facing a global pandemic, and with that comes a learning curve," the company's statement reads. "We are not only reviewing our safety protocols daily but are also working with management to review our paid sick leave policy and other allowances that further support and protect our employees."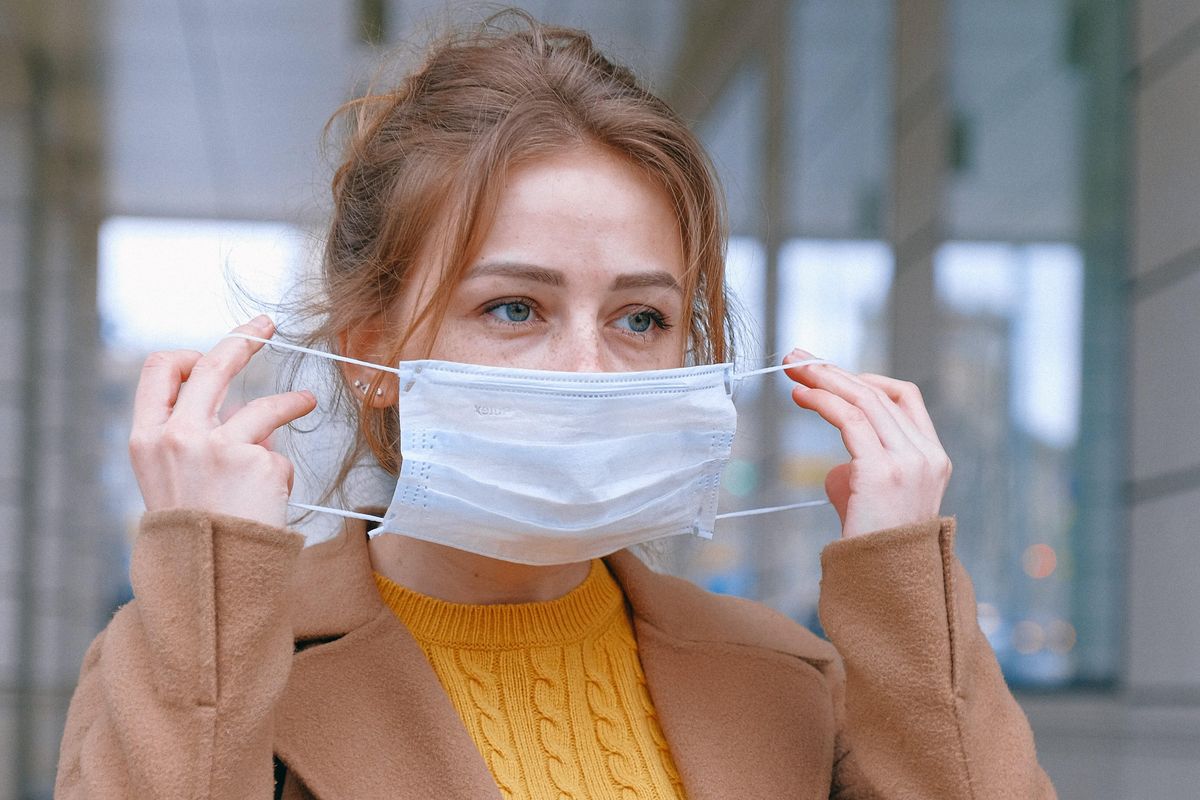 Citing concern with Austin-area hospitals, a short-staffed labor force and the highest COVID transmission rate to date, Austin Public Health announced it would reinstate Stage 5 COVID risk-based guidelines on Thursday.
The city last imposed its highest risk-based guidelines in August 2021, when patients filled hospitals and ICU beds to capacity in the third surge triggered by the delta variant.
Under Stage 5, the city recommends that anyone—regardless of vaccination status—wear a mask for all indoor and outdoor gatherings. APH advises the unvaccinated and high-risk vaccinated residents to not gather with anyone outside of their household, limit travel unless it is essential and use curbside or delivery shopping options.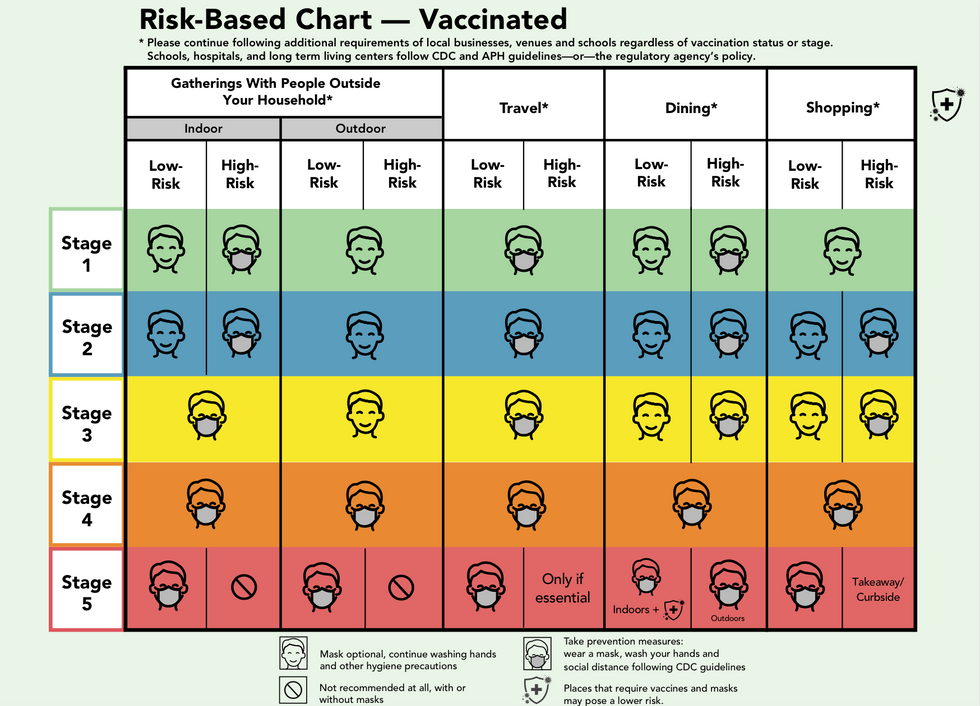 (Austin Public Health)
APH prepared to raise its guidelines after COVID hospitalizations jumped by 135% in the week prior to Tuesday, increasing from a seven-day moving average of 28 hospitalizations to 66. On Tuesday, as residents saw many of their friends, relatives and themselves test positive, the city announced that more than 30% of tests at Austin-Travis County testing centers came back positive in the previous week.
In a Thursday press conference, APH Health Authority Dr. Desmar Walkes, Travis County Judge Andy Brown and Austin Mayor Steve Adler stressed the need to be cautious and mask up to bring COVID levels back down.
"We haven't witnessed the behavior changes necessary to curtail the recent spike and many people are experiencing an asymptomatic mild disease, but with the rapid spread of omicron, which will continue to find the vulnerable, we have been seeing more stress in our healthcare system and it's impacting our community's infrastructure," Walkes said. "Without action our communities stand to lose more than they already have."
The CDC shortened its isolation guidelines from 10 to 5 days for those who test positive and aren't symptomatic last week. But with a new record of over 1 million new COVID cases in the U.S. Monday, several industries on the local and national level are still experiencing staffing shortages and even closures.
Omicron became the dominant strain in Texas in under a month and accounted for 95% of cases tested by the CDC last week. It's a highly contagious strain—APH estimates that 3-4% of Austin residents are currently infected—but unlike delta, omicron appears to give mostly milder cases to patients.
There are 385 people hospitalized with COVID in Austin as of Wednesday, though a large percentage were hospitalized for other reasons and later tested positive. Austin-area ICUs have 69 beds filled with COVID patients, lower than a record of 196 in mid-August.