Get connected with our daily update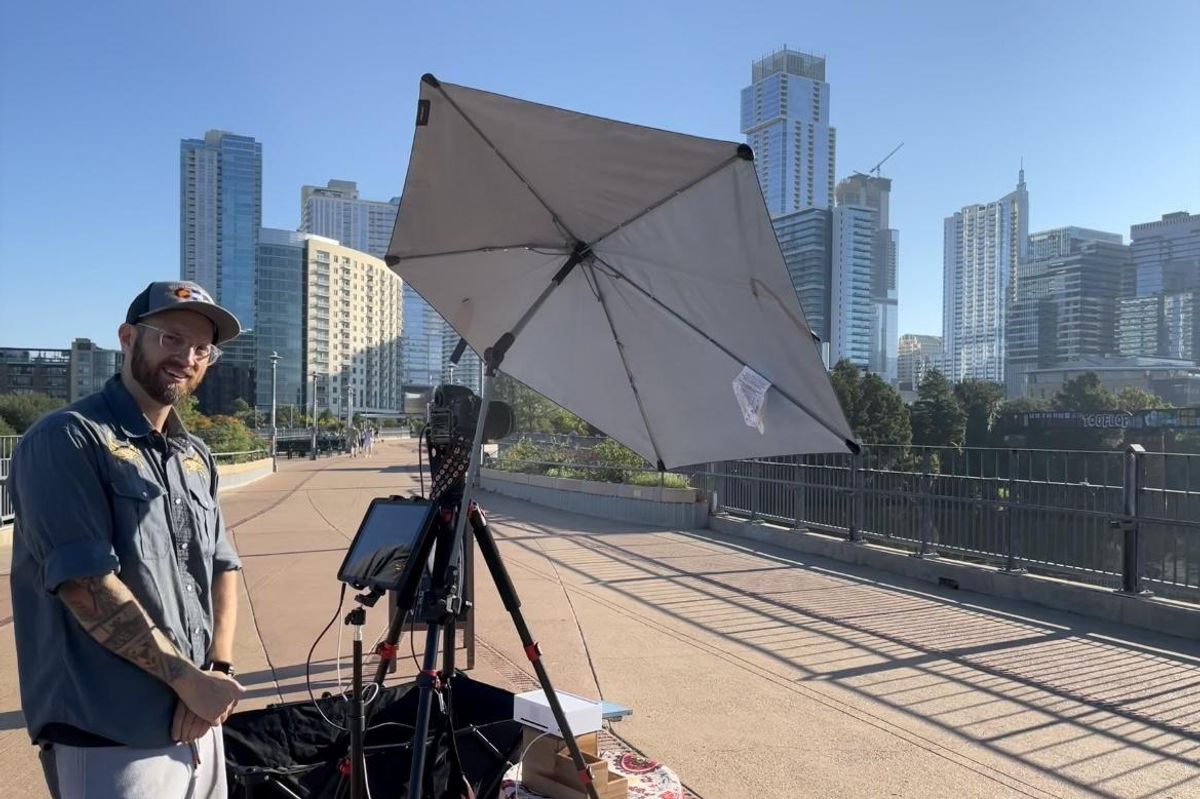 Nicklaus Pereksta says he loves photographing enthusiastic people, and it's why his latest gig offering pictures to people out on Lady Bird Lake's hike and bike trail is going smoothly. He sets up his gear on the Pfluger pedestrian bridge and puts out a sign: Photos, $10.
"Overwhelmingly, this has been a really positive experience," Pereksta said. "I get excited when I wake up in the morning and I can't wait to go to work."
Bikers and joggers are excited about it too. On the pedestrian bridge leading to downtown Thursday morning, a man on an e-bike rode up and posed, wanting more photos.
"I posted the last pictures on Instagram and people loved it. They asked, 'where is this guy?'" the biker told Pereksta. Bashfully, Pereksta, who also photographs landscapes and at weddings and other events, said he was happy to hear that.
Pereksta started these photos about a month ago, after the strenuous runs required in his valet job started causing pain in his legs. And though he has a passion for photography, he wasn't so sure when he started working independently if it would work out.
He felt uncertain about the demand for it and was also worried about having lots of expensive equipment out in the open.
"Then like the first day was nothing but high praise and people are like, this is so awesome. This is great. I've never seen anything like this before. I was like, Wow, this was really good, like positive turnout. So I got encouraged."
Now, he wants to expand and is thinking of contacting the Mueller Farmers Market about how to become a vendor. Still, he'll carry a connection to photographing on the bridge since the word bridge is related to his last name.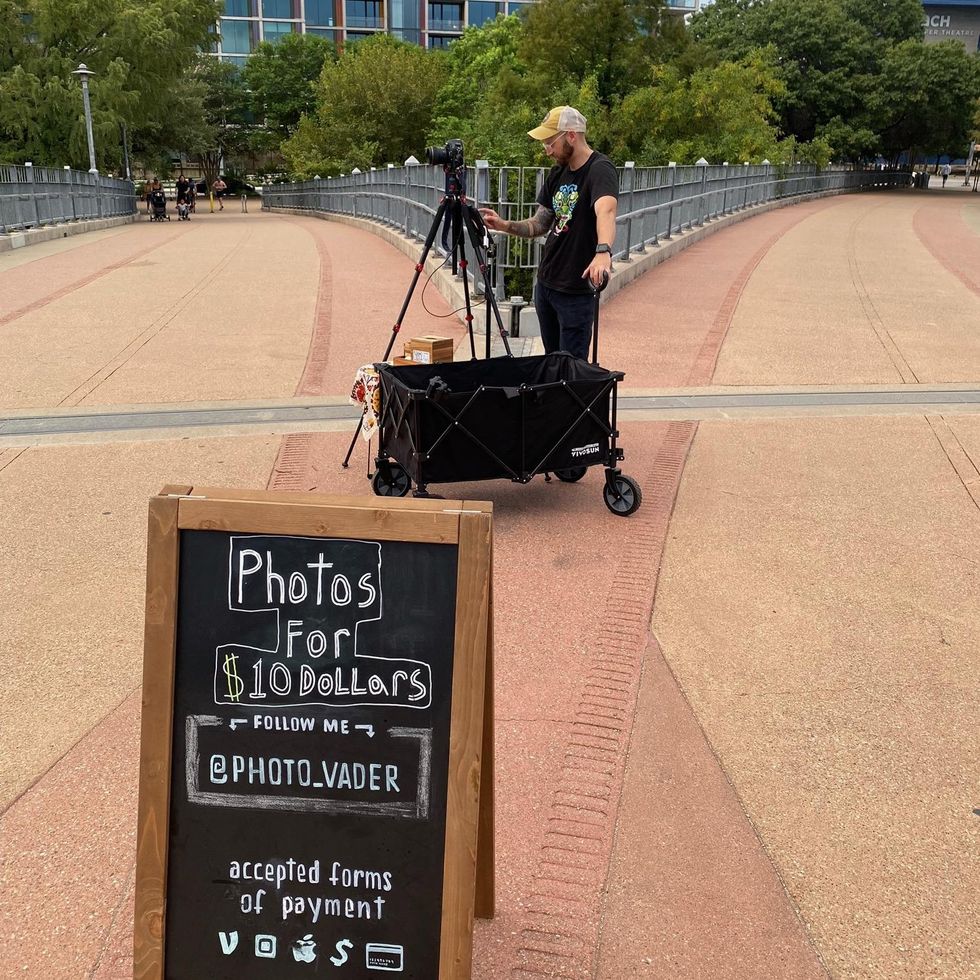 (Dewey C.)
"It's a name my great, great, great grandfather came up with when he was marrying somebody. It's actually quite a romantic name. It means a joining of two bridges," Pereksta said. "So, I thought it was ironic that I'm set up on a bridge. I'm kind of representing my last name right now."
Austonia talked to Pereksta about life in Austin, where he's lived for eight years after living in Boston doing band photography.
What was your first experience with Austin?
I came here to visit some friends and they took me to Barbarella. So we went to Barbarella and I was like, 'wow, this place is great.' And then the restaurants and the food and going to Barton Springs. I was like, 'this is amazing.' Because there's nothing like that in Boston. If you want to go to a natural spring, you got to go to New Hampshire. There's no pools in the city at all. So there's lots of swimming out here.
What do you like best about Austin?
You go to any little quiet bar and there's a band playing that should be like onstage for a sold out show. Yeah, they're playing to 10 people, right? Like, one of the best bands ever and they're playing for 10 people, right? And just little magic moments like that are pretty fun. You just run into little random weird things.
What do you think makes Austin different from other places?
There's no fall.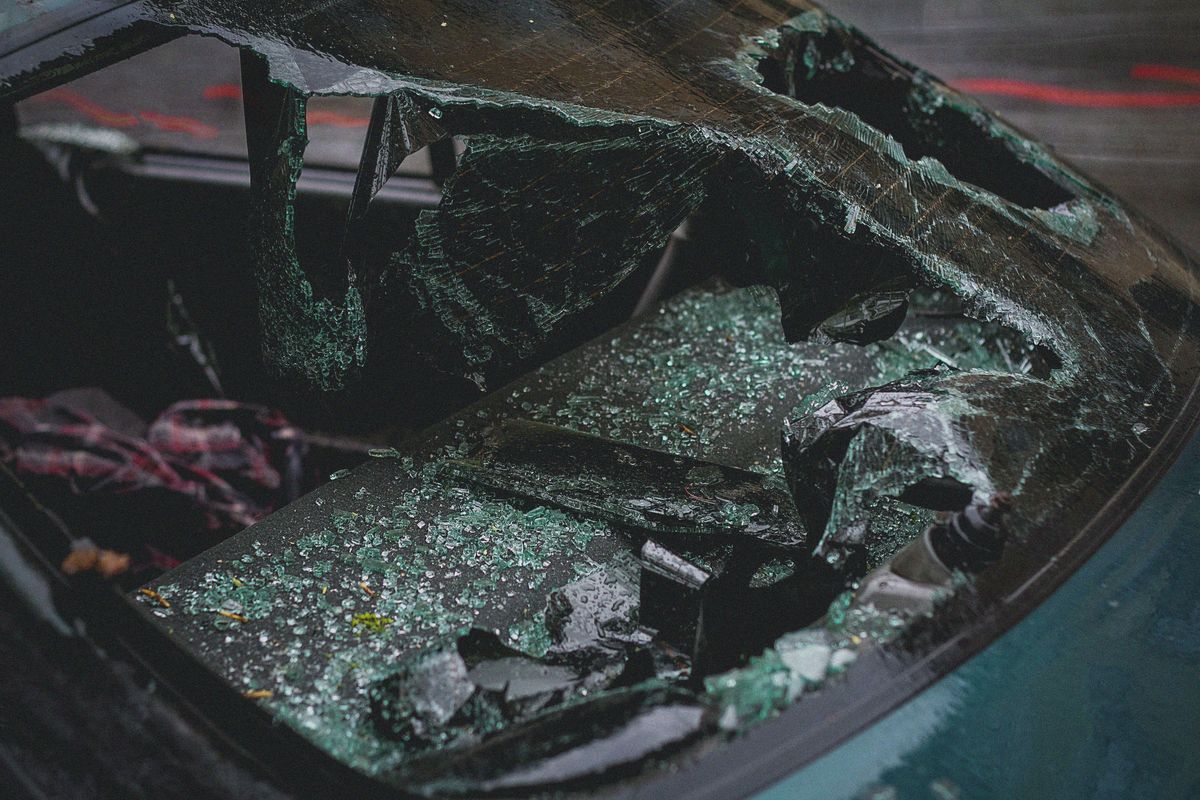 On a Friday afternoon in late August, Paymahn Moussavi and his partner went on a bike ride at Lady Bird Lake and noticed glass on the ground when they returned to their parking spot.
As they got closer to his partner's car, Moussavi saw that the window had been smashed and some of their personal items were stolen, like Moussavi's checkbook, car keys and thyroid medication with his home address on it.
"It's like a violation on so many different levels," Moussavi said.
In Austin, crime against property—which includes those such as robbery, burglary and auto theft—is slightly lower compared to this time last year, according to the Austin PD's most recently released statistics. But those crimes still totaled 3,760, and Moussavi is one of the many who have dealt with the fallout of such incidents.
With his only set of car keys gone, Moussavi spent over $700 on two replacements. And though he called his bank to put a hold on his account, then later closed it, a fraudulent check went through anyway in the amount of $4,500. Plus, repairing damages to the car cost $450.
Billy Simoneaux, the sergeant for auto theft with the Austin Police Department, talked about some of the best ways to prevent an experience like this. Simoneaux said that it's helpful to take all of your belongings, including keys and fobs, out of the vehicle.
"(Burglary of vehicle) and Auto Thefts are a crime of opportunity. If there's nothing to take/steal then they often move on to another vehicle," Simoneaux said via email. "It's important to lock your vehicles as well. Often criminals go around simply checking door handles and enter once they find an open target. There are times in which entry is forced into locked cars but this is less seldom due to the risk of being noticed by another."
Moussavi agrees that it's important to not leave anything in your vehicle.
"What they tell you about not leaving anything in sight, that's true," Moussavi said. "But it's just hard…you go from work to go somewhere. Like, how do you not have a bag? It just depends on what you're doing."
And ultimately, he feels frustrated that whoever committed the crime was successful with taking $4,500 since he finds that it motivates them to carry on with stealing from cars.
"Even though my money is reimbursed, it enables them to continue," Moussavi said. "That's a good score for somebody."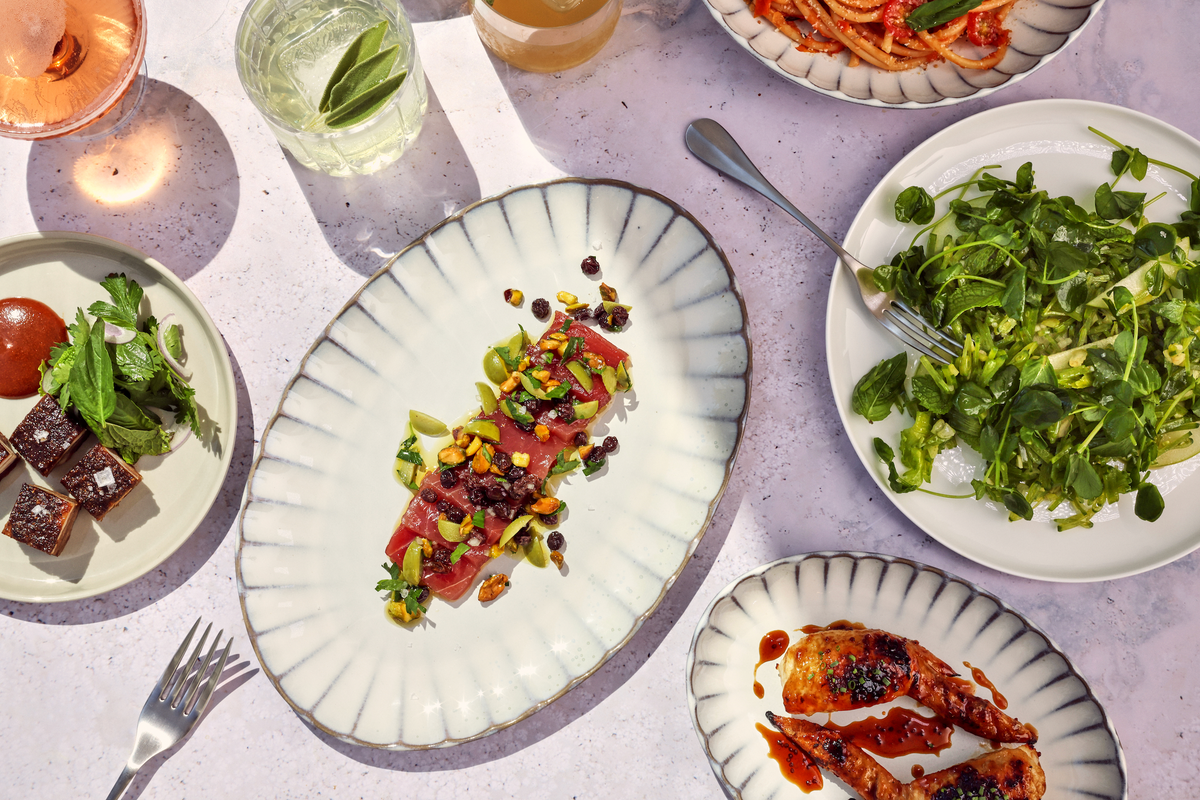 West Riverside is getting a lavish new restaurant offering coastal European food and rooftop views of Lady Bird Lake.
Located on the roof of The Loren residences at Lady Bird Lake, Nido, 1211 W. Riverside Dr., is slated to open in late September 2022 and serve breakfast, lunch, brunch, dinner and a full bar.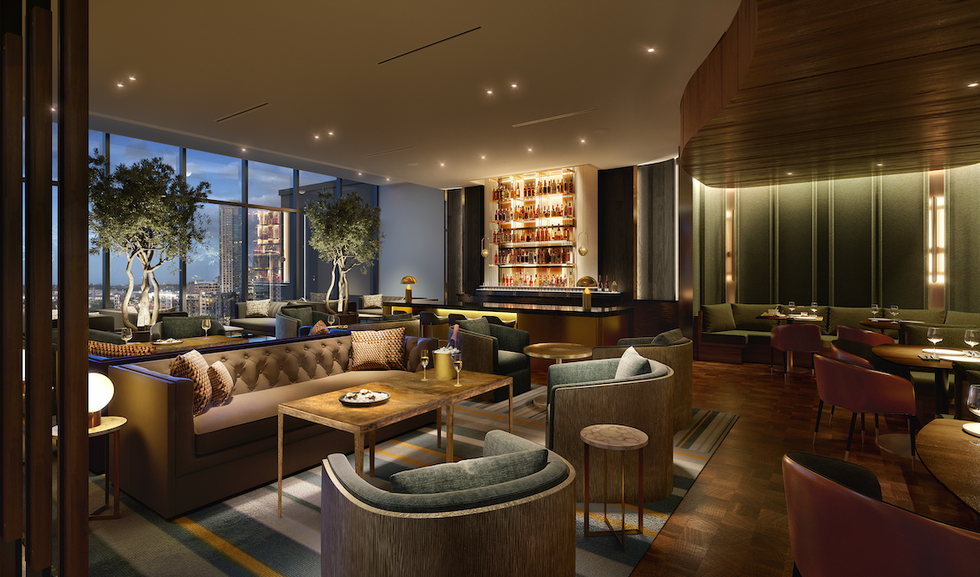 (Rendering courtesy of The Loren at Lady Bird Lake)
Using an "ingredient-first mentality," a release said the restaurant sources locally whenever possible, highlighting Fredricksburg peaches, local citrus, beef, native hardwood and coal from the Hill Country. Nido will also offer food that is friendly to vegan or restrictive diets.
Executive Chef Brad McDonald—who has worked in Michelin Star kitchens Alain Ducasse, Per Se, and Noma—works with a neoclassical approach to French technique and plans to serve seasonal dishes to maximize fresh ingredients.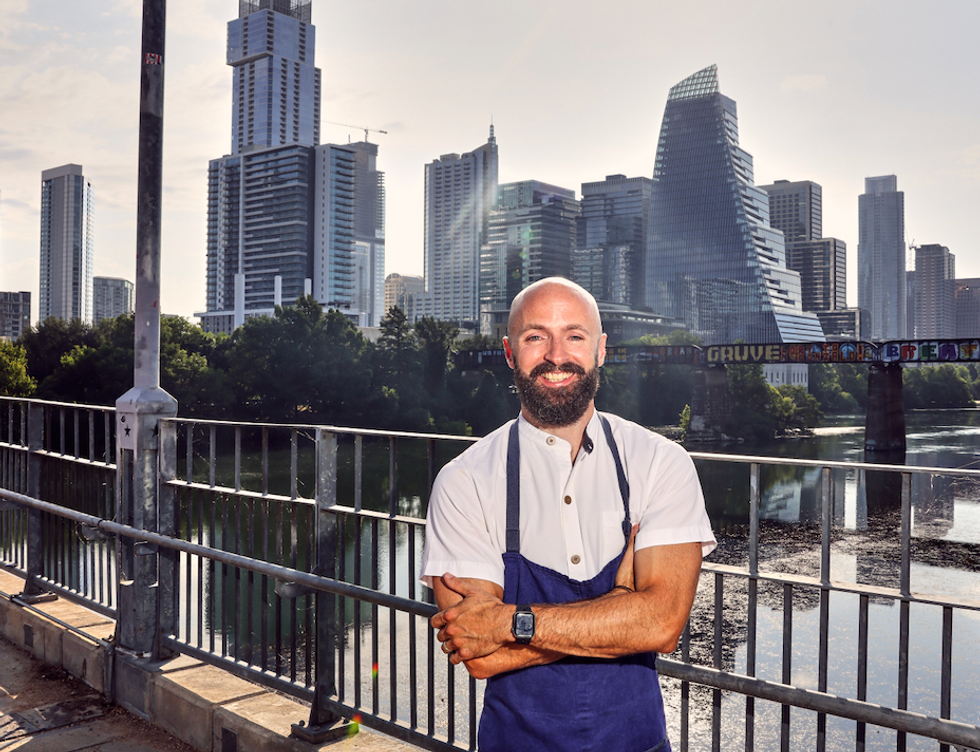 (Mackenzie Smith Kelley)
"Guests can expect an untraditional, yet classic take on dishes, all meant for sharing," McDonald said. "From the moment of arrival, diners perched above Lady Bird Lake will take in an exclusive view of the immediate surroundings and taste their way through the local, regional and international flavors and techniques that have shaped our menu and overall dining experience."
From eight floors up, guests will be able to dine on signature dishes like foie gras and maple stuffed chicken wings; braised lamb breast with milk jam and herb salad; Ricotta Gnudi with blistered cherry tomatoes and nicoise olives; and Grilled Dry-aged Wagyu with aligot potatoes.