Get connected with our daily update
Are you really a local if you've never spent the weekend soaking up the hot summer sun and lounging on Lady Bird Lake? The pastime is so popular that if you find yourself cruising over one of the Lake's many bridges on a weekend, you're likely to see hundreds of people clumped together on the water in a formation locals call "Party Island."
With temperatures in the mid-90s this week, the Colorado River's cooling waters welcome paddleboarders, boaters and kayakers alike. Though it is well known that swimming is prohibited in Lady Bird Lake, nothing can stop partiers from perching on the shallow sandbar that leads into Barton Springs Pool—not even a global pandemic.
(Steven Joyner)
Like every sunny weekend, paddle boarders, kayakers, boaters, tubers and bridge-jumpers gathered at the intersection between Barton Creek and Lady Bird Lake.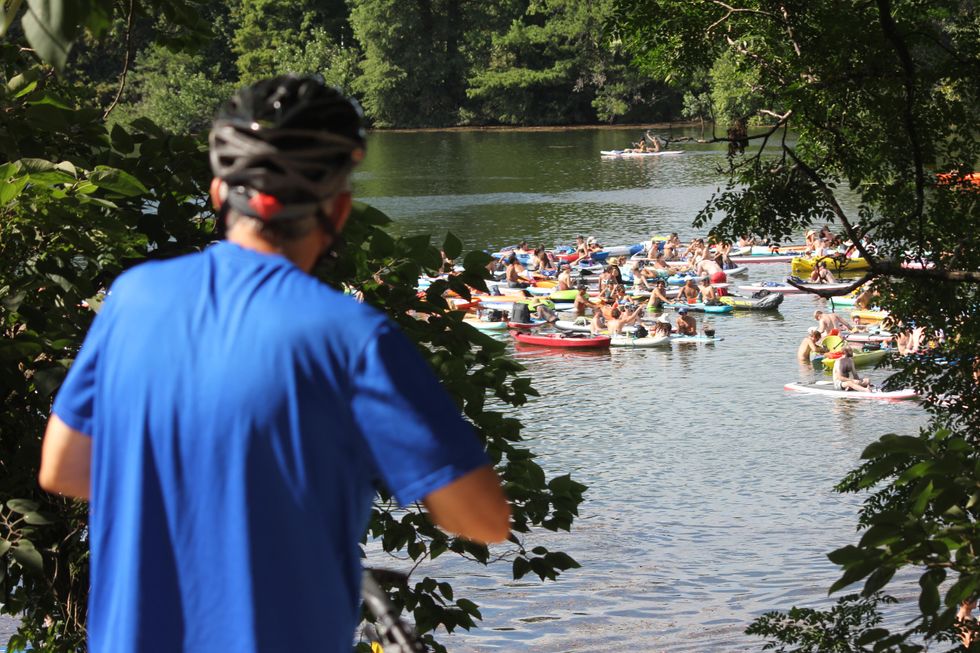 (Laura Figi/Austonia)
The lake is adjacent to the Lady Bird Lake Trail, which is also a busy recreation destination for runners, bikers and lovers of nature.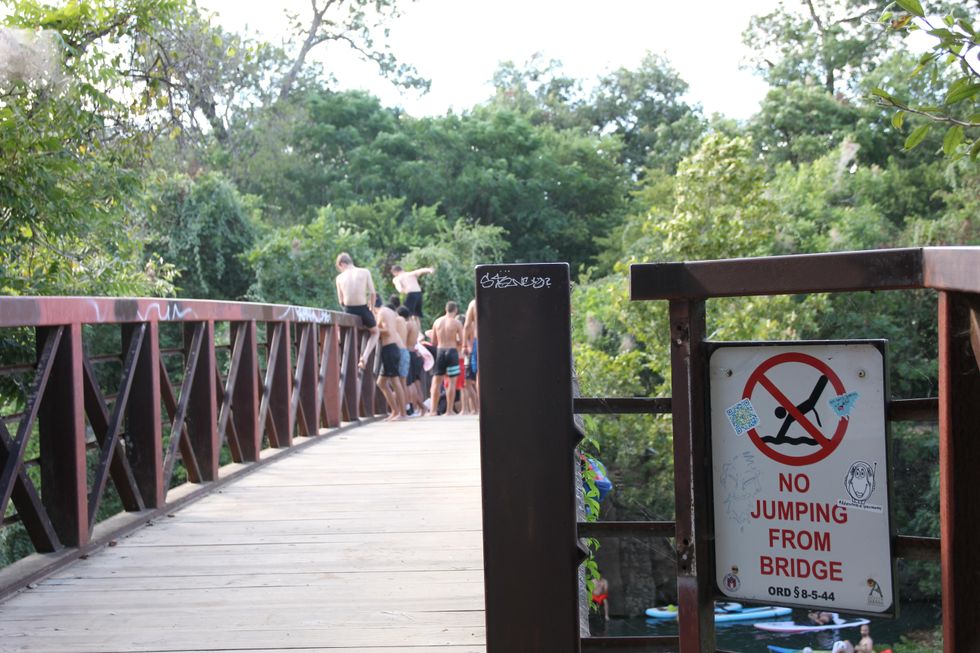 (Laura Figi/Austonia)
Jumping from the bridge is prohibited by the city, though you can see groups jumping off the bridge nearly every weekend.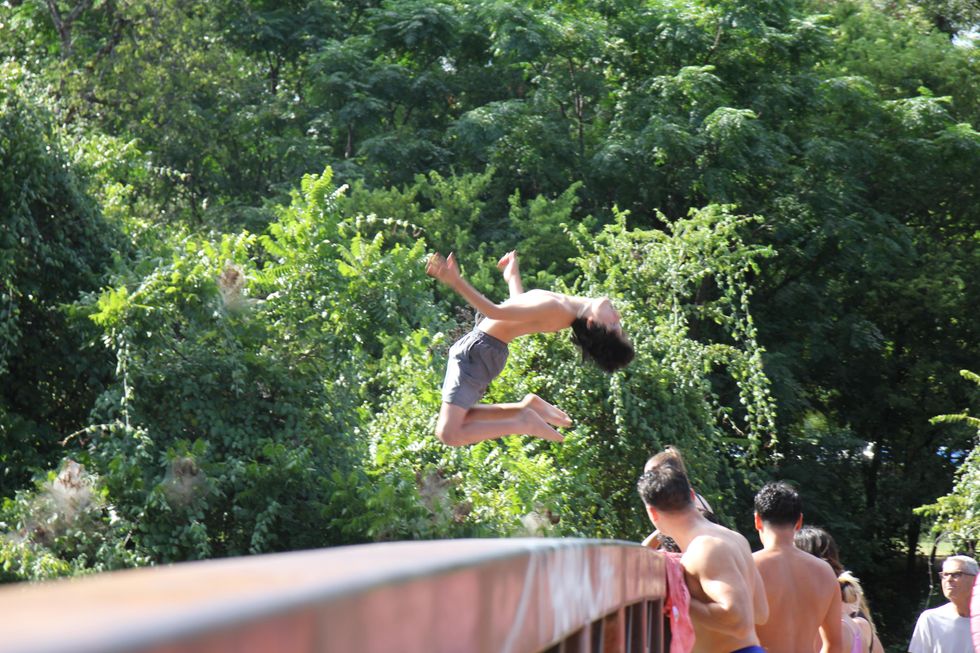 (Laura Figi/Austonia)
Dozens of lake-goers gather to jump the bridge—performing flips and tricks into the water below.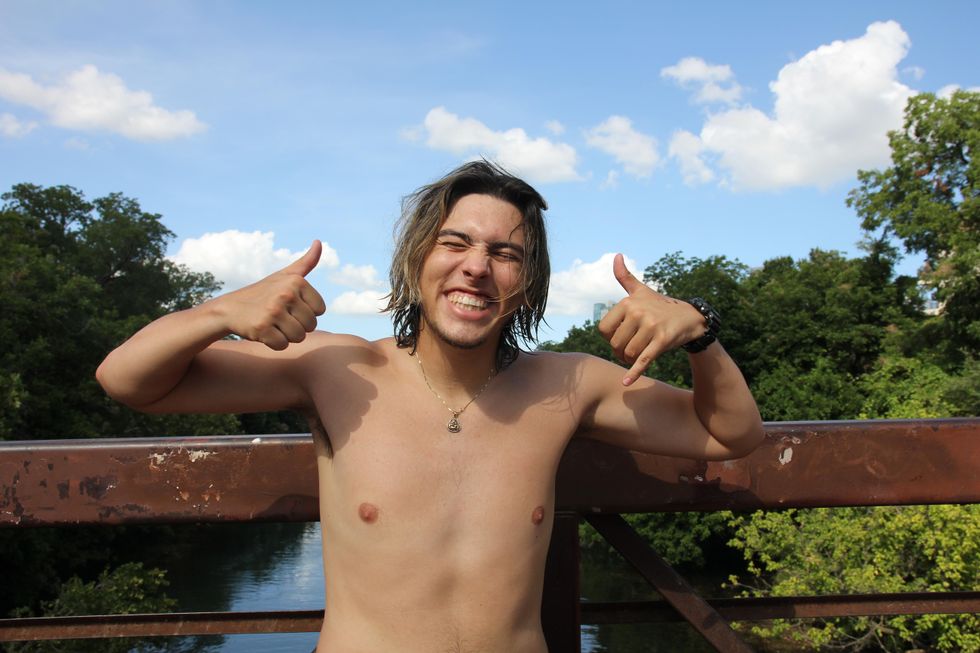 (Laura Figi/Austonia)
Zach Melton, a 22-year-old DJ that goes by the name Maniac, lives in the Zilker Park area and jumped the bridge for the first time on Sunday. A Dallas native, Melton said he loves the nature, scenery and people that live in Austin. "I love the vibes of this city," Melton said.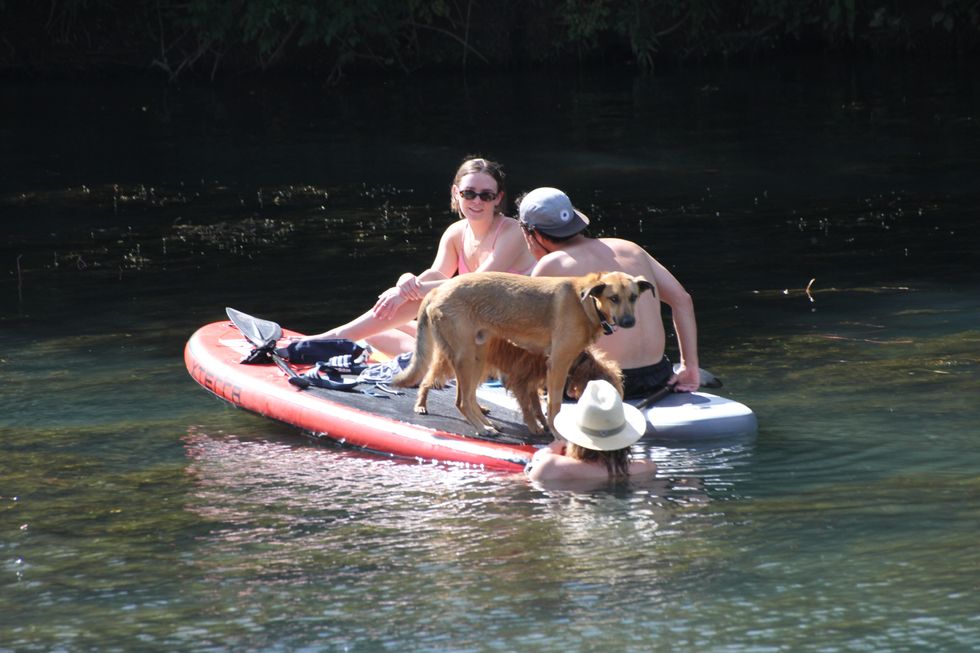 (Laura Figi/Austonia)
The love of Lady Bird Lake transcends species—dogs can often be spotted enjoying the lake with their humans.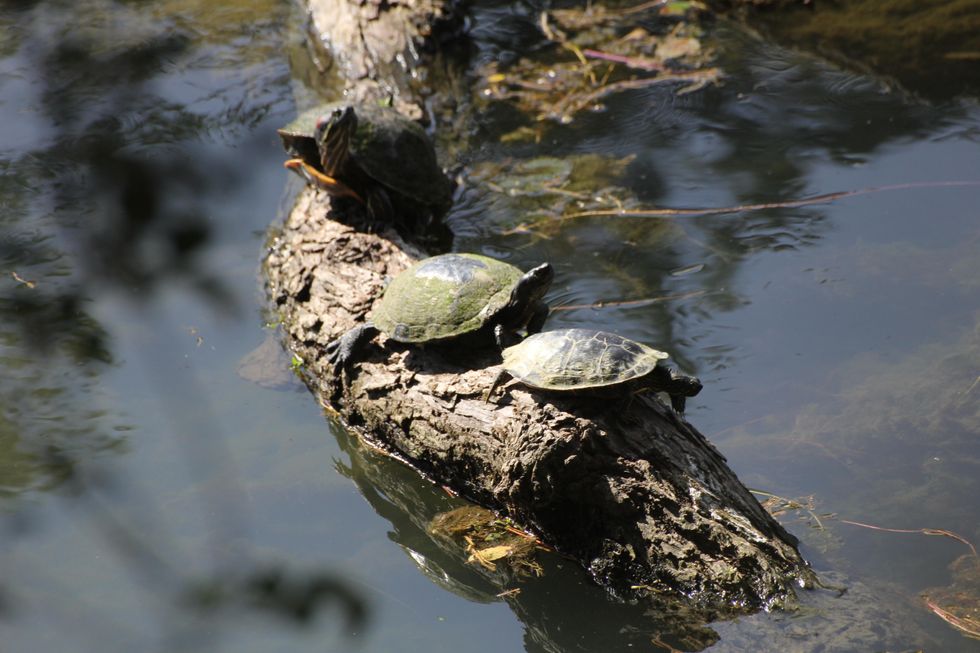 (Laura Figi/Austonia)
Or spot some other four-legged friends—Lady Bird Lake is an excellent area to turtle-watch.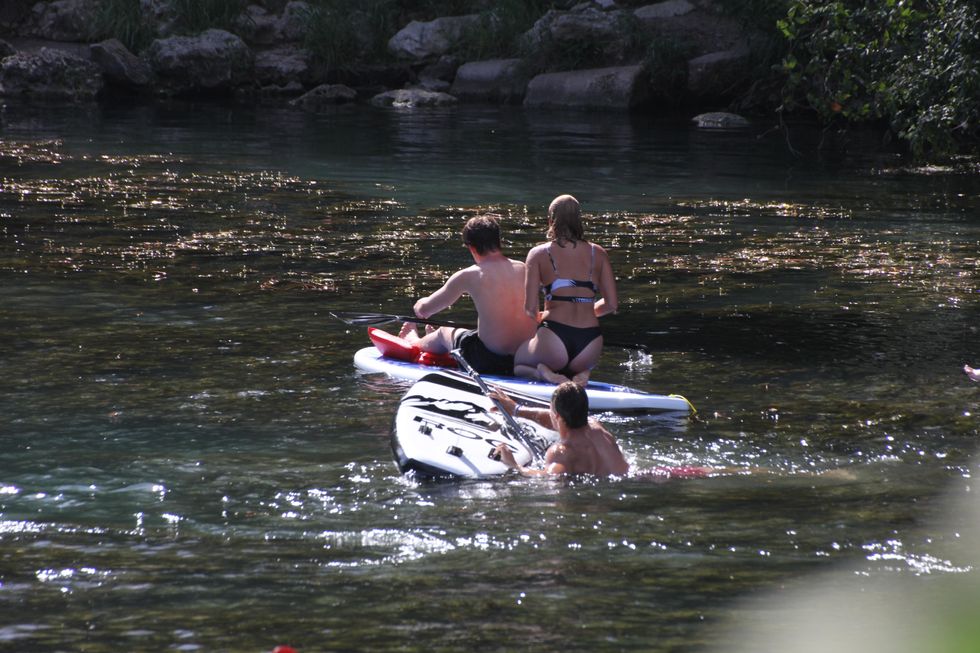 (Laura Figi/Austonia)
People-watch long enough and you'll probably see a few people fall off their boards.
August is the hottest month of the year in Austin, so Lady Bird Lake season is in full swing. There's still time to enjoy the greenery and water sports that Austinites love so much.
The Austin metro is not far off from hitting Intensive Care Unit capacity, according to a new report from the University of Texas' COVID-19 Modeling Consortium, which projects city hospitals could be in trouble by the end of the month.
Looking at COVID-19 hospitalizations from March 13, 2020 through July 28, 2021, researchers predict there is a 92% chance Austin's 200-bed ICU capacity will be hit by the end of August and a 94% chance it will be hit by Nov. 1 if transmission stays the same.
ICU capacity for the five-county Austin metro made headlines this weekend for dwindling down to just six available beds, serving 2.4 million people. The influx of hospitalizations is being attributed to the more contagious Delta variants and the spread of the virus among unvaccinated people.
Taking into account several factors, like Delta, the ongoing vaccination effort, the start of the 2021-2022 school year and city-wide compliance with safety measures, researchers said the results of the report "demonstrate the immediate need for heightened social distancing and transmission reducing-precautions" in the five-county area.
"If the Delta variant continues to spread and vaccine uptake continues at the current pace… then we project that COVID-19 hospitalizations will continue to increase exponentially, threatening healthcare capacity in the region, unless measures are taken to slow transmission," the report said.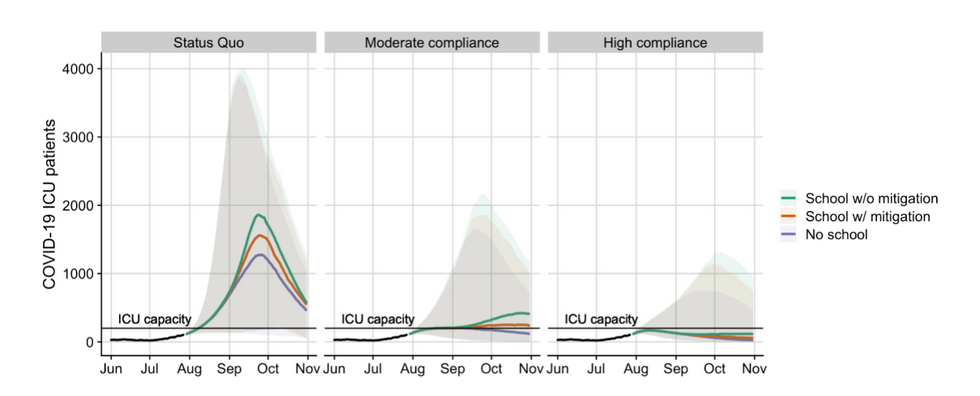 (UT COVID-19 Modeling Consortium)
Austin area schools are set to reopen shortly: Austin ISD begins classes on Aug. 17 and UT classes begin on Aug. 25. Some are opening their doors even earlier—Leander ISD, Pflugerville ISD and Lago Vista ISD start on Aug. 12. If transmission remains stable, UT researchers said there is a 94% chance at least one student would arrive infected on the first day of class.

If schools open for in-person learning, taking precautionary measures would reduce the risk anywhere from 37-54%, the report states. Fully vaccinated students have a 96% lower chance of infection, though children under the age of 12 are not eligible to get vaccinated.
"In-person schooling is projected to increase transmission among children and throughout the community," the report states.
The report, which said it was written to "support public health decision-making and healthcare planning," said high compliance with masking, ventilation and proactive testing, schools could reduce transmission by 37% and pediatric hospitalization by 50%. Unlike last year, vaccines are available to help slow the spread.
Austin ISD said it would require masks on buses and will implement online learning options for students from kindergarten to sixth grade. The district, like many others around the state, is vying for a mask mandate that has been prohibited under an order by Gov. Greg Abbott. Local districts are highly encouraging students wear masks.
A person who played in Bull Creek over the weekend has developed symptoms that could be associated with exposure to harmful algae, the City of Austin reported on Thursday.
There has been no confirmation that the person's symptoms are correlated with algae from the creek or that there is harmful algae in the creek. Cyanobacteria, the blue-green algae that crops up in Central Texas waterways during warmer weather, can be harmful or fatal to dogs and has been the cause of several dog deaths in Austin in the past two years.
The report comes after Austin mother Leia Morris reported that her three-year-old son developed symptoms after playing at the Bull Creek Preserve on Sunday, although the city did not confirm that this was the case in question.
Morris told KXAN her son, Linus, woke up trembling on Monday and has experienced tremors and muscle twitches.
"When he woke up on Tuesday, once again I could see his muscles twitching — like I could visibly see that his fingers were twitchy," she told KXAN.
Although Bull Creek has no obvious signs of cyanobacteria, it is impossible to detect the presence of harmful algae without a lab sample. The City of Austin took algae and water samples Friday and expects to have preliminary lab results next week.
The city has been grappling with harmful algae outbreaks since 2019, when five dogs died after swimming in Lady Bird Lake in 2019. Small amounts of dihydroanatoxin, potentially dog-killing algae, has been found in an algae sample taken from Lake Austin near Mansfield Dam as well as two samples from Lady Bird Lake. Low levels of dihydroanatoxin have been detected in the Highland Lakes by the Lower Colorado River Authority this year, including Red Bud Isle in Jun. At least one dog has died in Lake Travis this year and many have been reported sick.
Toxins have only been detected in mats of algae growing on the bottom of the lake or floating on top and could become harmful if one swallows or touches visible algae. Swimmers should follow warning signs posted at these bodies of water and steer clear of warm, stagnant or foul-smelling water. Bacteria levels tend to be higher after rainfall.
In people, symptoms from the harmful bacteria could include:
Dermatologic signs or symptoms such as rash, irritation, swelling, or sores
Gastrointestinal signs or symptoms
Respiratory signs or symptoms
Fever
Headache
Neurologic signs or symptoms
Ear symptoms
Eye irritation

In dogs, symptoms may include:
Excessive drooling, vomiting and diarrhea
Foaming at the mouth
Jaundice and hepatomegaly
Blood in urine or dark urine
Stumbling
Loss of appetite
Photosensitization in recovering animals
Abdominal tenderness
Progression of muscle twitches
Respiratory paralysis