Austonia AM
100% Austin news, info, and entertainment, straight to your inbox at 6 a.m. every morning.
In five minutes, you're fully informed and ready to start another great day in our city.
Get connected with our daily update
From its garden-studded outdoor space and rooftop pool to its cozy-yet-luxury indoor bar and club, Soho House Austin has arrived.

The London-based, members-only club opened its 27th global location, sandwiched in between music venues, iconic Austin eateries and more on South Congress' new Music Lane last month.
While the House's 46 bedrooms and screening room are still in the works, Austonia's Claire Partain and Laura Figi took an exclusive tour around the club's bar, terrace and rooftop pool, all of which opened May 19. Here's an insider's view of the new space, with photos provided by the Austin Soho House itself:
Greens, golds and beiges at the third-floor bar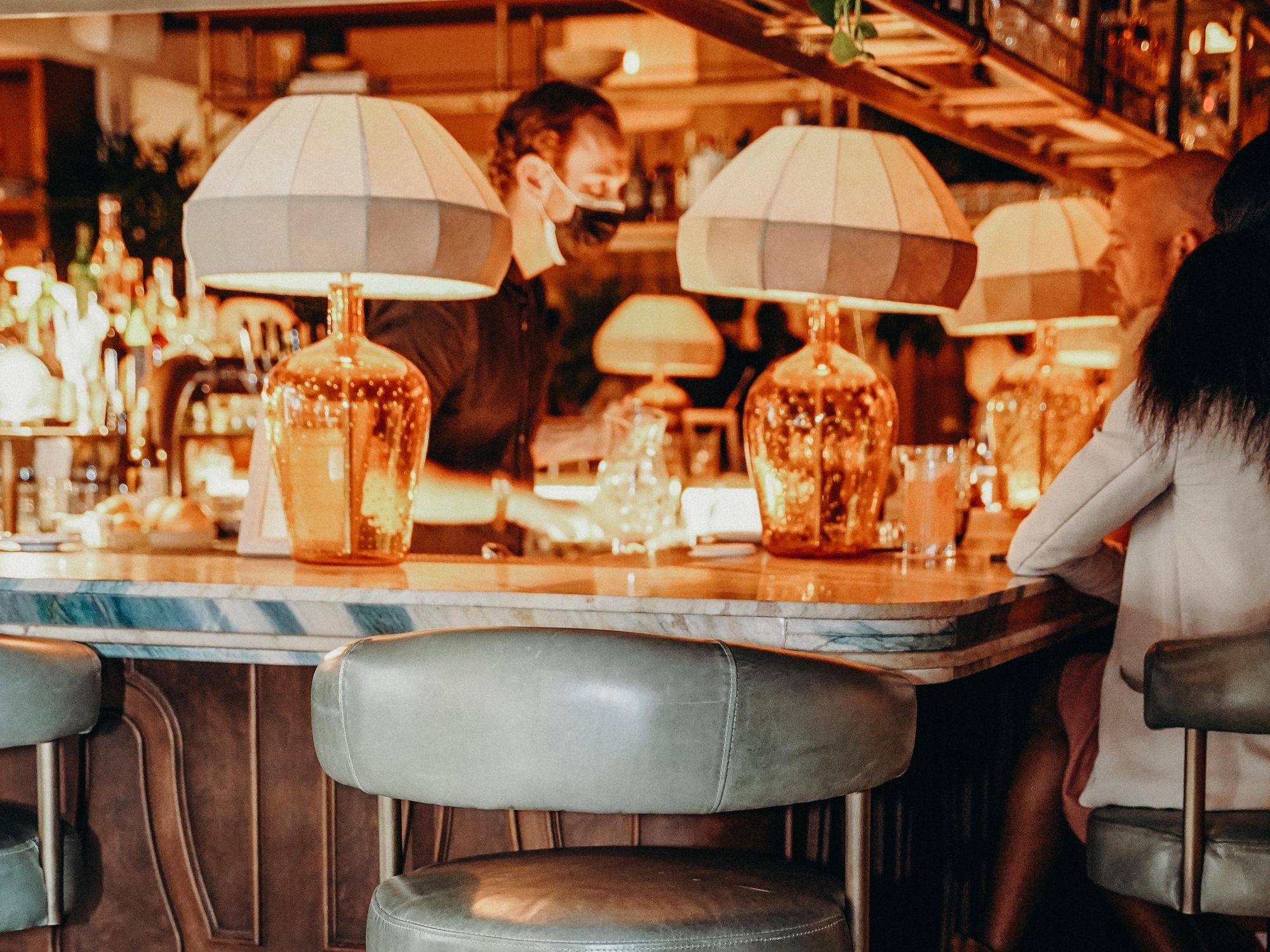 (Christina Fisher)
Inside the bar, which serves as the hub for social hangouts, DJ features and events, club members will feel right at home among the dusty sage green and beige color scheme. The bar is lined with cushioned green stools, a marble countertop and warm lighting.
Cushy seating for both work and play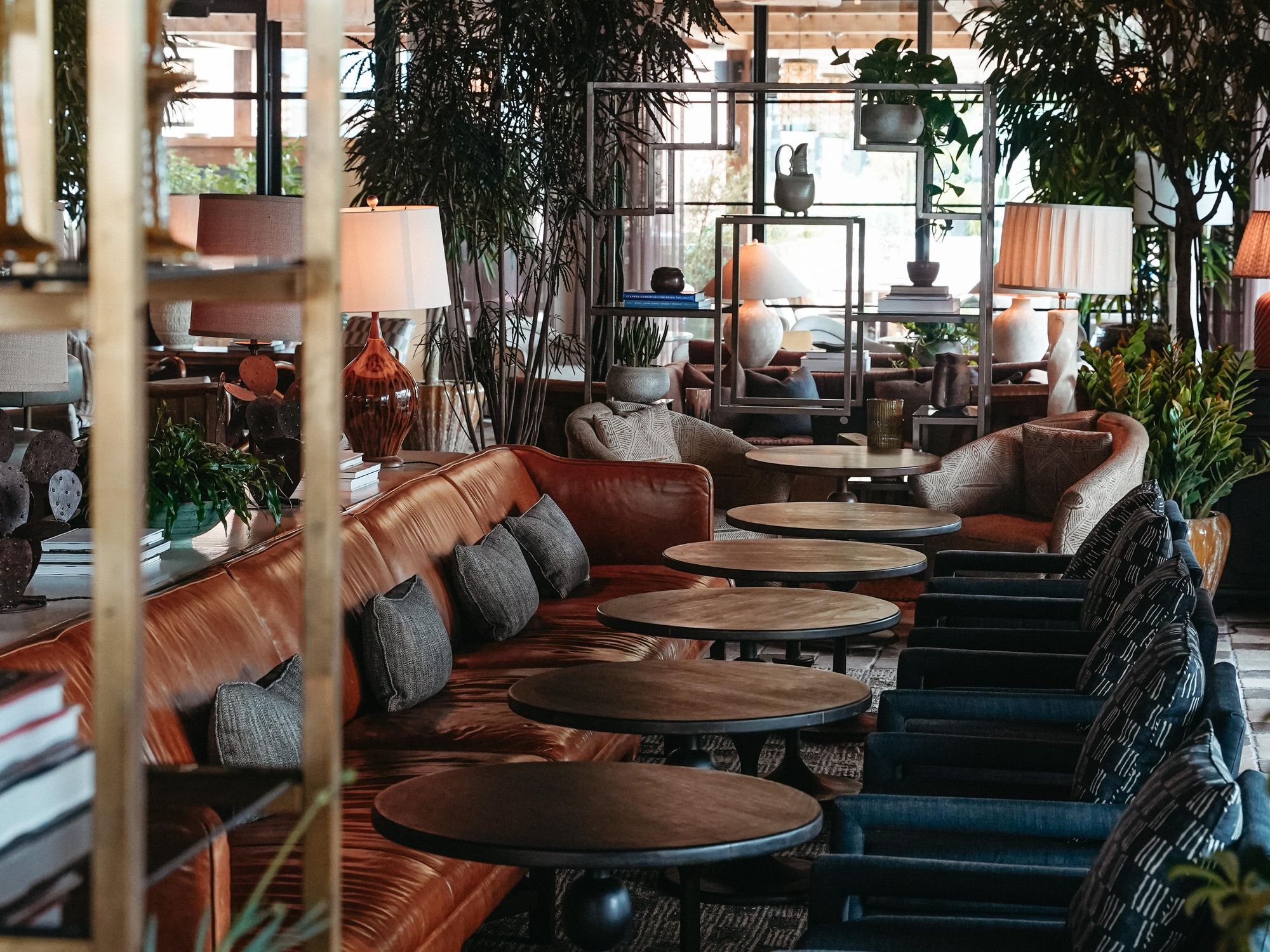 (Christina Fisher)
The airy indoor seating area is lined with professionals during the day, but as the sun begins to set, a strict no-laptop policy is employed. Cushy seats, open to groups both big and small, are designed for both times of day, with plenty of space for members of the community to mingle. Windows line the space to merge both indoor and outdoor seating areas.
Vintage furniture, work from local artists and craftsmen and reclaimed lighting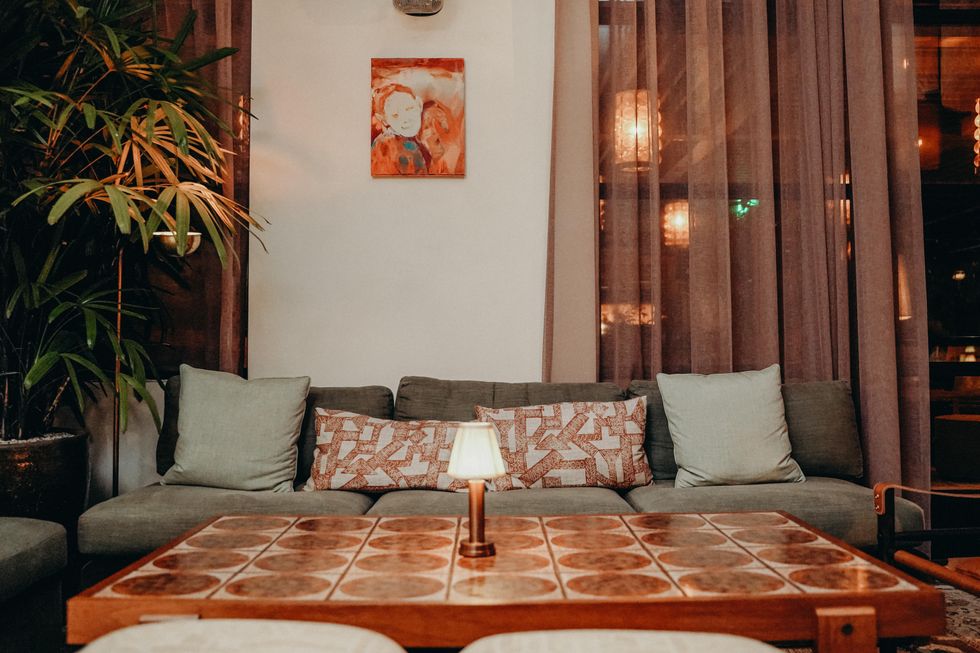 (Christina Fisher)
Brown and beige vintage furniture and lush green vegetation give the room an earthy, Southwestern feel that is somehow authentically Texan. Aged reclaimed floor lamps and glass pendant lights give the space a warm glow.
A full bar menu, from appetizers to gourmet meals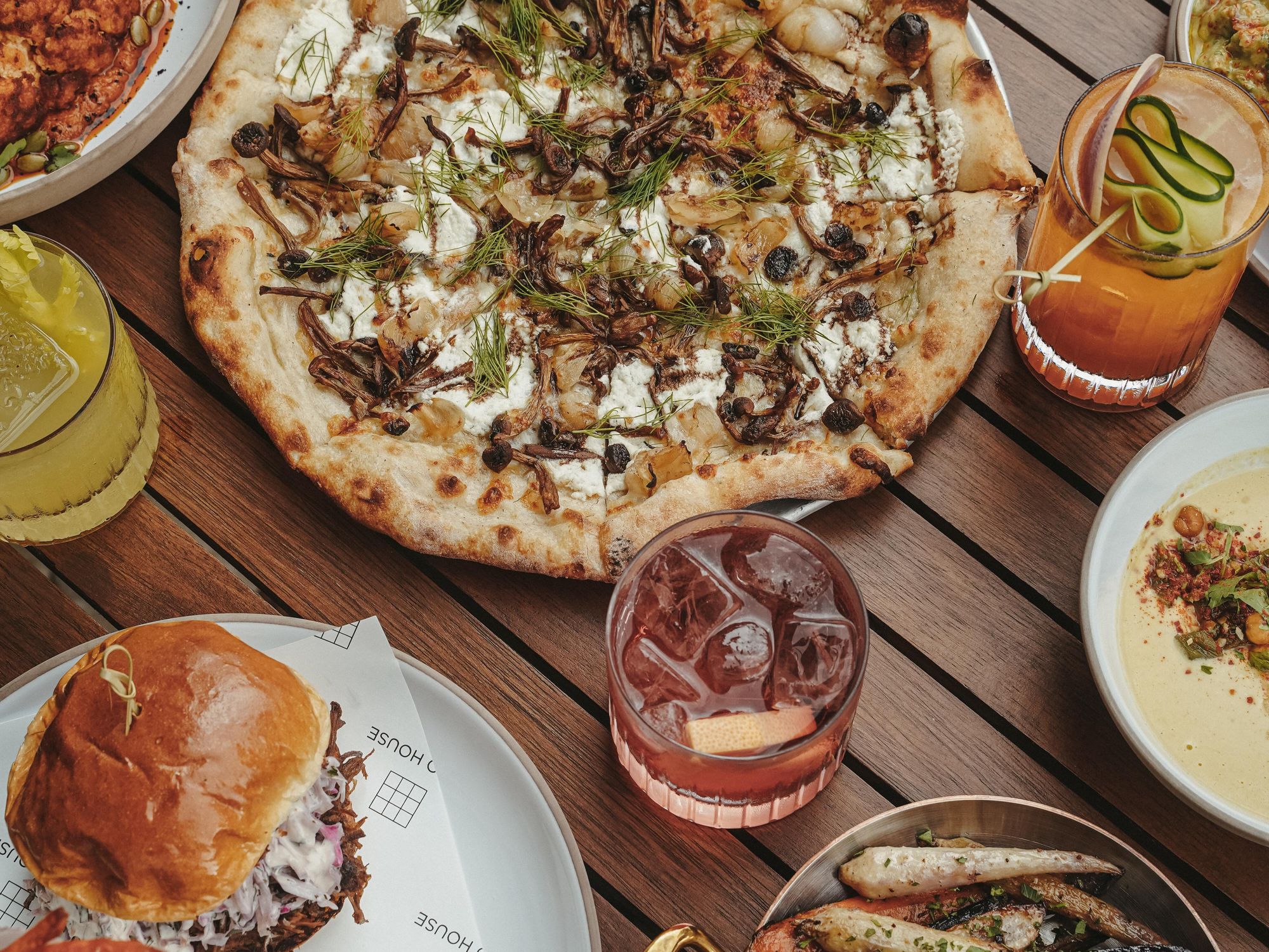 (Christina Fisher)
Soho House's bar serves gourmet kitchen items as well, from homemade Tex-Mex items like guacamole to deluxe pizzas. The Texas-inspired kitchen is led by Chef Dustin Musgrave, a former executive chef at Soho House Chicago.
A lush terrace complete with views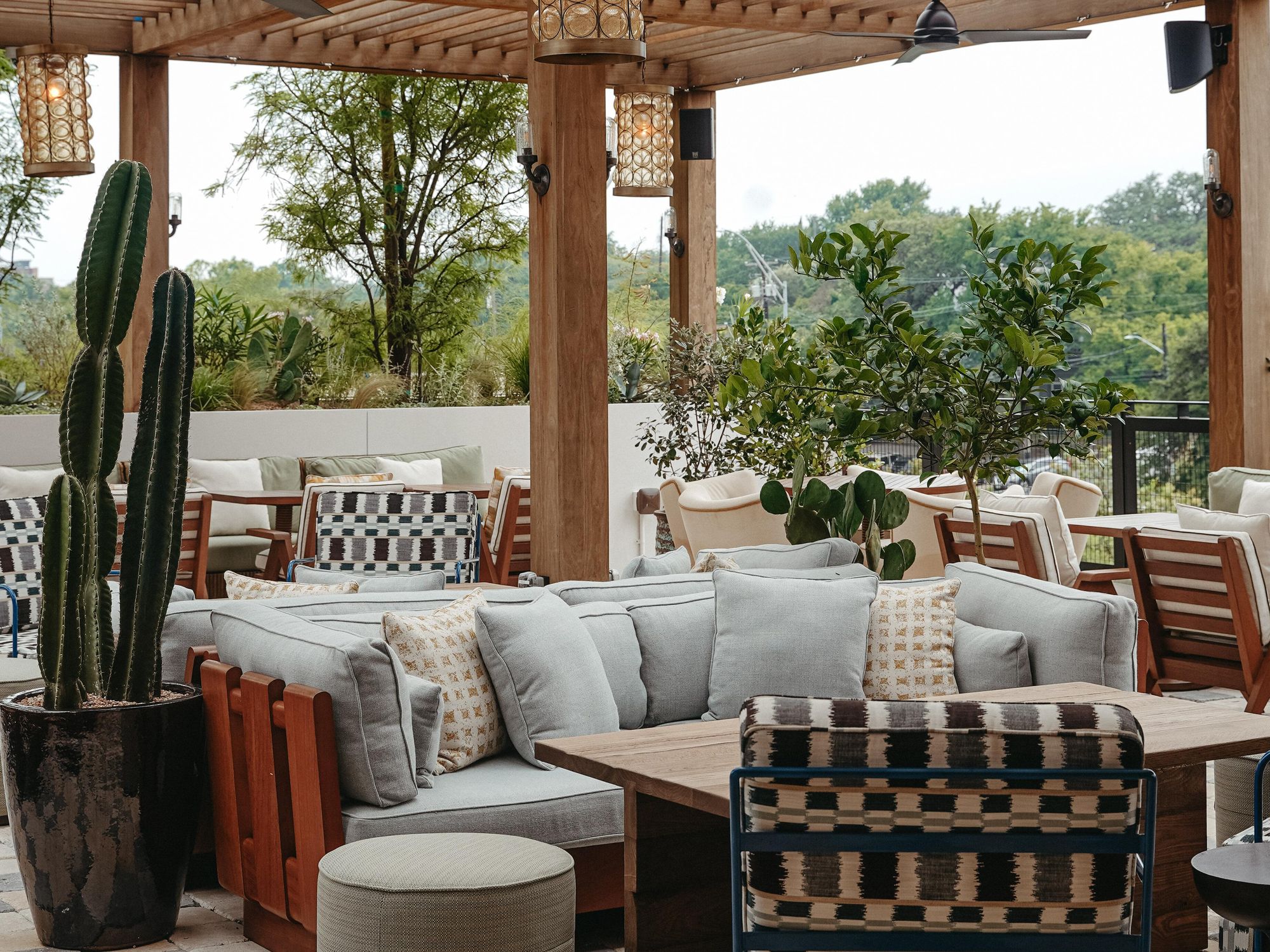 (Christina Fisher)
Soho House worked with local artists and craftspeople to merge both Texas Modernism and Spanish contemporary styles, and it's best seen on the terrace. A wooden pergola hangs overhead, and more seating is nestled in every corner between native Texas plants, with chairs centered around a large tree. The outdoor club space overlooks Austin's Music Lane, with views of the city and more greenery amid the terrace gardens.
The rooftop pool overlooking downtown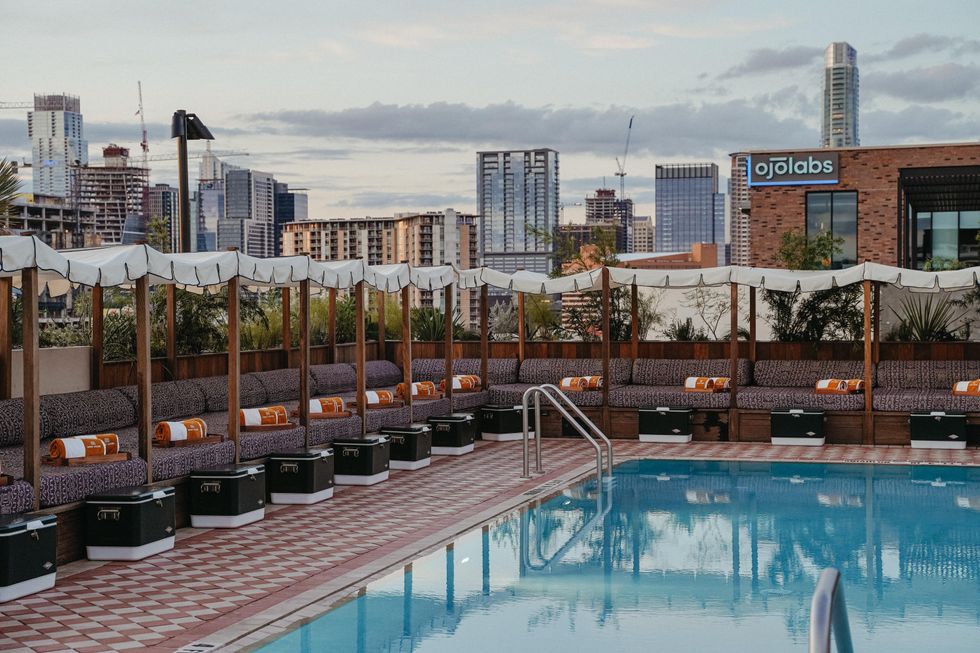 (Christina Fisher)
The Soho House rooftop pool hasn't gotten much use in the weeks of rain, but Austonia still got a peek at the house's crown jewel. The House's Spanish feel is embodied by red-and-white tile, while shaded seating equipped with coolers line the entire pool. While taking a dip, club members get a birds-eye view of the city on the third floor.
From spicy to sweet, the bar's drinks have plenty to offer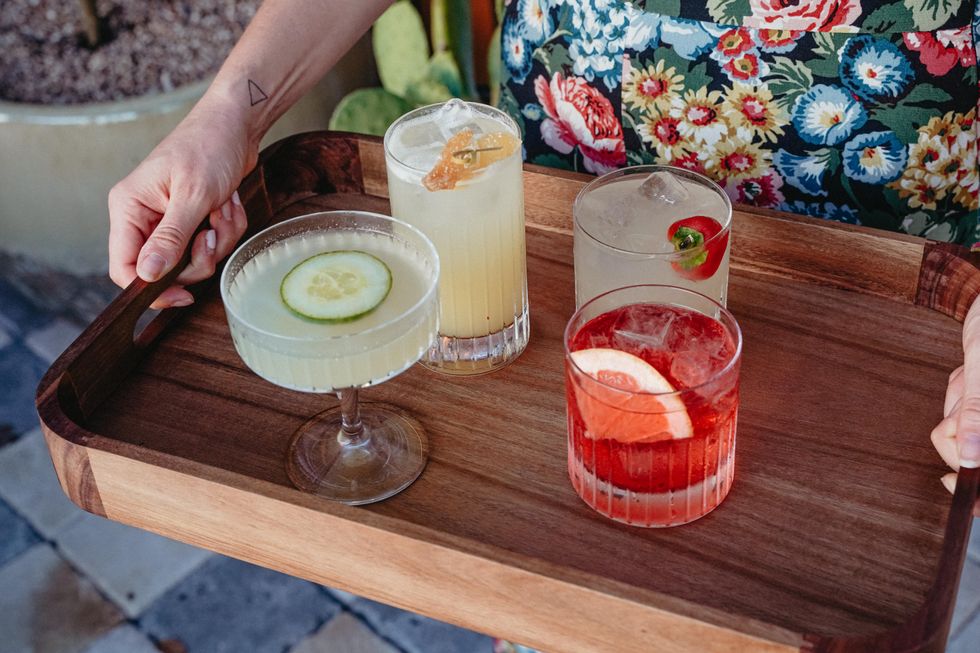 (Christina Fisher)
Just like the rest of the space, Soho House's bar menu can make club members feel both surprised and at home. For a Texas feel, try the spicy Picante, or stick to a classic Soho House Mule.
After looking at all it has to offer, you might be wondering how you can join. Admission to the club is on the steeper end—membership is $3,500 annually for access to every location and $2,290 for Austin-only entry, and the bar still comes with $14 drinks. Still, the club offers huge discounts to those under 27 ($1,750 and $1,140, respectively), and the space also provides something many consider priceless: for many Austin creatives, it's a one-of-a-kind club perfect for building a community.
(Realtor.com)
Do you ever catch yourself dreaming of the rolling pastures of Central Texas, catching the sun on your face and the breeze in your hair?
These five luxurious ranch houses will make you want to invest the millions they cost to be surrounded by Texas' beautiful Hill Country flora. Each one of these countryside villas is within an hour of Austin and on the market.
Who said country living couldn't be glamorous?
Are you cheugy? The term, which has been covered by the New York Times, The Cut and even Parade, refers to someone who is out of date or trying too hard to be cool. (Think of it as the new basic.)
Coined by Gaby Rasson, 23, in 2013, while she was attending Beverly Hills High School, and popularized by Hallie Cain, 24, in a viral TikTok posted March 30, the term has faced backlash, including from millennials who feel skewered by the Gen Z barb. "The Word Cheugy Is Already Cheugy," read a recent headline.
Gripes aside, cheugy (pronounced "chew-gee") may be here to stay—and has already been associated with some popular Austin activities.
1. Mural photos 
Austin, you so cheugy, says the @nytimes https://t.co/rlxHoIMHv2

— Austinist (@austinist) April 29, 2021
The Times explainer included a grid of examples, culled from the @CheugLife Instagram account, that included The Office-themed apparel, Pinterest and slogan mugs. Austin's "I Love You So Much" mural, located at Jo's Coffee on South Congress, was also featured.
Mural photos, according to cheugy experts, are out.
2. Certain Instagram captions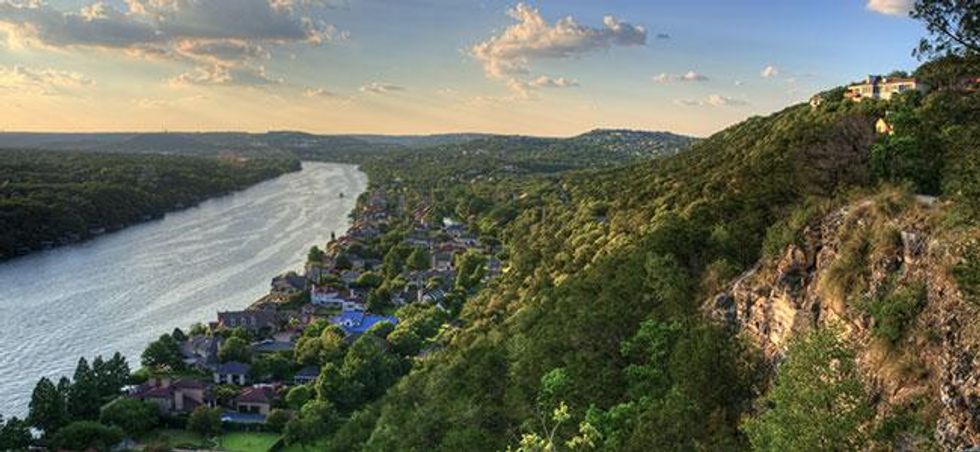 Even Instagram captions can be cheugy. (Randall Chancellor/Flickr Creative Commons)
Planning a visit to Mount Bonnell or the 360 Bridge? Taking a photo of such vistas and captioning it "views" is cheugy.
3. The millennial girlboss aesthetic 
The term girlboss emerged around 2014; seven years later, it's cheugy, according to Refinery29. What was once branded as the future of female empowerment has since been associated with failures of corporate feminism.
Austin has a number of celebrated women entrepreneurs, including Kendra Scott and Whitney Wolfe Herd, who transcend the girlboss era. Scott founded her company in 2002, long before the term entered the vernacular. Wolfe Herd left Tinder in 2014 after experiencing sexual harassment and later founded Bumble, which successfully went public earlier this year and has ambitious, post-pandemic plans.
4. Subscribing to Joe Rogan's podcast
The Austinite and extremely successful podcast host is also implicated, according to a recent Vice article explaining the various tiers of cheuginess.
The term has received pushback from some, who argue that it is misogynistic, attacking things women enjoy. But plenty of stereotypically guy things—including wall flags, tank tops and promposals—have also received the label. As Rolling Stone put it: "Misogyny is insidious and takes many forms in our culture, but making fun of someone for posting Minion memes is not one of them."
5. Golden Goose sneakers, Gucci belts and New Yorker tote bags 
Although not comprehensive, this list touches on some of the once-trendy, now-cheugy accessories one might see around town, from $500 sneakers at West Austin lunch spots, flashy designer logos on Rainey Street and the ubiquitous literary status symbol at East Austin coffee shops.
Tell us: what does cheugy mean to you? 
Lake Travis's party boat industry, rocked by the pandemic last summer, is experiencing record-high demand. Local businesses are all hands on deck as the tourism industry swells to pre-pandemic levels, bringing in increased bookings and reducing the stress of the past 14 months.
Austin's Boat Tours is booked solid this Saturday. Each of its 10 double-decker barges, which come with a water slide and cost up to $300 an hour, will take out two groups of up to 20 passengers to popular party spots such as Devil's Cove. "Things are definitely coming back together for us," co-owner and captain Angel Edwards told Austonia.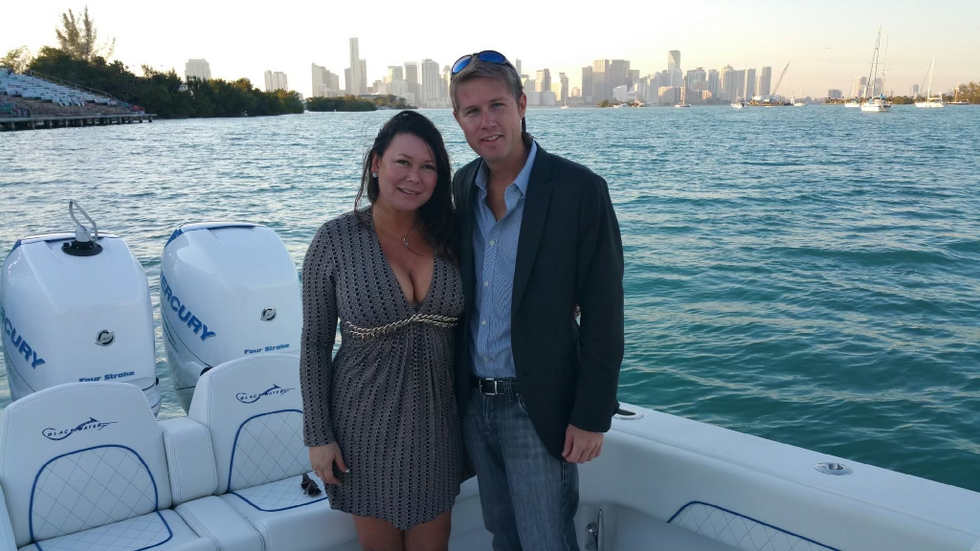 Angel and Austin Edwards are the husband-and-wife team behind Austin's Boat Tours. (Angel Edwards)
This is a welcome change from last summer. Austin's Boat Tours lost nearly all of its out-of-town business, including the East Coast bachelor and bachelorette parties that make up much of its customer base. Of the nearly 180 reservations booked in January 2020, almost every single one was canceled and either refunded or credited toward a future visit. "We barely—barely—made it through the pandemic," Edwards said.

Now the business's phones are ringing off the hook. Booking inquiries include not only boat parties but also related services, including a food and bartender service on the boats; a party bus that can transport tours from central Austin to their private marina on Lake Travis; and two lakeside rental properties, where parties can go while visiting town. "Our overhead is so high," Edwards said, citing property taxes as a particular concern. "Thank God we're back in business."
Passengers feel similarly. Edwards, who runs Austin's Boat Tours with her husband, the business's namesake, was recently serenaded by a bachelor party, whose members sang Shaggy's "Girl, You're My Angel" in harmony. "People are just so thankful to get out and have fun again," she said.
Austin's Boat Tours is not alone in reporting an uptick in demand. Brian Hill, owner of Premier Party Cruises, has booked 550 tours through August, more than any year on record. The company's next best year was in 2019, when it booked 380 tours. "We've already surpassed our mark," he said of the 2021 season. "Let's keep our foot on the gas."
Lake Travis Yacht Rentals is asking customers to book online to minimize unnecessary phone calls and emails. "OUR STAFF IS OVERWHELMED!" the business wrote in a recent Facebook post.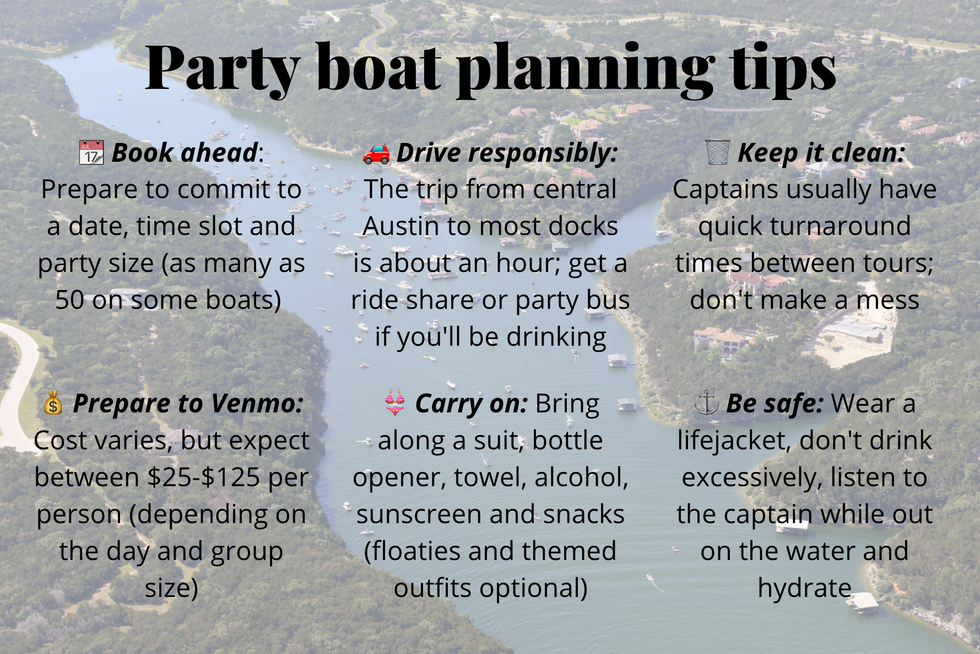 (Background photo: crownsdown/Reddit)
Cody Jones, assistant commander for the Texas Parks and Wildlife Department, anticipates this summer will be even busier than last, when boater and swimming volume spiked, and that party boat businesses will benefit from the rising tide. "I certainly believe they're going to see a large increase this summer," he said.