Get connected with our daily update
The new Moody Center announced its grand opening celebration will feature country music icon George Strait and special guests Willie Nelson and the Randy Rogers Band on Friday, April 29, 2022.
The opening celebration—titled 'Strait from Moody Center'—will only be the second time the legendary Texas musicians will have shared a stage in their longstanding careers. The venue will pack in 15,000 fans for the rare show, which also happens to take place on (one of) Nelson's birthdays.
"I'm so glad I'll get to 'sing one with Willie' and I can't think of a better place to do it than Austin, Texas," Strait said in a release. "Willie is an incredible musician and an even better person, so I know this will be a great night together along with our friends from Randy Rogers Band."
The long-awaited Moody Center has been under construction since 2019, but has already booked big-name shows like The Weeknd and Justin Bieber. It will replace the Frank Erwin Center, 1701 Red River Street.
"While planning our grand opening celebration, we knew we had an obligation to pay homage to the Lone Star State," Moody Center General Manager Jeff Nickler said. "George, Willie and Randy are all Texas natives who have built legendary careers while having an unbelievable impact on the country music industry. It doesn't get any bigger than this."
The "King of Country," who just finished up performing at both weekends of ACL, has earned the third-most certifications out of musicians across all genres and Nelson, who turns 89 next year, has been making music since Strait was born. Needless to say, the concert will go down in history. The show will open with San Marcos-native Randy Rogers Band.
Tickets for the show go on sale on Friday, Oct. 22 at 10 a.m., though American Express cardholders can purchase tickets starting Wednesday, Oct. 13 at 10 a.m.
After 20 sweet years, Nutty Brown Amphitheatre will close its doors in November to continue preparations for a new live music venue coming soon to Round Rock.
The iconic Austin venue, located at 12225 Hwy 290 West, is going out with a bang with a two-night Texas country music extravaganza with Pat Green, Kevin Fowler and Jon Wolfe on Nov. 26 and with Randy Rogers Band, Stoney LaRue and Roger Creager closing out on Nov. 27.
The venue, which was one of the first to start offering live music in the pandemic, will host numerous shows leading up to its closing including Billy Currington, Ludacris and Styx.
While Austinites will say goodbye to their old stomping grounds, they'll be welcomed at a new venue from the Nutty Brown team.
Opening in 2022, the venue will be located at the former McNeil Park in Round Rock. In a Facebook post, Nutty Brown said the brand new concept will have a larger capacity and promises a calendar of shows across a wide variety of genres.
The Nutty Brown location has a long history in Austin, starting out as a candy store in the 50s, then a car dealership, Western clothing store and barbershop, before becoming an iconic music venue in 2000.
Tickets for the Texas country music extravaganza go on sale on Oct. 1.
Festival season is underway in Austin and the live shows must—and will—go on.
Austin's plethora of venues aren't letting this COVID surge close them down after the year they've had. With the city at Stage 5 level of COVID risk, venues are operating the way they see fit as people crave live music more than ever before.
While there have been some postponements, notably Blues on the Green and multiple shows at ACL Live, most summer and fall shows and festivals are carrying on as scheduled—even if they don't look like prepandemic times. ACL 2021 will continue as planned, requiring proof of vaccination or a negative COVID test, and Hot Summer Nights, a four-day free festival across 11 venues, returned over the weekend with a mask requirement.
Risk assessment
The Saxon Pub, closed from March 2020 to May 2021, was one of the last venues in town to reopen, says owner Joe Ables. Going into fall, the venue is going on with scheduled shows. "Hell yes," Ables said.
To do its part in decreasing COVID risk, all employees at the Saxon Pub are vaccinated and required to wear masks, as well as asking patrons to wear them. Running a business during a pandemic doesn't come with a handbook and Ables said he's just trying to do what's right.
"Masking: We're asking you to wear one. We wear one, you wear one for us," Ables said. "I don't feel comfortable, forcing anything on anybody. We're very fortunate we have a very mature crowd, a very intelligent crowd."
Masking and social distancing are just about the extent of COVID precautions venues can take. A new state law that went into effect in June prevents businesses from requiring proof of COVID-19 vaccination for entry, or they risk losing their state licenses as restaurants Fresas and Launderette almost did.
Hole in the Wall is letting scheduled artists dictate how they want to proceed with shows amid the surge.

"We're supporting artists in whatever ways are good for them," said Lynn Cowles, Hole in the Wall events coordinator. "If musicians want to play outdoor shows on our covered patio, they can stick with the dates we have booked with them. If they would rather not play live on account of the recent increase to Stage 5, we fully support their decisions as well."
A need for live music
Both venues and music-lovers need each other.
While some venues like the Elephant Room—that was only open for a month this year—have opted to close due to COVID, others would be putting the future of their venue at risk.
Ables told Austonia The Saxon Pub was so deep in debt being closed for so long. Similarly, Cowley expressed she would expect financial help from the city if venues were expected to shut down again. "If local, state, and federal funders continue to recognize the valuable contributions live music venues make to the economic and creative livelihoods of central Texans, then I anticipate they'll continue to provide financial assistance to live music venues if we do have to close again," she said.
In the Live Music Capital of the World, there is a hunger for live music as seen in how quickly tickets sell out for shows and the hundreds that will gather for shows like Gary Clark Jr.'s at the new Moody Amphitheater.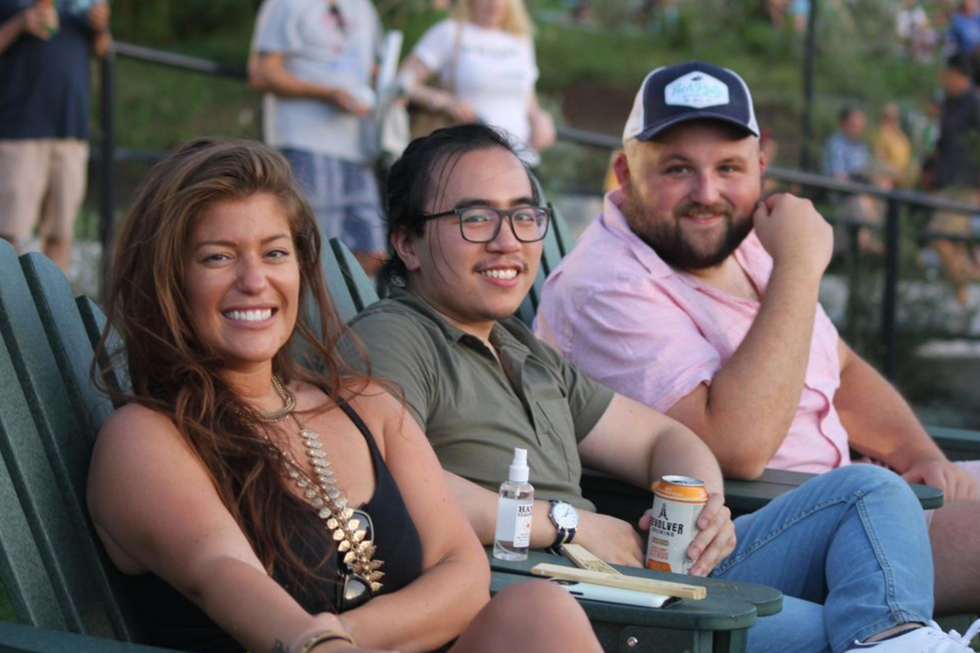 Lauren Clary went to see Gary Clark Jr. perform at the new Moody Amphitheater this month with friends (left to right) Doug Nguyen and Trent Castleberry. (Laura Figi/Austonia)
South Austinite Lauren Clary, who recently attended the Gary Clark Jr. concert, has her reservations about shows but is excited to attend many more in the upcoming weeks.

"I want to go and enjoy myself because I did my due diligence of getting my vaccine. But at the same time, I feel really bad that it's going on because it's so many people in one spot," Clary said. "I just love to see live music evolving."
Live music is here to stay, at least for now. Hole in the Wall has live music every weekend on the patio and The Saxon Pub is booked every night in September.

Exactly 1,000 Austinites were vaccinated in the name of live music on Friday, thanks to a vaccine drive put on by ACL organizers and VaxTogetherAustin, which traded a jab for a free, single-day ACL wristband.
ACL tweeted that they would give the first 1,000 people who signed up for the drive a free pass to any day of the first weekend just two days before the drive was scheduled—on Friday from 10 a.m.-6 p.m. at Q2 Stadium.
Ready to get vaccinated? We are partnering with VaxTogetherAustin, Austin FC and Walgreens to donate ACL Festival 1-Day Tickets for Weekend One to the first 1,000 people who pre-register and get vaccinated THIS Friday, 8/27 at Q2 Stadium in Austin. Signup: https://t.co/LTgmWz7ou5 pic.twitter.com/QTW0ON8y3d
— ACL Festival (@aclfestival) August 25, 2021
Vaccine incentives are not new to Austin—Austin Public Health began offering $50 H-E-B gift cards to recipients of both first and second doses earlier this month. VaxTogetherAustin founder and Executive Director Sharon Cohan told Ausotnia since the uptake of vaccines has plateaued, the giveaway gave people an extra push to schedule an appointment.

"This is Austin and people love live music—both weekends of ACL Music Festival are sold out," Cohan said. "Several people that I've spoken with today have said that they were here because life is busy and you know, they're a little worried about it, they were waiting until a good time. Then they saw this opportunity, and it was too good to pass up."
The drive gave out first and second doses of the Pfizer vaccine, second doses of Moderna and Johnson & Johnson. Though all 1,000 spots were claimed, VaxTogetherAustin is announcing when appointments open up on their Twitter so you might not yet have missed your chance to score a wristband.
Both 26-year-old Jessica Valdes and 28-year-old Andre Mitchell were due for their second shots when the promotion was announced, so registering for the drive was a no-brainer. Valdes chose a Saturday wristband to see Billie Eilish, while Mitchell opted for a Sunday ticket so he could see Tyler, the Creator.
Mitchell, who lives nearby the stadium, said he's excited to finally be able to go to music festivals and travel again now that he's vaccinated.
"I honestly forgot all about it so it's a perfect incentive to get my second dose," Mitchell said. "I can travel anywhere out of the country, that's the biggest thing for me, and I can go to festivals again—especially in Austin, I feel like that's really the bread and butter of everything."
Feeling frustrated because you've already been vaccinated? While she understands the sentiment and wishes vaccine incentives weren't necessary, Cohan said incentives work and the goal is to get as many people vaccinated as possible.
"Vaccine incentives, we wish we didn't need to use them, right? But they work and at this point, if we want to control the pandemic and relieve our overwhelmed healthcare system, we need for people to be taking the vaccine if at all possible," Cohan said. "Our organization is committed to making the vaccine as accessible as possible to reducing barriers to getting vaccinated and reducing hesitancy."