Get connected with our daily update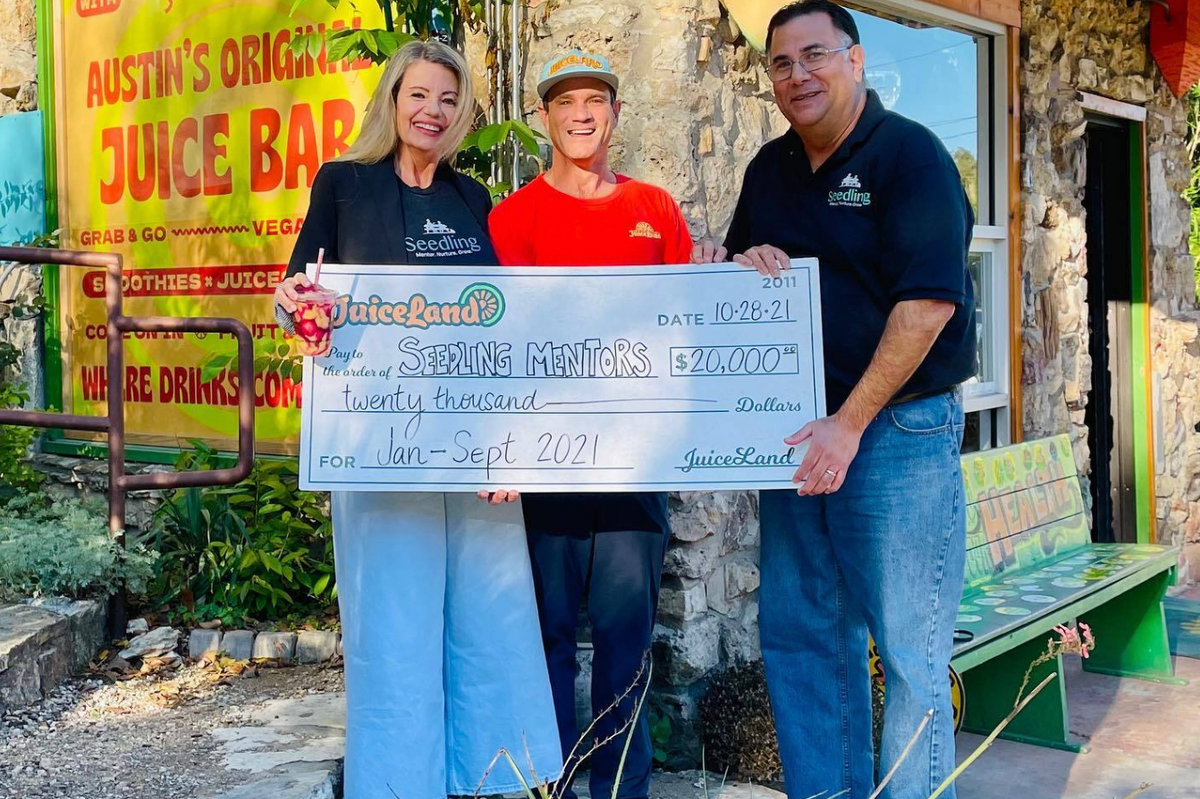 Like many local businesses across the country, the last two years have been a rollercoaster ride for JuiceLand. As it emerges from the pandemic, JuiceLand has come out stronger than ever as it vows to keep Austin local as a core value.
After landing in Austin in 1996, JuiceLand CEO Matt Shook found his paradise at the "heart chakra of North America:" Barton Springs Pool. After a swim one day in 2001, Shook applied for a part-time job at the nearby Juice Joint and ended up inheriting the business two years later to save it from closing due to unpaid rent.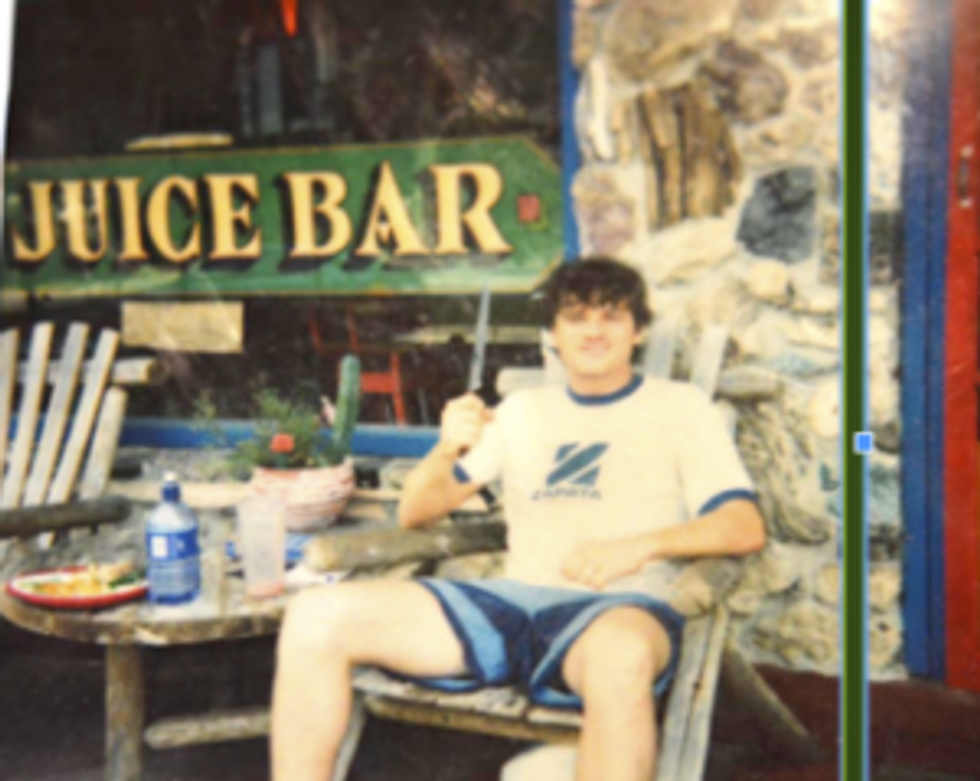 (Matt Shook)
Starting with one location on Barton Springs Road under the name "Daily Juice" in 2003, JuiceLand has since grown to 33 locations with two on the way and made $29 million in revenue in 2019. Forget any thoughts you had about the chain going national—San Antonio doesn't even have a JuiceLand yet—as Shook told Austonia he's currently focused on making Austin, Houston and Dallas a better place, one smoothie at a time.
In addition to using recycled or compostable packaging, organic produce, offering 10% discounts to cyclists, hosting bands like Blackillac on its unconventional rooftop stage, and supporting smaller local brands like Clean Cause—which Shook proudly said JuiceLand was the first retail partner for—charity is very important to the company.
One of the ways JuiceLand is tackling that goal is through its "Feel Good, Do Good" program–which has been running since 2014–highlighting a seasonal monthly drink that donates half the profits to a revolving Texas nonprofit. For example, if you order a pineapple spinach mint agua fresca by March 31, 50% of the proceeds will be donated to Refugee Services of Texas.
Shook said JuiceLand frequently raises funds for Casa Marianella as well, which also helps relocate people who are new to America.
"I think we've partnered with them four times over the years so they probably are the one we partner with the most," Shook said. "What better an American value than welcoming someone to our country and helping them get on their feet? JuiceLand's core value of welcoming really aligns with those two nonprofits."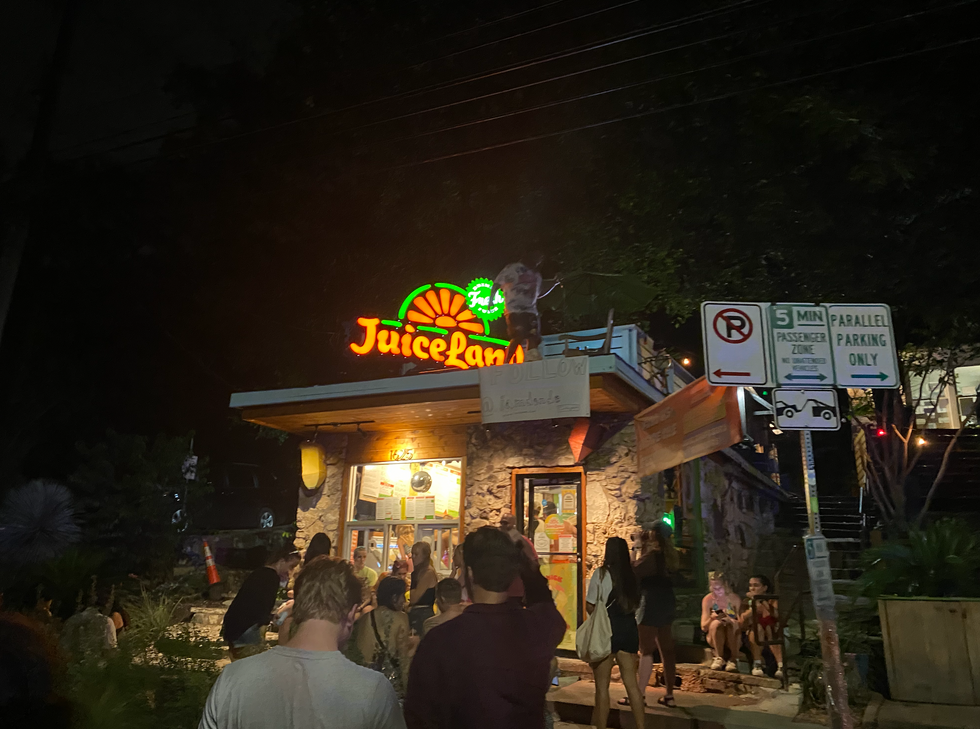 After ACL, festival-goers were able to see more live music on the roof of Juiceland's Barton Springs location. (Sonia Garcia/ Austonia)
Possibly the closest to his heart, Shook has been a Seedling Mentor since 2020 and now sits on the board of directors. Through the program, which connects an adult mentor to a child with a parent incarcerated in their area, the mentor meets with their child for 30 minutes per week.

JuiceLand raised $20,000 for Seedling last year and the benefits of volunteerism are passed on to the employees, who are incentivized to become mentors. Shook said at least 22 JuiceLand employees are mentors and he meets his 12-year-old mentee every week to throw a football together.
"When I was a kid that's all I ever wanted to do was throw and catch a football, so it's just kind of like something to look forward to not just for him but also for me," Shook said. "There's a lot of science behind a child that has a mentor that is scientifically, data-driven, proven to be more likely to show up for school, graduate school and be successful in life."
After closing a few locations during the pandemic, JuiceLand is ramping back up with plans to open two more locations, one in Dallas and the other in Round Rock, at 2800 S. I-35, opening in the next month or two.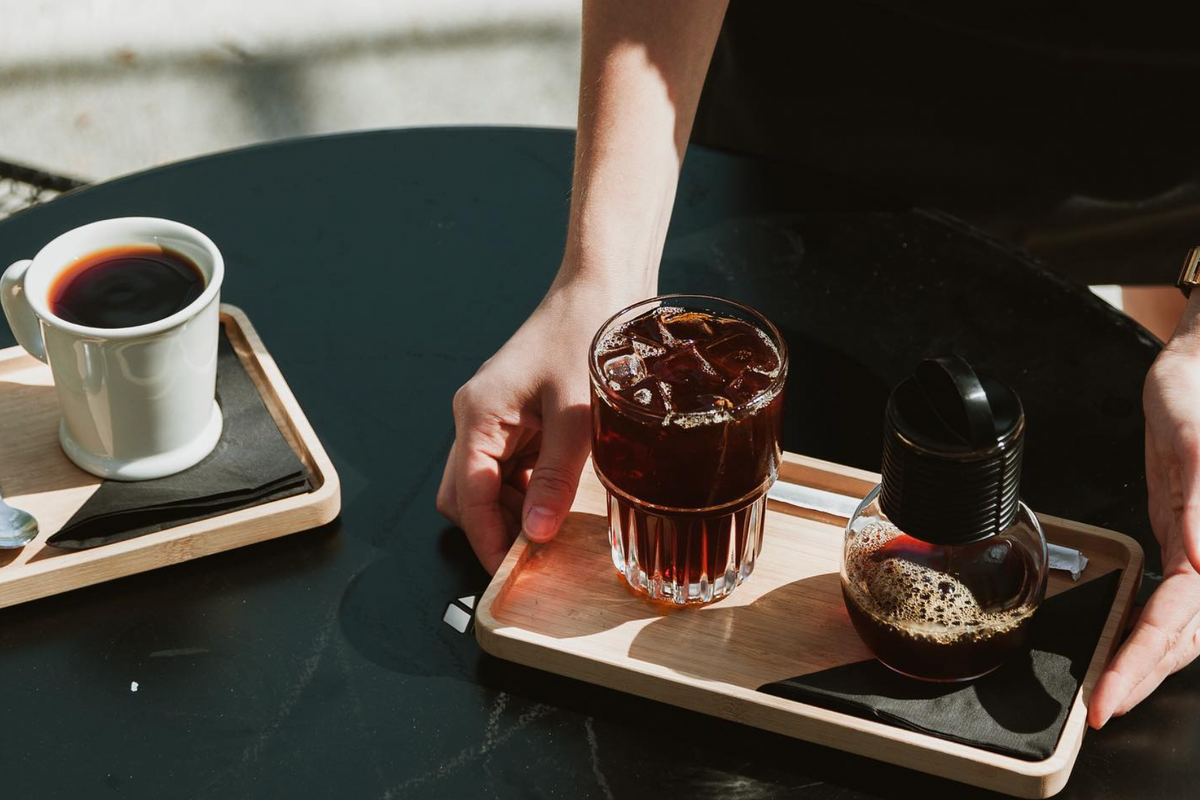 Over the past year, the Austonia team has been meeting at different coffee shops weekly to co-work. In the process, we've visited more than 40 local coffee shops in the city.
It's safe to say that we've become very well-versed in Austin's local coffee scene and we've had fun doing it. Since we were coworking, there was some criteria: There had to be seating and outlets for laptops, and each shop had to be open until 5 p.m. or later.
Our go-to orders:
Senior producer Sonia Garcia typically goes for a floral iced tea or a chai tea latte.
Austin FC reporter Claire Partain tries a different iced latte at each place she visits.
Reporter Laura Figi usually reaches for a London Fog tea latte.
Tech reporter Andrea likes the classics: a vanilla oat milk latte.
Next time you go out for a cup of joe, shake things up by visiting some of our tried-and-true cafés around town.

Café Crème | 1834 E Oltorf St.
This spacious Riverside coffee shop has it all: Parking, ample seating, hot food and a huge variety of coffees, teas and smoothies. Try a Cafe Sua Da, Claire's favorite Vietnamese iced coffee, and a homemade breakfast taco or have your pick of loose leaf teas while you nosh on a savory crepe. The eclectic inside has local art for sale all along the walls, large windows for tons of natural light, conference rooms you can rent and a lowkey outdoor patio for enjoying spring weather.
Cenote | 1010 E. Cesar Chavez St.
Come for the array of breakfast options and stay for the flavored mimosas. With plenty of seating indoor and out, Cenote shines best when it comes to its kitchen. Don't sleep on its rainbow of salads, hot honey chicken or migas taco. Stay for a Michelada or your choice or local beers.
Flightpath Coffee | 5011 Duval St.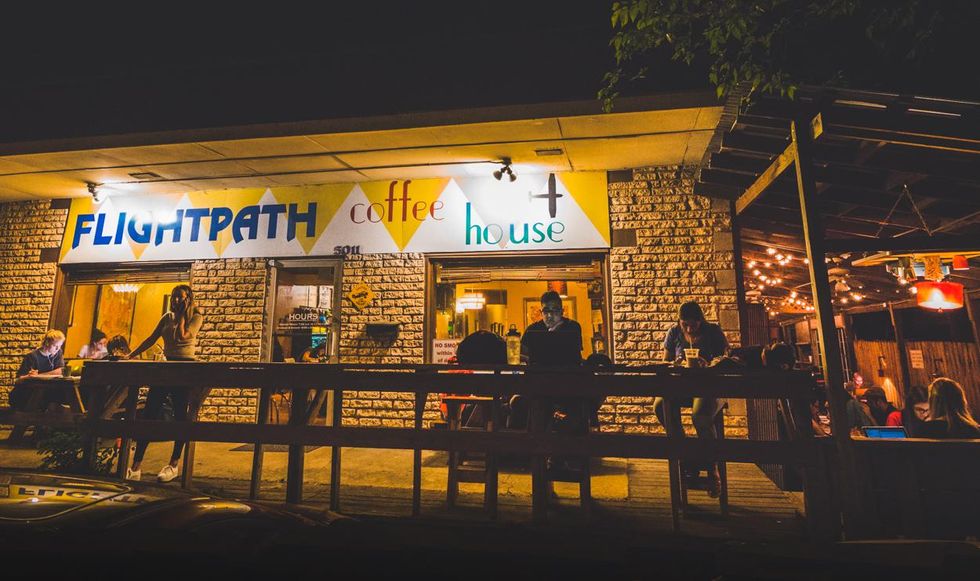 An unassuming gem, Flightpath Coffee makes for a great coworking space with multiple rooms, plenty of outlets and food options for all-day work. Flightpath's cozy outdoor patio is well-shaded so it stays cool even in the summer. Get a great selection of tea here!
Freddo ATX | 2336 S. Congress Ave.
Across the street from the oldest H-E-B in Austin in the historic Victorian Walter Tips House, Freddo ATX is a tranquil, quiet place to get some work done. A full menu of paninis, Austonia-approved breakfast sandwiches and daily happy hour from 3-6 p.m. will keep you fed, whether you're grinding or just enjoying the day. Don't leave before you roam through all the rooms upstairs!
Greater Goods Coffee Roasting Co. | 2501 E. 5th St.
There isn't much to eat at Greater Goods but the laptop-friendly atmosphere and phenomenal drinks make up for it. No two drinks are exactly the same, from the turmeric Tiger latte, coconut sugar Kali mocha, to Figi's favorite, the McGregor, a rose tea and bourbon syrup latte.
The Hive | 10542 Menchaca Rd.
Nestled far south in a lush garden, The Hive will bring you back into nature without having to venture too far from the city. True to its name, The Hive has a huge garden to lounge in outback, and fresh treats while you're there. We visited this coffee shop multiple times—our favorites are the coconut lemonade, lavender lattes and carrot cake.
Madrone Coffee Co. | 6266 US-290
A big stone building in Oak Hill, Madrone's interior is dimly-lit and gives off a wintery vibe with a large fireplace as the focal point. Ask the barista what their recommendation is—Madrone frequently has revolving specials like dark chocolate matcha or mocha picante. Currently, Frida's Cocina Food Truck serves on the outdoor patio from 7 a.m.-11 p.m.
The Meteor | 2110 S Congress Ave.
Retro on the outside, modern on the inside, The Meteor is a cross between a café, bodega and bike shop. You'll find your standard espresso and coffee options, lots of tea (may we say the best chai tea), plus a host of local beers and wines, for dine-in or to-go. If you're hungry, grab one of their pastries, a sourdough pizza or Sonia's favorite, "The Meteor Logical Bowl," to enjoy on the sunny patio.
Nate's Baked Goods & Coffee | 401 Orchard St. 
This itty-bitty hidden coffee shop tucked just off of 5th Street, has some huge flavor inside. There is very little seating, which is offset by the huge amount of baked goods, unique drinks and affordable gourmet sandwiches. During our visit, we enjoyed a mint matcha lemonade, Dolly Parton-inspired cookies and a Super Bun breakfast sandwich.
Plaza Colombian Coffee Bar | 3842 S Congress Ave.
A festive tiki bar outside with a velvety dining room and stage inside, Plaza Columbian makes an easy transition from coffee to margarita. You'll find lots of Colombian-inspired snacks inside, including the guava Gloria pastry, bocaditos and empanadas. Figi was wowed by the London Fog, made with vanilla beans, while the whole team enjoyed the plantain chips!
Opa | 2050 S. Lamar Blvd.
Grab a seat on the sunny patio or indoors for a good game of chess and some light Greek bites. There isn't usually too much seating available for a long day of work, which goes to show how popular this day and night shop is. Grab a pizza, one of our favorite menu items, and some wine once the clock hits 5 p.m.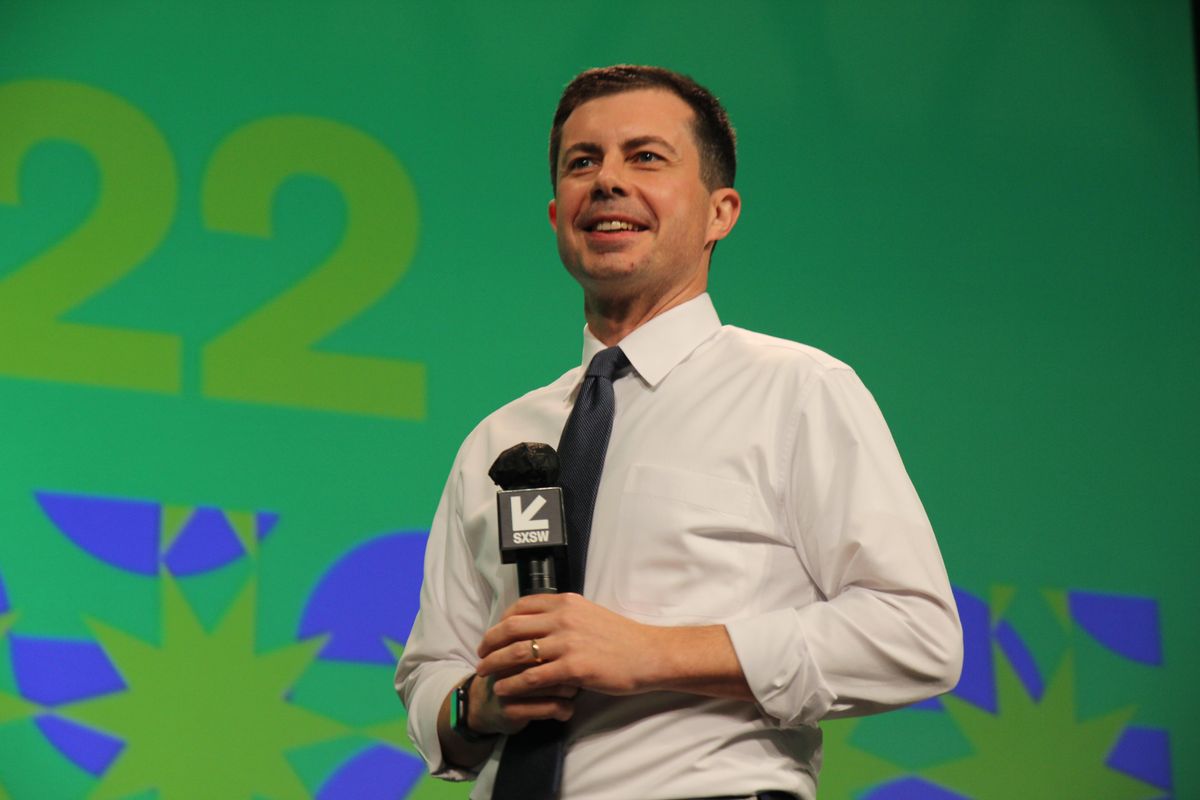 Returning for his second year in a row at SXSW 2022, U.S. Transportation Secretary Pete Buttigieg took to the stage for a town hall with festival-goers to talk about sustainability in transit, job growth and reconnecting communities.
After a test ride with Mayor Steve Adler on Austin's new red line light rail at MLK Station just hours before gearing up to speak at the Austin Convention Center on Wednesday, Buttigieg spoke on his many concerns as transportation secretary: accessible transit for all, lowering roadway deaths to zero and tackling climate change.
More than 38,000 people were killed in traffic accidents last year, many of them entirely preventable but too often viewed as the "cost of doing business," Buttigieg said. With the passage of President Joe Biden's $1 trillion infrastructure bill, Buttigieg said investment in infrastructure is deeply important to his department.
"I don't believe it has to be that way. Especially because we've seen that specific steps that have been taken in a number of places have dramatically reduced the rate of roadway fatalities," Buttigieg said. "That's part of what we're going to put this money toward, making it safer to get to where you need to be and to be behind the wheel in this country."
The Harvard graduate and first openly gay secretary to serve in the president's cabinet said that South Bend, Indiana, was one of the first cities to adopt dockless bike and scooter share systems while he was serving as mayor.
"Every transportation decision is a climate decision whether we recognize it or not," Buttigieg said. "As a matter of fact, in the U.S. economy, the biggest sector in terms of contributions to greenhouse gas emissions is the transportation sector. Which means in my view, that that's a challenge for us in transportation to try to be the biggest part of the solution."
Amid climate change-fueled barriers in the way and skipping "about 40 years in terms of investing at the rate we really should have," Buttigieg said he believes the 2020s will be a transformative time for the future of clean transportation.
"We have an opportunity to prepare... to make sure that the development of these innovations benefits us in terms of public policy goals, benefits all those other things I was talking about that makes us safer, makes us more equitable and more climate-ready."