Get connected with our daily update
Tired of football and futbol? Austin may have waited until 2021 to secure its first major-league professional team, but it's still packed with weird and wonderful teams of every sport to cheer on.
With Austin FC still tucked away in last place, it hasn't been easy being a Verde fan so far, even as they won two straight home matches for the first time this season last week. And the all-day fest that is Texas football isn't going away anytime soon.
But for those looking for more entertainment, there are plenty of teams—from professional to high school—to make even the most sports-averse Austinites become full-fledged fans.
Here is a list of teams to hop onto, ranked from best to worst for those fair-weather fans:
Westlake Chapparals football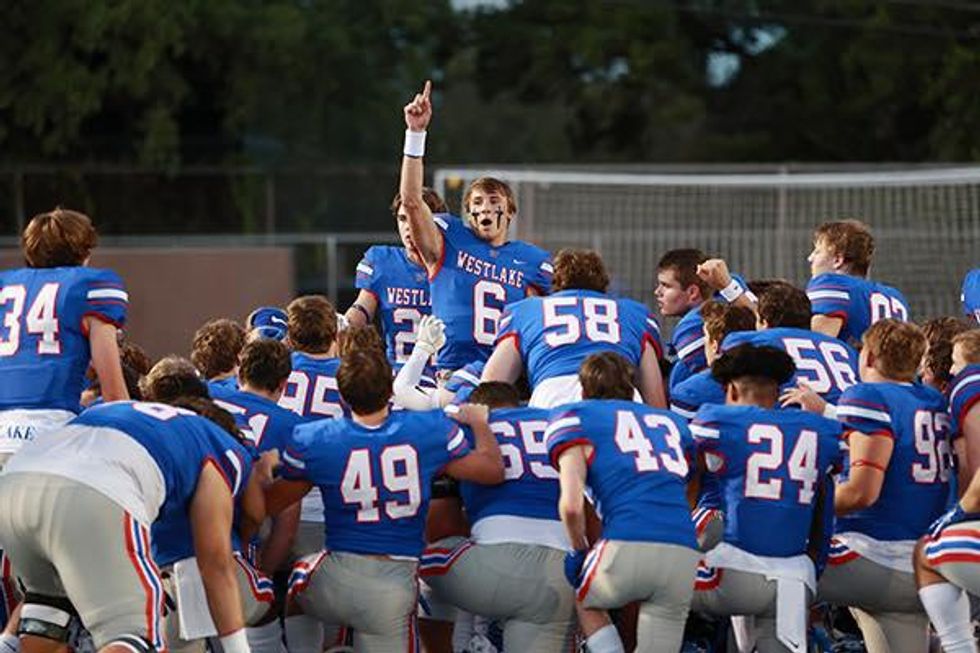 (Westlake Nation/Facebook)
Unsure about Texas' football season this year? If you're looking for few disappointments and plenty of wins, check out Westlake High School's championship football team.
In fact, the team hasn't lost a game since 2019—and they've won two straight State 6A football championships to boot. The school that produced former NFL quarterback Drew Brees and former UT star Sam Ehlinger is still going strong this season and have won all five of their games so far.
If you're looking for some "Friday Night Lights," look no further than the football-crazed culture at Westlake High games.
No. 2 Texas Volleyball
Taking our show on the road 🤘#HookEm pic.twitter.com/JZO52I2DNu

— Texas Volleyball (@TexasVolleyball) September 17, 2021
Longhorn football fans, it's time to ask an important question: is UT a volleyball school?
Even though football is having a winning streak of their own, the Texas volleyball team is certainly making a case for it this season. While they're almost always in the top 10 of NCAA standings, the 2020-21 team propelled even further into the NCAA Championships as they fell to No. 2 Kentucky in the finals.
The Longhorns have kept that spirit going this season: they're ranked No. 2 in the NCAA and are undefeated with 11 straight wins. The team toppled Lone Star rival Texas A&M 3-1 on Sept. 27 and swept their first Big 12 Conference foe West Virginia twice in a row to keep their record clean.
Get on the bandwagon before the NCAA Tournament next spring and you may see the team take home their first championship since 2012!
Austin Outlaws (Quidditch)
Looking for something a little bit more magical? The Austin Outlaws have you covered.
Based on a wizarding game from the Harry Potter series, Major League Quidditch brings the sport into the "muggle" world. It's a full-contact, co-ed sport that involves throwing balls into hoops, chasing an elusive Seeker and yes, having broomstick-like sticks between your legs.
The Austin Outlaws are one of the premier Quidditch teams in the nation, having appeared in all four of the MLQ finals since their founding in 2016. They're coming in hot off of a MLQ Championship title in 2020 and will once again take to the pitch in summer 2022.
Austin Valkyries
Ranked No. 2 in the nation, women's rugby team Austin Valkyries are an aptly-named group of athletes that took home the 7's TOLA (Texas, Oklahoma, Louisiana, Arkansas) trophy in August alongside brother team the Austin Huns (we'll get to them next.)
The Valkyries' 7-man season may be over, but their 15-woman team will take on the Denver Merlins on Oct. 23 at Austin Huns Rugby in the Kandis Ruiz Cookie Bowl named after their late teammate.
Austin Huns
Just like their sisters the Valkyries, men's rugby club the Austin Huns brought in awards of their own as they won the "Plate" at Nationals and took home the TOLA cup themselves in August.
The Huns took home three other tournament titles over the summer, and they're not new to the championship scene: in 2017, the team made history as they became the U.S. Division 1 National Champions.
The Huns are taking a break from the pitch but will be back this fall.
Major League Pickleball
We ranked this one high because of its novelty and significance to pickleball-loving Austin.
For those not on the pickleball train, the fast-growing sport has fully wedged itself into the Texas capital's culture. Those young and old can be seen playing side-by-side at bars, tennis courts and even pickleball-centered venues around the metro.
As the first major league ever to be founded in Austin, Major League Pickleball seeks to hop into the pickleball craze. The new co-ed league, based at Dreamland in Dripping Springs, will bring the best-of-the-best pickleballers to the city for a four-day inaugural tournament on Nov. 5-8.
Round Rock Express
One of the metro's most-loved teams prior to the arrival of Austin FC, the Round Rock Express are a Triple-A minor league team affiliated with Dallas' Texas Rangers. The team, which is owned by famous Ranger Nolan Ryan, is currently seventh in their 30-team league and are rounding out their season with a series of home events through October and November.
Austin Spurs
The San Antonio Spurs are overrated, right? For those not wanting to make the trip down I-35, the Austin Spurs are an NBA G-League team that serve as a minor-league affiliate to their San Antonio neighbors.
The team was fifth in the league last season and sixth the year before, advancing to playoffs both years. Catch up-and-coming stars before their big break all while staying in town—the team kicks off their first game since March of 2020 at Cedar Park's H-E-B Center on Nov. 14.
Austin Sol
Playing Frisbee may seem like a beachside hobby, but the pastime has blossomed into a high-intensity sport with a professional league of its own in the form of ultimate frisbee.
Think of your favorite aspects of basketball, soccer and football, and you'll get something similar to ultimate frisbee. It's a fast-paced, no-contact sport that involves strategic passes, interception, and touchdown-esque goals that occur when a pass is completed in the endzone.
If you're still confused, check out Austin Sol, an American Ultimate Disc League team founded in Austin in 2015. The team enjoyed an even 6-6 record this summer to finish their season at third in the West Division.
They may not be playing until next summer, but be sure to watch the team catch some high-flying discs at Chaparral Stadium come June.
Austin Bold FC
Not interested in $10 beers?
Austin FC packs in the party at their 20,500 capacity stadium every week, but for those looking for a quieter professional soccer team, the Austin Bold are another viable option.
Located in Southeast Austin at Circuit of the Americas, the United Soccer League club is sixth in its seven-team conference but is enjoying a bit of a late-season comeback with a 3-1-1 record in their last five matches.
They may not make playoff berth, but they've got $2 beers. What's not to like?
Catch the Austin Bold at home for their next two matches at 8 p.m. on Wednesday and Sunday.
Austin Ice Bats
Think it's too hot for hockey in Central Texas? Think again—Austin is now home to two minor league hockey teams, the Texas Stars and aptly-named Austin Ice Bats.
The Texas Stars are a professional hockey team and American Hockey League affiliate to major-leaguers the Dallas Stars. They've been around since 2009 and have since won two titles in 2013 and 2014.
The club was second-to-last in their division last season, but they'll have a chance to make up for it with a season opener at Cedar Park's H-E-B center against the Iowa Wild on Saturday, Oct. 16.
The Ice Bats' name may seem familiar to seasoned Austinites—that's because the new team owes their name to the original Ice Bats, a minor league hockey team that preceded the Stars before disbanding in 2008.
The new Ice Bats are a Division III juniors team that will start their first season states away on Friday but come home to play College Station's Texas Roadrunners starting on Oct. 29 at Chaparral Ice.
FC Austin Elite
Women's semipro soccer team FC Austin Elite may have finished fifth in the eight-team Southwest conference this year, but they have more to look forward to: they'll upgrade into Austin's first professional women's soccer team in a Division II league next year, according to FC Austin Elite general manager Danny Woodfill.
"We are actually out recruiting professional players," Woodfill said. "Everybody in the country wants to come to Austin right now, and now they can play pro soccer now in Austin as women."
Catch the FC Austin Elite fill in those professional shoes at the Round Rock Multipurpose Complex come spring.
Austin Outlaws
Looking to watch some girl power? Catch the Austin Outlaws, a women's full-equipment, full-contact football team that plays in the Southwest division of the 60-team Women's Football Alliance.
The team is one of the longest-running full-contact women's football clubs in the U.S., and they've got the stats to prove it as they flip-flopped across football leagues and through playoffs through their 20 years.
It takes a special type of fan to get behind the Outlaws—they lost every game last season—but the monthlong May-June season is still sure to pack in entertainment and female badassery.
It's not often that NFL kickers attempt a 60-yard-plus field goal, and it's even rarer to actually make it in. Not so for former Longhorn Justin Tucker; the Baltimore Ravens kicker managed both Sunday night as he booted in buzzer-beating 66-yard field goal to set a new NFL record and beat the Detroit Lions 19-17.
With the game-winning kick, Tucker bested the 64-yard record completed by Denver Broncos kicker Matt Prater in 2013. The moment served as deja vu for Tucker and team; the star kicker last set his own record at the Lions' field nearly a decade ago with a 61-yard kick.
"Man, I love Detroit. I'm thinking about getting a place here," Tucker told reporters after the game.
Tucker is now 16-for-16 on completed kicks in the final minute of regulation, according to ESPN, and this last-minute kick was just as dramatic; the ball bounced off of the crossbar before it landed in. Tucker was lifted off the field by his team and carried the game-winning ball well after the final whistle.
Although Tucker missed both of his 65-yard attempts in pregame warmups, Ravens coach John Harbaugh told reporters he was confident in his kicker's ability to make the unlikely play.
"He's the best kicker in history," Harbaugh said.
Thirty-one-year-old Tucker has been with the Ravens since 2012 and is the most accurate field goal kicker in NFL history with 90.8 percent accuracy.
Before the NFL, the Westlake native handled 52 kickoffs for the University of Texas and made 190 career points for the Longhorns. He was awarded 2011 second-team All-Big 12 honors and was ranked second on UT's single-season list for field goals made in 2010 with 23 completions. His alma mater made sure to recognize him in a tweet.
The University of Texas at Austin welcomed more incoming freshmen than ever before, with 9,060 new Longhorns, thanks to the rise of on-time graduations allowing the university to admit more undergraduates.
The count was taken on the 12th day of class, Sept. 10, beating out the previous high of 8,960 from 2018. The new class is also setting records for its diversity, citing a rise of Black, Hispanic and Asian undergrads.
"People all across the UT community have been working hard to recruit, attract, retain and support even more talented and diverse students, staff members and faculty members who can change the world," UT President Jay Hartzell said. "I'm proud that our combined enrollment of historically underrepresented groups has reached record levels for the second year in a row."

A 3% enrollment rise can be attributed to UT's all-time high graduation rates: the four-year graduation rate rose from 72.2% to 72.7%, while the six-year student rate rose from 87.6% to 87.7%.
Of the 51,992 students on UT's campus, 13,366, or 29.6%, come from historically underrepresented groups—including Black, Hispanic, American Indian or Alaska Native, or Native Hawaiian or Other Pacific Islander—one of the highest totals out of the Association of American Universities and a record-breaking percentage.
With this new class, the university is also serving more first-generation students and Hispanic students than ever before, making up 22.9% and 27.1% of the undergrad student body, respectively. Last year, UT hit a quota of 25% Hispanic students to qualify as a Hispanic-Serving Institution and received the Seal of Excelencia for its commitment to the success of Latin students.
Black students fell just a bit, from 5.3% to 5.2% university-wide, though the actual enrollment amount is up, from 2,193 to 2,219.
From Your Site Articles
Related Articles Around the Web
In the latest play on the "Eyes of Texas" chessboard, the NAACP of Texas, its University of Texas chapter and five anonymous UT students have filed a civil rights complaint against the school for creating a "hostile environment" for Black students as the school continues to back its controversial alma mater.
According to The Texas Tribune, the complaint says that the continued playing of the alma mater and failure to address racial harassment against the song's opponents and Black students violates Title VI of the Civil Rights Act. The school decided that the song had "no clear racist intent" after research in the spring and continues to support the playing of the alma mater. But those who disagree cite that the song debuted at a minstrel show where students likely wore blackface.
In response to continued pushback while facing pressure from angry donors supporting the song, the school decided to create a second band in which students do not have to play the song. The complaint states that this decision "violates equal protections afforded under the Fourteenth Amendment" according to the Tribune.
A member of student activist group Cops off Campus that staged a protest against the song at the school's annual "Gone To Texas" event, said that the separate band decision wasn't a solution to their demands. The student wished to remain anonymous to avoid backlash.
"The establishment of separate bands, really only solves part of the issue," the member said. "If a band still exists, and the school song is still 'The Eyes of Texas,' and it's still being played, then nothing is fundamentally changed. So it's not really any meaningful compromise."
The complaint states that continuing to keep the song "despite its racially offensive origin, context and meaning" leaves many Black students uncomfortable and unable to fully enjoy their college experience. In the complaint, five anonymous students said they felt ostracized by the university for not agreeing with the playing of the alma mater.
The NAACP filed the complaint one day before the Longhorns' first football game and a few weeks after the first protest of the song this semester, when a few dozen student activists protested the song at the school's annual "Gone to Texas" event.
The complaint and protests this semester show that the "Eyes of Texas" issue is far from over.
"If they don't take our demands seriously, we're going to continue to disrupt their events," the member said.