Never miss a story
Sign up for our free daily morning email...
...and afternoon text update
Get connected with our daily update
(Michael Barera/CC)
Journalists at the Austin American-Statesman and its six community newspapers won the right Wednesday to negotiate for a union contract.
The National Labor Relations Board in Fort Worth tallied the results of a newsroom election, in which 36 employees voted in favor of union representation and 12 voted against. The NLRB still must formally certify the election.
"We're excited to move forward with a voice in our future and to continue to #KeepAustinInformed," the Austin NewsGuild tweeted in response to the election results, which were delayed due to the winter storm last week.
The Austin NewsGuild announced in early December that they were taking steps to unionize, including submitting the required paperwork to the NLRB to request a union certification election at the Statesman. A secret-ballot mail election is only necessary when newsroom management declines to recognize the union voluntarily, as was the case with Gannett, the Statesman's parent company.

"We respect the decision by our colleagues," Statesman Editor Manny Garcia said in a statement Wednesday. "We will continue to focus on our public service mission to serve our growing community."
The NewsGuild cited a need for stability in "an increasingly unstable industry, one plagued by budget cuts, layoffs, a lack of diversity and dwindling resources," according to a Jan. 9 news release. Its members pledged to advocate for increased staff positions, improved benefits, increased safety gear and anti-racist policies. On Martin Luther King Jr. Day, the NewsGuild's diversity committee sent a letter to management demanding a plan to revive the Spanish-langauge newspaper ¡Ahora Si!, diversify hiring and require implicit bias training, among other changes.

NewsGuild members join journalists others across the country that have unionized newsrooms in recent years, including at the Los Angeles Times, the Chicago Tribune and the Arizona Republic.
The Dallas Morning News Staff voted to unionize in October, becoming the first newspaper in Texas to do so. The Fort Worth Star-Telegram staff announced it had unionized shortly after.
Like many of these papers, the Statesman has faced years of downsizing, hiring freezes and, most recently, furloughs during the pandemic. It has also endured a series of corporate handoffs—three in as many years.
Atlanta-based Cox Enterprises sold the Statesman to the New York-based publishing company GateHouse Media in 2018, after 41 years of ownership. In late 2019, GateHouse closed its $1.1 billion takeover of Gannett, becoming the country's largest newspaper company, and pledged to cut costs. (The company now goes by Gannett.)
Gannett laid off seven Statesman staffers, including veteran sportswriter Suzanne Halliburton and culture critic Joe Gross, in April. Three months later, the company signed a lease at MetCenter, a corporate business park that the Statesman will move into next year. Its recognizable riverfront headquarters will be redeveloped. Last October, the company reportedly offered employees voluntary buyouts. Then, in January, Executive Editor John Bridges announced his retirement after 32 years with the Statesman last month. He was succeeded by Garcia, who previously worked at ProPublica.
According to the NewsGuild, more than 50 journalists have left the Statesman voluntarily or because of buyouts and layoffs over the last two years, representing a 40% reduction in newsroom staff.
5/ We're not naive about the reality of our industry & know a union can't stop the shrinkage. But it can help protect our remaining staff & give us a voice in decisions about the future.

It will give our reporters an opportunity to fight for our readers & the coverage they need.
— Austin NewsGuild (@AustinNewsGuild) December 16, 2020
Dr. Victor Pickard, a professor of media policy and political economy at the University of Pennsylvania, told Austonia in December that this push toward organizing is "a rare glimmer of hope in this really dismal landscape."

Unions at legacy media companies, such as the Statesman, may help counterbalance publishers' singular focus on profit, which often comes at the expense of jobs. But unions alone won't insulate newspapers from a rapidly changing industry. Instead, Pickard said existing newsrooms need to transition to new business models—like the nonprofit Texas Tribune or low-profit Philadelphia Inquirer—that help lessen commercial pressures.
"If we don't do anything the market will just drive journalism into the ground," he said.
This story has been updated to include a response from Statesman Editor Manny Garcia.

The Hustle, an Austin-based media company focused on business growth, has been acquired by software company HubSpot.
Starting out as a simple email newsletter in 2016, The Hustle, has grown to reach over 1.5 million readers and has incorporated a podcast, "My First Million" and a premium research platform, Trends, in order to give entrepreneurs insight and practices to help grow their businesses.
HubSpot           The Hustle       🤝   High-quality content for        scaling companies

— HubSpot (@HubSpot)1612451668.0
The media company is being acquired for an undisclosed amount. Sam Parr, CEO and founder of The Hustle, said in a Twitter thread that he would be taking that number "to the grave."

In the acquisition by HubSpot, a customer relationship management platform for growing companies, The Hustle aims to give the company more ways to educate its community through more diverse media.
In a statement on The Hustle's latest newsletter, the media company said the acquisition will also allow them to produce more material, including podcasts, products and other original content while maintaining the free daily email subscription they were founded on.
According to Parr, this is not the first time a larger company has attempted an acquisition. He said most ad-first media companies are going out of business, and he didn't want to join forces with anyone who used that model.
HubSpot is a business-to-business software service company—one of the only kind of business models Parr wanted to be bought by.
What really sold Parr on the purchase though, was when, according to him, HubSpot's CEO, Brian Halligan said, "We want to keep you guys weird, keep your content cool—but put more resources behind it."
In terms of how Parr plans on celebrating the acquisition? He has one thing in mind for his wife: THE outfit.
More on Austin media: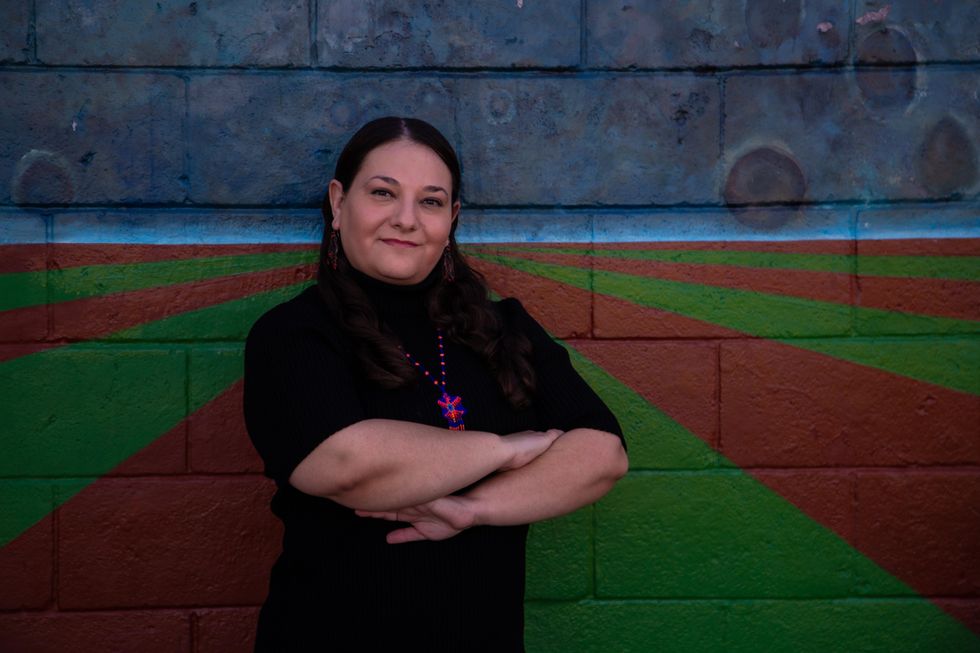 From being an 'add on' to 'the story,' one Latina journalist is elevating the voices in her community
(Graphic by Laura Figi)
You can't really ever go back, and we can't revive the days or the vibe or the "just right" Twitter and Facebook feeds of the Austinist.
But we've picked up what little is left, wrapped a blanket around it, given it a warm bath and a hot meal, and we're getting to know it.
Austinist was a collaborative, engaged, wide-ranging reflection of Austin at a slightly weirder time. According to the Austin Chronicle, it was shut down in 2014 by its New York based corporate owners because it wasn't getting the "attention it deserves."
After shutdown, it unravelled—website offline, links broken, archives lost, email lists gone—with nothing remaining but the Twitter and Facebook feeds, idle. The pieces passed into the hands of WNYC, New York's public radio station, who graciously sent them home.
With advice and leadership from Austin journalist Omar Gallaga, Austonia is reviving Austinist on Twitter. It will be called Austinist for a couple of months before becoming Austonia, replacing our existing Twitter feed.
We can't "be" the Austinist, but we're taking the opportunity to learn from the past. Our own social media feeds are mostly posts of our website stories. We didn't set out to make our social media an afterthought, but honestly, that's what we've done.
Inspired by Austinist, and led by Omar, we're doing our best to create something that Austin once treasured and has since missed:
Focusing on life in Austin
News you might not have heard
Tweets from other sources—local people, journalists, and other local publications—spotlighting the interesting and important
A laugh or at least a smile
Interactive, responsive, and evolving
In short, we're working hard to make this something special. Everyone at Austonia will be involved. We'll do our best to listen, and learn from what you tell us.
If there's anything you want us to know about Austinist, or what you're looking for in a revival, get in touch with Omar or me, mark@austonia.com. Thanks!
(Christa McWhirter/Austonia)
Growing up along the South Texas border, Nancy Flores, the daughter of two Mexican immigrants, made it her mission to uplift the voices of Latinos "a long time ago."
As a journalist for 17 years, most recently writing for The Austin American-Statesman, she says she'd try to always represent Latinos in her coverage. This year, her mission takes a new step with the relaunch of Austin Vida.
Austin Vida, a former music site that catered to Latinos in Austin, is coming back with a brand new team behind it and Flores at the helm as editor and publisher. The organization had previously been running since 2009 before ending online publishing five years ago. In the organization's resurgence, the digital newsletter relaunched last month, while the website relaunch will take place later this year on an unannounced date.
Between movements against racial injustice and Latinos disproportionately affected by COVID-19, Flores said this is exactly the right time to bring the publication back.
"Publications like Austin Vida need to exist, especially during this time," Flores said. "It was the perfect time to reimagine what (Austin Vida) could be for the future; and what it could be moving forward for another generation of Latinos in Austin, making sure they are seen and they feel heard."
In a growing city where Hispanics make up 34% of the population, there is a lack of English publications currently operating that directly speaks to the Latino experience. Flores says she hopes to fill the gap for Latinos who aren't seeing themselves in the mainstream media, who may not speak Spanish, who are second and third generation and various other circumstances because each Latino experience is different.
After almost three years living in Austin, Eli Rodriguez says he sometimes feels alienated in the city. Rodriguez lived in Puerto Rico for 26 years before moving to Detroit and then Austin.

"It feels like some Latino subcultures here in Austin are underrepresented," Rodriguez said. "Whenever I read or hear the news, a lot of us can't relate to it. I think I'd like to see or read a publication that sounds like us."
In its heyday, Austin Vida was that publication for Flores. She remembers reading Austin Vida as a young Latina and feeling like she was seen, so it was important for her to do this relaunch.
Flores said, "I don't ever want Latinos in Austin to feel like they don't belong because not only do they absolutely belong, but our stories are a big part of what makes Austin special."
Until the relaunch of first the site, the new organization is focusing on feedback from the community. Since November, it has been publishing event guides, promoting cultural awareness in the community as a start.
The organization has already received community support from the Greater Austin Hispanic Chamber of Commerce. It started spreading the word about the organization on social media and its newsletter when it learned about the project late last year.

Stephanie Bazan, communications director for GAHCC, has known Flores since college and is excited for her to elevate Latino voices further. She says she thinks Austin Vida is going to add a missing layer to the Austin digital media landscape by celebrating the everyday contributions and wins of Latinos.
"I think it's important for us to hear stories from our point of view," Bazan said. "Oftentimes our stories are told from other voices or they're just a small piece of a story, so I think it's critical for this to be the story and not just be an add on."