Get connected with our daily update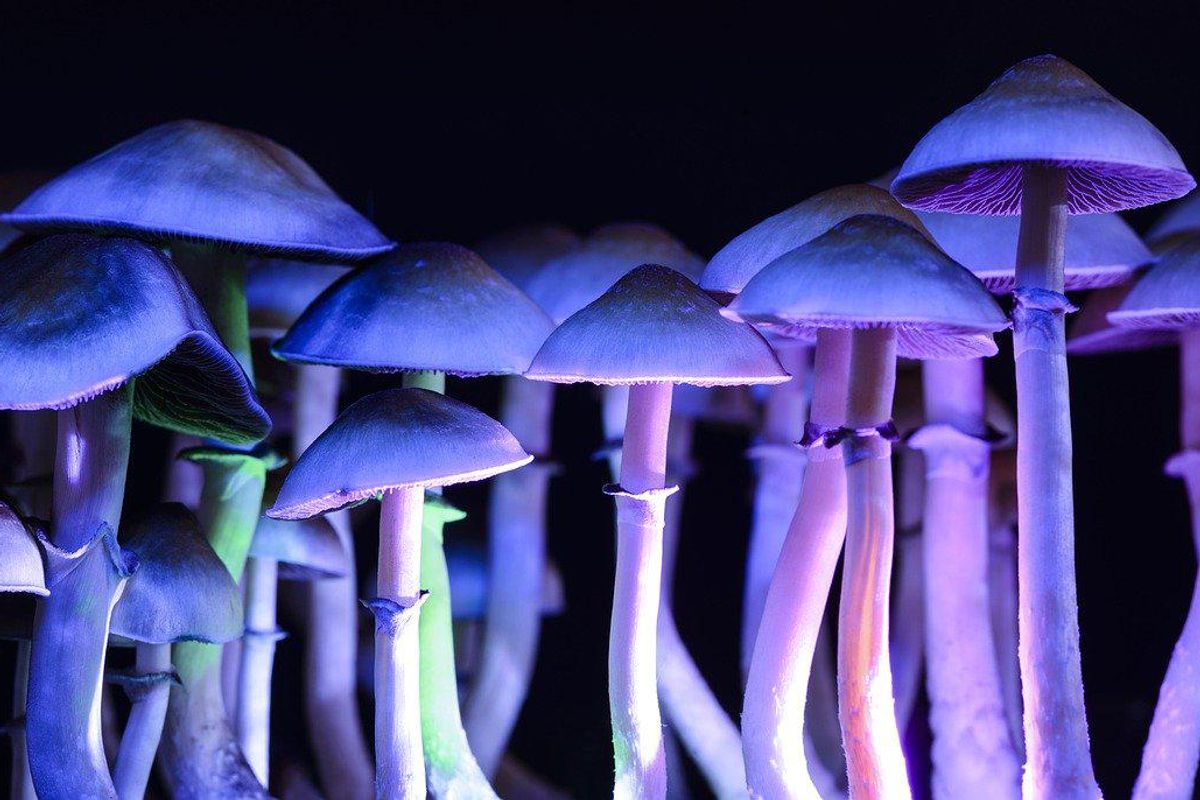 Amid a psychedelic resurgence in Austin and esteemed medical studies worldwide, the University of Texas at Austin's Dell Medical School has opened a Center for Psychedelic Research and Therapy to combat severe mental health conditions.
It's the first of its kind in Texas and will seek to help those with depression, anxiety and PTSD, especially those who haven't benefitted from more traditional treatments.
They'll implement an assortment of drugs, including ibogaine, a Central African root bark that has been used to treat opiod drug addiction; ayahuasca, a psychoactive brew originally used among indigenous people in the Amazon; psychedelic mushrooms (psilocybin); and MDMA (often called ecstasy or Molly).
Psychedelics have earned a hippy-dippy reputation since their use by members of counterculture movements and young people since the 1960s. Though each of these has been used recreationally or in religious ceremonies, they're also behind a growing bed of research—institutions like Johns Hopkins University, the University of California at Berkeley, and the Icahn School of Medicine have opened centers similar to Dell's newest research hub.

(Dell Medical School)
Charles B. Nemeroff, the professor and chair of Dell Med's Department of Psychiatry and Behavioral Sciences and co-lead of the center, said these studies have been promising.
"This research will bring further scientific rigor and expertise to study psychedelic therapy," Nemeroff said. "Recent studies have demonstrated considerable promise for these drugs when incorporated with clinical support, and this work has the potential to transform how we treat conditions like depression and PTSD, and to identify synergies between these and other well-established therapies to achieve long-term benefits for those seeking treatment."
The center's first patients will be military veterans living with post-traumatic stress disorder as well as those with long-lasting grief disorder or depression and those who have experienced childhood trauma. Two veteran programs for those looking to treat their PTSD with psychedelics, The Mission Within and the Heroic Hearts Project, will be the center's first partners.
Instead of taking them daily like traditional medicines, the drugs will be given a few times in a psychotherapy session with a mental health provider. According to Greg Fonzo, an assistant professor in Dell Med's Department of Psychiatry and Behavioral Sciences, the use of psychedelics could help patients' brains to be more adaptable.
"A key ingredient in how psychedelic therapies promote mental health may be their ability to enhance neural plasticity, the process that allows the brain to adapt to new experiences – which when combined with brain modulation therapies may promote maximum benefit," Fonzo said. "The potential implications are far-reaching for people with these conditions and their families, and also for the future of mental health treatment and care."
The drugs aren't yet approved by the FDA, but there's been recent headway: six states have decriminalized psychedelic mushrooms, while Oregon has legalized them for medical use. In Texas, House Bill 1802 was adopted in the latest legislative session to allow a study on using alternative therapies for veterans with PTSD.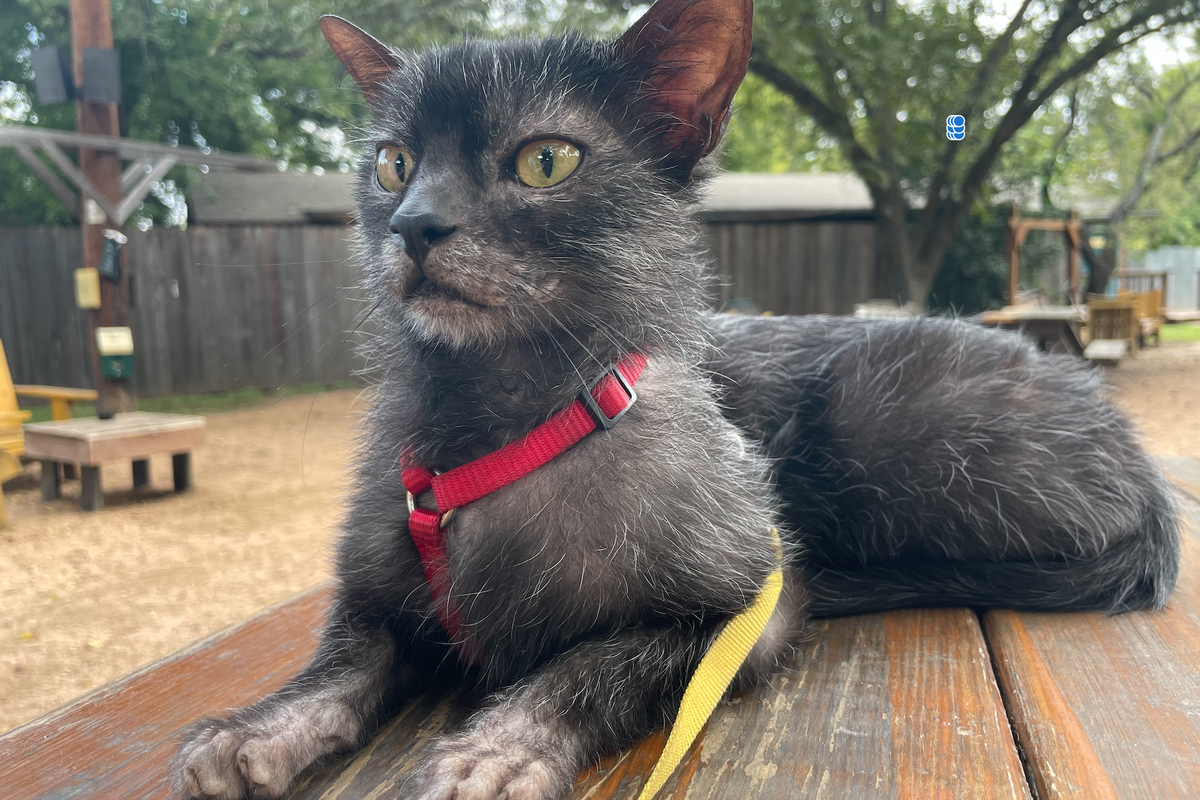 Chupie the Lykoi cat isn't as feral as he may look—unless, of course, it comes to getting his paws on some precious baguettes.
The unusual kitty has recently gone viral on social media, garnering over 30 million views on TikTok and cheering up cat fans globally during the difficulties of the pandemic.
But according to owner and Austin resident Michelle, who asked not to disclose her full name for privacy reasons, this wasn't what she expected at all when she first made Chupie's Instagram and TikTok in January.
Chupie's claim to fame—aside from his overwhelming cuteness and love for all foods (except salsa and carrots)—is his unique genetics. Lykoi cats, named after the Greek word for "wolves" and often aptly dubbed "wolf cats," are the result of a mutation originally found in feral cat populations that have since become a pedigree cat breed.
He's gotten plenty of love—and plenty of bullying—for his wolf-like appearance. Michelle has been told he looks like anything from the weasel of "Suicide Squad" to Clint Eastwood as a cat.
"I think that a lot of people think that he looks like an ugly cat because he looks mangy," Michelle said. "But that's kind of what makes him special."
But Chupie doesn't have the disposition of a werewolf. In fact, the friendly cat can be seen kayaking, hiking and lounging around locales around Austin, from historic bar Nickel City to his favorite spot at South Austin's Little Darlin'.
He's almost always well-behaved, too—that is, until food enters the picture.
Just a few days after making his Internet debut, Chupie first went viral for viciously gripping onto a bag of H-E-B buns. The post gained 1.3 million views.
Since then, similar videos of Chupie gripping baguettes, treats and other goodies have gained up to 11 million views apiece.
Michelle and her husband have beencreating content nearly every weekend and are now busier than ever. Still, it's been a rewarding, if unexpected, life change, especially as she hears from fans worldwide who view Chupie as a bright spot in their life.
Michelle said that she's received countless positive messages from fans, many of whom struggled during the pandemic.
"I joke that he's a 'meowtivational speaker' because I really think that we sometimes live in really dark places, especially during COVID," Michelle said. "So if we can give them even a little part of their day, even if it's 10 seconds where they feel joy, then it's worth it."
That popularity has translated into real life. Chupie is celebrated by fans and newcomers alike nearly everywhere he goes. In an interview with Austonia, Chupie was almost immediately greeted by a fascinated stranger who was quick to scratch his head and take pictures, something Michelle said is a normal occurrence.
"Everybody knows him when I go places now," Michelle said. "People are like, 'Oh my God, is that Chupie? Can I feed him the crust of my pizza?'"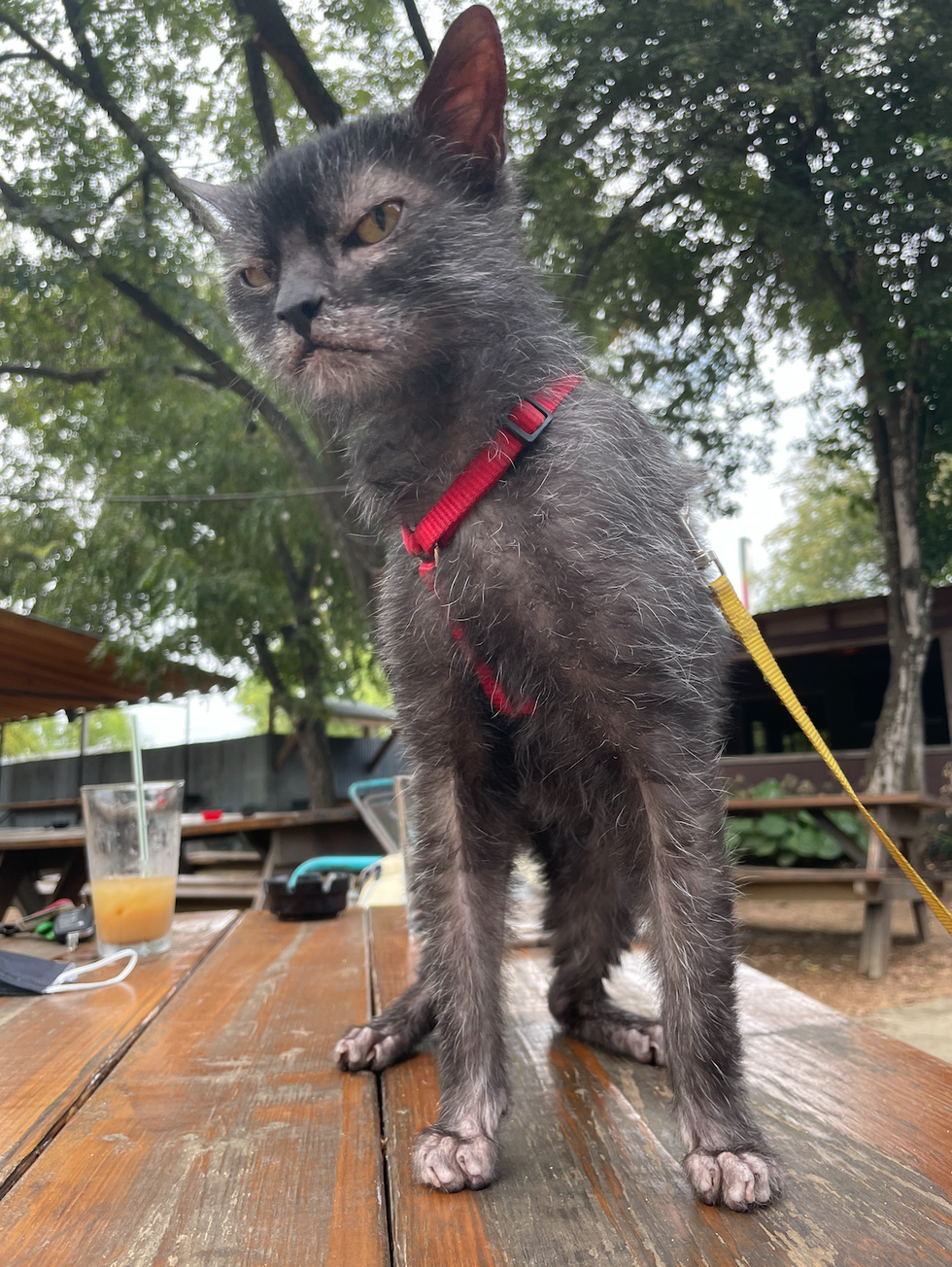 Chupie before getting a treat. (Claire Partain/Austonia)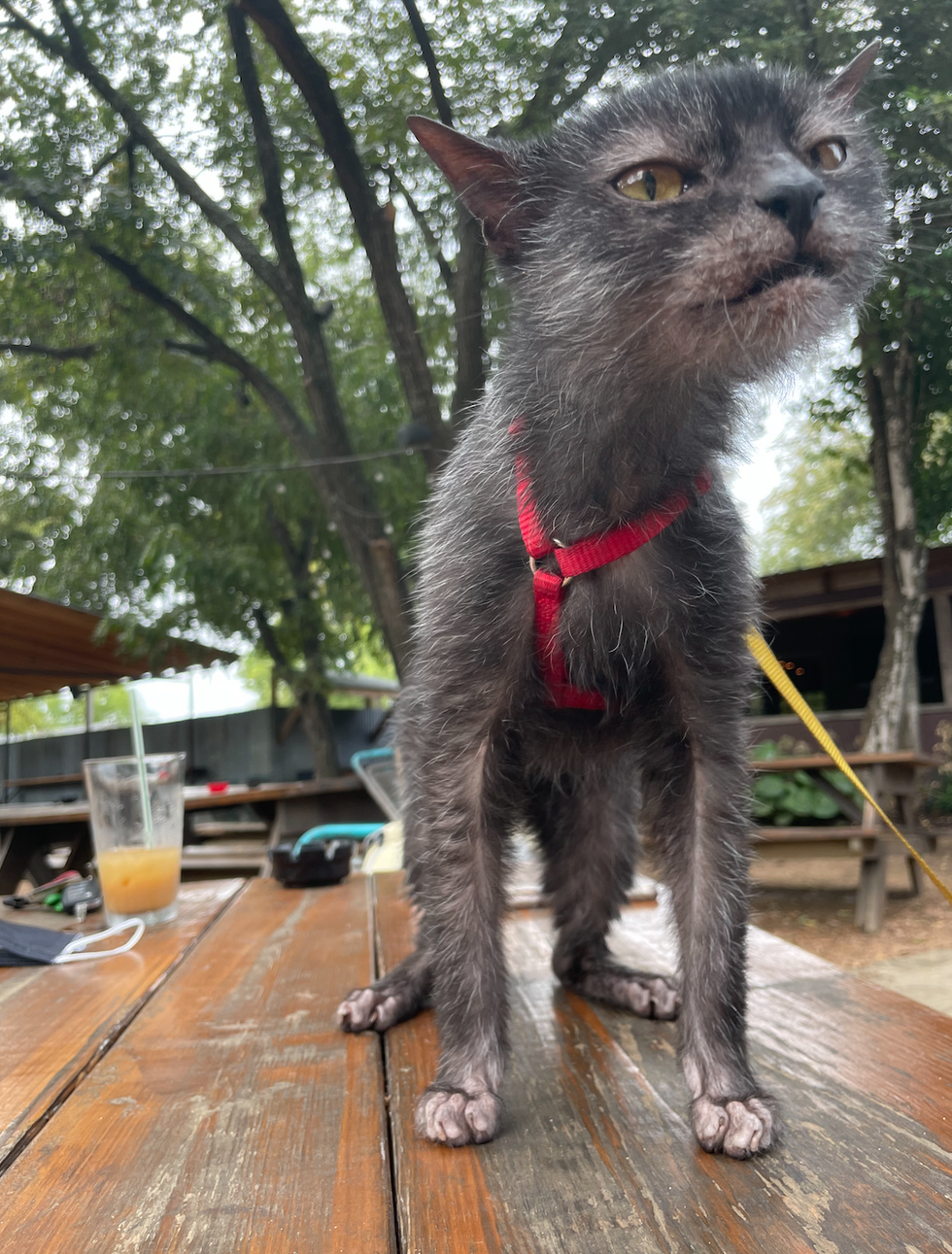 Chupie after he gets a treat. (Claire Partain/Austonia)
"He's living better than me probably," Michelle joked. "We live our lives well together. But I've never done so many things in one weekend until I started making these videos."
So what's next for Chupie? Michelle hopes one day she can take her kitty on global adventures where he can meet fans. For now, she's busy making Chupie merch, sending out care packages and is looking forward to taking her pet to animal events like the POP Cats festival on Saturday.
"This has gone way further than I ever imagined, and it's about Chupie, but it's also about the 'I don't give a meow' attitude," Michelle said. "I think people need to take life less seriously, so it's nice to be an outlet for that."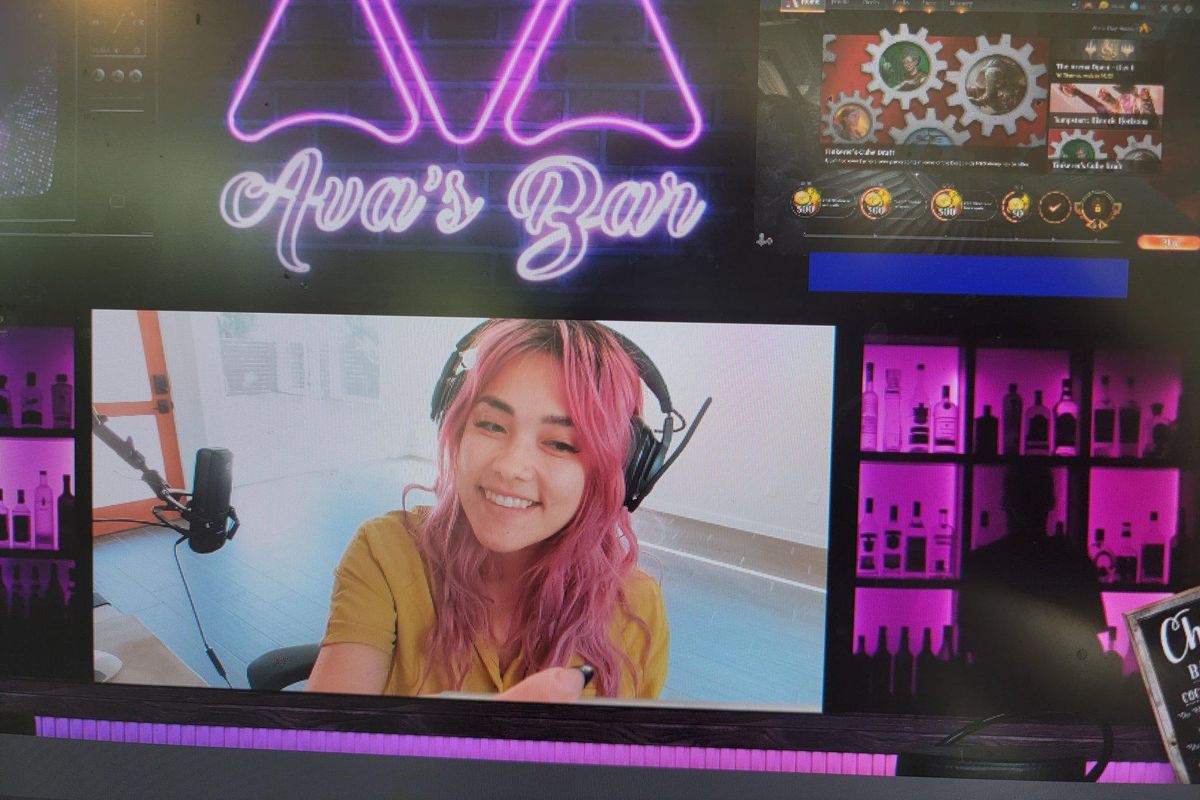 Want to become an influencer, a business-savvy marketer and content creator while doing what you love?
For Austinite AvaGG and thousands of others, that dream unexpectedly became reality as they dove into the ever-evolving world of Twitch, a video game streaming platform. Ava now only goes by her gaming name after facing safety issues.
Ava's original goal was simple: Make money and connections while playing her favorite games, including Apex Legends, Magic the Gathering and Animal Crossing, on Twitch.
Now a 10-year streaming veteran with over 450,000 Twitch subscribers and well over 200,000 followers across Instagram and Twitter, Ava said the industry has changed exponentially in ways she never expected. As a longtime Texan who joined Twitch when it was around a year old, Ava's watched the industry transform—for better or for worse—from a hobby to a more than full-time job.
"You are a content creator, you're an influencer," Ava said. "It's hard because you still just think of yourself as a person who's just playing video games, and you also have to come to the realization that you have a platform that people do follow."
Through subscriptions and tips, sponsorships with national brands and a grueling streaming schedule that can well surpass the typical 40-hour workweek, Ava has been able to skip the office lifestyle, become friends with notable people and travel the world.
But it wasn't always this easy—for years, Ava said the job was just enough to pay the bills.
Through years of growth and a boost in the COVID-19 pandemic, Ava and over 8 million other Twitch streamers have gained the ability to diversify their business ventures and profit from large sponsorships. By 2020, 26.5 million viewers were logging into the streaming site daily, and over 8 million streamers were on the site in July 2021. Twitch gods like Ninja, who broke all-time streaming records in 2019 as he played Fortnite with rapper Drake, have made big-money sponsorships with brands like Adidas and Ubereats.
That growth has been especially evident in Austin. Streamers Lululuvely (1.1 million Twitch followers), TeaWrex (265,000 followers) and Nokokopuffs (265,000 followers) are just a few Austinites who have cashed in on the site.
The city's web of influencers has only grown more tight-knit—Ava, for instance, has friends that range from fellow streamers to prominent local food blogger Jane Ko, otherwise known as Koko—and many streamers decided to make the move to Austin to hang out with their virtual friends.
"I think it just started because, like, one or two people moved here, and then once a couple of them moved here, then everyone else followed," Ava said. "I convinced so many friends from like the (Grand Theft Auto game) World to move here... You game together with them for years so you want to hang out."
Ava said it's nice to have friends that understand her unique employment status. But it's also hard to strike a work-life balance in a world where your every move could be monetized.
"It's the entertainment business, right?" Ava said. "If you're not doing something, then someone else is going to. It's a harsh world."
Some cracks are beginning to show in the fledgling gaming world. Gaming addictions are now making headlines, with Austin online gambling streamer TrainwrecksTV (195,00 subscribers) recently coming forward about his own addiction. Ava's dealt with stalking, misogyny and racism, though she's managed to turn incidents into teaching moments for her followers. At 30, she's even seen premature effects on her health—from back pain to mental health issues from staying inside.

But the nature of gaming still stands true. Due to its inclusivity and widespread interest, she believes Twitch streaming and E-sports industries will soon become more popular than sports.
"I feel like it's going to explode," Ava said. "Because that's what's cool about gaming is, you know, for as noninclusive as people try to make it, it can be very inclusive, right? It's women, and men, young and old. I'm going to be 80 years old, probably still paying attention to Twitch."