Austonia AM
100% Austin news, info, and entertainment, straight to your inbox at 6 a.m. every morning.
In five minutes, you're fully informed and ready to start another great day in our city.
Get connected with our daily update
(Gage Skidmore/CC)
Greek-American filmmaker and 2016 Olympian Alexi Pappas said when she first spoke with Bill Hader, she felt the same excitement as when she met Princess Belle at Disneyland. As a huge fan, it was magical for her.
Prominent comedian and Saturday Night Live alum Bill Hader sat down with Pappas and got vulnerable for SXSW viewers to talk about the stigma of mental health, how it has affected him and how he overcomes it on a day-to-day basis.
The pair originally connected in 2018 when Hader and Pappas were in touch about a movie. During the stream, Pappas admitted she was a big fan when reading Hader an excerpt from her book, "Bravey." They share a common trait: struggles with mental health.

"It took me a long time to just accept that you have a mental problem and I would think, 'oh, I just get nervous or I worry a lot,'" Hader said. "You know, therapy, and I'll admit it, medication has helped me a lot, like just being able to try to calm down."
Hader is an open mental health advocate who has recently been public about his struggles with anxiety while working on SNL. Likewise, Pappas said she suffered post-Olympic depression and is still dealing with the loss of her mother to suicide when she was very young.
Hader said people used to tease him for frequently breaking character, which he said was a symptom of his anxiety. Hader said it took him a long time to start to gain control, partly because he hadn't accepted having a mental illness and partly because there just wasn't enough information at his disposal.
"I was 40 when someone was like, 'hey, you know, caffeine makes your anxiety worse.' I was drinking coffee before every SNL episode. Every night I was out of my mind," Hader said. "I feel like I'm doing really well in life and I'm happy but I'm also like, you know, you have a mental illness. It's like a faulty alarm in your body; your body constantly feels like it's under attack."
Getting comfortable on stage meant acceptance and allowing himself not to take criticism on the show to heart, helping Hader find lasting confidence in his vision. When he learned not to control his anxiety, that was when Hader said he learned how to manage it.
Managing his anxiety in a pandemic was a whole new challenge.
"You manage it and you learn more about it every day and you'll always be learning about it. Everything's like a test," Hader said. "The first nine months of this pandemic were really, really rough for me mentally and then you're able to kind of go, 'okay I figured this out,' reel it in and try to be in the moment."
When he does reel it in, Hader said he thinks back to his grandfather, who never judged him and encouraged him to be himself. He also reminds himself of the first time someone believed in him.
"No one had said I was good at anything, like, ever, that wasn't a family member," Hader said. "The fact that this person really doesn't care and is just like, 'that was really good,' I just thought, 'oh wow, and I was writing on that for like weeks. I can do this.'"
(Christa McWhirter)
The Austin community is still reeling from a hostage incident at a local pediatric practice late last month, in which Dr. Katherine Lindley Dodson was killed in a murder-suicide. The crime remains under investigation, and it is unclear what role the pandemic may have played in the suspect's motives. However, recent studies have found a dramatic increase in suicidal ideation over the course of the pandemic, as many people contend with social isolation and financial stress.
Local mental health providers say that demand for services—whether in the form of client referrals or hotline calls—are up. State and federal emergency orders have improved access to telemedicine, which enables some people with insurance to access therapy virtually, but in-person outreach and other suicide prevention efforts may be affected by the pandemic.
Increasing need
The University of Texas Police Department received 368 calls with a mental health element between Jan. 1 and Nov. 17, 2020, compared to 493 calls in the entirety of 2019. Although this represents a slight decrease year-over-year, about half of UT students had a fully online course load, suggesting that for students on campus such calls were more common. "From what we have seen, even in the pandemic, our call volume is high," Lt. Samantha Stanford told Austonia.
UTPD recently created a specialized team of officers—the University Crisis Intervention Team, or UCIT—to respond to 911 calls with a potential mental health element.
Colors of Austin Counseling, a local therapy practice, held 6,606 therapy sessions in 2020—a 60% year-over-year increase—and more than doubled in size, from seven clinicians to 15. "The evolution of our practice has been amazing on the business side of things, and it's devastating to see the need that people have," owner and licensed therapist Vanessa Flores told Austonia.
Despite the clear increase in the number of people seeking out mental health care, Flores and other local therapists said it has not necessarily been accompanied by an increase in the severity of cases.
Integral Care's 24/7 helpline has received more calls since the pandemic began, according to practice administrator and Central Texas Suicide Prevention Coalition co-chair Melody Palmer-Arizola. But most are from people looking for someone to talk to. "A lot of the calls are people who are just like, 'When is this going to be over?'" she said.
A universal concern
The Centers for Disease Control and Prevention found that 11% of U.S. adults reported seriously considering suicide and 40% reported struggling with mental health or substance use during a weeklong period in late June. Alarmed by the mental health repercussions, some people questioned public health officials about the safety of social distancing and other pandemic precautions.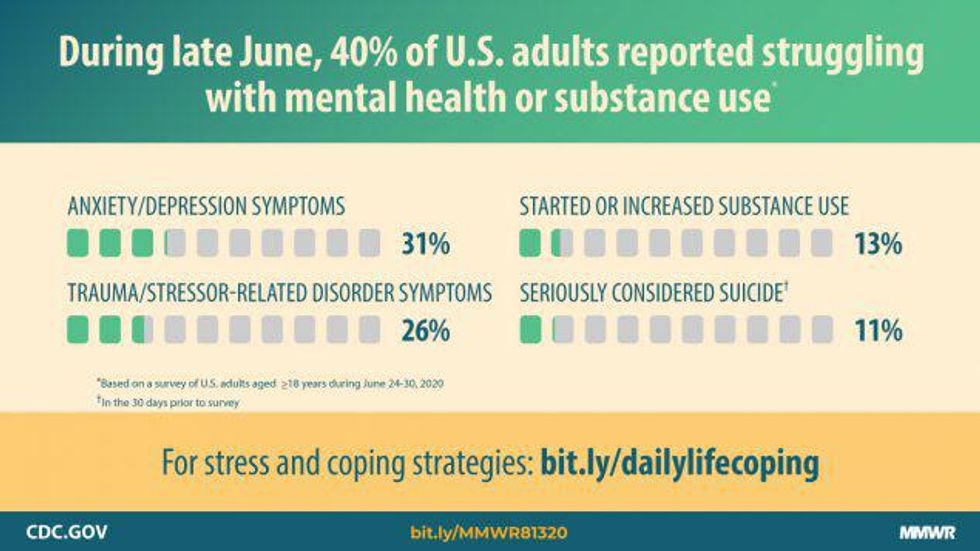 (Centers for Disease Control and Prevention)
Last August, Austin-Travis County Interim Health Authority Dr. Mark Escott addressed this concern in one of his regular COVID-19 briefings. "There's no evidence to support that suicides during COVID-19 … are higher than they were in 2019," he said.

Since then, however, new studies have emerged that suggest suicide may be increasing. "Evidence from previous pandemics suggests a short-term decrease in suicide can occur initially—possibly linked to a 'honeymoon period' or 'pulling together' phenomenon," according to a November editorial in the British Medical Journal. Last month, Nature published a study that found an increase in suicide following an initial decline during the pandemic in Japan.
Real-time American statistics are not yet available and Austonia is awaiting a response from the Austin Police Department regarding the number of calls it has received regarding a mental health crisis. Last week, APD's 911 call operators began using an updated script when greeting callers: "Austin, 9-1-1, do you need police, fire, EMS or mental health services?"
Criminal justice reform advocates have lobbied for this change for years, hoping to limit interactions between police officers, who may not be trained to respond to mental health crises, and people experiencing them. Although it is too early to know the impact of this change, local therapists report that the demand for mental health support and services has increased significantly since the pandemic began.
Access problems
Many mental health care providers have successfully transitioned to teletherapy, offering appointments over video or the phone, but those seeking out mental health treatment may face other challenges posed by the pandemic.
"Affordability is a barrier to entry," said Dr. David Hill, an Austin-based licensed psychologist and member of the Texas Psychological Association, which recently launched a resource guide that includes a psychologist search tool. Many people are facing increased financial stress due to pandemic-related layoffs—and may also have lost their health care coverage. "It's a bit of a catch-22," he added.
Nonprofits that help to fill these gaps are also affected by the pandemic.
Pick With Austin, a local organization that donates guitars and other musical instruments to children and teenagers with depression, saw its outreach curbed by the pandemic because many of its partner organizations—children's hospitals, community therapy groups, juvenile detention centers—were closed to visitors.
"What's happened with the pandemic is we've suddenly been cut off from all of those places," PYA Founder Jeff Curley told Austonia. His son, teenage guitarist Alan Carter Villaruz-Curley, died by suicide in 2010 when he was 18.
In 2019, the nonprofit distributed around 200 guitars. Last year, it was only able to give out around a quarter of that, despite having a surplus amount of donations.
"The pandemic has kept (young people) from going to school, from socializing with friends … so they've actually increased their depression," Curley said.

'Silver lining'
Despite the very serious mental health concerns surfaced by the pandemic, therapists and other experts expressed hope that the current crisis might lead to better health care coverage, wider use of teletherapy and decreased stigma around seeking out support.
Dr. Elizabeth Portman Minne owns Vida Clinic, which provides mental health services to individual clients as well as to school districts, including Austin ISD. Over the course of the pandemic, she has seen children and teenage clients embrace teletherapy. "It's versatile," she told Austonia. "Regardless of whether people are in school or wherever they are, they're still able to stay connected with their therapist."
Texas Gov. Greg Abbott recently identified mental health care funding, statewide broadband access and making permanent some temporary telemedicine regulatory waivers as top priorities this legislative session.
Minne is optimistic that the pandemic, in laying bare so many of the mental health challenges people are facing, will normalize seeking out care.
"It's an odd silver lining of the pandemic," she said. "It kind of made us connect with our own fragility and become more open to reaching out for help."
You can reach the Texas COVID-19 Mental Health Support Line at 833-986-1919 an the National Suicide Prevention Lifeline at 800-273-8255.
(Hi, How Are You/Instagram)
In a week-long fundraising event, the Hi, How Are You Project is lighting up Austin in green to raise awareness for mental health.
The Hi, How Are You project is teaming up with American Campus Communities for its "Happy Habit-A-Thon," a fundraising event running from Friday through Feb. 1. The group usually hosts an in-person event on Jan. 22 for "Hi, How Are You Day," but since COVID-19 presented health concerns, the "day" was stretched into a 10-day event.
Several buildings in Austin are also teaming up for the event by going green, the color representing mental health, for the entirety of the week. The buildings expected to participate include, Austin City Hall, The Long Center for the Performing Arts, JW Marriot, W Austin, Gables Republic Square and Johnston's "Jeremiah the Innocent" Mural on the Goodall Wooten at 21st and Guadalupe streets.
Remembering this giant today 💚 It is #DanielJohnston's 60th bday. We're celebrating with #HiHowAreYouDay in his hon… https://t.co/oo720fnxT3

— Hi How Are You Project (@Hi How Are You Project)1611325927.0
Austinites are encouraged to complete 10 "Happy Habits," laid out in the event registration, by the last day of the event. People who do all 10 activities by Feb. 1, and document them on social media using the hashtag #hihowareyouday and tagging the project's account using the handle @hihowareyouproject will be eligible to win several different prizes, according to a press release from the project.

The event kicks off on the founder of the organization Daniel Johnston's birthday, the artist behind Austin's quintessential "Hi, How Are You," mural on The Drag, off the University of Texas campus. Johnston died of natural causes in 2019, however, the Hi, How Are You Project continues to pass along his message of mental health advocacy.

This year, proceeds from "Happy Habit-A-Thon" will go toward funding peer-to-peer training programs, mental health initiatives, events for the community, and media projects.

For those who suffer mood disorders and mental illness, this year has especially been a nightmare and to add to that, the holidays often mean the unwanted gift of seasonal depression.
Kelli Foulkrod, a transpersonal psychotherapist and trauma-informed yoga instructor based in Austin, has seen an increase in people coming to her 10-year private practice for help this winter.
Foulkrod says that the isolating strategies associated with COVID-19 have increased suicide rates, domestic abuse, homicides and child abuse.
"We are social creatures; we thrive in communities, we thrive in connection," Foulkrod said. "It is almost like air and water, how imperative it is for human beings to be in connection with one another."
A study from the National Alliance of Mental Illness showed 64% of people with mental illness report the holidays make their conditions worse. And this holiday season is like no other, with mental health statistics reaching alarming numbers before the holiday season.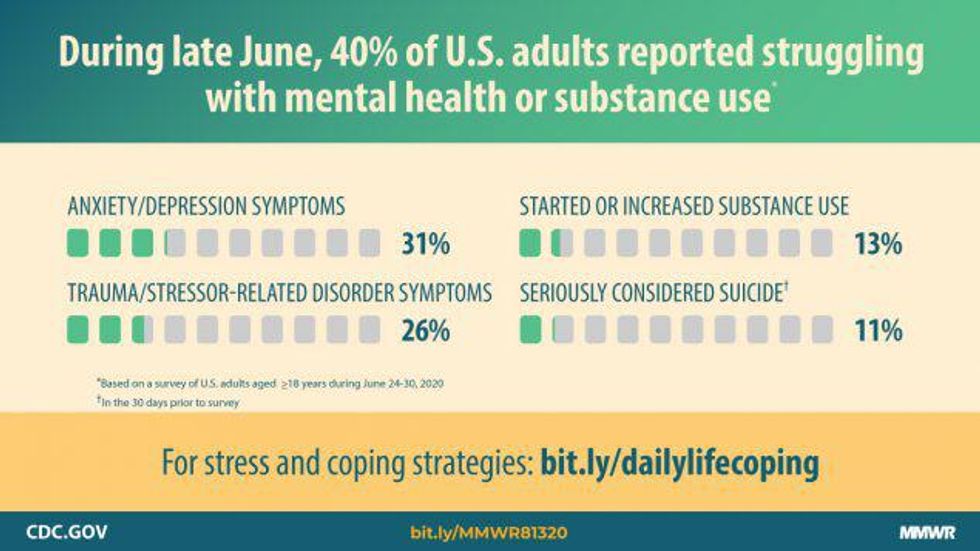 (CDC)
According to a Centers for Disease Control study conducted this summer, 10.7% of adults seriously considered suicide during the previous 30 days, a number that was almost twice as much as in 2018 when the count was 4.3%. The study shows the prevalence of depressive disorder was approximately four times what had been reported in the second quarter of 2019, going from 6.5% to 24.3%.
Additionally, the Disaster Distress Helpline, a sub-network of the National Suicide Prevention Lifeline, saw an 890% increase in call volume in April 2020 compared with April 2019, USA Today reported.
Wendy Salazar, a practice manager at Austin Travis County Integral Care, sees the increase in people reaching out for help as a positive sign indicative of an awareness that the public has regarding the importance of mental health.
"We're seeing an increase in calls to our helpline because folks are really connecting with 'Hey, you know what? It's important for me to take care of how I am feeling, there's a lot of benefit to that,'" says Salazar, who notes that over the last eight months there has been a 19% increase in calls to the helpline.
Lloyd Weatherspoon III, a rehabilitation specialist at Integral Care, notes the difficulty that the pandemic has had on those who rely upon the routine of getting together for the mutual benefits of group therapy.
"Say we have people who are in a small group therapy. We can't do group therapy and we can't do group activity because of COVID, so it is hard or more challenging for those who are used to getting together once a week or daily for activity at a mental health center, so lack of communication for people like that makes it difficult."
Although a lot can be done by Zoom and telehealth, not everyone has access to a smartphone or a laptop, and so an actual home visit—replete with full protection gear, gloves and a plastic shield—is required.
Weatherspoon says that this time of year, when seasonal affective disorder, or SAD, hits, the usual holiday relief of family get-togethers might not be an option due to COVID-19, and this of course will be a problem for those suffering from depression.
"It is one thing to have SAD if you're dealing with mental health issues on your own. It's another thing to do that and not be able to have the actual physical contact and see your family, right? So that is a challenge for some of them," he says.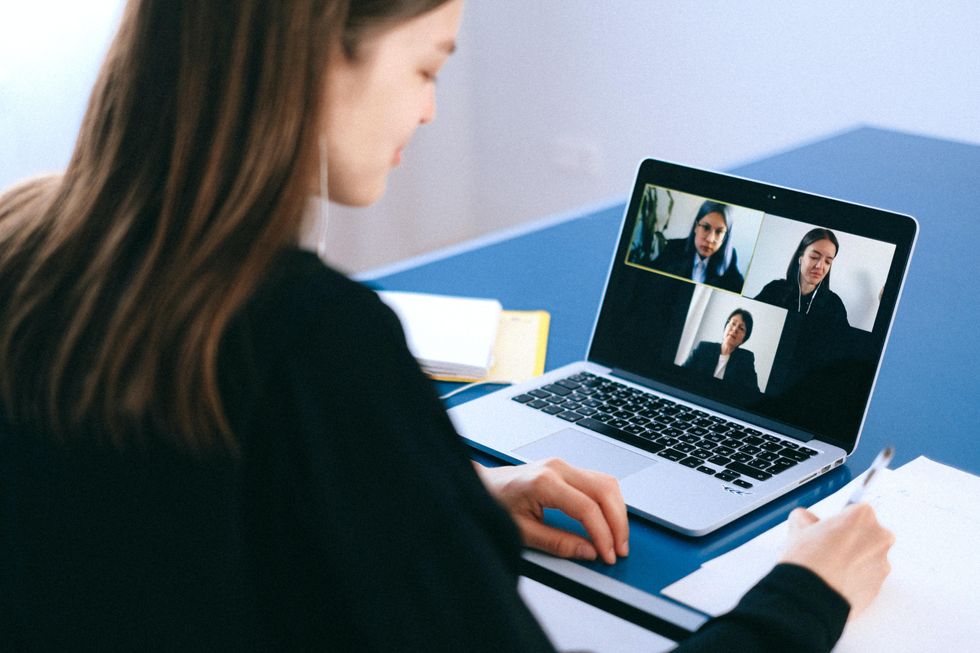 Zoom calls became a necessity for people to connect for both business and fun. While using a screen to connect with others isn't the same for the human nervous system, Foulkrod says, it is a major step toward dealing with the anxiety that comes from isolation in an uncertain time.

"We're at nine months of this and so we're seeing—at least in my opinion—the peak of a mental health crisis," she says. "We are collectively in trauma, this is a traumatic experience. I've never done this before, nobody knows how to do this, but since we don't know how long this is going to last I do encourage people to find creative ways to hang out with people."
And when you can't be with people physically, she suggests spending time in nature, journaling, learning a new skill, and filling the mind with a creative outlet until things return to a better normal.
"A giant lesson for people to realize is what we actually have control over is our responses to the uncontrollability of life," Foulkrod says.
Deann Acton, an art therapist trained in dialectical behavioral therapy, can personally attest to the power of creative work in her own life.
"Art is definitely my barometer for how well I am doing," she says. "So as long as I am making art I am probably okay."
Acton has, like Foulkrod, noticed an increase in her clientele recently due to COVID 19-related stress, and notes that some people who had moved out of therapy have come back.
In a time when getting together for a dinner party or a night out may be out of the question, the assuaging aspects of creating art becomes an ever more attractive way for people to center themselves.
She says the act of not thinking about anything but the art being created is an active meditation. Acton, a cancer survivor whose own illustrations of sea monsters helped her to understand her feelings regarding the disease, says art therapy is about using art to express oneself.
"When people … make art with me they always leave feeling better than when they came in. Naturally, it's a pretty healing thing to be able to create something," Acton says.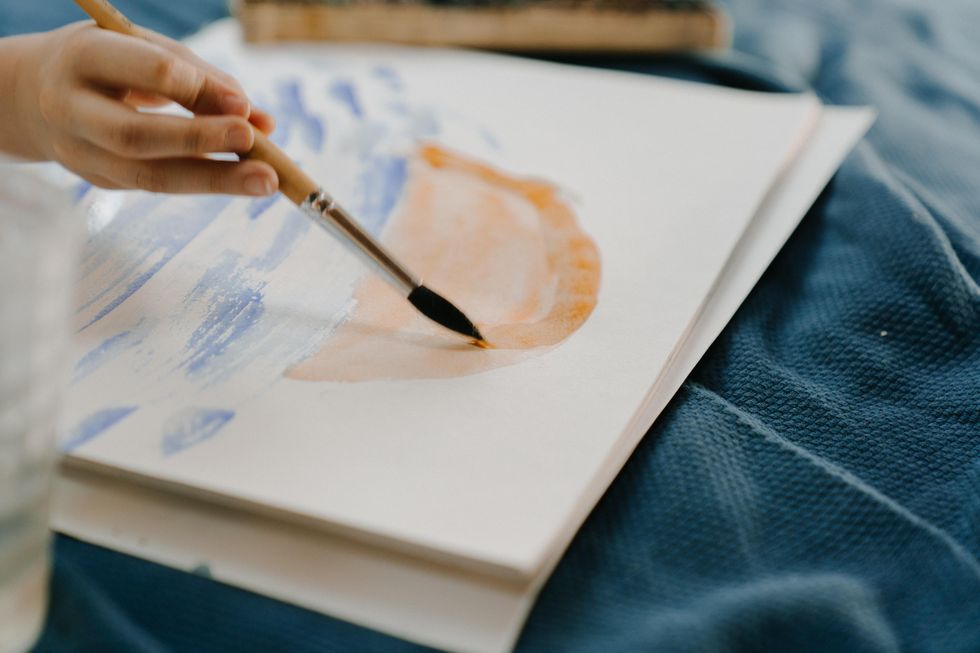 Acton counts baking, crocheting and holiday gift-making as therapeutic acts, and suggests that people go outside and take pictures of interesting objects in their yard or put together a vision board collage of what they feel grateful for.
Acton emphasizes learning ways to accept a situation rather than be negatively affected by it, as exceptionally useful during the pandemic.
"It is all about teaching coping strategies; how do you accept a moment that you'd rather not accept?" Acton says. "Yeah, this sucks, so you can be woeful about it and just be angry all day that it's happening … or you can just accept this is the now, so what do I do with this now? How do I like lean into the now that it is and like figure out ways to have a good experience in whatever moment I can, given that this is what it is right now?"
Austin residents feeling the mental stress associated with the pandemic should call the
COVID-19 Health and Wellness Support Line
which will provide short-term counseling and support to Austin workers and families whose mental health has been impacted by the COVID-19 pandemic.