Get connected with our daily update
Ever wondered what it was like living in Austin a few decades ago? According to recent ads, that dream can become a reality in an unlikely locale—just an eight-hour drive away in Northwest Arkansas.
Recent Austin-centric ads by the Greater Bentonville Area Chamber of Commerce and the Northwest Arkansas Council are targeting Austinites to make the move to the four-county, 11-city region as it's in the midst of transforming from a rural corner of the state to a budding hub for tech, big-city migrants and a rich cultural scene.
Greater Bentonville's Andre Arceneaux created the "Bentonville City Limitless" ad ahead of their annual tech summit.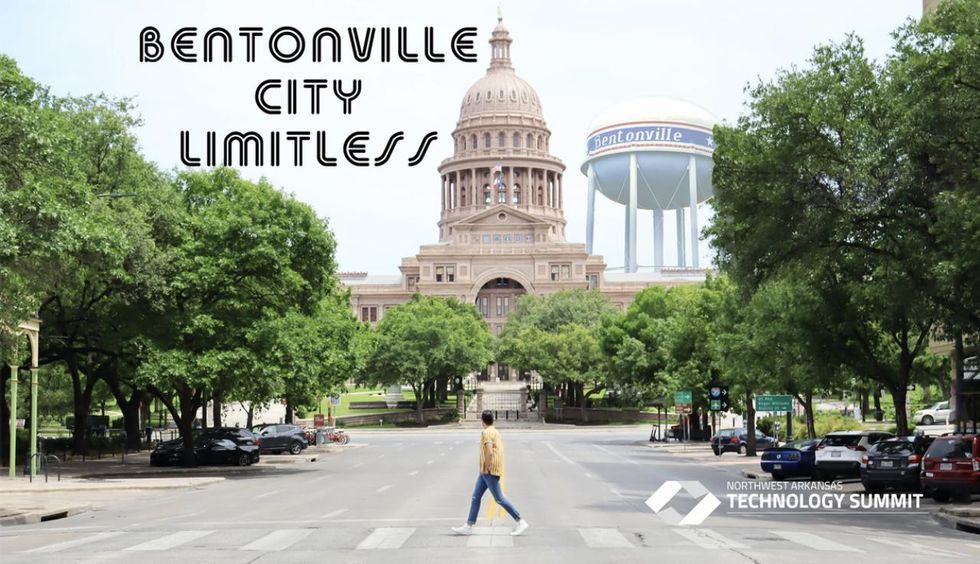 Look familiar? Greater Bentonville's "Bentonville City Limitless" ad targets Austinites as they advertise their annual tech summit.
As the area makes national headlines—Bentonville was the nation's fifth fastest-growing city in 2019 and has seen growth in tech as businesses flock to Walmart's HQ—Arceneaux said the council looked to residents from tech hubs like Austin and Denver to bring their talents to NW Arkansas.

"The plan was to focus on areas that are traditionally viewed as hubs for technology and industry and challenge what people have preconceived about Northwest Arkansas," Arceneaux said. "You hear 'Arkansas' and you get an image in your mind, when the truth is, Bentonville is as vibrant and diverse as towns three times its size. The imagery in the ads is meant to show people that Bentonville is just like the town you live in, so why not give us a chance?"
Toss in incentives like the Life Works Here initiative, which offers a $10,000 cash award to talented new move-ins, and the outreach appears to be working. Film producer Kristin Mann grew up in Little Rock, but it wasn't until she had settled down in Austin that she heard about what the northwest corner of her home state had to offer.
Like millions of others during the pandemic, Mann was forced to rethink her priorities as the pandemic changed her perspective on life. Pair Austin's ever-increasing cost of living with the Texas winter storm, and Mann knew it was time to make a change.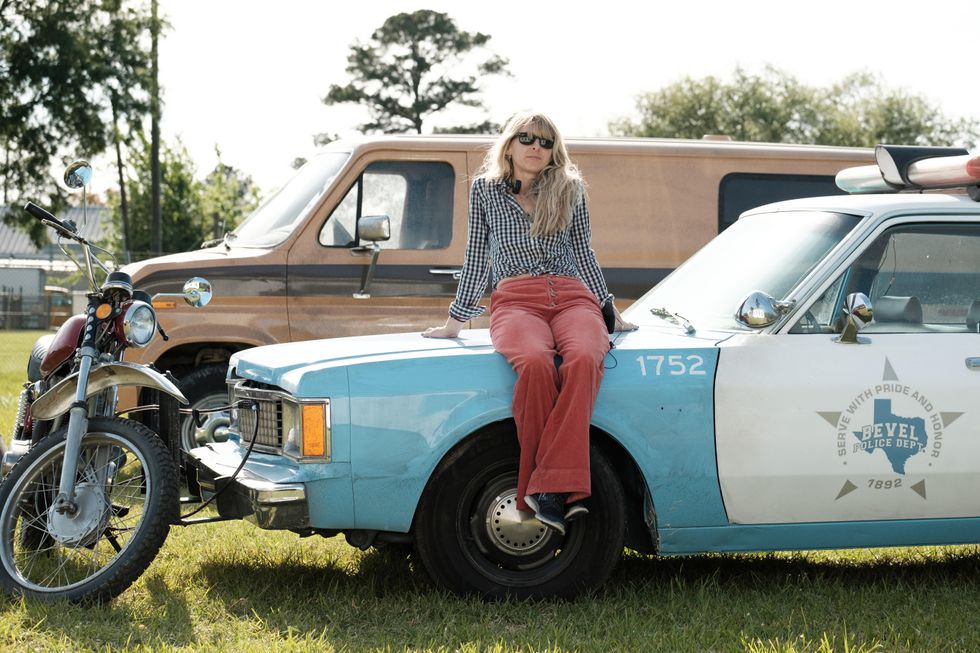 Former Austinite Kristin Mann, shown on the set of 2020 film The Quarry, is soaking up the slower-paced lifestyle in NW Arkansas. (Kristin Mann)
With a burgeoning live music scene, a variety of restaurants and an outdoorsy culture that resembles her former city, Mann said Bentonville was a relatively easy adjustment despite its population of around 50,000.
"The arts and culture scene is just not something I was aware existed in the state of Arkansas," Mann said. "It's really nice because it just feels like there's a level playing field."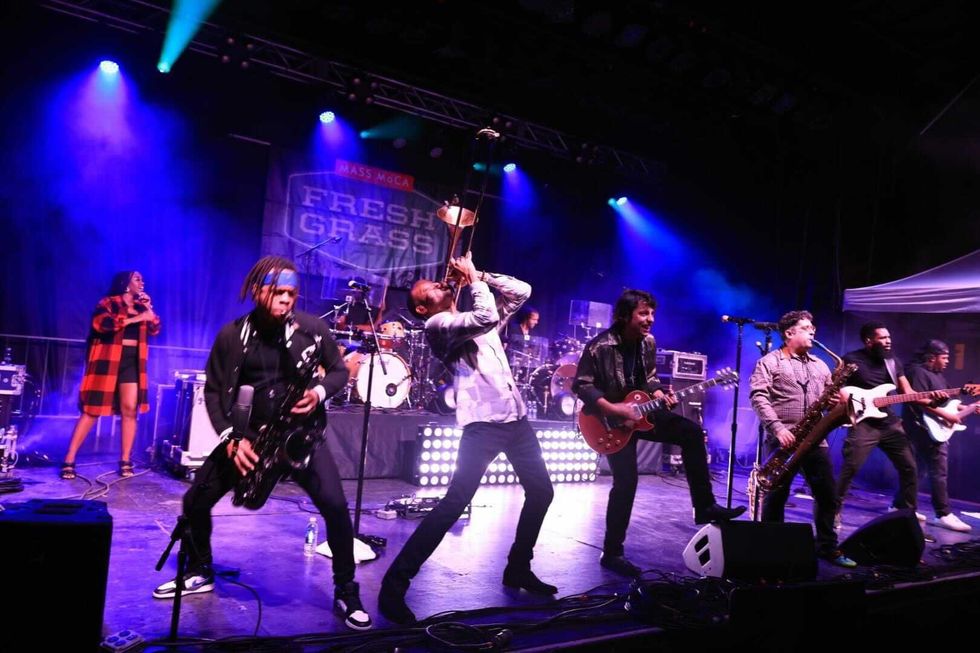 NW Arkansas' music scene includes FreshGrass Festival, an annual live music bluegrass fest. (FreshGrass Festival/Facebook)
Mann isn't alone—according to Greater Bentonville President Graham Cobb, he's heard plenty of stories of Austinites, Californians and other big-city dwellers that have uprooted their families and businesses in search of a better quality of life.
Cobb says he met one such transplant at a mountain bike race not long ago.
"I asked, 'What made you choose this?' and he said, 'I just wanted to know what everyone is talking about,'" Cobb said. "We know for years people have been leaving these major cities and moving to Bentonville for various reasons, the biggest one being that quality of life begins to decay as cost of living becomes increasingly prohibitive. But to hear that from some random person riding bikes is pretty amazing."
With a large university (the University of Arkansas), a growing entrepreneurial scene and Hill Country-esque views, looking at NW Arkansas may be like deja vu' for seasoned Austinites. But the region will need to be careful if they want to stay "Bentonville City Limitless."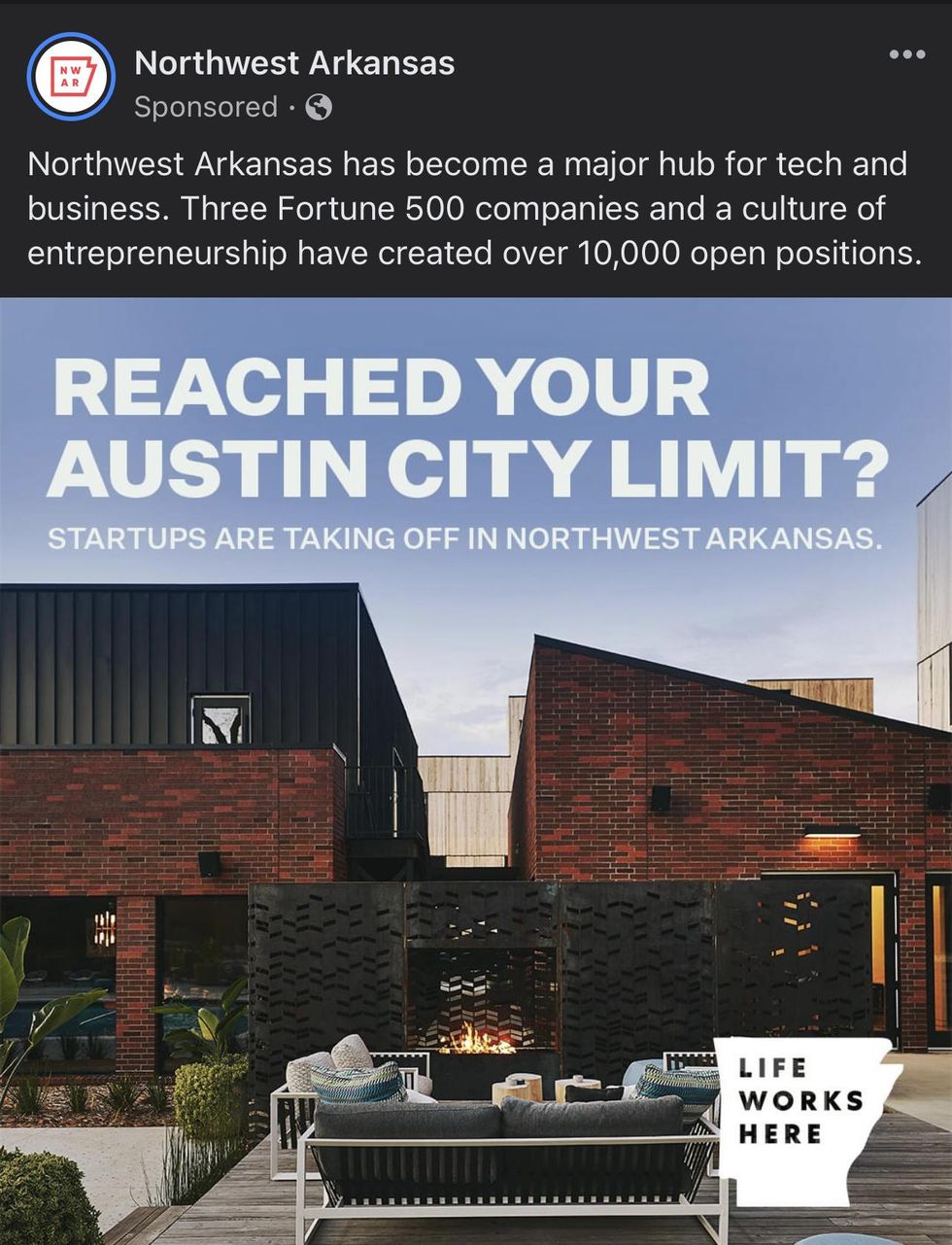 ​Northwest Arkansas hasn't been shy about their desire to bring in Austin's tech talent with Facebook ads.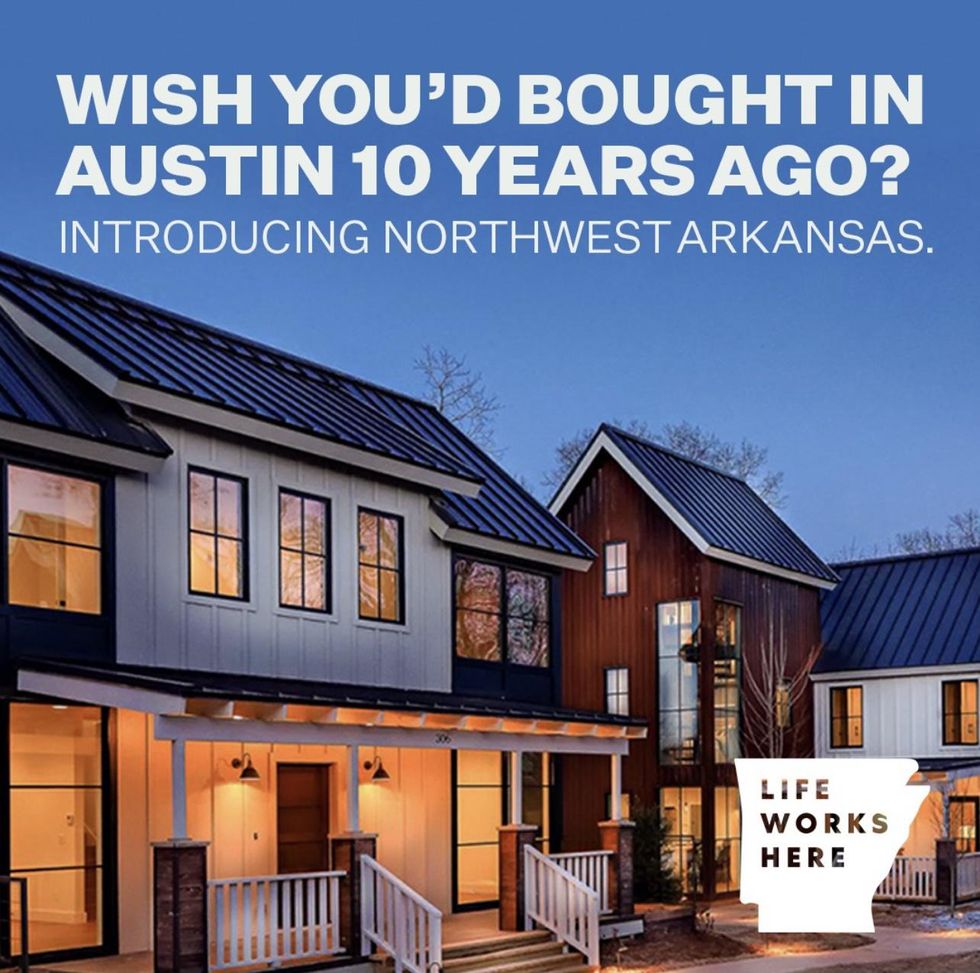 The Northwest Arkansas Council is working to bring disgruntled Austinites to the region with various ads.
According to Nelson Peacock, President of the Northwest Arkansas Council, city officials are working to make sure they don't repeat bigger cities' mistakes.
"We are trying to take some of the lessons learned from cities like Austin that grew really fast," Peacock said. "It's way easier said than done, (but) as we recruit people from these larger cities, we're trying to take the lessons from them and trying to build a future here that's better for the people that live here."
NW Arkansas is keen on taking Austin's top talents. Rex Nelson, who wrote in the Arkansas Democrat-Gazette about Bentonville's explosive growth earlier this month, said it's a compliment—they're reaching out to Austin because they want the best of the best.
"Northwest Arkansas needs tech talent, and the Austin area is the best place to go in this part of the country for tech talent," Nelson said.
Houston? Dallas? San Antonio? No, it has to be Austin.
We know Californians love Texas, but a recent string of posts on neighborhood platform Nextdoor in Santa Barbara, California, displays what the craze to move to Austin looks like.
When one user posted, "Hi neighbors, I want to buy a house in Houston, Texas any recommendations?" the responses flooded in displaying what the admiration for Austin looks like from the West Coast. Users mostly advised against a move to Houston; one person even wrote, "Austin is the ONLY place to consider!!"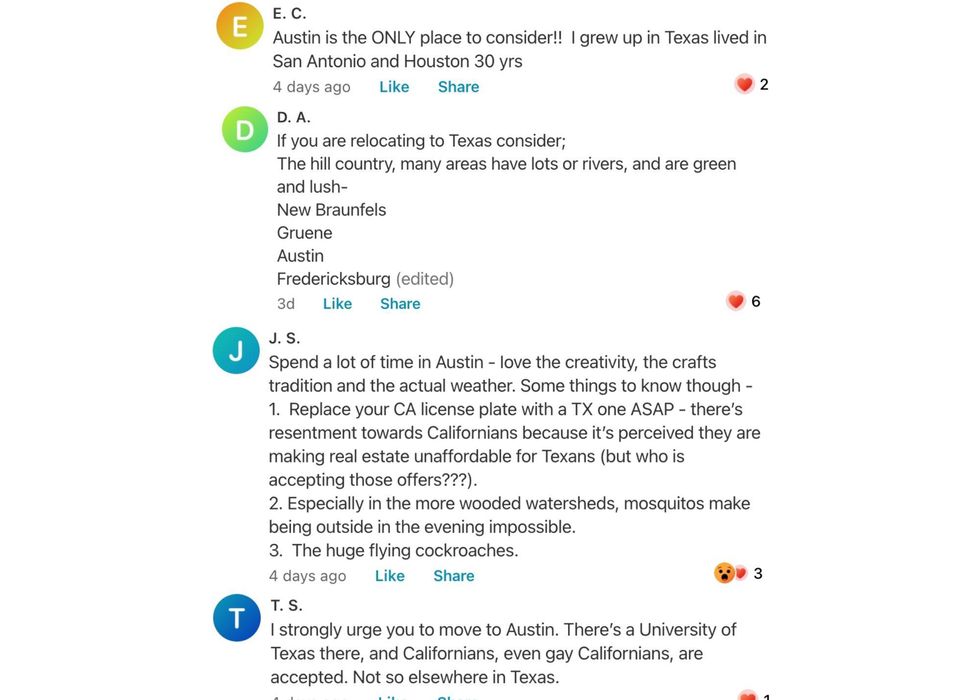 While some defended H-town, saying, "Awesome place to live," one person wrote, "WORST PLACE TO LIVE." Reasons to not move to Houston from Californians' perspective included:
"Foul air from refineries"
"horrible flooding due to the flat Gulf coastal shelf"
"crazy zoning"
"racial prejudice"
"super high humidity"
"very conservative"
The comments were shifted to Austin's lush greenery, weather and acceptance of gay people.
Over the last five years, Austin has seen more migrants from California than any other state, according to an Austin Chamber of Commerce report. The Austin appeal from residents living in more congested places like California became more prevalent during the pandemic when stay-at-home orders were issued and people sought more space.
It wasn't just Austin though; lots of other Sunbelt cities saw an influx in their housing market as a result of people working from home and looking for a lower cost of living. And that included Texas in general, with people flooding to various Texas cities.
But it hasn't come with resistance. The "Don't California my Texas" pleas are still alive and well, as Californians are blamed for raising the cost of living by outpricing current residents. The housing market has reached record numbers in the median home price year-over-year since the beginning of the pandemic. Austin was even predicted to be the most expensive city outside of California by the end of the year.
Still, Californians and even New Yorkers can't stay away. Companies and celebrities have followed, leading Texas transplant Elon Musk to label Austin's future as "the biggest boomtown that America has seen in half a century."
Californians love Texas, and Austin—with its liberal politics, relatively affordable housing and job opportunities—is particularly adored. In fact, the Lone Star State was the main recipient of departing Californians in 2019, according to the latest available U.S. Census Bureau data.

But other states, including Florida, are seeing increased interest. Miami Mayor Francis Suarez has made a name for himself on Twitter recruiting techies and hyping up his city, which has a lot in common with Austin—with the added benefit of a beach and sans the "Don't California my Texas" attitude.
California expats and industry experts say Austin remains the bigger draw, especially for Californians in the tech sector, but some warn that this advantage could shift to Miami if the city doesn't address the policy challenges that prompted the migration in the first place: housing affordability.
"If Austin doesn't accommodate this influx, I think all the talent will come to Miami," said Peter Yared, a tech entrepreneur who moved to Miami from San Francisco in September. "I think Miami's going to be the one that sucks it all up."
Push factors
Both Texas and Florida promise business-friendly state tax policies, and their governors tout the relocations of companies such as Tesla and Oracle from California. But Darien Shanske, a law professor at the University of California Davis whose specialties include state and local taxation, said this is a red herring because corporate taxes are based on where sales occur rather than headquarter locations.
This is not to say state policies are irrelevant. "The area in which California regulatory policy has been, in my opinion, not a complete failure but problematic … is housing policy," Shanske said. Austin and Miami can offer "not cheap, just cheaper" housing than what is available in Silicon Valley. Plus, both cities are developing a critical mass of talent, which further draws Californians in. "If you're a software engineer, you want to live near other software engineers," he added.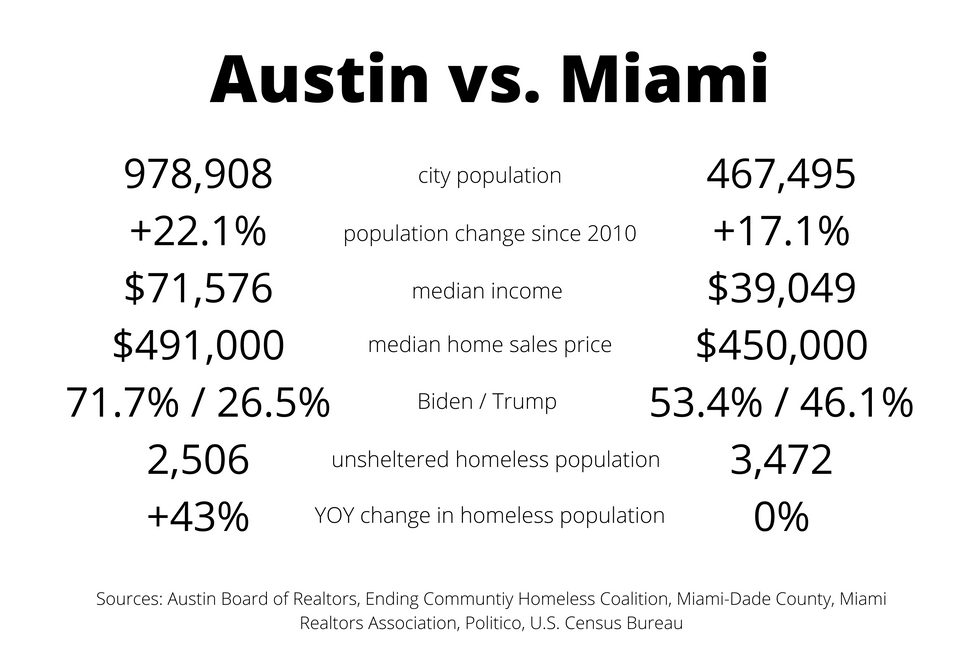 But not every Californian is motivated to move. "San Francisco is a fantastic place to live if you can afford it," said Brandy Aven, a professor of entrepreneurship at Carnegie Mellon University's Tepper School of Business. As a result, it's more common for what she called the labor—engineers, programmers and even company founders—to relocate to cities such as Austin and Miami than the monied venture capitalists. Burgeoning tech cities may find that they need to develop homegrown investor networks to support local ventures in the absence of Californian transplants, but she believes this is doable.
Pull factors

Paul O'Brien, CEO of the Austin-based MediaTech Ventures and a startup veteran, moved to Austin from California in 2009, during the Great Recession. "I'm a firm believer that the world has been seeking an alternative to Silicon Valley for a long time," he said, pointing to Austin as the natural heir for myriad reasons.
Austin has regional appeal as the epicenter of three of the country's largest cities—Houston, Dallas and San Antonio—and their respective industry niches. Tech entrepreneurs could cater to the local consumer goods industry or Houston's oil and gas sector. Plus the city has cultural appeal, thanks to the Red River District and South by Southwest, which made it attractive to job seekers. "The whole reason everyone moved to Silicon Valley is opportunity," O'Brien said. "The whole reason people are now looking beyond Silicon Valley to somewhere else is opportunity."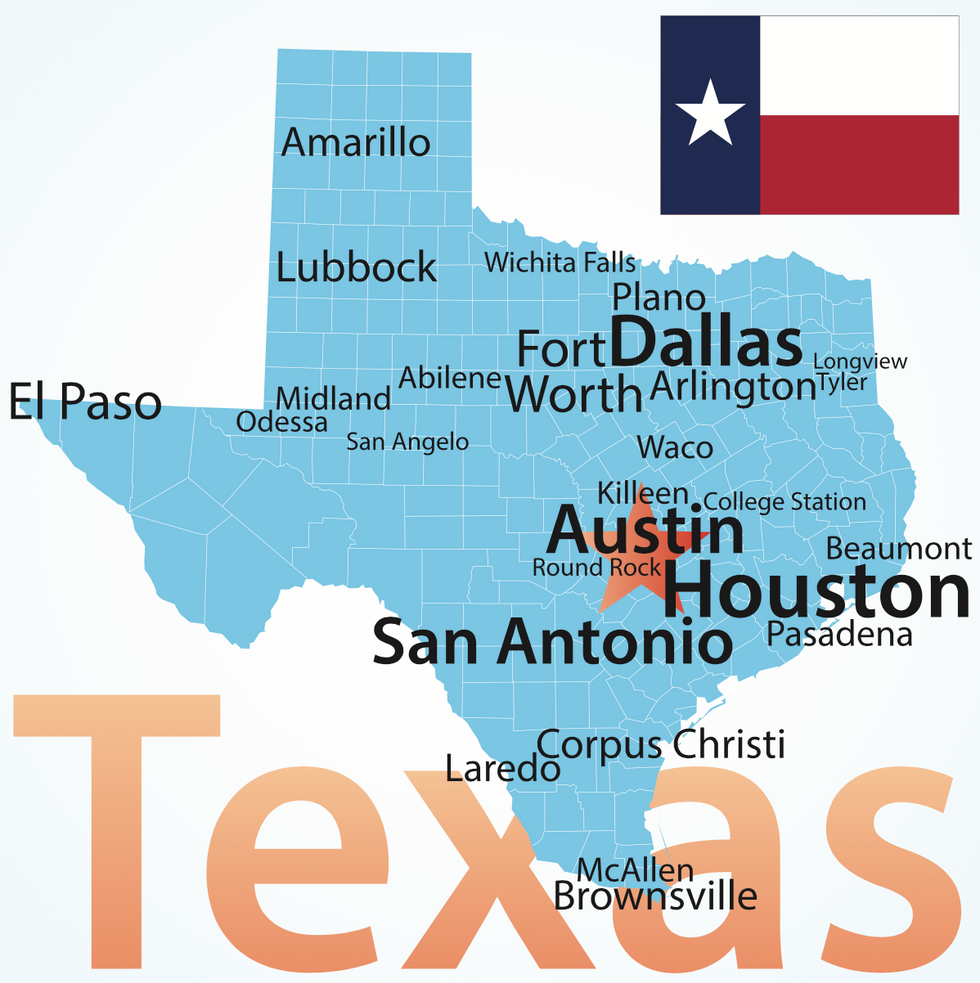 It's less clear what Miami's key industries are, O'Brien said, but the city offers other selling points, including the mayor's buy-in and "a tremendous depth of wealth" to support a technology and startup ecosystem.

Although Yared didn't consider moving to Austin, he is aware of its appeal to engineers, especially now that their hero, Elon Musk, has moved there, shunning California. "Austin has a lock on tech," he said, but Miami draws a different crowd, including financiers from New York. This parallel migration, coupled with the city's more outwardly pro-growth building policies, gives him hope that Miami could supplant Austin in the coming years. "In the end, communities get to choose what they want," he said.
(Homebound/Facebook)
A startup built from the ashes of the devastating California wildfires is now setting its sights on a new crisis: Austin's housing market.
It's no secret that Austin is the nation's current "boomtown," as billionaire resident Elon Musk said in January. With an exploding tech industry and a steady surge of newcomers, Austin's housing market is high on demand and recently devastatingly low on supply.
The median sales price in Austin rose 16.4% from 2020 to 2021, according to the Austin Board of Realtors' year-end report. As prices rise, many prospective buyers get boxed out of the market—if they can even find an available home in the first place.
California-based Homebound hopes to balance Austin's growing market.
The company, which offers a comprehensive online homebuilding service, was founded in 2017 after cofounder Jack Abraham lost his home in the California wildfires. Since then, the project has become a one-stop shop for customers looking to choose how their home is constructed.
While Austin has not been devastated by wildfires, it does have a dire need for new homes. By customizing the construction experience, Homebound hopes to give prospective buyers the option to build instead of buy.
With their team of construction, real estate and technology experts, Austin's newest contractors help buyers every step of the way- from finding a plot of land to adding final touches to the home. Customers can choose from a variety of plans that cover hundreds of steps within the financing, architecture and design, lot preparation, construction and move-in processes. Customers can find a lot of land through Homebound or purchase a lot already owned by the company.
With Austin's drenched market, it's sometimes less expensive to build than to buy. By giving homebuyers a simplified building option, Homebound can help create a more affordable alternative within the metro, according to the company's website.
"While home prices are skyrocketing, construction costs remain low, making Austin a builder's paradise," the website's Austin page reads.
Not including land cost, building costs start at around $300,000, CEO and co-founder Nikki Pechet told TechCrunch.

Eventually, the company hopes to bring affordability and simplicity to home markets across the country, including other tech hubs like Miami and Charlotte, Pechet said.
"This is just the start," Pechet told TechCrunch. "We're taking the platform to markets across the country to help exactly with this issue."