Get connected with our daily update
For those who live on a budget, Austin's growth can be a source of stress. It's hard to imagine living on $1,000 a month, but if I can do it, then anyone can.
While in college at Texas State University in San Marcos, I held a few jobs, ranging from unpaid intern to retail cashier to newspaper editor, none of which paid more than peanuts. From 2017-2019, I had a $9 an hour retail job, and I raked in a little less than $1,000 per month.
With a little bit of creativity and budgeting talent, here's how I would make $1,000 per month work in Austin: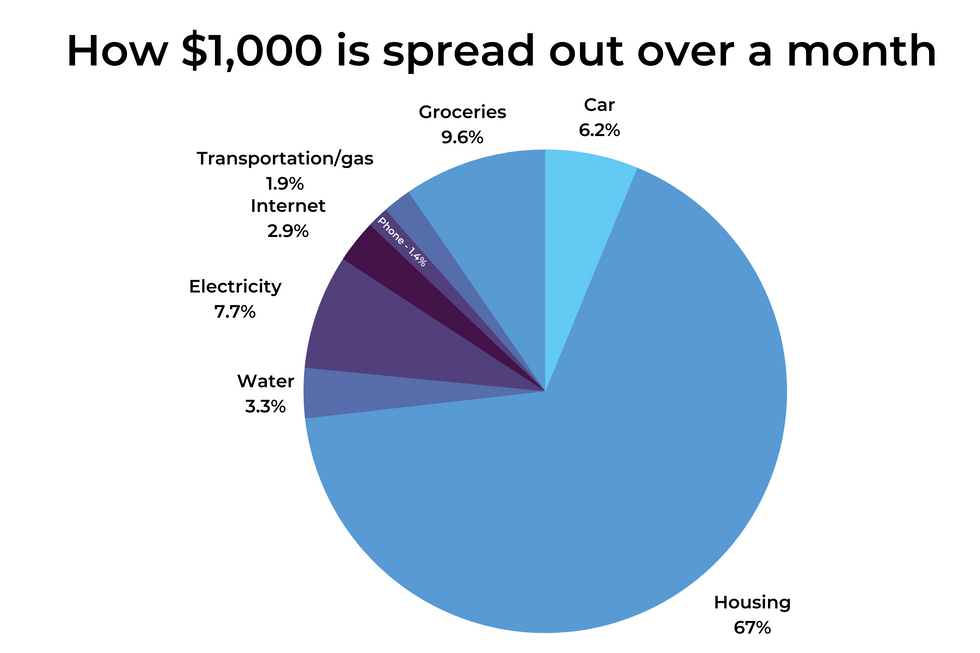 (Laura Figi/Austonia)
Housing
When you're only working with $1,000 per month, most likely you will end up spending close to 70% of your income on rent and the rest on other necessities, with little leftover.
While I lived in San Marcos, I was able to split a two-bedroom apartment with just one other person, slashing the $850/month rent and roughly $100 utilities in half. Rent at $850 for a two-bedroom might be hard to find in Austin, so consider moving outside the Austin metro area if you have reliable transportation to the city (I'll address transportation further down). Otherwise, a breakdown of cheaper neighborhoods to apartment shop at in Austin can be found here.
Tips for low-cost living:
Find a roommate—or two or three—to cut the cost of rent.
Avoid rent-by-the-room leases as they tend to favor the landlord. Instead, you'll want to sign a joint-lease agreement, so rent is split 50/50.
Try not to sign a lease during the summer—that's the busiest moving season and you're more likely to get a better deal in fall or winter.
Don't use electricity if you're not in the room and try to keep your water usage down.
If you conserve, you preserve valuable cash. A breakdown of essential costs: water at an average of $35 per month, electricity averaging at $65-100 depending on the season, internet can be found for as cheap as $30 per month and cell phone service as cheap as $15. If you can find a living situation that will pay one or more of your utilities, like I did, it will put that much more money back in your pocket.
Transportation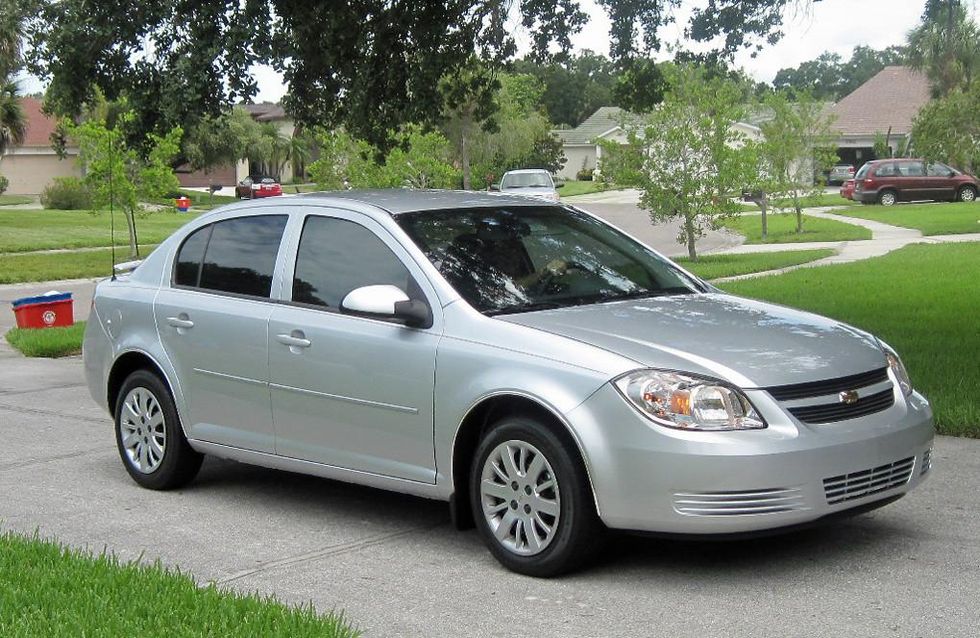 (Roger W/CC)
A car payment is simply not doable under this budget. So you'll need to make do with the car that was gifted to you or you paid off in full, especially if you're planning on living just outside the city. If you're a biker, that's also a cost-efficent way to get around—especially with Austin being a bike-friendly city. Otherwise, there's always public transportation to get you around.
I paid off my 2009 Chevrolet Cobalt when I bought it and tried to drive as little as possible to avoid having to pay for yet another tank of gas. If you choose to drive, insurance can be as low as $65 per month and a single tank of gas costs around $25.
Austin's Capital Metro offers bus and rail services from Downtown to Leander with various routes and stops. A 31-day bus pass will cost $41.25 at the most reduced rate, which equates to how much one might spend on car fuel.
Food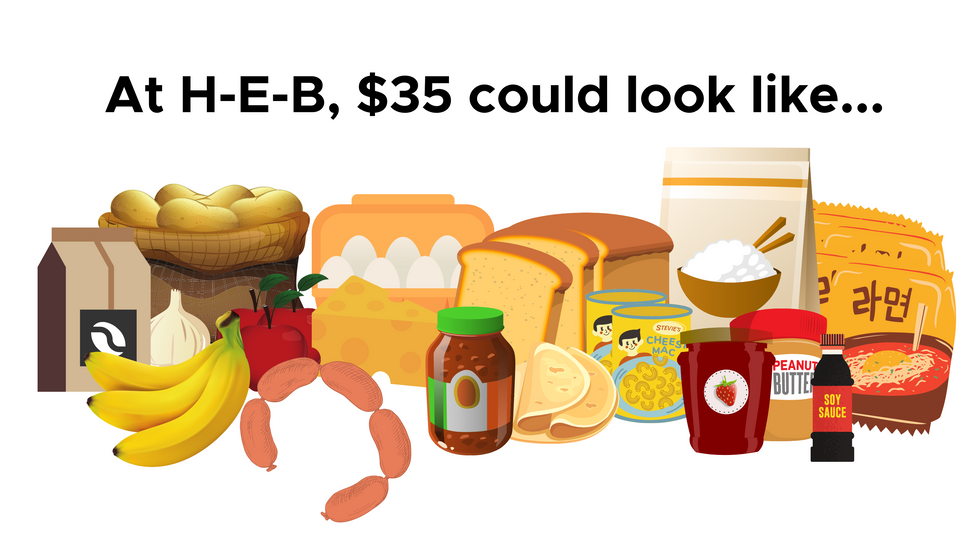 (Laura Figi/Austonia)
With only between $35-105 left for food, you will need to maximize how you shop. Buy what is on sale and try to limit your perishables to what you can consume before they spoil. It seems self-explanatory but 30-40% of food is wasted in the U.S., which equates to about a pound per person, per day.
I buy foods I know I like so that money doesn't go to waste. I'm a firm believer in eating breakfast every day, so my mornings usually started with some tea and something light. I'm not much of a cook so quick and easy food is my go-to. I buy food that can be enjoyed in a variety of ways so I never have to get tired of them—if you keep anything in stock, make sure it is spices and sauces.
Rice is incredibly cheap, versatile, can be eaten for every meal and it isn't uncommon for me to do so. And for protein, a bag of frozen chicken thighs can be found at your local grocery store for less than $5, and it'll last you days with various ways to cook it.
Unfortunately, eating out isn't something that can be done often so when I do, I enjoy it!
Buying other essentials: clothes, furniture and more
Don't buy anything new. And that means anything. From clothes to furniture to cars to moving boxes, you can get nearly everything pre-loved. However, just because it is used doesn't mean it has to look cheap or junky; the goal is to appear as if your items are brand new without having to spend huge sums of cash.
Consignment stores, Facebook Marketplace and Goodwill are excellent locations to find discounted or sometimes even free goods. Amazon Warehouse has a section on its website that sells open-box items, though most often they are still brand new. There is simply no reason to pay full price for anything, plus it's better for the planet!
Play money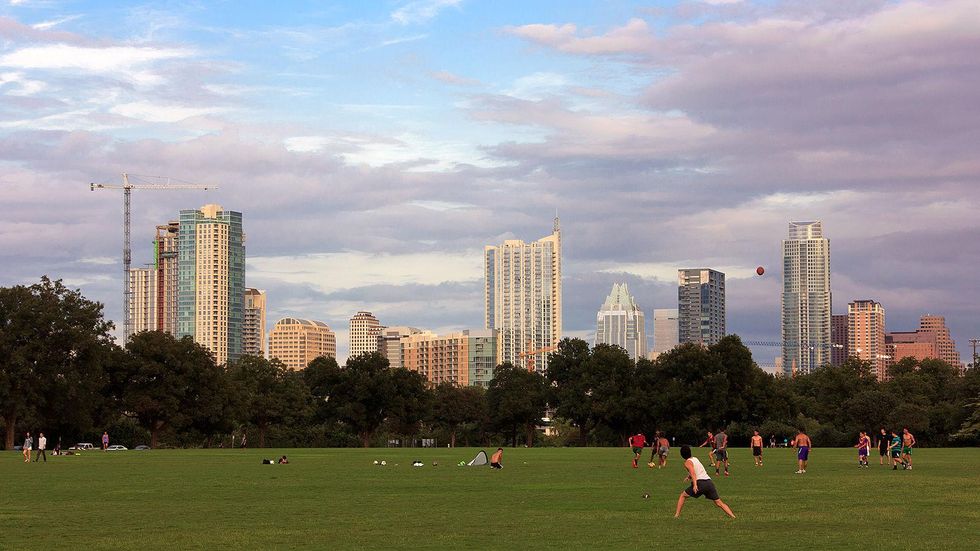 The hard reality is that when you're working with a tight budget, spending money is usually the first to go. Set up a rainy day fund for a splurge and enjoy all the free (or close to free) activities Austin has to offer. Become a Zilker Park explorer extraordinaire or tour some of the many museums around the city like The Blanton, which is free on the first Thursday of every month, or the Mexic-Arte museum, which is free on Sundays. The Umlauf Sculpture Garden is only $5 per person and never ceases to delight with its uniquely structured art. Don't neglect your wants but don't let them be the source of your monetary stress.
Now go get that coin!
In round figures the 18 active candidates running for the five seats on the Austin City Council raised a quarter-million dollars just in the last few weeks alone and they spent more than a half-million dollars during the same period. Total fundraising to date is nearly $1.2 million.
(Hartmann Studios)
The Forbes 400 is out and once again, Austin boasts a considerable amount of America's richest with eight local residents—five of which have jumped to higher spots on the list. Combined, the eight self-made billionaires enjoy a staggering $58.9 billion.
Coming in with over half of the Austin billionaires' share, Michael Dell, chairman and CEO of Dell Technologies, still tops the list for the richest man in Austin at $35.6 billion. Overall, he is ranked 18th richest in the country and has amassed $12.7 billion since March.

Robert F. Smith, co-founder, chairman and CEO of private equity and venture capital firm Vista Equity Partners, came in at 125th place overall with $5.2 billion to his name. Smith is the first Black man to sign a Giving Pledge, a campaign that encourages the ultra-rich to pledge the majority of their money to philanthropic causes. He is also reportedly under a federal tax investigation.
Bert "Tito" Beveridge, founder of the popular Tito's Handmade Vodka, is worth $4.6 billion and ranks 154th overall. The Tito's founder started the business in 1997 with 19 credit cards, which gave him $90,000, and slept on couches and floors in the process.
At 268th place on the list, Thai Lee, CEO of IT provider SHI International, is worth $3.1 billion and is the only Austin woman on the list. Lee was born in Bangkok but lived in South Korea until high school, when she moved to the U.S. Lee also ranked #5 on Forbes' America's Self-Made Women list in 2019.
Joseph Liemandt, founder of investment firm ESW Capital, came in 278th on the list with $3 billion to his name. Liemandt is no stranger to The Forbes 400, as he was the youngest self-made member of the list in 1996 with just $500 million to his name.
John Paul DeJoria, founder of tequila company Patrón Spirits Co and co-founder of hair care brand John Paul Mitchell Systems, currently ranks 319th on the list. DeJoria is worth $2.7 billion, which is $400 million less than last year, but about the same as his value in 2018.
At 353rd place, Jim Breyer, founder and CEO of Breyer Capital, made much of his $2.4 billion fortune by being one of the early venture investors in Facebook. Breyer has invested in over 40 successful companies, including Etsy and Marvel Entertainment but is down from his $2.5 billion spot on the list last year.
Finally, ranked 359th, Brian Sheth, the other co-founder of Vista Equity Partners, is worth $2.3 billion. Sheth has had relatively steady growth of his fortune, only breaking $2 billion total since March 2018. Sheth is chairman of Global Wildlife Conservation, an environmental foundation based in Austin.
Despite the pandemic, many of America's richest have benefitted from the volatility of the stock market. In fact, these 400 billionaires have increased their total net worth by $240 billion from last year, totaling a record $3.2 trillion.
The annual Forbes 400 list calculates net worths using stock prices from July 24, 2020.
More: