Get connected with our daily update
The new Moody Center announced its grand opening celebration will feature country music icon George Strait and special guests Willie Nelson and the Randy Rogers Band on Friday, April 29, 2022.
The opening celebration—titled 'Strait from Moody Center'—will only be the second time the legendary Texas musicians will have shared a stage in their longstanding careers. The venue will pack in 15,000 fans for the rare show, which also happens to take place on (one of) Nelson's birthdays.
"I'm so glad I'll get to 'sing one with Willie' and I can't think of a better place to do it than Austin, Texas," Strait said in a release. "Willie is an incredible musician and an even better person, so I know this will be a great night together along with our friends from Randy Rogers Band."
The long-awaited Moody Center has been under construction since 2019, but has already booked big-name shows like The Weeknd and Justin Bieber. It will replace the Frank Erwin Center, 1701 Red River Street.
"While planning our grand opening celebration, we knew we had an obligation to pay homage to the Lone Star State," Moody Center General Manager Jeff Nickler said. "George, Willie and Randy are all Texas natives who have built legendary careers while having an unbelievable impact on the country music industry. It doesn't get any bigger than this."
The "King of Country," who just finished up performing at both weekends of ACL, has earned the third-most certifications out of musicians across all genres and Nelson, who turns 89 next year, has been making music since Strait was born. Needless to say, the concert will go down in history. The show will open with San Marcos-native Randy Rogers Band.
Tickets for the show go on sale on Friday, Oct. 22 at 10 a.m., though American Express cardholders can purchase tickets starting Wednesday, Oct. 13 at 10 a.m.
The Moody Center, a $338 million, 530,000-square-foot multipurpose arena at the University of Texas at Austin, celebrated its topping out on Tuesday.
With the final beam placed, the arena's steel-frame structural phase—which involved more than 5.3 million pounds of steel—is complete.

"This past year has been full of unprecedented events, not to mention weather challenges, and yet the women and men working on this project continue to deliver," Moody Center General Manager and Senior Vice President Jeff Nickler said in a press release.
To celebrate the topping out Oak View Group, the development and investment firm behind the Moody Center will affix a tree to the final beam in keeping with the time-honored tradition.

The practice dates back to ancient Scandinavian religious rites, which involved placing a tree atop new buildings to appease tree-dwelling spirits displaced during the construction process, according to the International Association of Bridge, Structural and Ornamental Ironworkers in Washington D.C.
After the steel-frame structure phase, the development will move on to enclosing and finishing the interior of the Moody Center.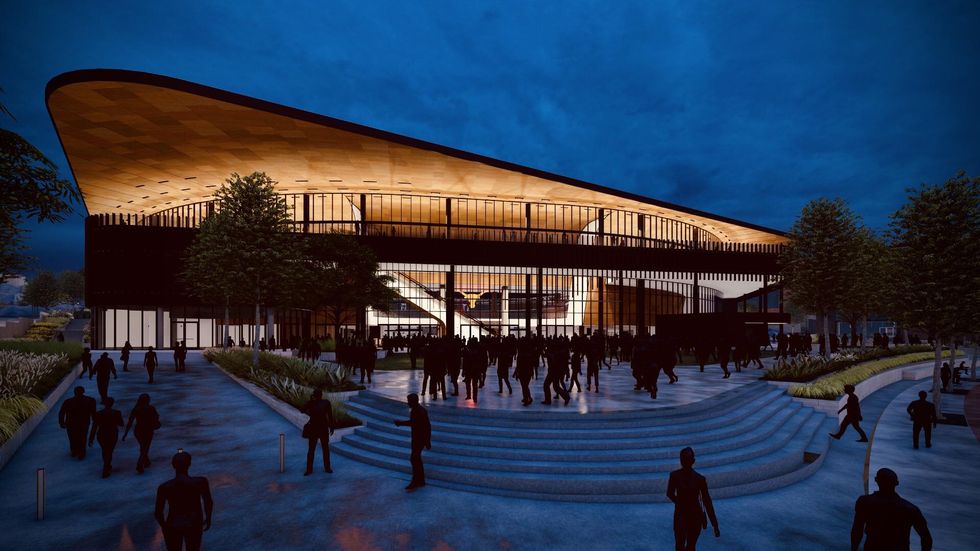 Rendering of the Moody Center. (Moody Center)
The arena is set to open next April and already has some major acts scheduled for its inaugural year, including The Weeknd, Justin Bieber, John Mayer and The Killers. It will replace the 43-year-old Frank C. Erwin Jr. Center and serve as the home of UT's men's and women's basketball games, among other sports and community events.
The University of Texas' new Moody Center is shaping up and starting to appear like the 530,000 square-foot arena it promises to become.
The new, $338 million privately-funded project will replace the 42-year-old Frank C. Erwin Jr. Center that has been standing for the last 42 years. The Moody Center, a 15,000 seat multipurpose arena, will make its official debut in April 2022.
In partnership with Oak View Group, Live Nation Entertainment, C3 Presents, Gensler Austin, UT Austin, Dell Technologies and Austin's most multi-titled resident Matthew McConaughey, the arena will be the most expensive to ever be built on an NCAA campus.
The Moody Center is predestined to be an elite venue—the venue Austin "deserves," according to its website—for sporting events, like UT men's and women's basketball; big-name concerts and shows. The new arena will also have exclusive amenities for Concert Members, or club seat holders.
You can start marking dates on your calendar because the Moody Center, despite the fact that it is still incomplete, already has 60 nights of music confirmed. Though the rest remain undisclosed, The Weeknd confirmed he is taking his "After Hours" tour live to the Moody Center in April 2022.
On top of its expensive design, the Moody Center is being built with sustainability in mind. It will use a system that directs airflow through the facility, not from the top down—minimizing energy usage. Since the venue is being built on UT land and therefore connected to its utilities, the Moody Center won't be able to start carbon-neutral off the bat. However, developers said they are committed to sustainable practices, eventually hoping to go carbon-neutral.
As the new Moody Center comes to life, homegrown tech giant, Dell Technologies, announced it is the premier founding partner for the new venue that will replace the Frank C. Erwin Center for Austin events and Austin entertainment.
The Moody Center, located at 2001 Robert Dedman Drive, will be the new home for University of Texas events, including graduation and basketball games, along with acting as a multi-purpose facility for the city that will serve for concerts and other events.
Through the partnership, just outside a section of the facility will be Dell Technologies Plaza, a place for post-game shows and community events. Dell will also donate tickets for Longhorns basketball games to the Boy & Girls Club of the Austin area.
It's been a long time coming for the Moody Center, which was first announced in December 2018; it broke ground one year later. It has since started booking shows for its debut in 2022, starting with pop sensation The Weeknd for April 2022. The facility, named after the Moody Foundation, will be able to expand to 15,000 seats.
In a live virtual media conversation with Senior Vice President of Global Brand and Experiential at Dell Liz Matthews, C3 Presents Partner Charles Attal said he sees the Moody Center changing Austin from a place world-class bands used to skip on tours to being the world-class venue they book multiple dates for.
Matthews said aside from the Moody Center maintaining Austin's music scene, it was important to Dell that it be an inclusive environment that will host women's basketball games, along with men's.
In the same conversation, UT's Minister of Culture Matthew McConaughey, who helped up with the vision of the facility, said the Moody Center is making wins—furthering the women's basketball program and bringing big-time bands to Austin—sustainable in the city for years to come. McConaughey quoted UT Athletic Director Chris Del Conte in what he see's the Moody Center being: "It should be the first place that a world-class band should want to come play, and the last place that a visiting basketball wants to come play."