Get connected with our daily update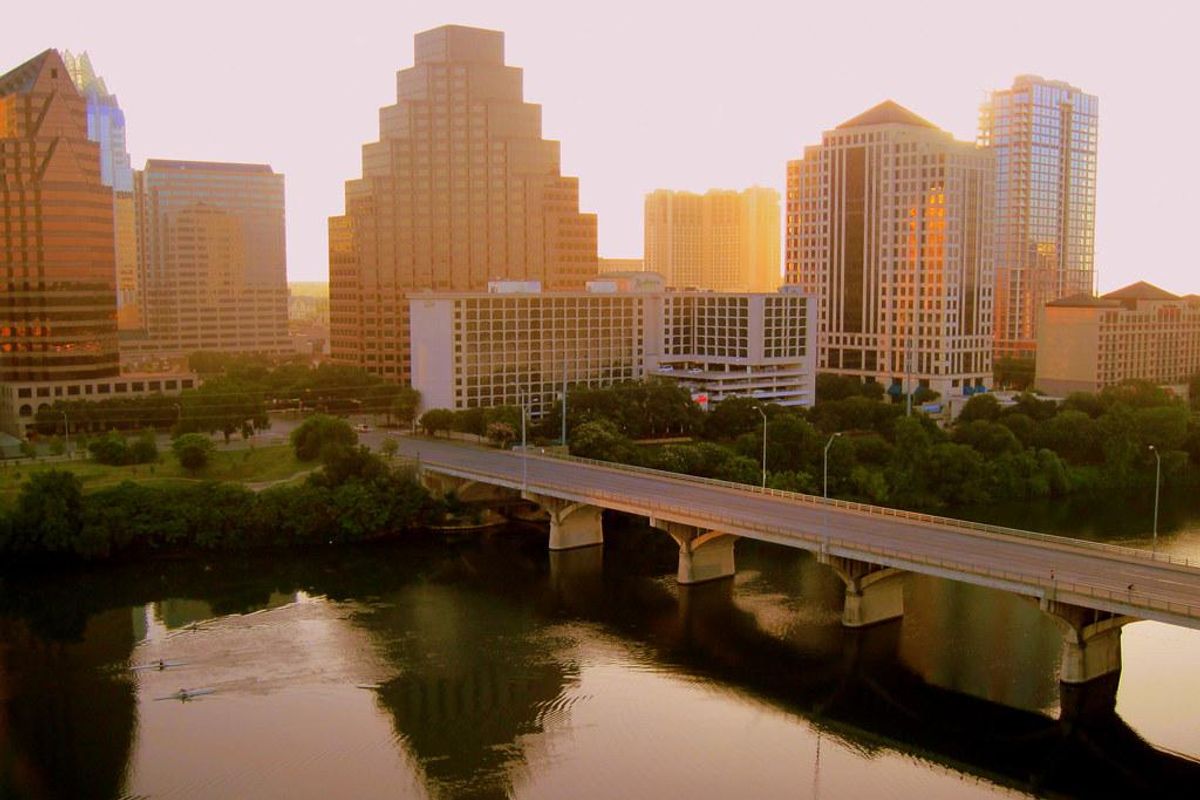 (Stuart SEeger/CC)
Austin is no stranger to growth, rapidly at that. According to a recent LinkedIn report, Austin's population is growing faster than you can say, "Howdy y'all," making it the city with the most newcomers in the U.S. this year.
The data compiled by LinkedIn was based on its 174 million U.S. users and showed that moves were most popular from April 2020 to October 2020.

Austin topped the list of 10 cities with the highest growth rates, charting that for every person to leave Austin, 1.53 people came in. Right behind Austin, Phoenix, Arizona, tracked 1.48 new residents for everyone that left.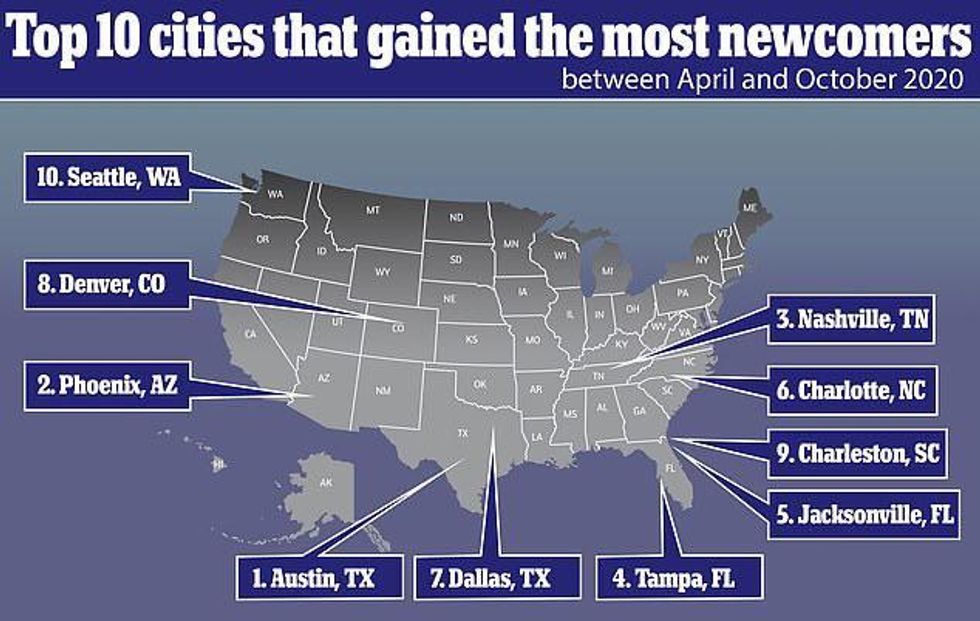 Austin was also not the only Texas city on the list: Dallas ranked seventh, with 1.35 new residents for everyone that left.

Austin has received a number of accolades this year: The Wall Street Journal called Austin a "magnet" for jobs, it was named the second-highest college town in the U.S. and the number one tech town in the U.S.
Most residents are coming from big cities, looking for a break from the high costs of living and taxes that large metro areas are famous for.
Plus, everyone is doing it, with major celebrities, like Joe Rogan and James Van Der Beek, and major companies, like Tesla and Oracle, announcing moves to Austin.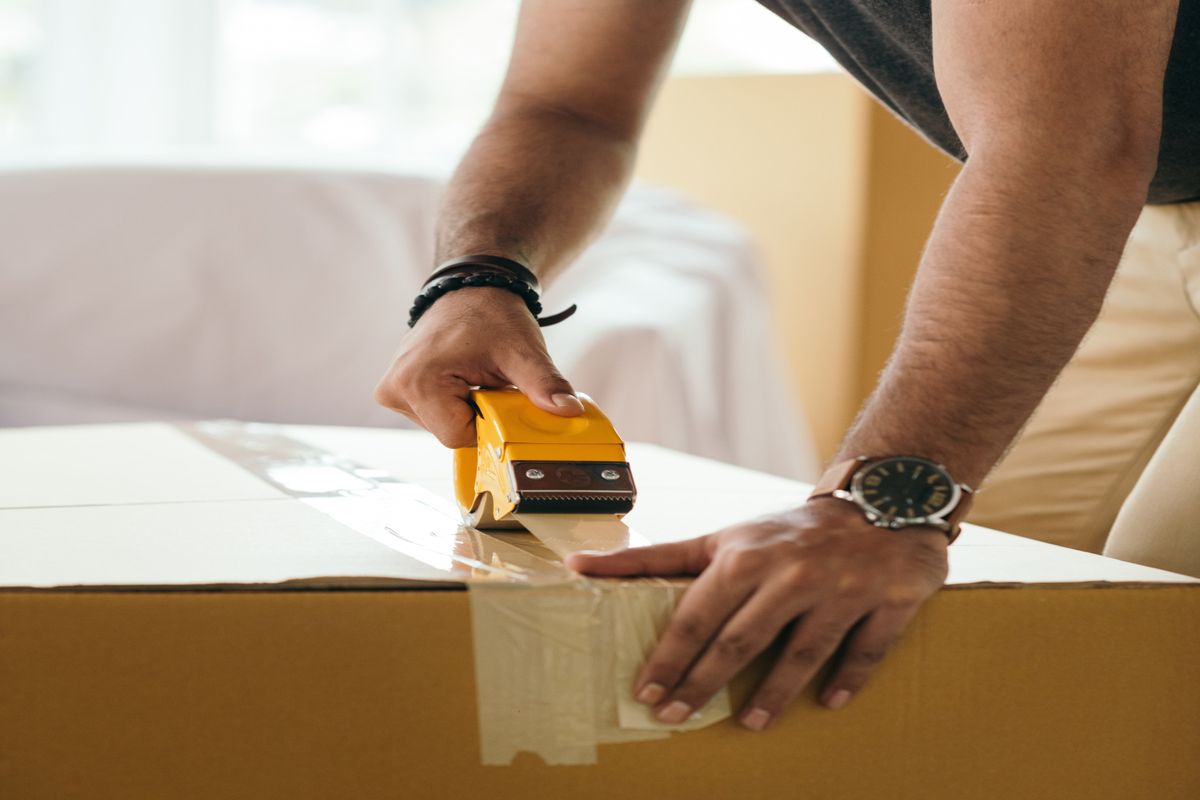 After a decade of being called the country's fastest-growing metro, Austin is about to learn early next year if the trend continues when census counts are released.
In anticipation, The Greater Austin Chamber of Commerce revisited the latest U.S. Census migration insights in its latest economic report. Migration patterns help reveal where new Austin residents moved from and how that growth compares nationally.
Based on 2018-19 population estimates outlined in the report, Austin is now growing at 168 net new residents per day, mostly thanks to people who relocate here.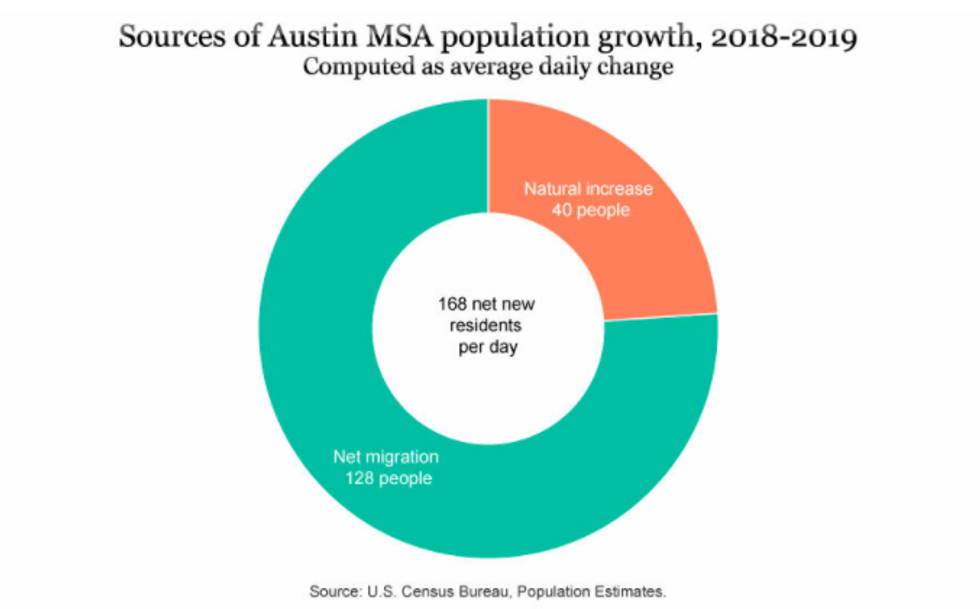 Here are three notable takeaways from the report:

1. Austin really is a 'Hotel California'
The cliche that Californians are flocking to the city has merit, based on the report takeaways.
California residents make up 8% of all migration to the Austin metropolitan area, according to 2014-18 U.S. Census survey data compiled by the chamber. That is significantly more than the next five states:
California (8%)
New York (3.3%)
Florida (3.1%)
Illinois (2.3%)
Arizona (2.1%)
Colorado (2.0)
But more than half (51.3%) of new Austin residents actually come from elsewhere in Texas, according to census survey data.
In total, 119,146 people migrated to Austin between 2014-18, a net gain of 25,769 residents. Most of these newcomers come from other Texas cities like Houston, Dallas and San Antonio, as well as from New York City and Los Angeles.
Ironically, California is also the top destination for Austin residents who relocate permanently, followed by Florida and Colorado.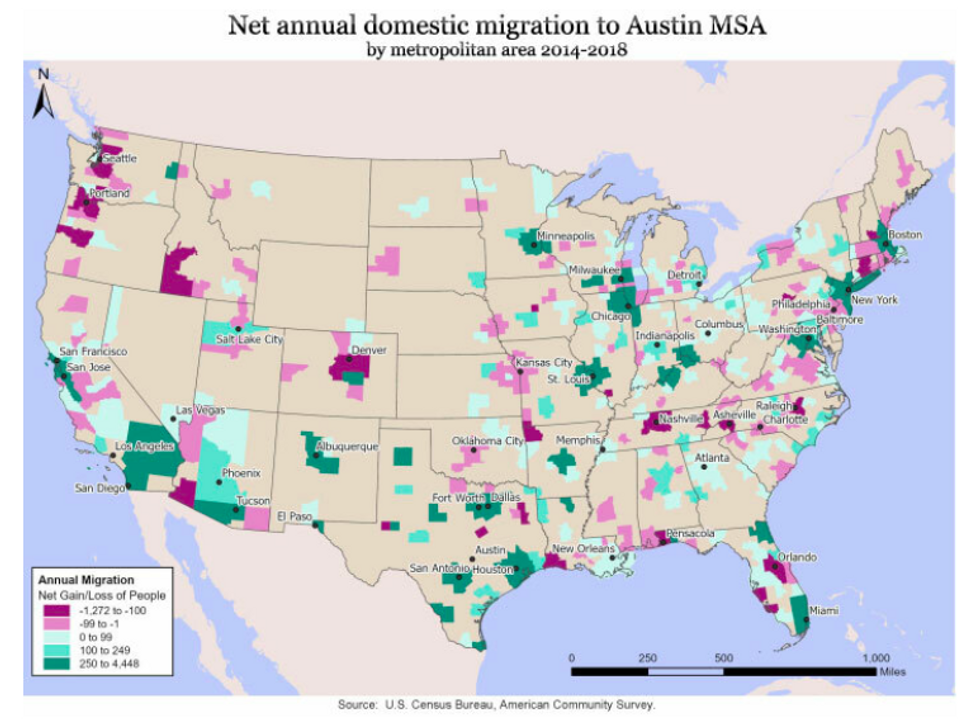 2. No other city grew faster this decade
The percentage of Austin's population growth from 2010-19 exceeded every other metro area in America, according to the U.S. Census Bureau.
In fact, Austin grew at a 10% faster rate than any other Texas city despite The Lone Star State making up four of the nation's six fastest-growing cities this decade:
Austin (29.8%)
Raleigh (23%)
Orlando (22.2%)
Houston (19.4%)
San Antonio (19.1%)
Dallas (19%)
Austin's consistent growth the past 10 years comes from various factors. Census data shows about 32,000 people move within the U.S. per year and another 6,850 relocate internationally annually. An additional 16,200 people per year come from natural increase (births minus deaths).
Raleigh is the only city to have a higher percentage (6.8%) than Austin (6.6%) of overall residents who relocated within the past year.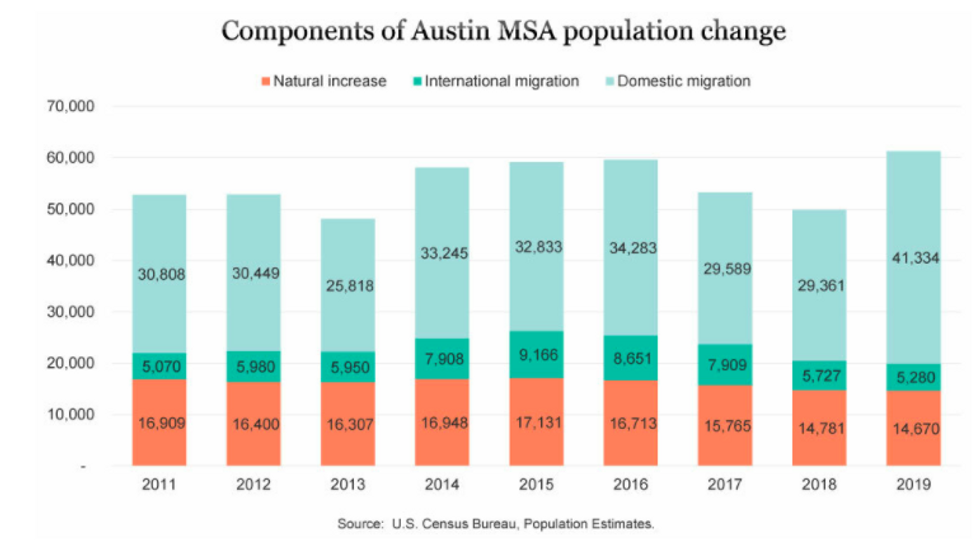 3. Relocations skyrocketed in 2019
The majority of the city's annual population increase comes from domestic migration, or people moving to Austin from other parts of the U.S. Between 2011-18, Austin gained 30,798 residents, on average, who relocated here.
But that number ballooned to 41,334 new residents in 2019, according to U.S. Census Bureau estimates. That helped Austin reach a net population increase of 60,000 for the first time this decade.
More on moving to Austin: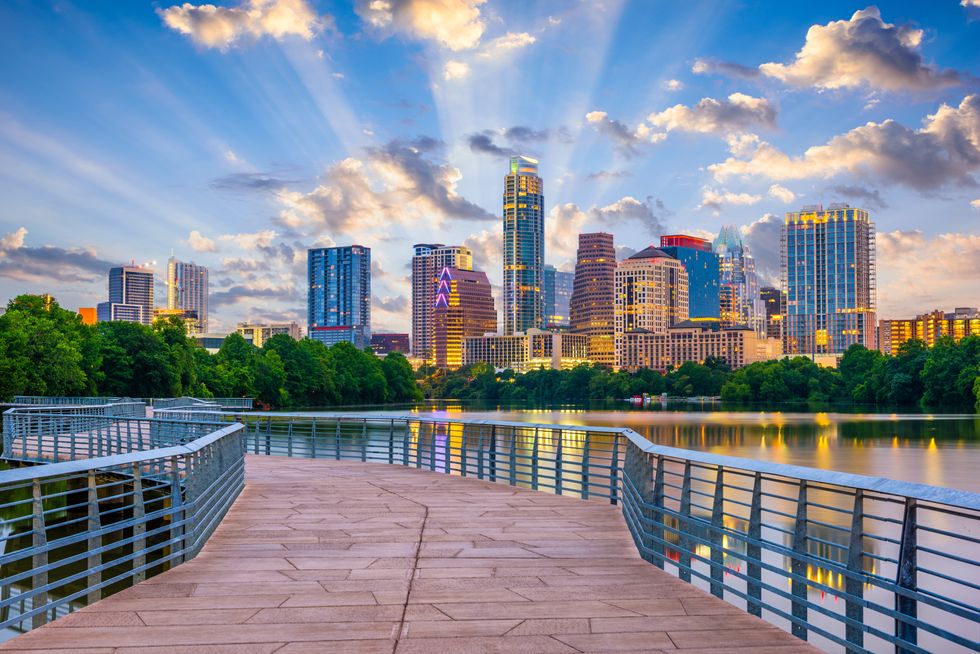 Dreaming about becoming an Austinite? Here are 8 things you'll love about the city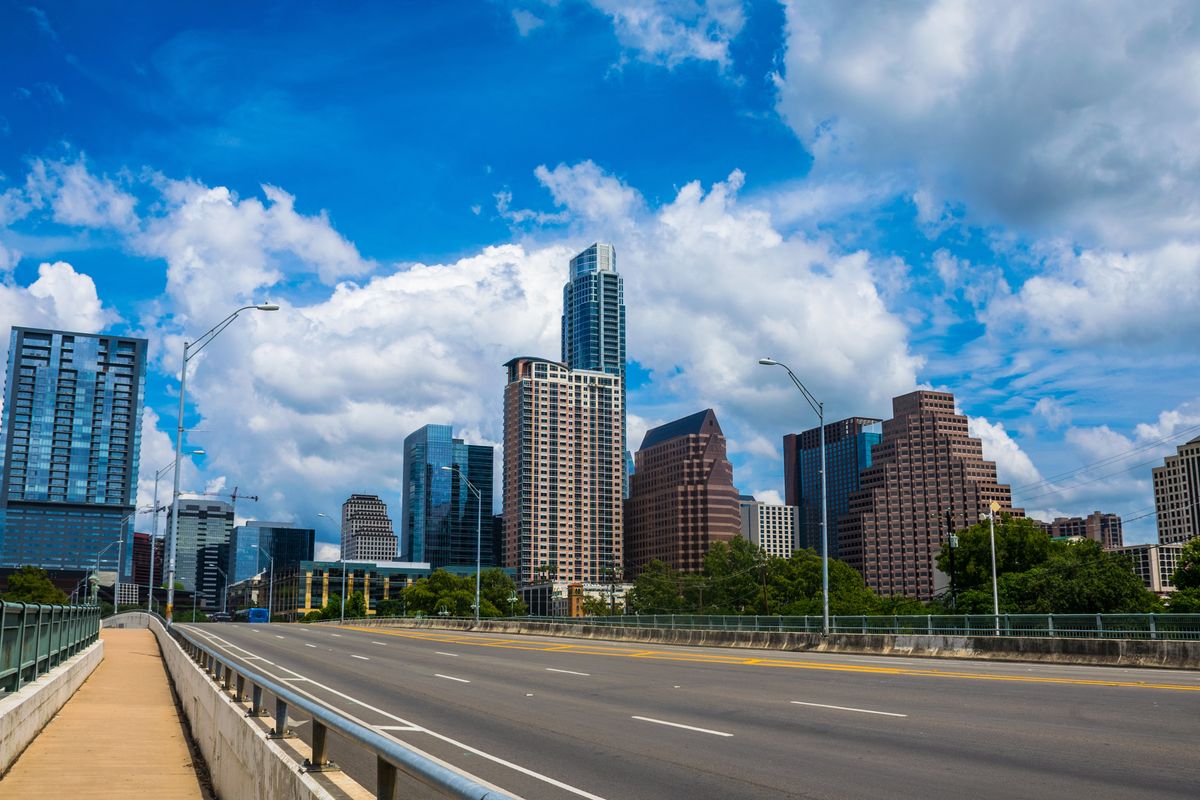 (Roschetzky Photography/Shutterstock)
When Steve Davis, 34, moved to Austin from Indianapolis on July 5, it was two months later than planned—and to a much different city than the one he'd visited months earlier.
"My main purpose was to get out of my Indy bubble and meet new people," he told Austonia. "I haven't been able to do that."
Davis, who works for a mortgage company, began charting his move early this year. He planned to transfer from his employer's Indiana headquarters to a satellite office in Austin. When he visited the city in February, friends organized a party bus to drive their group from Salt Lick to a distillery and the Oasis on Lake Travis.
When the pandemic hit, Davis was unsure if a move would even be possible. "I kind of got over it and was like, 'OK, I'm just going to be stuck in Indy and not get to move,'" he said.
When Indiana and Texas began to loosen restrictions in late May, Davis visited Austin again. He signed a lease and confirmed an early July move-in. "I was like, 'I want to get down there before the second wave hits, so I can at least meet people and make friends,'" he said. "Well, it seems like that second wave hit when I was moving."
Now in Austin, Davis chose to work out of his new office even though it means wearing a mask all day. "I'm single, I live alone, and I didn't want to be stuck at home and not see anybody," he said.
Despite the challenges, Davis is glad he made the move—and hopeful that the city will open up in the coming weeks.
He is not alone.
Although the impact of the pandemic on moving trends is not yet known, people continue to arrive in Austin, which U.S. News and World Report named the best place to live—for the third year running—in May.
The adjustment can be hard when gathering places—such as parks, pools and bars—are closed and social gatherings are taboo.
Matthew Winters created a Facebook group for 20- and 30-somethings new to Austin in 2013. It now has 9,411 members, many of whom post about wanting to meet people.
But the utility of such groups changes in a pandemic. "The longer that it goes on, what I've noticed is events are just generally dying," Winters said.
Before COVID-19, members would post about gathering for discos or to network. When local stay-home orders took effect in late March, some members who work in tech organized creative virtual events—a game night or playing music as a group—but they have since tapered off.
There is also more trolling and negative commentary. "I've just noticed that kind of animosity a lot more during COVID than before," Winters said.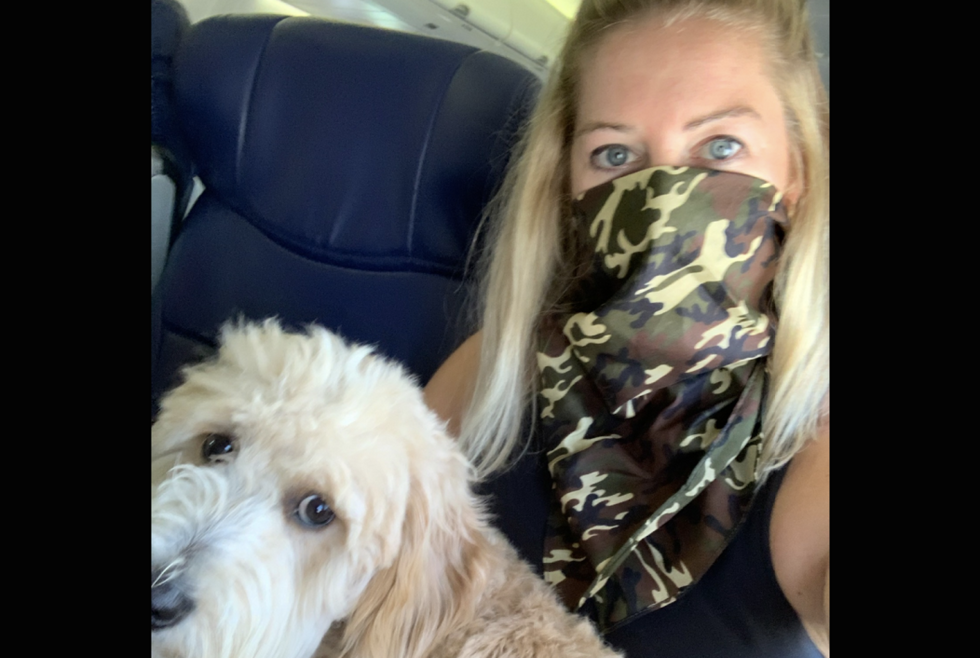 Katie Bennett moved to Austin in mid-June. (Katie Bennett)
Some people are still connecting with others.

Katie Bennett, 28, moved to the Riverside neighborhood from Denver in mid-June for a job in finance. She quickly found a group of friends after joining a Facebook group for women new to Austin.
After organizing a socially distanced meetup at a dog park, she and some of the other members rented a boat for a lake day and went out to brunch. One woman brought along someone she had met on Bumble BFF, expanding the circle.
Finding new friends has eased Bennett's transition to a new city. "We understand where each other is coming from," she said. "I don't want to say that any of us have too many complaints, but we can commiserate with each other and the situation that we're all in."
One topic of conversation: dating.
"My experience on dating apps has been different, whether that be Austin or the pandemic," she said. "And I wouldn't say that's a positive difference."
Want to read more stories like this one? Start every day with a quick look at what's happening in Austin. Sign up for Austonia.com's free daily morning email.