Get connected with our daily update
The Moody Amphitheatre's grand opening kicked off with a big capital-of-Texas bang: a concert by two home-grown musical performances, Gary Clark Jr. and Blackillac.
The 5,000-seat venue debuted its long-awaited Clark concert on Friday evening complete with big, sold-out crowds. The music went on as scheduled after it was announced in June 2020, with seats packed all the way over the lawn.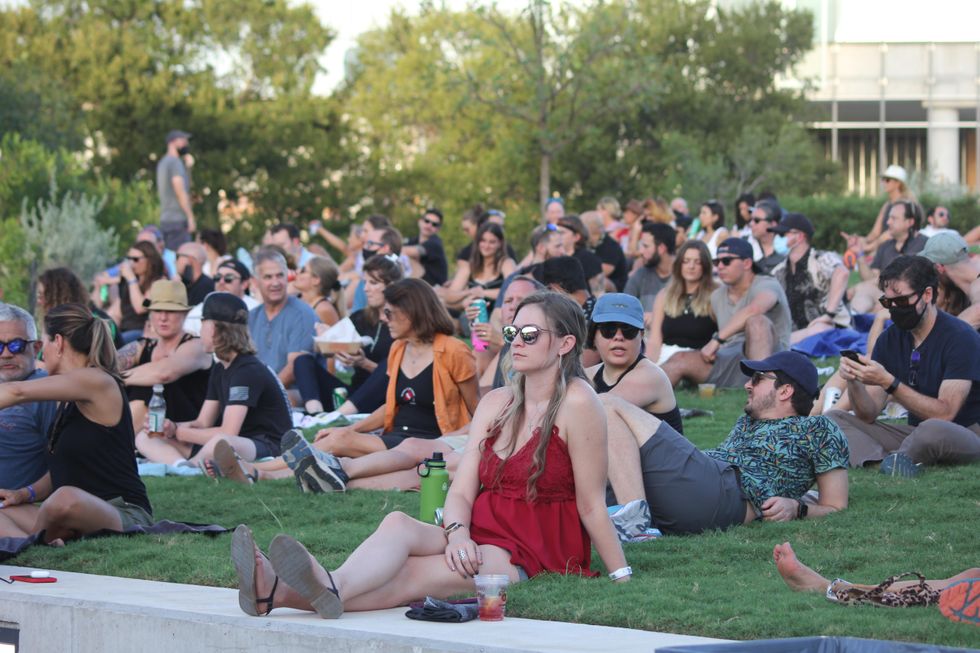 Although Moody Amphitheater said it would require masks at all times except when eating or drinking, almost none were worn in the open-air venue. (Laura Figi/Austonia)
Many attendees enjoyed a live music ambience for the first time in over a year. Austinites Lauren Clary, Doug Nguyen and Trent Castleberry said it was their first concert since COVID-19 began other than Blues on the Green.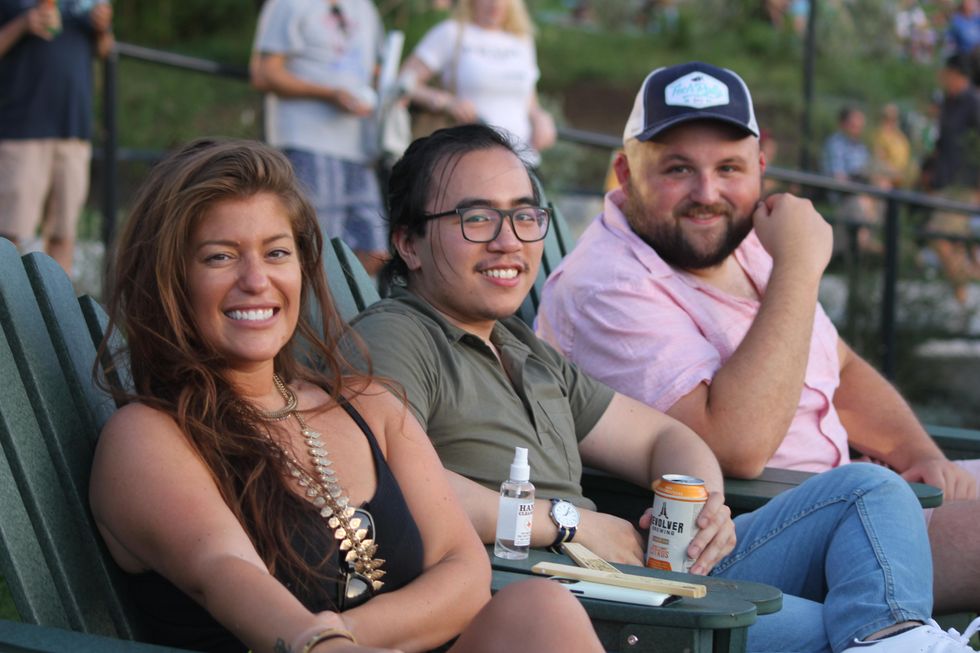 Clary, Nguyen and Castleberry they are looking forward to seeing more live music, like ACL, this year. (Laura Figi/Austonia)
"I love (Clark) because he's a local," Clary said, noting that she appreciates that Clark is involved in putting community events together like Blues on the Green.
Opening rap duo Blackillac is comprised of 36-year-old Valin Zamarron, whose stage name is Zeale, and 35-year-old J.J. Shaw, whose stage name is Phranchyze. The pair started making music in 2018 with guidance from Clark, who lovingly shouted them out in his opening remarks.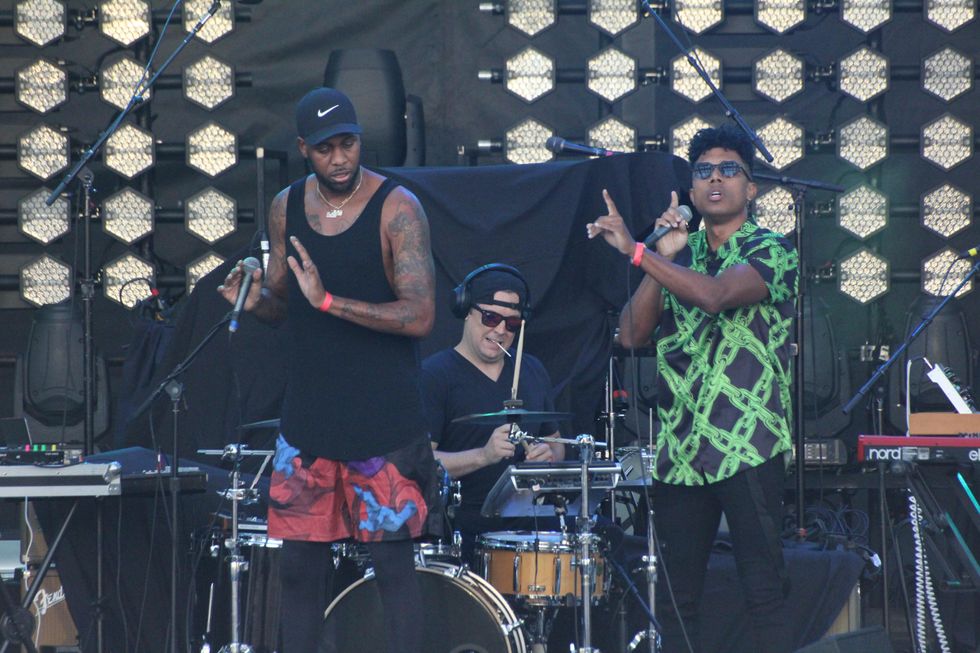 Blackillac has been climbing the ranks in Austin's music scene for a while—the two have performed at ACL Festival in 2019 and were named "Best Hip Hop/Rap" group at the 2020 Austin Music Awards. (Laura Figi/Austonia)
Blackillac had the crowd standing by the second song.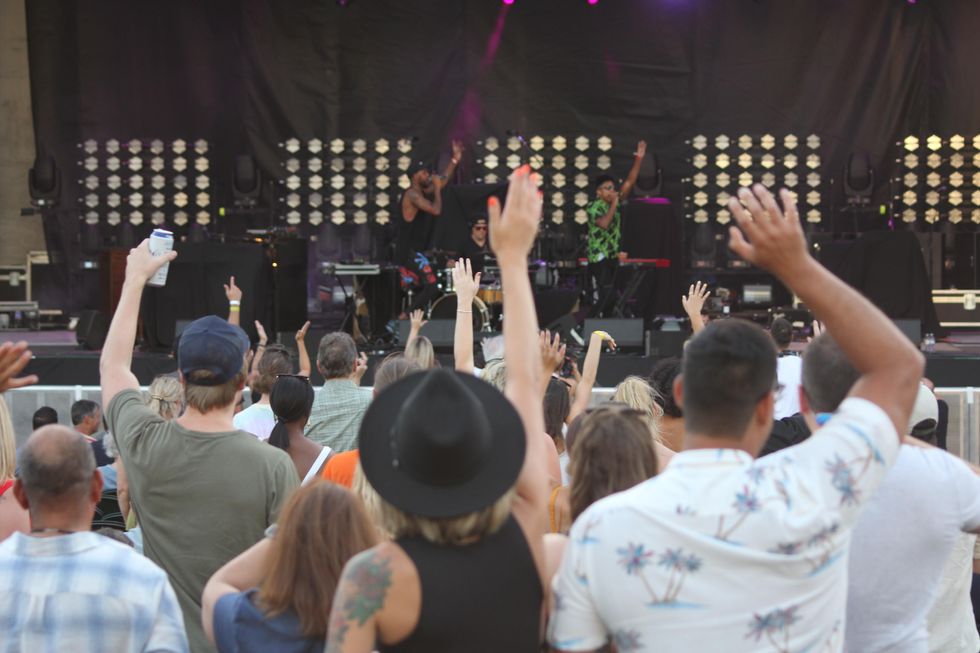 Blackillac played a 30-minute set before passing the stage on to Clark. (Laura Figi/Austonia)
Concert-goers Brad and Rhonda Davidson said they used to frequent concerts at Waterloo Park before it was revitalized. The couple said they were enjoying the new park just the same and were excited to see Clark again after seeing him at Blues on the Green in July.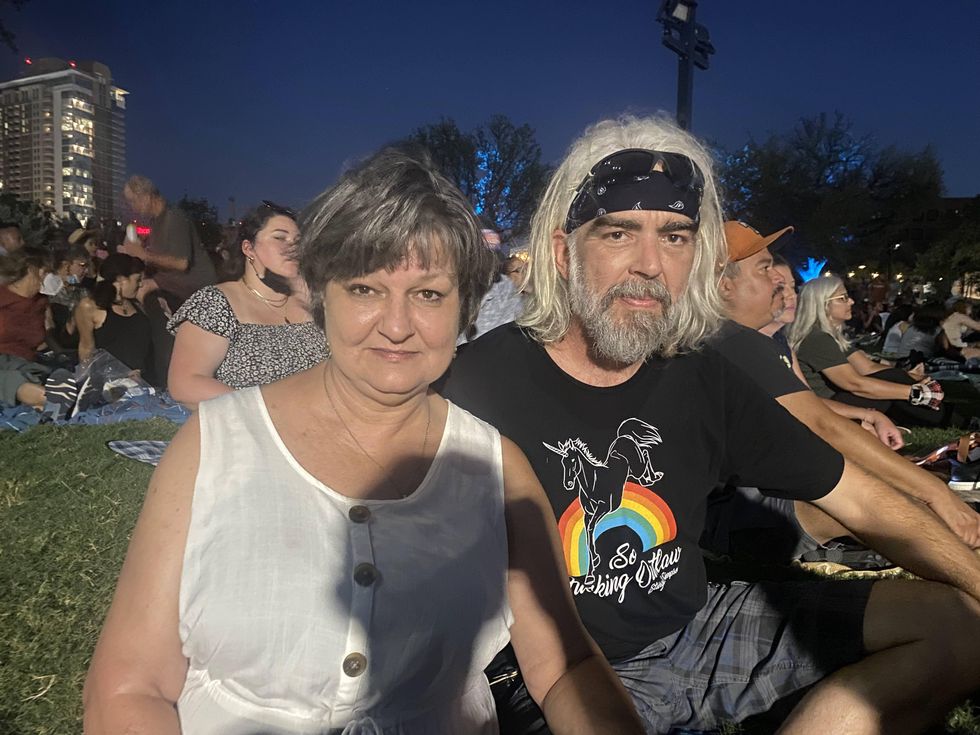 Brad and Laura Davidson were happy to be back at Waterloo Park for a concert once more. (Laura Figi)
"(This concert is) the inaugural thing in this park and it's part of Austin," Brad said. "I used to see (Clark) walking downtown carrying his guitar into a venue. He's been part of Austin for the last 30 years; Gary is Austin."
Clark took the stage in his signature brimmed hat and opened with a guitar solo.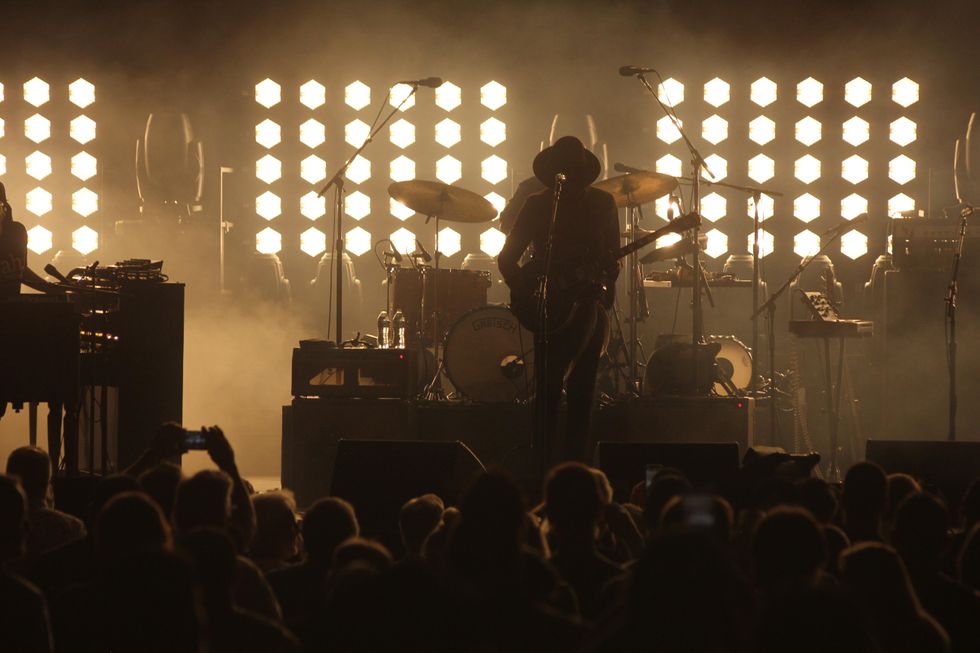 Just seconds before Clark starts the first song... (Laura Figi/Austonia)
During his set, Clark played "Bright Lights" and "Cold Blooded" to open up the show in front of a thrilled crowd.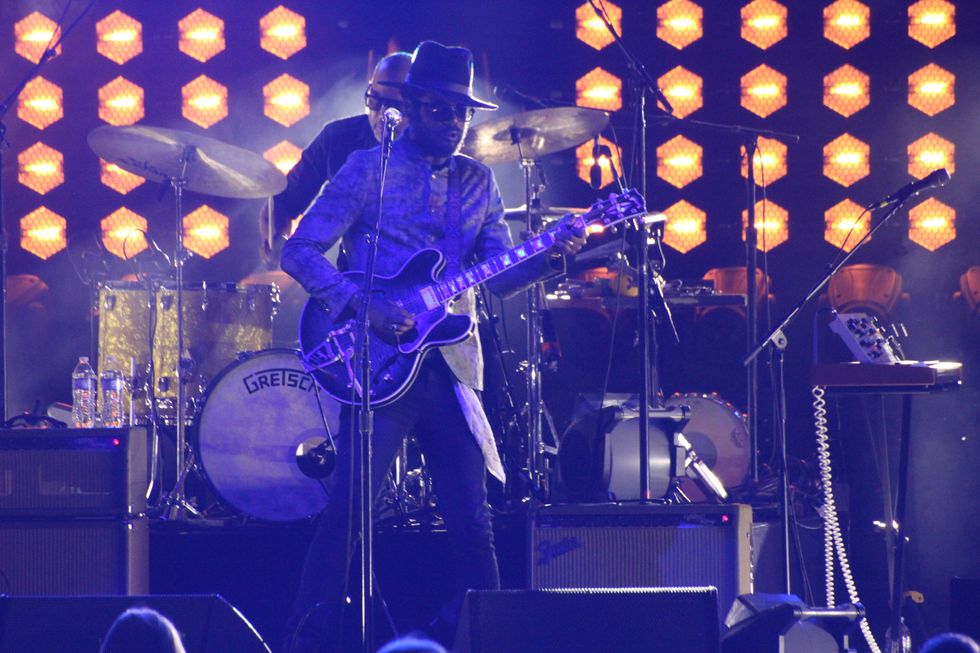 A lifelong Austinite, Clark is also a Grammy award-winner and a seasoned musician who started playing when he was just 12 years old. (Laura Figi/Austonia)
Clark is playing the Moody Amphitheater again Saturday at 6 p.m. with opener Kydd Jones. The next show will play on Sept. 9, bringing reggae-rock band Rebelution to the stage

Lucky buyers got to "own a piece of Austin history"—for a price tag of up to $80,000—after Austin City Limits sold 20 separate sections of the original backdrop from the historic television series in an online auction.
The piece, which depicts Austin's ever-growing skyline and includes landmarks including the University of Texas and the Texas Capitol, was sold to 20 separate buyers for over $265,000.
While some less visually appealing panels of twinkling Austin lights sold for as low as $1,500, the panel depicting the Capitol sold for over $80,000. Similarly, the glowing University of Texas tower panel sold for $45,050.
Austin PBS sold the pieces as part of a farewell to Studio 6A, where the original set for ACL's television program was shot. Icons including Willie Nelson and Loretta Lynn have played in front of the backdrop for years since it was instituted in 1982. The panel was put out of use in 2010.
Bidding began on Monday and ended Friday morning at 10 a.m. All proceeds went to Austin PBS and will be used to help the production company move locations in 2022.
The panel may be sold, but it will see one last hurrah as famed country artist Garth Brooks takes the stage on July 20-21 for another fundraiser to help with move out expenses.
Although these days he spends most of his time riding horses on his Hawaiian ranch, Willie Nelson is just about as synonymous with Austin as Zilker Park. He's made such an impression on the city that we honor him in every chance we get: in murals, as a statue in front of the Moody Theater (which sits on Willie Nelson Blvd.), on T-shirts and with his 4th of July Picnic.
So in celebration of the Red Headed Stranger's 88th year around the sun, here are just a select few of the reasons Austin loves Nelson.
We get to celebrate his birthday twice
Nelson was born just before midnight on April 29, 1933, in Austin, Texas, the county courthouse didn't record his birth until the next morning, officially giving him two birthdays, as he explained on Sirius XM in 2018. Nelson celebrated on April 29 exclusively until he turned 18, joined the Air Force and obtained a copy of his birth certificate. Instead of fretting about the clerical error, Nelson saves people the confusion by celebrating on both days. If anyone deserves two birthdays it's him, right?
He has done some outlandish things for weed
It's not a secret that Nelson has a certain affinity for the devil's lettuce but he didn't start smoking it until he was 21, even refusing the first time it was offered to him. He has since been serious about destigmatizing the use of cannabis. He recently started his own line, called Willie's Reserve, and held a cannabis convention this year. In the in-between, though, Nelson says he's been busted more than a few times for possession.
Upon coming home to see his Tennessee house on fire in 1969, Nelson ran inside in search of two things: his beloved guitar and a pound of Colombian bud. However, Nelson says he didn't go after the weed to save it but to keep himself out of jail for possession.
Equally crazy, Nelson once smoked a joint on the roof of the White House with Jimmy Carter's son, Chip. Ticking off the bucket list, Nelson tried to do the same on the roof of the Governor's Mansion but was caught before the goal was achieved.
One of his albums was released to pay off IRS debt
Owing an estimated $32 million in taxes to the IRS, which Nelson attributes to mismanaged money and bad accountants, federal agents raided Nelson's home in 1990 and seized some of his assets. After the seizure, the IRS charged him $16.7 million. Nelson released a two-disc acoustic album titled "The IRS Tapes: Who'll Buy My Memories?" and gave the IRS a portion of the profits. The ordeal was settled in 1993 and Nelson is proud to say he lived to tell the tale.
He's been a performer since he was a child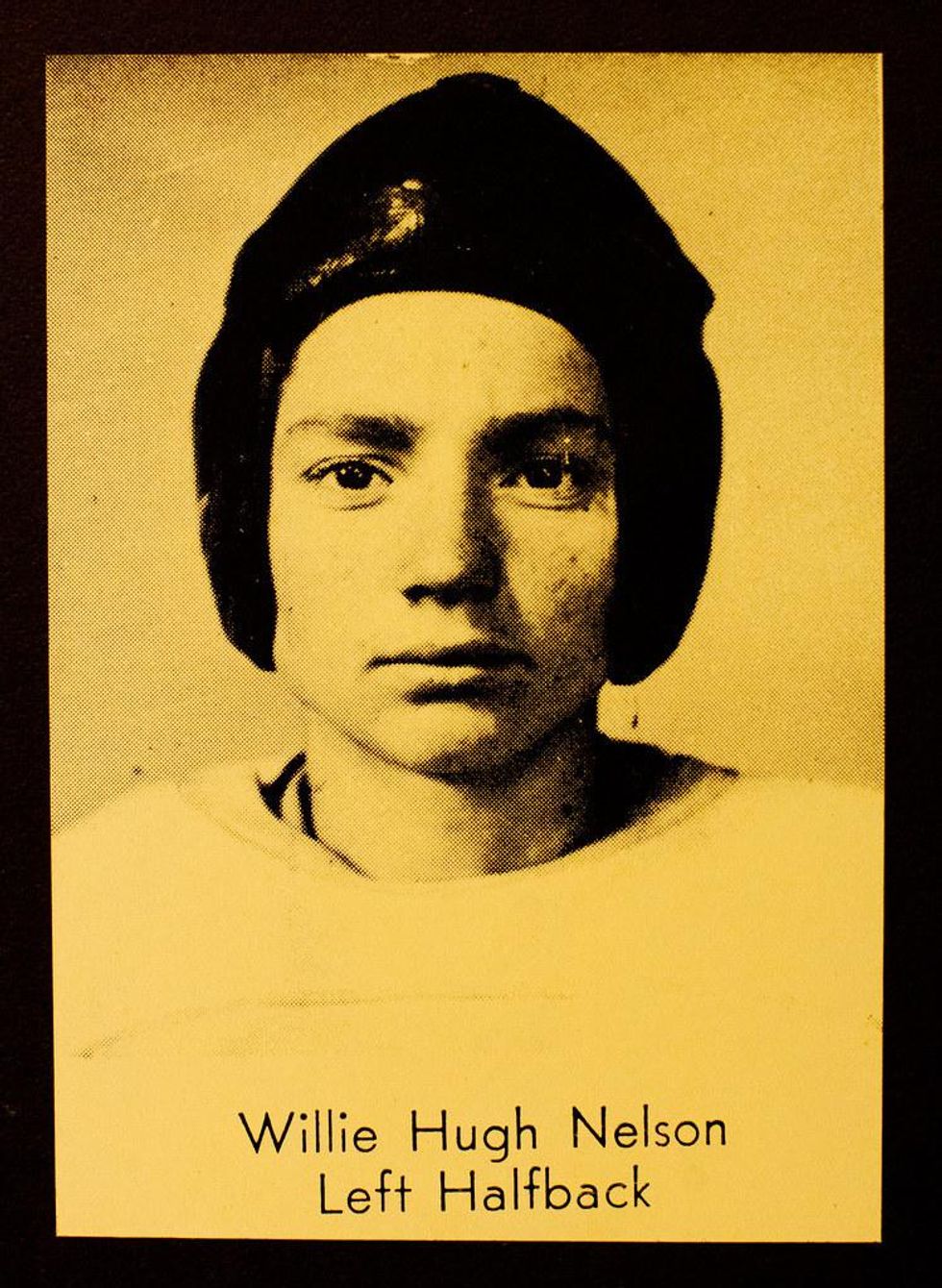 (Thomas Hawk/Flickr)
The first time he ever performed in public, Nelson was 5 years old and recited a poem. He had such a bad bout of stagefright that he started picking his nose until it bled onstage. Though his first performance didn't go well, he was gifted a guitar one year later, when he was 6, wrote his first song when he was 7 and joined his first band when he was 10. By 13, he had played with Bob Wills, the "King Western Swing" music and got a job in a Bohemian Polka band as the lead singer and guitarist. The rest is history!
He's been playing the same guitar for 50 years
Named "Trigger" after Roy Rogers' horse, Nelson has been playing the same guitar for 50 years, which explains the scratches, nicks and beat-up look the instrument has, but he loves it the same. After his trusty Baldwin was damaged beyond repair by a drunk man at a show, Nelson got into the market for a new one. A Martin N-20 classical guitar, Trigger has been with him through his house fire and when the IRS came to raid Nelson's home, he sent Trigger to his daughter, Lana, in Maui, Hawaii, for safekeeping. The guitar has been through hell and back, it even has a hole in the body from use, and sees a guitar technician frequently but still plays as good as it should.
We hope you have two "Willie" nice birthdays, Mr. Nelson!
(Lady Dan/Instagram)
With live music making a swift return to Austin, it's time to dust off your local music knowledge and prepare for the tunes that will likely be coming to stages near you very soon. Austin musicians are sharing the fruits of their labor after a year of creating—and the results are almost worth a global pandemic.
If you're looking for some new songs to add to your rotation, check out these local artists.
Amigo the Devil
In a genre that he calls "murderfolk," Danny Kiranos plays music about subjects that most shy away from under the name Amigo the Devil. The new album, titled "Born Against," which Kiranos said is more subdued than the last, references taboo subjects, the human condition and a fear of death. "Quiet as a Rat" examines moral depravity to a marching band beat while "Letter From Death Row" is a teary ballad of a death row inmate finally letting go. With a voice reminiscent of Death Cab for Cutie's Ben Gibbard, Kirano takes a raw look at his emotional state in his new album.
Alex Riegelman
This is the band that is keeping Austin Weird. In a new single titled "Animal Ending," Reigalman pairs the song with a kooky video that flips the script on a typical hunting trip, where a stereotypical hunter chases an anthropomorphic pizza while surrounded by forest animals. The indie-pop song comes with an array of different guitar riffs to add interest, Riegalman's pleasant falsetto and will probably make you want to go vegan after hearing it... just for a second though.
Croy and the Boys
If a cowboy and a hippie had a baby, it would grow up to start Croy and the Boys, a politically-charged country music quartet led by Cory Baum. Their new EP, "Of Course They Do," is reminiscent of Father John Misty's complex lyrics while maintaining the familiar twang that Texans love oh, so much. The song "Do They Owe Us a Living?" which indirectly serves as the namesake for the record, takes a frustrated look at the state of living in modern America, while "Ready to Fight" challenges imposed authority in an upbeat, danceable tune.
Lady Dan
Somber sounding and bridging several different genres at once, Austin-based musician Tyler Dozier's new album, "I Am the Prophet," explores emotional opposites of all types. An Alabama native, Dozier jumps from country to pop to orchestra to blues like it's no big deal. "I Am the Prophet" tells a story of a woman who is rebuilding herself, while "Paradox" is about the idea of a woman of stone. In an album dedicated to learning about herself, unlearning toxicity hiding in her past life and forming a new identity like a caterpillar turns into a butterfly, Dozier lays it all out on the table. This album is introspective, vulnerable and graceful in the face of change.
The Teeta
After releasing three projects in 2020, The Teeta, an Austin-based rap musician, recently revealed a new album, titled "24," with a complementing visual exhibit that meshes the barrier between music and perception. "The Teeta World'' is an interactive visual album that the Austin native said he hopes will bring people closer after a year of separation. The exhibit will only run through May 1 but has free entry and is full of surprises.