Get connected with our daily update
In the summer of 2020, Nick Tangborn got up close and personal at concerts. As CEO of Otter Network, a local video production tech startup, he and his team live-streamed video at ACL Live at 3TEN showcasing soul band Tomar & the FCs, rock 'n' roll band Western Youth and indie band Moving Panoramas, among others.

At the time, the Otter Network team was using an early version of a video creation tool they were developing. "The responses that we got were 'wow, it looks like a TV show,'" Tangborn said. "Because we had movement. We had lights. We had a sophisticated image. We had real shooters… so you get sort of a Steadicam feel. And the second obviously, was that it sounded really good."
Earlier this week, the Austin-based company had its product suite debut of Otter Director 2.0, the tool used at ACL Live, and Teleport, which is a content management system of sorts. It gives solo creators the ability to shoot footage on their own, with Tangborn describing it as a "mobile production suite." With it, creators can take up to four cameras and are able to switch between them, to accomplish something like traditional HD broadcasting. Still, Otter Network offers production services for brands if needed.
It's been a long time coming, with the tools being in the works for about three and half years.
"It's a lot of functionality crammed into a couple of platforms, but we really see it as an ecosystem," Tangborn said, adding that it allows what's essentially pay-per-view events to take place.
Tangborn founded Otter in 2017 as the next step in his long career in the arts. He was managing editor of an early online music magazine founded in the 90s called Addicted to Noise, later renamed Sonic. He said that led him down a path to Rhapsody. And he also founded a record label, Jackpine Social Club. His passion for music eventually landed him in Austin where he's been for more than a decade now.
While Austin is key to the work, the ultimate goal is empowering creators and helping them share art with people.
"We thought if we build these tools, we can then partner with any of these other creators or creator platforms to enable them to get that content out to people," Tangborn said.
Next for Otter is an expansion of the 16 person team that works mostly from an office on South Lamar, with the flexibility to work from home and some other team members living in Fort Worth. Tangborn says there are plans to hire development and product talent and growing marketing efforts.

With that, the team will execute projects that Tangborn describes as a "feature roadmap a mile long." It'll include a graphics engine so that there can be titles, credits, lower thirds and other features. Another key part is making improvements to the quality of the video.
"I hate the word content. I don't like reducing a movie or art or writing to just this bucket word content. I think it's important to embrace the art itself," he said.
Austin's famous live music scene is roaring back to life in the New Year, starting with Red River Cultural District's annual Free Week Music Festival. This will be the first Free Week festival since 2020.
It's exactly what it sounds like: More than 100 local musicians will perform at nine of the district's favorite venues from Jan. 6-8, completely admission-free. Notable local names like Blackillac, Deezie Brown and Superfónicos will give rare, cover-free shows.
Historically taking over the district on the first weekend of the year, Free Week started back in 2003 as a way to "keep the lights on" while winter months slowed traffic down and has continued ever since. RRCD also hosts another free festival, Hot Summer Nights, bringing free music to the warmer months as well.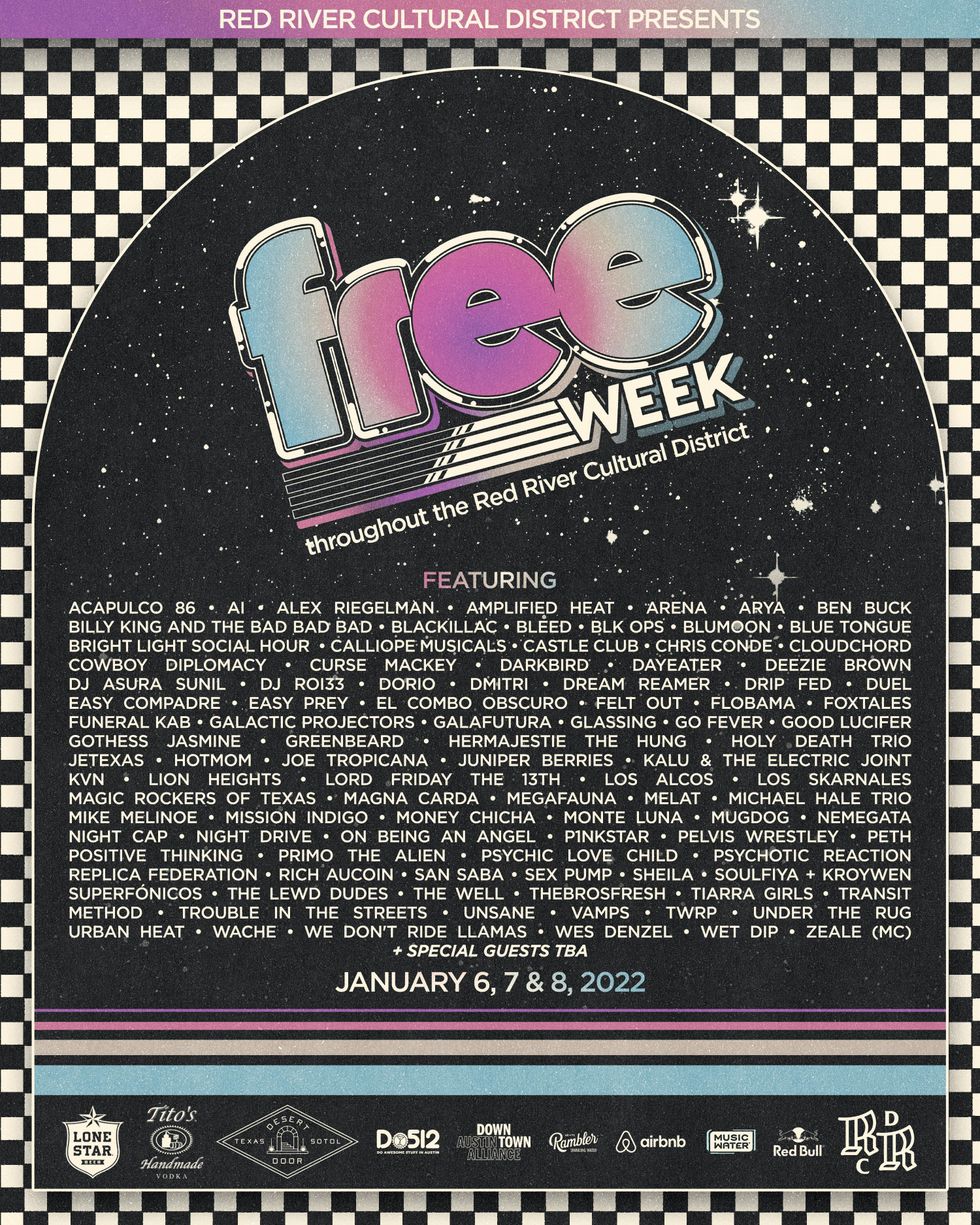 The free festival is coming back after a year hiatus. (Red River Cultural District)
The multi-genre concerts will occur at classic venues: Cheer Up Charlie's, Elysium, Empire Control Room & Garage, Flamingo Cantina, Mohawk, Stubb's, Swan Dive, The Green Jay and Valhalla.
In addition to the artists above, almost 100 other musicians will take to the stage in the New Year, including Billy King and the Bad Bad Bad, Lord Friday the 13th, TC Superstar, Primo the Alien, Mike Melinoe, and Bright Light Social Hour. Many of the artists performed at ACL 2021.
Though daily schedules aren't set to be released until a few days prior to the beginning of the festival, a breakdown of which artists will play which venues can be found here. Live music lovers will be able to catch their shows without a reservation.
Starting on Thursday, Jan. 6, each of the performances is paid for the artists thanks to sponsors Lone Star Beer, Tito's Handmade Vodka, Desert Door Distillery, Airbnb, Rambler Sparkling Water, Red Bull, Downtown Austin Alliance, and EQ Austin, as well as media partners including Do512, Showlist Austin and When Where What Austin.
A thousand fans of Austin-connected country singer and songwriter Parker McCollum are now members of one of the world's first fan club NFTs.
NFTs, or non-fungible tokens, are collectibles on the blockchain commonly in the form of digital art or animations. But lately, the music industry has been gaining traction in the space to earn artists additional revenue and provide fans some perks.
For example, members of McCollum's fan club scored VIP access to events, access to private jam sessions, opportunities for meet and greets and more by purchasing an NFT that became available on MusicFX, a platform and marketplace for music NFTs.
In a video announcing the fan club, McCollum called it "the coolest thing, hands down, that I've ever done for my fans." Memberships, which granted people a signature edition Gold Chain Cowboy Black Card, sold out within three days after becoming available on Dec. 15.
"I wanted really just to create a way to stay connected with my fans that have been with me from the beginning; all my day ones," McCollum said.
But convincing music fans to buy an NFT can be tricky. Many are unfamiliar with MusicFX, one of the offerings from CurrencyWorks, a blockchain platform provider. Cameron Chell, co-founder of MusicFX, thinks this could change.
"The real big advantage here is that the artists themselves have a new potential income stream and the fans have a richer, more direct experience with the artist," Chell told Austonia. Those experiences could be an album with a limited release or an artist producing an intimate acoustic session in their living room. Given that, Chell thinks NFTs grow the industry rather than disrupt it.
He thinks digital art made the biggest splash in the early days of the NFT economy because music and movies had a deeply established infrastructure that in the past decade or so has taken shape in the form of streaming.
For artists, it's straightforward to understand that they'll need about 250 streams on Spotify to earn a dollar. NFTs might not seem as simple, and especially when it comes to figuring out how intellectual property rights are managed.
The NFTs serve as an additional outlet for musicians' earnings and for building their brand. "(The NFT) is new incremental revenue to them that only promotes the streaming music that they have," Chell said. "It's a win-win for everybody, including the fan, because now the fan has one of 100 of these things or whatever the number is, there's a market they can go to and actually trade it."
With time, that rare piece of content could gain even more value than it already has, like when fans of the late Austin singer-songwriter Daniel Johnston bid on a piece of his artwork.
In March, some of the first major NFT music sales happened, like Kings of Leon's album "When You See Yourself", which Chell thinks is destined to become a classic. And DJ 3lau brought the largest-ever NFT sale of $11.7 million by selling 33 NFTs to mark the three-year anniversary of his album "Ultraviolet."
My friend @3LAU just made history by tokenizing the first full-length album in a record-setting $11.7M NFT auction. So glad to have this Ultraviolet Bronze NFT. Represents years of hard work and belief on his part. I\u2019m fortunate to have followed his journey to this momentpic.twitter.com/vZ9uCpCtgw

— medved (@medved) 1614711026
Recently, local startup Royal used 3lau's song "Worst Case" as an NFT, after which the company received more than 2,000 artist inquiries.
But this experience isn't stuck solely online. Chell thinks NFTs also benefit in-person experiences for venues, artists and fans in the live music capital of the world.
"This NFT phenomenon that's happening is giving so much more broad access to the fan base that's beyond just hearing music. What that does ultimately is it drives the value of the physical locations even higher and those NFTs can be used in the physical location for prizing or rewards or better seating," Chell said. "It makes the whole thing rich."