Never miss a story
Sign up for our free daily morning email...
...and afternoon text update
Get connected with our daily update
Willie Nelson is celebrating his 88th birthday in signature style. The Austin country music star announced he'll spend his birthday with marijuana-loving fans everywhere with a three-day virtual cannabis convention.
Alongside his brand Luck Presents, Nelson will work to destigmatize marijuana use with his fest, called Luck Presents: Planting the Seed, on April 26-29.
Singer Nathaniel Rateliff will host the convention, which will feature "musical collaborations, comedy sketches, cooking demonstrations, health-focused activities and more." The fest will also hold speakers and panel discussions about misconceptions of the plant, the history of marijuana and its pervasiveness in today's culture.
The convention will also raise funds for Headcount's Cannabis Voter Project, an organization that works to get cannabis-friendly voters registered. Those interested in joining the summit will need to make a $10 minimum donation to get the golden ticket into the fest.
"The Cannabis Voter Project believes it's important for the cannabis community to be an active and informed voting bloc," the organization's website reads.
In a statement, Nelson said he hopes to educate people on marijuana misconceptions with his latest foray into cannabis culture.
"I think people need to be educated to the fact that marijuana is not a drug," Nelson said. "Marijuana is an herb and a flower. God put it here. If He put it here and He wants it to grow, what gives the government the right to say that God is wrong?"
Nelson has dipped his toes into the weed landscape before—an outspoken weed enthusiast, Nelson started his own brand of recreational marijuana in 2015, followed by CBD brand Willie's Remedy, which focuses more on health and wellness.
Most recently, Nelson opened up about the pandemic, smoking weed and living a more sustainable life for his SXSW debut in March.
Willie Nelson—you know him, you love him and he loves Austin. The red-headed stranger has spanned a 60-year career, putting Austin on the map, winning every award in the business, but has never been featured as a speaker for SXSW until today.
Representing a historic moment in Austin history, the local legend sat down with Texas Monthly's Andy Langer to talk about vulnerability in the pandemic, smoking weed, becoming a progressive figure in a red state and the key to living a sustainable life.
Nelson was originally scheduled to make a keynote speech at SXSW in 1992 but a delayed bus coming home from a concert kept him from delivering. Coming to speak nearly 30 years later, Langer asked Nelson to open with a joke that the musician had told him while smoking weed with Snoop Dogg 15 years ago.
"The thing I remember most about getting high with you 15 years ago was a joke you told me that took my breath away," Langer said. "It's the one about the nuns that are out for a bicycle ride around the Vatican. The punch line?"
"One of the nuns said 'I've never come this way before.' The other one said, 'me neither. It must be the cobblestones.'" Nelson replied, without missing a beat.
At 87 years old, Nelson is at high risk for catching COVID-19 and watching out for the virus is something him and his family needed to be careful about. However, Nelson said he still feels lucky—knowing that others have struggled more and are missing the people around them makes him feel worse—and he misses getting to hug his fans every night after the show.

"It's been really tough on me but I can't imagine that it's been tough, not only on me, the performer but also everybody else who happens to be in the audience," Nelson said. "They come a long way, drive a long way, raise some money to hear somebody get up there and sing, whether it's me or whoever, so they can clap their hands and enjoy the music. I think they're missing it also. We're not like a lot of people out there who are really struggling. So I feel very, very fortunate."
Now, living on his ranch with his horses, Nelson said he has had plenty of things to keep him occupied.
Mid-pandemic, Nelson is focusing on spiritual growth, creating his new album, "Energy Follows Thought," and expanding his famous cannabis company, Willie's Reserve. Willie's Reserve is built on four pillars: personal freedom, medical advocacy, social justice and sustainability.
Nelson said decriminalization has come a long way since he was first "busted" for marijuana, but he wants it legalized for reasons more than just getting high.
"It can help you in a lot of ways and the more they think about it and the more they realize that's true, then the more people in more states will legalize it," Nelson said. "More states are on the way."
For all farmers, Nelson feels like they have been on the bottom rung of the economy for too long and urged people to get connected to their community, shop local and support local.
"Without the farmers, we don't eat so they're very important and they haven't been treated as important," Nelson said. "We got to take care of the small family farmer, period. We've got to quit buying our groceries and our breakfasts from 1,500 miles away, when there's a farmer out there that can grow it for you every day."
With dozens of years of a rich international career under his belt, Nelson said he has learned how to keep himself young, lift the people around him up, keep politics away from his performances and be independent with his religious beliefs.
"Here's what I believe: God is love. Period. Love is God, period. You can't have one without the other. And if you live knowing that God is love… that's all you need to know."
(@nanetheband/Instagram)
South by Southwest 2021 may be online but anything is better than another cancellation. This year, SXSW focuses on themes that have been on the brain since the start of the pandemic: a new urgency, connecting in a disconnected world, the future of technology, the rebirth of businesses and transforming entertainment to meet our needs.
With many familiar Austin faces in store and plenty more from afar, SXSW day one will highlight New York Times best-selling author and UT alumna Stacey Abrams in conversation and feature a film by South Congress revivalist Liz Lambert.
However, Austin loves nothing if not music, and the city has more than a few performers to show for it this week. Here are all the local Austin bands (in order of performance) to support this time around.
Check back daily for more SXSW updates!
(Griffin 360)
Styx and stones may break bones but the pandemic couldn't stop Austin-based bassist Ricky Phillips from rocking via live stream when everyone began to quarantine.
For the past 18 years that Phillips has called Austin home, he has spent most of his time on the road with rock band Styx, spending sporadic days at home in-between. For the past year though, Phillips has been working from home alongside more than 40% of Americans.
"Have you ever said to yourself, 'I wish I could just make the world stop for two weeks so I can get caught up?' I know I have," Phillips, an Iowa native, told Austonia. "I guess that comes under the heading, 'Be careful what you wish for.'"
When the pandemic brought live music to a halt altogether, Styx began to focus on more direct engagement with their fans. After the Styx tour was canceled and the band began live streaming to their 1 million fans via their "Styx Lounge," Phillips realized his home studio was lacking.
Going from a standard webcam to a professional setup complete with dual cameras provided by ClearOne, one with 4K capabilities and one with programmable motion, was like opening Pandora's box, Phillips said, and has opened up new doors.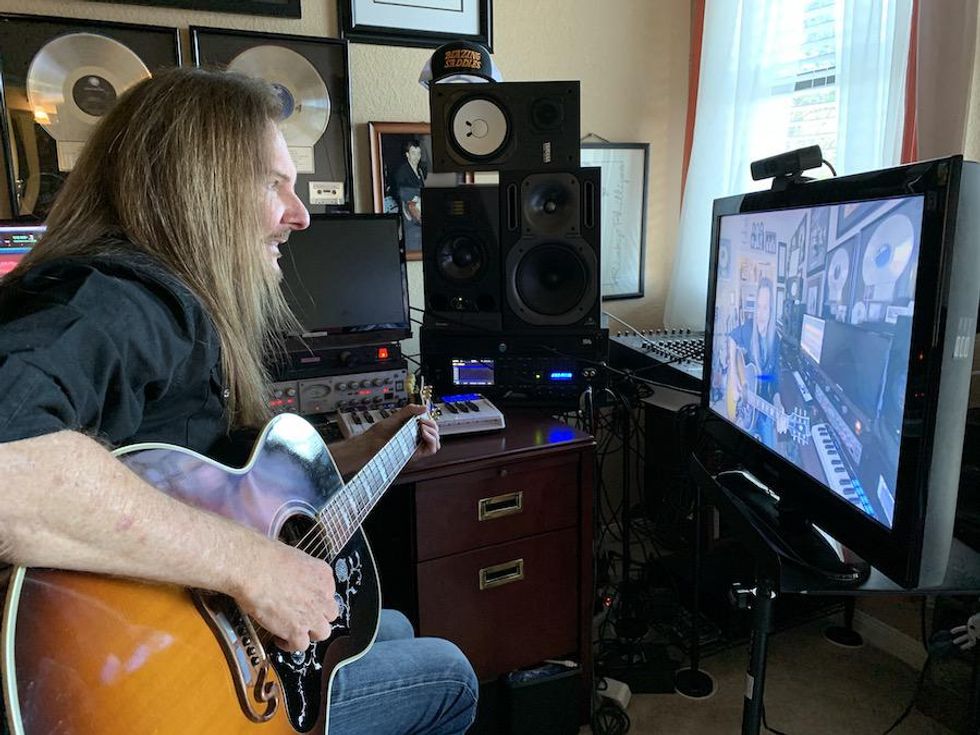 (Griffin 360)
"Although I love the updates and the ability to keep a constant workflow, I guess what I'm finding is, I will never be satisfied," Phillips said. "It's something I took for granted before and it's cool to have a real state-of-the-art way of communicating."

Recalling a difficult time years ago when he took over production of late friend Ronnie Montrose's final album, Phillips said even in quarantine, he'll be writing songs until the day he can no longer sit upright. Now working from Austin with an updated setup, Philips has settled into a new day-to-day, which he said has its pros and cons.
"Working at home can be a double-edged sword: when you wake up you are stumbling distance from the studio but so is everyone else in your household," Phillips said. "The creative mind must remain free from distraction and non-creative people will never relate to that. So plan accordingly and if you are in super-hyper-focus mode, definitely put up the 'Enter at Own Peril' sign. Alligators leading to the studio door can also be helpful."
With hope that concerts and festivals will be able to return this summer, Phillips expects Styx to hit the road again in 2021 for the release of their new record. After a year without using any of the usual equipment, there is work to be done before they make a return to touring but they always look forward to seeing new sights in new cities again.
"For us, live performance is the best bit of all," Phillips said. "Performing the fruits of your labor with your brothers in the band, to an appreciative crowd of singing and smiling faces ain't so bad. I love my job… That's what I'm looking forward to, hopefully in the very near future."
On this day in #Styx history: The beginning of our 2015 US Tour in Catoosa, OK! Did you see us live during that tour? Share some of your favorite moments with us below. 📸: Jason Powell pic.twitter.com/Pxj27rr0yo
— Styx (@STYXtheBand) February 26, 2021
Styx has a host of shows planned to start in May and is scheduled to play at the Nutty Brown Amphitheatre on May 15 in Austin. In the meantime, Phillips said Austin first captivated him with its unique charms and remains his safe place.

"This is a great place. Although I travel too much to do much session work or gigs in Austin, what I have done has been truly fantastic," Phillips said. "I love all sides of this city and its abundance of talent and downright good people."
From Your Site Articles
Related Articles Around the Web