Get connected with our daily update
(Joe Lanane)
Music venues and other businesses deemed vital to Austin's culture and vitality were given a $15 million lifeline Thursday.
Austin City Council unanimously approved the SAVES Resolution, which allocated COVID-19 relief money evenly among three major funds:
$5 million: Music Venue Preservation Fund
$5 million: Austin Legacy Business Relief Grant
$5 million: Austin Childcare Provider Relief Grant
Music venues qualify for the first two funds, making them technically eligible for up to $10 million in relief money—the amount that advocates requested earlier this week during a City Hall rally. The extra support for music venues recognizes the special place they have in the community, Austin Mayor Steve Adler said.
City Council passed the SAVES resolution that creates a dedicated music venue preservation fund. This is only the 1… https://t.co/J1qjNuWsSr

— Austin Texas Musicians (@Austin Texas Musicians)1601594539.0
Qualifying restaurants, bars and art organizations will also receive money from the Austin Legacy Business Relief Grant. Similarly, the Austin Childcare Provider Relief Grant will support both in-home and center-based providers.

A city spokesperson confirmed the qualifications and process for applying will be established "in due course." The actions approved Thursday by council members allow city staff to proceed as outlined in a memo issued Monday.
Where does all this money come from? City staff proposals were revised slightly, landing on these three major sources:
$8.5 million: Sales tax revenues
$6 million: Financial Services Department Capital Budget
$500,000: Building Services Department Capital Budget
Other relief funding sources, mostly proposed by Council Member Kathie Tovo, could come back to the council in the next month to fund a Business Preservation Fund and Live Music Fund. Council Member Greg Casar also asked staff to ensure there is a "fair and inclusive" distribution process, which is laid out to applicants in a transparent manner. City staff said that emphasis is already in place.
Related: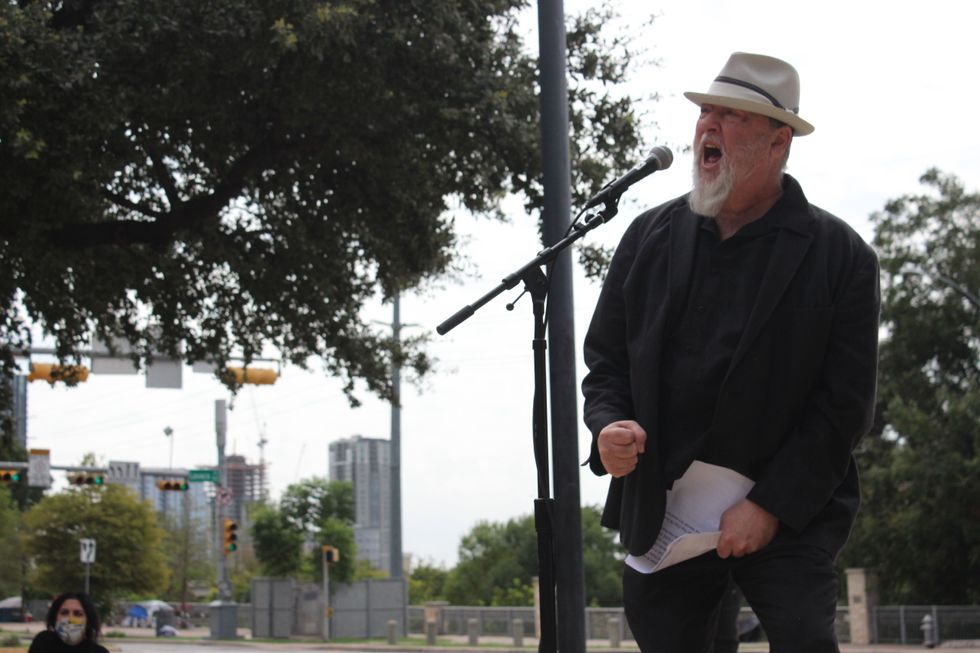 Musicians rally at City Hall for COVID-19 relief(Joe Lanane)
(Joe Lanane)
Editor's Note 1:45 p.m.: This story has been updated from the previously published preview to the rally to tell what happened at the rally.

Austin music industry members and supporters rallied Monday morning in front of City Hall to remind elected officials of their essential role in the "Live Music Capital of the World."
Austin Texas Musicians and Amplified Sound Coalition, advocacy groups recently formed to support local music industry workers, co-hosted the rally ahead of City Council meetings scheduled this week to potentially approve a COVID-19 relief proposal that music industry workers say "doesn't go far enough." Several speakers instead proposed a three-point plan in support of Austin musicians, venues and support staff:
Music Venue Preservation Fund: Dedicated, fast-tracked funding for music venues
Clear Eligibility/Requirements: Simple application process and reasonable requirements for qualifying for relief aid
Transparency: Clear understanding of how relief money is distributed and who receives it
"It's time to put up or shut up," Kevin Russell, frontman for Austin band Shinyribs, said repeatedly to the 200-plus people in attendance. "Too long this city rode our cultural coattails while taking us to the cleaners."
Russell was among almost a dozen musicians and music industry advocates to call for dedicated music industry relief money from city officials.
"We can't turn back time and we don't aspire to turn back time," Russell said. "But we can ask the city to repay our debt to this world-famous culture."
Other speakers included musicians Guy Forsyth, Lauryn Gould, Jesse Dayton and Anthony Farrell of Greyhounds as well as Reenie Collins, executive director of the Health Alliance of Austin Musicians, and Patsy Bouressa, executive director of the SIMS Foundation.
Nakia Reynoso, another musician who led the event as president and co-founder of Austin Texas Musicians, repeated a rallying cry throughout the event, "No money, no music," to emphasize the critical emergency in Austin's music scene amid a half-year of pandemic-related closures and canceled gigs.
"They know how valuable the brand of live music in Austin is, and they damn sure know it when they see how much tax revenue we drive to this city every single year," Reynoso said. "For six months, they keep telling us how valuable Austin music is with 'blah, blah, blah' resolutions. But we have yet to see any actual substantial help for the venues that employ us."
Musicians, as well as venue workers, engineers, site security and other essential workers, are struggling right now, said Jeannette Gregor, a longtime bartender at Mohawk and co-founder of Austin Sound Coalition.
"I recognize all of you for who you are: skilled laborers who are a crucial part of Austin's identity," Gregor told the crowd.
The option to pivot to another paying job isn't practical, she said, and it denies the fact that music industry jobs represent legitimate careers.
"These gigs are part of our careers and our work may be what defines us individually, but our work is what defines this town, too," Gregor said. "We want to go back to work, desperately."
Gregor called for the industry to unite regardless of past allegiances or grudges, starting with agenda items slated during Thursday's City Council meeting.
"Together if we stand united we can amplify our voices and they will have no choice but to listen," Gregor said.
City Council meets for its routine work session at 9 a.m. Tuesday before its full meeting at 10 a.m. Thursday to potentially discuss COVID-19 relief money for essential Austin industries, including music workers.
Want to read more stories like this one? Start every day with a quick look at what's happening in Austin. Sign up for Austonia.com's free daily morning email.
(Austonia staff)
The Downtown Austin Alliance announced on Tuesday a new economic recovery plan for downtown amid the COVID-19 pandemic.
"As an organization with a sole purpose of enhancing the vitality and value of downtown, combined with the experience and leadership we have had in many of Austin's well-known design initiatives, projects and strategic plans and visions, the Downtown Austin Alliance is uniquely qualified to lead the way for downtown Austin's renaissance," CEO Dewitt Peart said in a statement.
"Roadmap to Recovery" will run through the spring of 2021 and consists of four phases: discovery, visioning, mapping and action.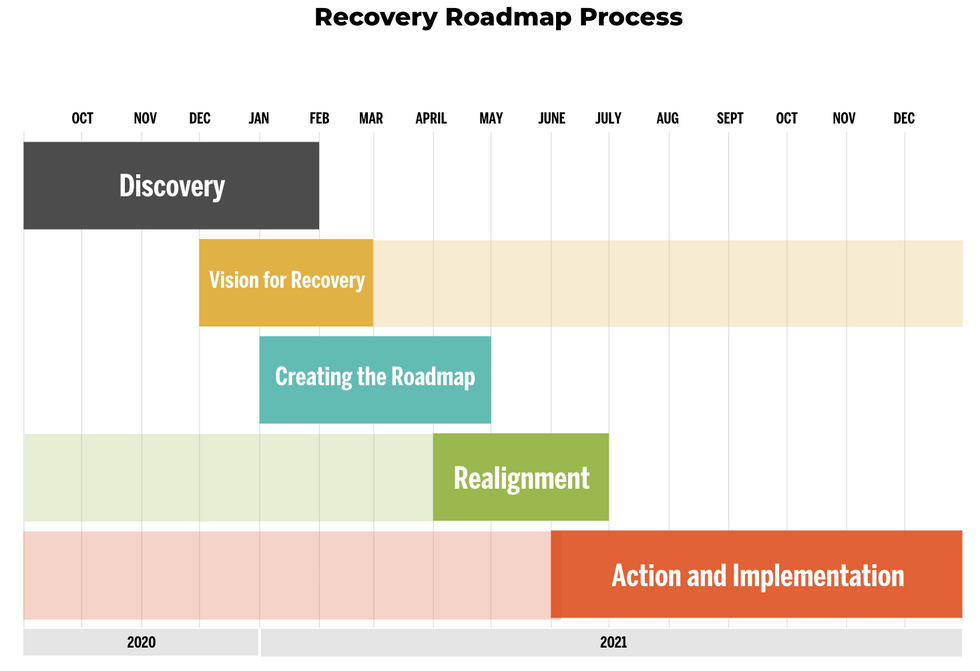 The Downtown Austin Alliance's "Roadmap to Recovery" consists of four phases.(Downtown Austin Alliance)
Between now and early 2021, the discovery phase will include focus groups, interviews, workshops and surveys to determine how the pandemic has impacted Austinites.

Based on the findings, the visioning phase will develop key indicators by which to measure success, according to the specific economic sectors that drive downtown, such as the hotel, restaurant and bar, and music industries.
The mapping phase will focus on positioning downtown for a quick recovery, and the action phase will focus on implementing, monitoring and adapting the roadmap to ensure it is successful in attracting visitors and businesses to the city.
"Our goal is to help businesses recover and facilitate engagement with downtown by employees, residents, visitors and creatives," Peart said.
The alliance has been involved in other recovery efforts since the pandemic began, including increasing cleaning protocols downtown and creating an economic impact index.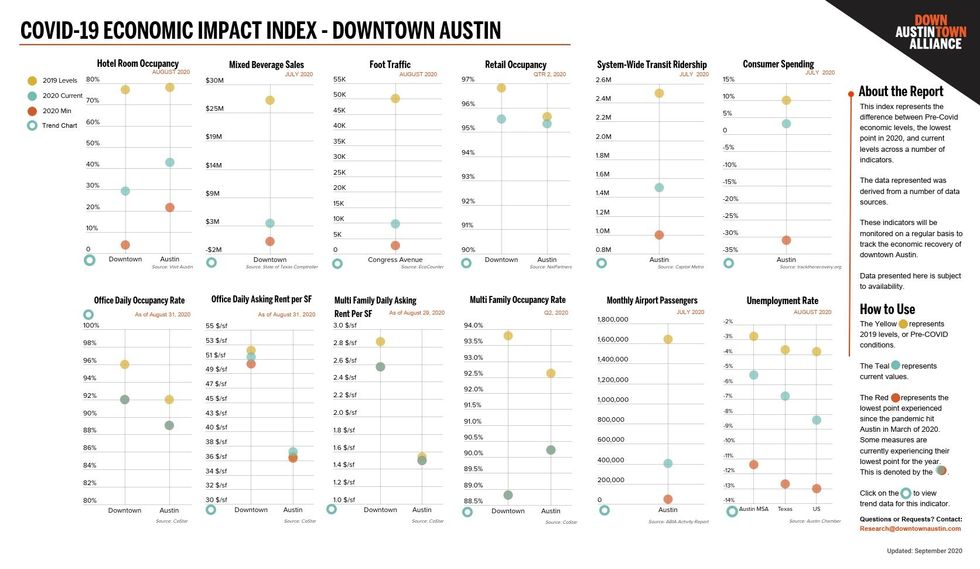 The Downtown Austin Alliance has been involved in measuring the economic impact of the pandemic on downtown businesses. (Downtown Austin Alliance)
It has also advocated for relief locally, regionally and nationally, and its leadership has served on the Opening Central Texas Task Force.
Want to read more stories like this one? Start every day with a quick look at what's happening in Austin. Sign up for Austonia.com's free daily morning email.