Get connected with our daily update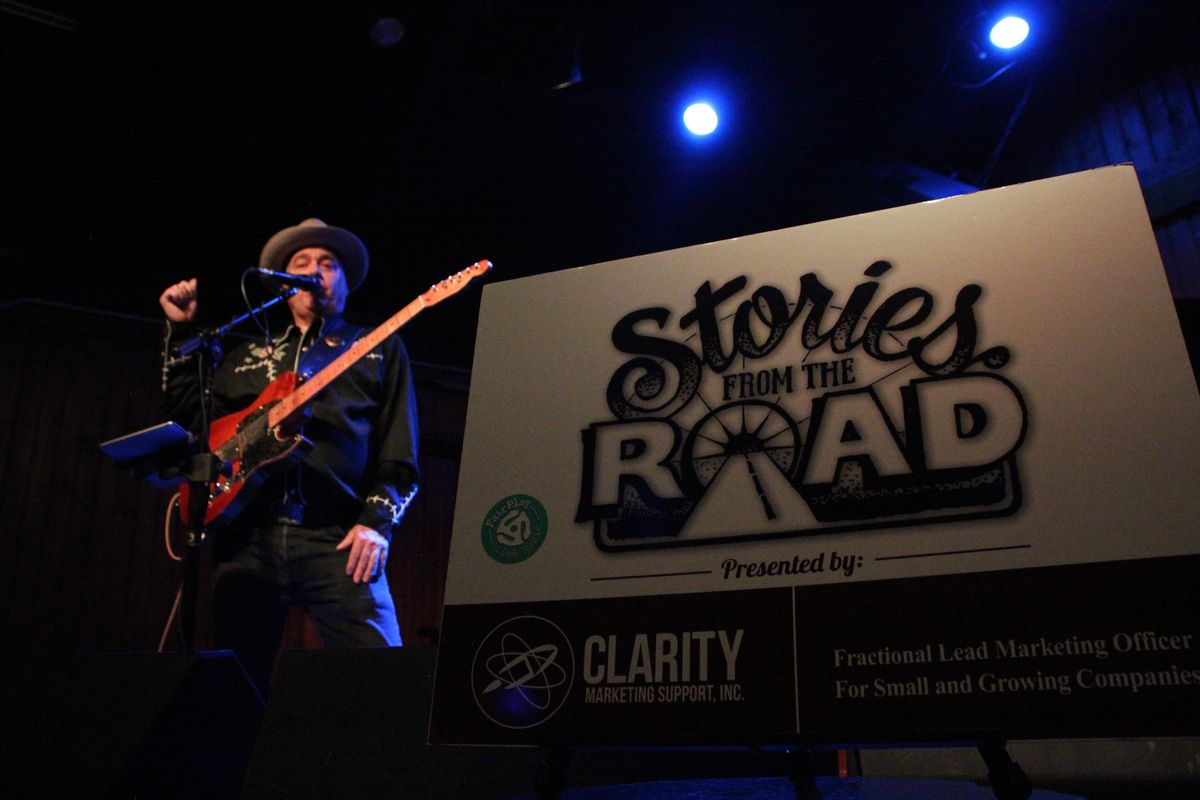 In a city where live music is heralded above all else, Pete Monfre was surprised to find local musicians working for free that he quit the industry for 10 years in 2006.
Local musicians tended to be underpaid before COVID-19 sent the music industry reeling, but the fallout from the pandemic exasperated the existing problems. Musician and marketer Monfre knows—he's been behind that shaking tip jar, trying to turn a profit while doing what he loves. He's tackling the problem with a unique brand of live shows, which go against the grain, mix business with pleasure and help bring home the bacon.
The shows, called Stories from the Road, are an informal storytelling jam session at The Saxon Pub that encourages interaction between the artist and audience.
After a brief hiatus due to ongoing woes of the pandemic Stories from the Road came back to The Saxon Pub on Saturday. It was the first of 23 consecutive shows that didn't sell out, which Monfre attributes to the break of not having shows.
"We called it Stories from the Road—not a band, an experience," Monfre said. "We're not going to rehearse, we're not going to have a list, we're not going to prepare, every show is a one-off and you will never see it again."
His shows start early at 6 p.m., with a rotating group of musicians playing blues or Americana who need not rehearse. This time it featured Mark "Kaz" Kazanoff on saxophone and harmonica, bassist Mark Epstein, drummer Kevin Hall and Adam Pryor on Hammond Organ.
You'll probably end up spending a bit more than the typical show at the Saxon Pub, around $30 per person, but each show goes directly to supporting the artists that made it.
"Part of the mission was to advocate for fair wages for musicians and to help musicians understand their economic value," Monfre said. "Now I can afford to pay musicians a modest guarantee and we call that the Fair Play approach to live music."
Monfre moved to Austin as a young adult with the intention of "conquering the music industry" in 1981, which he told Austonia he did not do but did meet "a lot of interesting people." He left Austin to tour for a few years, then moved to Milwaukee, where he continued to play music.
After returning to Austin in 2006, Monfre discovered some musicians were playing shows for free.
"I'm playing in Chicago and Michigan and hardcore blues places, and we don't play for free," Monfre said. "So I actually quit for 10 years. There is no reason to play for free whatsoever if you just get the model right."
Having already tried to conquer the music industry once, Monfre took a business-forward approach the second time. The model also caters to what he believes is an underserved group: working professionals who want to meet like-minded individuals but also be home by 9 p.m.
Chief Technology Officer for Economic Transformation Technologies David Smith, who has been coming to other Monfre shows since they started in 2016, said he enjoys the improvisational nature of the shows because it reminds him of old Austin.
"The Stories from the Road get back to the root of what music is: the fact that you can sit and jam, make music with musicians because they understand music, and that's the soul of Austin," Smith said. "It really is a celebration of music."
Monfre said the informality is what makes his shows so popular—you'll hear the musicians ask the key for a song, take a request from the crowd, make a lighthearted jab at one another or create a song from scratch.
"They want to see the sausage being made, it's really funny I would have never thought it," Monfre said.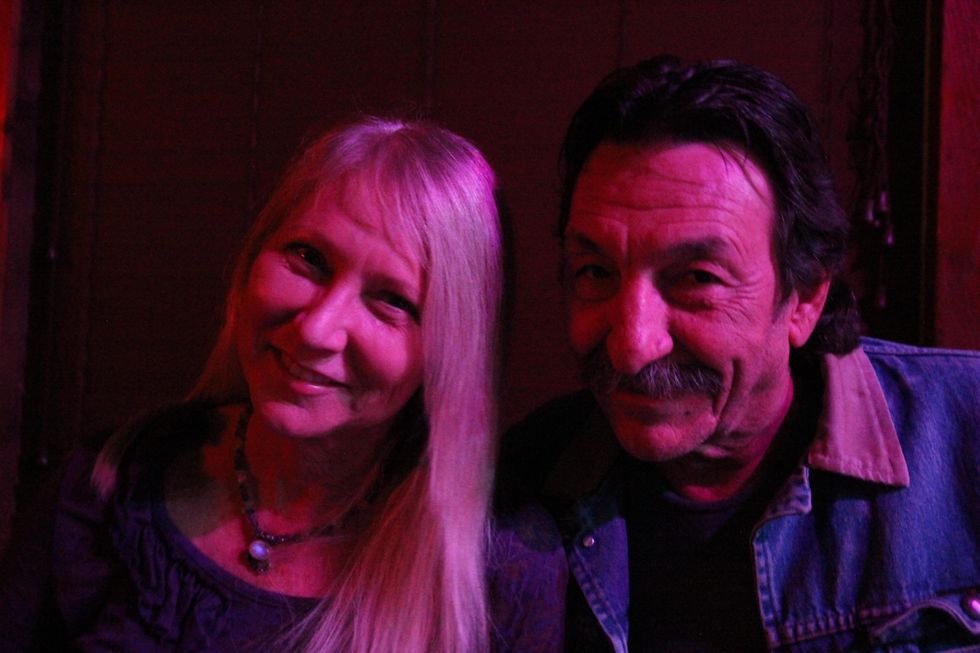 Price (right) said he was happy the show ended early so he could make it home to Lampasas. (Laura Figi/Austonia)
"I am knocked out. It just really didn't get any better than what we just had—this band was so good, the crowd was so good," Price said. "That's what Austin in the '60s and '70s was all about, just everybody throwing it together."
Stories from the Road is returning to The Saxon Pub stage on Dec. 18, with a completely new group of musicians. The show, like always, will start at 6 p.m.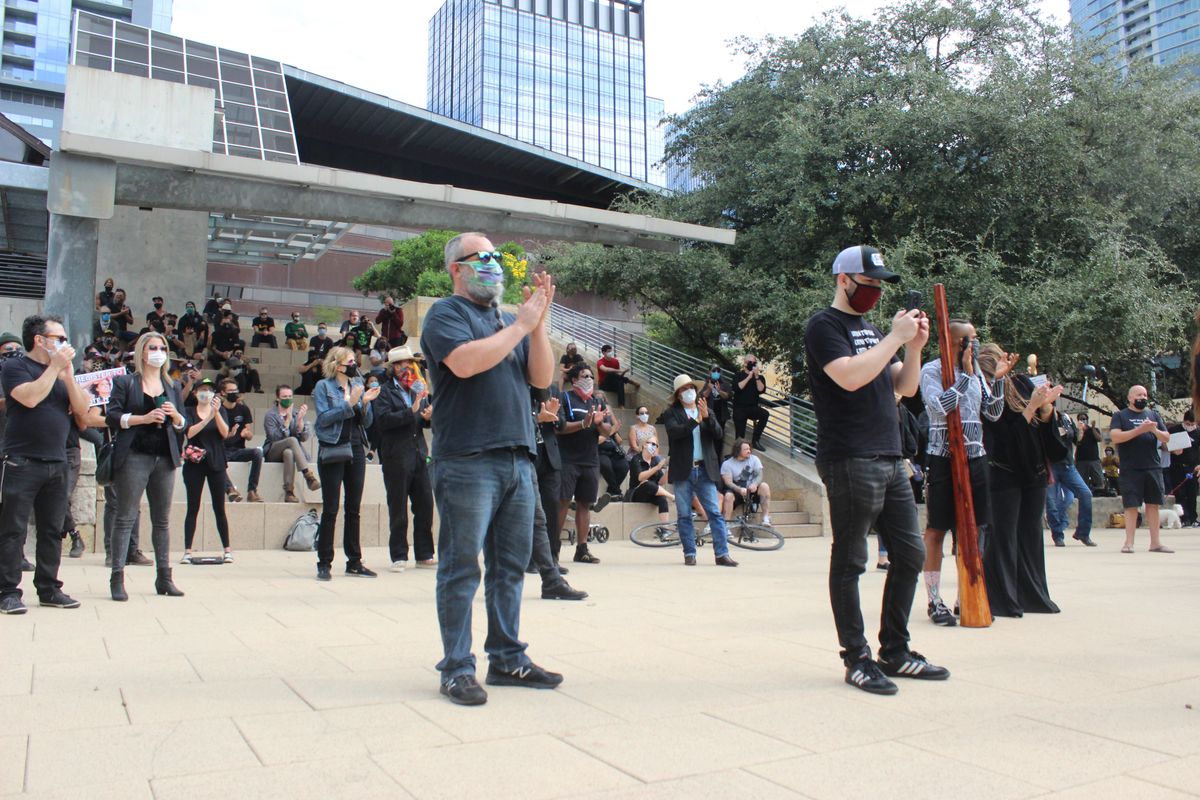 (Joe Lanane)
Music venues and other businesses deemed vital to Austin's culture and vitality were given a $15 million lifeline Thursday.
Austin City Council unanimously approved the SAVES Resolution, which allocated COVID-19 relief money evenly among three major funds:
$5 million: Music Venue Preservation Fund
$5 million: Austin Legacy Business Relief Grant
$5 million: Austin Childcare Provider Relief Grant
Music venues qualify for the first two funds, making them technically eligible for up to $10 million in relief money—the amount that advocates requested earlier this week during a City Hall rally. The extra support for music venues recognizes the special place they have in the community, Austin Mayor Steve Adler said.
City Council passed the SAVES resolution that creates a dedicated music venue preservation fund. This is only the 1… https://t.co/J1qjNuWsSr

— Austin Texas Musicians (@Austin Texas Musicians) 1601594539.0
Qualifying restaurants, bars and art organizations will also receive money from the Austin Legacy Business Relief Grant. Similarly, the Austin Childcare Provider Relief Grant will support both in-home and center-based providers.

A city spokesperson confirmed the qualifications and process for applying will be established "in due course." The actions approved Thursday by council members allow city staff to proceed as outlined in a memo issued Monday.
Where does all this money come from? City staff proposals were revised slightly, landing on these three major sources:
$8.5 million: Sales tax revenues
$6 million: Financial Services Department Capital Budget
$500,000: Building Services Department Capital Budget
Other relief funding sources, mostly proposed by Council Member Kathie Tovo, could come back to the council in the next month to fund a Business Preservation Fund and Live Music Fund. Council Member Greg Casar also asked staff to ensure there is a "fair and inclusive" distribution process, which is laid out to applicants in a transparent manner. City staff said that emphasis is already in place.
Related: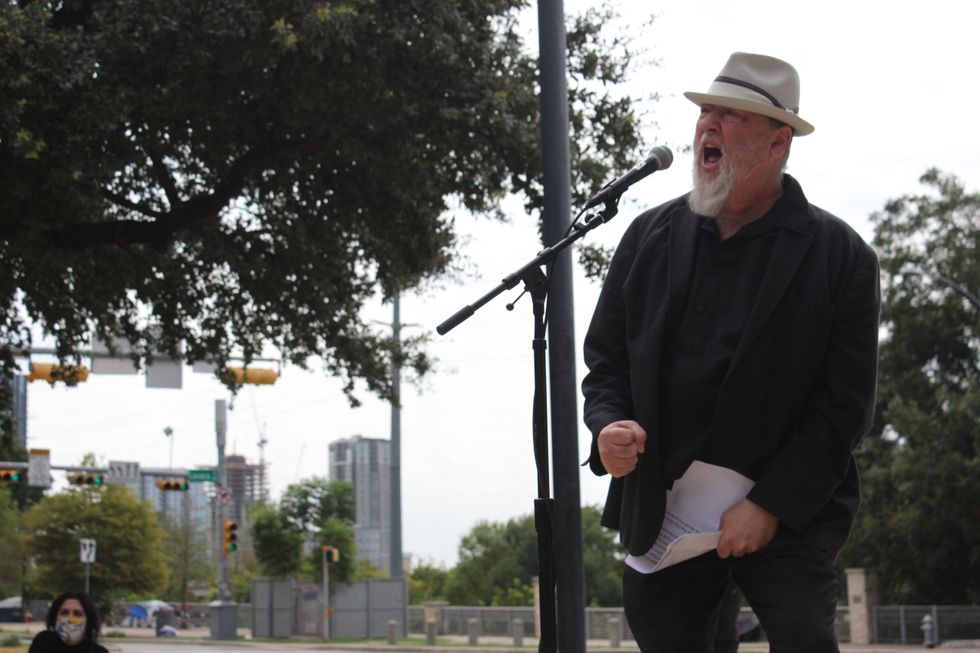 Musicians rally at City Hall for COVID-19 relief(Joe Lanane)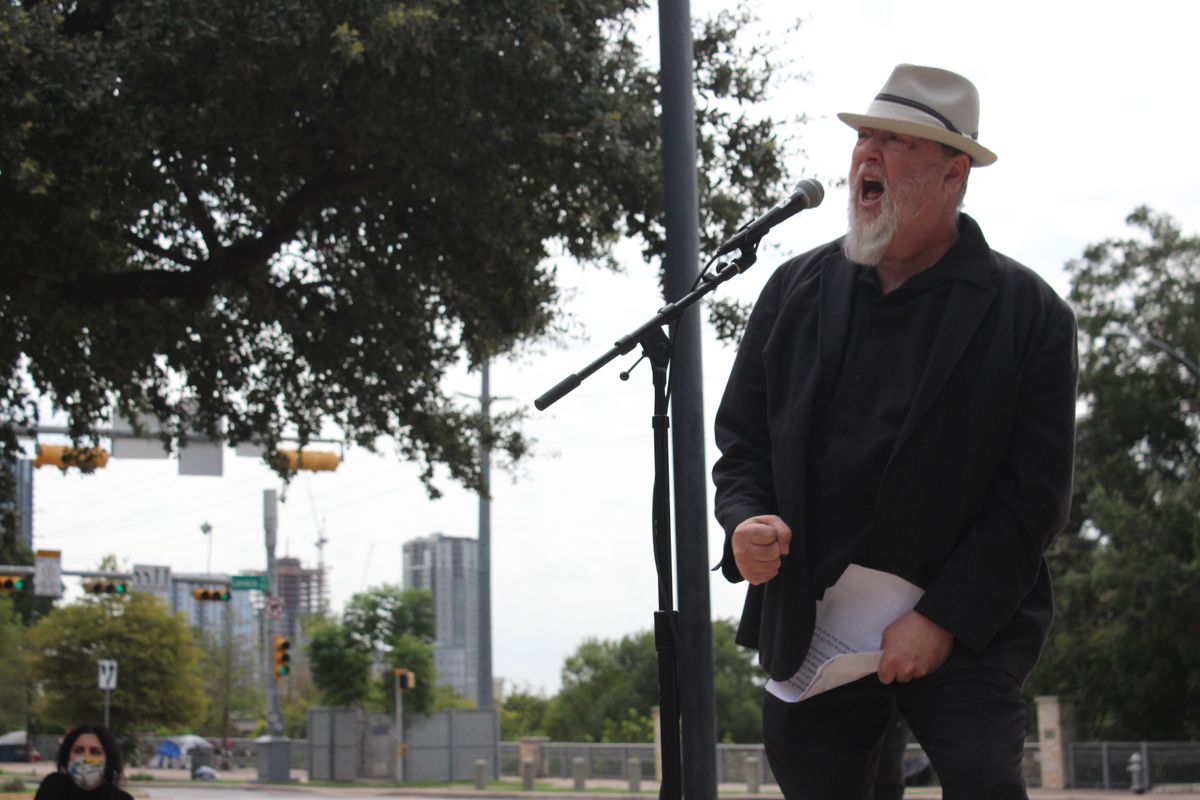 (Joe Lanane)
Editor's Note 1:45 p.m.: This story has been updated from the previously published preview to the rally to tell what happened at the rally.

Austin music industry members and supporters rallied Monday morning in front of City Hall to remind elected officials of their essential role in the "Live Music Capital of the World."
Austin Texas Musicians and Amplified Sound Coalition, advocacy groups recently formed to support local music industry workers, co-hosted the rally ahead of City Council meetings scheduled this week to potentially approve a COVID-19 relief proposal that music industry workers say "doesn't go far enough." Several speakers instead proposed a three-point plan in support of Austin musicians, venues and support staff:
Music Venue Preservation Fund: Dedicated, fast-tracked funding for music venues
Clear Eligibility/Requirements: Simple application process and reasonable requirements for qualifying for relief aid
Transparency: Clear understanding of how relief money is distributed and who receives it
"It's time to put up or shut up," Kevin Russell, frontman for Austin band Shinyribs, said repeatedly to the 200-plus people in attendance. "Too long this city rode our cultural coattails while taking us to the cleaners."
Russell was among almost a dozen musicians and music industry advocates to call for dedicated music industry relief money from city officials.
"We can't turn back time and we don't aspire to turn back time," Russell said. "But we can ask the city to repay our debt to this world-famous culture."
Other speakers included musicians Guy Forsyth, Lauryn Gould, Jesse Dayton and Anthony Farrell of Greyhounds as well as Reenie Collins, executive director of the Health Alliance of Austin Musicians, and Patsy Bouressa, executive director of the SIMS Foundation.
Nakia Reynoso, another musician who led the event as president and co-founder of Austin Texas Musicians, repeated a rallying cry throughout the event, "No money, no music," to emphasize the critical emergency in Austin's music scene amid a half-year of pandemic-related closures and canceled gigs.
"They know how valuable the brand of live music in Austin is, and they damn sure know it when they see how much tax revenue we drive to this city every single year," Reynoso said. "For six months, they keep telling us how valuable Austin music is with 'blah, blah, blah' resolutions. But we have yet to see any actual substantial help for the venues that employ us."
Musicians, as well as venue workers, engineers, site security and other essential workers, are struggling right now, said Jeannette Gregor, a longtime bartender at Mohawk and co-founder of Austin Sound Coalition.
"I recognize all of you for who you are: skilled laborers who are a crucial part of Austin's identity," Gregor told the crowd.
The option to pivot to another paying job isn't practical, she said, and it denies the fact that music industry jobs represent legitimate careers.
"These gigs are part of our careers and our work may be what defines us individually, but our work is what defines this town, too," Gregor said. "We want to go back to work, desperately."
Gregor called for the industry to unite regardless of past allegiances or grudges, starting with agenda items slated during Thursday's City Council meeting.
"Together if we stand united we can amplify our voices and they will have no choice but to listen," Gregor said.
City Council meets for its routine work session at 9 a.m. Tuesday before its full meeting at 10 a.m. Thursday to potentially discuss COVID-19 relief money for essential Austin industries, including music workers.
Want to read more stories like this one? Start every day with a quick look at what's happening in Austin. Sign up for Austonia.com's free daily morning email.