Get connected with our daily update
After gracing the Circuit of the Americas track earlier this year, NASCAR is returning to Austin in 2022.
The NASCAR Cup Series, Xfinity Series and Camping World Truck Series will be hosted at COTA March 25-27 next year.
The premiere American racing league made history in May when it hosted the NASCAR Cup Series in Austin. Although the race was cut short due to inclement weather,
thousands showed up
.
"Our inaugural NASCAR at COTA race weekend was truly an experience like no other," said Speedway Motorsports President and CEO Marcus Smith. "We're already planning so much more for fans next season—more fun, more access and more camping. We look forward to working again with COTA Chairman Bobby Epstein and his staff to produce another spectacular NASCAR event weekend in Austin for 2022."
Previously, Austin race car fans only knew the COTA track as the 3.43 mile, 20-turn road course that hosts Formula 1 and IndyCar races.
Tickets for next year's race are on sale here.
Read about this year's race: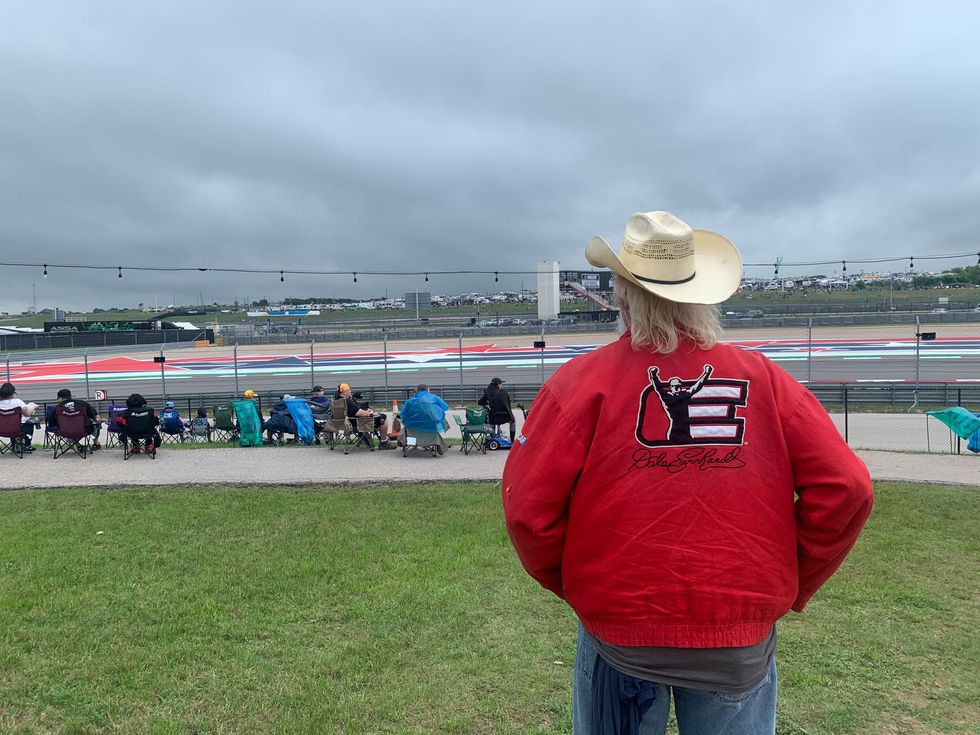 "Start your engines!" Minister of Culture Matthew McConaughey started the race in his signature twang as the grand marshal for Austin's first NASCAR race at Circuit of the Americas on Sunday.
The race ended prematurely due to the rain, but the historic event still made an impact on thousands of Austinites and sports fans from around the country.
With low visibility and excess water on the track, drivers had a hard time keeping control in COTA's first NASCAR race. Two crashes marred the first two stages, and a collision between Cole Custer and Martin Truex Jr. had a fiery end as Custer's front end temporarily went up in flames. Both were unhurt, but officials could no longer ignore the rain.
A red flag was flown into the stormy air, and Austin's first race was delayed in the second stage.
As the rain died down, drivers tried to finish the race, but another red flag meant Chase Elliott was the de facto winner of the race.

Even with a less-than-ideal finish, the race was still an unforgettable experience for a range of characters, from locals to travelers from around the country. The sea of cars in the parking lot were dotted with out-of-state license plates. One family that was camping comfortably on the course lawn said they came in from California.
Thomas Revoir and Benjamin Marshall, wearing just overalls and red-white-and-blue bandannas, were coming from North Carolina, but COTA was just a pit stop as they continued a cross-country road trip.
Revoir and Marshall said they were unhappy with the race being called early because "as Americans we don't fear rain."
Meanwhile, locals embraced a new location much closer to home than Dallas' Texas Motor Speedway. The venue has already hosted Formula One races in the past, but Seguin resident Chris Luna said that NASCAR was different.
For Luna and his crew, the race at COTA was more than just a convenience. After his good friend died last month, Luna and his friends decided to go to the race in his honor.
"He used to be the ringleader for us," Luna said. "He had everything for us, tickets and stuff. But we're coming... because he was NASCAR all the way."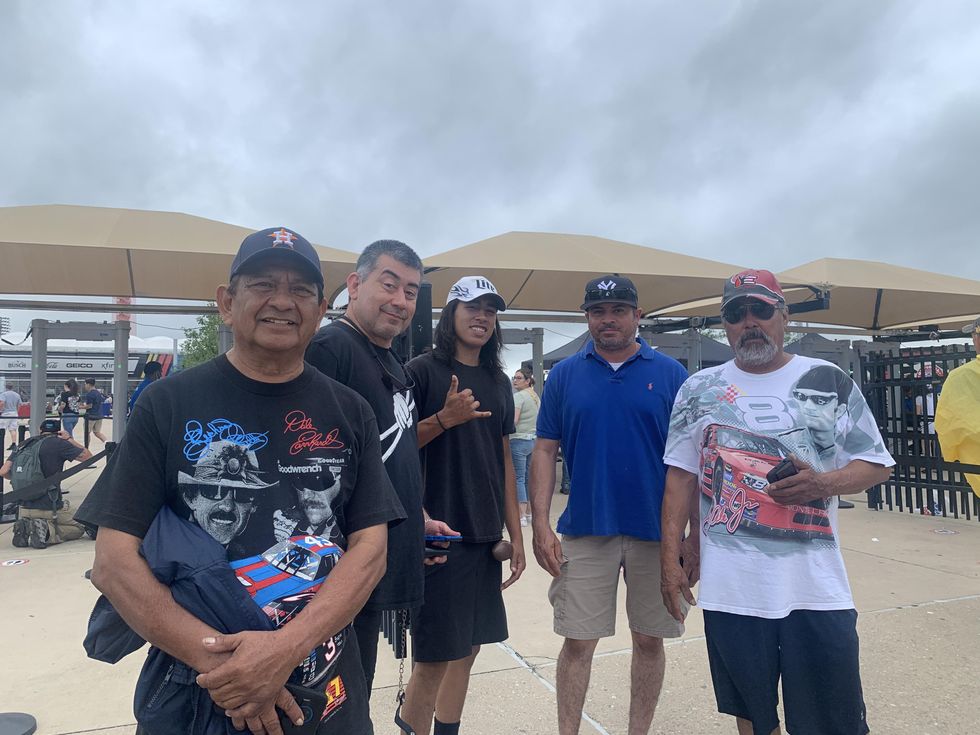 Chris Luna (left) and crew came to the race in honor of their friend who recently passed. (Claire Partain/Austonia)
Even those working the event were excited to see so many in the stands as businesses begin to recover from COVID.

Four women dressed in flaming denim stood out from the crowd. The COTA Girls, who take pictures with fans and work to hype up the stands, said they were happy to be back at work.
On the team, Holly Wood said that the girls usually hype up Formula One races but came to the NASCAR event to get people back into the groove of racing events.
"We're just looking to... get people excited because nobody was out here for a long time," Wood said.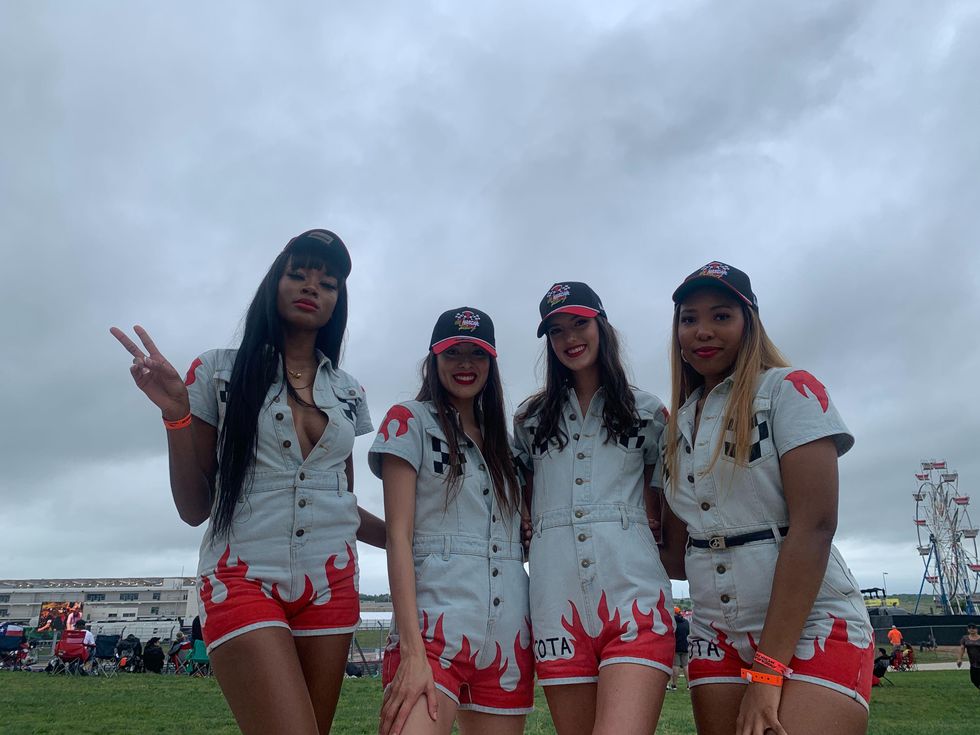 The COTA Girls, dressed in flames, helpe dkeep the crowd lively at the race. (Claire Partain/Austonia)
Food trucks lined the back of the stadium, many of them Austin businesses. Wes Tinsley, co-owner of Quesadillo ATX, said he was grateful to be asked to provide food after a hard year.
"A lot (of businesses) had to shut down but we were fortunate enough to stay afloat, and i hope that this will bring some business for us," Tinsley said. "We're excited to be here and be a part of it for the first time, and hopefully we get a chance to do this again."
The race is part of an explosion of professional sports coming to Austin as it gains recognition and a "boomtown" status. Del and crew sat atop the bleachers of Austin Bold FC, the city's semipro soccer team, to watch the race. Meanwhile, Ray wore a shirt honoring Austin FC, Austin's first professional team of any kind, at the race.
Ray was double-booked for the evening. Directly after catching an adrenaline rush at COTA, he planned on heading to Jack and Ginger's for Austin FC's official watch party.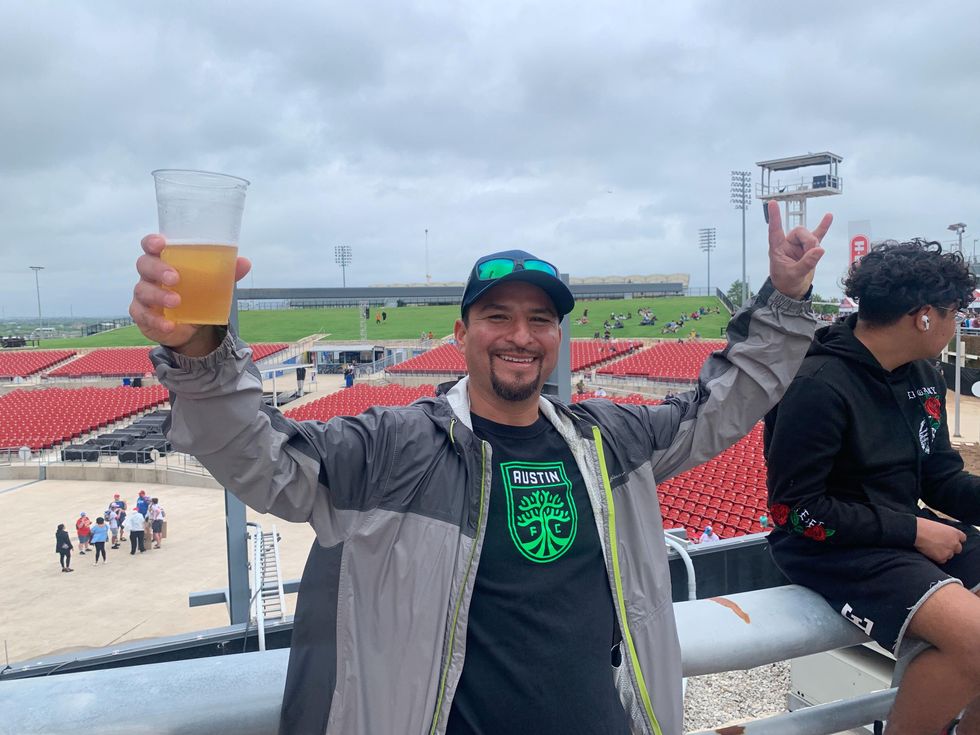 While the race ended, almost literally, in flames, Austin's enthusiasm at COTA's first NASCAR race proves that there's a hunger for more sports at Austin's premier racing venue.
For the first time ever, the Circuit of the Americas in Austin will host the NASCAR Cup Series from Friday-Sunday this weekend.
COTA will host four races, from Lamborghinis to the famed NASCAR Cup Series, for the first time in the Austin arena.
Here's everything you need to know about the races this weekend:
Matthew McConaughey will be grand marshal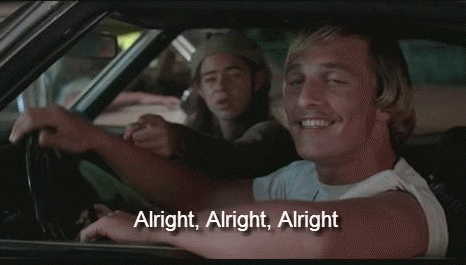 (Giphy)
The man "starting the engines" will be none other than Minister of Culture Matthew McConaughey, who will grand marshal the race for the first time since he took the reins for the Daytona 500 in 2005.
Expect cup races, truck races, and... Lamborghinis?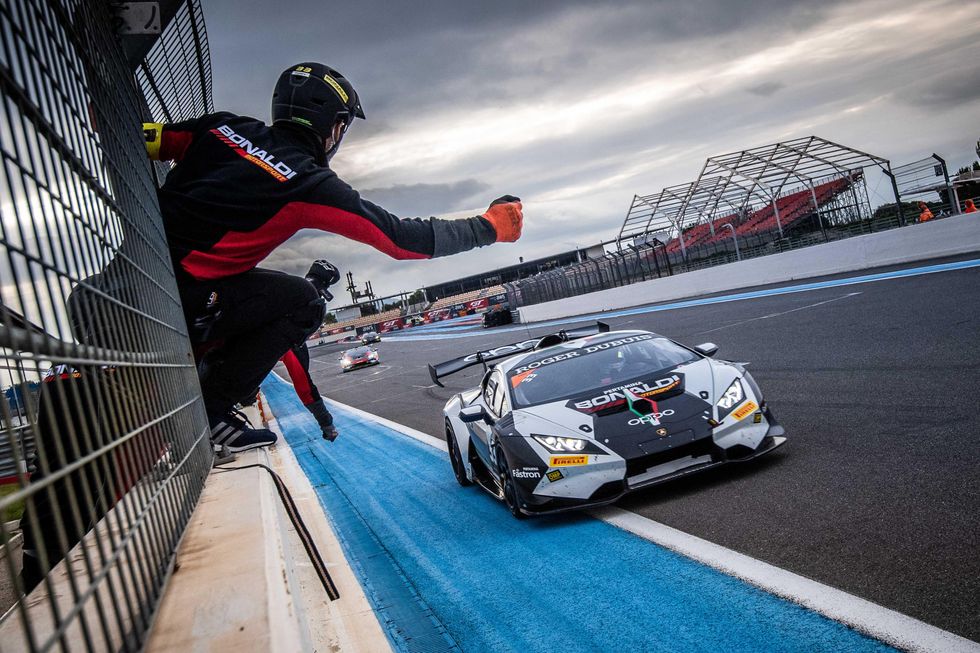 (Lamborghini Squadra Corse/Twitter)
The weekend's four races will warm up with the NASCAR Camping World Truck Series, which features racecar-style truck drivers duking it out, and the NASCAR Xfinity Series, or NASCAR's "minor league" circuit, will take some practice rounds on Friday
Lamborghinis will also make it into the mix as the Lamborghini Super Trofeo North America Series takes to the track all three days.
Finally, the weekend closes out with the big-ticket NASCAR Cup Series race on Sunday.
COTA will also host a first-of-its-kind race in the NXS Pit Boss 250.
A new race—NXS Pit Boss 250
😅@J_Allgaier | @AustinCindric pic.twitter.com/4M67D5dEme

— NASCAR Xfinity (@NASCAR_Xfinity) May 15, 2021
The NXS Pit Boss 250 will take its first turns around the track at COTA. NASCAR's minor leaguers will take to the track once again for the real deal Saturday for the winding course of the Pit Boss 250. Expect rising stars including Ty Gibbs, son of NASCAR driver Coy Gibbs and grandson of NASCAR and NFL Hall of Famer Joe Gibbs, and Jeffery Earnhardt or Dale Earnhardt fame.
Who's who at the Cup
Bubba Wallace 🤝 Michael Jordan

For last year's Daytona 500, Wallace was racing with Richard Petty Motorsports in the No. 43 Chevrolet.

This year, he will pilot the No. 23 Toyota co-owned by Michael Jordan and Denny Hamlin. pic.twitter.com/t87H7r6D3w

— Front Office Sports (@FOS) February 14, 2021
Michael Jordan has swapped basketballs for wheels and is paired up with NASCAR Cup winner Denny Hamlin, who has selected Bubba Wallace as his new team's first driver. Wallace is currently the only Black driver competing in the Cup Series.
Meanwhile, Mr. Worldwide, also known as Pitbull, has teamed up with Trackhouse Racing founder Justin Marks, who will see Daniel Suarez as their team driver.
Chase Elliott, the 25-year-old son of NASCAR Hall of Famer Bill Elliott, was the third-youngest driver in NASCAR history to win a Cup Series Championship last year, and he's back in business for COTA.
Full schedule
This weekend, history will be made. #NASCARatCOTA pic.twitter.com/t2wMEJqeoC

— Circuit of The Americas (@COTA) May 17, 2021
Campgrounds open on Thursday at 9 a.m.
Friday will feature practice sessions from the Lamborghini Super Trofeo Series (12:45 p.m.), the Camping World Truck Series (2:05 p.m.) and the Xfinity Series (3:05 p.m.).
Saturday will see the first real races, with the Truck Series beginning at 12 p.m., the Xfinity Series Pit Boss 250 at 3 p.m. and the Lamborghini Super Trofeo Race 1 at 6 p.m.
Sunday brings out the big guns. The Super Trofeo Race 2 will begin at 11:10 a.m., while the grand finale in the NASCAR Cup Series Grand Prix will begin at 1:30 p.m.
Ticketing info
Three-day general admission passes start at $99, while reserved seats begin at $125 for the weekend. Three-day tickets are $10 for kids 12 and under.
Tickets can be purchased at NASCARatCOTA.com, by calling the ticket office at (833) 450-2864, or by downloading the NASCAR at COTA app.
(Seefrank/Creative Commons)
For the first time in the track's eight year history, the Circuit of the Americas will host a NASCAR race in 2021.

The premiere American racing league will debut in Austin for the first time May 21-23, 2021 as part of the new racing schedule for NASCAR that will also move the All-Star Race to Texas Motor Speedway in Fort Worth.
The announcement on Twitter comes after The Athletic first reported last week that NASCAR would make its way to the COTA track.
Austin race car fans know the COTA track as the 3.43 mile, 20-turn road course that hosts Formula One and IndyCar races, but never a NASCAR event. However, NASCAR star Tony Stewart praised the layout of the track last fall in an interview with Autoweek.

"The layout of the track, it's a very technical racetrack," Stewart said in 2019. "Watkins Glen is the road course where I had the most success at, but it's pretty straightforward about where the line is, what you need to do, braking, this and that. The thing about Circuit of The Americas is that it is very, very technical and there are a lot of ways you can attack it."
The addition of a NASCAR race for 2021 is a major victory after the track lost every major event in 2020 due to COVID-19 and the pandemic that has lingered longer than anyone could have predicted.
Since opening in 2012, COTA has hosted many of the largest events in Austin for national and international visitors. According to the Austin-American Statesmen, last year's United States Grand Prix, part of Formula 1's annual international schedule, generated a direct impact of $392 million on the local economy and $880 million in direct, indirect and induced spending.
Fans around Austin have been waiting for NASCAR to come to the COTA track for a while, and the announcement had many going to Twitter to share their excitement.
Fans can already reserve tickets at COTA's website.
More sports: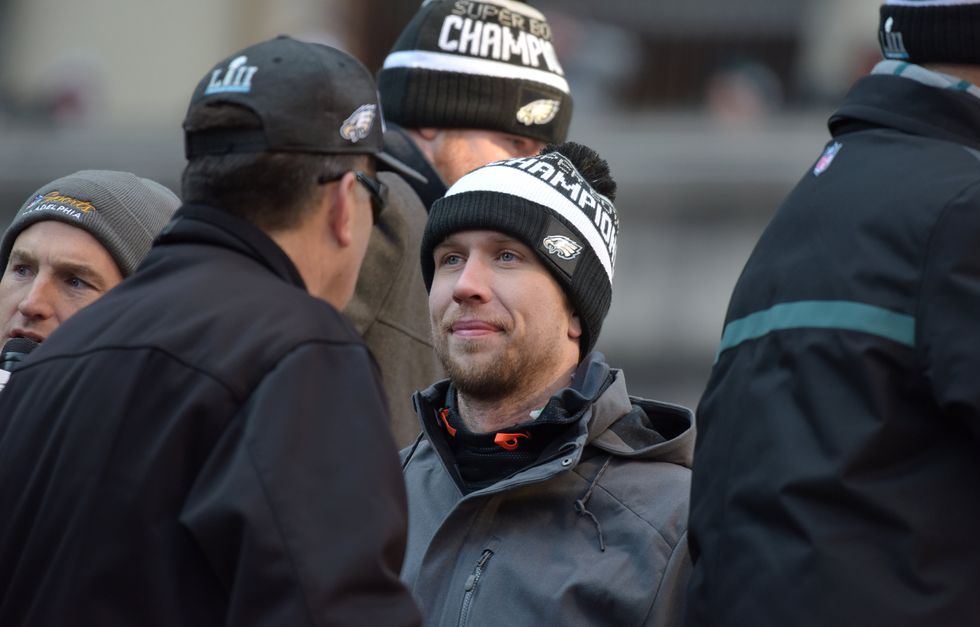 Austin's own Nick Foles returns to spotlight in come-from-behind NFL win(Matt Smith/Shutterstock)