Get connected with our daily update
(1000Photography/Shutterstock)
The company employs more than 1,000 people in Austin and took steps last year to expand its office space both downtown and on the East Side. As of last June, Austin was Google's seventh-largest office outside of the San Francisco Bay Area.
The decision came as both Texas and California, the state where most of the tech giant's employees work, have seen spikes in coronavirus cases. Texas saw nearly 7,000 new cases Tuesday.
"While conditions do vary from state to state, we need to see that the U.S. outlook as a whole is stable before we move forward," Chris Rackow, vice president of global security, wrote in the memo. "As the recent resurgence of cases demonstrates, Covid-19 is still very much alive in our communities."
Previously, the company's CEO Sundar Pichai told employees in May that the company would begin slowly returning some workers to the office on July 6. Those plans now appear to be scrapped based on the company memo.
Google's parent company, Alphabet, sent employees home during the second week of March, weeks ahead of some of the other big tech companies. Indeed, another tech giant with offices in Austin, sent its employees home barely a week earlier, one of the first companies in Austin to do so.
Even without the recent spikes in coronavirus cases in the U.S., the company planned for most Google employees to work from home through the end of the year. The work from home extension this week also comes on the heels of a host of other tech companies announcing that they would allow some employees to work from home "forever" if their job allows.
Two weeks ago, as Texas continued its pandemic reopening plan but before mass protests against police violence erupted in downtown Austin, a $275 million deal fell through.
Ryman Hospitality Properties announced May 22 that it would not purchase Block 21, a mixed-use real estate development that includes ACL Live at the Moody Theater and the W Austin, from Stratus Properties, forfeiting a $15 million nonrefundable deposit.

"In the current capital markets and economic environment caused by the COVID-19 pandemic, we have determined that it is not in the best interest of our shareholders to focus our resources and capital on this project at this time," Ryman CEO Colin Reed said in a press release.
In the wake of COVID's arrival in Austin—and after more than a decade of strong sustained growth—the local office real estate market contracted. But experts say that the city is poised to recover, even if office space looks different post-pandemic.
"I think what you'll see in Austin is short-term paralysis as a result of the freeze in the venture market," said Ryan Bohls, a director focused on office tenant representation for NAI Partners' Austin office.
But in the longer term, Bohls believe Austin's strong relationships with what he calls "the four horsemen"—Amazon, Apple, Facebook and Google—will sustain the city's office market, especially as they and other tech companies seek to expand their reach into cities outside of the coastal areas hit harder by the pandemic.
The city's diverse economy—which includes big tech as well as the University of Texas at Austin, Ascension Seton and most recently the U.S. Army—is what helped it rebound after the 2008 recession.
Ben Tolson, a principal for Aquila Commercial, believes that diverse economy will carry the city through this crisis as well. "I just feel very, very positively about how our city's positioned relative, again, to much of the nation," he said.
While data is limited, initial reports indicate that market activity picked up toward the end of May. As more workers return to their offices, companies will likely reevaluate their needs.

Richard Paddock, who oversees HPI's Austin office portfolio, said he is hearing from tenants and companies that most are incorporating a work-from-home strategy into their business plans. But this does not mean office space is obsolete.

Paddock anticipates some companies will downsize, which may reduce the overall occupied square footage across Austin's office market. "But it still yields velocity," he said.

Other companies may realize they want more space, either to accommodate social distancing or because of trends that predate the pandemic.

Research published in the Harvard Business Journal found that denser offices resulted in less meaningful interaction among employees—and therefore less productive collaboration.

Open-floor plans were on their way out before COVID-19, Tolson said, as companies moved to "de-densify" their spaces and improve productivity. "That's going to be accelerated as a result of this," he said.

There was also a trend in Austin toward neighborhoods such as East Austin, Mueller and Parmer Lane, where office space is cheaper, parking easier and commutes shorter. "Austin has a tremendous amount of really well positioned mid-rise [and] low-rise opportunities," Tolson said.

While working from home may outlast the pandemic, Bohls said major employers will continue to use top-tier offices—with prime locations, walkable amenities and perks—as a recruiting tool, "especially for technology companies that use real estate to lure top talent."

And what about the protests downtown?

"The effects of the civic unrest are largely going to be confined to first-floor retail occupiers," Bohls said.

(STG Design)
Welcome to Austonia, a new, locally owned news company reporting on news, business, and politics in Austin. Like what you see? Sign up for our daily newsletter to get our latest stories in your inbox.
Consider the elevator. Commercial ones are typically between five and eight feet square, according to the Elevator Lab, meaning only one person can be inside while also observing social distancing guidelines. In a busy office building, with rush hour elevator traffic at the start and end of the workday, this poses a challenge. During a pandemic, it gets worse.
"Man, this one's been really tough," said Tim Hendricks, senior vice president of Cousins Properties' Austin office, during a webinar hosted by the Austin Chamber of Commerce last week.
Elevator protocol is just one of the many questions facing businesses as they decide whether to reopen their offices at limited capacity, now that the governor has given the green light to do so. Other concerns include temperature checks, one-way foot traffic, liability and masking requirements.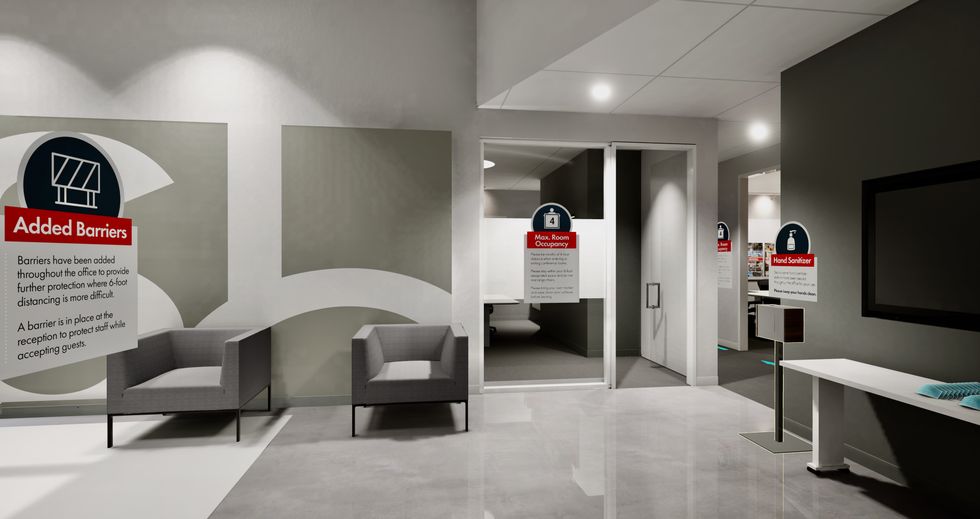 (STG Design)
Cousins, a real estate firm, surveyed its Austin tenants—some 185 businesses with offices in the central business district and at the Domain—about their reopening plans and heard a wide range of responses. "We do think that the majority of our customers will be phasing in in some kind of staggered process," Hendricks said during the webinar.
This is the case for STG Design, a commercial architecture and interior design firm. Its Austin office is home to 80 employees and will begin a phased reopening June 1, associate principal Paul LaBrant said.
Initially, employees will return to the office at a scheduled time to clean their desk and clear out any personal items. In mid-June, employees will be able to return based on their assignments. "It is very much on a voluntary basis," LaBrant said.
In preparation, STG is marking the floor with arrows to help staff adjust to one-direction foot traffic, setting up sanitation stations and blocking off certain desks to allow for social distancing. The company will also offer employees virtual walkthroughs of the updated office. "So they're not having to figure it out once they get there," LaBrant said.
As STG prepares for its own reopening, its staff is also considering how this pandemic will change office design—and is working with its clients to help them make the shift. "The workplace of today is not going to work for the workplace of the immediate tomorrow," LaBrant said.
He foresees offices becoming more limited in both size and scope—offering a hub for innovation and meetings—as teleworking becomes more routine. Part of this change, he said, is because employees with children will likely be unable to come into the office for many months as schools and camps continue to adjust their operations. But it is also the result of new priorities.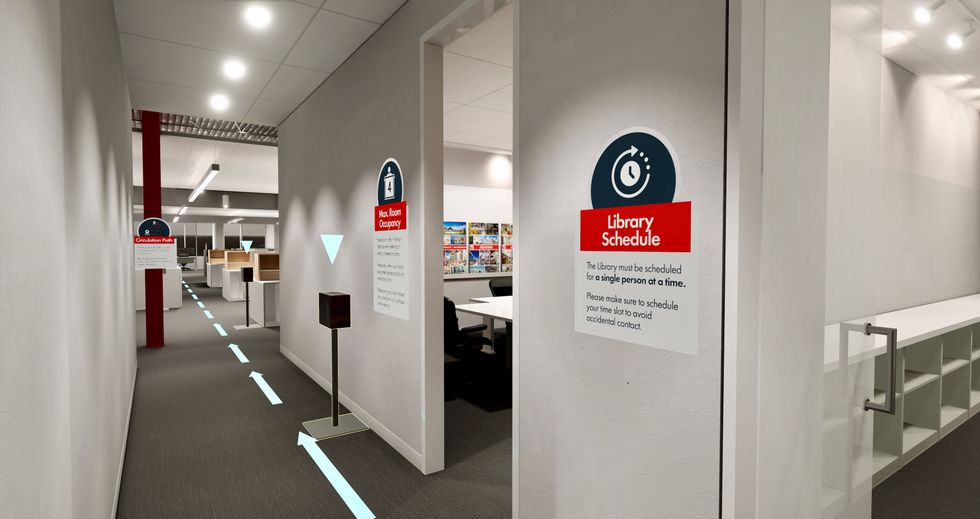 (STG Design)
"The American work culture has always been work first, family second," LaBrant said. "Now I think we are forced into seeing that our lives matter as much as the work that we do, and there's going to be a balance there."
While STG will begin its reopening next month, some of its local clients are planning to stay home through November—"just because they want to see how other companies do this, and they're still seeing productivity … while their teams are working from home," LaBrant said.
For those companies that do reopen in the coming days and weeks, communication will be paramount.
"The best defense for liability for your business or your company is going to be a well-crafted, comprehensive return-to-office plan that is vigorously followed at your place of business," said Pamela Madere, a real estate attorney at Jackson Walker's Austin office, during the same webinar.
Such a plan—if developed in accordance with CDC guidelines—will help employees know what to do and protect employers from lawsuits. It may also come in handy if COVID-19 cases spike.
"We really want to be ready for a future outbreak," Madere said. "We know it's coming at some point."