Get connected with our daily update
Just before the yearlong torch was snuffed out in Tokyo, Team USA edged out China for the most Olympic gold medals to wrap up the Games, aided by three last-minute gold medals from athletes with Austin ties.
A Kevin Durant-led U.S. men's basketball team got redemption from their early loss to France as they beat the team 87-82 to nab the team's fifth straight gold medal on Saturday. Durant, a former Longhorn, scored two free throws with eight seconds left on the clock to seal the deal.
The women's basketball team, aided by University of Texas alum Ariel Adkins, followed soon after as they defeated Japan for their seventh-straight gold in the event. Finally, UT alum Chiaka Ogbogu joined her team in a tearful huddle as the women's indoor volleyball team clinched their first-ever Olympic gold and won the final medal for Team USA.
From medal-winning penalty kicks to shocking upsets, Austin athletes took home 10 medals—six gold and four silver—as the most-long awaited Games in history came to an end on Sunday.
Here's how Austin athletes fared in the Tokyo Olympics:
Basketball: two golds
KEVIN DURANT 🇺🇸@TeamUSA x #TokyoOlympics pic.twitter.com/0e8oCY8fmt

— #TokyoOlympics (@NBCOlympics) August 7, 2021
Kevin Durant-gold
Kevin Durant, who attended UT his freshman year before joining the NBA Draft, became U.S. men's basketball's all-time leading scorer as he surpassed Carmelo Anthony with 406 total points at the Games. With three gold medals, he also tied Anthony as the winningest player in team history. Durant led the team with 29 points as they beat France for the silver medal, landing the final two points of the match to earn the team's fourth straight gold.
When not in the red, white and blue, Durant plays for the Brooklyn Nets and recently extended his contract with the team for four more years. The 32-year-old NBA star, who is often considered one of the best current players in the league could have enough in the tank for one or two more Games before his decorated career is up.
An unforgettable first for Ariel Atkins! 🇺🇸🥇#TogetherDC x #USABWNT pic.twitter.com/A96C34x5Gc

— Washington Mystics (@WashMystics) August 8, 2021
Ariel Atkins-gold
Less than a day after men's basketball won gold, the U.S. women's team once again established their dominance in the sport as they toppled home team Japan in the final.
Ariel Atkins, a Team USA point guard and former Longhorn, played beside five-time Olympic gold medalists Sue Bird and Diane Taurasi as they each became the most decorated Olympians in the sport. The duo is passing the torch to the younger generation as they fight off quickly improving competition and search for their eighth consecutive gold medal. Atkins, a first-time Olympian who currently plays for the WNBA's Washington Mystics, is likely to be part of that crew.
Volleyball: one gold
Pile of emotions. #TokyoOlympics pic.twitter.com/wCbmqOc6uD

— Team USA (@TeamUSA) August 8, 2021
Chiaka Ogbogu
Prior to the Tokyo Games, the U.S. women's indoor volleyball team was the most medaled team in the sport to never win gold.
That all changed when the team swept Brazil to take their first gold in the Olympic final, aided by UT alum and middle blocker Chiaka Ogbogu.
"It doesn't even compare," Ogbogu said after the team advanced to the semifinals. "I feel like I have just had a lot of childlike joy for this... To know that we have made it to the semifinals in a year of losses and a year of waiting. We are finally here. It's amazing."
Swimming: one gold, two silver
If your friends don't hype you up like Lydia Jacoby's LEAVE THEM pic.twitter.com/nKw51B1nOe

— Coach Christi, DNP 👩🏾‍⚕️🥎 (@SnapMyAd) July 28, 2021
Lydia Jacoby- one gold, one silver
Lydia Jacoby has shocked the world as a dual Olympic medalist before she even starts her freshman year of college at the University of Texas. At 17, Jacoby became a fan favorite as she secured her first-ever gold with a surprise win in the women's 100-meter breastroke. The teenager went on to land a silver in the women's 4x100-meter medley relay as well.
Jacoby beat the odds to get on the podium—from a goggle mishap to training with "the whales and sea lions" as fellow residents in her hometown of Seward, Alaska like to joke. There is just one Olympic-sized pool in all of Alaska, and it's nearly 120 miles from where she grew up. Jacoby trained in a pool half that length as she became the first Olympic gold medalist from her home state.
OLYMPIC HISTORY IS MADE‼️@katieledecky wins the first-EVER Olympic gold medal in the women's 1500m free and teammate Erica Sullivan wins the silver.@TeamUSA x #TokyoOlympics #OlympicHERstory pic.twitter.com/fTLlcWFgEg

— #TokyoOlympics (@NBCOlympics) July 28, 2021
Erica Sullivan- silver
Longhorn Erica Sullivan finished just behind U.S. star Katie Ledecky as she won silver in the first-ever women's 1,500-meter freestyle Olympic race. At 20, Sullivan is already a two-time Olympian and fan favorite as she opens up about her adversity and unique experience as an Asian-American and queer woman in the sport.
"I'm multicultural. I'm queer. I'm a lot of minorities. That's what America is," Sullivan said at the press conference after her race. "To me, America is not about being a majority. It's about having your own start. The American dream is coming to a country to be able to establish what you want to do with your life."
Track and field: one gold, one silver
After winning his second consecutive gold in the shot put, Ryan Crouser had a message for his grandpa 🙏

Crouser bested his previous Olympic record FIVE TIMES in the finals. pic.twitter.com/gkKVt2wZv1

— ESPN (@espn) August 5, 2021
Ryan Crouser
Former Longhorn Ryan Crouser previously won gold at the 2016 Olympic Games, and he broke his own Olympic record immediately as he took his first throw in the men's shot put at the 2020 Games. Crouser bested the Olympic record five times before taking home his second gold medal and ended with a note to his grandpa.
"Grandpa, we did it, 2020 Olympic champion!" Crouser's note read as he tearfully celebrated his victory. Crouser's grandfather died shortly before the Olympic Games, and he dedicated the medal to him.
"A special moment for me," Crouser told NBC after the competition. "It's been a little bit of a rough couple of weeks. My grandpa passed away. He was the one that got me into throwing. This was my first meet without him. I wrote that note for him. It was special to throw one for him."
There goes Jamaica! 👋@TeamUSA grabs the SILVER in the women's 4x100 relay. #TokyoOlympics pic.twitter.com/s0zA28oxqc

— #TokyoOlympics (@NBCOlympics) August 6, 2021
Teahna Daniels
Former Longhorn Teahna Daniels broke her personal record as she was the only Team USA athlete to advance to the women's 100-meter finals alongside Jamaican greats Shelly-Ann Fraser-Pryce, Shericka Jackson and Elaine Thompson-Herah. It was the women's 4x100-meter race, however, that brought the first-time Olympian onto the podium as she helped the defending champs take home a silver medal in the race.
Falling only to Team Jamaica, who set a national record as they led the race by several steps, teammates Daniels, Javianne Oliver, Jenna Prandini and Gabby Thomas celebrated the second-place title after years of adversity.
Soccer: one gold
IT'S THAT TEXAS TOUCH FOR CANADA 🤘🏾@TexasSoccer's Julia Grosso gets the Olympic Gold. pic.twitter.com/0UvLPKa0HR

— Longhorn Network (@LonghornNetwork) August 6, 2021
Julia Grosso, gold, Team Canada
Current Longhorn Julia Grosso was part of the Canadian team that upset favorites Team USA in the semifinals of the women's soccer tournament, and it was Grosso herself who scored the penalty kick that clinched the gold medal for her team in the final.
Grosso's father Carlos and the rest of her family watched the nerve-wracking match at home in British Columbia as the UT midfielder won her first Olympic gold.
"We're so ecstatic," Carlos told CBC's The Early Edition just after the win. Carlos said Grosso, 20, expected "nothing less than gold" from her first-ever Olympics.
Grosso is Texas Soccer's first-ever Olympian.
Softball: one silver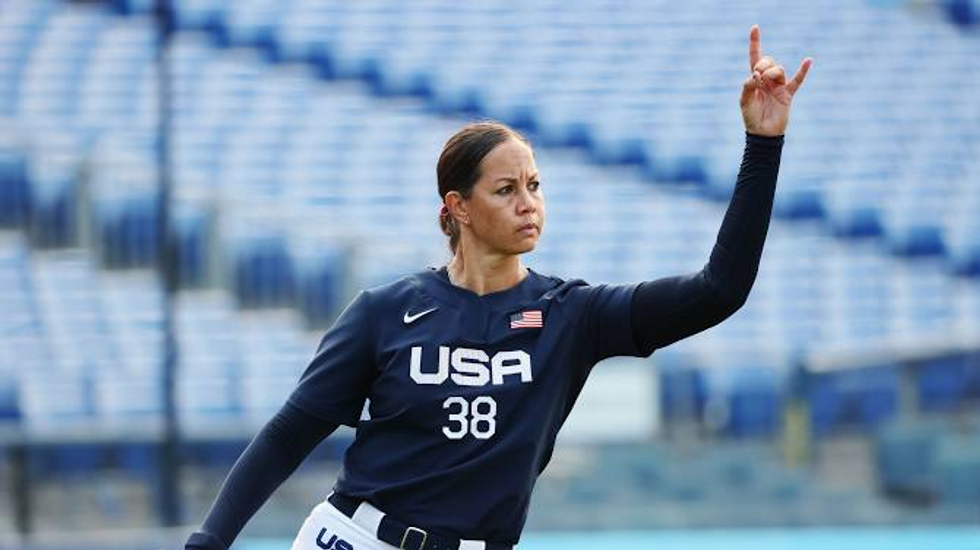 (Team USA Softball/Twitter)
Cat Osterman
Cat Osterman, the "Michael Jordan of softball," has officially retired after clinching a silver medal to end her nearly two-decade Olympic career.
While the team hoped to win gold as they fought for redemption against home team Japan, Team USA lost once again to the hosts after the sport's 12-year hiatus from the Games. Still, the Olympians celebrated their journey through adversity in the pandemic as they took home the silver in the Games.
"To be able to say you're a three-time Olympic medalist is a pretty special deal, right?" Osterman told Austonia. "I played for a long time. But those are the pinnacle, in my mind, and kind of what elicits the dream to keep playing."
Near-medalists and new Olympians
While some saw their dreams realized with Olympic medal success, others celebrated making the national team as they left without reaching the podium.
Seven Austin athletes left Tokyo in Week 1 after not placing in their competitions, while these others just missed medal status as the Olympics wrapped up:
Nearly two decades after her debut with the University of Texas and 17 years after her first Olympic gold, softball icon Cat Osterman stepped off the Olympic pitcher's mound for the last time with a silver medal to take back home.
Osterman, a three-time Olympian who has been called the "Michael Jordan of softball," will officially retire from the international realm at 38 after a decorated career that included Olympic golds, years of retirement and plenty of adversity—from a worldwide pandemic to dashed gold-medal dreams.
Osterman and her crew left Tokyo on a bittersweet note on Tuesday with a silver medal in hand.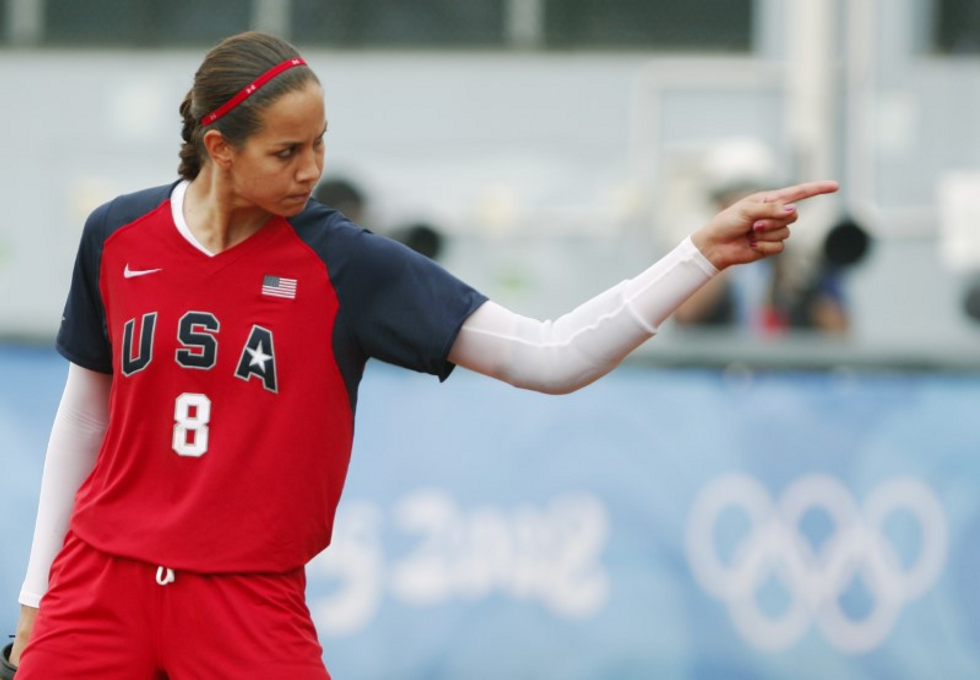 Osterman with Team USA in 2008. (Antoni Majewski/Twitter)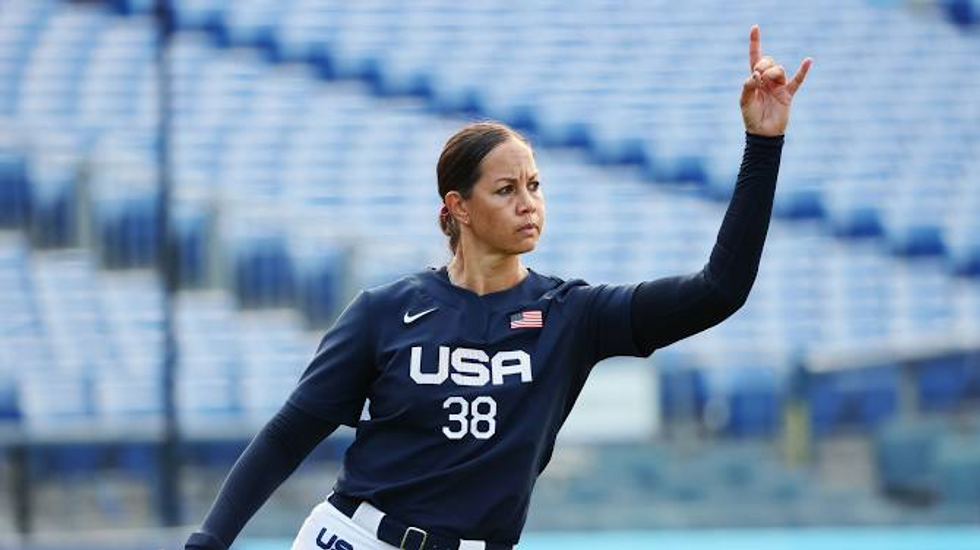 Osterman in the final in 2021. (Antoni Majewski/Twitter)
After a year of sparse in-person training and over a decadelong hiatus, Team USA and Osterman flew to the finals. In five games, the team beat Italy (2-0), Canada (1-0), Mexico (2-0), Australia (2-1), and Japan (2-1).
Deja vu struck in the final match. On one side, Osterman and fellow 2008 Olympic teammate Monica Abbott took the mound; on the other was the 39-year-old Yukiko Ueno, a familiar foe who helped the team beat Team USA last go-round.
"Just like 13 years ago," Ueno said in a press conference, "we were facing each other in the final."
Ueno, who had lost hopes at gold to Osterman in '04, outpitched her longtime opponent with six scoreless innings as Team USA was held to just three hits. The same team that squandered their gold-medal hopes 13 years before had done it once again.
"There's a little bit of disappointment in not bringing home the gold since that's the eye on the prize when you go over there and you know you have a shot at it," Osterman told Austonia. "But more than anything, I'm very proud of the way our team handled everything that was part of this journey and not just the six games."

It's that very loss at the 2008 Olympics that partially motivated Osterman to get back on the mound. She officially put down the glove in 2015 after six seasons with the USSSA Pride, took time with family and began coaching at Texas State University, where she stayed until 2020. She continues to live in San Marcos.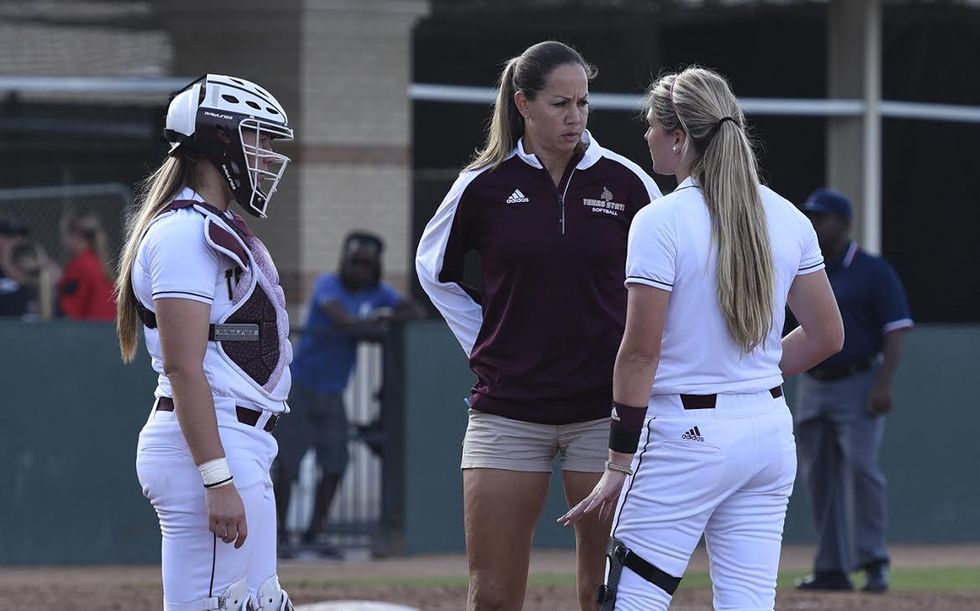 Osterman helped ace Randi Rupp to greatness while a coach at Texas State University. (Active Voice Health/Twitter)
Because the 2012 and 2016 Games did not include softball, she thought her Olympic endeavors were well over—until talks of softball at Tokyo 2020 entered the conversation.
"It wasn't until 2016 or 2017, that it ever crossed my mind to possibly put the USA uniform on again," Osterman said. "After the World Championships in 2010, I walked away, and I thought that my career on the international stage was done. So this was a pleasant kind of new opportunity."
Three years after facing any competition, Osterman was on the field once more with world-class athletes. Some, like Osterman and Abbott, had been playing together long enough to form a formidable "Fire and Ice" duo on the mound. Others had just graduated college.

Osterman said playing with a younger generation of athletes was one of the most rewarding aspects of this year's Games.
"It can be very different when you have 24- and 38-year-olds on the same field," Osterman said. "The adversity put us in some challenging positions and we came through with flying colors. And this group will forever be special just because what we had to go through is so different."
While on the mound, Osterman's job was to give the team a calm start. Off of the field, she felt her role had much of the same effect: she knew that new Olympic feeling, and she served as a deep breath to her first-time teammates.
"There's no words to explain how nervous and excited you get knowing that the whole world can be watching," Osterman. "I think using those emotions and figuring out how to get all our butterflies lined up and going in the right direction, so that way we were all moving together, was kind of my role outside of pitching."
We've heard her retire once before, but this time Osterman said she's gone for good—even from coaching. After her final time with Team USA on Sept. 27, she plans on returning to Austin, where she'll look to work for a nonprofit.
A gold and two silvers will have to do for one of the most decorated athletes in U.S. softball history.
"To be able to say you're a three-time Olympic medalist is a pretty special deal, right?" Osterman. "I played for a long time. But those are the pinnacle, in my mind, and kind of what elicits the dream to keep playing."
The 2020(1?) Olympics have induced plenty of late nights and early mornings for millions of Americans as they watch the world's best leap, flip and dive through the 2020 Tokyo Games.
Over two dozen athletes with Austin ties and many more from Texas are making headlines for their contributions to the Games, including 17-year-old gold medal swimmer Lydia Jacoby and legendary softball pitcher Cat Osterman.
So far, Austin athletes have racked up a gold and two silvers for Team USA. Some have more history-making opportunities ahead of them in the Games; others are soon headed home early with no medal but an Olympic title nonetheless. Team USA is in third place overall and has accumulated 40 medals, the second-most behind China, at this year's Games.
We're one week into the Games. Here's a quick look at the biggest headlines in this year's controversial competition and how athletes with Austin ties stacked up.
The Olympics' strangest Games to date? A quick rundown
This year's Games have been an outlier for several reasons. Many athletes have been impacted by COVID, with some saying that the Olympics maybe shouldn't have happened at all.

Millions of fans are getting an insider's view of the Olympics thanks to TikTok. U.S. women's rugby sevens star Ilona Maher helped viewership of her sport spike after her witty videos, including a clip where the team attempts to break the Olympic Village's cardboard beds.
The once-delayed Games have also seen upsets like no other, with many U.S.-dominated sports being championed by the most unlikely of teams.
In gymnastics, Texas native and world-renowned gymnast Simone Biles stepped out of the team competition left the team final and the individual all-around due to what is known as the "twisties," a sort of mind-and-body disconnect that could result in life-threatening injuries. Biles isn't sure if she'll compete in individual events next week, but her team is still doing well without their leader: the U.S. won silver as a team and Suni Lee was the individual gold medal winner.
A condom was used to repair the canoe of world-renowned Australian canoeist Jessica Fox. Meanwhile, a crash put Rio gold medalist Connor Fields in the hospital after a dangerous crash involving six riders on the BMX track.
Things got awkward in a post-swimming press conference when Team USA silver medalist Ryan Murphy and British bronze medalist Luke Greenbank said that the Games are "probably not clean," alluding to Russia's state-sponsored doping campaign that forced them to switch names to the Russian Olympic Committee. ROC competitor Evgeny Rylov was the gold medalist in the event.
Winners! 
TEAM USA'S LYDIA JACOBY TAKES GOLD 🥇

She's only 17 years old 😳

(via @NBCOlympics) pic.twitter.com/dYeAtk1pLk

— Bleacher Report (@BleacherReport) July 27, 2021
Austin athletes have taken a gold and two silvers so far in the Games, with two swimming medals and a silver softball title.
Upcoming UT freshman Lydia Jacoby earned her first gold medal as a 17-year-old in the women's 100m. The Alaska native is the first of her state to win a swimming gold medal, and she completed the feat despite not having an Olympic-size swimming pool to train with.
Longhorn Erica Sullivan made it to the podium as well with a silver medal in the women's 1500m freestyle, finishing just behind U.S. star Katie Ledecky.
Legendary UT alum Cat Osterman's decorated Olympic run is up. The 38-year-old lefthanded pitcher left her final Olympics with a bittersweet silver medal after home team Japan secured the gold in the women's softball final. The loss was the first time the two had seen each other since Japan first took the gold from Team USA in 2008, the last time softball had been in the Olympics. Osterman's next move is off the pitcher's mound; the current assistant coach at Texas State University hopes to work for a nonprofit in Austin after she officially retires on September 27.
Those who went home
#TexasToTokyo 🤘@matt_scoggin | @drew_kibler | @TownleyH pic.twitter.com/NkOjjScsOV

— Texas Men's Swimming & Diving (@TexasMSD) July 22, 2021
While every Olympian wants to go home with that precious metal, even making it to the world's biggest competition is a feat on its own. Here are the Austin athletes who didn't quite make it to the podium:
Longhorn swimmer Townley Haas was 5th in the semifinals of the men's 200m freestyle and did not advance.
Despite being medal favorites, Longhorn Gia Doonan and her women's eights crew just missed the mark with a fourth place finish in Tokyo after many members recovered from COVID.
Austinite Alison Gibson and partner Krysta Parmer finished eighth in the women's 3m synchronized diving competition.
Haas and fellow UT alum Drew Kibler helped Team USA to a fourth-place finish in the men's 4x200m swimming freestyle.
Caspar Corbeau, a Longhorn swimming for the Netherlands, finished 7th in his opening heat for the men's 100m and 200m swimming freestyle.
Remedy Rule, a Longhorn swimming for the Philippines, finished eighth in the semifinal for the women's 200m butterfly.
Anna Elendt, a UT swimmer competing for Team Germany, finished 7th in the semifinals of the women's 100m freestyle and was sixth in the prelims as part of the 4x100 medley relay.
What's to come
CAELEB DRESSEL SETS AN OLYMPIC RECORD IN THE MEN'S 100M FREESTYLE 🤯

(via @NBCOlympics) pic.twitter.com/kqyaKs6uZv

— Bleacher Report (@BleacherReport) July 29, 2021
Swimming
Sugar Land native and standout Simone Manuel helped Team USA to set a single-day record for medals won on Sunday with a bronze in the 4x100 freestyle relay. Fellow Team USA star Caeleb Dressel established his dominance with a first-place finish in the men's 100-meter freestyle on Thursday and set an Olympic record in the prelims of the 100m butterfly after helping the men's 4x100m freestyle earlier in the week.
Coming up, former Longhorn Joseph Schooling, who beat Michael Phelps in the Rio Olympics, will compete in the men's 100m butterfly final alongside Dressel on Saturday.
Both @_haileyhern and @PalmerKrysta are semifinals bound! Hailey finished the day in 6th with Krysta in 15th! pic.twitter.com/oDEeiMRuQ2

— USA Diving (@USADiving) July 30, 2021
Diving
Hailey Hernandez, a Texan diver who is coming to UT in the fall, was the youngest competitor to advance to the semifinal round of the women's 3m springboard competition early Saturday morning.
Teahna Daniels gets the win in her women's 100m heat to qualify for the semis!@TeamUSA x #TokyoOlympics

📺 NBC
💻 https://t.co/vlVjyst3S3
📱 NBC Sports App pic.twitter.com/ykShTI8r1I

— #TokyoOlympics (@NBCOlympics) July 30, 2021
Track and field
UT alum Teahna Daniels has advanced to the women's 100m semifinals alongside teammates Javianne Oliver and Jenna Prandini after a heat-winning time of 11.04 seconds. Daniels and crew will look to establish themselves as the world's fastest women in the semifinals at 6:15 a.m. followed by the finals at 8:50 a.m.
The women's 100m trio were some of the first to hit the track on Thursday. Team USA DQ'd in the 4x400m mixed race on Thursday, squandering veteran Alyson Felix's quest for another medal. Ethiopia and Uganda are the only current medal-winners for the sport, but UT alum Melissa Gonzalez will look to change that on Saturday morning as she competes in the women's 400m hurdles. Fellow Longhorn Pedra Seymour will begin her fight to beat her 6th place finish in Rio as she runs in the prelims for the women's 100m hurdles for Team Bahamas on Saturday, while men's long jumper Steffin McCarter will look to qualify in the men's long jump competition that afternoon.
The world's fastest men will begin competition Saturday morning as well, with Team USA's Trayvon Bromell as the favorite to get the gold.
Other UT track stars including world-record shot putter Ryan Crouser (Thursday), Team Jamaica 4x400m runner Stacey-Ann Williams (Thursday), and long jumper Tara Davis (Sunday) will hit the track next week.
Win or go home AND WE'RE NOT GOING HOME YET 😤 pic.twitter.com/qdK7Aa7c4s

— U.S. Soccer WNT (@USWNT) July 30, 2021
Women's soccer
Team USA advanced to the semifinals in penalty kicks in an adrenaline-pumping match early Friday morning. Next, they'll play Canada in the semifinals to compete for that top spot and avenge their loss in Rio as they fight for the finals. On Team Canada's Olympic team is UT midfielder Julia Grosso, who has helped her team to a win and three draws thus far.
13 first-half threes for @usabasketball, including 6 for Damian Lillard.#USABMNT 60
Iran 30

Zach LaVine, Kevin Durant, Jrue Holiday: 2 3PM each pic.twitter.com/0WzmpjB01R

— NBA (@NBA) July 28, 2021
Men's basketball
Kevin Durant and team have had a rocky start to the Olympics, leaving many to wonder if their No. 1 status is in jeopardy. The team suffered their first Olympic loss since 2004 in a 83-76 upset against France. They bounced back with an easy win against Iran, though the win was expected against a team with no NBA players in their roster. Next up is the Czech Republic, a team with two NBA talents that the U.S. is expecting to smother at 8:30 a.m. Saturday.
The USA Women's basketball team picks up their first W 🚨

USA takes down Nigeria, 81-72

A'ja Wilson (Olympic debut): 19 PTS | 13 REB pic.twitter.com/cRwnEgAzhn

— Bleacher Report (@BleacherReport) July 27, 2021
Women's basketball
The U.S. women's basketball team, including UT alum Ariel Atkins, have shakily continued their world dominance in Tokyo. The team is 2-0 in Group B after an 81-72 defeat over Nigeria and 86-69 victory over Japan. Atkins celebrated her birthday on the same day as the Japan defeat.
Next up, the team will look to increase their winning margins as they take on France at 12:40 a.m. on Monday.
So proud to have @ChiakaOgbogu on our team! https://t.co/tK6sQUGlkU

— USA Volleyball (@usavolleyball) July 30, 2021
Volleyball
Longhorn middle blocker Chiaka Ogbogu and the Team USA volleyball team are fighting hard for their first gold medal in 57 years. The team has already swept defending gold medalists China and was undefeated in group play with wins over Argentina and Turkey as they head to the quarterfinals starting Wednesday, They'll look to defeat the ROC and Italy in their final group rounds along the way.
Even though the Olympic opening ceremony was just this morning, the long-awaited Tokyo Games are already riddled in controversy, emotional stories and outright strange occurrences.
From bears on the loose to a last-minute resignation from the Olympic creative director himself, it's hard to stay posted on an Olympics that some argue shouldn't be happening in the first place.
With over 600 Team USA athletes, 27 of which have Austin ties, and dozens of stories from those whos dreams are finally realized, there's a lot to keep up with. Here's a few tips and tricks to get you started:
For a full Olympic schedule, click here.