Get connected with our daily update
Austin temperatures may hit the mid-80s in December, but new curling center Curl Austin has kept it cool since September as they teach warm-blooded Austinites about a fast-growing Winter Olympic sport: curling.
The sport, vaguely known by many but deeply understood by few, has its origins in 16th century Scotland but slowly spread as Scottish immigrants moved to North America and other Northern European countries. It's seen a renaissance in the 22 years since it was reintroduced into the Winter Olympics—and now, Austin residents don't have to wait until February to catch curling in action and even learn about it themselves.
Curl Austin is Texas' only curling-specific gym, an important detail for curling connoisseurs who know all too well the nicks and scrapes that hinder good curling at hockey rinks. That's because small droplets of ice are carefully formed on the surface of Curl Austin and other curling rinks across (mostly) the North, creating a challenge as curlers work to keep their stones straight and as close to the bulls-eye as possible. Consider it a giant shuffleboard on ice.
It's a sport that involves brooms, beer and even tech-savvy strategy—the perfect recipe for Austin and eventually the rest of the country, according to Curl Austin President David Gersenson.
"I love Austin... it's my type of place (and) I was really excited about it," Gersenson told Austonia. "I believe ultimately that curling is going to fit into every culture."
Gersenson, a Michigan native, compares the sport to pickleball, another once-obscure game that has taken Austin by storm. Like pickleball, which Gersenson has fervently picked up as well, curling can be embraced by people of all ages and skill levels.
At their two-hour Learn to Curl classes, Gersenson said they've seen curlers as young as 10 and old as 86 pick up the inclusive sport. It's a largely gender-neutral sport as well, and Gersenson said there are even having preliminary talks about a coed curling league.
"Big or small, young or old, athletic or arthritic, anybody can curl," Gersenson said. "It gives kids who don't have a sport, a sport that they can compete in that's more about balancing, communication and strategy."
And in true Austin-adjacent fashion, curling is a rare sport that promotes drinking beer—before, after and even during the game. By complete chance, Curl Austin is nestled right next to brewery Austin Beerworks and offers to pick up and bring beers to customers during their lessons.
"Beer and curling go together like peanut butter and jelly," Gersenson said.
And people are beginning to notice the easygoing nature of the sport. Even with COVID restrictions, curling grew by 18% in the U.S. in 2020. The rise of the sport—which has strangely been the butt of a joke for multiple Texas politicians—can also be attributed to what Texas Monthly labeled a "miracurl on ice," when the underdog men's team shocked the world by taking home a gold medal in the 2016 Olympics.
The rink has seen its fair share of challenges since its opening in September as an emerging winter sport in a balmy state. But they found help in the highest of places, when one of those famed gold-medal Olympians, Tyler George, joined the crew for a few months as Curl Austin's program manager and ambassador.
At just three months old, Curl Austin is focused on getting its feet on the ground and offering Learn to Curl events several days a week as well as private and group events. It has grown each month, something they think will only continue as the 2022 Winter Olympics take off in February 2022.
"We all believe that curling is a sport that America, once they really get into it, is going to fall in love with," Gersenson said. "I think that it's been a little underground now but has been gaining steam since being reintroduced into the Olympics. We still may be a little bit ahead of our time, but we believe it's coming in at some point."
On Monday, University of Texas soccer player Julia Grosso announced her first professional contract with Juventus, a team in Italy's top-flight league Seria A—but that's not even her biggest accomplishment this year.
At 20, the junior midfielder already has her first Olympic gold medal under her belt as she made the game-winning penalty kick to propel the Canadian national team to the top at the 2021 Summer Olympics. And later this year, Grosso and her Longhorn teammates won the Big 12 semifinals and were just edged out of the finals by TCU in front of a home crowd of over 4,000 attendees—the most in a Big 12 tournament in over a decade.
Grosso's huge year reflects the surge of new excitement around women's soccer in Austin. The hype around new MLS team Austin FC has bled into every facet of Austin's soccer scene and created solidarity between all of the city's teams: it's not uncommon to see Verde fans from Austin FC fan groups mingle with burnt orange in Longhorn matches or cheer on semipro women's side FC Austin Elite, and Grosso herself banged a La Murga drum in the fan section of one of Austin FC's home matches.
It's that type of community that brought the "MLS to Austin" movement to reality—and some members of Austin FC fan club Austin Anthem are hoping history repeats itself as they work toward bringing the top-flight National Women's Soccer League to Austin.
The movement is a result of well-intentioned espionage by Christine Hanley and Michelle Frasch. Hanley, a season ticket holder for NWSL side Houston Dash, "weaseled" into Austin Anthem in part to start promoting a NWSL team but became passionate about Austin FC along the way. "I think the NWSL could be really successful here because it's just a really tight-knit city," Hanley said.
And the even tighter-knit soccer community seems to be backing the movement. Verde and Black "NWSL 2 Austin" banners have flown at Austin FC games, Longhorn matches and FC Austin Elite games, and Austin FC goalie Brad Stuver has added star power by wearing NWSL 2 Austin merch.
As the two continue their relationship with Austin FC staff, including working tirelessly during Austin FC matches in the supporters' section, they've seen some promising evidence behind the scenes. The potential team would already have a stadium and key infrastructure—according to Frasch, it's written in a stadium contract—and plenty of fans.
Austin FC owner Anthony Precourt has talked about adding a team for months, and earlier this year, the former NWSL commissioner quietly visited Austin to assumedly discuss a potential future in the city. Precourt himself told the two he was seriously considering it as he greeted fans after an Austin FC match.
Add together the backing of USWNT superstar Megan Rapinoe, Austin FC soccer buzz and the movement's petition—which has seen 1,000+ signatures—and the two are certain a new NWSL side isn't a matter of if, but when.
"We basically know it's coming, we just don't know when," Hanley said. "When we do ask about it, they just say 'keep doing your thing.'"
There are a few obstacles: the NWSL itself has had prominent leaders fired and may not be ready to tack on another team, especially after adding two new sides for the 2022 season. And adding an Austin side would make for an odd number of teams, so the league would probably need to find two locations to add at once.
But the city's futbol community has already wowed the nation with its fervor for all things Verde—and women's soccer supporters are sure that could transfer to the city's first women's pro team.
The two hope to see an NWSL team in 2023. In the meantime, they're content leading the Verde supporters section, growing their fan club and cheering on women's soccer at venues across the city.
Just before the yearlong torch was snuffed out in Tokyo, Team USA edged out China for the most Olympic gold medals to wrap up the Games, aided by three last-minute gold medals from athletes with Austin ties.
A Kevin Durant-led U.S. men's basketball team got redemption from their early loss to France as they beat the team 87-82 to nab the team's fifth straight gold medal on Saturday. Durant, a former Longhorn, scored two free throws with eight seconds left on the clock to seal the deal.
The women's basketball team, aided by University of Texas alum Ariel Adkins, followed soon after as they defeated Japan for their seventh-straight gold in the event. Finally, UT alum Chiaka Ogbogu joined her team in a tearful huddle as the women's indoor volleyball team clinched their first-ever Olympic gold and won the final medal for Team USA.
From medal-winning penalty kicks to shocking upsets, Austin athletes took home 10 medals—six gold and four silver—as the most-long awaited Games in history came to an end on Sunday.
Here's how Austin athletes fared in the Tokyo Olympics:
Basketball: two golds
KEVIN DURANT 🇺🇸@TeamUSA x #TokyoOlympics pic.twitter.com/0e8oCY8fmt

— #TokyoOlympics (@NBCOlympics) August 7, 2021
Kevin Durant-gold
Kevin Durant, who attended UT his freshman year before joining the NBA Draft, became U.S. men's basketball's all-time leading scorer as he surpassed Carmelo Anthony with 406 total points at the Games. With three gold medals, he also tied Anthony as the winningest player in team history. Durant led the team with 29 points as they beat France for the silver medal, landing the final two points of the match to earn the team's fourth straight gold.
When not in the red, white and blue, Durant plays for the Brooklyn Nets and recently extended his contract with the team for four more years. The 32-year-old NBA star, who is often considered one of the best current players in the league could have enough in the tank for one or two more Games before his decorated career is up.
An unforgettable first for Ariel Atkins! 🇺🇸🥇#TogetherDC x #USABWNT pic.twitter.com/A96C34x5Gc

— Washington Mystics (@WashMystics) August 8, 2021
Ariel Atkins-gold
Less than a day after men's basketball won gold, the U.S. women's team once again established their dominance in the sport as they toppled home team Japan in the final.
Ariel Atkins, a Team USA point guard and former Longhorn, played beside five-time Olympic gold medalists Sue Bird and Diane Taurasi as they each became the most decorated Olympians in the sport. The duo is passing the torch to the younger generation as they fight off quickly improving competition and search for their eighth consecutive gold medal. Atkins, a first-time Olympian who currently plays for the WNBA's Washington Mystics, is likely to be part of that crew.
Volleyball: one gold
Pile of emotions. #TokyoOlympics pic.twitter.com/wCbmqOc6uD

— Team USA (@TeamUSA) August 8, 2021
Chiaka Ogbogu
Prior to the Tokyo Games, the U.S. women's indoor volleyball team was the most medaled team in the sport to never win gold.
That all changed when the team swept Brazil to take their first gold in the Olympic final, aided by UT alum and middle blocker Chiaka Ogbogu.
"It doesn't even compare," Ogbogu said after the team advanced to the semifinals. "I feel like I have just had a lot of childlike joy for this... To know that we have made it to the semifinals in a year of losses and a year of waiting. We are finally here. It's amazing."
Swimming: one gold, two silver
If your friends don't hype you up like Lydia Jacoby's LEAVE THEM pic.twitter.com/nKw51B1nOe

— Coach Christi, DNP 👩🏾‍⚕️🥎 (@SnapMyAd) July 28, 2021
Lydia Jacoby- one gold, one silver
Lydia Jacoby has shocked the world as a dual Olympic medalist before she even starts her freshman year of college at the University of Texas. At 17, Jacoby became a fan favorite as she secured her first-ever gold with a surprise win in the women's 100-meter breastroke. The teenager went on to land a silver in the women's 4x100-meter medley relay as well.
Jacoby beat the odds to get on the podium—from a goggle mishap to training with "the whales and sea lions" as fellow residents in her hometown of Seward, Alaska like to joke. There is just one Olympic-sized pool in all of Alaska, and it's nearly 120 miles from where she grew up. Jacoby trained in a pool half that length as she became the first Olympic gold medalist from her home state.
OLYMPIC HISTORY IS MADE‼️@katieledecky wins the first-EVER Olympic gold medal in the women's 1500m free and teammate Erica Sullivan wins the silver.@TeamUSA x #TokyoOlympics #OlympicHERstory pic.twitter.com/fTLlcWFgEg

— #TokyoOlympics (@NBCOlympics) July 28, 2021
Erica Sullivan- silver
Longhorn Erica Sullivan finished just behind U.S. star Katie Ledecky as she won silver in the first-ever women's 1,500-meter freestyle Olympic race. At 20, Sullivan is already a two-time Olympian and fan favorite as she opens up about her adversity and unique experience as an Asian-American and queer woman in the sport.
"I'm multicultural. I'm queer. I'm a lot of minorities. That's what America is," Sullivan said at the press conference after her race. "To me, America is not about being a majority. It's about having your own start. The American dream is coming to a country to be able to establish what you want to do with your life."
Track and field: one gold, one silver
After winning his second consecutive gold in the shot put, Ryan Crouser had a message for his grandpa 🙏

Crouser bested his previous Olympic record FIVE TIMES in the finals. pic.twitter.com/gkKVt2wZv1

— ESPN (@espn) August 5, 2021
Ryan Crouser
Former Longhorn Ryan Crouser previously won gold at the 2016 Olympic Games, and he broke his own Olympic record immediately as he took his first throw in the men's shot put at the 2020 Games. Crouser bested the Olympic record five times before taking home his second gold medal and ended with a note to his grandpa.
"Grandpa, we did it, 2020 Olympic champion!" Crouser's note read as he tearfully celebrated his victory. Crouser's grandfather died shortly before the Olympic Games, and he dedicated the medal to him.
"A special moment for me," Crouser told NBC after the competition. "It's been a little bit of a rough couple of weeks. My grandpa passed away. He was the one that got me into throwing. This was my first meet without him. I wrote that note for him. It was special to throw one for him."
There goes Jamaica! 👋@TeamUSA grabs the SILVER in the women's 4x100 relay. #TokyoOlympics pic.twitter.com/s0zA28oxqc

— #TokyoOlympics (@NBCOlympics) August 6, 2021
Teahna Daniels
Former Longhorn Teahna Daniels broke her personal record as she was the only Team USA athlete to advance to the women's 100-meter finals alongside Jamaican greats Shelly-Ann Fraser-Pryce, Shericka Jackson and Elaine Thompson-Herah. It was the women's 4x100-meter race, however, that brought the first-time Olympian onto the podium as she helped the defending champs take home a silver medal in the race.
Falling only to Team Jamaica, who set a national record as they led the race by several steps, teammates Daniels, Javianne Oliver, Jenna Prandini and Gabby Thomas celebrated the second-place title after years of adversity.
Soccer: one gold
IT'S THAT TEXAS TOUCH FOR CANADA 🤘🏾@TexasSoccer's Julia Grosso gets the Olympic Gold. pic.twitter.com/0UvLPKa0HR

— Longhorn Network (@LonghornNetwork) August 6, 2021
Julia Grosso, gold, Team Canada
Current Longhorn Julia Grosso was part of the Canadian team that upset favorites Team USA in the semifinals of the women's soccer tournament, and it was Grosso herself who scored the penalty kick that clinched the gold medal for her team in the final.
Grosso's father Carlos and the rest of her family watched the nerve-wracking match at home in British Columbia as the UT midfielder won her first Olympic gold.
"We're so ecstatic," Carlos told CBC's The Early Edition just after the win. Carlos said Grosso, 20, expected "nothing less than gold" from her first-ever Olympics.
Grosso is Texas Soccer's first-ever Olympian.
Softball: one silver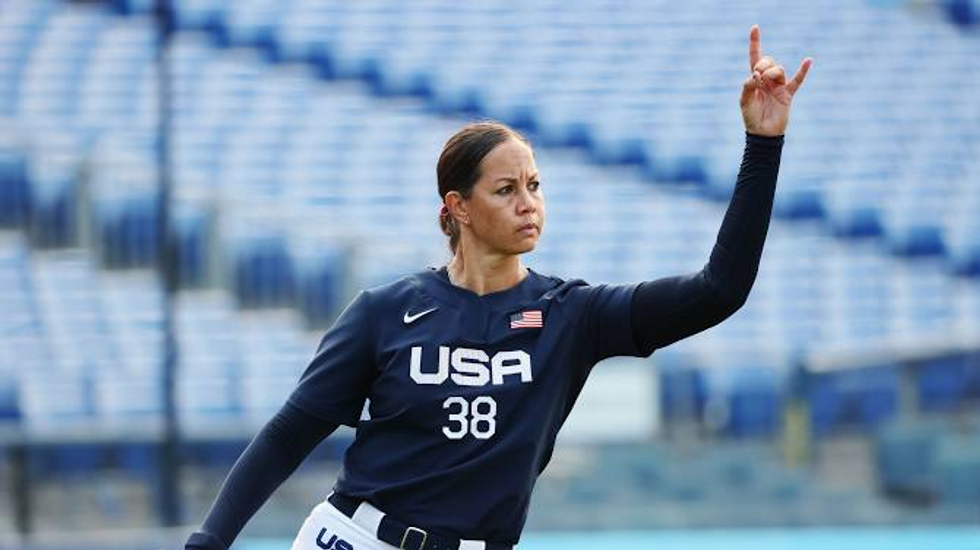 (Team USA Softball/Twitter)
Cat Osterman
Cat Osterman, the "Michael Jordan of softball," has officially retired after clinching a silver medal to end her nearly two-decade Olympic career.
While the team hoped to win gold as they fought for redemption against home team Japan, Team USA lost once again to the hosts after the sport's 12-year hiatus from the Games. Still, the Olympians celebrated their journey through adversity in the pandemic as they took home the silver in the Games.
"To be able to say you're a three-time Olympic medalist is a pretty special deal, right?" Osterman told Austonia. "I played for a long time. But those are the pinnacle, in my mind, and kind of what elicits the dream to keep playing."
Near-medalists and new Olympians
While some saw their dreams realized with Olympic medal success, others celebrated making the national team as they left without reaching the podium.
Seven Austin athletes left Tokyo in Week 1 after not placing in their competitions, while these others just missed medal status as the Olympics wrapped up: