Get connected with our daily update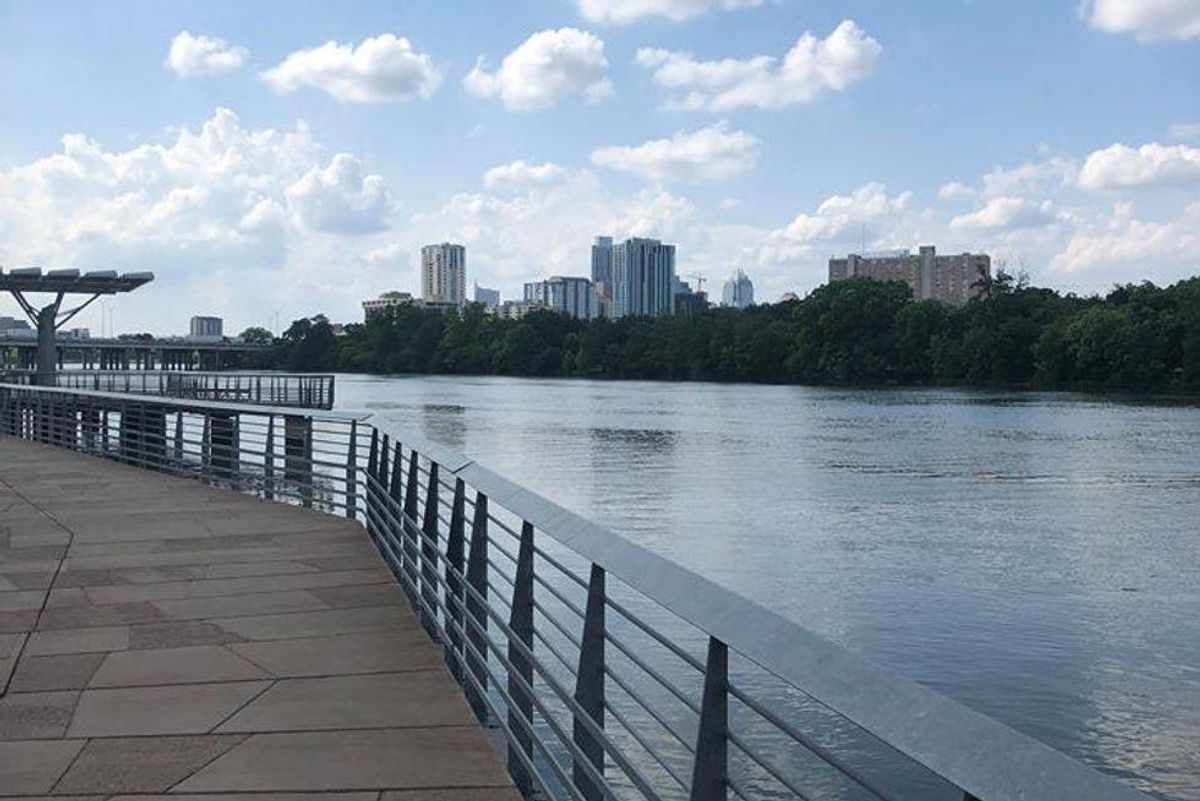 Editor's Note: This is the last political column Austonia will run in a series of opinion pieces. The views displayed here are not those of Austonia. View past opinions, including contrasting views to this one here.
Matt Mackowiak has lived in Austin from 1984-2003 and since 2011. He is the Travis County Republican chair and co-founder of Save Austin Now PAC, a nonpartisan political action committee that advocates for policies and candidates that support quality of life issues and public safety.
If you've lived in Austin more than three years, then you've almost surely experienced the same thing that I have.
While traveling anywhere in the U.S. (and increasingly globally), when asked where you are from and you respond with Austin, invariably the person says either "I love Austin, what a great city" or "I have always wanted to visit Austin."
In the last few years, that has changed. People continually ask me the same question, "What happened to Austin?"
That simple question has a long and complicated answer and voters will have an opportunity to choose new leadership in the November 2022 election.
Let me try to answer it here, and then paint a picture for a future for our city that is within our grasp.
I came to Austin at the age of 4, went to public schools (Laurel Mountain Elementary, Canyon Vista Middle and Westwood High) and then proudly graduated from the University of Texas-Austin in 2003. After spending nine years professionally in Washington, D.C., after college, I returned home in 2011.
When I was a kid, Austin was a lovely and growing city with an outstanding standard of living. It was safe, affordable, culturally rich, diverse (and becoming more diverse), well educated, and full of opportunity. It had big city fun, without big city problems.
But storm clouds gathered.
Austin leaders in those decades generally believed that "if we did not build it, they wouldn't come." They foolishly subscribed to the idea that growth could be prevented and the quintessential Austin ethos could remain forever unchanged. But Austin grew and we did not manage that growth.
Now our city has at least four major challenges all hitting at the same time:
a larger and complex homeless community that is not receiving adequate care
a significantly understaffed police department that is contributing to a violent crime wave
an affordability crisis caused by artificially limited housing supply and insatiable city spending
rapidly worsening commutes due to limited transportation infrastructure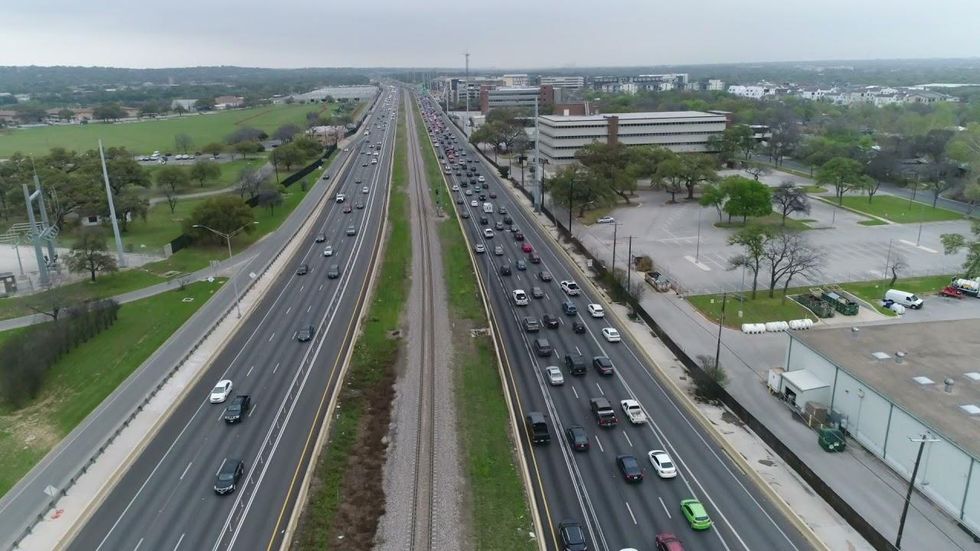 Austin's transportation infrastructure has been highly contested as Austin's population grows. (Steven Joyner)
Our city has not seriously addressed these challenges for many years and these problems have become larger, more urgent, and more expensive to address.
On the homeless community, voters passed Prop B 58%-42% on May 1, reinstating a public camping ban and forcing the city to provide actual solutions for the homeless (which they have not provided). Now the camping ban must be enforced and an efficient, transparent, accountable plan must be adopted that gets the homeless off the streets, into detox and mental health treatment and on a pathway to work, self-sufficiency and housing. Housing our homeless immediately has failed in San Francisco and Houston and it is failing here. We must help them settle first, stabilize, and then prepare them to reenter life off the streets in a way that minimizes relapses, poor decisions, unsafe activities and criminal behavior. We can serve our homeless better than we have–and we must.
On the public safety issue, City Hall (with the exception of Mackenzie Kelly) is now fighting a nationally recognized police staffing standard (2.0 police officers per 1,000 residents) that more than 200 cities over 50,000 population meet, including Dallas (2.9/1000) and Houston (2.4/1000), according to City-data.org. This is at a time when homicides are on track to nearly double last year's all-time record, every violent crime statistic is up considerably, police staffing is down 200 officers in one year (from 1,800 to 1,600) and police 911 responses times are up. Voters will have a choice to support public safety on Nov. 2 with Prop A.
Austin must stop constraining the supply of housing with overregulation and ridiculous land development codes that govern individual neighborhoods, which results in a new house taking on average 18 months to build in Travis County, while the time is six months in Williamson and Hays counties. Average home prices are up sharply, and while the state limited property tax increases to 3.5% annually, that does not address valuation increases that are resulting in explosive increases in property taxes, which puts economic pressure on blue collar workers, middle class families, teachers, first responders, senior citizens and every renter in our city. Code Next was a total mess, with each successive version of it worse than the one before it. But a uniform land development code, with strong neighborhood input, with a streamlined permitting process at the city level, would be far better than the city's top-down "affordable housing" mess and the failing Better Builder program.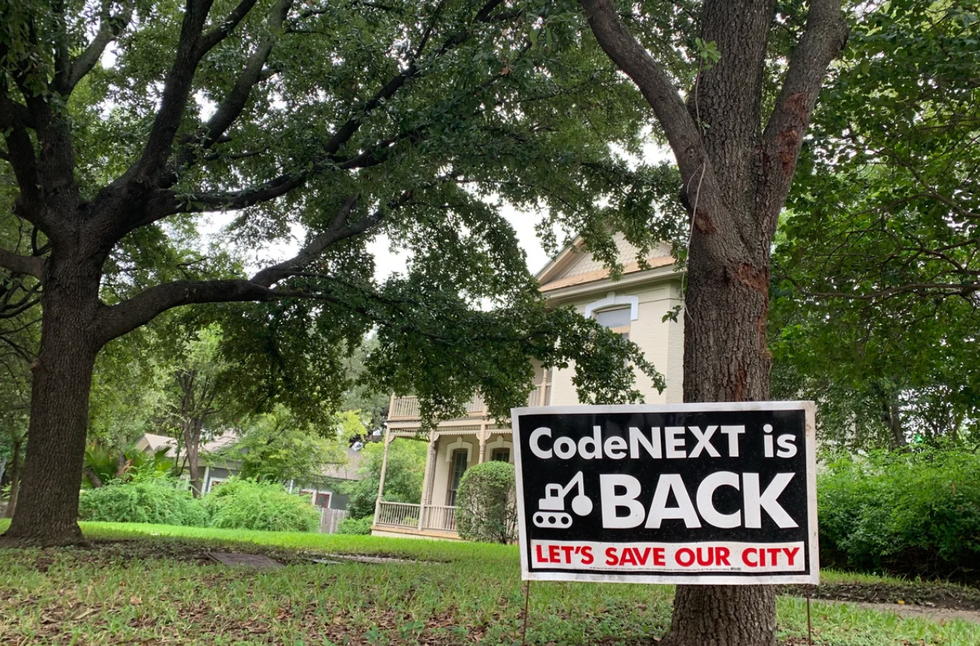 Although the city of Austin has scrapped CodeNEXT, signs in opposition to a land-use code rewrite can sometimes still be spotted around town. (Austonia)
Instead of inefficient and unaffordable transportation projects like Project Connect, the first phase of the massive and bloated train system which passed last November, Austin should focus on increasing density at the intersection of major roads first, much like Houston and Dallas have, then connecting those dense areas. We need a 'Big Dig' under I-35 which reduces delays and adds real estate above ground, connecting downtown and East Austin, and we must expand MoPac. We also need an East-West highway between 183 and 71.
These are some ideas for how we can address our most pressing challenges. But ignoring them or tripling down on failure hurts every Austinite and that is what current city leaders are choosing to do.
Austin is the 11th largest city in America.
Since the 10-1 city council system took effect, we have been governed by hard left ideologues for at least two years and the voter uprising that began on May 1 will continue until City Hall abandons their extreme agenda and instead focuses on quality of life issues that affect every Austin family.
Austin can be the greatest city to live, work, and raise a family in our country. How do I know? Because it was when I was growing up.
New leadership will be required to address these problems directly and save our city.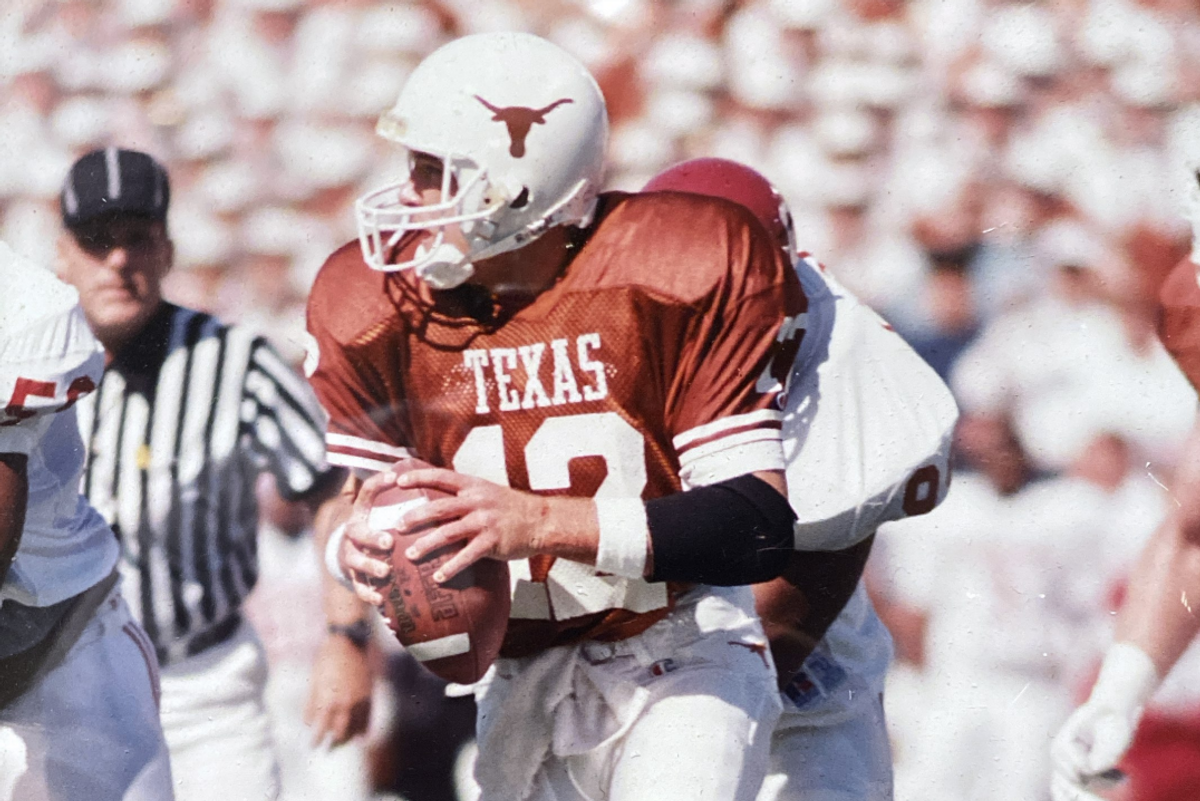 Editor's Note: Shea Morenz is the chief executive of Morenz Group which provides strategic guidance and expansionary capital to privately held companies. He earned an MBA from the University of Michigan in 2002 and a BBA in finance from The University of Texas at Austin where he lettered in both football and baseball and received Southwest Conference Academic Honors, graduating in '97. He was a first draft choice with the Yankees in '95, where he played professionally for five years.
College football conference realignment and the controversial "Fair Pay for Play" ruling seems inevitable when you consider that eight of the top 10 biggest outdoor stadiums in the world host Saturday College Football games where the athletes on the field are paid $0. As a capitalist, I can get behind both of these concepts. As a former collegiate and professional athlete, I struggle mightily with their implementation and, importantly, with the reality that amateur sport as we know it will no longer exist.
Amateur football is a sport that touches most of our lives and shapes many of our communities. It brings us together for local Friday nights under the lights, tailgates and fan-filled stadiums and bars supporting our favorite teams on Saturdays. Students are likewise attracted to large public universities with winning football teams, and all benefit from the strong university programs supported by those revenues. To wit, The University of Texas Athletic Department transferred $12.2 million to the university for a range of services benefitting students and faculty alike last year, gapping a difficult time for all. We are all drawn to this uniquely American game of football for its complexity (as an aside, memorizing John Mackovic's playbook was as hard as any class I took in the Business School at UT), elite athletes, and inclusive and electric environment.
(Shea Morenz)
At the university level, we all know that athletic departments struggle to turn a profit but for a successful football program, and it's also arguably true that individual players can be behind certain teams' iconic success. Think Vince Young and Johnny Manziel. In this context, I'm saddened by the reality that many great universities will be left behind if they don't join one of what looks to be four power conferences, left with no ability to compete for big bowl games or championships—think Texas Tech where I have so many long-time friends. And, I'm conflicted by the reality that star players want more than they currently get from their college experience, which in most cases includes tuition, room and board, a fair living stipend and that intangible, hard-to-measure thing: a college education and a lifetime network.
To value what we can, let's put a roughly $60,000 annual price tag on the measurable parts. State legislatures across the country are evaluating not if, but how athletes are to be paid for the use of their name, image and likeness (NIL), as well as how to hire agents and sign endorsement deals. There is currently no federal standard, creating an uneven playing field from state to state and university to university. Combine this with the recently approved player portal, which is the ability for NCAA athletes to freely transfer from one school to another without penalty, and potential abuse of the structure's intent could run rampant.
I've always believed that the optimal solution here is to let any and all athletes go pro any time if they want to get paid, creating a true value proposition for the students and their sport. The reality is that the universities effectively serve as the minor leagues for the NFL, and the money in college football has pushed this ship far from the dock. I can also appreciate some of the arguments for paying college players. Advocates say that many are from low-income homes for which they are often providing support. While their NIL's may be valued in the millions of dollars, many have reported living below the poverty line and are unable to take on a part-time job.
Those against direct payment for players point to a college education as being enough. The hard truth is that most college athletes will never make it to the pros, and those football players who do train mainly in the university setting. Meanwhile, many of these young adults will be busy building a social media presence rather than a resume that will help them compete for high-paying jobs that go to college graduates. Also, paying players will make the strong teams and the university systems they support stronger, and the weaker teams and colleges weaker. In other words, it further consolidates power in the hands of the most powerful, and with conference realignment underway, we should take pause. Maybe it's all for the better. Maybe it isn't. I am still thinking this through myself.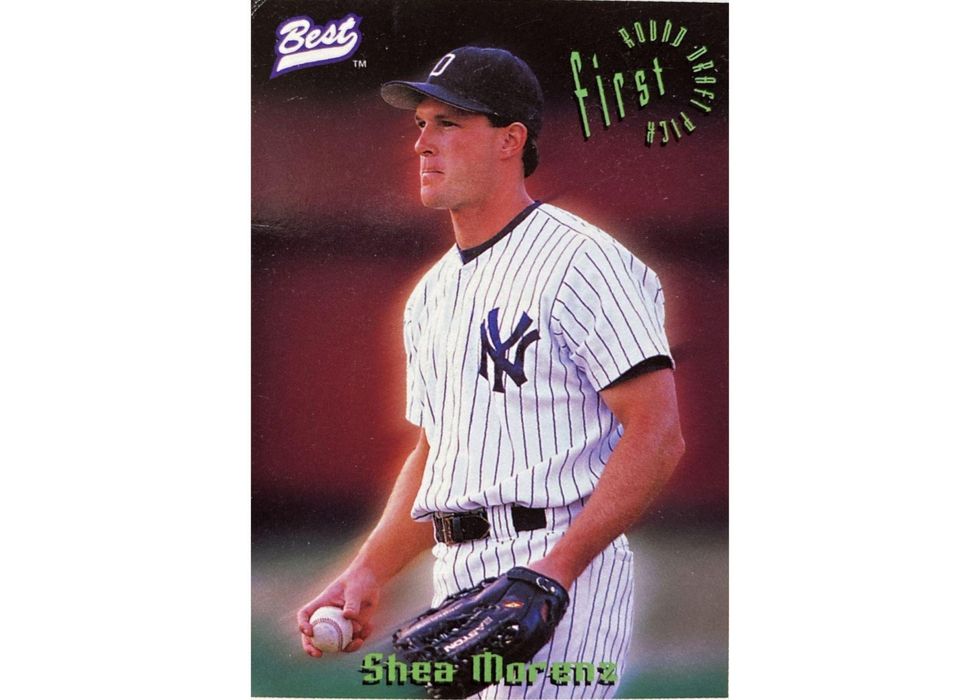 (Shea Morenz)
As a student-athlete, I played football and baseball for the University of Texas, and I had to keep up my grades to play. Despite being offered a potentially life-changing Derek Jeter-size signing bonus by the Toronto Blue Jays, I chose college over playing professional baseball straight out of high school. I would go back to that, but after my education was underway. My father made a similar choice, opting to play hockey at the University of Denver over professional hockey, which he eventually did. Education prepared us well for professional lives and not just lives in sports.
For the vast majority of student-athletes who are not lucky enough to make a career out of professional sports, the financial benefits of NIL sponsorships during college can be extremely attractive, albeit short-lived, and may very well derail or, at the very least, dilute the focus on academics and job preparation.
This shifting world of the "athlete-student" model versus the "student-athlete" model is raising important questions: Just how professional should the traditionally amateur college sports world be? And what's the appropriate age for professional marketers to approach our sons and daughters? I was honored to have Bill Walsh sitting on my couch recruiting me to Stanford as a high school senior, but I'm at a loss to consider the impact on my life if instead, we were hosting free agents not associated with any school or education in our home starting much earlier. In situations like this, very young men and women could be pushed down a specific sports path, limiting their exposure to and involvement with other athletic, educational and social opportunities.
The NCAA has clearly lost control and, unfortunately, there does not appear to be a coherent plan coming from D.C. anytime soon. As college football becomes more professional and less amateur in this environment, we necessarily get away from playing because we want to… because we love our alma maters and are sharing with the student body a common educational experience. There is some purity and innocence lost. And in my view, it could take us one step, which leads to bigger steps, away from the love of the game.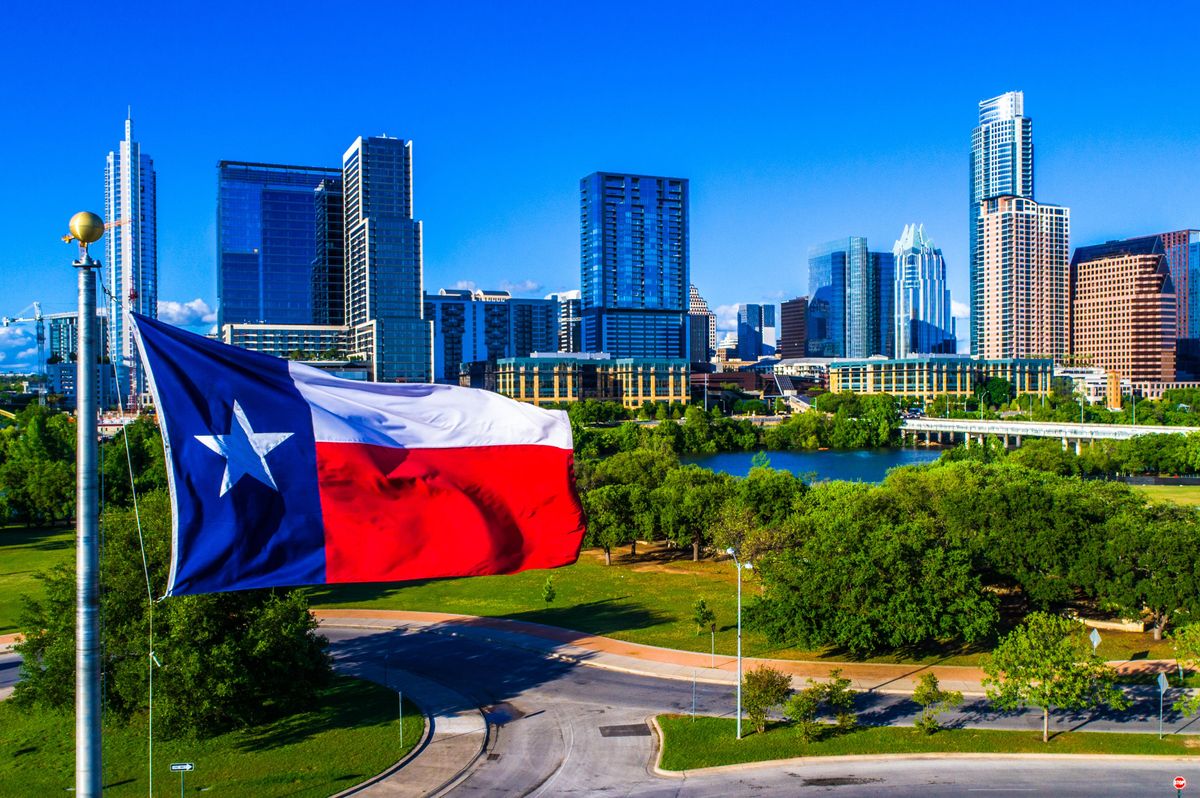 Editor's Note: Joah Spearman is the former vice chair of the Austin Music Commission, former chair of AIDS Services of Austin, and is the founder and CEO of Localeur. He has lived in Austin for more than 15 years and experienced the city's growth. This opinion does not reflect that of Austonia.

Optimism is defined as hopefulness and confidence about the future or the success of something, and in my 16-plus years living in Austin, the optimism many hold about Austin's future appears to be at a critical inflection point.

Will Austin bend but not break under the mounting pressure of growth and sustain the relatively affordable and high quality of life that has made this city what it is? Or will Austin go the way of many large American cities in history, San Francisco perhaps most notoriously, and cease to offer its middle and working classes access to the bounty all this growth begets?
For decades in Austin, optimism alone was enough as political participation was largely substantive enough—and major decision-making privately constrained enough—to ensure quality of life benefits by the tens of thousands. Simultaneously, Austin's population growth was somewhat matched by upticks in social and professional opportunity (for many). Even as the negative effects of the 1928 Plan on racial and socio-economic makeup became more evident, there was an implied optimism in Austin's political dealings, including the 2014 switch to a 10-District Council system.
However, once we became an undeniable large American city (right around the time Austin started being named the "best city for" absolutely everything), the collective optimism started to subside for these longtime politically-engaged Austinites who were civically responsible for holding the line on deciphering quality of life vs. growth.

This is particularly true of the last decade amid the rise of Downtown, SXSW's shift from music, the proliferation of high-priced restaurants replacing affordable establishments (a la Sammie's), and the tech industry's surge, each of which no longer represent the core identities or localized interests of many longtime Austinites who've grown disconnected from what now appears to pass as quality of life.
Based on the umpteen conversations I've been having with longtime Austinites both before and during the pandemic, there's something about a $40 lunch, $200 outfit to the gym, staying in a $400/night boutique hotel, and spending over $1.3 million for a two-bedroom home that doesn't register as WINNING— especially during a pandemic, racial unrest, a presidential election and a winter storm. Not to be forgotten nor ignored, many a longtime Austinite—be it four decades or four years longer than their friend who moved here in 2020—has realized that waning optimism can be wielded as a weapon through either libertarianism ("every man for himself"), obstructionism ("don't do that over here"), perfectionism ("that isn't the way I'd do it"), pessimism ("that won't work"), or—the most troublesome yet hard to decipher during City Council meetings or the 2018 CodeNext dust up—unconstructive criticism.
Unconstructive criticism
Don't get me wrong, critique is a great thing. Critique leveraged correctly by an engaged audience leads to improved implementation of policy, but thus far the constructiveness has yet to bear much sustainable fruit in addressing Austin's most-pressing problems around affordability, creativity (the growing chasm between the creative and asset classes) and inclusivity (as East Austin looks less like a community for Black and Hispanic Austinites forced there in the years following the 1928 City Plan by the day).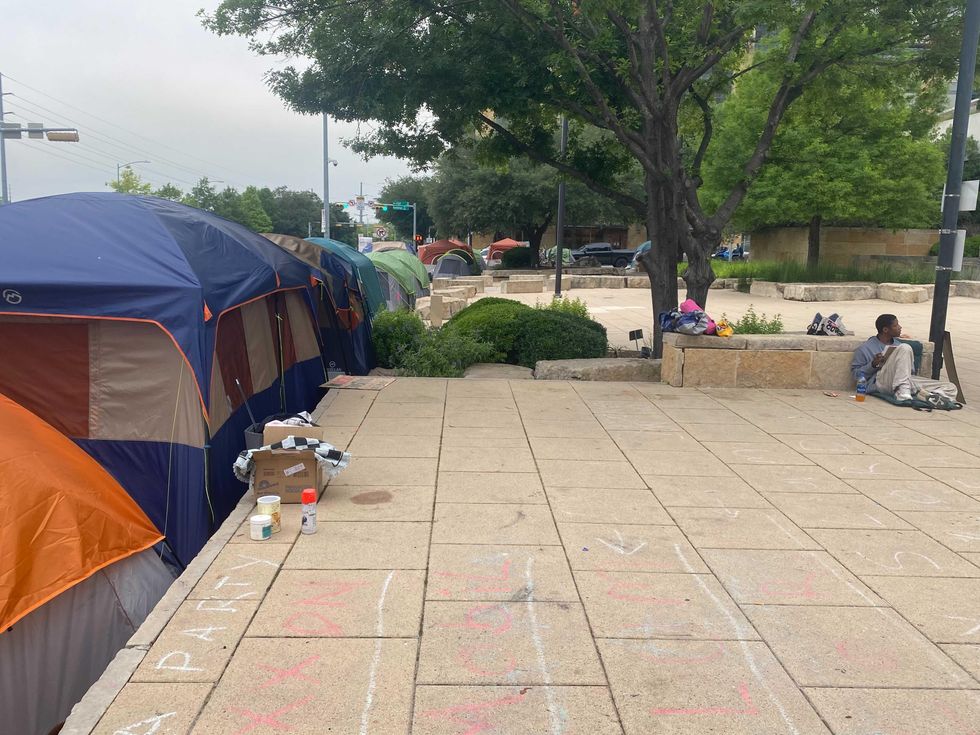 In May, tents were pitched outside of City Hall in protest of the passage of Prop B, which bans sitting, lying, camping and panhandling in certain areas, including downtown. (Laura Figi/Austonia)
For example, Prop B of Nov. 2020 for $460 million in transit bonds passed with 67% of the vote in an election with over 400,000 total voters participating whereas Prop B of May 2021 passed with over 57% of the vote in an election with less than 160,000 voters participating. But somehow if you talk to the average Austinite, voter or not, the Prop B of May 2021 is the one that they realize got the state and national headlines and impacted local discourse, civic creativity and optimism, and the political tonality more.
Prop B of Nov. 2020 was constructive optimism. Prop B of May 2021 was critique at best and pessimism at worst. And it's worth pointing out that there is a massive difference—of at least 240,000 voices—even if the majority of Austinites voted "for" both.
Listen closely for the next time you hear people in Austin talking about the Olympic-like speed by which our city is facing affordability issues. Most likely those folks will race to explain the affordability issues only through the narrow lens of rising home prices, property tax increases and above-market purchases under the false notion that hardships around single-family homeownership are the sole representation of a city in crisis.
Meanwhile, constructive optimism would break free of the shackles of Austin's political binarism in an attempt to pursue a more holistic and inclusive understanding of the ways in which affordability (or absence of it) shows up in quality of life outcomes for our neighbors.
We would then be able to better acknowledge a myriad of indicators from the lack of investment in Black creatives and musicians who shaped Austin's live music and "weird" identity, the segregation of a city that is nearly 50% Asian, Black or Hispanic and built on Native land where just 2,000 or so residents identify as Native American today, the dearth of "complete communities" that truly adhere to the merits of the 2012 Imagine Austin plan, the decathlon-like permitting processes we force everyone from homeowners seeking to build ADUs to monied developers seeking to build multi-family housing within minutes of Downtown (if anywhere), and the homogeneity by which private, generational wealth, venture capital and real estate assets flow within this city.
A Tone… meant for Austin
Earlier this year, I wrote a welcome letter to new Austinites that went somewhat viral online. It wasn't just the words, maybe even just headline, that connected with people, it was the tone. Constructive optimism is about substance in policy and which outcomes are deemed worthy, but it is also about tone.
It's through tone that an aroma of possibilities is cultivated where optimism sustains and both empathy and pragmatism create civic solutions and shared ideals. That aroma, that tone, is one of both patience and passion, grit and genuine commitment to a positive outcome, and it must be around for years—election years and off-cycle years—to cultivate real, meaningful, substantive progress in quality of life and outcomes for thousands.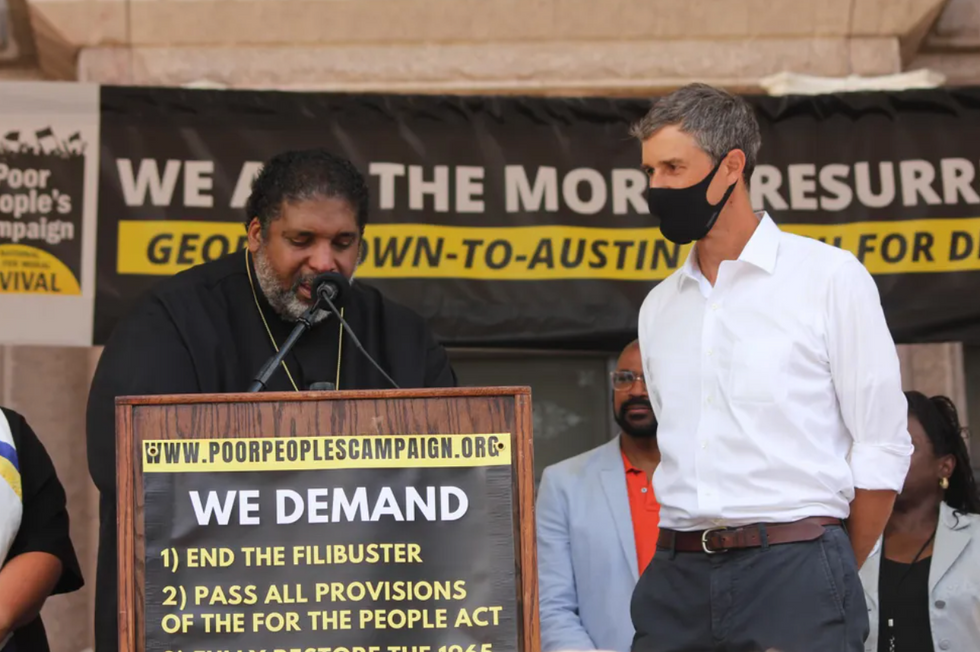 Rev. Dr. William Barber and former U.S. Congressman Beto O'Rourke spoke outside the Texas Capitol on July 31 after a days-long march for voting rights. (Laura Figi/Austonia)
So who will drive the constructive optimism for Austin's political narrative? Can we look to statewide officials with a particular interest in the happenings of Austin a la Dan Patrick? Can we entrust conservative lobbying groups like Save Austin Now? Can we solely rely on Beto O'Rourke to re-capture the progressive momentum of 2018 or force Chas Moore and his organizing powerhouse Austin Justice Coalition to do the work of both creating and championing a more equitable and inclusive vision for Austin?
Hopefully not. And though I'm inspired by the frequent discourse about Austin's political machinations on Twitter, how do we as a fast-growing city of change (reluctant or required) channel our collective energy, mitigate apathy, and instigate a community's creativity to address problems that are simply too big and too imposing and too widespread for decades-old Austin political mentality—where keeping the decision making guestlist small was an effective way to get things done—reigns supreme?
While setting the tone for an entire city isn't a job that should be left to one person, even an elected official, I realize it's also not a duty that can be held by the unwilling or uninterested. Constructive optimism doesn't roll off the tongue like Make Austin Great Again would, but it's a far better approach than the kind of avoidance, obstructionism and pessimism that is sucking the quality of life and color out of Austin like its 1928.