Get connected with our daily update
Austin FC's roster is stocked with guys in all different stages of life, but nearly all stick to a similar mantra: "family comes first (and) soccer comes second." For nine Austin FC athletes, that means balancing hours of grueling work with fatherhood off the pitch.
That lifestyle became apparent when Matt Besler, the club's starting defender and one of the best center backs in MLS history, stayed home for Austin's second-ever match to witness the birth of his son Miller. Besler had already missed the birth of his first daughter and wasn't going to miss one again.
"It's in God's hands of when the baby's going to come, and you do your best to plan as much as possible, but in the end, it usually never works out that way," Besler said. "We just felt like it was better for me to just stay back and not travel because you don't want to regret missing that."
Besler's wife, Amanda, and two daughters joined him on his journey to Austin after 12 years with Sporting Kansas City. Balancing family and soccer isn't too bad, Besler said, and neither aspect of his life has suffered from the other. Still, he admits there isn't much time for Netflix binging or picking up hobbies.
"I feel like I've been able to balance those two things really well... but it really is just balancing my family and soccer," Besler said. "That's about all I have time for, but... I would rather have it this way than the other way where you feel like you're getting pulled in like a million different directions."
Besler's children haven't quite wrapped their head around their dad being a professional football player—he currently has them convinced he's an aspiring magician—but they do share a post-game ritual: playing Operation on Dad.
"They like to be the doctor (and) inspect all my bruises and scratches from the game," Besler said. "So they each have their medical kits and they do a physical exam on me, and they're always worried about daddy getting hurt or kicked. So that's probably as far as we get in terms of the soccer fandom."
While adjusting to Austin has been difficult—namely, the sweltering Texas summer heat—Besler said his family has adjusted with the help of an at-home swimming pool and the city's overwhelming support.
Fellow central defender Julio Cascante feels the same way. Cascante and his wife, Jessica, had their hands full when they moved to Austin from Portland with their then-four-month-old son Anto. Pair that with Austin FC's stagnant record, which has garnered plenty of criticism, and life on the Verde pitch can be pretty stressful.
Cascante said he's able to leave the pressures of the job thanks to his role as a husband and father.
"You get home and you see your baby, I think that's that's what gives you that relief," Cascante said. "He wants to be with you as soon as you get off, and so you forget about all the bad things that happened to you today (because) they only think about you as a father."
For Diego Fagundez, seeing pictures of his children with him on the pitch reminds him why he plays.
"It's something that I'll never forget, and I hope that they'll never forget, and they can tell their kids someday," Fagundez said. "That's why I do it. I might be having a bad day, but at the end of the day, they still bring my smile... It's the best feeling in the world."
Having built-in fans has its benefits. Fagundez's three-year-old daughter, Maria, has already been seen shouting his name in the supporter's section, and he hopes one day she'll be on the podium with fan band La Murga's "capos," or chant leaders.
"They're my number one fans," Fagundez said. "In that video of my daughter in the south end with all the fans, she's throwing her arms and singing and yelling. That's amazing to me."
Fagundez, whose father played professionally too, hopes to create the same memories he enjoyed as a kid for his own children. Fagundez, Besler and Cascante all hope to see their kids play soccer one day, but more importantly, they hope to pass on key aspects of the sport—passion, kindness, dedication and sacrifice.
While adjusting to a new city with a young family has been difficult for all, they're thankful for all the support from Austin fans that help the Texas capital feel like home. Fagundez has become great friends with members of Los Verdes, and some have even helped him watch his kids as he goes to training.
"Austin's amazing," Fagundez said. "From the first day they got here, the fan base just helped me so much. If I needed something, they would be the first ones there. It's like one big, happy family."
(Sarah Summers)
As government officials debate when and how students will go back to school this fall, parents are caught in the middle, trying to account for childcare, work schedules and academic development in the absence of clear guidance.

On Tuesday, Travis County health authorities announced that, to slow the spread of COVID-19, no schools would be allowed to hold in-person instruction until at least Sept. 7.
Austonia spoke with three families about the choices they're making.
Opting out
Sarah Summers is the single mother of a 4-year-old daughter and a PhD candidate in religious studies at the University of Texas at Austin. Originally, she planned to send her daughter to Pre-K at Maplewood Elementary in the Cherrywood neighborhood. But now she faces new childcare and financial constraints related to the pandemic.
"In the fall, I'm not going to put her back in school," Summers said.
Because Summers received emergency pandemic funding from her university department, she is no longer eligible for free Pre-K and would have to pay to send her daughter to Austin ISD.
But, her sister, who also lives in town, was fired from her retail job—"in an email," Summers said—and is now available for childcare a couple days a week.
"All [my daughter] should be doing is arts and crafts and playing outside in the dirt, and she can definitely do that better with my sister than from remotely online," Summers said.
While Summers has mixed feelings about her decision, she appreciates being able to make it.
"Being able to choose in the fall whether school is necessary or not feels like a very privileged choice," she said.
Especially since she worries if school would be a safe place for her daughter.
"I don't think there's anything that any individual school could do to make it feel OK," Summers said.
Her daughter, however, is not conflicted. When Summers explained that she would not be attending school in the fall, her daughter said: "That's great. I love being with you. I hate boring school."
Managing expectations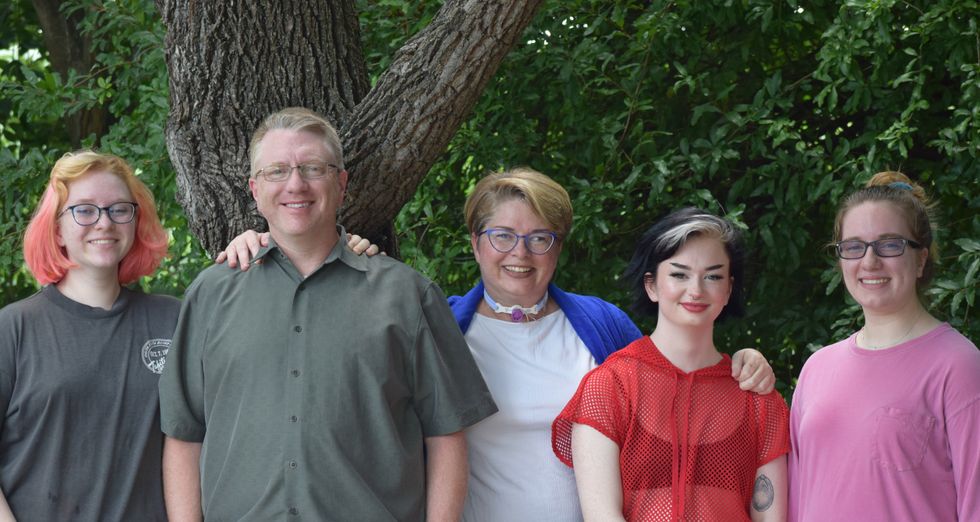 Ellary Jones, Chris Jones, Patrice Jones, Emily Freeman and Abigail Jones are deciding as a family whether a return to school makes sense.
(Patrice Jones)
Patrice Jones lives in the North Loop neighborhood with her husband and three of their six children, a 15-year-old rising sophomore and 17-year-old rising senior at McCallum High School, as well as a 19-year-old enrolled at the Aveda Institute.
Because Jones has an autoimmune disease, the family has closely adhered to quarantine guidelines. If the two younger children return to McCallum, they'll have to redouble their efforts.
"Our house is set up so that we could live downstairs and they could live upstairs," Jones said. "We're very privileged in that respect."
While Jones feels that her kids would likely be safe from the virus if they were to return to school, she worries about the risk they might pose to others.
"If we're not prepared to protect the teachers and the staff, then my personal belief is that we don't have any business opening up schools right now," she said. "Even though I really want to send my kids back. They really need it."
Her high schoolers are involved in music and art, which are hard to practice virtually, and her senior is especially concerned about missing out on senior year traditions. But Jones and her husband have urged them to balance their own desire to return to school with concern for others.
"It's a decision they really have to come to themselves," she said.
While she wants her kids to have a say, it's up to her and her husband to make the final call.
"The kids are just lost." she said. "They've never experienced anything like this. I mean, we haven't either. But I think we're better equipped to handle it."
Navigating work 
Shaena Robison lives with her husband and their two children—a 6-year-old son enrolled at Austin ISD and a 3-year-old daughter who is signed up for a church preschool—in the Skyview neighborhood.
"I don't think that there's going to be any in-person school [this fall]," Robison said. "Maybe there'll be some online, but that doesn't help as far as childcare."
When the city's stay-home order was in place, in late March and April, Robison's job in health care allowed her to cut back on hours and still receive full pay.
"I was able to be at home with the kids while my husband was working and still getting paid, so that was working well," Robison said. But now things are "totally different."
Robison had to return to her job, which she said takes precedence because the family receives its health insurance from her employer, she earns slightly more than her husband and she is enrolled in a loan forgiveness program that requires her to work full time to receive benefits.
Her husband is a private contractor and works when she's off, which is an imperfect solution.
Initially, Robison was frustrated by the prospect that schools might not reopen.
"I work in health care. And I currently treat and work with COVID patients. I feel like, a little bit, I'm putting my health and life on the line to do that," she said. "Why isn't, at the very least, elementary school an essential service?"
After speaking with some teacher friends of hers, she remains frustrated but for a different reason. Teachers told her they don't have the same resources that are available to health care workers to keep them safe.
"Why aren't they given those resources?" Robison asked. "It's all just frustrating."


Want to read more stories like this one? Start every day with a quick look at what's happening in Austin. Sign up for Austonia.com's free daily morning email.
(Pexels)
Schools should delay starting or offer virtual-only instruction until Sept. 8, Austin-Travis County Interim Health Authority Dr. Mark Escott said Tuesday, to avoid loss of life due to the coronavirus.
Sept. 8 is three weeks later than the currently planned start date for Austin ISD.
The recommendation comes as Austin has seen soaring numbers of positive COVID-19 cases and hospitalizations in recent weeks.
"The schools need time, they need time to plan, they need time to orient their faculty and staff to the new realities," Escott said at a Travis County commissioners meeting.
Travis County had about 192,000 school-age children and thousands of teachers and administrative and support staff in 2019, according to Census data. Of those students, 80,000 are in Austin ISD.
"The risk of students having severe illness or death is relatively small compared to others," Escott said, adding that the risk of death is 0.18%, with Travis County's numbers looking closer to 0.3%-1.02%. "This is a little bit of a challenge of the numbers because you hear 0.18% and the translation is well, my child has a 99.8% chance of not dying from COVID-19."
However, Escott said the issue is that when those small numbers are taken and multiplied by the current student population, with an expectation that up to 70% of students could be infected, those small percentages turn into anywhere from 40-1,370 deaths.
"These are sobering numbers, and we have to be very, very careful when we hear people talking about the percentage of people," he said.
But with faculty and staff, the potential number of deaths is somewhere between two and 10 times higher, Escott said.
Looking beyond the potential loss of life, though, Escott said the spread of the disease will endanger continuity of education if a school has to shut down because too many students or staff members get sick.
"The practicality of social distancing in almost all of our schools is a challenge," Escott said, citing information from the Centers for Disease Control and Prevention and the Texas Education Agency as well as anecdotally, his own wife who is a schoolteacher. "Our schools are not designed to have desks six feet apart, most of our districts would have to triple the size of schools, triple the size of spaces in order to achieve that."
Right now, Escott said schools are simply not ready to handle the return of students and protect the safety of them and their staff.
(Ariela Choiniere)
Ariela Choiniere, a 16-year-old rising senior at Austin ISD's McCallum High School in Brentwood, is unsure how her summer will unfold.
Her ACT prep course and marching band practices are now online, where there is sometimes a lag or audio trouble due to a metronome. She is also scheduled to begin an internship later this month and is trying to find a workstation at home. "I don't want to look too childish," she said.
Choiniere hasn't received much guidance about her internship or band camp, which is supposed to start in late July. Recently, AISD sent out a survey that asked students what would make them comfortable enough to return to school. "From that, I get that they might now know what's happening," she said.
Such uncertainty weighs heavily on teenagers, who face unique challenges as a result of the pandemic. They are developmentally hard-wired to socialize, which is difficult in an era of distancing, and they may feel robbed of once-in-a-lifetime experiences, such as prom and graduation.
"We definitely have seen a shift since the pandemic started," said Kimberly Eerkes, mental health coordinator for AISD.
Eerkes leads a team of 16 licensed mental health professionals, who make up part of the school district's diverse support programs. While demand is up across the board, there are particular hardships among teens.
"They are moving from dependence on their family to dependence on their friends," Eerkes said. "And so the isolation that has come with the pandemic has definitely had an impact."
Choiniere said she has two close friends at school with whom she typically interacts during band practice. Without that physical interaction, she feels disconnected from them. "The amount that I know about my friends is very little," she said.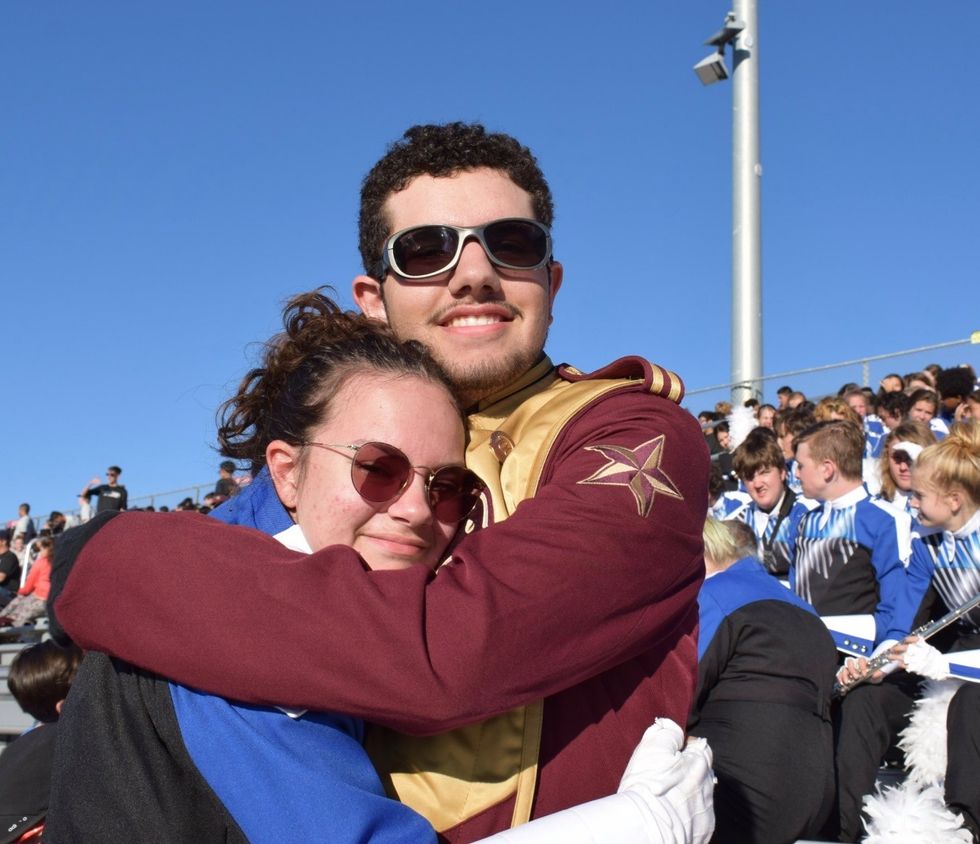 Ariela Choiniere said that without school, she is largely disconnected from her friends.
(Ariela Choiniere)
For others, it can be more distressing, worsening pre-existing mental health symptoms or leading to disagreements with their parents.
"What is happening now is that, as is always the case with teenagers, different families have different rules," said Dr. Lisa Damour, a psychologist, New York Times columnist and CBS News contributor.
One family may strictly observe quarantine, while another may take a laxer approach, which can leave teens feeling left out or socially on unsteady ground. This may compound other anxieties, such a fear about contracting the coronavirus or feeling robbed of once-in-a-lifetime experiences.
"Not having a prom, not having a graduation where you walk across the stage, not having those kinds of classic mile markers have been really challenging for students," said Laura Rifkin Banks, director of program development for Vida Clinic, which provides mental health services to individual clients as well as to school districts, including AISD. "There's just a lot of loss."
Framing this period as a bonding experience has been helpful for some of Banks' teenage clients. "You're not going to be the only person going into your freshman year of college having had this experience your senior year," she'll say to them, which she said has been well-received.
Parents are also seeking out counseling for teens, which is perhaps more available than ever due to the rapid expansion of teletherapy.
Banks has found that teenagers are especially well suited to the medium. "I've heard anecdotally from some therapists who said clients are like, 'No, I think I'm really sharing some things with you sooner than I probably would have meeting in person,'" she said.
Despite the pandemic, connecting with clients is very possible—and many are reaching out. While Eerkes' 16-person team typically breaks for the summer, six of them are still working to meet demand.
"It's not like the need disappears when school ends," she said. "That's not the way it works."