Austonia AM
100% Austin news, info, and entertainment, straight to your inbox at 6 a.m. every morning.
In five minutes, you're fully informed and ready to start another great day in our city.
Get connected with our daily update
Waterloo Park, the first phase of the new Waterloo Greenway urban parks system, will open this August. (Waterloo Greenway)
Waterloo Park, the first phase of the forthcoming Waterloo Greenway urban parks system, will open to the public in August.
Ground broke on the 11-acre park, which is bordered by East 15th, Red River, East 12th and Trinity streets, in 2017. It will include a spacious lawn, playgrounds and the 5,000-person-capacity Moody Amphitheater.
The area already has events lined up after its opening. Starting in September, the park will host free monthly live music performances, as well as a Día de Los Muertos Festival in October, an Asleep at the Wheel 50th anniversary reunion show, the seventh annual Creek Show in November and a two-night, holiday-themed cinema event.

Since 1978, Waterloo Park has hosted many iconic Austin events, including Spamarama and Fun Fun Fun Fest.
"The reopening of Waterloo Park represents a bridge between Austin's past, present and future," Interim CEO Kathy Miller said in a press release. "We're honoring the culture of the area, while building a place that is a vital part of what Austin will become."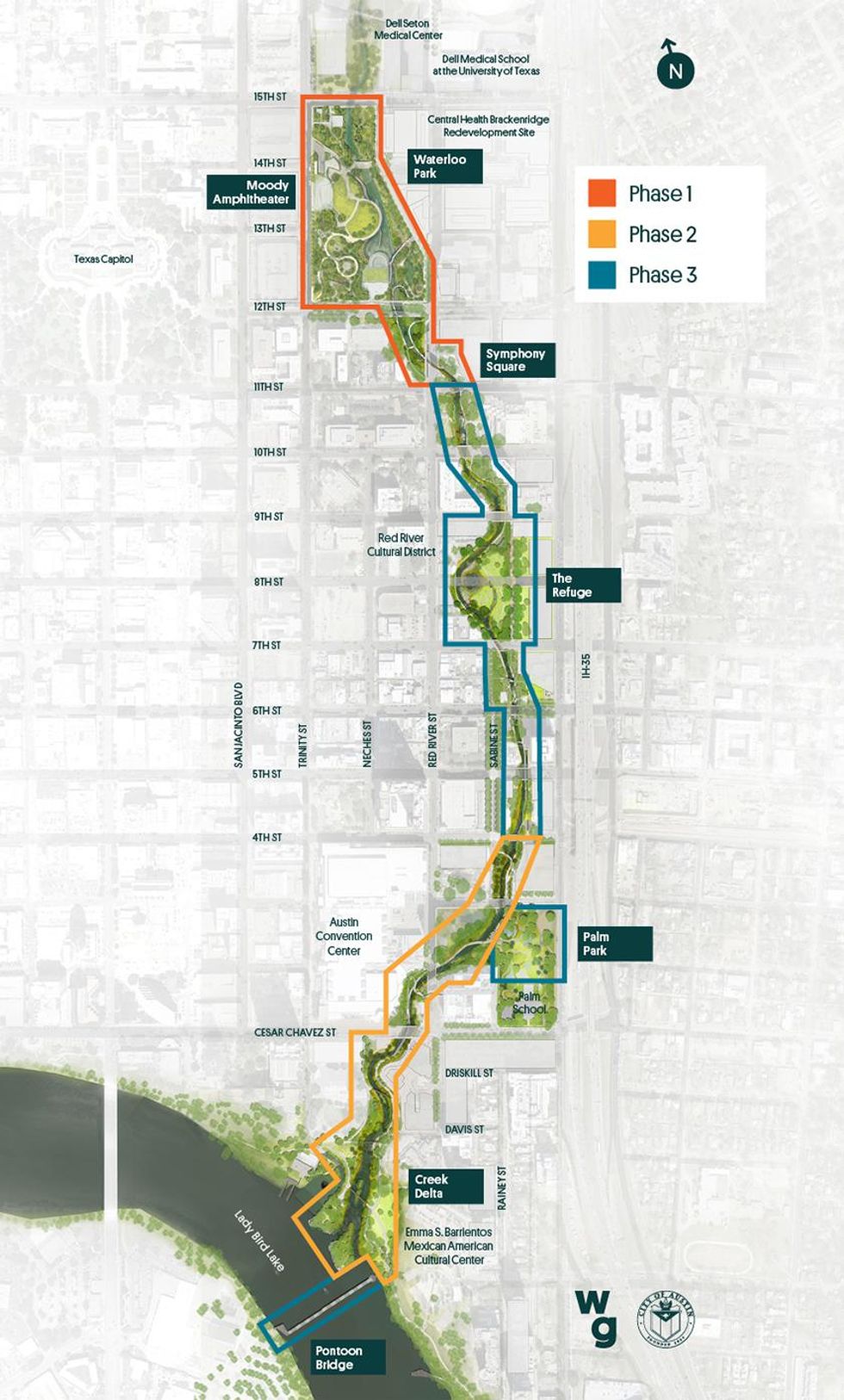 (Waterloo Greenway Conservancy)
The 10-year, 35-acre Waterloo Greenway project will run 1.5 miles along Waller Creek from 15th Street to Lady Bird Lake when it's completed. It is the result of a public-private partnership between the city of Austin and the Waterloo Greenway Conservancy, a local nonprofit. Its estimated total cost is $250 million, of which approximately $150 million the city committed.

The second phase will be an overhaul of the Creek Dela portion, which includes nine acres between Lady Bird Lake and 4th Street. It is expected to be completed in 2023.
The last phase includes the middle section of the park system, from 4th to 11th streets, as well as Palm Park, which abuts the Fairmont Austin hotel and the I-35 frontage road, and Pontoon Bridge, which spans Lady Bird Lake. It will be completed in 2026.
Waterloo Greenway is named after the city's original moniker, Waterloo. It is also the name of a city in Belgium, combining "water" with the Flemish word "loo," which means "sacred wood."
(Waterloo Park)
Starting Monday, all of Austin is invited to watch The Moody Amphitheater come alive with lights in replacement of the annual Waterloo Greenway Creek Show but also in celebration and anticipation of Waterloo Park opening next spring.
Though Creek Show, an annual community-wide festival of light-based art installations along Waller Creek, was canceled this year, Waterloo Greenway is using its legacy to unite people in a safe way.
From 6-10 p.m. nightly until Nov. 22, the public can catch a sneak peek and drive through the site of Waterloo Park, Austin's newest and largest park, lit up by the new Moody Amphitheater.
CEO of Waterloo Greenway Conservancy Peter Mullan said though he wishes Creek Show could go on as planned this year, there is still cause for celebration.
"This will be the first time for many in the community to get a glimpse of what's to come; to see Moody Amphitheater lit up at night is a true display of what Waterloo is all about—a wonderfully immersive and inclusive urban space that is rooted in and surrounded by nature," Mullan said.
The park, located along Red River Street between 12th and 15th Street, will cover 11 acres of land and host the site for the Moody Amphitheater, a concert and event venue with the capacity to hold 5,000 people.
Designed by architects Thomas Phifer and Partners, the amphitheater is shaped to become a new Austin landmark. When not in use, park visitors will have access to the shady stage.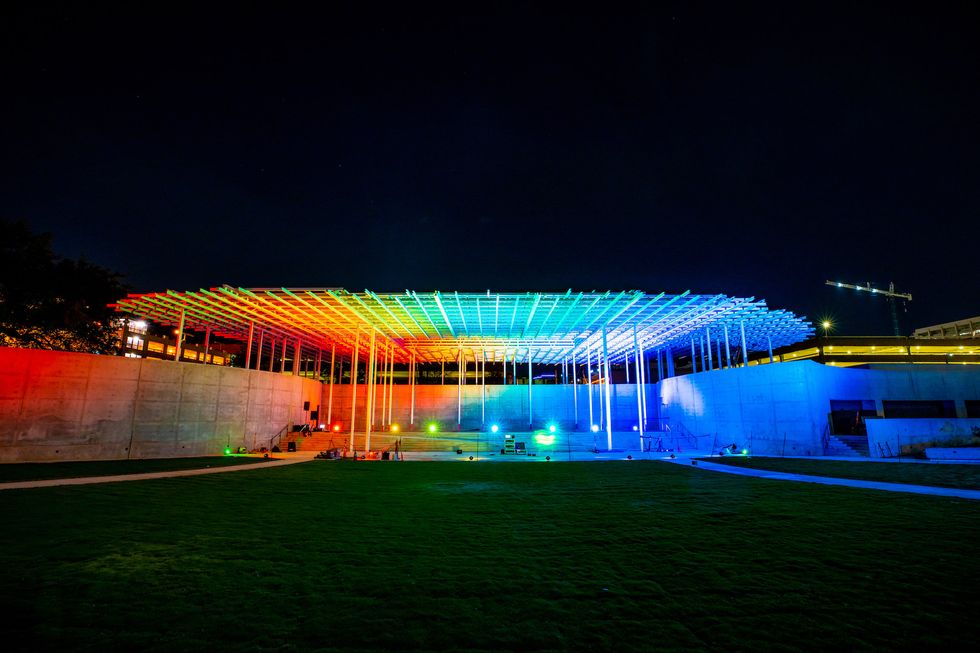 A close up of the colorfully-lit Moody Amphitheater.
"We want the Moody Amphitheater to be a moment of celebration in the heart of this amazing city," Phifer said. "The city of Austin and its lively culture is a tale of two distinct worlds woven together—an active urban core paired with peaceful respites grounded in nature—all with plentiful trails and waters."

Creek Show has been in production since 2014, dazzling thousands of Austinites with light installations from dozens of local artists. Last year, Creek Show's traffic hit an all-time high with 60,000 visitors and seven light installations.
Creek Show will also live on through virtual conversations with past artists, a look at past shows and giveaways on the Waterloo Greenway Facebook page. Creek Show is still set to take place as usual in 2021.
(Sonia Garcia/Austonia)
Austin park rangers and monitors have been assaulted on at least six different occasions since the pandemic arrived in Austin in March. On Monday, the city's Parks and Recreation department reported staff have been yelled and cursed at, pushed into Lake Austin, threatened with weapons, and punched and pushed to the ground.
"It takes a toll on individuals trying to share an educational message to be personally attacked both verbally and physically," Division Manager for Natural Resources Amanda Ross said in a statement.
Travis County Parks has not reported any incidents but echoed the city's reminder that residents should adhere to pandemic precautions such as masking and social distancing.
The Austin Police Department has not seen an uptick in mask-related altercations, either against civilians or their own officers, a spokesperson said Monday. In such altercations, local law enforcement have stressed that their goal is education and compliance rather than arrests.
Four people have been cited for failing to comply with the local public health emergency orders, according to the city's municipal court, and all of the citations were issued in April.
Two other mask-related altercations recently attracted attention.
Earlier this month, a customer walked into the Hyde Park grocery store Fresh Plus without a mask. When staff intervened, the man grabbed a couple of cases of Topo Chico and used the glass bottles to damage the front windows and doors of the store.
Around the same time, local political extremist and conspiracy theorist Alex Jones went viral when a video of him ranting at Barton Creek lifeguards was posted on Twitter. The city requires reservations for some public green spaces as a way to ensure social distancing. Jones, red-faced and screaming into a megaphone at a spars crowd, said he felt this was "an illegal power grab of the people's greenbelt" and said it was "time to free Austin."
The city's parks and recreation department has asked the community to spread kindness, not COVID.
"During these difficult times, we would ask for some grace and understanding as the park system reopens," Assistant Director Lucas Massie said in a statement. "This is new territory for us all."
This story updated Aug. 26 to include the city's response to a public information request filed by Austonia.

From Your Site Articles
Related Articles Around the Web
(Emma Freer)
The Austin Parks and Recreation Department will close all facilities and park amenities on Monday, including those previously reopened, such as cultural centers, pools, golf courses, tennis courts and park concessions.
City Manager Spencer Cronk announced the decision in a July 2 memo and attributed it to a recent spike in COVID-19 cases and related hospitalizations.
📍Due to an increase in COVID-19 cases and projected spike in hospitalizations, beginning July 6, all park amenities… https://t.co/pmAVOmRYy1

— Austin Parks & Rec (@Austin Parks & Rec)1593710837.0
The department announced earlier this week that city parks would be closed Friday through this Sunday due to concerns that people will congregate over the holiday weekend, against official recommendations to stay home.
Deep Eddy and Barton Springs pools, as well as the Barton Creek and Bull Creek greenbelts, remain closed indefinitely.
Austin-Travis County Interim Health Authority Dr. Mark Escott told council members on Monday that he recommended that the city close pools "because that is a place where people are congregating, that is a place where we see the target age group behaving in such a way which is not protected."
The target age group he mentioned is 20- to 39-year-olds, who accounted for more than half of the new COVID-19 cases reported in Travis County last week.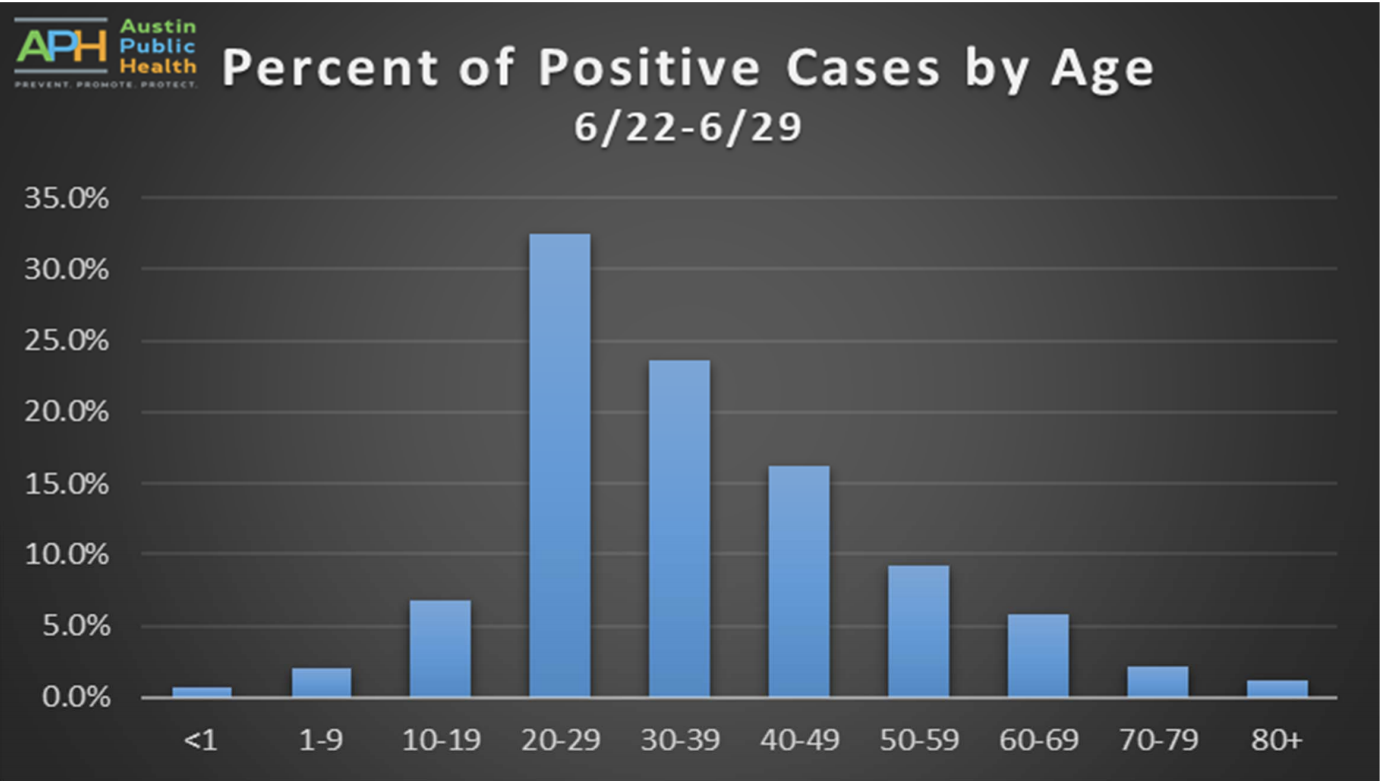 More than half of the new COVID-19 cases confirmed last week were among people age 20-39. (Austin Public Health)
Travis County surpassed 10,000 confirmed COVID-19 cases earlier this week.