Get connected with our daily update
(Emma Freer)
The Austin Parks and Recreation Department will close all facilities and park amenities on Monday, including those previously reopened, such as cultural centers, pools, golf courses, tennis courts and park concessions.
City Manager Spencer Cronk announced the decision in a July 2 memo and attributed it to a recent spike in COVID-19 cases and related hospitalizations.
📍Due to an increase in COVID-19 cases and projected spike in hospitalizations, beginning July 6, all park amenities… https://t.co/pmAVOmRYy1

— Austin Parks & Rec (@Austin Parks & Rec) 1593710837.0
The department announced earlier this week that city parks would be closed Friday through this Sunday due to concerns that people will congregate over the holiday weekend, against official recommendations to stay home.
Deep Eddy and Barton Springs pools, as well as the Barton Creek and Bull Creek greenbelts, remain closed indefinitely.
Austin-Travis County Interim Health Authority Dr. Mark Escott told council members on Monday that he recommended that the city close pools "because that is a place where people are congregating, that is a place where we see the target age group behaving in such a way which is not protected."
The target age group he mentioned is 20- to 39-year-olds, who accounted for more than half of the new COVID-19 cases reported in Travis County last week.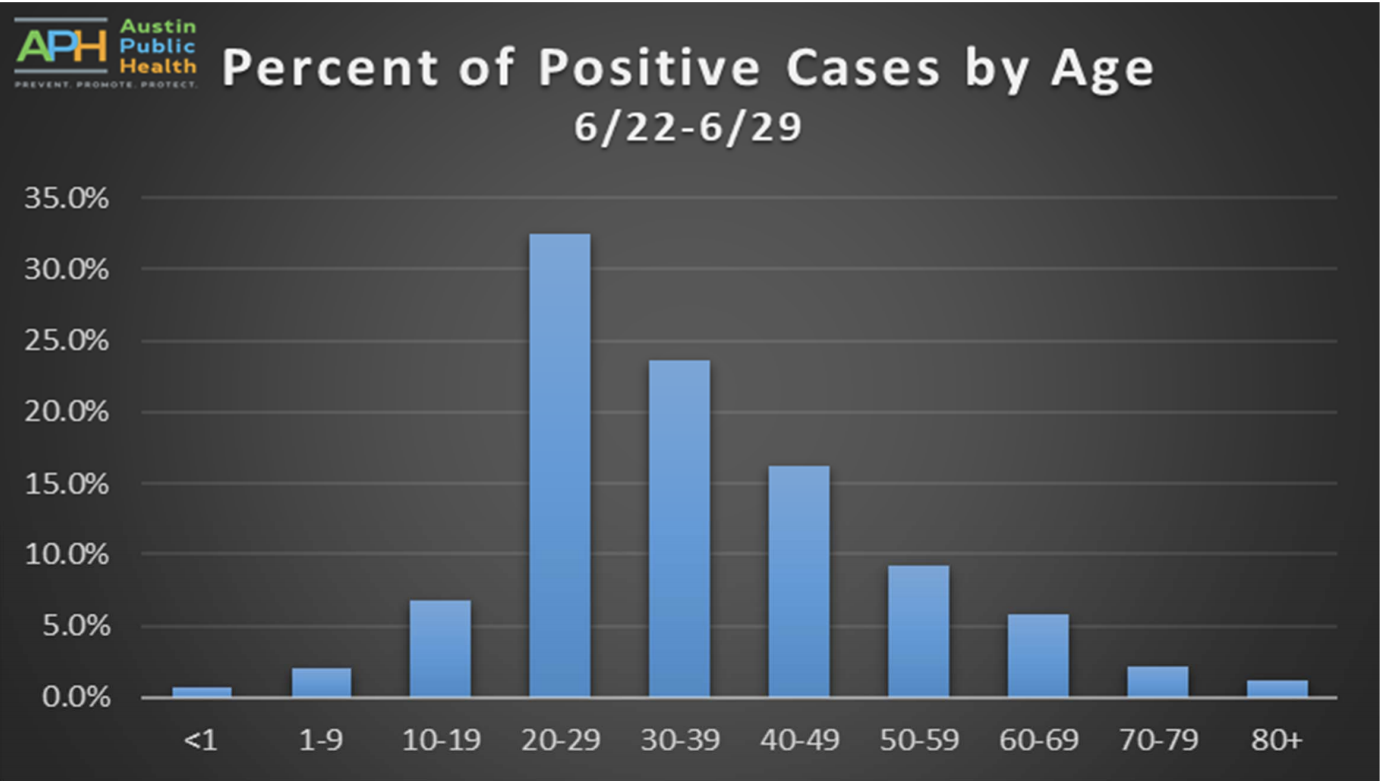 More than half of the new COVID-19 cases confirmed last week were among people age 20-39. (Austin Public Health)
Travis County surpassed 10,000 confirmed COVID-19 cases earlier this week.
(staff/Austonia)
The city of Austin announced it would close both Barton Springs and Deep Eddy temporarily as of Tuesday and that all city parks will shut down from July 3 to July 5 to help slow the spread of COVID-19.
All City of Austin parks and park facilities will be closed over the July 4th weekend. Additionally, Barton Springs… https://t.co/BieAxoA5Mg

— Austin Parks & Rec (@Austin Parks & Rec) 1593473085.0
Chlorinated pools will remain open for the time being, the parks department said.
The closures include the Ann and Roy Butler Hike and Bike Trail around Lady Bird Lake.
The announcement follows warnings yesterday from public health officials that they are "on the verge" of recommending another shutdown due to a surge in coronavirus cases and hospitalizations.
Travis County Parks will close all parks in its system starting Thur, July 2, 2020 at 8 p.m. and re-open on Tue, Ju… https://t.co/T0JUeKbTDO

— Travis County Parks (@Travis County Parks) 1593455358.0
Travis County announced Monday that its parks will close between Thursday and Tuesday for the same reason.
Karen Brooks Harper
Callie Rocha, 23, wanted to hit the rocks early.
Rocha, of Austin, woke up near dawn, packed up her climbing gear, and headed out to McKinney Falls State Park in southeast Austin to be the first one to climb the boulders after the parks reopened on Monday.
Did she do it for the bragging rights? To be No. 1? Not especially.
"Nobody's been touching them," the out-of-work restaurant employee said. "I thought I'd be the first one to touch those rocks without any germs on them."

She doubts she'll return until the threat of COVID-19 has passed because she figures more germy hands may land on them in short order.
She may be right. Visitors flocked on Monday to McKinney Falls, among the first of Texas' 89 state parks to reopen, per the governor's Friday order, after they were shut down mid-March due to concerns about the coronavirus.

Just over a dozen are still closed but could open later in the summer, parks officials said.
In Central Texas, parks that are reopening include Pedernales Falls, Possum Kingdom, Lyndon B. Johnson State Park and Historic Site, Longhorn Cavern, Lockhart State Park, Lake Whitney, Mineral Wells, Inks Lake, Garner, Blanco and Bastrop state parks.
Some limitations apply: Visitors are required to wear face masks, avoid large groups, and maintain six feet of distance between themselves and others. No overnight camping is being allowed yet—day use only.

At McKinney the swings were removed from the swing set to discourage use of the playground, which was off-limits. Roads to campsites were closed. Visitors were required to pre-register and then pick up their car permits stuck onto a kiosk just inside the grounds.
A park official greeted visitors and waved them through, eyes twinkling above a homemade decorative mask.
"Great to have y'all back!" she said cheerfully.
By lunchtime, there was a short line of cars waiting to get inside, the parking lots were half full, and visitors—nearly all of them wearing masks—dotted the falls, the picnic areas, the fishing pools and the swimming holes in sunny 80-degree weather.

"It was busier (than a normal Monday) due to people wanting to be outside," said Stephanie Salinas Garcia, public information officer for Texas Parks and Wildlife.
On Friday, Gov. Greg Abbott announced a multi-phased plan to reopen the Texas economy after weeks of social-distancing measures—and the parks were the first to come back online.
"We've been stir-crazy," said Tom Web, who traveled from New Braunfels with his wife, Beth, to hike the park. "Just cooped up in our house. We like to hike and get outdoors."
Austin veterinarian Frank Schuman, his wife Natalie, their three children ages 2-15, and aunt Marina Villarreal, headed to the falls to swim and get away from homeschooling doldrums.
One drawback: Masks in the heat.
"I'm hoping I don't break out," Natalie Schuman said.
Charlie L. Harper III
At a time when bars, restaurants and most shops have closed, public parks are one of the few destinations still available to Austinites—at least until this weekend, when the city, the county and the state will close their parks, trails, greenbelts and preserves for the Easter holiday.
At the city level, this rule—in place from Thursday at sunset to Monday at sunrise—will be enforced with signage, gate closures and regular patrols by park rangers. At a press conference on Wednesday, Austin Mayor Steve Adler indicated that a longer-term closure may lie ahead.
"I'll tell you another place that I'm concerned about, are the people bunching up together on the trails when they're running or the people in the parks," he said. "Quite frankly, I think we need to consider closing them down at the end of [the holiday weekend] as well so that we really do show the discipline that we need to show as a community."
The decision to temporarily close parks arrived alongside updated social distancing metrics. While data suggests Travis County residents have reduced nonessential activities by 64%, this rate drops to 19% when it comes to parks, Travis County Judge Sarah Eckhardt said Tuesday.
Both rates are far short of the 90% reduction in nonhousehold contact researchers estimate is required to flatten the curve in Austin.
Traffic counters posted on the Ann and Roy Butler Hike and Bike Trail show that last Sunday, 5,252 people crossed the Roberta Crenshaw Bridge, which runs under MoPac and over Lady Bird Lake, according to data obtained from the nonprofit Trail Foundation.
This count is slightly higher than the number of people who visited the trail last spring, and overall usage has not decreased since the mayor issued a stay-at-home order on March 24.
"We have tried to encourage people, if they can't walk to the trail, to maybe exercise in their own neighborhoods, and instead of getting in their car and driving [downtown] to minimize the number of people who are out there every day," Trail Foundation CEO Heidi Anderson said. "And the only reason for that, really, is because the trail, when it's overcrowded, it just can't accommodate a six-foot space between every trail user."
While some public green spaces may reopen on Monday morning, many city facilities have been closed indefinitely to prevent the spread of coronavirus cases. These include recreation centers, museums, campsites, basketball courts, playgrounds and golf courses.
Last Friday, the parks and recreation department announced it had also closed Barking Springs, tweeting: "Park users were gathering in groups & not allowing enough physical distance to prevent the spread of COVID-19."
Allison Watkins, chief strategy officer for the Austin Parks Foundation, said the organization is working to move as much of its programming online and to encourage people to seek fresh air at their neighborhood parks and in their own backyards, rather than flock to more popular destinations.
"The most important thing that we want to get across is [that] the social distancing guidelines… apply to parks as well," Watkins said, adding that it is important for people to have a safe space in which to exercise or get a "mental health break."
To this end, APF has taken its kids club, the Little Hummingbird Society, virtual, offering free indoor activity kits and games for parents to print out at home. The nonprofit has also adapted its popular Movies in the Parks series, pointing Austinites to streaming services where they can find classic films for viewing on their couches.
In the meantime, organizations like APF and the Trail Foundation—as well as Waterloo Greenway, which is building a 1.5-mile network of parks along Waller Creek between Lady Bird Lake and 15th Street—continue their work keeping the city's green spaces safe and maintained.
"We know the minute that we are all free to move about again that people are going to be flocking back to the trail and hungry and thirsty for that experience again," Anderson said.