Austonia AM
100% Austin news, info, and entertainment, straight to your inbox at 6 a.m. every morning.
In five minutes, you're fully informed and ready to start another great day in our city.
Get connected with our daily update
Austin police are investigating a homicide in North Austin where a woman was shot and killed, just hours after a mass shooting in Downtown Austin hospitalized 14 people.
APD is working a suspicious death near the 1900 block of W Rundberg Ln. PIO is en route and will update with media staging location. PIO6
— Austin Police Department (@Austin_Police) June 12, 2021
Police originally responded to Ironhorse Flats Apartments, 1900 block of W. Rundberg Lane, at 3:20 p.m. when they found the woman with multiple gunshot wounds. She was transported to a local hospital, where she was pronounced dead at 4:07 p.m.

No one is in custody as of yet but police are speaking with potential witnesses. Officials said they believe this was an isolated incident with no danger to the public but said possible relation to the downtown shooting has not been specifically ruled out.
Officers could not provide a suspect description and the relationship to the victim is still unknown.
This is a developing story that will be updated as details become available.
As violent crime ticks up in Austin and the city experienced the latest mass shooting on Sixth Street Saturday morning, Austinites voiced their thoughts on social media.
The shooting sent 14 bystanders to the hospital—two in critical condition. One suspect has been caught, while another remains at large.
The incident has gained national attention, including a statement from the White House:
"This morning, Austin has become just the latest American community to wake up ravaged by an act of senseless gun violence," White House spokesperson Ike Hajinazarian said. "While we pray for the shooting's victims and their families — and thank first responders for their quick, heroic work — we must not lose sight of what this tragedy again makes clear: it's long past time for the Senate to pass meaningful gun reform and allow Texans—and all Americans—to enjoy a night out without the fear of another night of gun violence."
Gov. Greg Abbott shared a statement on Twitter thanking police and inviting Austinites to join wife Cecelia and "I in prayer for those who were injured," prompting backlash from hundreds of followers, largely surrounding the upcoming bill that will allow unlicensed open carry.
Though the bill has yet to be signed into law, Abbott has said he will sign the bill despite objections from law enforcement groups.
Prominent Austin City Council Member Gregorio Casar also commented on the incident, calling to "double down" on efforts to reduce violence. Several people responded, placing blame on Casar for writing the plan to defund the police.
While investigators are confident that they will catch the other suspect, Interim Police Chief Joseph Chacon said that with low staff levels, responding to violent calls is getting increasingly difficult. Police said they believe Austin is still a "safe city," though residents should remain alert and exercise caution while visiting downtown.

As Sixth Street is usually one of the busiest entertainment districts, it is usually highly policed. Still, some Austinites said they were afraid themselves, having been to the street themselves.
The We Are Blood community blood center is asking for donations to replenish its supply after using blood and platelet donations to treat patients involved in the shooting. Austin police are also asking for anyone with information to call 911 or 512-472-TIPS.

The 144th police cadet class kicked off Monday, with 100 members and a reimagined curriculum after Austin City Council raised concerns about the training academy's paramilitary culture and high attrition rates. It's also the most diverse class ever.

"That is what we were striving for," Interim Police Chief Joseph Chacon said during a press conference Wednesday. "We were actively recruiting minorities because we need for our department to reflect the community that it serves."
So does this class reflect Austin's population? Here's how it stacks up across race, ethnic and gender lines.
Today we welcome our 144th @Austin_Police Academy, which is the most diverse class in APD history. This class will be the shining example of training in line with community expectations. Can't wait to get these eager young men and women out on the streets to serve our citizens! pic.twitter.com/qqCP3O89At
— Joseph Chacon 👮🏻♂️ (@Chief_Chacon) June 7, 2021
This police cadet class is majority-minority, with 57% identifying as non-white. The city of Austin is also majority-minority, with 48.3% of its population identifying as white (non-Hispanic), according to the U.S. Census Bureau.
Thirty-eight percent of the cadets are Hispanic, which outpaces the share of Hispanic or Latino residents which is around one-third, and 17% are African American, more than double the share of Black of African-American residents, who make up 7.8% of the city population.

Eighteen percent of the cadets are women. This is a higher share than is typical, said Sergeant Kevin De La Rue, who oversees recruiting, but far short of the overall population. Women make up 49.2% of city residents.
The pilot class will graduate in January, and Chacon is hopeful each member will make it through the end given the department's staffing challenges. "I can't graduate these cadets soon enough," he said.
The training academy has come under fire in recent years for its "fear-based approach to training, discriminatory recruiting practices and attrition rates. After thousands of Austinites marched in protest of police violence last summer, City Manager Spencer Cronk delayed the July 2020 cadet class. Council then voted unanimously in August to cancel funding for three planned cadet classes. With a new curriculum and community oversight measures in place, members approved the pilot class last month.
Council will receive periodic updates on the pilot class and determine whether a second cadet class can proceed early next year. Chacon, who is among the applicants for the department's permanent chief position, is hopeful. "I feel like we are going to have a better police officer that is going to graduate than we've ever had before," he said.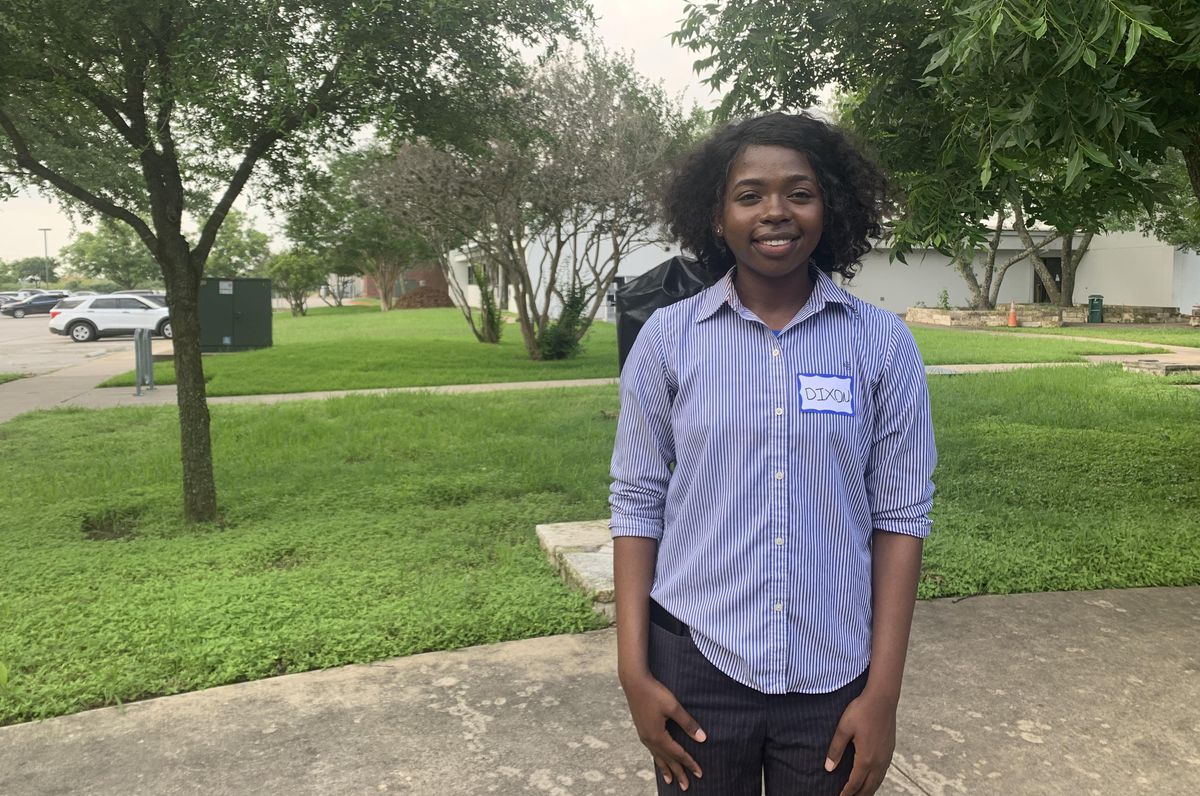 Jodean Dixon, 21, is one of the cadets in this pilot class. (Emma Freer/Austonia)
Jodean Dixon, 21, is among the cadets. Born and raised in Jamaica, she moved to West Palm Beach, Florida, when she was 13. She was drawn to APD because of its community policing programs—such as Operation Blue Santa, which provides toys for children in need, and Coffee with a Cop—and the ongoing reimagine effort. "It shows that there is a future in changing the world's perception of what policing is," she told Austoniia. "We want to make a difference, the new cadet class."
Austin-Bergstrom International Airport is reaching and surpassing pre-pandemic traffic levels, making Memorial Day weekend and the first weekend of June the busiest since the pandemic started.
Some 7,500 passengers traveled through the Austin-Bergstrom International Airport on Friday morning alone, compared to a pre-pandemic norm of 5,000, according to the Transporation Security Administration. And on Monday, 25,000 passed through the airport, setting the record since the pandemic.
Lexie Wille, 27, flew out of Austin on Saturday morning after a stressful check-in process. Upon arriving at ABIA she ran into a friend who later tipped her off to a security checkpoint with no pre-check line. She exited and reentered the terminal at a different entrance to get to the other line because "you literally couldn't walk inside the airport (it was so crowded)," she said. Once in the pre-check line, she overheard a woman say she had missed her flight to her honeymoon on Friday and was trying again.
The marked increase in passenger volume has led to hours-long wait times at both ticket counters and security checkpoints. Delays are most acute in the mornings, with peak times for TSA security lines between 5 and 7 a.m., and ABIA strongly recommends that travelers whose flights depart before 8 a.m. arrive at the airport at least three hours early.
The summer travel season is expected to be busy as more are vaccinated and are making up for an uneventful last summer.
ABIA also advises travelers with morning flights that depart after 8 a.m. to avoid arriving too early—any more than two hours—to avoid worsening congestion during peak times.
From Your Site Articles
Related Articles Around the Web