Get connected with our daily update
On the heels of Rep. Lloyd Doggett announcing a run for the new District 37 congressional seat, Council Member Greg Casar says he is likely to run for the District 35 seat that Doggett currently represents.
In a release on Tuesday morning, the council member representing Northeast Austin said he has launched an exploratory committee for District 35, consisting of elected officials, labor leaders, organizers and advocates from throughout the district.
"We can win better jobs, a clean planet and an end to the Republicans' discriminatory laws. We can make the world a better place if we fight for it. If we organize for it. That's why I'm considering running for Congress–to fight for working-class and everyday Texans."
I am considering running to represent our community in the United States Congress. We can make the world a better… https://t.co/id0jawIA2k

— Gregorio "Greg" Casar (@Gregorio "Greg" Casar) 1634649446.0
The new congressional map, redrawn every 10 years by state lawmakers, was just finalized and sent to Gov. Greg Abbott's desk Tuesday morning. Texas gained two new seats in the U.S. House of Representatives due to a population boom driven by the Hispanic population; one of the new seats was allocated to Austin, which Doggett announced candidacy for.
Casar would still be representing part of East Austin if he officially puts a bid in. District 35 runs from East Austin down I-35 to San Antonio. He was previously rumored to continue his political career in some way, with some thinking he would run for mayor.
Casar has been the frontman for City Council and has championed progressive policy in his time. He's been a leader against immigrant families being separated, ending personal marijuana tickets and arrests, and doubling the minimum wage for city employees.
He's also notably been part of cutting police funds to provide other resources to the community and advocating against a homeless camping ban. While some argue he is a divisive member of council, he won his third term earlier this year by a landslide.
In his potential run for Congress, he has City Council Members Vanessa Fuentes, Sabino "Pio" Renteria, Ann Kitchen, and Paige Ellis; Mayor Steve Adler and Mayor Pro Tem Natasha Harper-Madison; District Attorney José Garza and County Attorney Delia Garza; multiple Hays and Bexar County leaders; and community leaders Chas Moore, Dr. Colette Pierce Burnette and Wendy Davis behind him.
If you're enjoying what you're reading, sign up for the Austonia morning newsletter here!
Doggett asked Austinites for their vote in his run for the new District 37 seat at the site of Bryker Woods Elementary, where he attended as a kid. Getting choked up, Doggett said he has always wanted to be back representing "a united Austin."
The new district, which is one of two the state earned after a population boom seen in the 2020 Census, "packs" the Democrat vote into one instead of "cracking" it. The proposed congressional map, put together by Republican lawmakers, has gained criticism for manipulating district boundaries that threaten Hispanic control when half of new residents are Hispanic identifying.
Doggett has been serving in Congress since 1995, representing District 35 (East Austin to San Antonio) since 2010. District 37 closely resembles a district Doggett has previously represented.
"I'm in Congress today, not only because of neighbors from Dove Spring... but because people in San Antonio, San Marcos, Kyle and Lockhart, they had confidence in me... I will never forget their confidence and will continue to vigorously represent both their individual and community concerns."
In Congress, he said his goals remain to:
protect democracy
strengthen healthcare access
respond to the climate crisis
reform the immigration system
promote educational opportunities
make sure Austin concerns are addressed
Initial endorsements for his candidacy include 1,000 Travis County citizens. Among those citizens are state senators, Travis County commissioners, Mayor Steve Adler and six council members.
Minister of Culture Matthew McConaughey continues to give vague commentary on his potential gubernatorial run, calling politics a "bag of rats" and debating on whether he could make an impactful change in a New York Times' Sway podcast interview.
McConaughey, who has hinted at a potential run for the November 2022 election for months, told Sway on the podcast that came out Thursday he was still "measuring" his options for the governor's race.
"One side I'm arguing is 'McConaughey exactly, that's why you need to go get in there. The other side is, 'that's a bag of rats man,'" McConaughey said. "Don't touch that with a 10-foot pole... you have another category to have influence... help how you think you can help and even heal divides.'"
While McConaughey said he's been learning from political mentors, sources told The Hollywood Reporter that McConaughey "hasn't been fundraising or gathering a potential staff, aside from a few exploratory phone calls."
The Oscar-winning actor has rallied Texans around a cause or two before—as part-owner of new MLS franchise Austin FC, he's been seen on the field banging a conga drum to ecstatic fans, and his "We're Texas" concert fundraiser raised $7.8 million for Texas residents in the wake of the February winter storm.
:speaking_head_in_silhouette: "Alright, alright, alright!"

Incredible scenes as @AustinFC moved into Q2 Stadium over the weekend for their home opener, and @McConaughey brought his drum along to get the fans fired up! :drum_with_drumsticks::fire:

pic.twitter.com/QUTW3HAWGZ
— FreeSports :tv: (@FreeSports_TV) June 21, 2021
And his likable "poet-statesman" persona has transferred into the political sphere already. In a September poll of 1,148 Texan voters conducted by the Dallas Morning News and the University of Texas at Tyler, McConaughey beat Abbott 44% to 35%.

But new threats have been added to the mix. In September, an Axios report found that former congressman Beto O'Rourke would soon be announcing his run on the Democratic ticket. O'Rourke side-eyed McConaughey's ambiguous political stance in a statement and said he is "a really popular figure whose political views have not in any way been fixed."
"I don't know, for example, who he voted for in the most consequential election since 1864 in this country," O'Rourke added.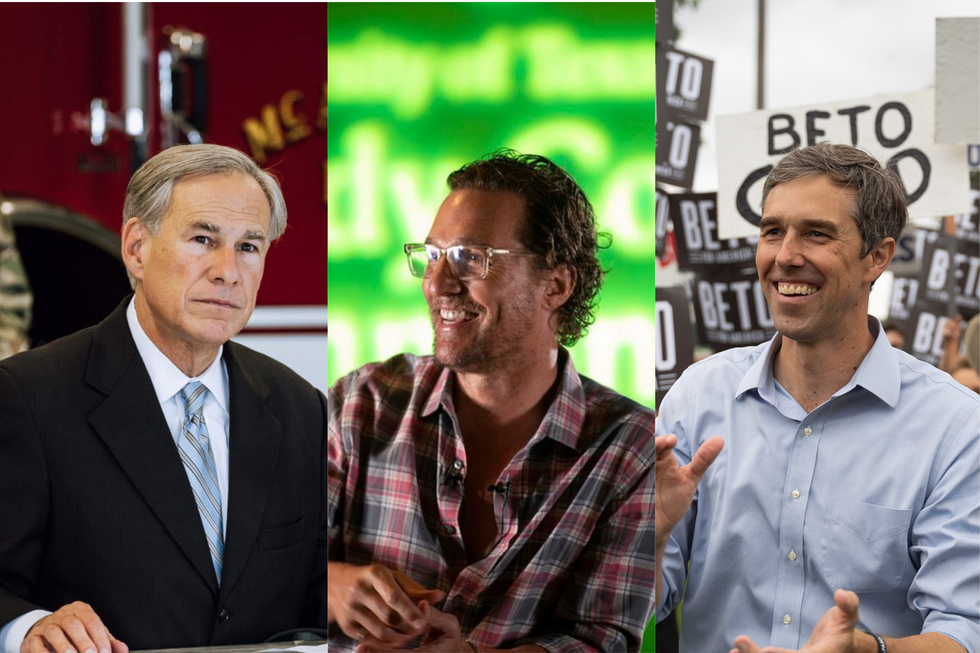 (Office of the Texas Governor, UT Moody College of Communication, Beto O'Rourke/Facebook)
But McConaughey said in the Sway interview that he didn't view the comment as a diss.
"I don't take that as shade," McConaughey said. "He called me a good man. I say he's a good man... he believes in what he's selling and his heart is in the right place and he's got the right compassion that a liberal-sided politician needs."
Despite commentary on masking and statements disagreeing with Texas' new controversial abortion laws, McConaughey continues to avoid political affiliation. The ambiguity is intentional—he said in the Sway interview that he believes it necessary to be "aggressively centrist" in order to "salvage democracy."
"People want a third party and we've got one and it doesn't have a name right now and it is the majority," McConaughey said. "I'm hesitant to throw labels... but there is a sleeping giant right now."
While he'd be the first independent elected to the governor's office since 1859 if he succeeded, the tactic could pay off in an increasingly politically frustrated population, especially with Beto a strong candidate on the Democratic ticket.
Still, some of that easy agreeableness will surely fade if the actor is to enter the political domain. The move seems less likely with each coming interview, but voters could still see the McConaughey name in the ballot box if he decides he can make a real impact.
"Is that a place to make real change or is it a place where right now it's a fixed game, you go in there, you just put on a bunch of band-aids, in four years you walk out and they rip them off and you're gone?" McConaughey said. "I'm not interested in that."
McConaughey will need to decide whether or not to shake up the gubernatorial race by Dec. 13, the deadline for all candidates to file their bids.
Billionaire investor and philanthropist George Soros was the latest to enter Austin's policing politics on Saturday after donating $500,000 to a political action committee that opposes Prop A.
Soros, who has spent 64% of his fortune on philanthropic interests, often supports progressive policies through sizable donations. The PAC, which is fighting nonprofit Save Austin Now's proposition to increase police staffing to two officers per 1,000 residents , is just the latest of his ventures.
Prop A will be voted on by Austin residents come Nov. 2. If implemented, the measure will implement minimum police staffing, add 40 hours of police training and add merits for honorable contact among other amenities.
Proponents say the amendment will help increase Austin's safety following an uptick in gun violence and crime in the city and nationwide. Meanwhile, opponents deem the increase in funding an unnecessary measure that will take from other areas of the city budget.
The anti-Prop A PAC donation is the latest in Soros' contributions to issues surrounding the criminal justice system. In 2020, the Soros-founded group Open Society Foundations donated $220 million to Black-led racial justice groups in the wake of the 2020 Black Lives Matter protests, and Soros himself spent another $28 million supporting Democratic political groups in that election year.
The Soros name has made it into Austin's political scene before; in 2020, his funds helped Travis County District Attorney Jose Garza win over incumbent Margaret Moore, while his son Jonathan Soros donated $25,000 to a PAC that was unsuccessful in shifting Austin's governmental structure, according to the Austin American-Statesman.
With $16.8 billion in donations in his lifetime, Soros was dubbed one of the world's most generous givers by Forbes—but his focus on politics and Democratic-led organizations has been met with criticism and conspiracy theories in some Republican circles.
Save Austin Now co-founder Matt Mackowiak and Save Austin Now spoke on the "national left-wing" interest on Twitter as the group also requested donations on Oct. 1.
🚨out of town extremist money is trying to keep our city unsafe. What do they have to gain? https://t.co/sY0fumO68I
— Save Austin Now | Prop A For A Safe Austin (@SaveAustinNow) October 1, 2021
Save Austin Now raised a near-unprecedented $1.9 million in May 2020 in support of a homeless camping ban in the city. The measure was successful, with the city's most visible homeless camping site cleared last week.
But the group's policies have never been without controversy. Most recently, new Austin Police Chief Joseph Chacon said that the group's policy of two officers per 1,000 residents was "based on older methodologies." The Austin Fire Department's labor union has also pushed against the measure due to a belief that their funding will be cut, with the group voting to spend $15,000 to oppose Prop A.
Prop A would cost between $271.5 million and $598.8 million to implement, according to the city (which it got stated on the ballot). Between 403 and 885 officers would need to be staffed to reach the desired rate of 2.1 to 2.5 officers per 1,000 residents.
Registering to vote for the Nov. 2 election ends Monday, Oct 4. Early voting runs from Oct. 18 to Oct. 29, and election day comes Tuesday, Nov. 2.