Get connected with our daily update
Just under 2,000 Austin residents are still without power as Austin Energy continues to fix outages after Friday's storm, and some power may not be restored until Monday.
Austin Energy said that tree trimming is continuing as fallen limbs and other storm damages caused 30,000 residents to be without power at its peak on Friday evening.
As of Sunday at 1 p.m., 239 outages persist and 1,820 residents are still without power.
In response to widespread outages, Austin Emergency Management has opened two cooling stations for residents looking to keep out of the heat. The first, located at the South Austin Recreation Center on 1100 Cumberland Rd, opened at 10:30 a.m. on Sunday and is pet friendly. The second, available from 1 p.m.-8 p.m. Sunday, is a Cap Metro bus located at 1012 W Anderson Ln.
While most major circuits have been addressed. Austin Energy still has plenty of limbs to clear before they can safely restore power for the remaining 239 outages.
More than 7,000 Austin Energy customers were still without power early Saturday evening, after a severe thunderstorm hit Austin Friday evening, and some may not see it restored until Sunday.
The storm, which brought 67-miles-per-hour winds and isolated flooding at some low water crossings, left more than 30,000 customers without power at the peak. Although many of those outages have been addressed, the remainder may leave some in the dark for more than 24 hours.
A look at the impact from the gusty winds from Friday night's storm.
📷 Trees broke power lines. There are numerous cases like this across the area. Please remain patient as our crews work through these hazards.
It is possible some customers may be without power until Sunday. pic.twitter.com/4H2qEUFDHt
— Austin Energy (@austinenergy) May 29, 2021
The ongoing outages are dispersed throughout the city and are mostly due to damaged power lines caused by falling trees. Austin Energy crews are focused on major circuits so as to restore power to the greatest number of customers, according to a tweet posted on Saturday afternoon. Smaller outages may not be addressed until Sunday.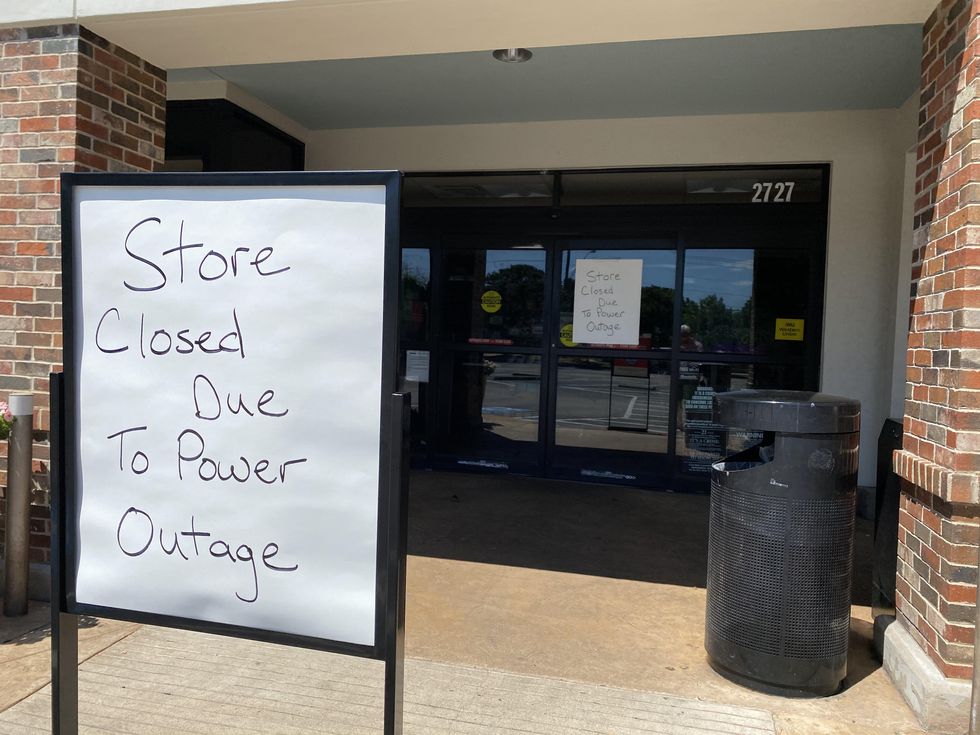 A Randalls was closed Saturday due to a power outage. (Austonia staff)
Some Austin Energy customers took to social media to complain about ongoing outages, referencing the winter storm in February, when hundreds of thousands were affected.

So glad I brought a UPS after the last big storm & power outage. Seems like Austin's utility infrastructure is crumbling under the growth we've seen and now every thunderstorm means multi-day power outages for some residents. https://t.co/FJeuVOP51g

— Annie Hsieh (@ankey) May 29, 2021
So we lost power about 6:45 pm yesterday, and we've gone from being told we'd get power back within 3 hours to 🤷‍♂️ to, apparently, tomorrow, since we're part of a smaller outage. Not good, @austinenergy. And of course there's no one available to speak with customers right now. https://t.co/9A6h91ybob

— Cuff Balboa (@cuffbalboa) May 29, 2021
Austin Energy customers can find an outage map here and report outages by calling 512-322-9100.
(Dpysh/CC)
Five non-Texan members of the Electric Reliability Council of Texas, including the chairman and vice chairman, will resign Wednesday after the state's power grid failure left millions without electricity for days during Winter Storm Uri.
The joint resignation letter wrote that Board Chairman Sally Talberg, Board Vice Chairman Peter Cramton, Finance and Audit Committee Chairman Terry Bulger and Human Resources Raymond Hepper would resign. Another, Market Segment Director Vanessa Anesetti-Parra, wrote that she would resign in a separate statement. In addition to the chairmen, another out-of-state applicant who was a candidate for an ERCOT position has also withdrawn.
The information was posted on the Public Utility Commission of Texas' website on Tuesday.
All five members live outside of Texas despite the council running 90% of the state's nationally-independent power grid. Many are disappointed that one-third of ERCOT members live out of state, meaning leaders were miles away as the crisis unfolded.
ERCOT has been under fire recently for making painfully inadequate safeguards in preparation to the weeklong winter storm. Millions of residents were left with rolling blackouts or no power at all as temperatures lingered well below freezing for nearly a week. To add to the controversy, it was reported Friday that ERCOT spent less than a minute to discuss winter preparedness at a two-hour meeting earlier this month.
In the joint resignation letter, the chairmen wrote that they were leaving due to controversy about their out-of-state residency and that they felt for Texans who lost power during the storm.
"We want to acknowledge the pain and suffering of Texans during this past week," the statement read. "Our hearts go out to all Texans who have had to go without electricity, heat, and water during frigid temperatures and continue to face the tragic consequences of this emergency. We have noted recent concerns about out-of-state board leadership at ERCOT. To allow state leaders a free hand with future direction and to eliminate distractions, we are resigning from the board."
Gov. Greg Abbott, who called on ERCOT leadership to resign last week, said in a statement that the council failed to make sure Texans would be safe during the winter storm.
"When Texans were in desperate need of electricity, ERCOT failed to do its job and Texans were left shivering in their homes without power." Abbot wrote. "ERCOT leadership made assurances that Texas' power infrastructure was prepared for the winter storm, but those assurances proved to be devastatingly false. The lack of preparedness and transparency at ERCOT is unacceptable, and I welcome these resignations."
On Friday, Abbott said ERCOT's failure to meet demands is what triggered an investigation into the nonprofit. "We want to make sure that whatever happened in ERCOT falling short never happens again."
Before the out-of-state chairmen resign, the members noted that they would continue to investigate ways to learn from ERCOT's past mistakes and give Texas a brighter future.
"Before we step aside, we are beginning the process of reviewing this extreme cold weather event and resulting power crisis," they wrote. "With the right follow through, Texas can lead the nation in investing in infrastructure and emergency preparedness to withstand the effects of severe weather events—whether in the form of flooding, drought, extreme temperatures, or hurricanes. We want what is best for ERCOT and Texas."
(Lisa Buenaventura Rice)
Like most of the residents in her East Austin neighborhood, Charlotte Colis lost power and cell service last week as a result of a historic winter storm. When she arrived at her dad's place on Tuesday evening, she had access to both for the first time in two days and used it to check Facebook, where she found a flood of activity.
Colis is a co-administrator of the private Buy Nothing East Riverside-Oltorf/Montopolis group, one of 60 hyperlocal groups active in the Austin area. She quickly began responding to dozens of requests from Facebook users who wanted to join and reading posts from existing members, who had offered hot showers, phone charging, rides and food to people in need. "It was absolutely one of the best, most heartwarming things I've ever seen," she told Austonia.
The Buy Nothing Project began as a social experiment on Bainbridge Island, near Seattle, in 2013. Friends Rebecca Rockefeller and Liesl Clark wanted to create a hyper-local gift economy, where neighbors could post about items or services they had to offer or needed themselves. Market economy activities—buying and selling, trading and bartering—were off limits. Since then, the project has spread to at least 25 countries and includes more than a million members.

Linzy Foster, who lives in the Dawson neighborhood in South Austin, joined her local Buy Nothing group three years ago. Her first interaction was to request help with a clogged drain. Another member offered to lend her an unclogging tool. "I went and got it off her front porch," she said, and watched a short YouTube video about how to use it. "I think that was when I was hooked."
Now Foster is an admin and has witnessed firsthand how the group has helped others feel a similar sense of self-sufficiency and community connection. Over the course of the COVID-19 pandemic, she noticed a shift as members grew more intentional about helping others who were struggling due to job loss or other pressures, whether by setting up a weekly food drive or offering to pick up items and deliver them. "Honestly there are a lot of days where I want to get off of Facebook," she said. "But Buy Nothing has honestly been the bright light for me."
The Buy Nothing light has perhaps never shined brighter than during the statewide super crisis last week. Lisa Buenaventura Rice, a member of the Buy Nothing Bouldin/Travis Heights/St. Edward's/Dawson Facebook group, set up a charging station outside her home, which mostly had power last week, and offered it up to fellow members. She also made a fire, put out chairs and blankets and set up hot drinks and ginger snaps.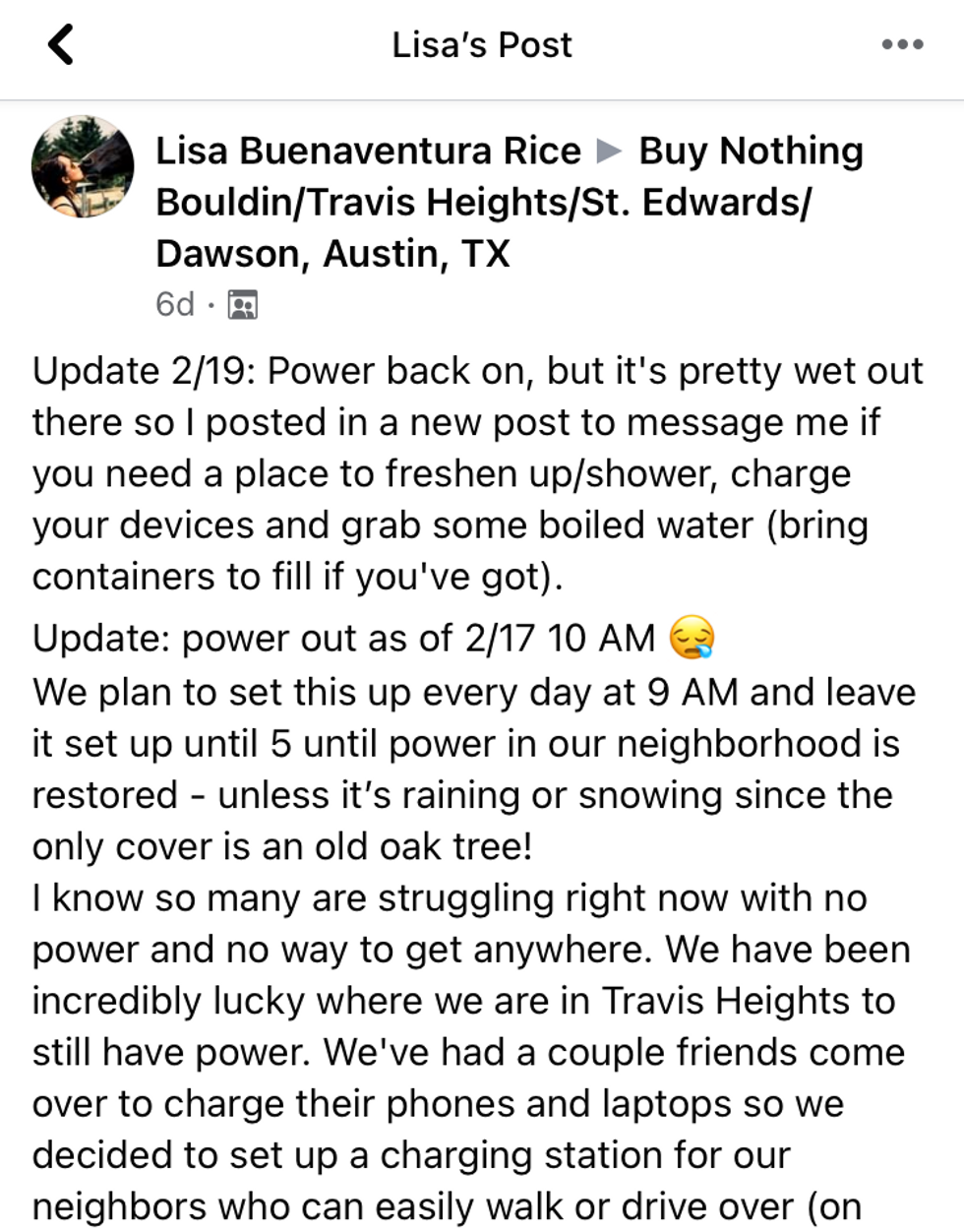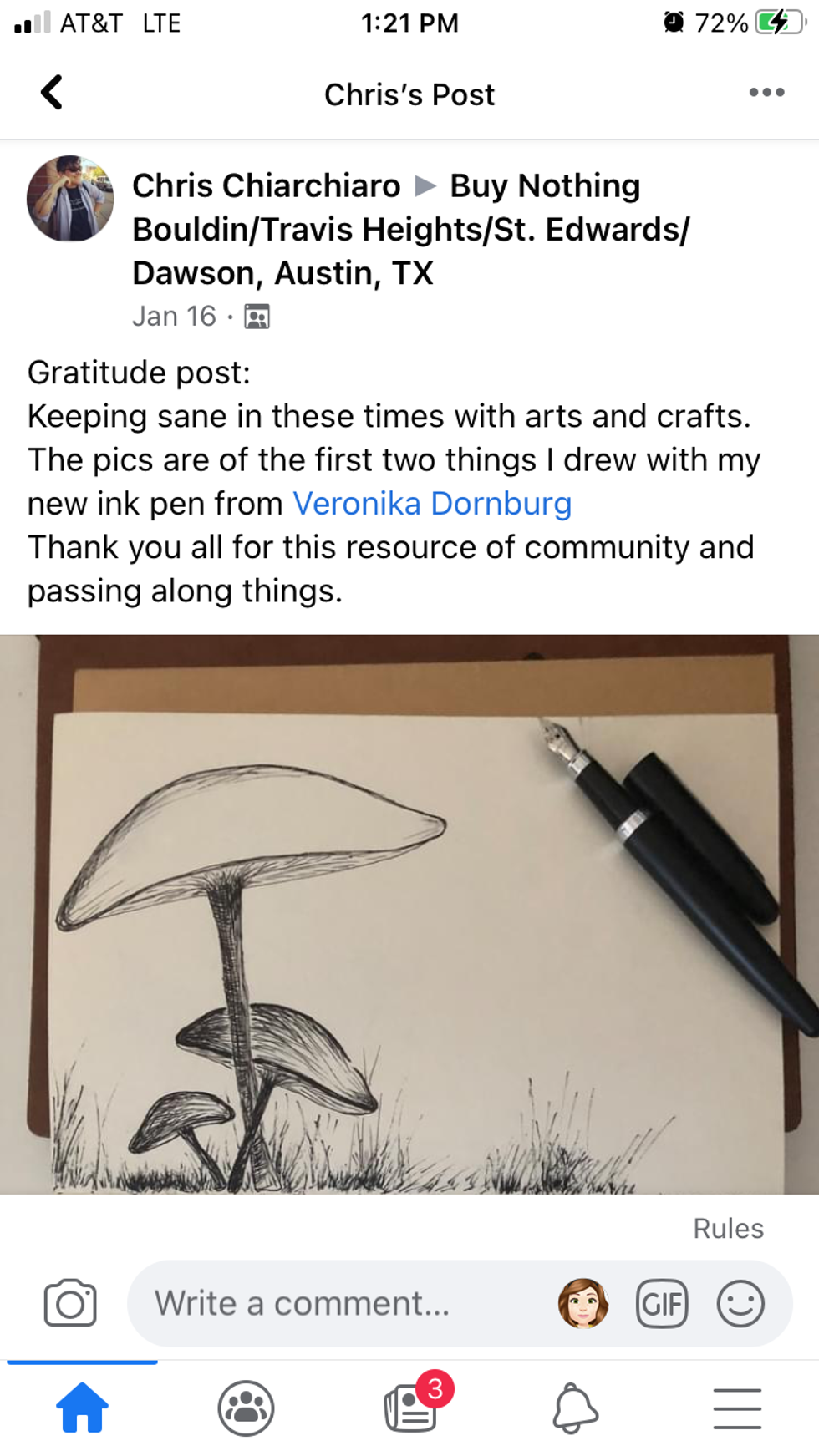 Another member, Becky Bullard, facilitated the distribution of over 300 donated diapers to six families in need. Chris Chiarchiaro shared a photo of a drawing she had made with an ink pen she was gifted through the group. "Keeping sane in these times with arts and crafts," she wrote last Tuesday.
In Foster's eyes, this is the fundamental purpose of Buy Nothing groups. "We should be able to fulfill all needs within our community from our little community," she said.
It is also core to the Buy Nothing mission. Project co-founder Clark was first exposed to the workings of a gift economy while working on archeological projects in the Himalayas, where residents were far from market economies and instead relied on each other for their basic needs. "That really was a life lesson for me in seeing how you're really only as good as your weakest member, in a sense, in village life," she said.
Seeing the Buy Nothing philosophy take off has been exciting, she said. But ultimately, the goal is that such groups will become obsolete because their members will communicate directly—rather than over social media.
During last week's crisis, Clark heard from admins of Austin Buy Nothing groups, who were able to lean on relationships forged online despite not having access to the internet because of power outages or internet service interruptions. "That just makes me so happy and feels like, 'Okay, mission accomplished,'" she said.