Never miss a story
Sign up for our free daily morning email...
...and afternoon text update
Get connected with our daily update
(Project Connect)
Project Connect is starting to take shape, Capitol Metro announced, and officially beginning with the scoping phase that includes an environmental report that is set to go on from now to 2022. Although that may seem like a long process, the overall project is starting a timeline of 13 years before it is complete.
During meetings to discuss the orange and blue light rail lines of Project Connect, a complete overhaul of the city's public transit system, Project Connect officials detailed the two lines' futures over the next nine years, when they expect a large part of the project to be complete.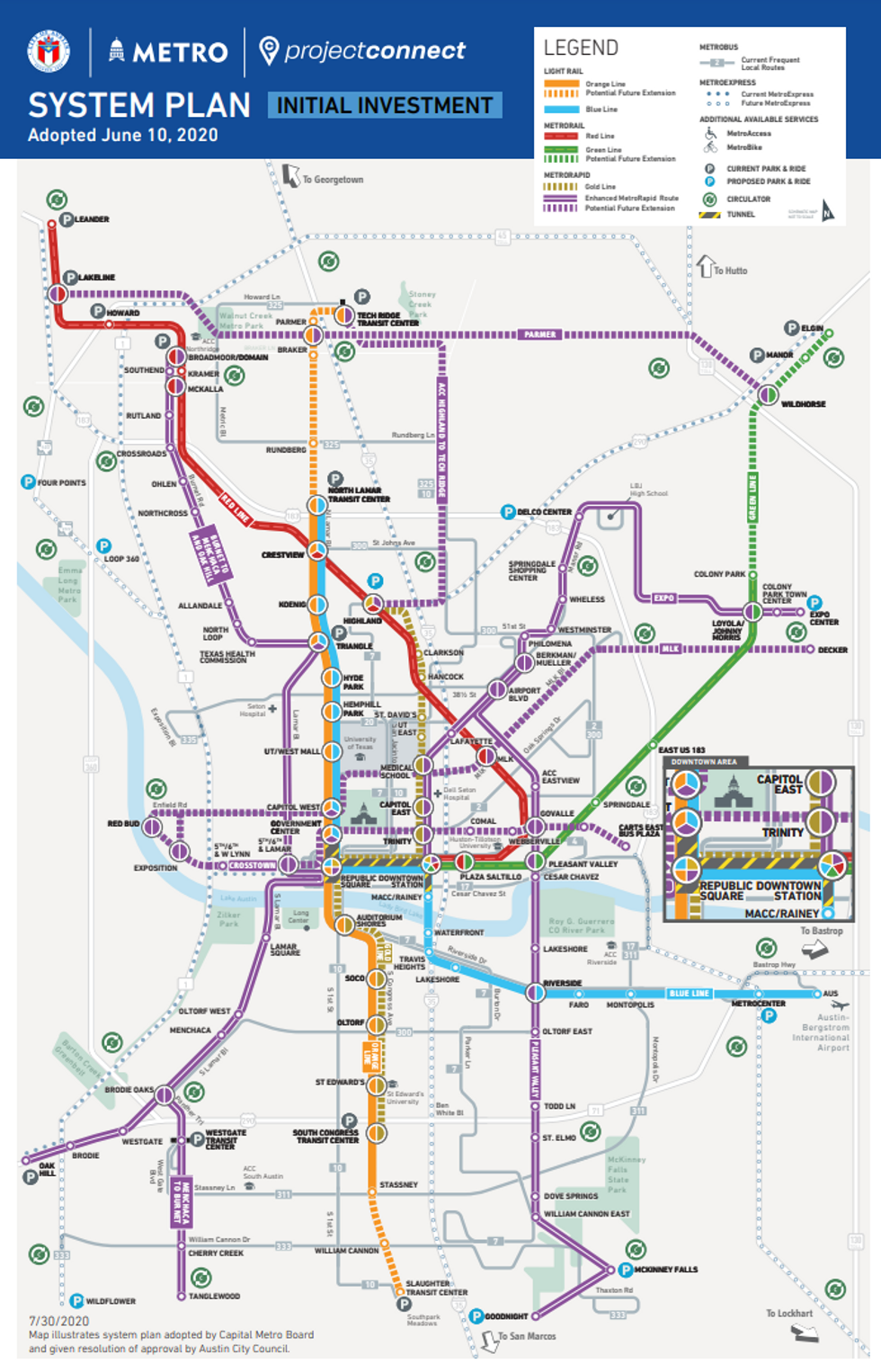 Right now, the project teams for the orange and blue lines are entering the environmental impact scoping phase, which they plan to last a year, followed by two years of final design planning and then five years of construction and testing.

The orange line will connect North and South Austin, starting at Tech Ridge, with 22 stops along the way until it hits Slaughter Lane. There will be service every 10-15 minutes, according to officials.
The proposed orange line will reach the following stops:
Tech Ridge (Park & Ride)
North Lamar International District
Crestview
The Triangle
UT campus
Republic Square
Auditorium Shores
South Congress
Southpark Meadows (Park & Ride)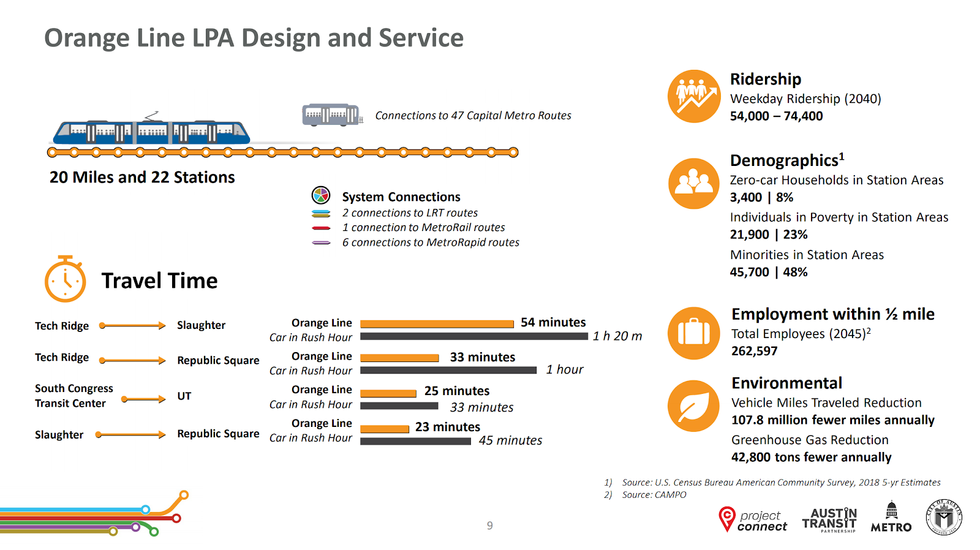 As for the new blue line, service will cover Austin-Bergstrom International Airport to Republic Square park downtown with a proposed 11 stops along the way. Just like the orange line, there will be service every 10-15 minutes.
The proposed blue line will reach the following stops:
Austin-Bergstrom
Riverside
Lakeshore
Travis Heights
Austin Convention Center
Downtown
AustinDell Seton Medical district
UT campus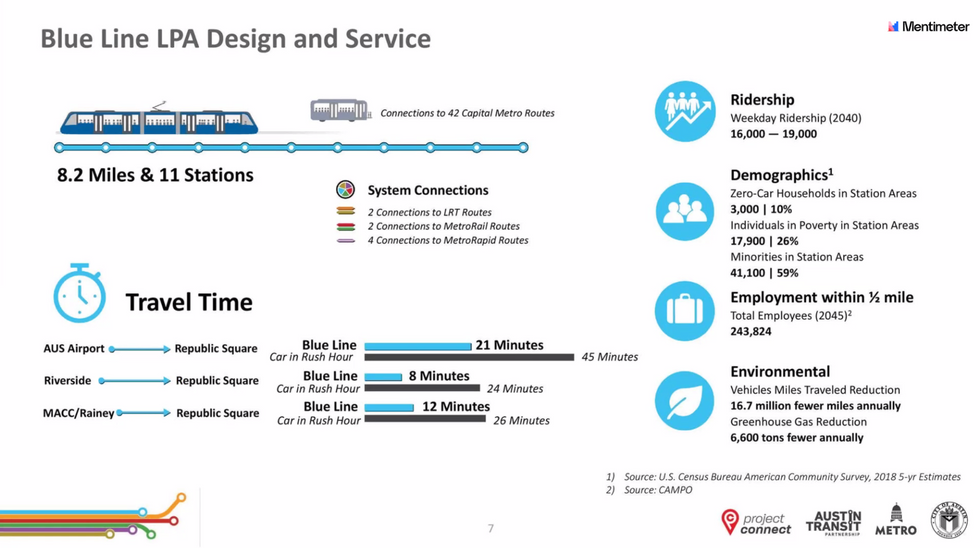 The blue line will follow the same timeline as the orange line and is expected to be complete in nine years.

Before the project moves any further, an environmental impact statement must be developed. The EIS is part of the National Environmental Policy Act and is a crucial step to beginning new developments because it scopes the surrounding area and helps engineer better ways for the project to fit into the community.
As part of the scoping period, AECOM's Orange Line project manager Jerry Smiley said they will be asking for public feedback regularly for the next several years.
Since construction of the new lines will begin at different times, some lines may be done before then, like the red line, which starts construction this year.
(Stuart Seger/CC)
This week, you'll see stories useful for someone new to Austin in anticipation of Austonia's "How to Austin" event. To attend, sign up here.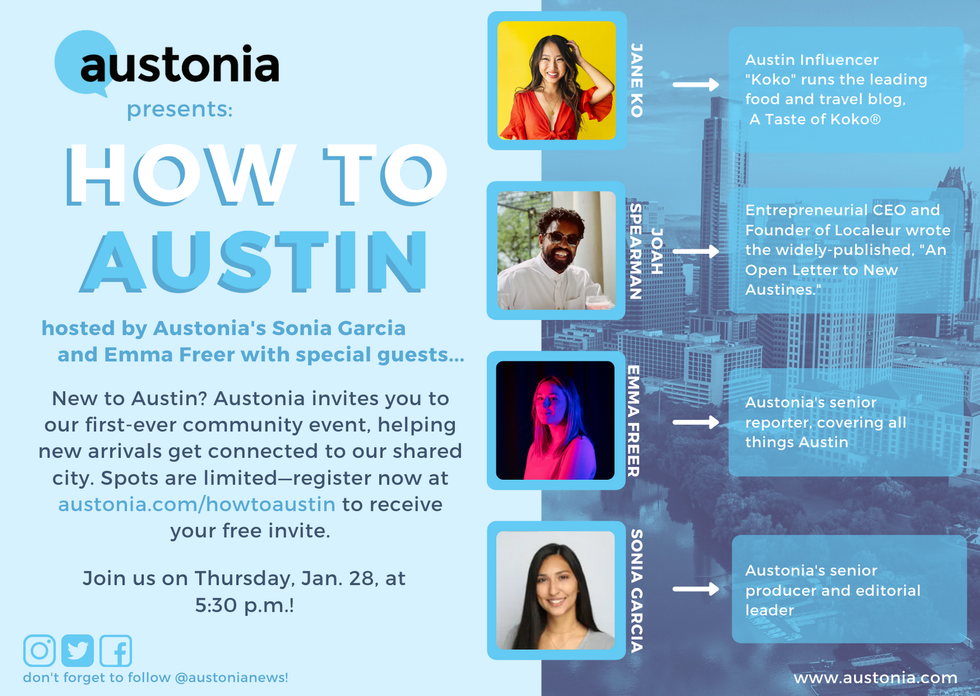 Although the pandemic rages on and many of Austin's most iconic attractions—live-music venues, honky tonks and long lines outside of barbecue joints—remain closed, people continue to flock to the city.

Based on 2018-19 population estimates outlined in an October report by the Austin Chamber, the metro is now growing by 168 net new residents each day, mostly thanks to people who relocate here. And there are already indicators that suggest Austin's growth has continued amid COVID-19.
Being new to town is something of a common experience among Austinites, with natives sometimes referred to as "unicorns" due to their rarity. Still, recent arrivals may find the city foreign in unexpected ways. Here are eight things to know while settling in.
(Emma Freer/Austonia)
My first day of work at Austonia was on Monday, March 9. By the end of that week, local officials had canceled SXSW and our small team was headed home to work remotely.
It was from our virtual newsroom—spread out across our respective kitchen counters, living room couches and home offices—that we launched a daily newsletter and, in early April, our website.
Since then our team has covered the pandemic, Black Lives Matter protests, our newest corporate citizen (Tesla) and celebrity resident (Joe Rogan), homelessness, two elections, the mayor's trip to Cabo San Lucas, Project Connect and the administration of the first COVID-19 vaccines.
To end the year, we've compiled a list of 10 important stories we published this year. Here's to more to come in 2021!
(Sasaki)
The 97-acre mixed-use development slated for 4700 East Riverside Drive has a new name—River Park—and master plan that includes the addition of a 12-acre retail center.
The developer behind River Park, Presidium, shared its vision for the project, which will include more than 400 affordable units as well as 10 million square feet of offices, shops, hotels, parks and homes.
Bordered by the Roy G. Guerrero Colorado River Metro Park and Country Club Creek, the development will feature access to the Ann and Roy Butler Hike and Bike Trailer and more than 30 acres of publicly parkland and urban trails. It will also be served by a forthcoming light rail line planned under Project Connect, the $7.1 billion transit overhaul that Austin voters recently chose to fund.
"The location and size of River Park provides a unique opportunity to solve and address some of Austin's biggest challenges such as housing supply, affordability, connectivity and mobility—all on an urban-infill site within five minutes of downtown," Presidium Director of Development Michael Piano said in a statement Monday.
River Park is scheduled to be built in phases over the next two decades, with a preliminary start date planned for 2023.
Austin City Council voted 6-3 in October 2019 to approve zoning changes for the site, which is at the intersection of Riverside and South Pleasant Valley Road, after months of controversy.
Members of Defend Our Hoodz—a local advocacy organization that the Austin Police Department has said overlaps with the Mike Ramos Brigade, a local antifa group—protested outside the homes of Council Member Sabino "Pio" Renteria and Michael Whellan, an attorney whose firm represents the developer.
The University of Texas at Austin student government voted to approve a resolution asking the council to vote against the zoning change or to provide more affordable student housing in the area, which is home to many lower-cost apartments.
Council members acknowledged concerns that the project would worsen gentrification in one of the few remaining affordable urban core neighborhoods. But they also conceded that development was inevitable.
"Rejecting this rezoning request will not deflate the redevelopment pressure facing this area," Council Member Natasha Harper-Madison said at the time. "It's a difficult but very real truth."