Get connected with our daily update
Via 313 employees still haven't heard back from management after around 100 protesters gathered at the Austin pizza chain's North Campus location on Saturday to protest for sick pay and better working conditions, even as dozens more flocked to several locations Sunday to continue protests.
Employees, who are requesting sick pay and omicron-safe precautions, came with blow horns and microphones at the storefront at noon Saturday but were met with no members of management, employee Joshua Gamboa said. Around 15-20 protestors returned to the North Campus site Sunday with flyers, while others stood outside the East 6th and Oak Hill locations in protest.
The protests come after Via 313 protestors were flooded with unexpected publicity from community members and politicians like City Council Member and Congressional hopeful Greg Casar chiming in to support the crew.
We must support the staff demanding paid sick time and #COVID safety at @Via313Pizza!

AND Congress must pass:
✊ The PRO Act to stop companies from retaliating against organized workers
❤️🩹 Healthy Families Act to guarantee sick time for all#tx35https://t.co/CUGWvnqE7p
— Greg Casar (@GregCasar) January 9, 2022
Gamboa said four employees were suspended mid-shift after delivering a petition requesting sick pay to Via 313 upper management earlier last week. The petition was signed by 46 employees and was reviewed by a member of upper management. But because workers sent a subsequent email containing the petition and company name to more higher-ups, Gamboa said the company sent back a cease and desist order based on copyright infringement.
"No one should be threatened with losing their job when they stand up for their coworkers," the protestors' flier reads.
In the flyer, Via 313 employees said they are requesting the company to:
Reinstate suspended workers with no repercussions
Provide paid sick leave for all workers
Host a company-wide room meeting so all workers can voice their concerns
Protestors have yet to hear from upper management, and Gamboa said the company may be waiting until the start of this week to contact their employees.
In a statement, Via 313 said the four employees were suspended "pending an internal investigation."
"We are aware of certain employee allegations and take their concerns seriously," Via 313 said. "No employees have been suspended or terminated for signing a petition that was submitted to the company. The employees who were suspended allegedly created a hostile work environment that made others feel unsafe."
The company also said it is reviewing its sick pay policy and other COVID rules.
On a gloomy Thursday evening, Austin Justice Coalition hosted a vigil to honor the lives of those killed by law enforcement. The event came just two days after former Minneapolis police officer Derek Chauvin was convicted of second- and third-degree murder as well as manslaughter for the death of George Floyd last May and on the eve of the one year anniversary of Mike Ramos' death.
Both names were catalyst for the Black Lives Matter movement that sparked nationwide protests. More recently other police killings—Alex Gonzales in Austin, Adam Toledo in Chicago and Daunte Wright in Brooklyn Center, Minnesota—have made news. The vigil brought people together to remember all lives lost at the hands of police.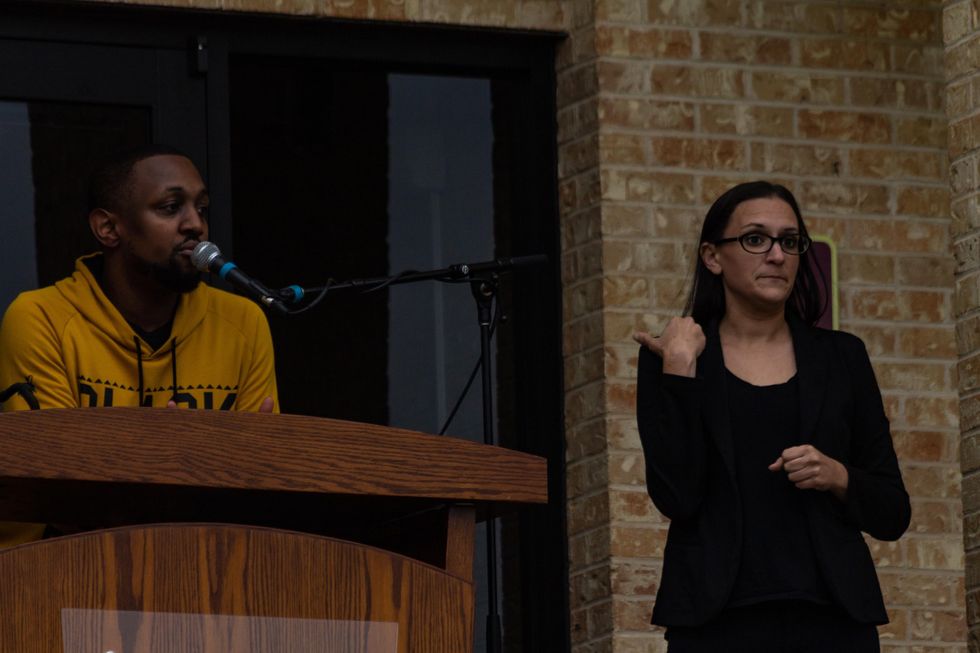 (Christa McWhirter/Austonia)
Founder and Executive Director of AJC Chas Moore, with an American sign language interpreter, started the vigil by drawing attention to the definitively fewer amount of people in attendance versus the demonstrations last summer that saw thousands gather, including at the same location.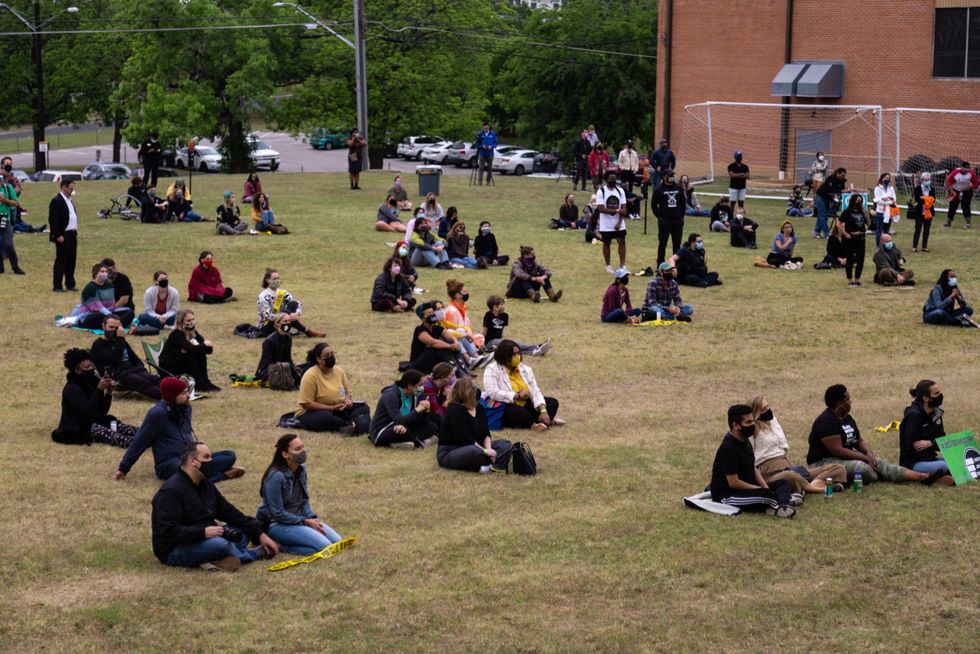 (Christa McWhirter/Austonia)
In stark contrast to demonstrations held in 2020, only around 100 people gathered at Huston-Tillotson Thursday evening.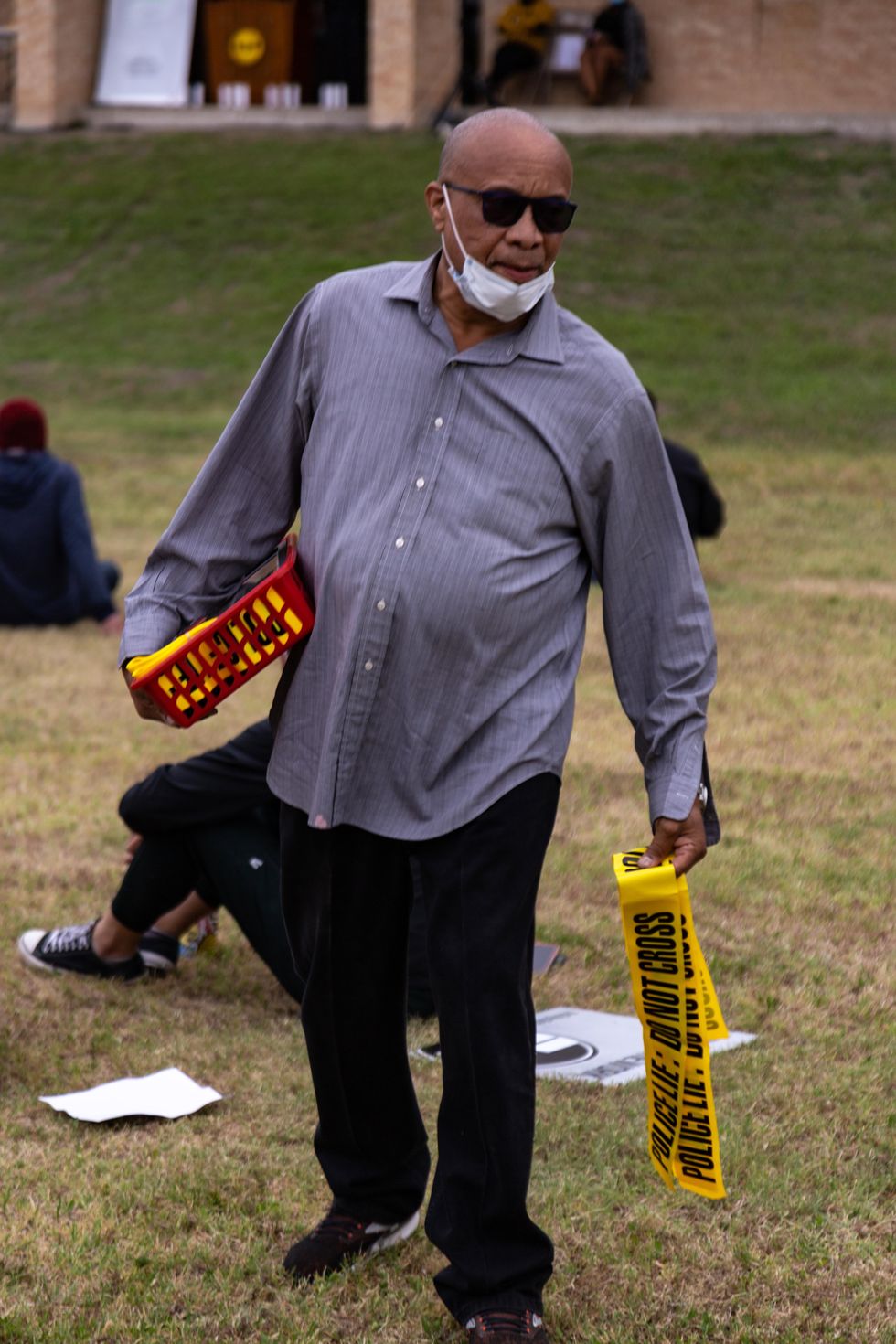 (Christa McWhirter/Austonia)
Many in the small crowd held police tape passed out by one of the volunteers of the event, Ernest, who declined to reveal his last name.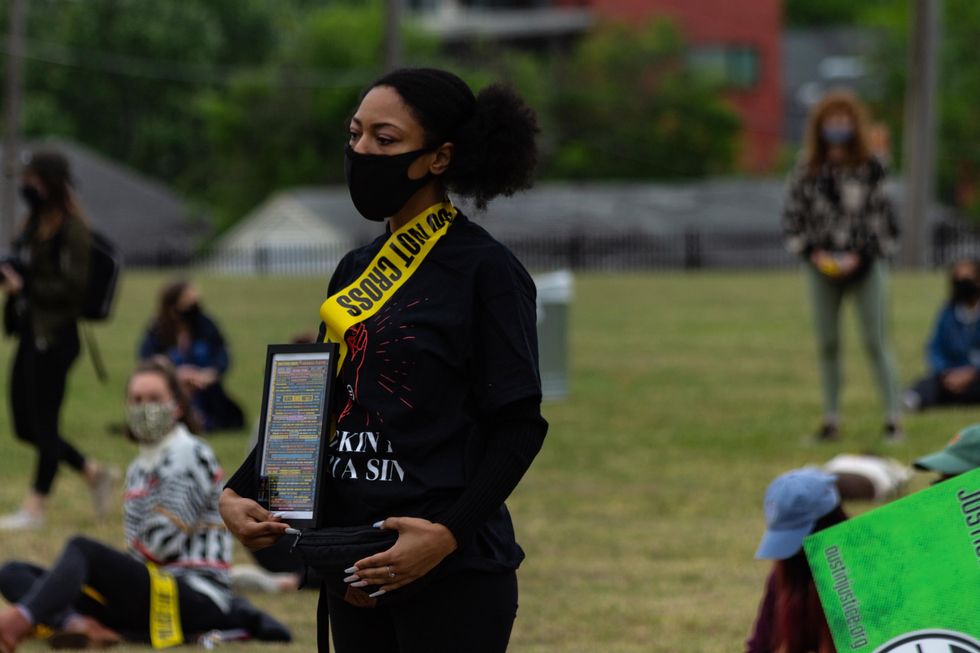 (Christa McWhirter/Austonia)
Some attendees held picture frames depicting loved ones lost to police violence, including Yasmine Smith, director of justice and advocacy at Austin Area Urban League.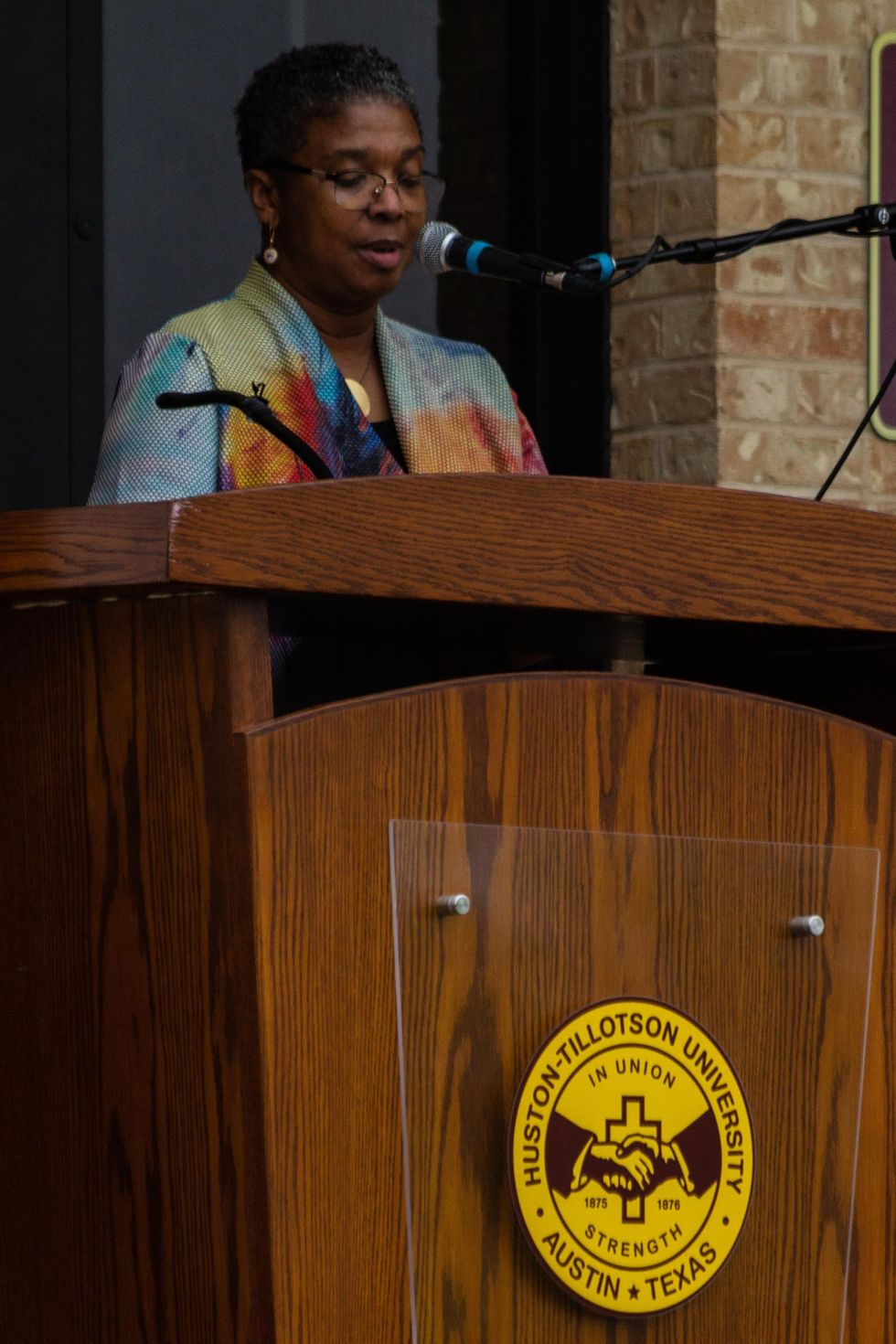 (Christa McWhirter/Austonia)
The first speaker of the evening was Colette Pierce Burnette, the president of Huston-Tillotson University. She spoke of the recent conviction of Derek Chauvin saying, "We can breathe, but not a sight of relief yet."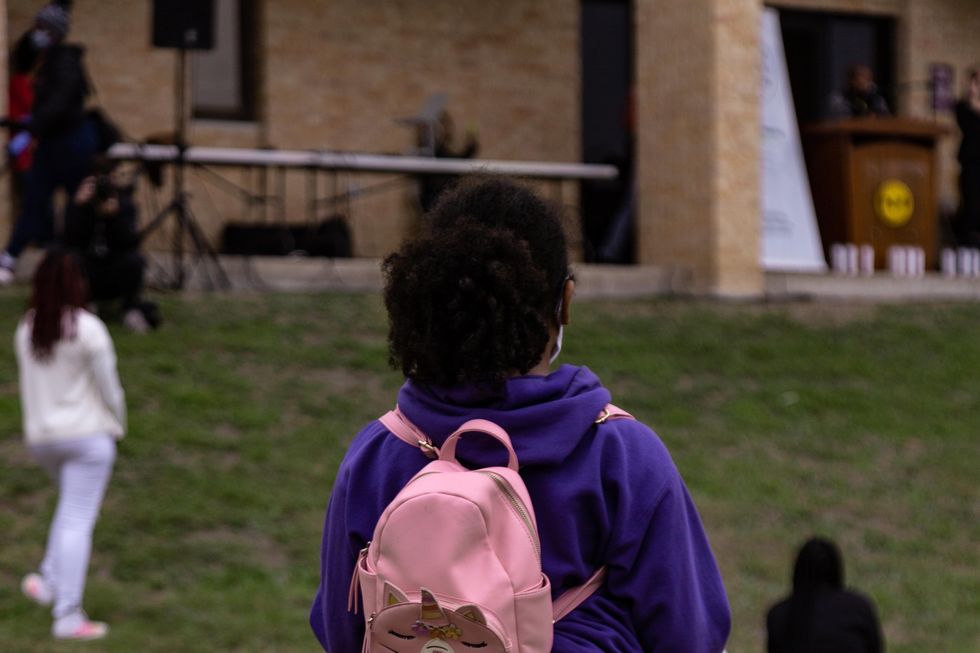 (Christa McWhirter/Austonia)
Attendees showed up with their families to listen to speakers and participate in the vigil.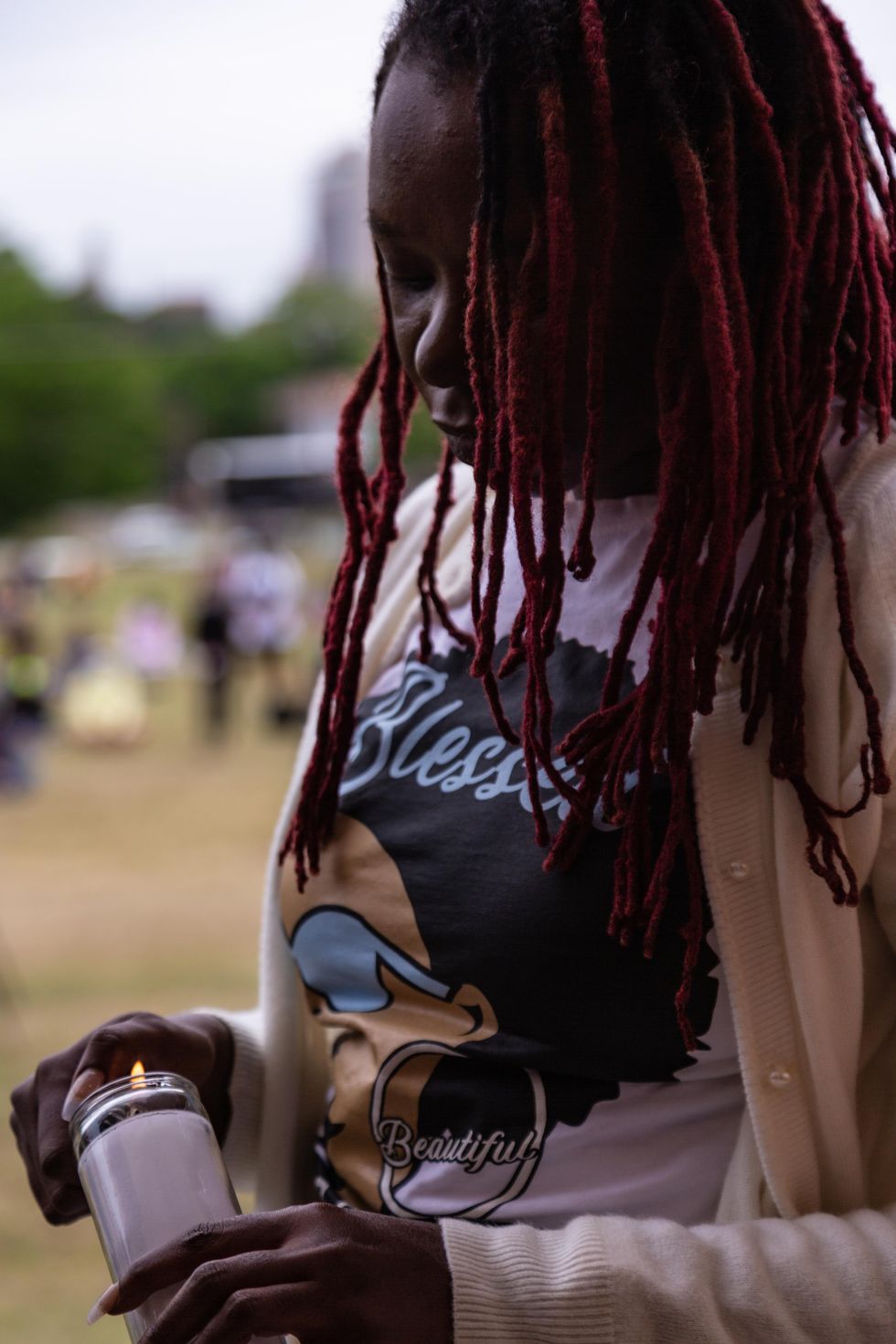 (Christa McWhirter/Austonia)
Speaker Korretta Brown lights white candles in honor of loved ones who have been killed by police violence.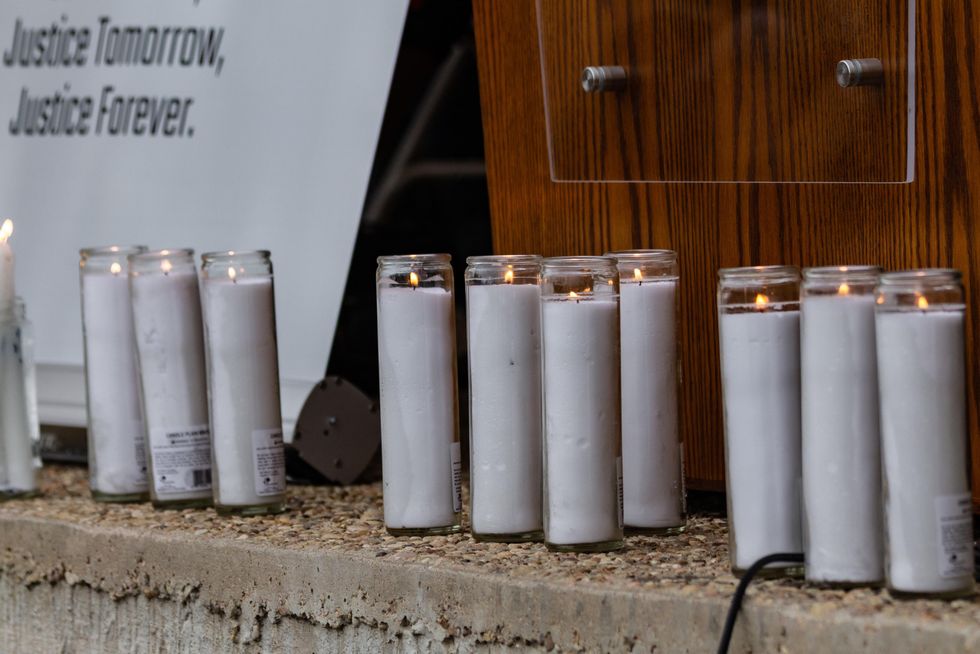 (Christa McWhirter/Austonia)
The candles were lined up at the base of the speakers' podium throughout the vigil.
Moore ended the vigil by encouraging attendees to march to the Zaragoza Rec Center to early vote in the local election.
Texas activists will take to the Capitol on Thursday morning, calling for police reform bills similar to those implemented around the nation after George Floyd's death last May.
The killing of George Floyd at the hands of a Minneapolis police officer brought millions of people to the streets in protest of police brutality as a part of the Black Lives Matter movement last summer. In many cities, change took shape in various ways, including in Austin, where police funding was reallocated to other departments in the city.
Texan social justice activists are looking to bring about other changes statewide with several bills, including the George Floyd Act, which would ban police chokeholds, emphasize de-escalation tactics and make qualified immunity less accessible to police officers in police brutality lawsuits. Qualified immunity is one of the foremost protections police officers have from punishment for misconduct.
Rep. Senfronia Thompson, D-Houston, and Sen. Royce West, D-Dallas, co-introduced the bill, while a separate bill looking to take TV shows like "Cops" and other law enforcement reality programs off the air was drafted by Rep. James Talarico, D-Round Rock.
Behind the event are Austin-area organizations, including Austin Justice Coalition and the Texas Criminal Justice Coalition, which will bring about 60 speakers. The rally will begin at the southern entrance of the Texas Capitol on 11th Street at 10:30 a.m.