Get connected with our daily update
On a gloomy Thursday evening, Austin Justice Coalition hosted a vigil to honor the lives of those killed by law enforcement. The event came just two days after former Minneapolis police officer Derek Chauvin was convicted of second- and third-degree murder as well as manslaughter for the death of George Floyd last May and on the eve of the one year anniversary of Mike Ramos' death.
Both names were catalyst for the Black Lives Matter movement that sparked nationwide protests. More recently other police killings—Alex Gonzales in Austin, Adam Toledo in Chicago and Daunte Wright in Brooklyn Center, Minnesota—have made news. The vigil brought people together to remember all lives lost at the hands of police.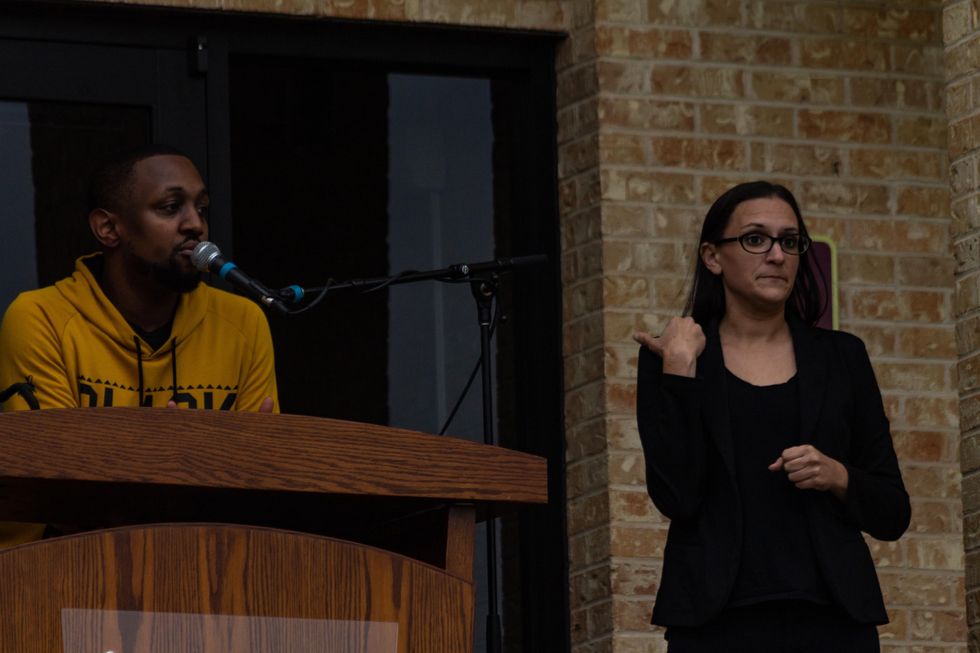 (Christa McWhirter/Austonia)
Founder and Executive Director of AJC Chas Moore, with an American sign language interpreter, started the vigil by drawing attention to the definitively fewer amount of people in attendance versus the demonstrations last summer that saw thousands gather, including at the same location.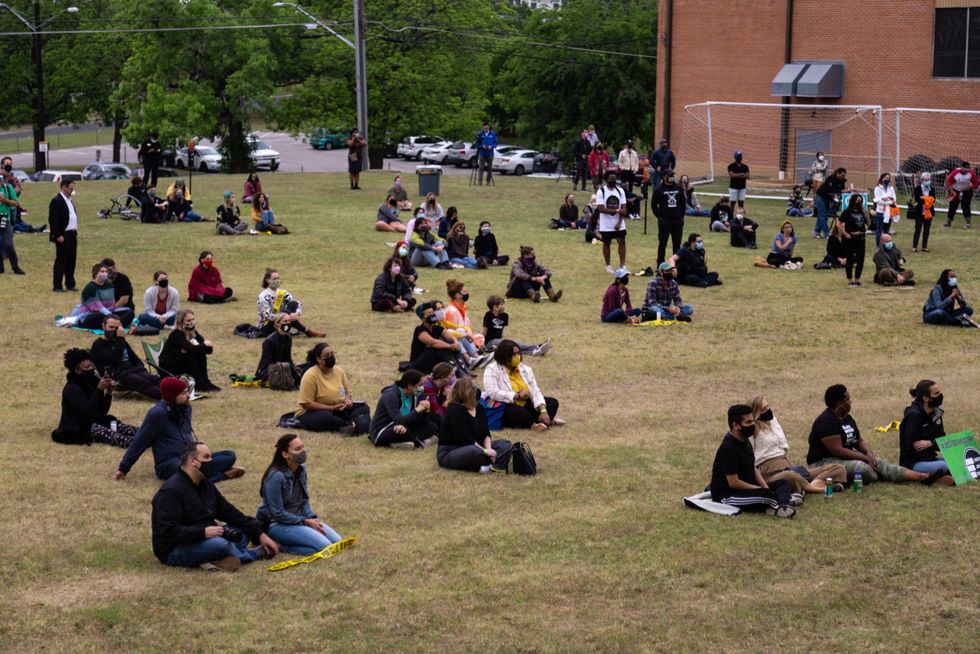 (Christa McWhirter/Austonia)
In stark contrast to demonstrations held in 2020, only around 100 people gathered at Huston-Tillotson Thursday evening.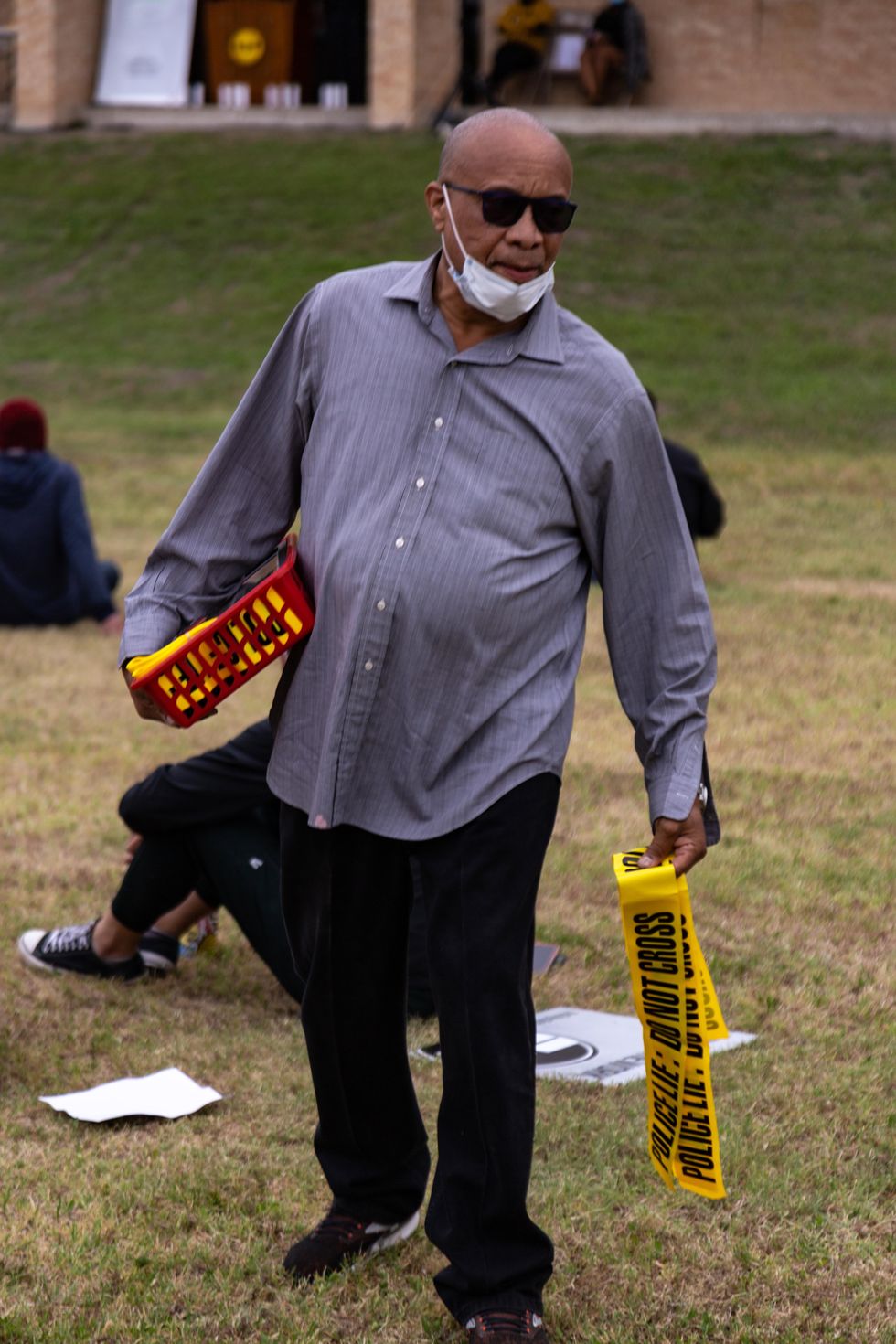 (Christa McWhirter/Austonia)
Many in the small crowd held police tape passed out by one of the volunteers of the event, Ernest, who declined to reveal his last name.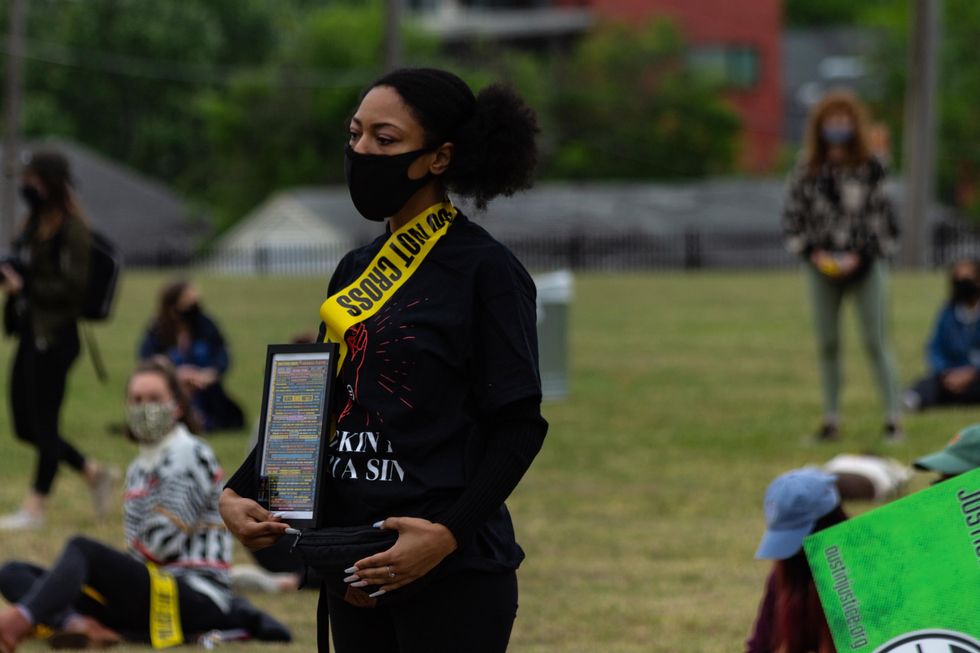 (Christa McWhirter/Austonia)
Some attendees held picture frames depicting loved ones lost to police violence, including Yasmine Smith, director of justice and advocacy at Austin Area Urban League.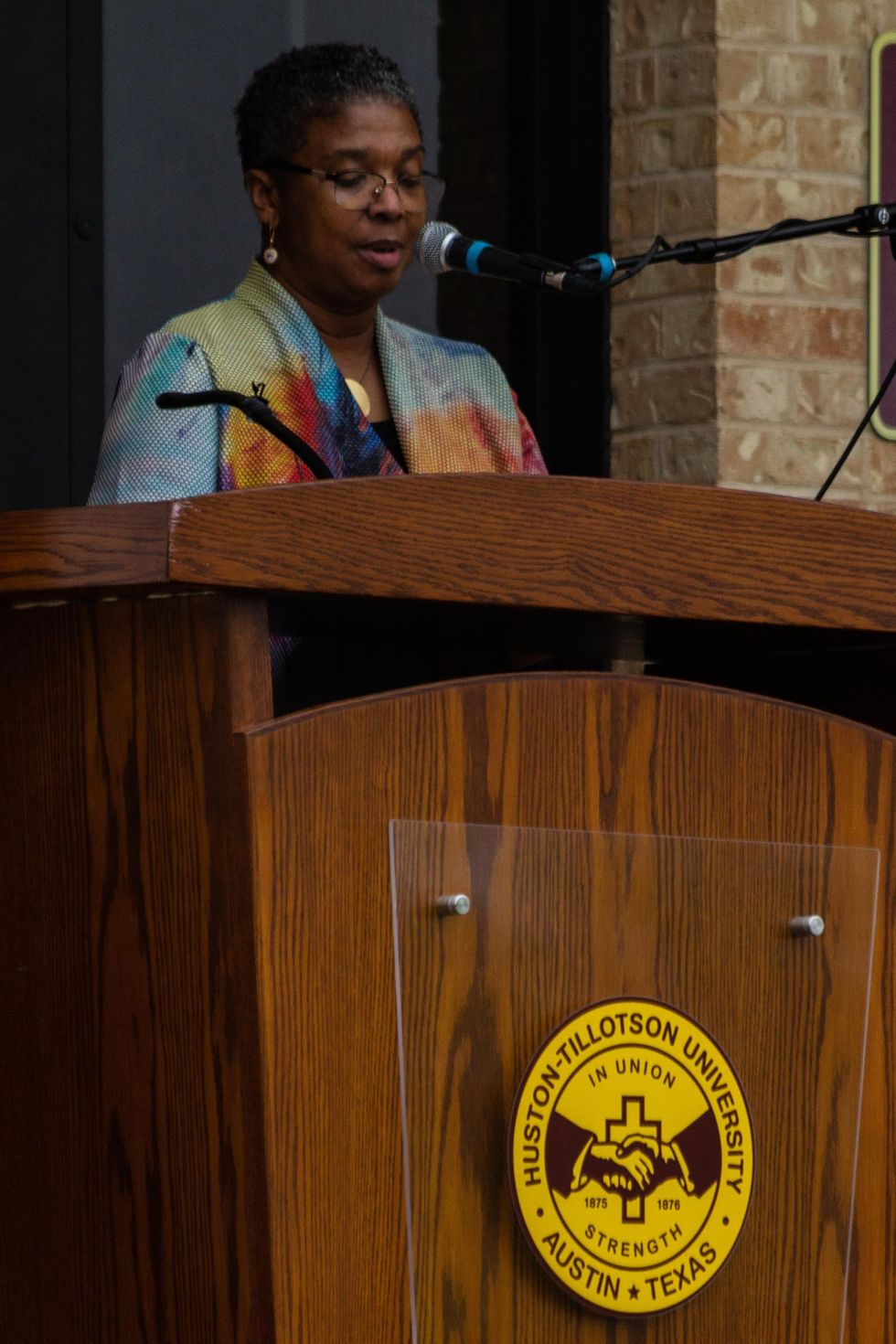 (Christa McWhirter/Austonia)
The first speaker of the evening was Colette Pierce Burnette, the president of Huston-Tillotson University. She spoke of the recent conviction of Derek Chauvin saying, "We can breathe, but not a sight of relief yet."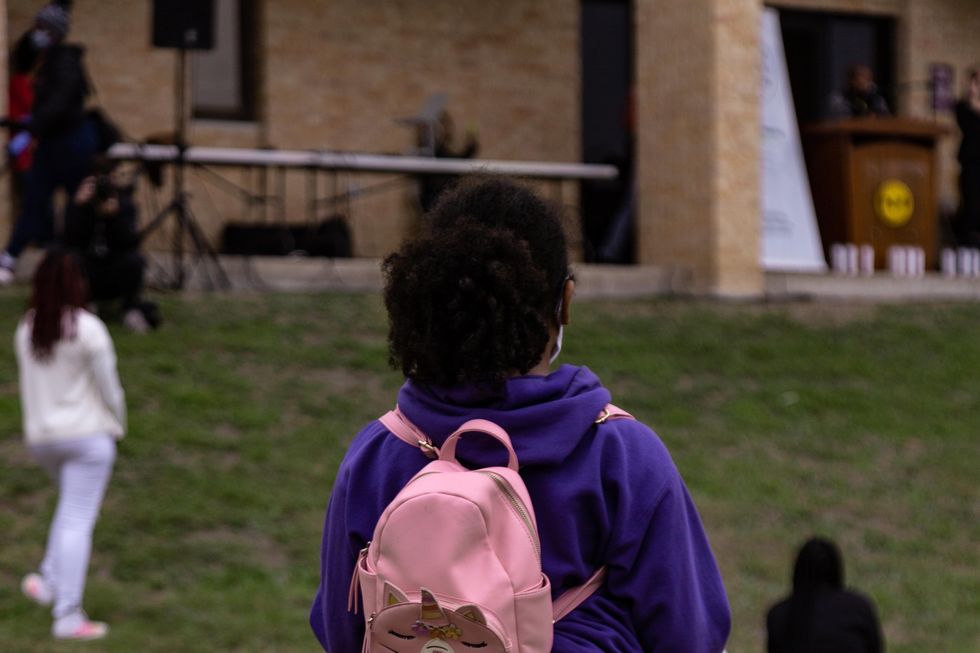 (Christa McWhirter/Austonia)
Attendees showed up with their families to listen to speakers and participate in the vigil.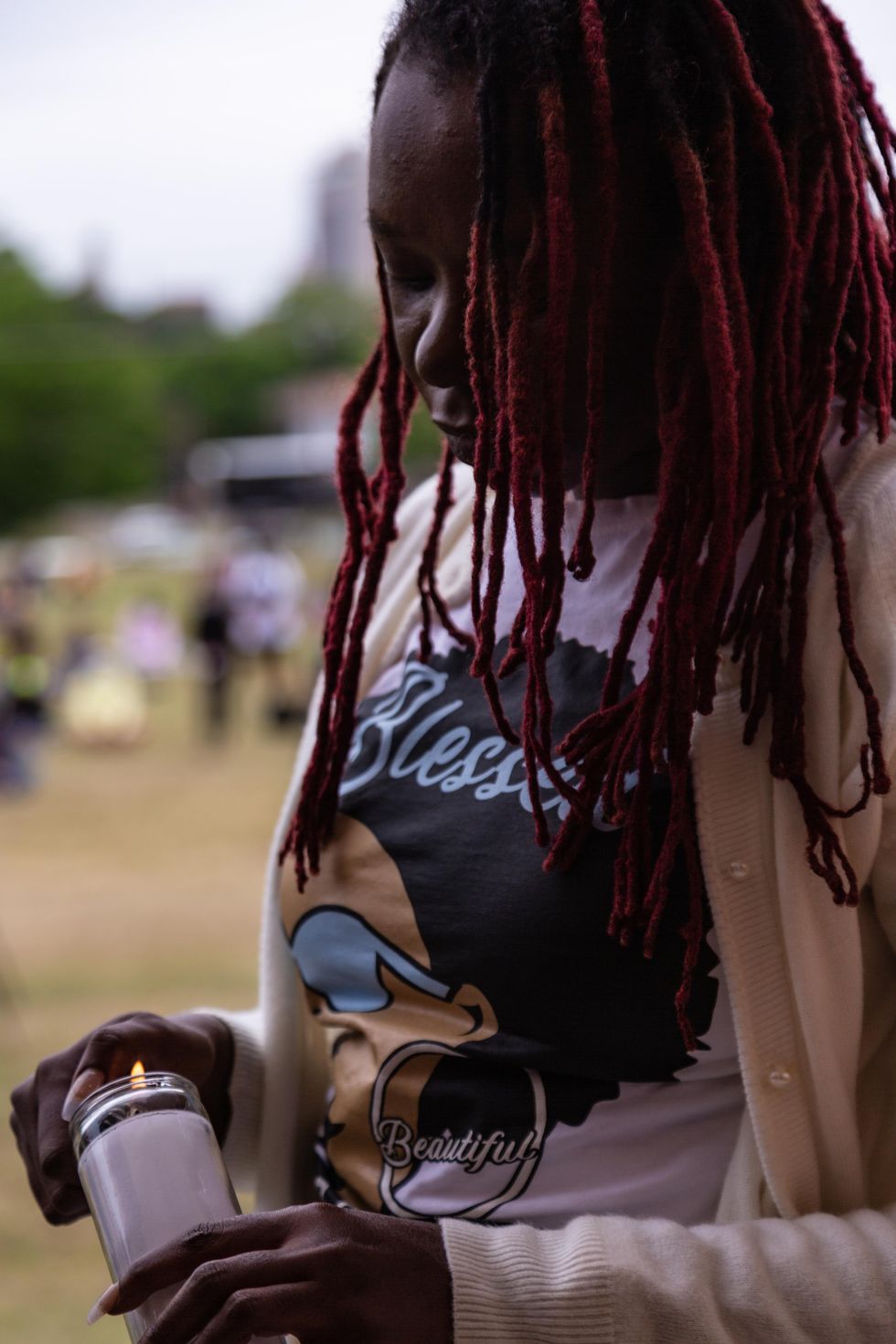 (Christa McWhirter/Austonia)
Speaker Korretta Brown lights white candles in honor of loved ones who have been killed by police violence.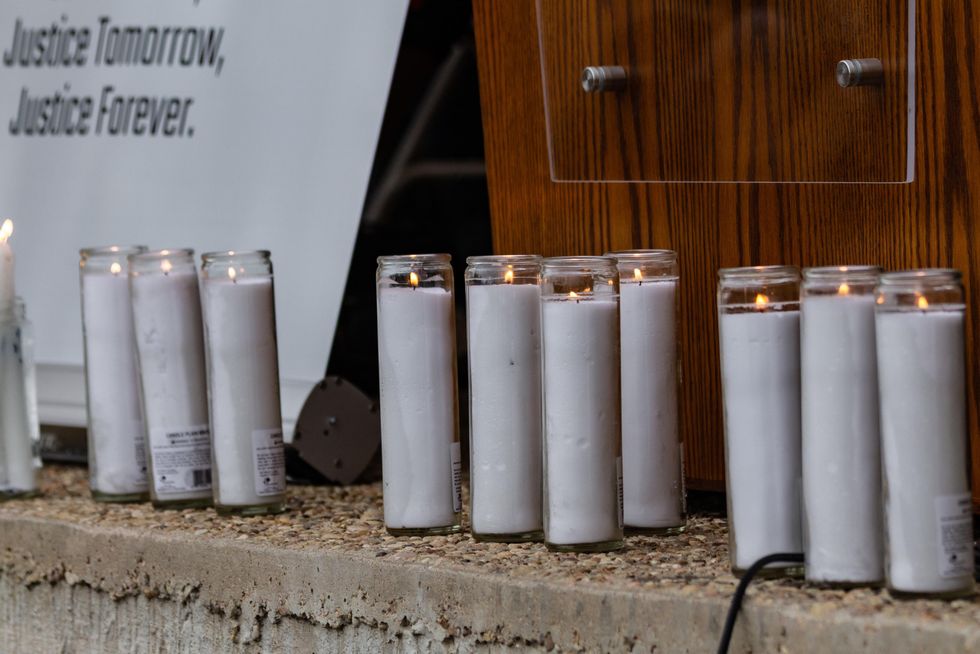 (Christa McWhirter/Austonia)
The candles were lined up at the base of the speakers' podium throughout the vigil.
Moore ended the vigil by encouraging attendees to march to the Zaragoza Rec Center to early vote in the local election.
Texas activists will take to the Capitol on Thursday morning, calling for police reform bills similar to those implemented around the nation after George Floyd's death last May.
The killing of George Floyd at the hands of a Minneapolis police officer brought millions of people to the streets in protest of police brutality as a part of the Black Lives Matter movement last summer. In many cities, change took shape in various ways, including in Austin, where police funding was reallocated to other departments in the city.
Texan social justice activists are looking to bring about other changes statewide with several bills, including the George Floyd Act, which would ban police chokeholds, emphasize de-escalation tactics and make qualified immunity less accessible to police officers in police brutality lawsuits. Qualified immunity is one of the foremost protections police officers have from punishment for misconduct.
Rep. Senfronia Thompson, D-Houston, and Sen. Royce West, D-Dallas, co-introduced the bill, while a separate bill looking to take TV shows like "Cops" and other law enforcement reality programs off the air was drafted by Rep. James Talarico, D-Round Rock.
Behind the event are Austin-area organizations, including Austin Justice Coalition and the Texas Criminal Justice Coalition, which will bring about 60 speakers. The rally will begin at the southern entrance of the Texas Capitol on 11th Street at 10:30 a.m.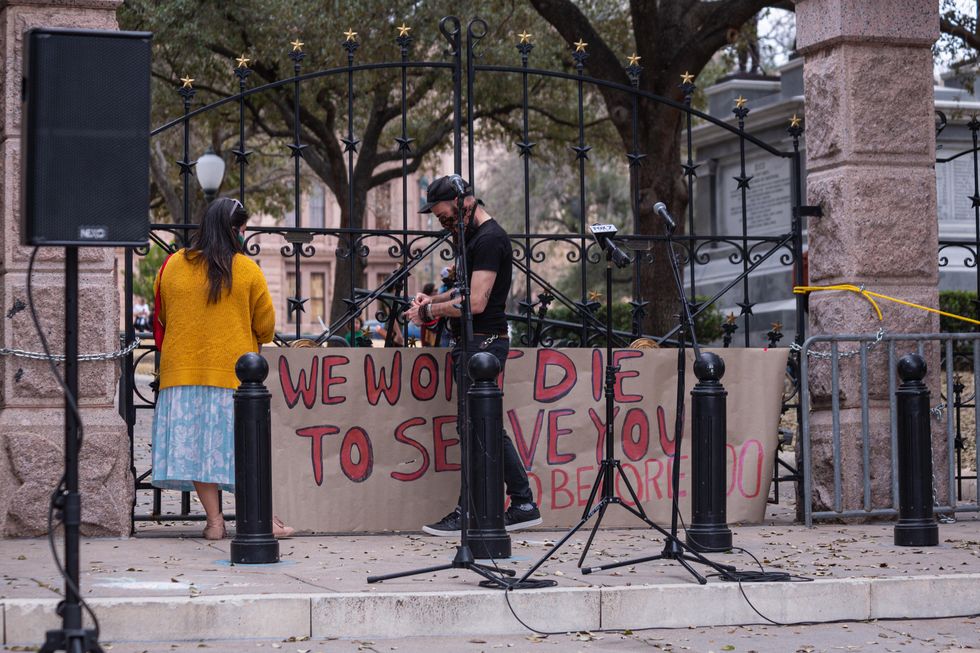 Gina Dvorak and another Restaurant Organizing Project member set up by putting up a sign which reads, "We Won't Die to Serve You. 70% before 100%." Organizers of the protest believe that the population should be at least 70% vaccinated before opening Texas 100% back up.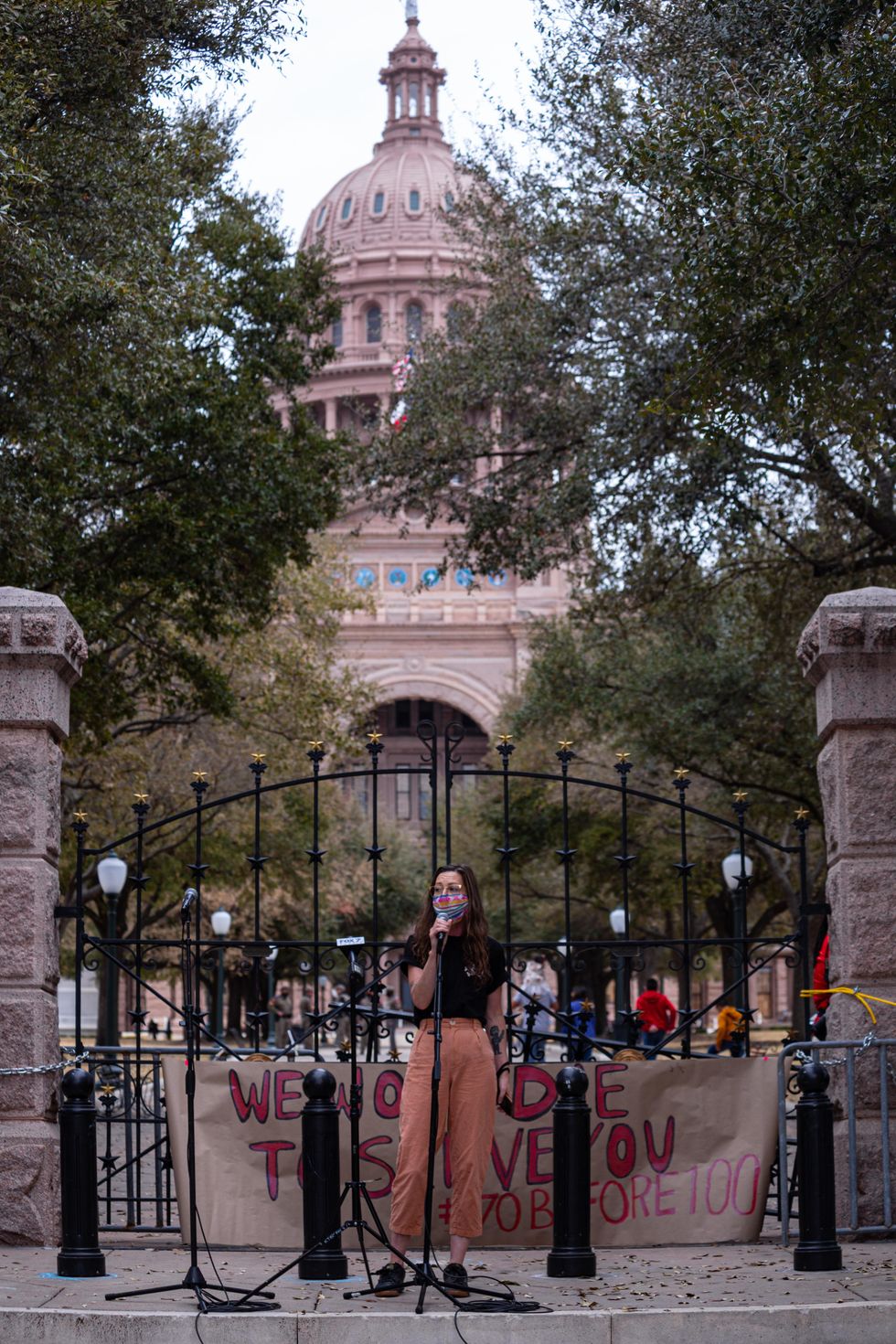 Christa McWhirter
Crystal Maher, a member of the Restaurant Organizing Project, stands in front of the Texas Capitol to express to other protesters in attendance how not being eligible for a vaccine has impacted her ability to safely keep her job.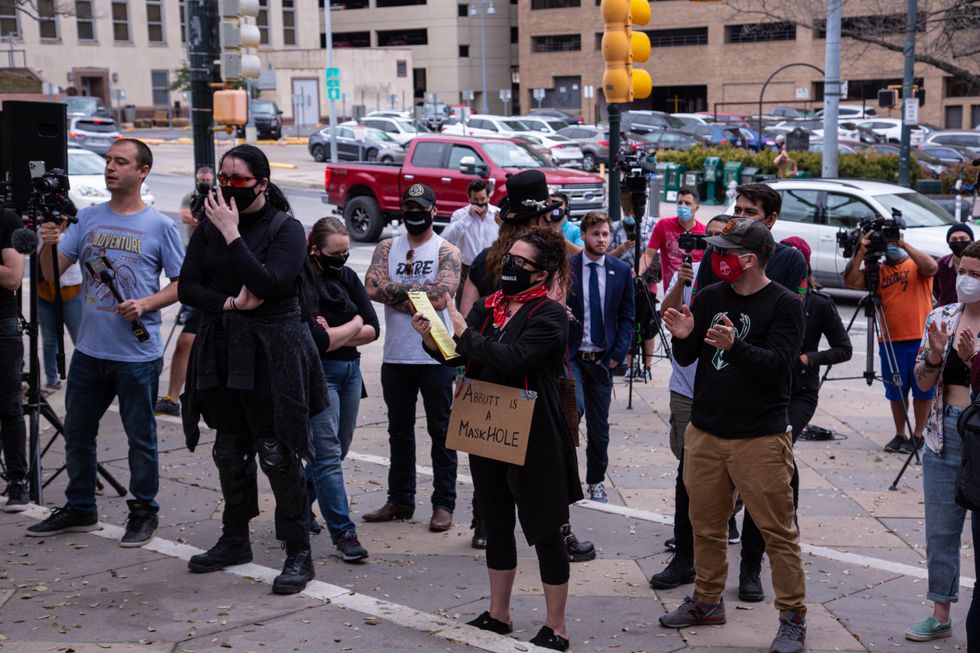 The event hosted around 50 people, most of whom are also restaurant and bar workers facing the difficulties of working during the pandemic.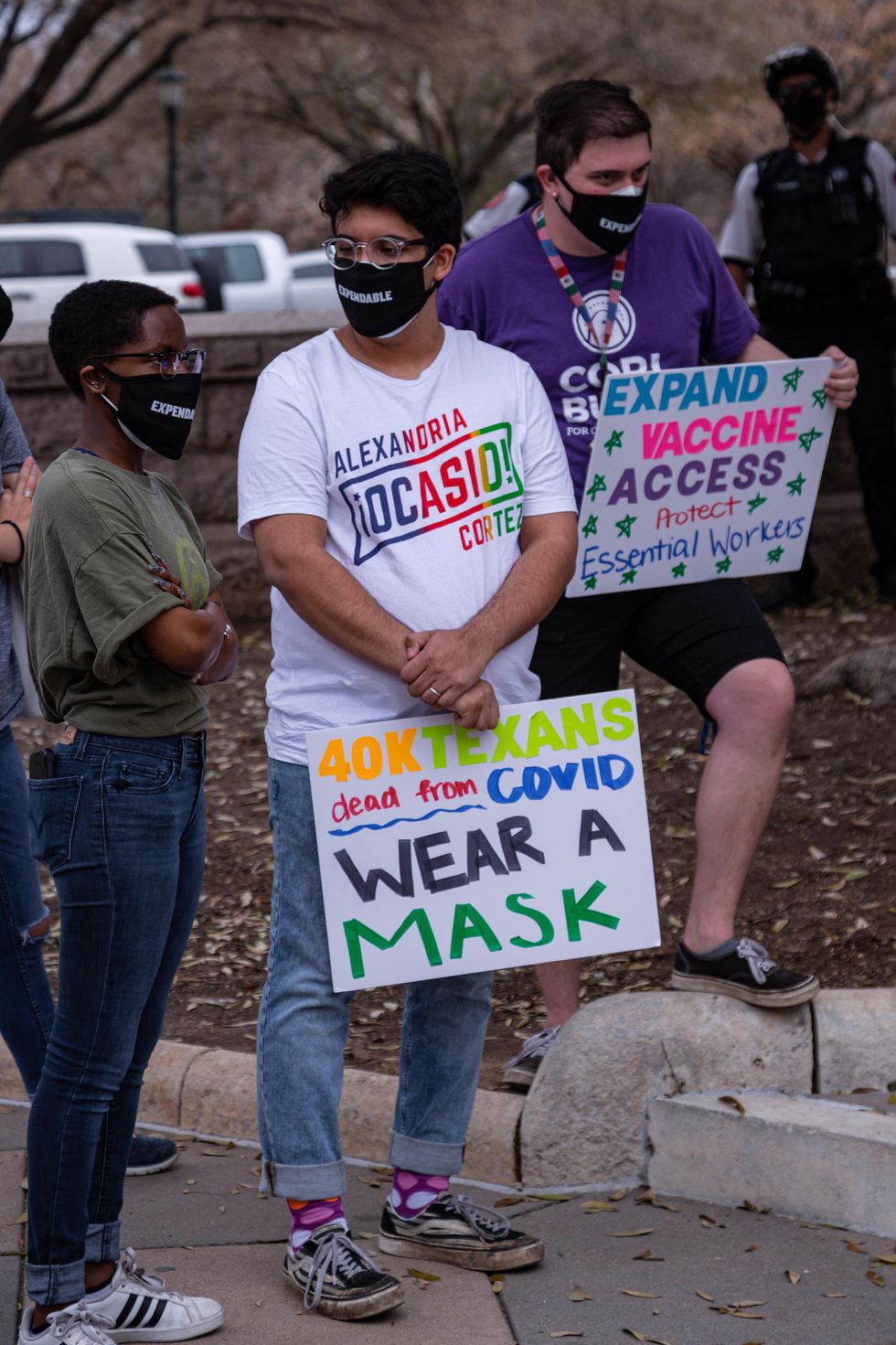 Christa McWhirter
​Kiara Collins, Eric Santos and Taylor Escamilla are all essential workers who have been questioning their safety in their workplace. As many of the other protesters, the three wore masks with the word "Expendable" on it. According to Collins, they were only given to essential workers in attendance to represent how they have been treated since the onset of COVID-19.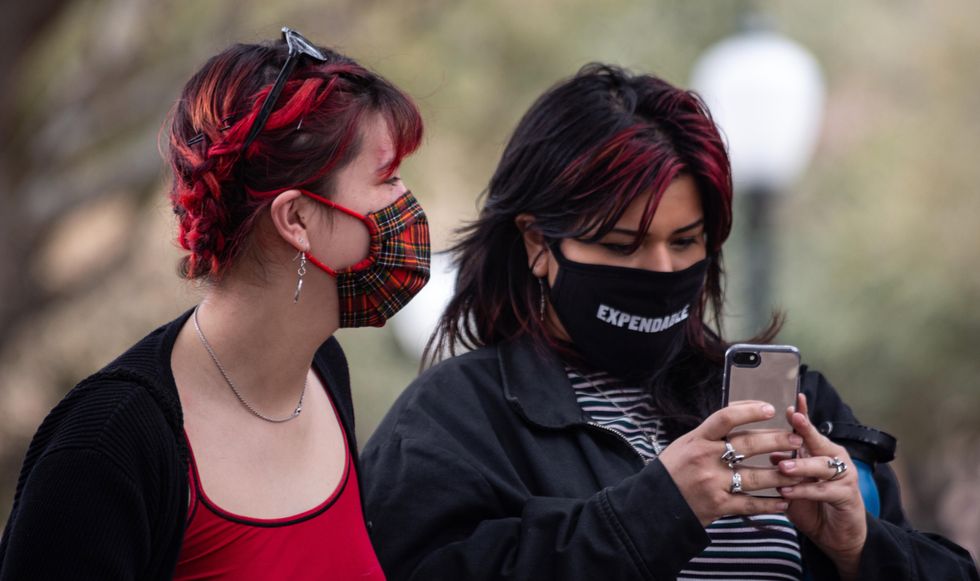 Christa McWhirter
As Maher continues to introduce speakers, two essential workers who came out to support the protest, record as counter-protesters heckled the event's speakers.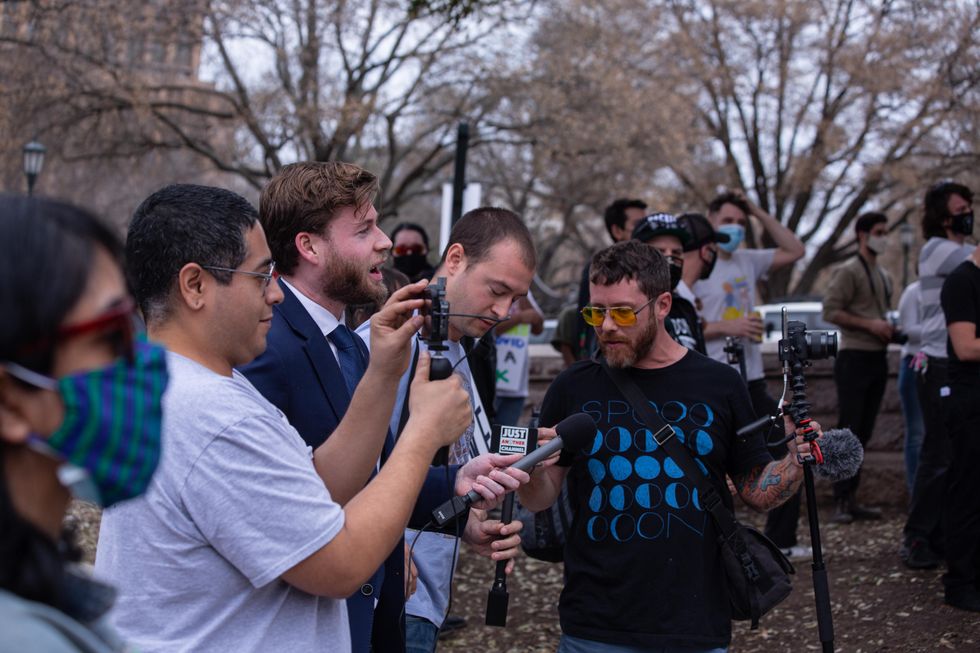 Christa McWhirter
Some of the counter-protesters in attendance were live streamers from InfoWars, an extremist organization, who heckled speakers until the rally dispersed.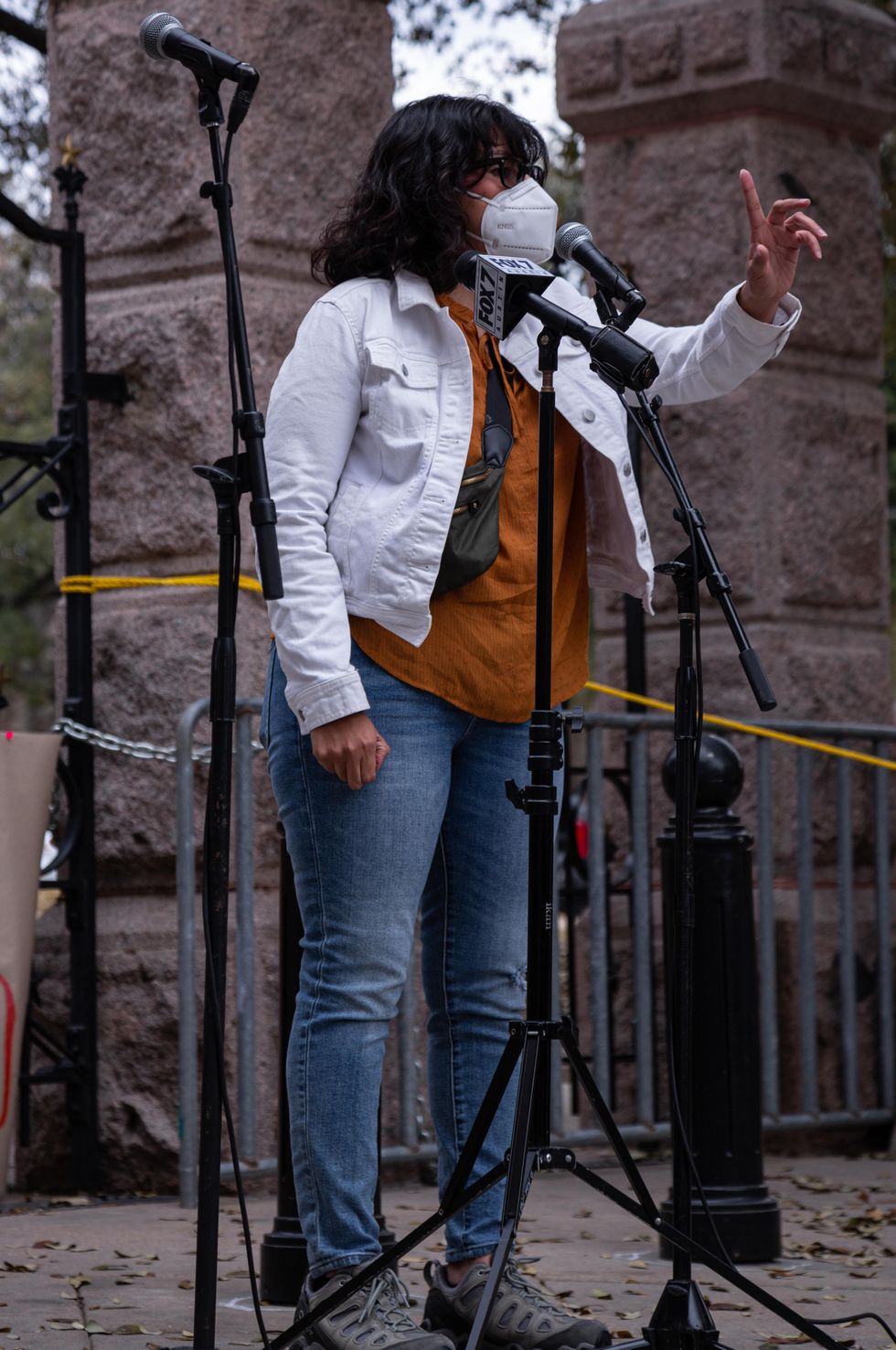 Christa McWhirter
A representative of the Del Valle Community Coalition spoke about the impact the lack of vaccine access has had on the Del Valle area. As she attempted to give her speech, anti-masking protesters yelled at her causing many people to attempt to block them out.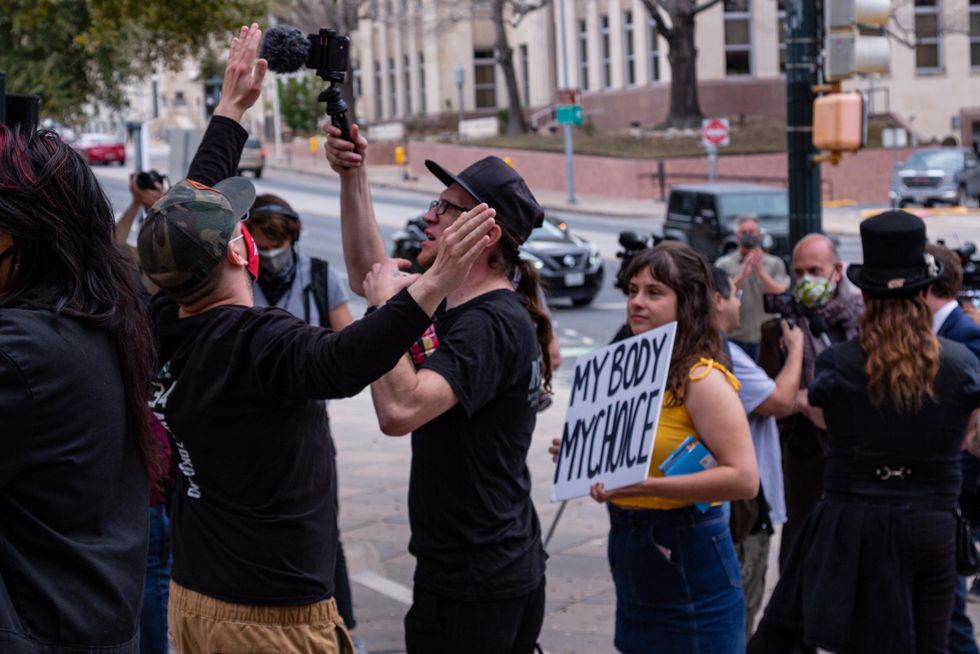 Christa McWhirter
Protesters blocked the way of anti-mask counter protesters as they heckled the event's speakers and held "My Body My Choice" signs. "It's kind of insane how they're using 'my body, my choice.' It doesn't only affect you. So it's not just your body," Taylor Escamilla said.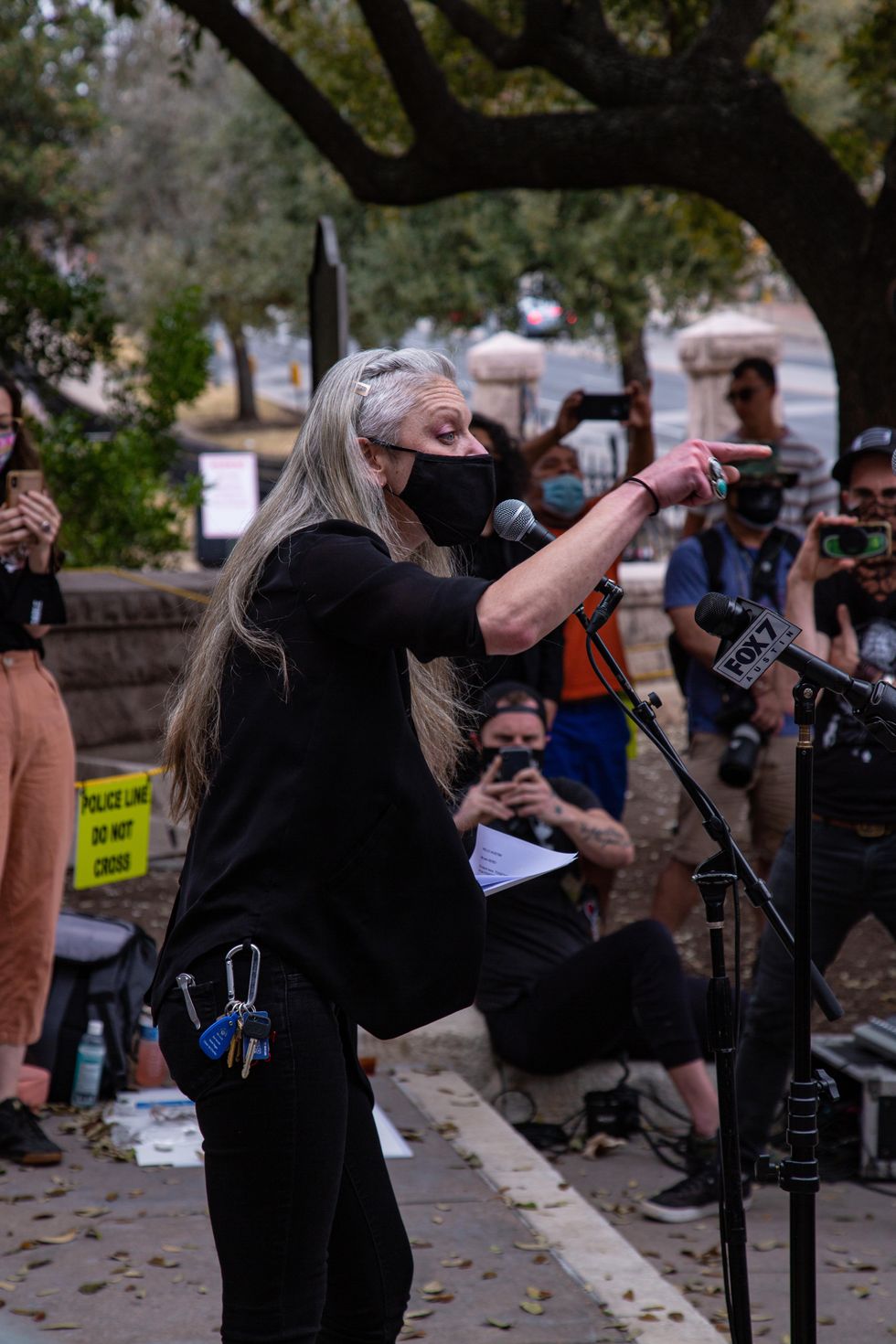 Christa McWhirter
Jeanette Gregor, cofounder of Amplified Sound Coalition, also had to fend off counter-protesters as she gave an impassioned speech about the danger essential workers place themselves in by going to work and have yet to qualify for COVID-19 vaccine.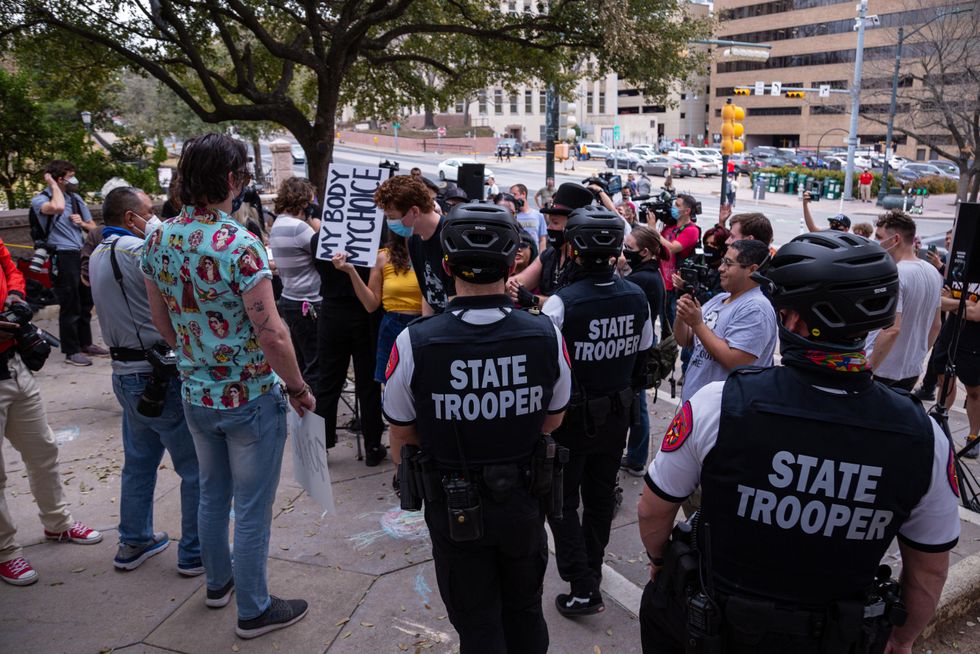 Christa McWhirter
Around 2 p.m., State Troopers began to arrive at the Capitol amid heightening tensions from protesters and counter-protesters. As police presence began to increase, the event came to end about 15 minutes later. Despite the constant back and forth between sides and the arrival of law enforcement, the protest came to end peacefully.
On Wednesday, March 3, Abbott said in a statewide press conference that he would lift his executive mask mandate order and would "open Texas 100%," including business capacity. The reversal goes into effect Wednesday.
In response, many Austin businesses have said that they will continue to require masks in their businesses, and shared frustrations about the danger the new order puts on the community. Abbott said that lifting restrictions does not take away from "personal responsibility" but that "state mandates are no longer needed."
Amplified Sound Coalition member Jeannette Gregor told KXAN that rally members want the state to keep the mask mandate until 70% of restaurant or bar workers are vaccinated. Currently, service industry workers do not qualify for the vaccine; only first responders, healthcare workers, those 65 and older and those with an underlying issue that puts them at risk to the virus qualify.
AUSTIN:
A thread of businesses that are keeping their mask requirements.

I will add to these as I see them. Feel free to add to the list. #Austin
— Brittany Flowers (@bflowerstv) March 2, 2021