Never miss a story
Sign up for our free daily morning email...
...and afternoon text update
Get connected with our daily update
Assistant Police Chief Joe Chacon will serve as interim police chief of the Austin Police Department following the retirement of Brian Manley on March 28. City Manager Spencer Cronk is conducting a national search for Manley's permanent successor and plans to make an appointment by August. "We need to have a chief in short order," he said during a press conference on Monday.
Chacon is a 22-year veteran of the department, having started as a patrol officer in 1998. He moved through the ranks and was named assistant chief in 2016. He is third in command behind Chief of Staff Troy Gay, who some expected to be named interim chief. (When former chief Art Acevedo left for Houston in 2016, then-Chief of Staff Manley was named interim chief and later promoted after the Austin bombings in 2018.)
Both men have been finalists for other police chief positions across Texas and the U.S. Chacon was named one of four finalists for the top job in Waco earlier this year and one of two finalists for the chief position in Boise, Idaho, last year, according to local reports. Gay was one of five finalists considered to lead the Nashville Police Department in 2020.
City Council will decide whether to confirm Chacon as Manley's interim successor at its meeting on Thursday.
The search process
The national search for Manley's successor began Monday, Cronk announced in a memo to council outlining the process. He has hired Ralph Andersen & Associates, a California-based executive search firm that has assisted 35 other cities in their police chief searches and the city of Austin in a number of executive searches.
"I hope through this process that we collectively find the ideal candidate—one who collaborates with our community, instills trust in the workforce, works to achieve results from established Council policy, creates a culture of improvement and accountability, and is willing and able to lead the department in ways that lead to equitable public safety outcomes for all," he said in a statement.
The search process will take place in three phases, according to the memo. The first phase will entail creating a candidate profile with input from the community as well as city leadership and APD employees. The second phase will consist of outreach and recruiting. And the final phase will involve interviewing the top candidates and selecting the city's next chief. "The search will be transparent and inclusive, with engagement at every level," he said.
The community engagement component of this search will be different from that of the 2018 search process, when Manley, then-interim chief, was named lone finalist for the permanent role following his handling of the Austin bombings. "The difference between what we saw in 2018 and now is that we are starting with an open, national and dare I say international search," Cronk said.
Joya Hayes, director of human resources for the city of Austin, added that this time around community engagement will be considered from the start, including in the formation of a candidate profile, rather than only after a finalist has been chosen.
A rare opportunity
Manley announced his retirement last month amid an ongoing national debate over policing and after mass protests against police violence and racial injustice in Austin last summer. He has faced sustained criticism from local elected officials, criminal justice reform advocates and residents after APD officers seriously injured protesters over the summer. Four council members asked him to resign, Cronk faced pressure to demote him and the council voted unanimously to cut the police department's budget. Last August, the Austin Justice Coalition debuted a jingle, "No Confidence in You," as part of its campaign to get Manley to resign.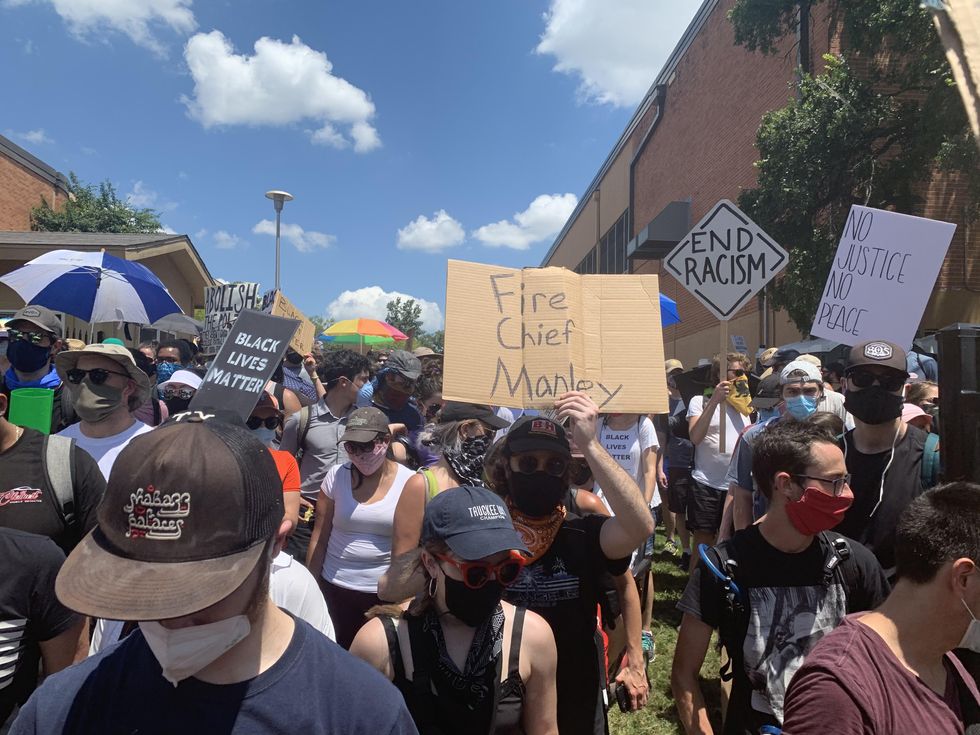 Thousands of protesters marched from Huston-Tillotson University to the Texas Capitol on June 7 in response to police violence and racial injustice. (Emma Freer)
The department has also come under fire in recent years for multiple officer-involved shootings, allegations of racism among its top ranks and reports of hazing at its training academy.

Manley said this criticism did not contribute to his decision to retire, but it will certainly color the search for his replacement. Acevedo, who previously led APD and recently announced he will lead the Miami Police Department, said the city's police reform efforts are deterring candidates from applying to chief positions. "People are hesitant to apply for cities with misguided, reacting city councils," he told Austonia earlier this month. "It's having an effect."
But city leaders, including District 4 Council Member Greg Casar and Cronk, say Manley's retirement presents a rare opportunity. "The Reimaging Public Safety process, budget decoupling and department restructuring, and, most recently, the announcement of Chief Brian Manley's retirement provides a unique opportunity to work with our community to bring new leadership that aligns with our values and our commitment to equity and community engagement," Cronk said in a statement.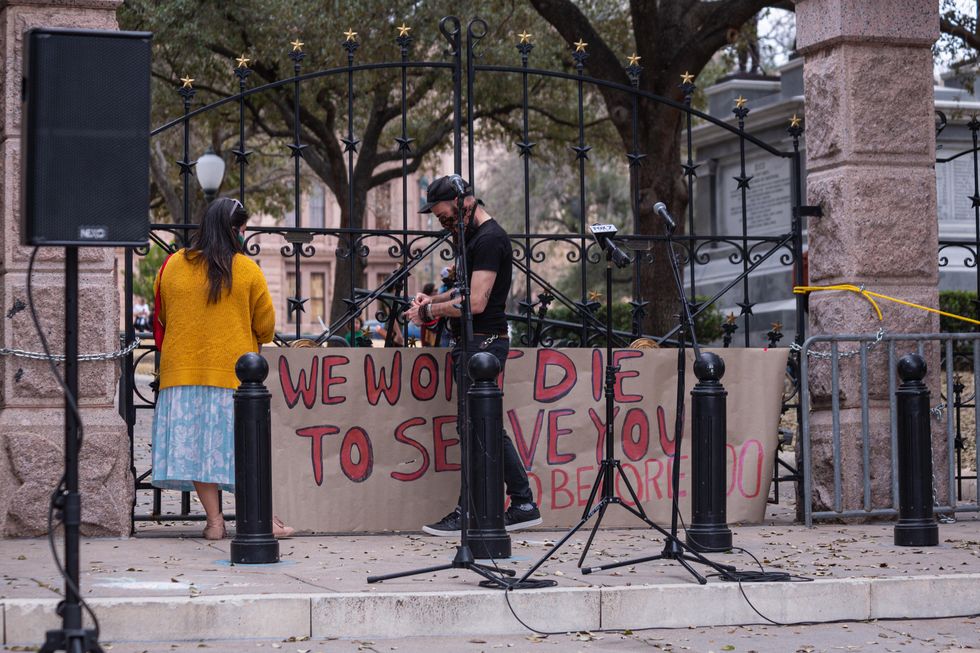 Gina Dvorak and another Restaurant Organizing Project member set up by putting up a sign which reads, "We Won't Die to Serve You. 70% before 100%." Organizers of the protest believe that the population should be at least 70% vaccinated before opening Texas 100% back up.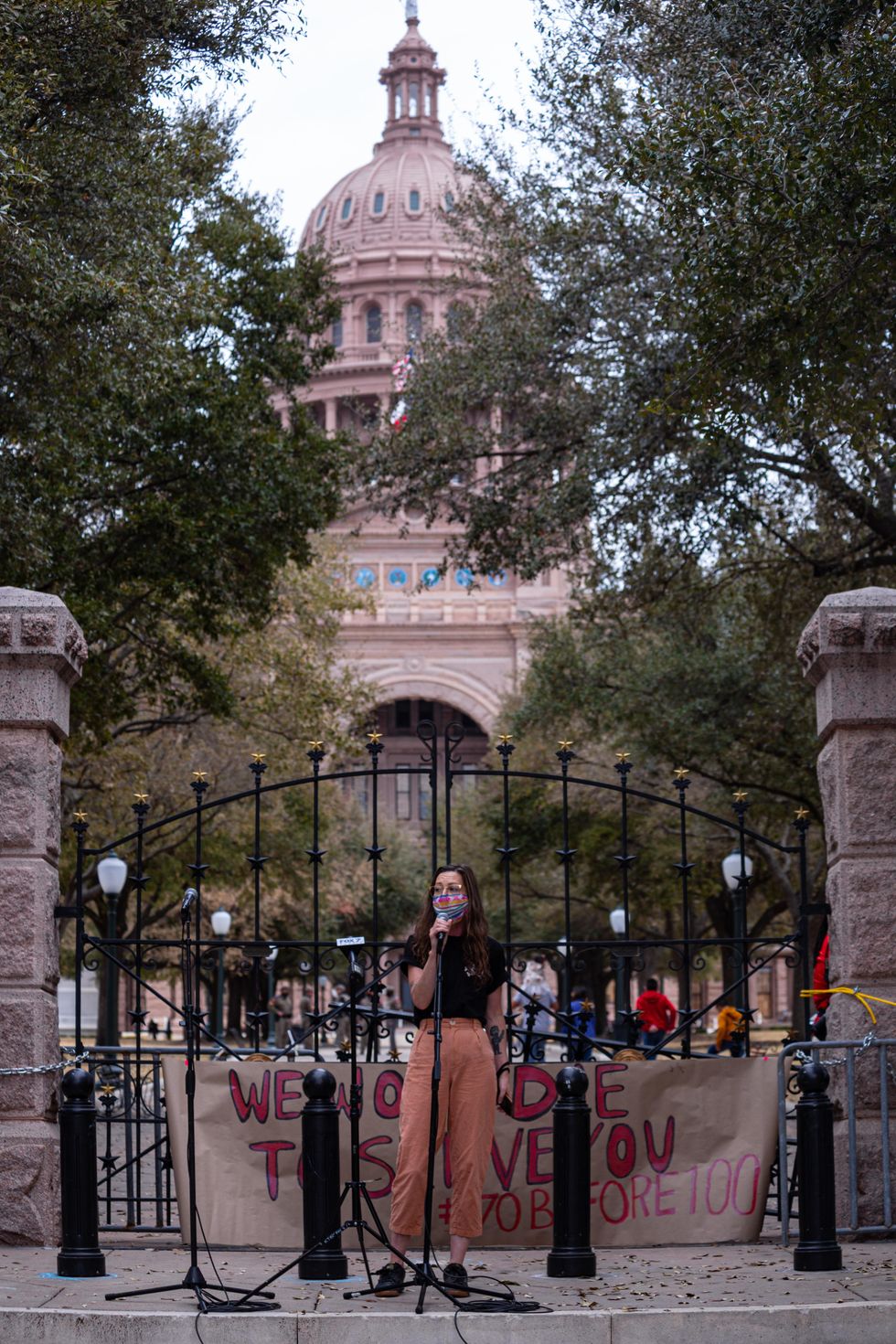 Christa McWhirter
Crystal Maher, a member of the Restaurant Organizing Project, stands in front of the Texas Capitol to express to other protesters in attendance how not being eligible for a vaccine has impacted her ability to safely keep her job.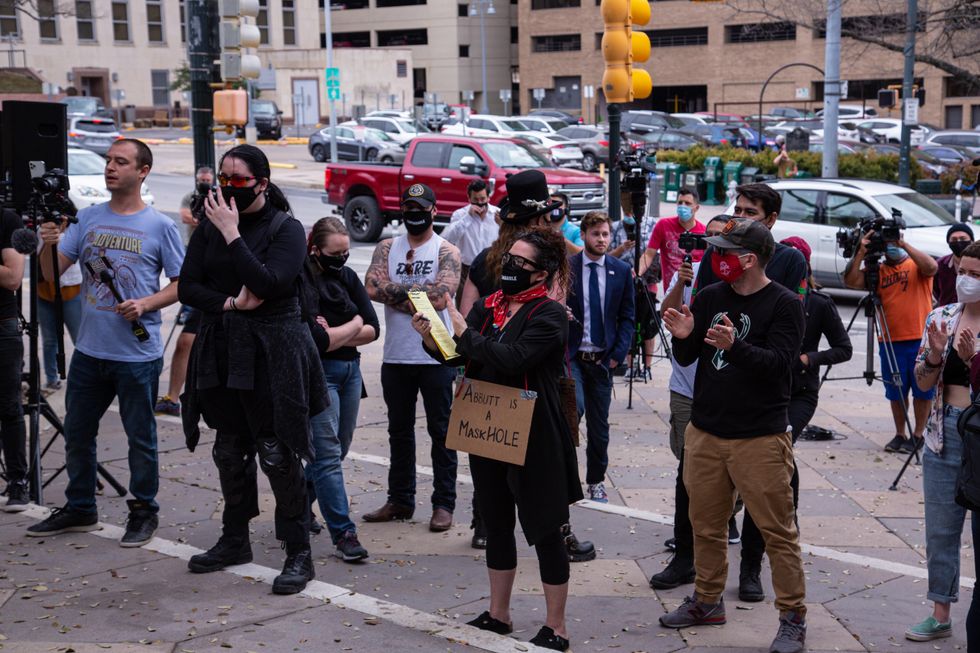 The event hosted around 50 people, most of whom are also restaurant and bar workers facing the difficulties of working during the pandemic.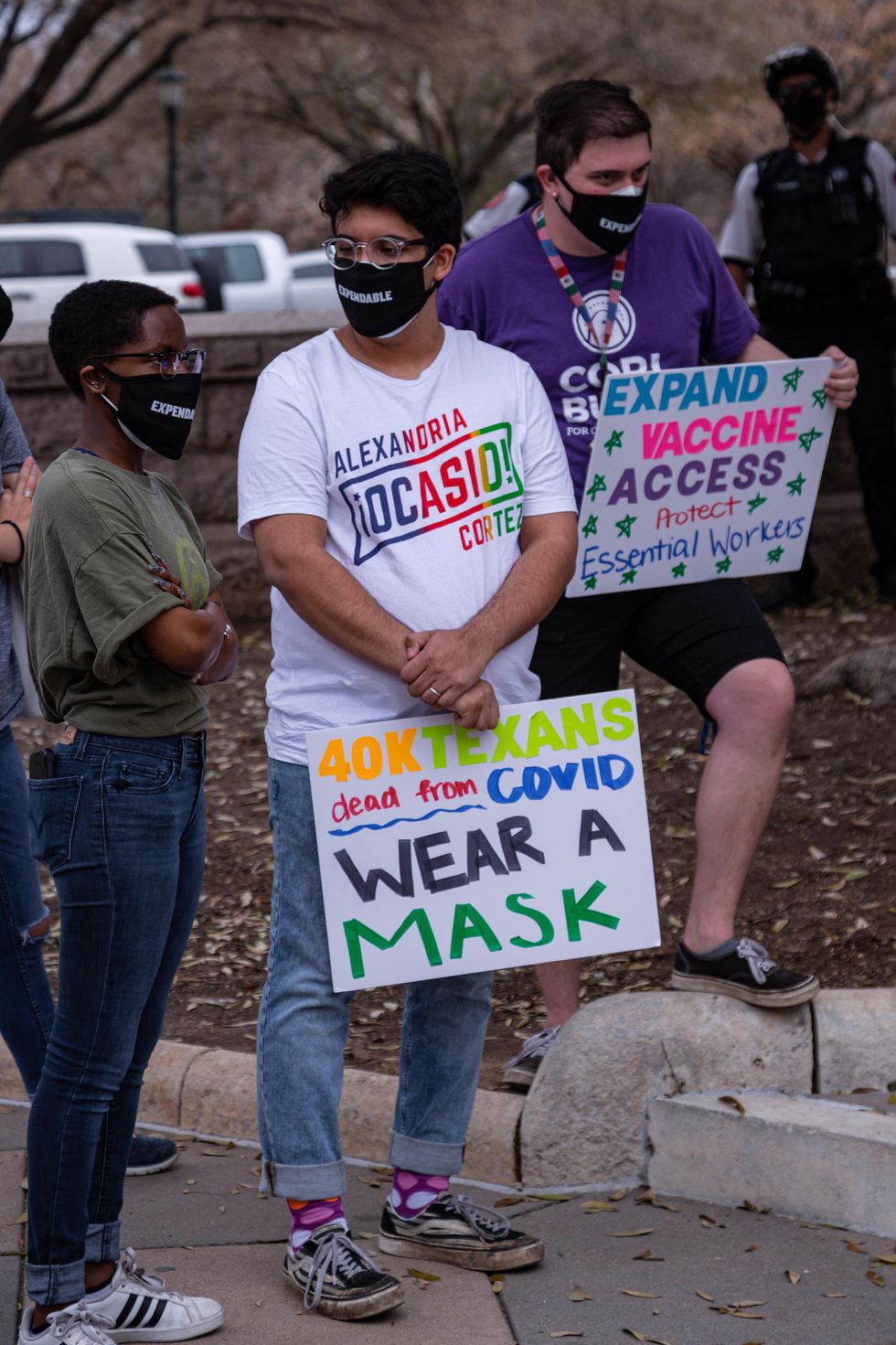 Christa McWhirter
​Kiara Collins, Eric Santos and Taylor Escamilla are all essential workers who have been questioning their safety in their workplace. As many of the other protesters, the three wore masks with the word "Expendable" on it. According to Collins, they were only given to essential workers in attendance to represent how they have been treated since the onset of COVID-19.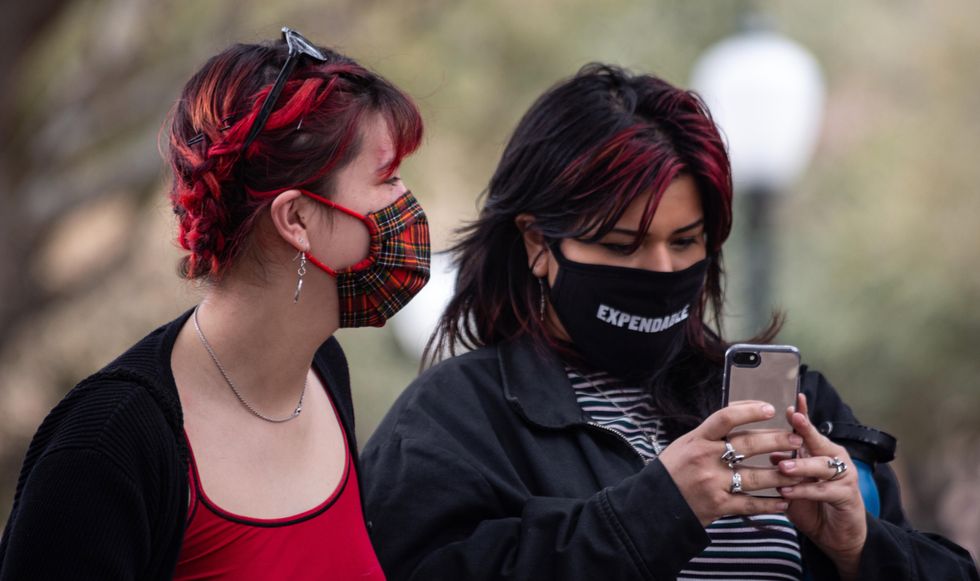 Christa McWhirter
As Maher continues to introduce speakers, two essential workers who came out to support the protest, record as counter-protesters heckled the event's speakers.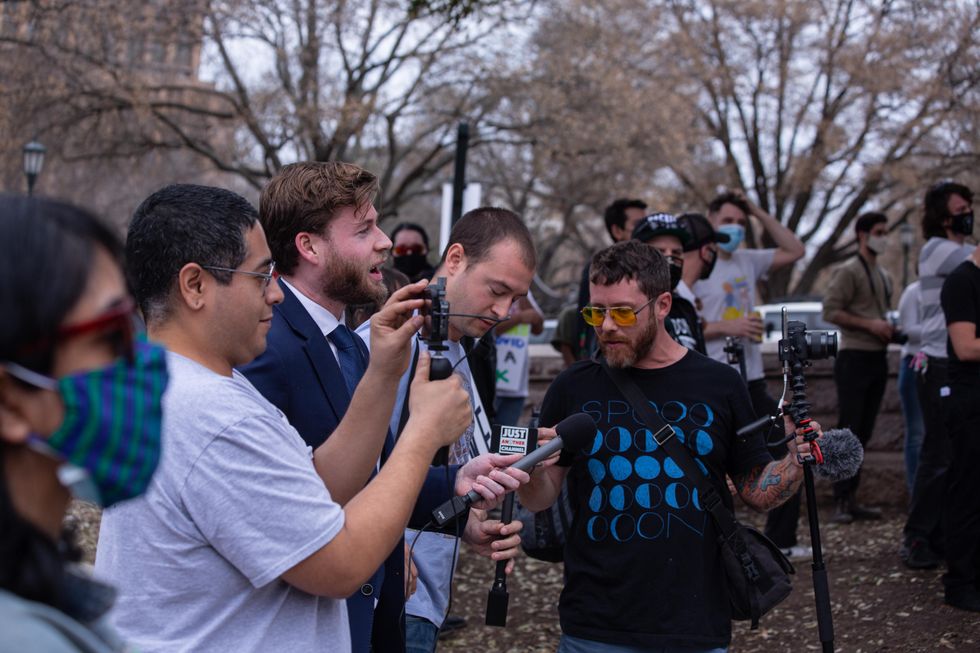 Christa McWhirter
Some of the counter-protesters in attendance were live streamers from InfoWars, an extremist organization, who heckled speakers until the rally dispersed.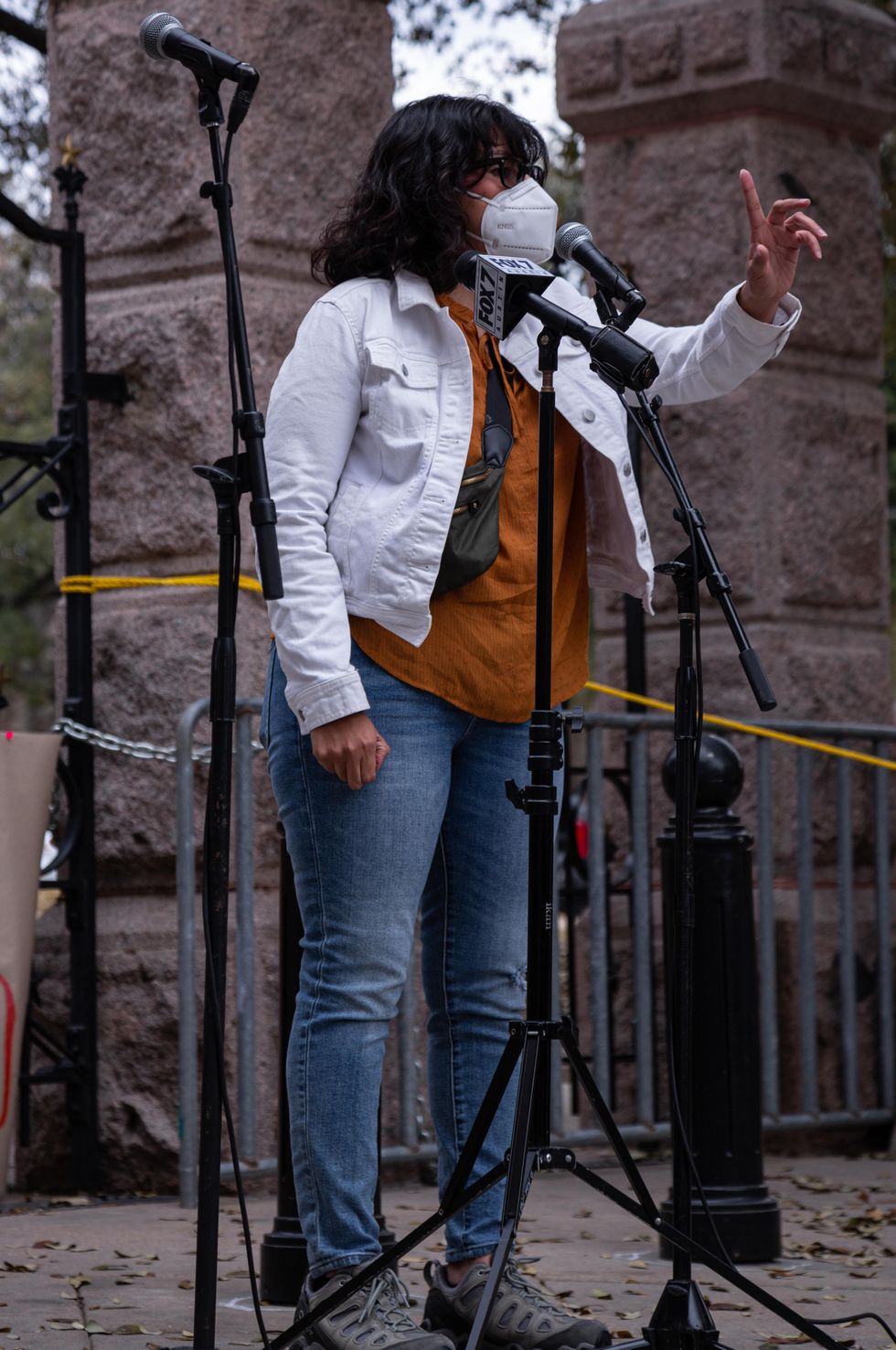 Christa McWhirter
A representative of the Del Valle Community Coalition spoke about the impact the lack of vaccine access has had on the Del Valle area. As she attempted to give her speech, anti-masking protesters yelled at her causing many people to attempt to block them out.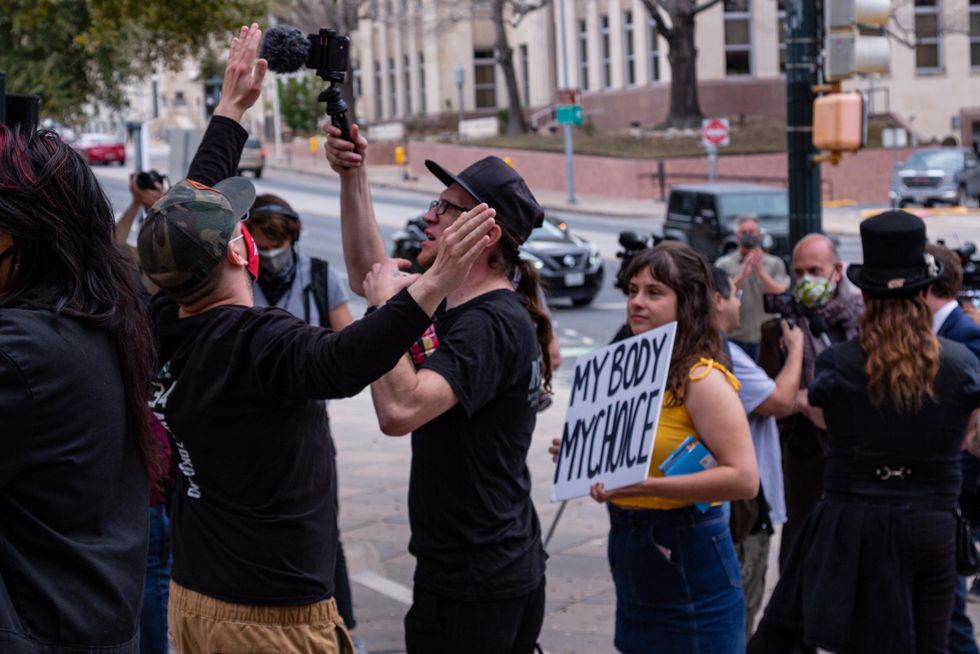 Christa McWhirter
Protesters blocked the way of anti-mask counter protesters as they heckled the event's speakers and held "My Body My Choice" signs. "It's kind of insane how they're using 'my body, my choice.' It doesn't only affect you. So it's not just your body," Taylor Escamilla said.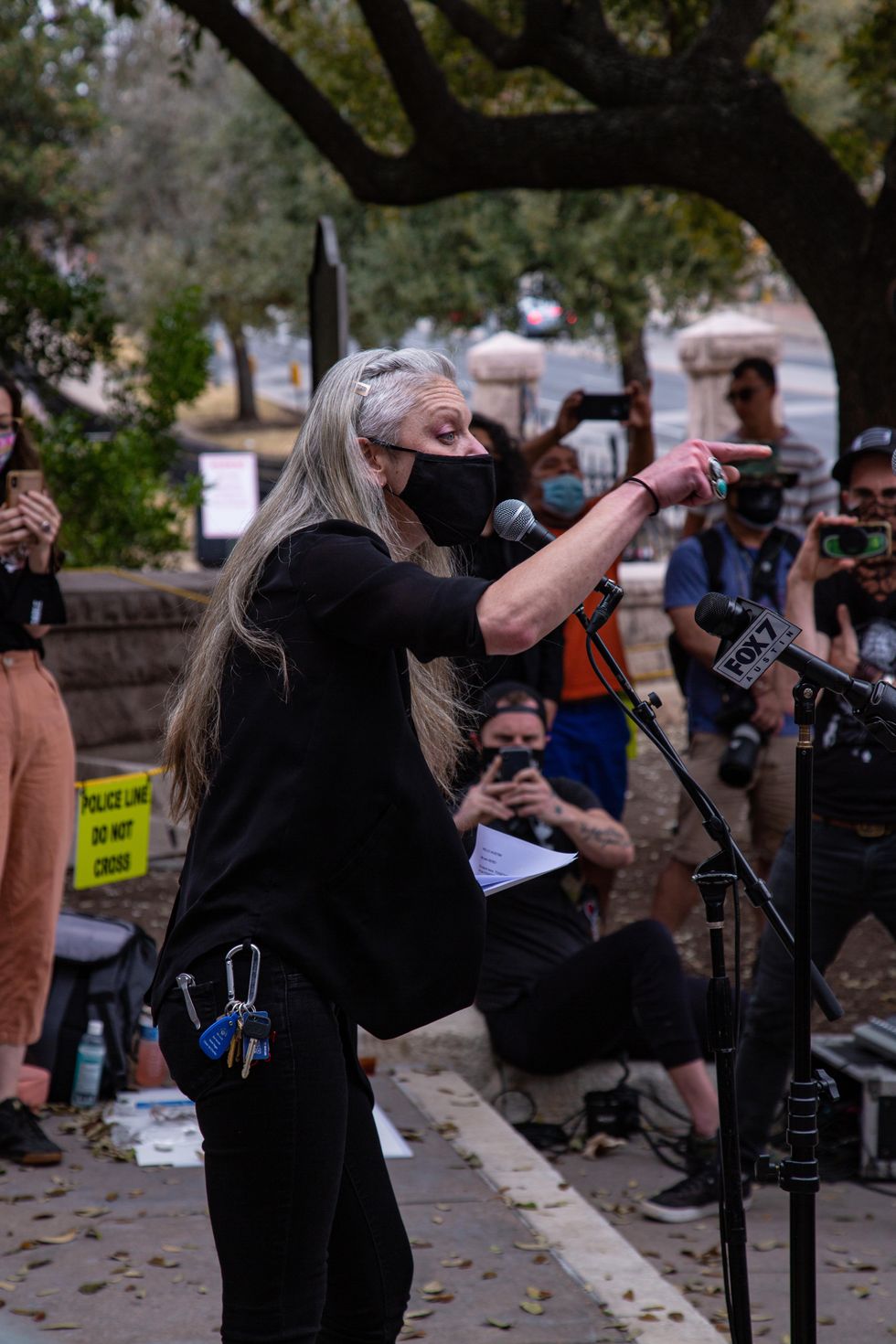 Christa McWhirter
Jeanette Gregor, cofounder of Amplified Sound Coalition, also had to fend off counter-protesters as she gave an impassioned speech about the danger essential workers place themselves in by going to work and have yet to qualify for COVID-19 vaccine.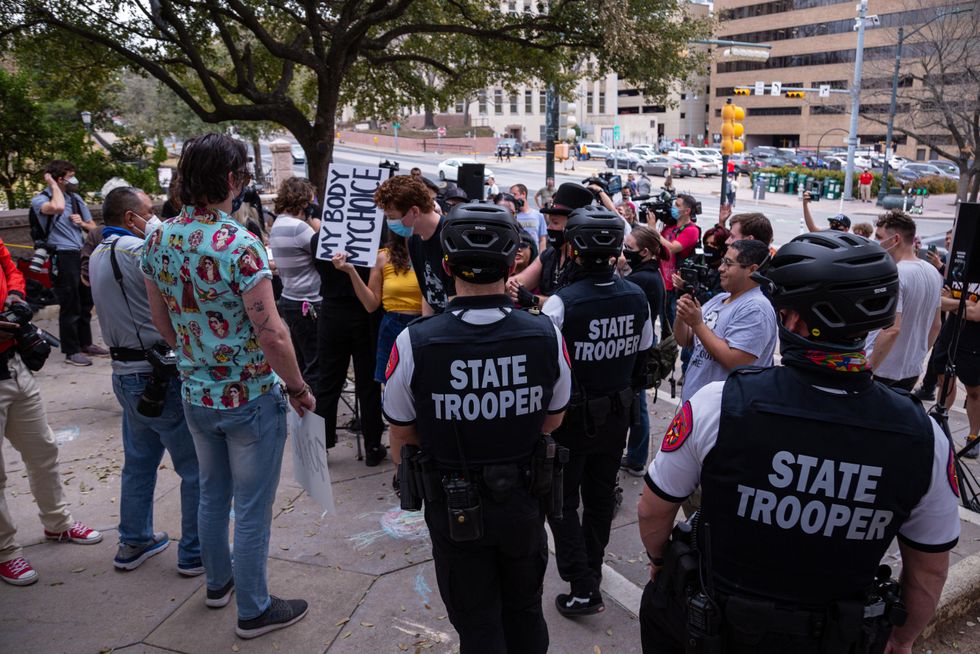 Christa McWhirter
Around 2 p.m., State Troopers began to arrive at the Capitol amid heightening tensions from protesters and counter-protesters. As police presence began to increase, the event came to end about 15 minutes later. Despite the constant back and forth between sides and the arrival of law enforcement, the protest came to end peacefully.
After the devastating blow of the pandemic, Emojis Grilled Cheese Bar owner Hope Green saw a surge in sales last summer. The outpouring of community support for Black-owned businesses came in the wake of the killing of George Floyd and nationwide protests against police brutality and racial injustice. But for Emojis the support has been fleeting.

"It's like a fad type of thing," she told Austonia. "Oh, it's cool this week to patronize a Black-owned business, but then people tend to revert back to their natural instincts."
When the pandemic began, Green—like many of her peers—had to reinvent her business model after 10 successful years. Pre-COVID, the Emojis food truck predominantly operated out of office parks and festivals, such as Austin City Limits and Blues on the Green. With offices mostly closed and large events canceled due to public health concerns, Green pivoted: first to taking the truck to area apartment complexes around lunchtime and then settling into a permanent spot on East 12th Street. But foot traffic was slow. "Then you add the overhead on top of this drastic cut in customers, it's just mind-boggling," she said, citing a nearly 90% drop in revenue.
Starting in late May, Austinites took to the streets by the thousands in response to the police killings of Floyd, in Minneapolis, and Mike Ramos locally. They also sought ought Black-owned businesses to support.
Jane Ko, an influencer who runs the Austin food and travel blog A Taste of Koko, published a widely shared list of Black-owned restaurants on June 1. Similar round-ups appeared in Austin Monthly, Eater and other local outlets.
Austin residents turned up in droves. But at Emojis this influx petered out fairly quickly.
Green was grateful for a similar show of support at Emojis Grilled Cheese. But it coincided with pandemic-related supply chain issues. "I just wanted to reach out to you all to say thank you so much for all of the support that we've received in the last couple of days," she said in a June 22 YouTube video. "And I just wanted to ask if our new customers, our new partnerships would consider making a future purchase, whether it's buying a gift card or booking an event on our calendar, just to kind of spread the love out a little bit more."
As an alternative, Green recommended Austinites support Black-owned businesses by visiting them regularly or buying gift cards to share with others—"as opposed to a thousand people coming all on one day because it's Black History Month or Black Lives Matters."
Such regular business is the holy grail for any business owner, especially given the added challenges of the pandemic. "If 10 steady customers came to my truck every day for six months, my business would not go under," Green said. "My business would be fine."
Emojis wasn't the only business to see such a show of support.
"Thanks to your overwhelming support, we are sold out of many key menu items!" A Taste of Ethiopia, which has locations in Pflugerville and on South Congress Avenue, posted on Instagram June 7. That same day, Bird Bird Biscuit on Manor Road closed so that its staff could rest. "It's been so much support that we are actually going to have to take a little break and regroup," co-founder and Chef Brian Batch said in a video posted to the social media site.

Burgerlicious, a local food truck that rotates between Arbor Food Park on East 12th Street and Southern Heights Brewing at Techni Center, saw a similar influx. "We had orders pouring in, and we were able to get enough product," owner Vernetta Weston told Austonia at the time. "We filled the truck up to the rafters."
Tavel Bristol-Joseph, chef-partner at the farm-to-table restaurant Emmer & Rye, Fareground's Henbit and TLV, and open-hearth Hestia and Spanish-inspired Kalimotxo downtown, continues to see an increase in new customers.
"As much as it was a lot of support coming to our business, it was also more importantly a lot of African American diners that came out to support their own," he said. "To me that was exciting."
Bristol-Joseph's also mentioned the benefits of gift card purchases and to-go orders in addition to dine-in customers and retail purchases. "I think that support has continued," he said of the summertime surge. "As long as you come into our doors, because of the service and the quality of the service that we offer, you will come back."
From Your Site Articles
Related Articles Around the Web
After weeks of protests in the spring of 2020, anti-policing activist sold the Austin City Council on the idea that the police department was bloated and far too unaccountable. The council voted in August 2020 to launch policy reforms, transfer certain units to independent control, trim the police budget by about 5 percent, and reinvest the savings in social services.
However, according to a first-quarter financial report, spending on policing actually increased in the first three months after the new budget took effect October 1, 2020, from $111.97 million in 2019 to $112.2 million in 2020. While that's not much of an increase, it's quite a bit off from the 5 percent cut that should be in effect, and it's a far cry from the even deeper cuts that activists had hoped for.
Read the full story on The Austin Bulldog.