Get connected with our daily update
While on bond for a murder charge for the killing of Michael Ramos, Austin police officer Christopher Taylor was once again indicted with a separate charge for the death of a mentally ill man in July 2019. Officer Karl Krycia, who also fired shots at the mentally ill man, was indicted with a murder charge for the July 2019 incident, as well.
Taylor, who was charged with murder for the shooting of Ramos, an unarmed Black and Hispanic man, in April 2020, turned himself in for the newest on-duty murder charge on Friday.
Ten months before the death of Ramos, Taylor shot and killed Mauris DeSilva, a Univeristy of Texas-San Antonio professor with schizophrenia who was suffering a psychotic break, after he allegedly took a step toward three on-scene police officers with a knife at a luxury condo building near Third and Bowie streets on July 31, 2019. Two of the three officers opened fire after DeSilva allegedly did not obey their commands. All officers returned on duty in the weeks after the shooting.
BREAKING: Austin Police Officer Chris Taylor faces a new murder charge in a second on-duty shooting in July 2019. He already has been charged with murder in the April 2020 shooting death of Michael Ramos. The latest case stems from the shooting of Mauris DeSilva. pic.twitter.com/dx5OfyKYJ2
— Tony Plohetski (@tplohetski) August 27, 2021
DeSilva's family filed a lawsuit against the department, citing that the shooting was unjustified and that APD knew DeSilva's history of mental illness and had deescalated the situation before.
"During the last years and months of his life, Dr. DeSilva struggled with increasingly severe mental illness," the lawsuit says. "Austin PD was well aware of this fact."
According to the lawsuit DeSilva's neighbor called Austin PD that night, fearing that an emotionally disturbed DeSilva was once again suffering from a psychotic break as he held a knife to his neck in the condominium hallway. The neighbor asked for a mental health officer. While on-duty mental health officer Benjamin Lynch was available to respond, he was not at the scene at the time of the murder. Police say that Lynch was on his way to the scene when DeSilva was killed.
Attorneys for Taylor say that he "had no choice but to use deadly force to protect himself."
"This was in no way murder," they said in a statement.
In a statement released Friday afternoon, Interim Police Chief Joseph Chacon said the department would delay their conclusion in its administrative review of both Officer Taylor and Officer Karl Krycia, who also fired shots at the scene.
:APD respects the role the Grand Jury holds in the criminal justice process and will continue to cooperate with the District Attorney's Office on this case. As with anyone charged with an offense, these officers are presumed innocent unless found guilty through the criminal process," Chacon said. "In respect of their right to a fair trial, we will not be commenting further."
Officer Krycia has been placed on paid administrative duty, while Taylor remains on leave without pay after his murder charge in Ramos' killing. Taylor was released on personal bond Friday morning following the second charge.
It's the first day of classes at the University of Texas, and some students have already made it known once more that they disapprove of the "Eyes of Texas," the school's controversial alma mater.
There was plenty of liveliness at 'Gone to Texas,' the school's biggest back-to-classes event, as students and staff celebrated what was held entirely online last year. But around two dozen students went to protest the controversial alma mater, which has been accused of having a racist past, showing that contention over the song lingers into this school year.
As the Longhorn band performed a slew of songs, including the 'Eyes,' students chanted "Hey hey, ho ho, The Eyes of Texas has got to go" and bore a sign that read "Students and Workers Demand Cops off Campus."
Tonight Cops Off Campus stormed the stage of one of UT's biggest events in protest of the song the Eyes Of Texas. We are fighting back against the University spending MILLIONS on their racist traditions while their students are left to suffer. pic.twitter.com/dYYTllwJxl
— Cops Off Campus UT (@CopsOffCampusUT) August 25, 2021
The protest proves that last year's issues at the university are still unresolved after President Jay Hartzell ruled that the Longhorn Band would continue to play the alma mater despite allegations of racist origins. A UT investigation on the subject, which was conducted after many Longhorn athletes and band members refused to participate in the song, found that the song had "no clear racist intent" but likely debuted at a minstrel show where students were wearing blackface.

Among the protesters were members of Cops Off Campus UT, Underpaid at UT and UTexas Direct Action.
Activists told the Statesman that they attended the event because of its size and its target audience—incoming freshmen, who may not have heard of the song's storied past.
Students are chanting and holding a banner that say "Student Workers Demand Cops Off Campus.

The Longhorn Band is also playing right now over the chants. pic.twitter.com/NtlJa6tgTE
— Megan Menchaca (@meganmmenchaca) August 25, 2021
Protesters passed out a zine on the subject to incoming freshmen titled "Eyes Upon You: A Zine About the Troubled Past and Present of The University of Texas at Austin."

In the zine, Cops off Campus writes that "The University of Texas at Austin has been a place of political controversy and social turmoil from its very conception" as it addresses issues including the alma mater, COVID-19 protocols, working conditions for graduate students and sexual misconduct allegations.
Protestors were joined by dozens of incoming students by the end of the event, chanting phrases including "Cops off Campus" and "No justice, no peace."
Almost a year after the shooting death of Garrett Foster, a Black Lives Matter protester, U.S. Army Sgt. Daniel Perry will be charged with murder, deadly conduct and aggravated assault in connection with the killing.
Tony Plohetski with KVUE and the Austin American-Statesman reports a Travis County grand jury made the decision to charge Perry on Thursday. He turned himself into the Travis County Jail but has since posted bond in the amount of $300,000 and was released from custody.
Travis County District Attorney José Garza said over 150 pieces of evidence and testimony from 22 witnesses led the Court to the decision in a three-week hearing.
The incident took place on July 25, 2020, as protesters took to the streets of Austin in continuous protests stemming from the killing of George Floyd at the hands of Minneapolis police. Foster actively participated in protests with his wife, a quadruple-amputee. He was carrying an AK-47 at the time.
Perry was completing a ride nearby as an Uber driver when he says he shot at Foster in self-defense after Foster approached his car, according to his lawyer. Perry, who was stationed in Killeen, took a lie detector test in October to defend his statement. While, the polygraph examiner found "no deception indicated," per his lawyer, the Austin Police Department at the time said witnesses have described several different versions of the incident.
This weekend marks one year since Austinites marched en masse in support of the Black Lives Matter movement, joining protesters in cities across the country—and world.
Spurred by the April 24 police killing of Mike Ramos in Southeast Austin and the May 25 murder of George Floyd in Minneapolis, hundreds of protesters gathered outside of the Austin Police Department headquarters on May 30, 2020. Some later shut down I-35. APD officers used so-called "less-lethal" rubber bullets, leaving some protesters with permanent brain damage.
More protests followed, including one organized by the Austin Justice Coalition that saw thousands march from Huston-Tillotson University to the Texas Capitol. In response to the demonstrations and outrage over APD's actions, Austin City Council criticized then-APD Chief Brian Manley and voted unanimously to cut the department's budget.
Protests against police violence and racial injustice in Austin and other cities sparked reform but they also prompted pushback from the state's Republican leadership and coincided with a national increase in violent crime. Although unexplained, this trend has led some to question the utility of "reimagining public safety," as local elected officials have pledged to do.
In the year since, Austin has seen the shooting death of protester Garrett Foster, the resignation of Manley and the historic indictment of APD Officer Christopher Taylor, who was charged with first-degree murder in Ramos' death in March. More recently, City Council approved a pilot class of the APD training academy, which was put on hiatus last July due to curriculum concerns, and state lawmakers sent a law to Gov. Greg Abbott's desk that will, if passed, prohibit police funding cuts in Austin and other large Texas cities.
Criminal justice reform advocates say there is still work to be done. Meanwhile, public safety interest groups argue that the reforms already enacted go too far. As Austin heads into its second year since these protests, one thing is certain: their legacy continues to influence the city's direction.
Austinites protested on May 30, 2020, following the police killings of Mike Ramos in Southeast Austin and George Floyd in Minneapolis.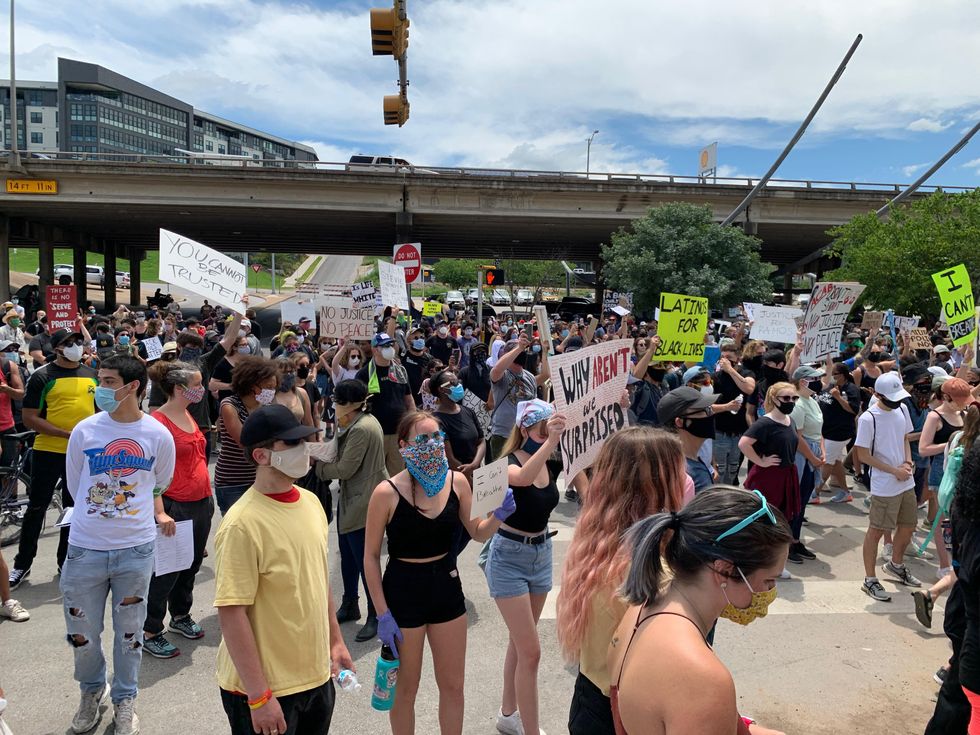 (Austonia)
Protesters first gathered outside of the APD headquarters in downtown Austin.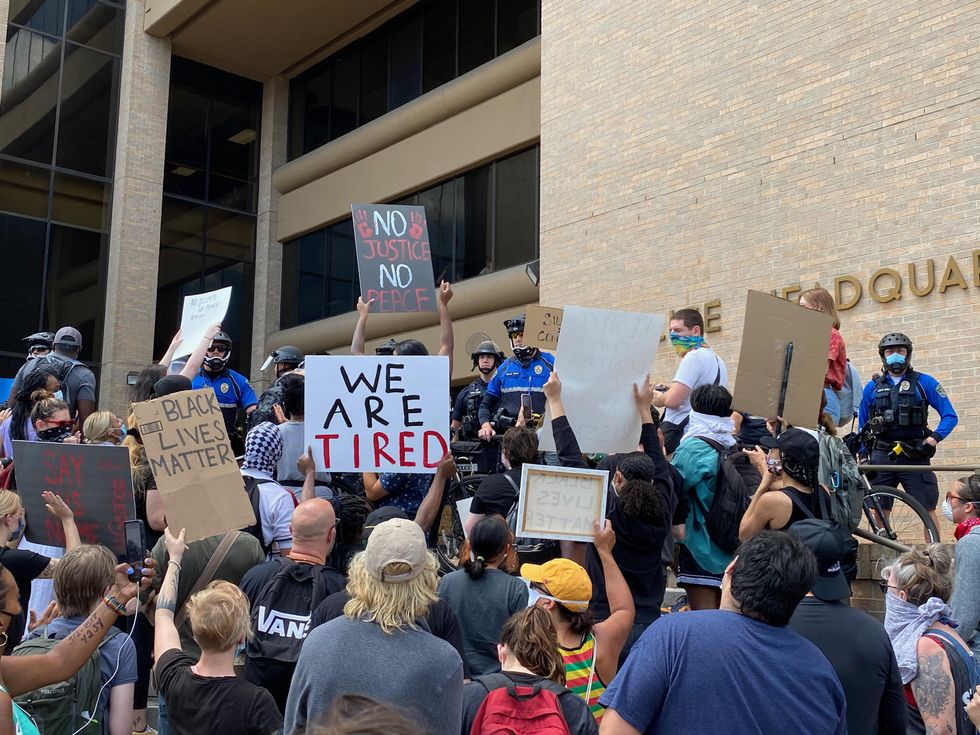 (Austonia)
They later spread out, eventually shutting down I-35.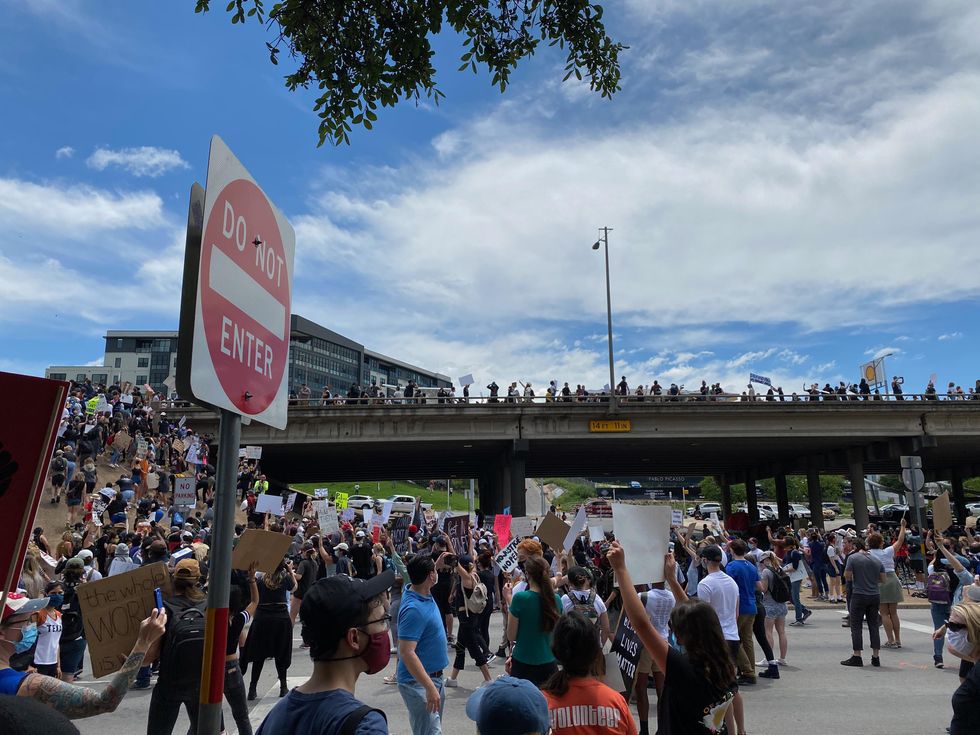 (Austonia)
APD officers used rubber bullets, bean bags and tear gas to disperse protesters.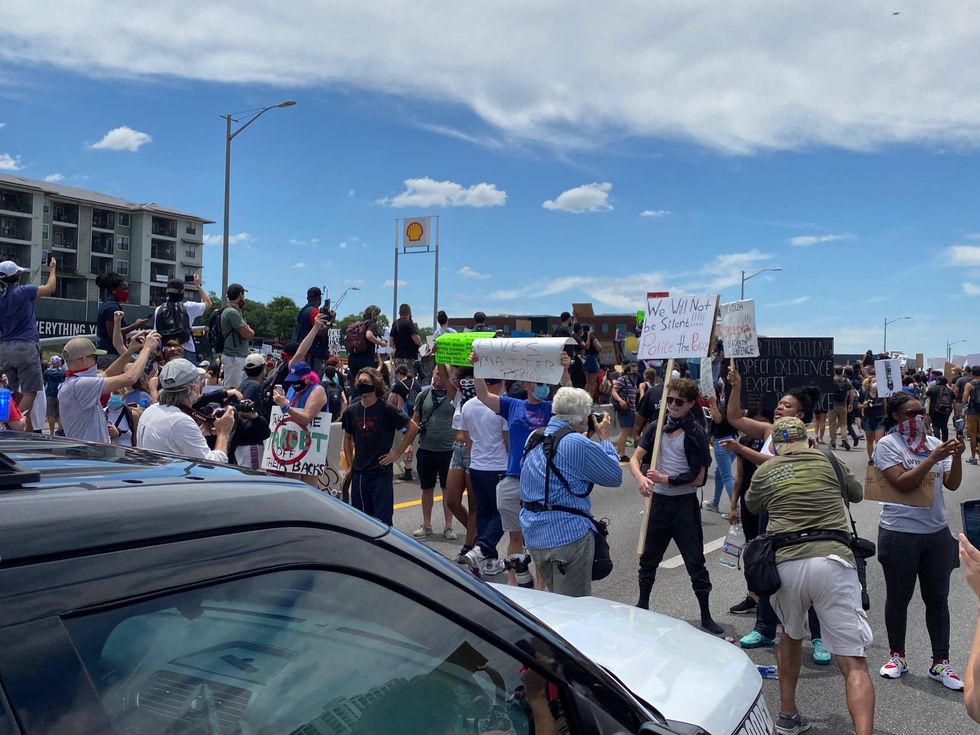 (Austonia)
The police response left many protesters injured, including a pregnant woman, and left a 16-year-old and 20-year-old with permanent brain damage.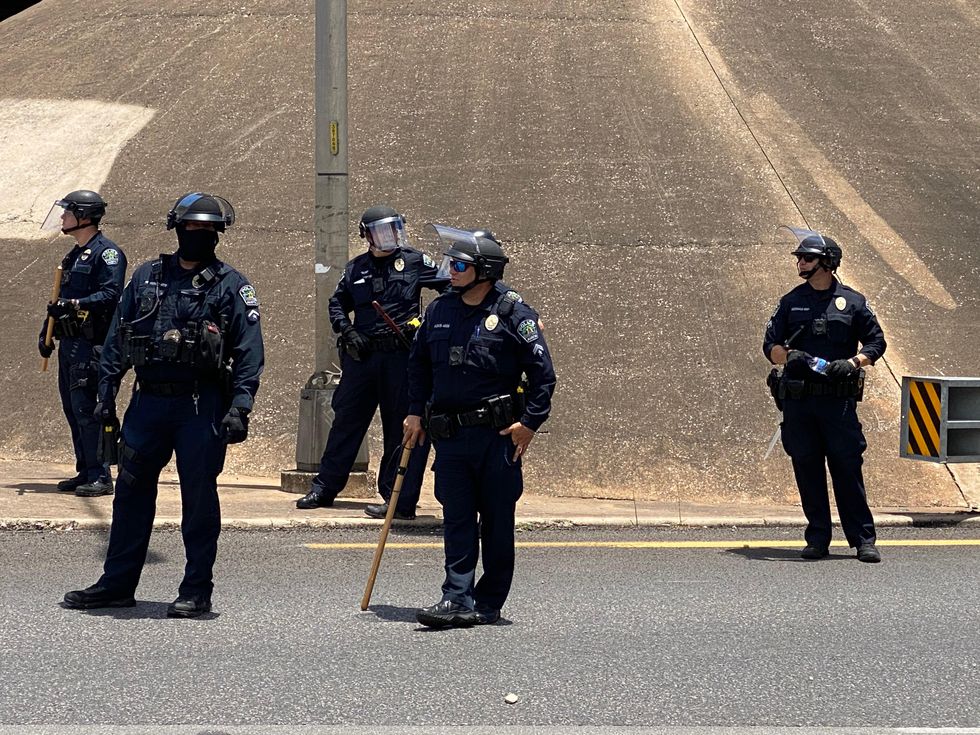 (Austonia)
The protest spurred others, including one the following weekend that saw thousands march from Huston-Tillotson University to the Texas Capitol.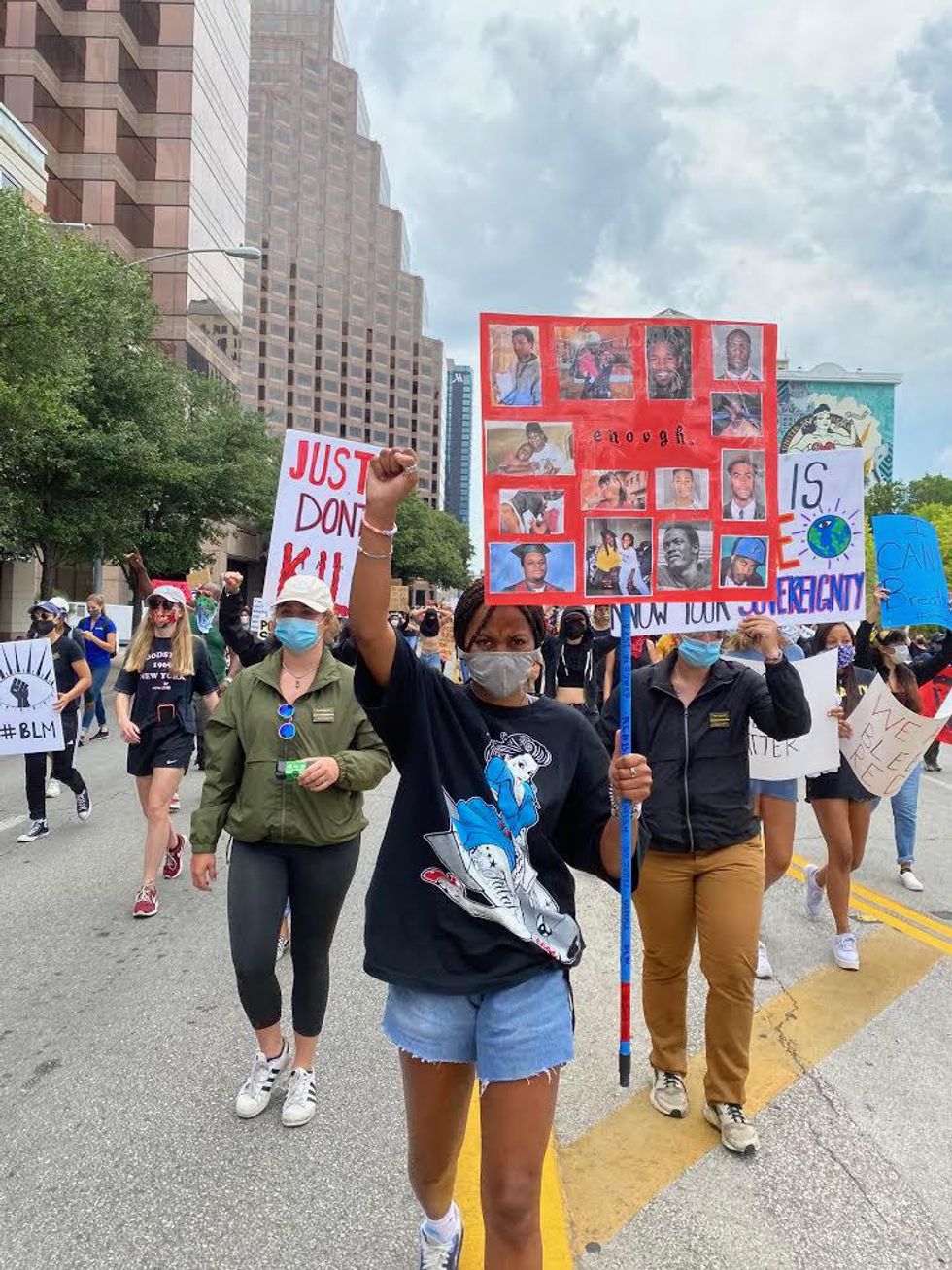 (Austonia)
The series of protests ultimately led to reforms at the local and state levels, some of which are still taking shape.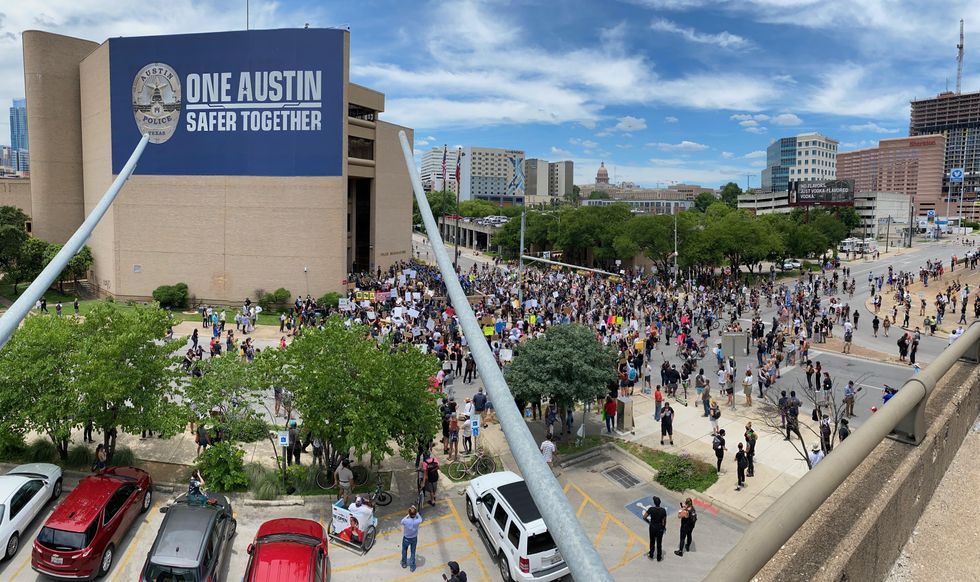 (Austonia)