Austonia AM
100% Austin news, info, and entertainment, straight to your inbox at 6 a.m. every morning.
In five minutes, you're fully informed and ready to start another great day in our city.
Get connected with our daily update
This weekend marks one year since Austinites marched en masse in support of the Black Lives Matter movement, joining protesters in cities across the country—and world.
Spurred by the April 24 police killing of Mike Ramos in Southeast Austin and the May 25 murder of George Floyd in Minneapolis, hundreds of protesters gathered outside of the Austin Police Department headquarters on May 30, 2020. Some later shut down I-35. APD officers used so-called "less-lethal" rubber bullets, leaving some protesters with permanent brain damage.
More protests followed, including one organized by the Austin Justice Coalition that saw thousands march from Huston-Tillotson University to the Texas Capitol. In response to the demonstrations and outrage over APD's actions, Austin City Council criticized then-APD Chief Brian Manley and voted unanimously to cut the department's budget.
Protests against police violence and racial injustice in Austin and other cities sparked reform but they also prompted pushback from the state's Republican leadership and coincided with a national increase in violent crime. Although unexplained, this trend has led some to question the utility of "reimagining public safety," as local elected officials have pledged to do.
In the year since, Austin has seen the shooting death of protester Garrett Foster, the resignation of Manley and the historic indictment of APD Officer Christopher Taylor, who was charged with first-degree murder in Ramos' death in March. More recently, City Council approved a pilot class of the APD training academy, which was put on hiatus last July due to curriculum concerns, and state lawmakers sent a law to Gov. Greg Abbott's desk that will, if passed, prohibit police funding cuts in Austin and other large Texas cities.
Criminal justice reform advocates say there is still work to be done. Meanwhile, public safety interest groups argue that the reforms already enacted go too far. As Austin heads into its second year since these protests, one thing is certain: their legacy continues to influence the city's direction.
Austinites protested on May 30, 2020, following the police killings of Mike Ramos in Southeast Austin and George Floyd in Minneapolis.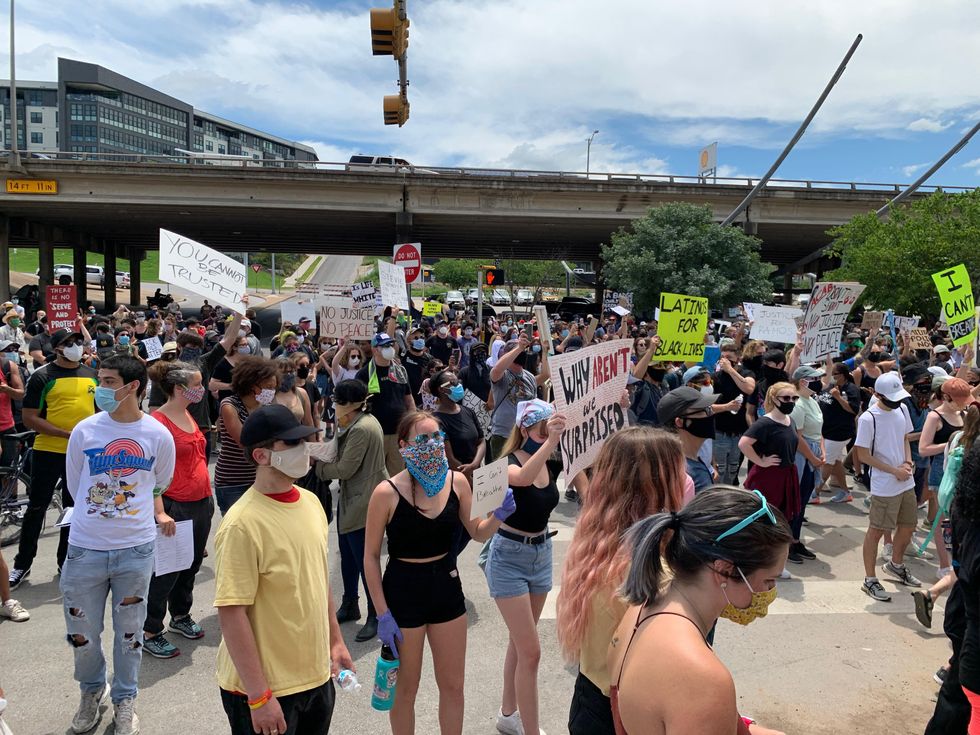 (Austonia)
Protesters first gathered outside of the APD headquarters in downtown Austin.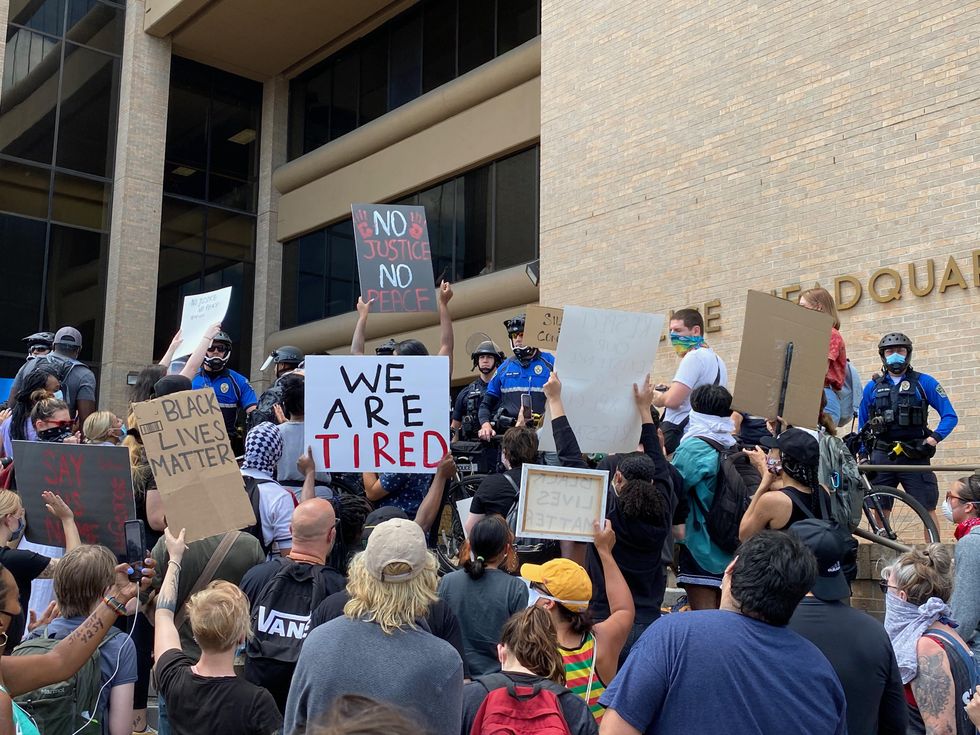 (Austonia)
They later spread out, eventually shutting down I-35.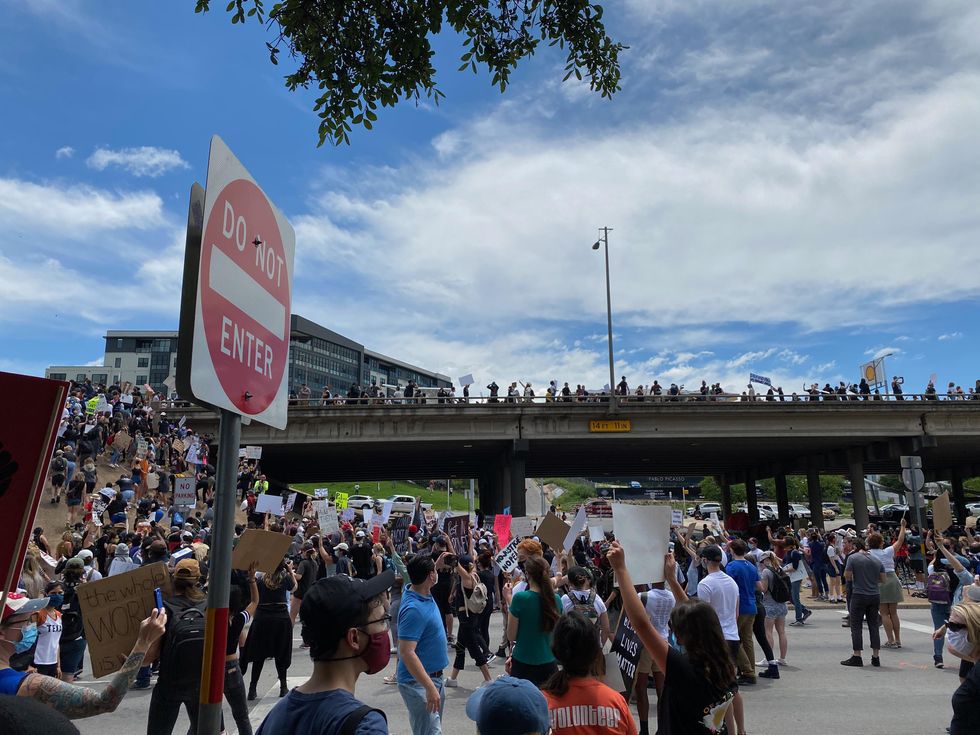 (Austonia)
APD officers used rubber bullets, bean bags and tear gas to disperse protesters.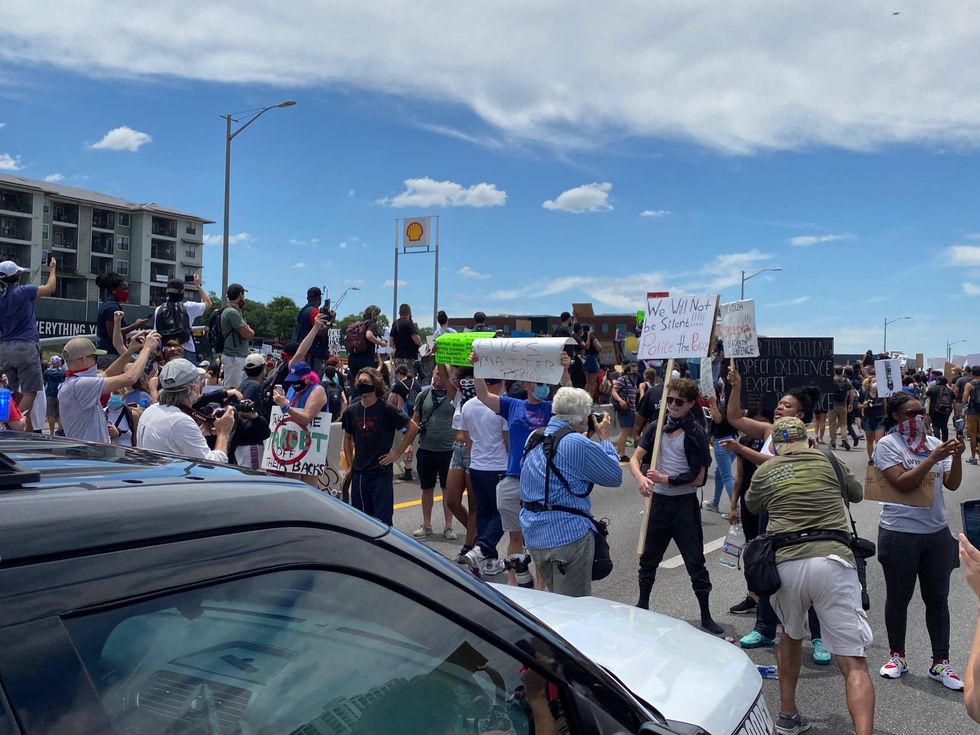 (Austonia)
The police response left many protesters injured, including a pregnant woman, and left a 16-year-old and 20-year-old with permanent brain damage.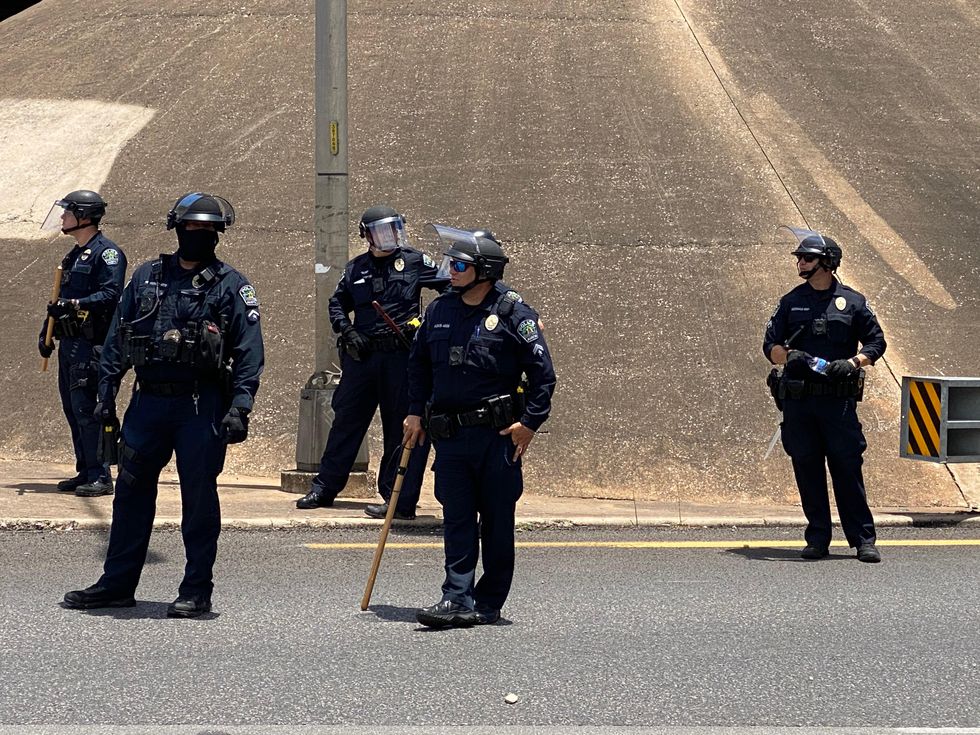 (Austonia)
The protest spurred others, including one the following weekend that saw thousands march from Huston-Tillotson University to the Texas Capitol.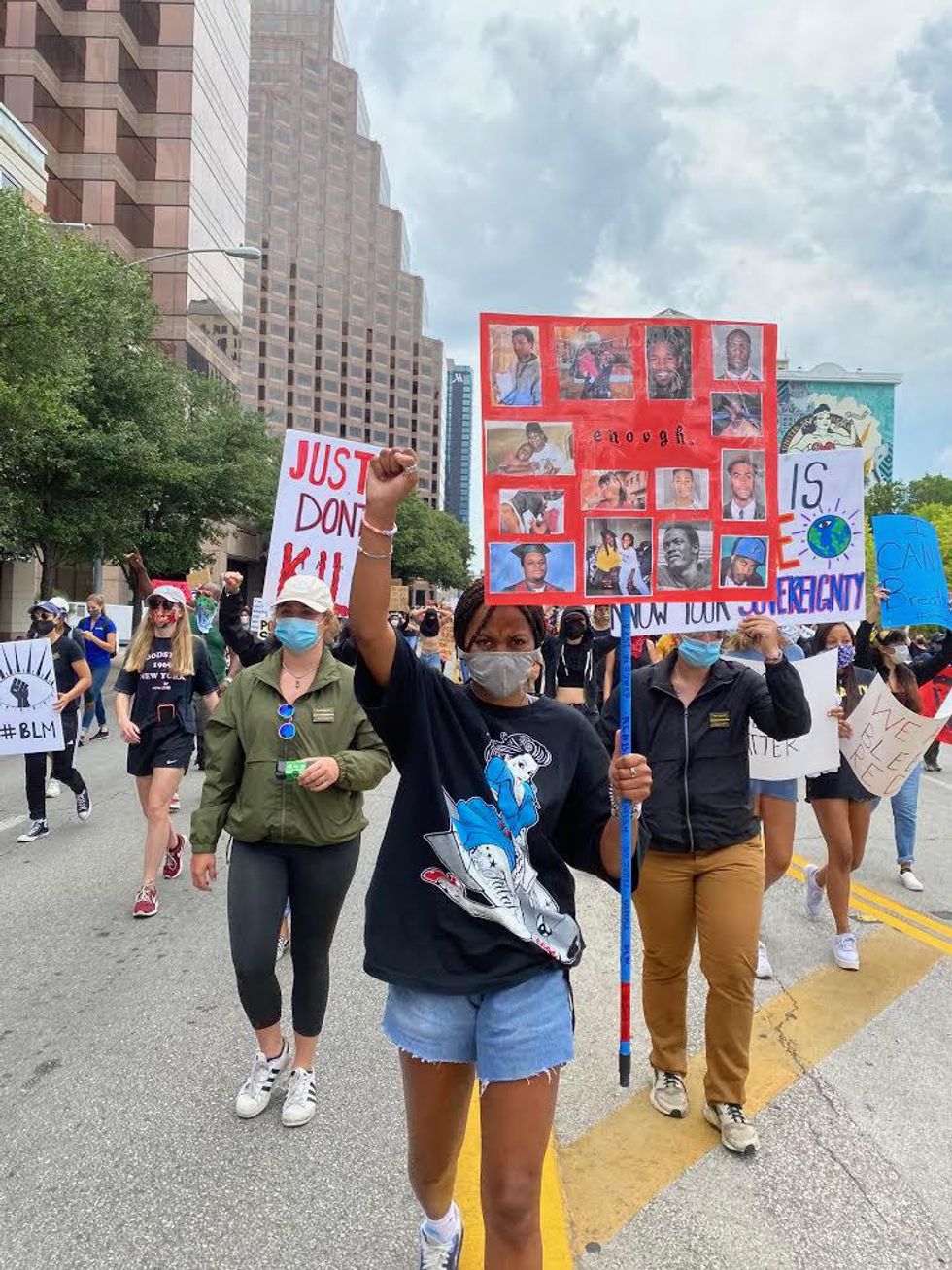 (Austonia)
The series of protests ultimately led to reforms at the local and state levels, some of which are still taking shape.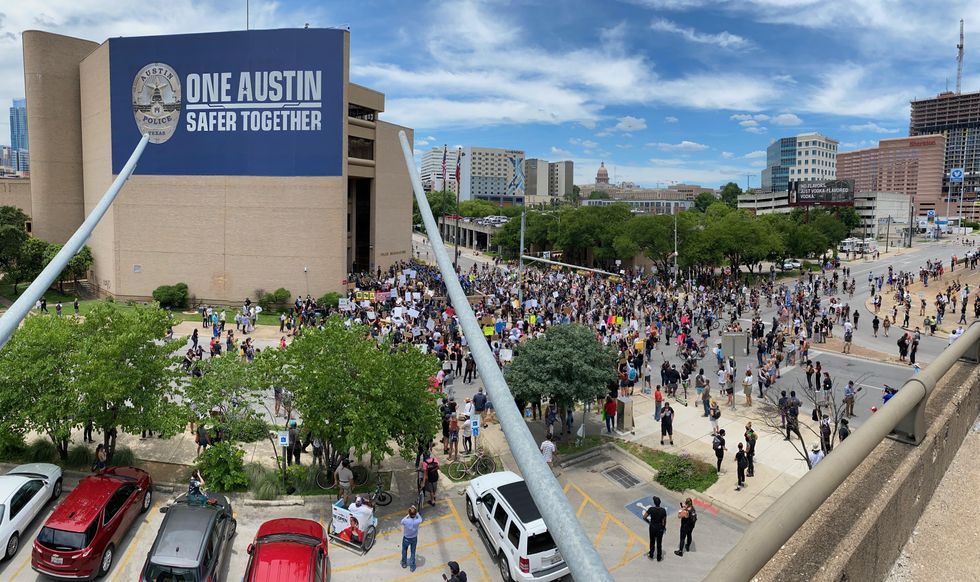 (Austonia)
Brenda Ramos often visits Assumption Cemetery, just off the I-35 frontage road in South Austin, near Ben White Boulevard.
Her parents, aunts, uncles and cousins are buried there. So is her son, Mike Ramos, who died on April 24, 2020, after being shot by an Austin police officer at a nearby apartment complex.
Mike is buried underneath a tree because he'd want to be in the shade. His headstone features two inlaid photos of him as a young child with his mother, who has jet-black hair and thick bangs, "like Cleopatra," she said. In one, they're playing pattycake. The other photo is over Brenda's name; she'll be buried beside him.
Now that it's spring, the gravesite is due to be seeded with grass. Until then, Brenda tends to the Hobby Lobby flower arrangements and sprinkles fresh rose petals—white with pale blue tips—and plastic purple gemstones on the dirt. Despite the breeze, they stay put.
This weekend, Brenda might bring some balloons. "It'll be a year Saturday," she told Austonia, amid the birdsong. "It don't seem like a year. It feels recently. I still have dreams of the video (showing Mike killed)."
One year after Mike Ramos' death, Brenda Ramos speaks to Austonia about her son. (Laura Figi/Austonia)
An unexpected role

Last April, the Austin Police Department responded to a drug-related 911 call at a Southeast Austin apartment complex parking lot. APD said Mike did not comply with their orders, prompting one officer to shoot him with a so-called "less lethal" bullet. Mike then got into his car and attempted to drive away; Officer Christopher Taylor shot at the car three times, killing him.
"They weren't going to let me see him at the morgue," Brenda said, adding that she was asked to bring a hat to cover up some of the damage to his head. "But I already knew." Mike was a big fan of the University of Texas, so that's the hat she chose. There's a Longhorn engraved on his headstone.
Thirty-one days after Mike's death, former Minneapolis police officer Derek Chauvin knelt on the neck of another unarmed Black man, George Floyd, for nearly nine minutes, killing him. Video footage of his death, along with outrage over the police killing of Breonna Taylor, a 26-year-old EMT in Kentucky, sparked a mass protest movement. In Austin, Mike's name joined theirs in protesters' chants and on their signs.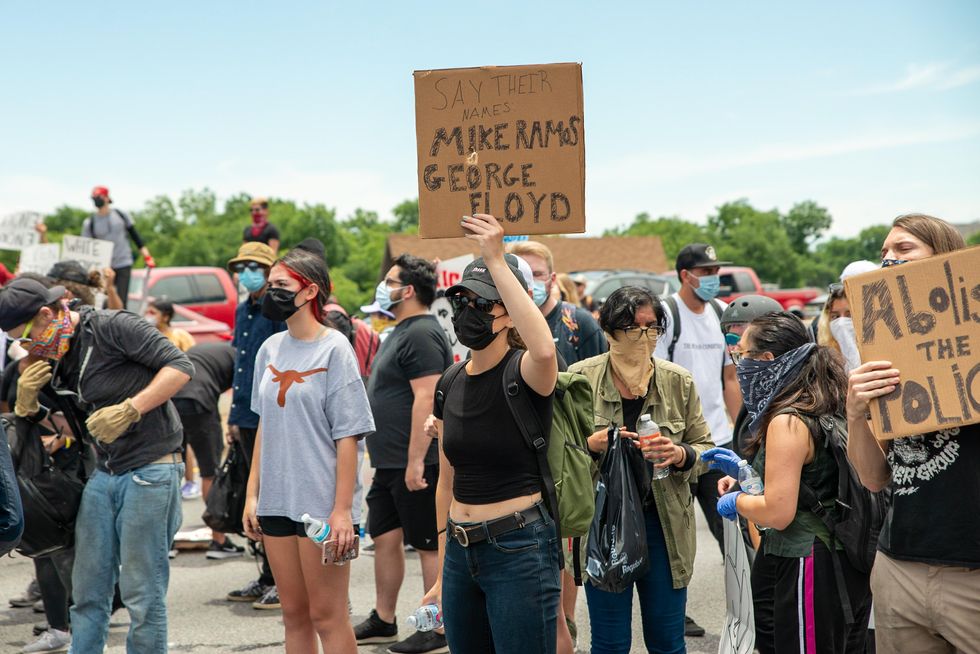 Protesters with signs of Mike Ramos, George Floyd and denoucing police brutality take over I-35 on May 30, 2020. (Shutterstock)
Brenda began speaking at rallies, including a thousands-strong march from Huston-Tillotson University to the Texas Capitol organized by the Austin Justice Coalition in early June. "She didn't ask to become a spokesperson for a movement, but she got forced into that last May and has stepped into it," her lawyer Rebecca Webber said.
The movement has been a long time coming for Chas Moore, who founded the Austin Justice Coalition, a civil rights group, in 2015. Mike's death, grimly detailed through body camera footage, was the unfortunate catalyst for police reform in Austin. "I think it's yet another leverage point that you use to show people that we're not making this up," he said. "It takes people seeing a knee on the neck (of George Floyd). It takes the videos of Mike Ramos getting in his car. It takes the stories of Breonna Taylor being in her house, being shot, for people to be like, 'Damn, maybe AJC, maybe all these other groups are right. And maybe we do need to do something.'"
Waiting for justice

Brenda feels close to Mike during these events, but they have taken a toll. She retired from her airport security job last week to focus on her advocacy work and her health, which has deteriorated in the last year.
Webber is representing Brenda in a civil suit against the city of Austin and APD, which alleges Mike's death was "a direct result of the racism that has permeated policing in Austin." But she said her client's focus is on the criminal case. Last month, Taylor was charged with first-degree murder—an unprecedented event in Travis County—and released on bond after a short stint in jail. "What Ms. Brenda wants is for Officer Taylor to not be an Austin police officer and for there to be some recognition that this was a heinous, unjustified, unnecessary shooting," she said.
Mike's death helped spur on some local reforms, including police budget cuts and, Brenda believes, new leadership at APD. But police killings continue.
As the one-year anniversary approaches, Brenda can't escape the news of the Chauvin trial and the recent police killings of Alex Gonzales in Austin, Adam Toledo in Chicago and Daunte Wright in Brooklyn Center, Minnesota. There have only been three days this year that someone hasn't been killed by law enforcement in the U.S., according to the police reform nonprofit Campaign Zero.

"There's not yet a scenario in my head where we have police, and these things stop," Moore said. "That's why I say the verdict is still out on if change is actually going to happen because I think we're still having the conversation. Until we get to the meat and potatoes of that conversation, I think we'll keep seeing the Daunte Wrights and anybody else."
Although Chauvin was found guilty on all three counts—including second-degree murder—in the case of Floyd's death on Tuesday, Webber is preparing Brenda for different possible outcomes in the civil suit and criminal case. "I can't prognosticate what a criminal jury is going to do with Officer Taylor," Webber said. "I will most definitely do the best that I can to set Ms. Brenda's expectations that this is still Texas, and this is a town that has deeply entrenched institutional racism—even though we have really begun to grapple with it."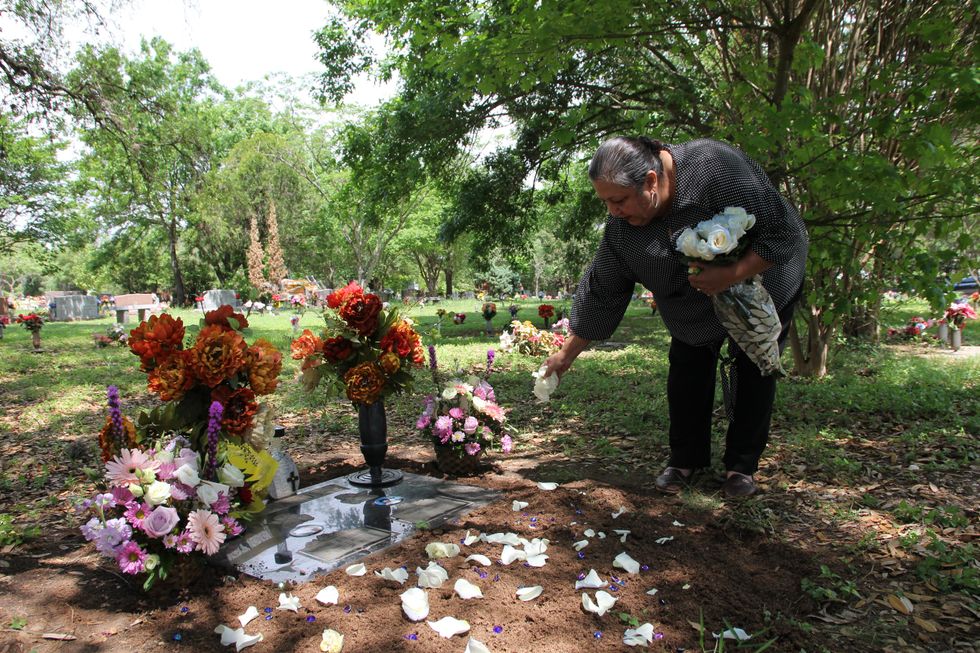 Brenda Ramos lays white rose petals on the grave of her son. (Laura Figi/Austonia)
Meanwhile, the San Jose Catholic Church in South Austin will hold a mass in Mike's memory on Saturday. It's where he received his first communion and was confirmed. Brenda prays for strength and justice, but her grief is palpable. "Nobody should go through this," she said. "It hurts a mother so much."
Assistant Police Chief Joe Chacon will serve as interim police chief of the Austin Police Department following the retirement of Brian Manley on March 28. City Manager Spencer Cronk is conducting a national search for Manley's permanent successor and plans to make an appointment by August. "We need to have a chief in short order," he said during a press conference on Monday.
Chacon is a 22-year veteran of the department, having started as a patrol officer in 1998. He moved through the ranks and was named assistant chief in 2016. He is third in command behind Chief of Staff Troy Gay, who some expected to be named interim chief. (When former chief Art Acevedo left for Houston in 2016, then-Chief of Staff Manley was named interim chief and later promoted after the Austin bombings in 2018.)
Both men have been finalists for other police chief positions across Texas and the U.S. Chacon was named one of four finalists for the top job in Waco earlier this year and one of two finalists for the chief position in Boise, Idaho, last year, according to local reports. Gay was one of five finalists considered to lead the Nashville Police Department in 2020.
City Council will decide whether to confirm Chacon as Manley's interim successor at its meeting on Thursday.
The search process
The national search for Manley's successor began Monday, Cronk announced in a memo to council outlining the process. He has hired Ralph Andersen & Associates, a California-based executive search firm that has assisted 35 other cities in their police chief searches and the city of Austin in a number of executive searches.
"I hope through this process that we collectively find the ideal candidate—one who collaborates with our community, instills trust in the workforce, works to achieve results from established Council policy, creates a culture of improvement and accountability, and is willing and able to lead the department in ways that lead to equitable public safety outcomes for all," he said in a statement.
The search process will take place in three phases, according to the memo. The first phase will entail creating a candidate profile with input from the community as well as city leadership and APD employees. The second phase will consist of outreach and recruiting. And the final phase will involve interviewing the top candidates and selecting the city's next chief. "The search will be transparent and inclusive, with engagement at every level," he said.
The community engagement component of this search will be different from that of the 2018 search process, when Manley, then-interim chief, was named lone finalist for the permanent role following his handling of the Austin bombings. "The difference between what we saw in 2018 and now is that we are starting with an open, national and dare I say international search," Cronk said.
Joya Hayes, director of human resources for the city of Austin, added that this time around community engagement will be considered from the start, including in the formation of a candidate profile, rather than only after a finalist has been chosen.
A rare opportunity
Manley announced his retirement last month amid an ongoing national debate over policing and after mass protests against police violence and racial injustice in Austin last summer. He has faced sustained criticism from local elected officials, criminal justice reform advocates and residents after APD officers seriously injured protesters over the summer. Four council members asked him to resign, Cronk faced pressure to demote him and the council voted unanimously to cut the police department's budget. Last August, the Austin Justice Coalition debuted a jingle, "No Confidence in You," as part of its campaign to get Manley to resign.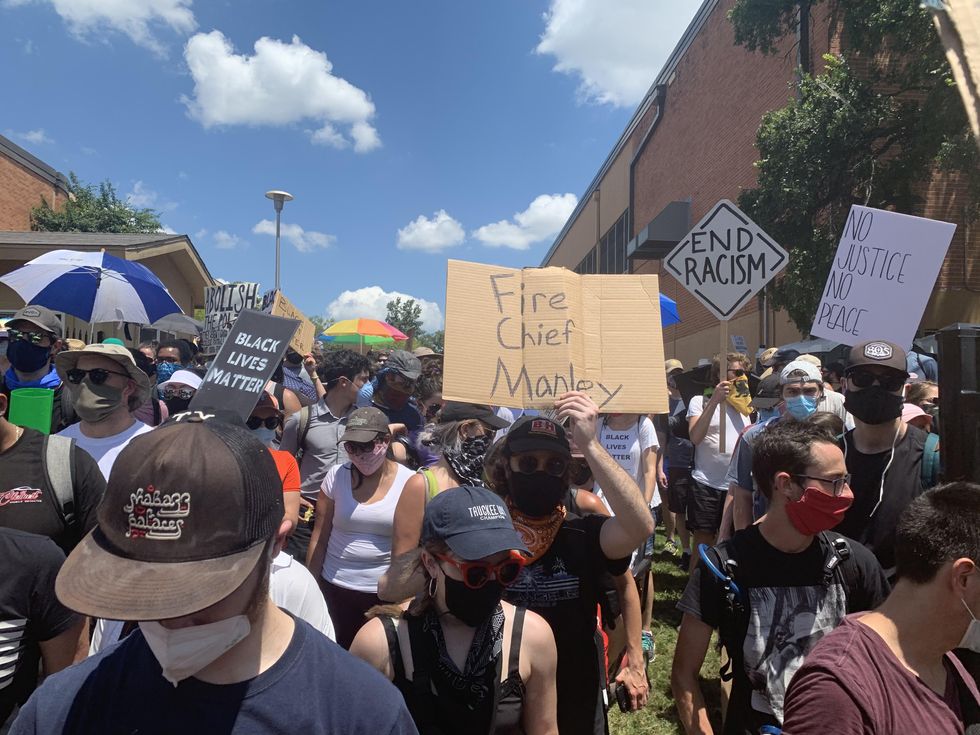 Thousands of protesters marched from Huston-Tillotson University to the Texas Capitol on June 7 in response to police violence and racial injustice. (Emma Freer)
The department has also come under fire in recent years for multiple officer-involved shootings, allegations of racism among its top ranks and reports of hazing at its training academy.

Manley said this criticism did not contribute to his decision to retire, but it will certainly color the search for his replacement. Acevedo, who previously led APD and recently announced he will lead the Miami Police Department, said the city's police reform efforts are deterring candidates from applying to chief positions. "People are hesitant to apply for cities with misguided, reacting city councils," he told Austonia earlier this month. "It's having an effect."
But city leaders, including District 4 Council Member Greg Casar and Cronk, say Manley's retirement presents a rare opportunity. "The Reimaging Public Safety process, budget decoupling and department restructuring, and, most recently, the announcement of Chief Brian Manley's retirement provides a unique opportunity to work with our community to bring new leadership that aligns with our values and our commitment to equity and community engagement," Cronk said in a statement.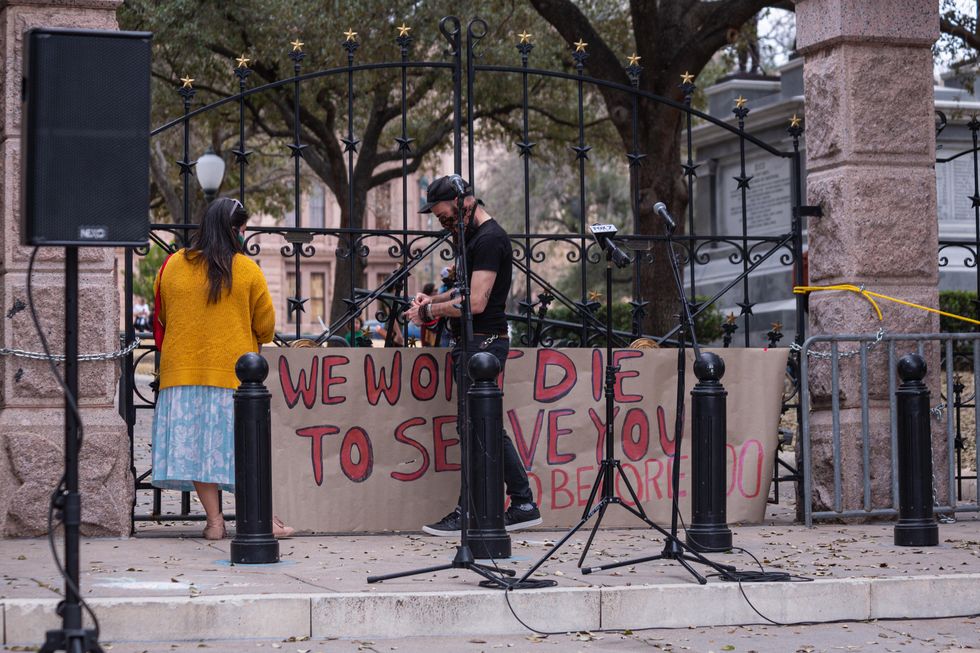 Gina Dvorak and another Restaurant Organizing Project member set up by putting up a sign which reads, "We Won't Die to Serve You. 70% before 100%." Organizers of the protest believe that the population should be at least 70% vaccinated before opening Texas 100% back up.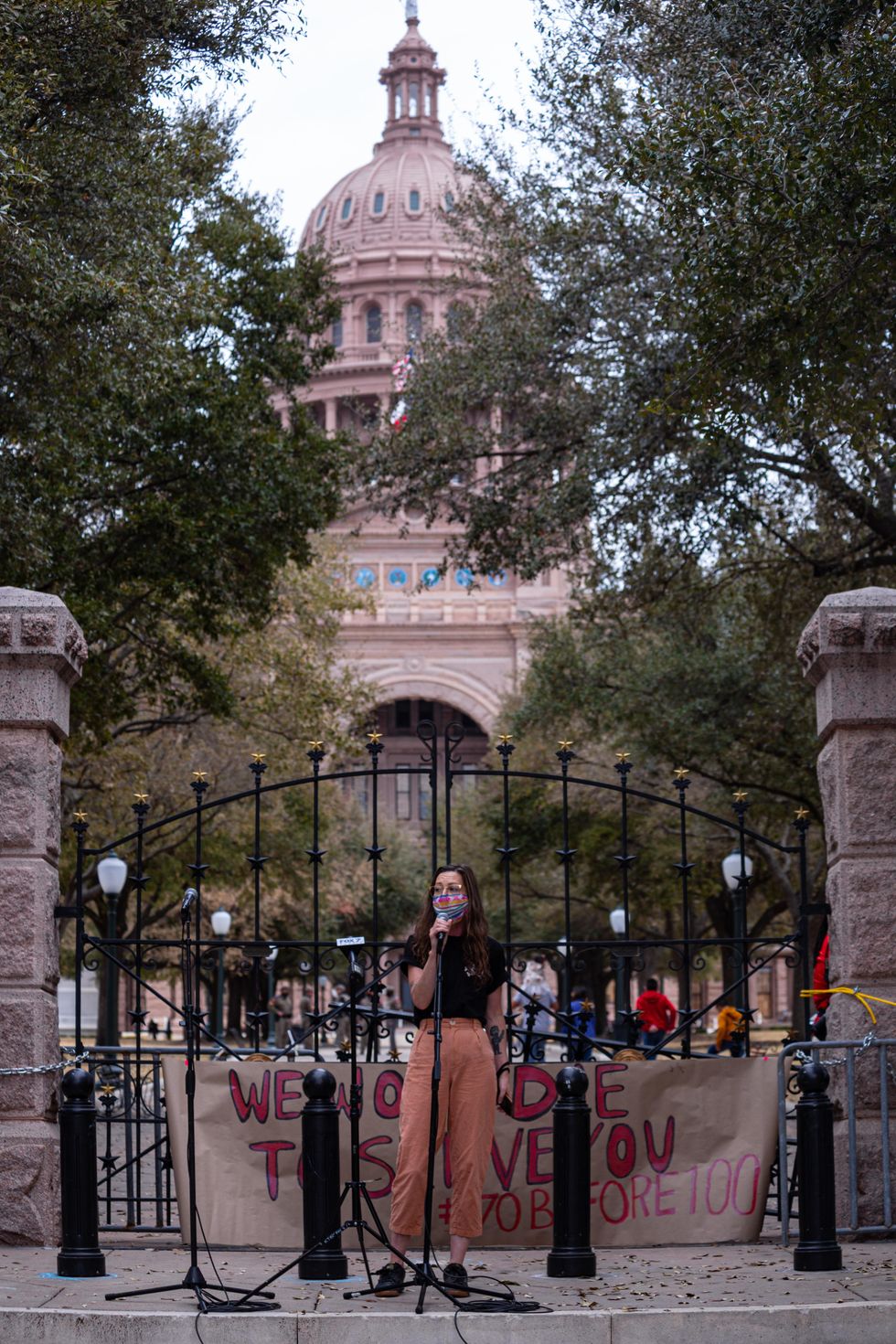 Christa McWhirter
Crystal Maher, a member of the Restaurant Organizing Project, stands in front of the Texas Capitol to express to other protesters in attendance how not being eligible for a vaccine has impacted her ability to safely keep her job.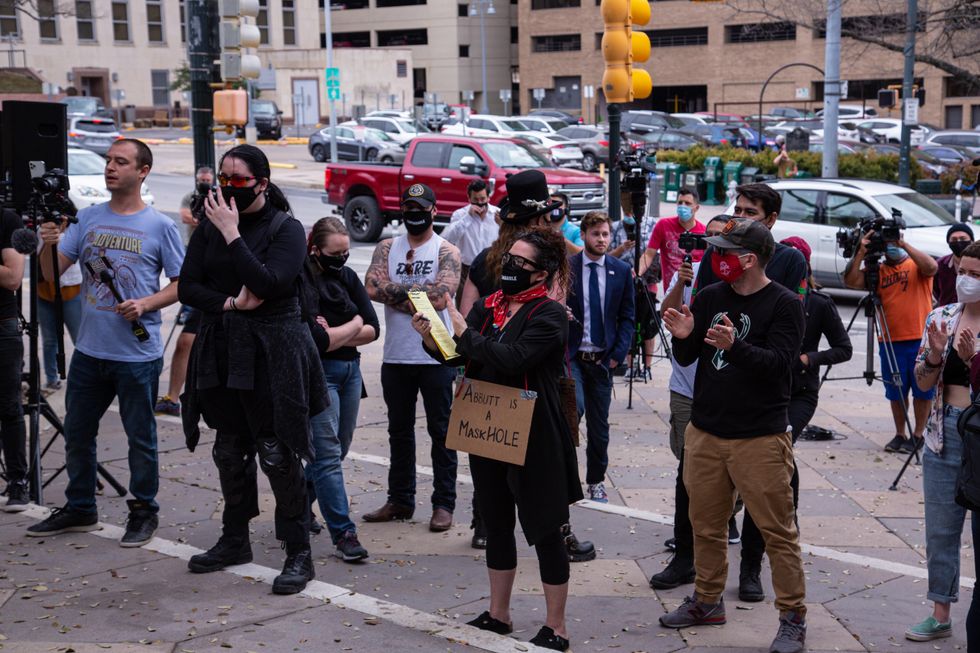 The event hosted around 50 people, most of whom are also restaurant and bar workers facing the difficulties of working during the pandemic.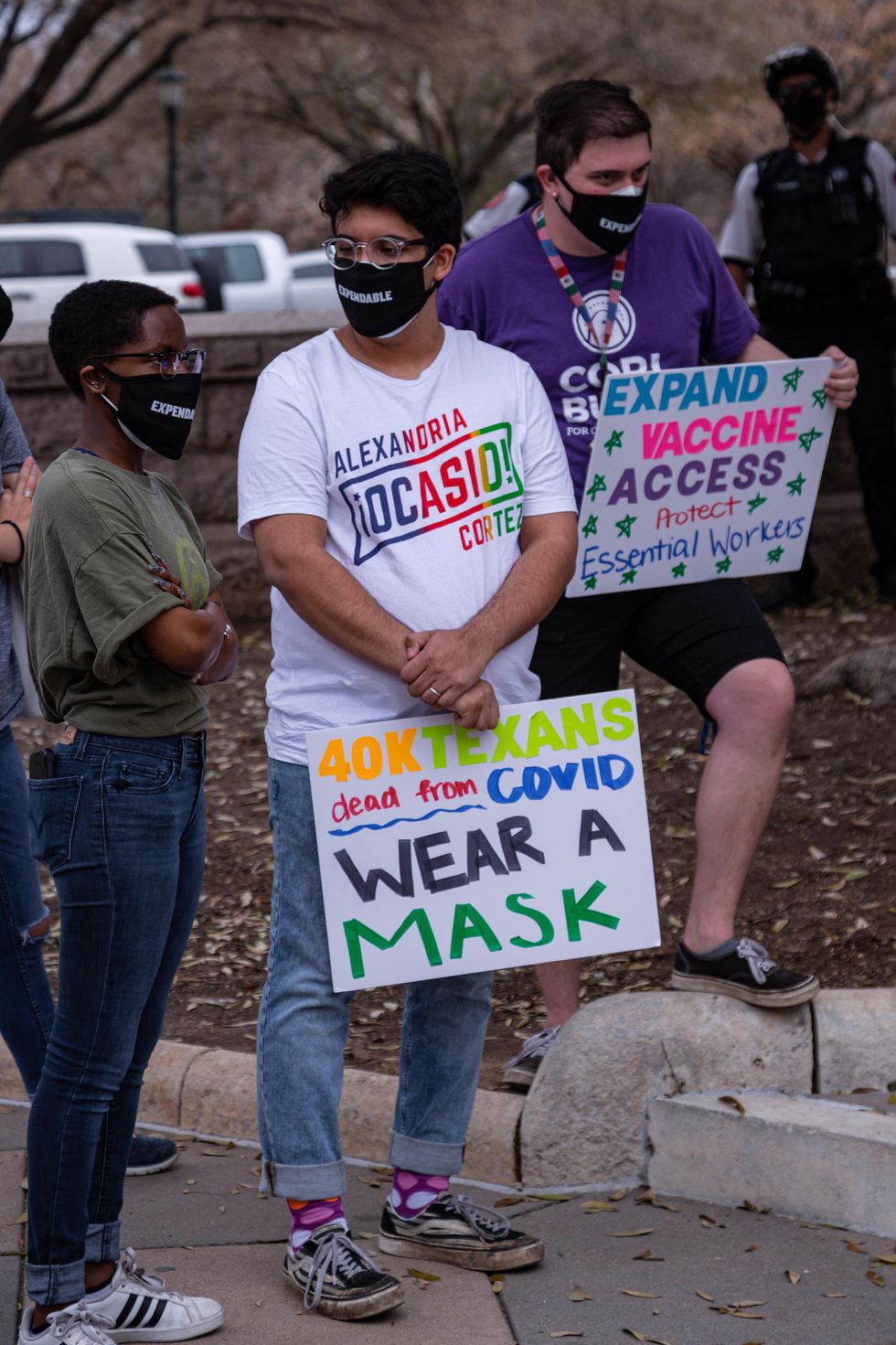 Christa McWhirter
​Kiara Collins, Eric Santos and Taylor Escamilla are all essential workers who have been questioning their safety in their workplace. As many of the other protesters, the three wore masks with the word "Expendable" on it. According to Collins, they were only given to essential workers in attendance to represent how they have been treated since the onset of COVID-19.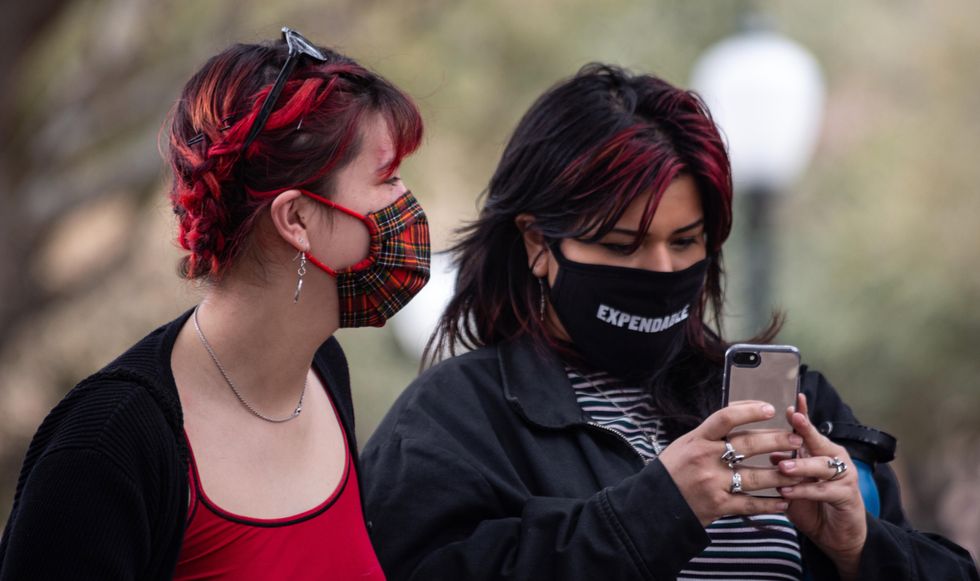 Christa McWhirter
As Maher continues to introduce speakers, two essential workers who came out to support the protest, record as counter-protesters heckled the event's speakers.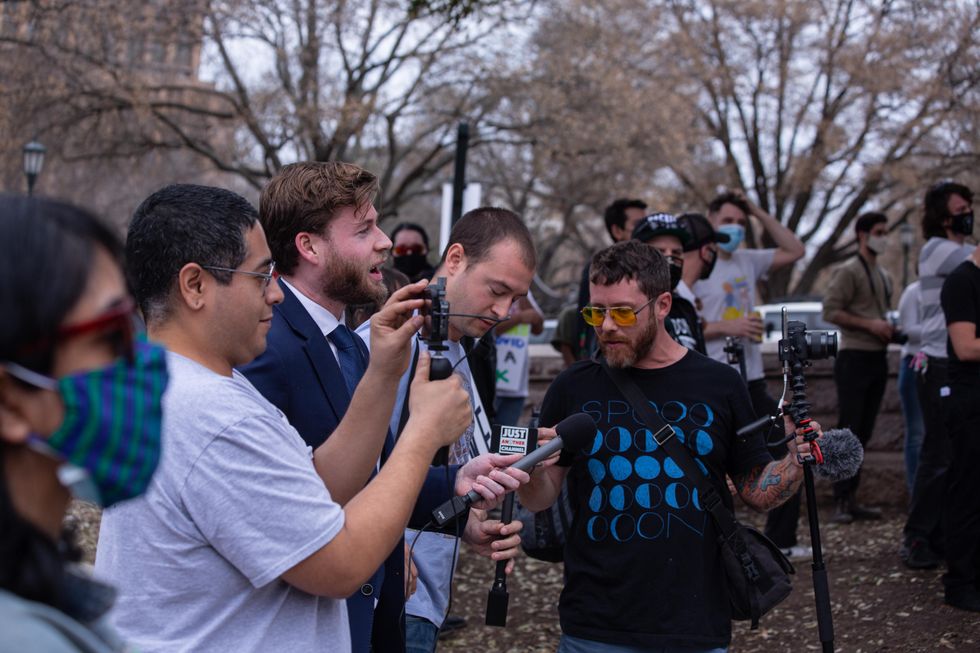 Christa McWhirter
Some of the counter-protesters in attendance were live streamers from InfoWars, an extremist organization, who heckled speakers until the rally dispersed.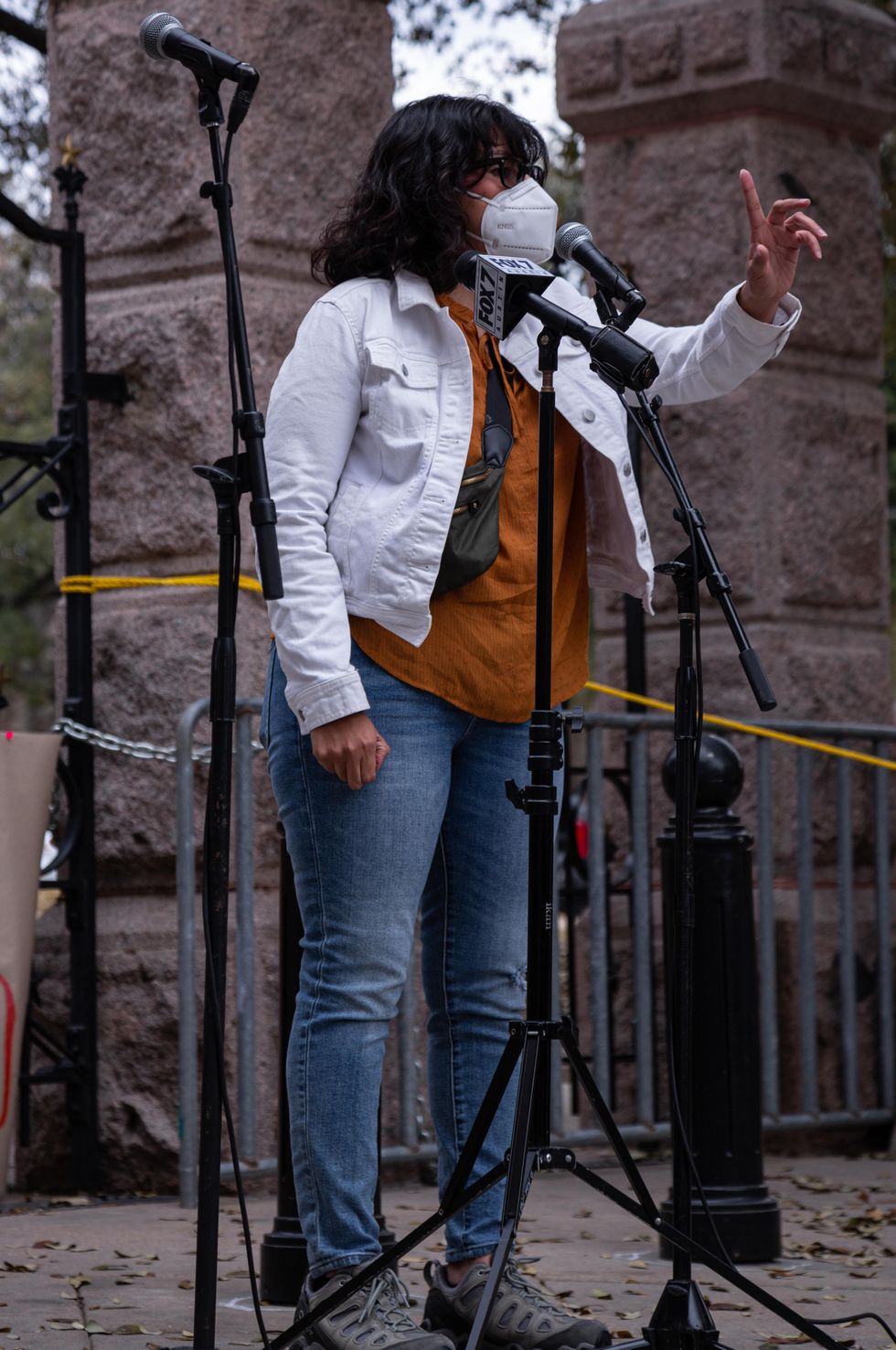 Christa McWhirter
A representative of the Del Valle Community Coalition spoke about the impact the lack of vaccine access has had on the Del Valle area. As she attempted to give her speech, anti-masking protesters yelled at her causing many people to attempt to block them out.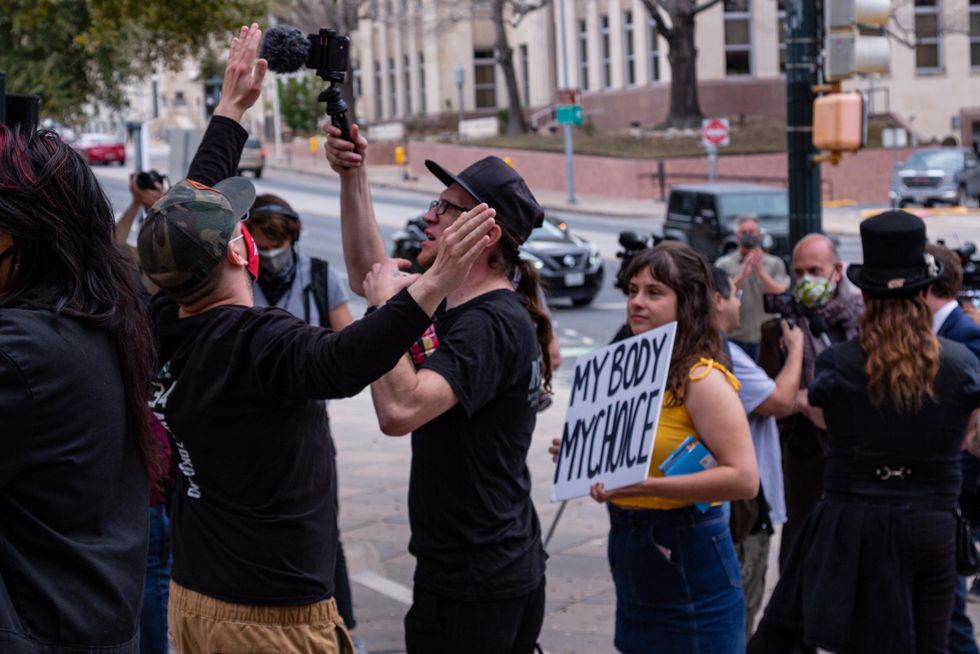 Christa McWhirter
Protesters blocked the way of anti-mask counter protesters as they heckled the event's speakers and held "My Body My Choice" signs. "It's kind of insane how they're using 'my body, my choice.' It doesn't only affect you. So it's not just your body," Taylor Escamilla said.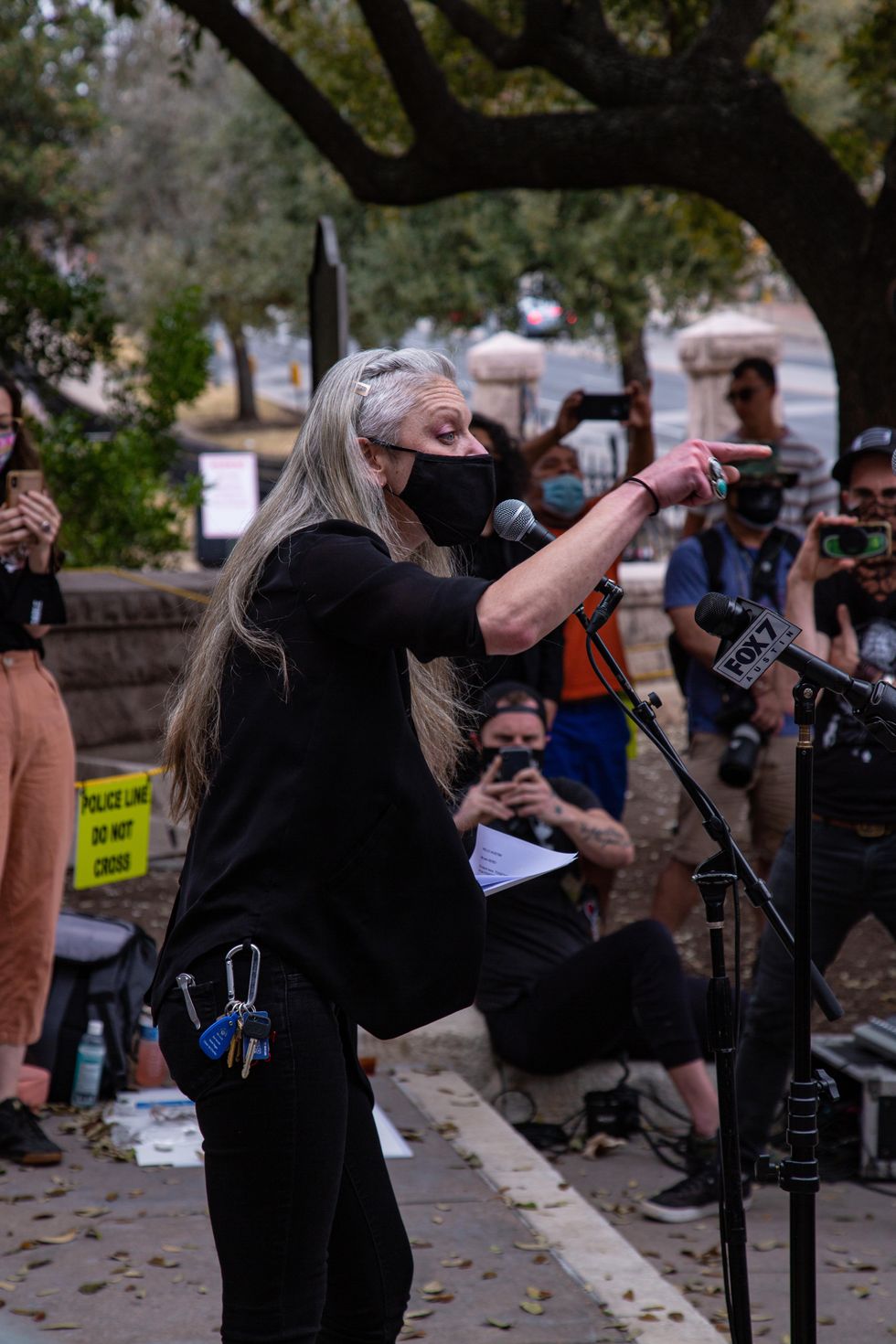 Christa McWhirter
Jeanette Gregor, cofounder of Amplified Sound Coalition, also had to fend off counter-protesters as she gave an impassioned speech about the danger essential workers place themselves in by going to work and have yet to qualify for COVID-19 vaccine.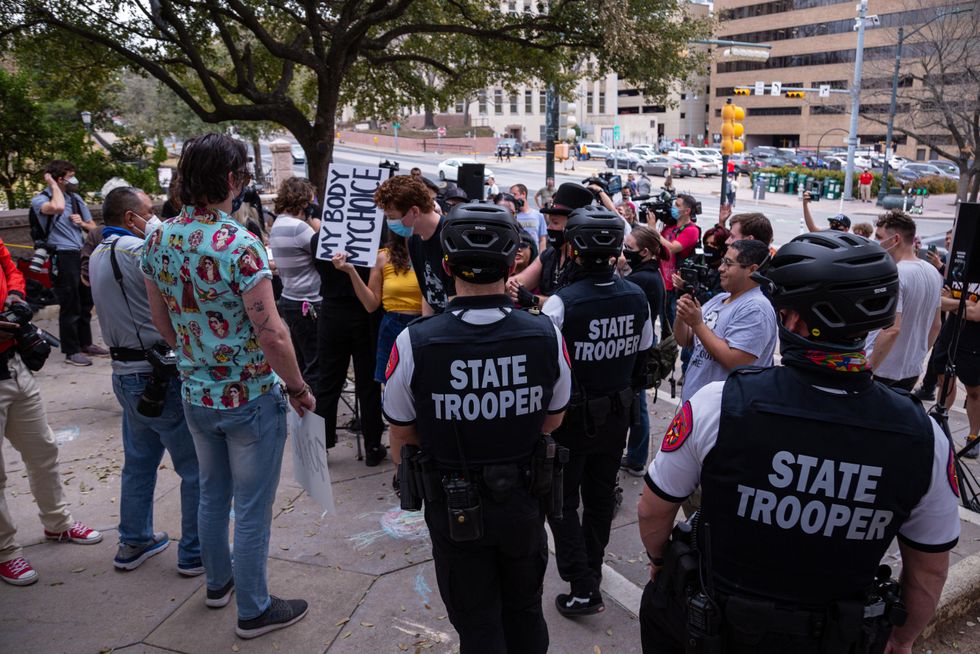 Christa McWhirter
Around 2 p.m., State Troopers began to arrive at the Capitol amid heightening tensions from protesters and counter-protesters. As police presence began to increase, the event came to end about 15 minutes later. Despite the constant back and forth between sides and the arrival of law enforcement, the protest came to end peacefully.